Pineapple Banana Protein Oats are rich and creamy, plus they'll keep you full for hours! Putting cottage cheese in oatmeal is a great way to add more protein along with your favorite toppings.
---
As a registered dietitian, I hear a common struggle from my clients. Breakfast can be a challenge!
Meaning, they might start with the best-laid plans and understand the benefits of starting the day with a nourishing meal…but when the rubber meets the road the wheels come off. They might run short on time, have to rush to feed kids and get them out the door, or fall back into old patterns of not eating anything until lunchtime.
Does this sound like you?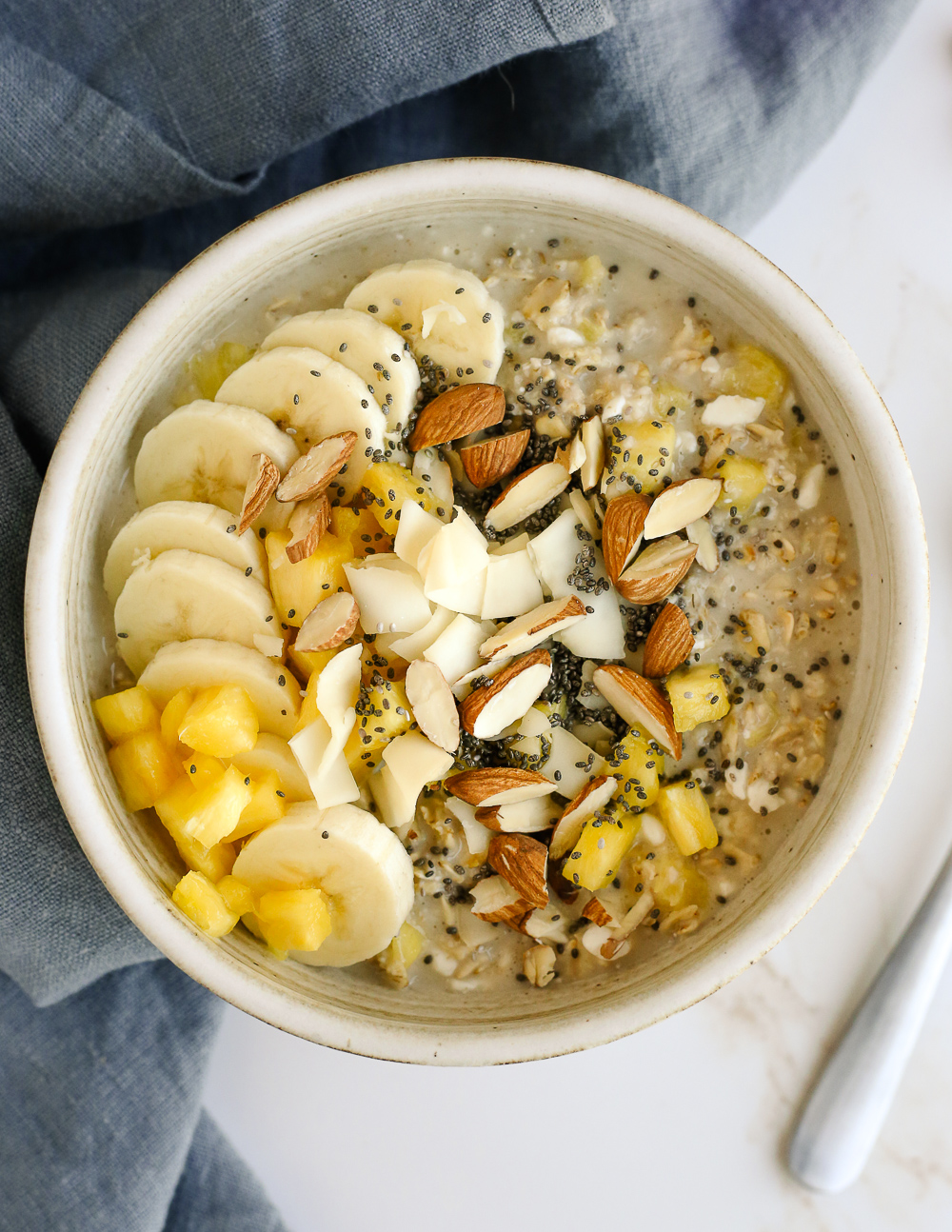 Here's what I often tell them: eating something is better than nothing!
Ideally, a breakfast meal would be quick and easy to make. On top of that, we want something that will keep us full and not distracted by a growling stomach. Finally, it's great if it tastes good enough to be something we actually want to eat. I think these Pineapple Banana Protein Oats check all those boxes!
Here are a few reasons to love this recipe:
Pineapple, banana, coconut, and almond are the base flavors, but you can easily customize them to include other nuts, fruits, or toppings.
The protein comes mostly from cottage cheese, a seriously underrated ingredient in my opinion.
In addition to that extra protein, the chia seeds, oats, and bananas add some fiber. Fiber is another element that helps us stay fuller, longer, and something most of us aren't eating enough of each day!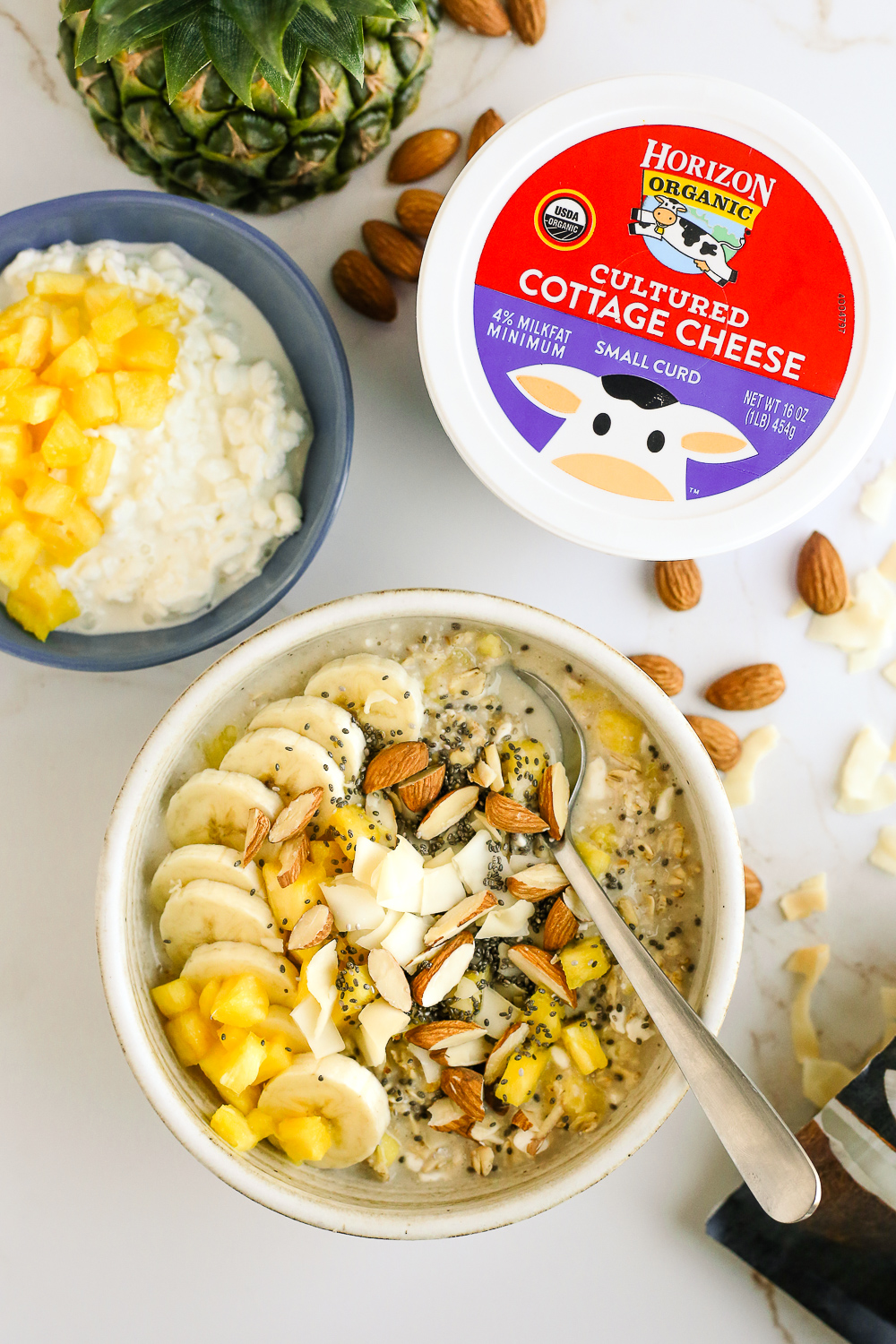 Pineapple Banana Protein Oats
I have a whole catalog of oat and oatmeal recipes on the blog. They're a rockstar ingredient in my opinion, with the range to go from sweet to savory and an impressive nutrition profile. Plus, they're among the most affordable and shelf-stable ingredients out there.
Why use cottage cheese in oatmeal?
Oats contain mostly carbohydrates, the preferred energy source for the body. We're not adding protein and fat because we're afraid of carbs, but because we know that if we were to eat carbs and carbs alone, we probably wouldn't stay full for long!
Cottage cheese is a dense source of protein, providing 14 grams of protein per 1/2 cup serving. And just like milk, it comes with options from skim (nonfat) to 4% milkfat. I add cottage cheese to oatmeal to get what I call "the trifecta for fullness" which is Protein + Fat + Fiber. 
Some brands, like the one I used this time, also contain live and active cultures. That's similar to yogurt, which is another option for adding creaminess, flavor, and nutrition to oats and oatmeal bowls.
Can I make this dairy-free?
Yes! If you're sensitive or allergic to dairy or prefer to avoid it for any personal reason, you can still make these Pineapple Banana Protein Oats!
You'll just need to replace the whole milk with your favorite non-dairy milk alternative. I haven't tried this with an unflavored version (so I can't speak to that) but my partner uses a sweetened vanilla almond milk and reported that it works just fine.
I also can't speak to how well a non-dairy cottage cheese would work. For that reason, you probably want to use non-dairy yogurt instead. Look for a vanilla-flavored option, or if it's available, banana, pineapple, or coconut flavors would be great in this recipe.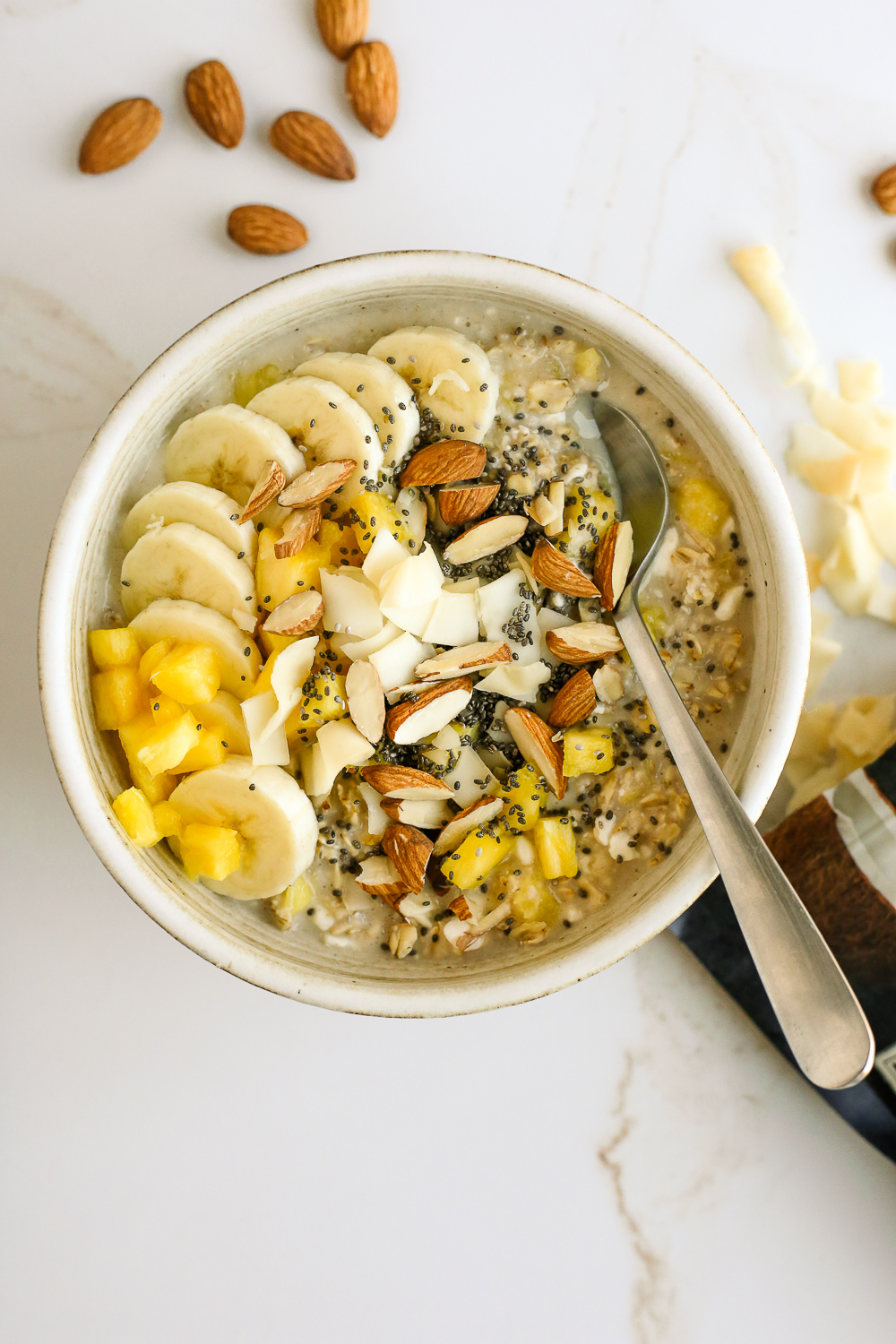 Here's the recipe for Pineapple Banana Protein Oats!
Pineapple Banana Protein Oats
Power up your breakfast with this simple oatmeal bowl! It's flavored with pineapple, banana, coconut, and almonds, plus a hefty boost of protein thanks to cottage cheese.
Ingredients
1/2

cup

quick or rolled oats

1/2

cup

whole milk

1/2

tbsp

brown sugar

1/4 to 1/2

cup

cottage cheese

,

small curd, 4% milkfat

1/4 to 1/2

cup

chopped pineapple

,

fresh or canned

1/2

banana

,

sliced thin

1

tbsp

sliced or slivered almonds

1 to 2

tbsp

toasted coconut

1/2

tbsp

chia seeds

,

optional
Instructions
Prep your ingredients by measuring or slicing (as specified in the ingredient list).

Add the oats and milk to a microwave-safe bowl and stir in the brown sugar. Cook on high heat for 1-2 minutes, or until hot and bubbling. Remove from the microwave.

Stir in the cottage cheese and add the toppings. Arrange the fruit on top then sprinkle with the almonds, toasted coconut, and chia seeds. Serve immediately.
Notes
Note that all quantities are suggestions - adjust according to your appetite and preferences as needed.
Nutrition
Serving:
1
serving
,
Calories:
495
kcal
,
Carbohydrates:
66
g
,
Protein:
19
g
,
Fat:
19
g
,
Saturated Fat:
7
g
,
Polyunsaturated Fat:
4
g
,
Monounsaturated Fat:
6
g
,
Trans Fat:
1
g
,
Cholesterol:
21
mg
,
Sodium:
252
mg
,
Potassium:
748
mg
,
Fiber:
10
g
,
Sugar:
26
g
,
Vitamin A:
336
IU
,
Vitamin C:
25
mg
,
Calcium:
281
mg
,
Iron:
3
mg
If you're looking for more filling, fiber-rich breakfasts with oats, look no further than these past favorites!
As always, I'd love to hear feedback if you try any of these recipes! Leave a rating or comment and let me know what you think. Enjoy!