This fancied-up version of hot oatmeal is decked out with pomegranates, chopped pistachios, and the delicious flavor combo of maple syrup and tahini. Enjoy this Maple-Tahini Oatmeal recipe!
---
Pomegranates and pistachios just seem to go together, don't they? When they're served together, they add a bright pop of color along with fresh flavor and crunchy texture. Simply perfect for serving with oats!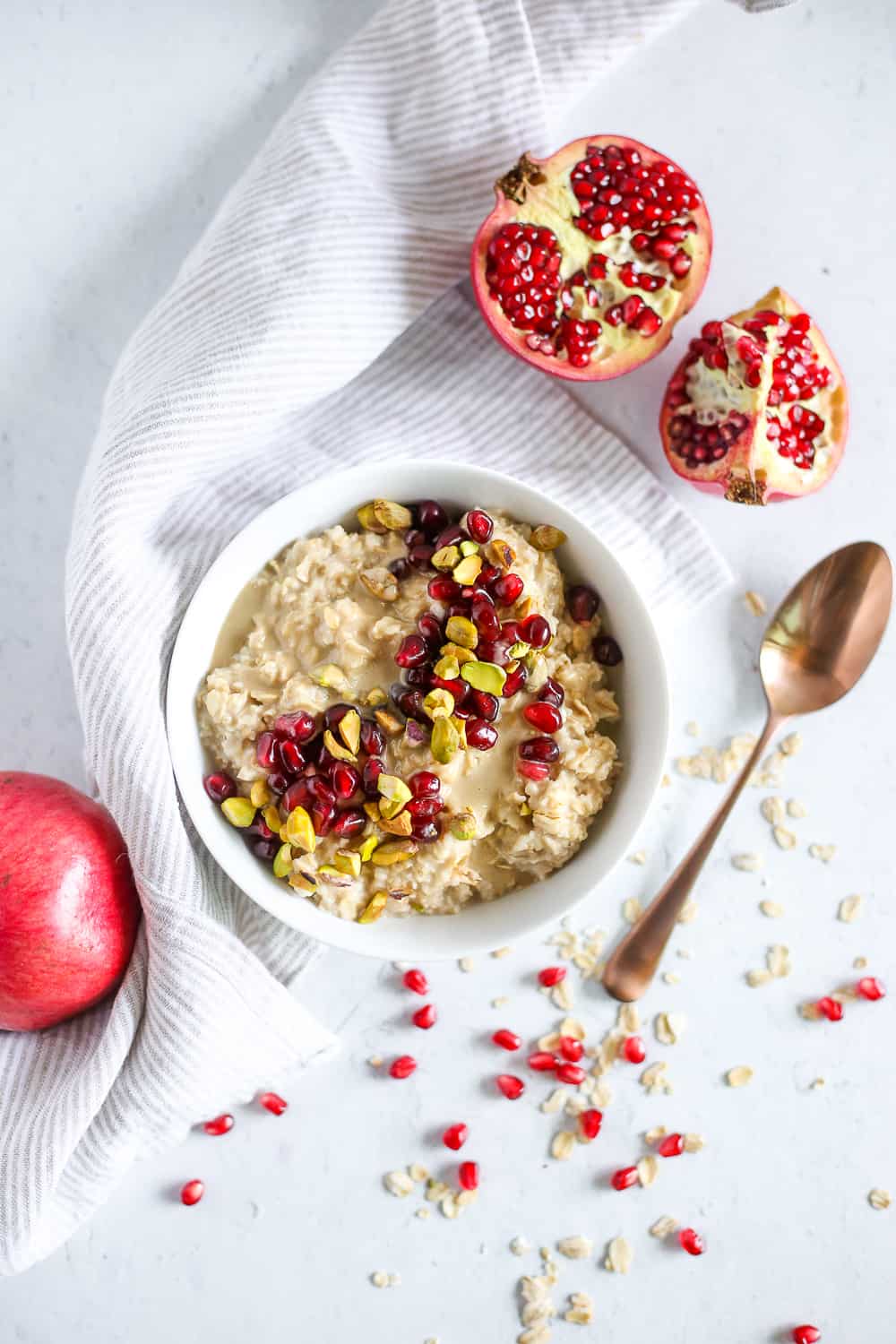 A couple of years ago I used pomegranates and pistachios in another oatmeal bowl. Check out my Peach Pomegranate Oatmeal Bowl, which celebrated American Heart Month!
It's no secret I'm a fan of oats and oatmeal. It's such a versatile, affordable ingredient and can lend itself to sweet or savory flavor profiles. In this version, I was obviously leaning pretty heavily toward the sweet end of the spectrum, but the tahini adds a nice balance so it doesn't feel overly sweet.
How to Make Maple-Tahini Oatmeal
When I make hot oatmeal, I like to start with rolled or quick-cooking oats. In this version, you can even use a packet of instant oats.
Street Smart Nutrition Tip: All forms of oats are nearly identical (nutritionally) no matter which shape they are rolled or cut in. Old-fashioned, rolled, quick-cooking, instant, and steel cut oats are all from the same grain (kilned groats). Learn more about where oatmeal comes from in this post.
To me, one of the best parts about cooking oatmeal is that it can be done in literally a few minutes. The prep work for this maple-tahini oatmeal recipe is super simple and takes virtually no time.
First, gather what you need for Maple-Tahini Oatmeal:
Ingredients: Oats (your choice), milk (also your choice), maple syrup, tahini, pomegranate arils, and chopped pistachios. For the pomegranate, you can either de-seed part of a fresh pomegranate, which is a little messier or use the convenient option of buying ready-to-eat pomegranate arils
Street Smart Nutrition Tip: Look for ready-to-eat pomegranate arils in the refridgerated cases in the produce section with prepared juice or berries. Look for tahini in the dry-goods aisles near the peanut butter or other nut butters.
Equipment: A knife and cutting board, a bowl for catching the pomegranate arils (if using a fresh pomegranate), a microwave-safe bowl, and measuring cups and spoons
Once you have everything set up, mix the milk, maple syrup, and half of the tahini into the dry oats. I usually use a 1:2 ratio of dry oats to liquid, so if you plan to make more than the recipe calls for just adjust your measurements accordingly.
The next step is to microwave on HIGH for one to two minutes. The oats will start to puff up and expand. Make sure your bowl is big enough that it doesn't overflow! Once cooked, carefully remove the bowl and give it a stir. Hopefully, you see a thick, creamy texture that's ready to be topped with the pomegranates and pistachios!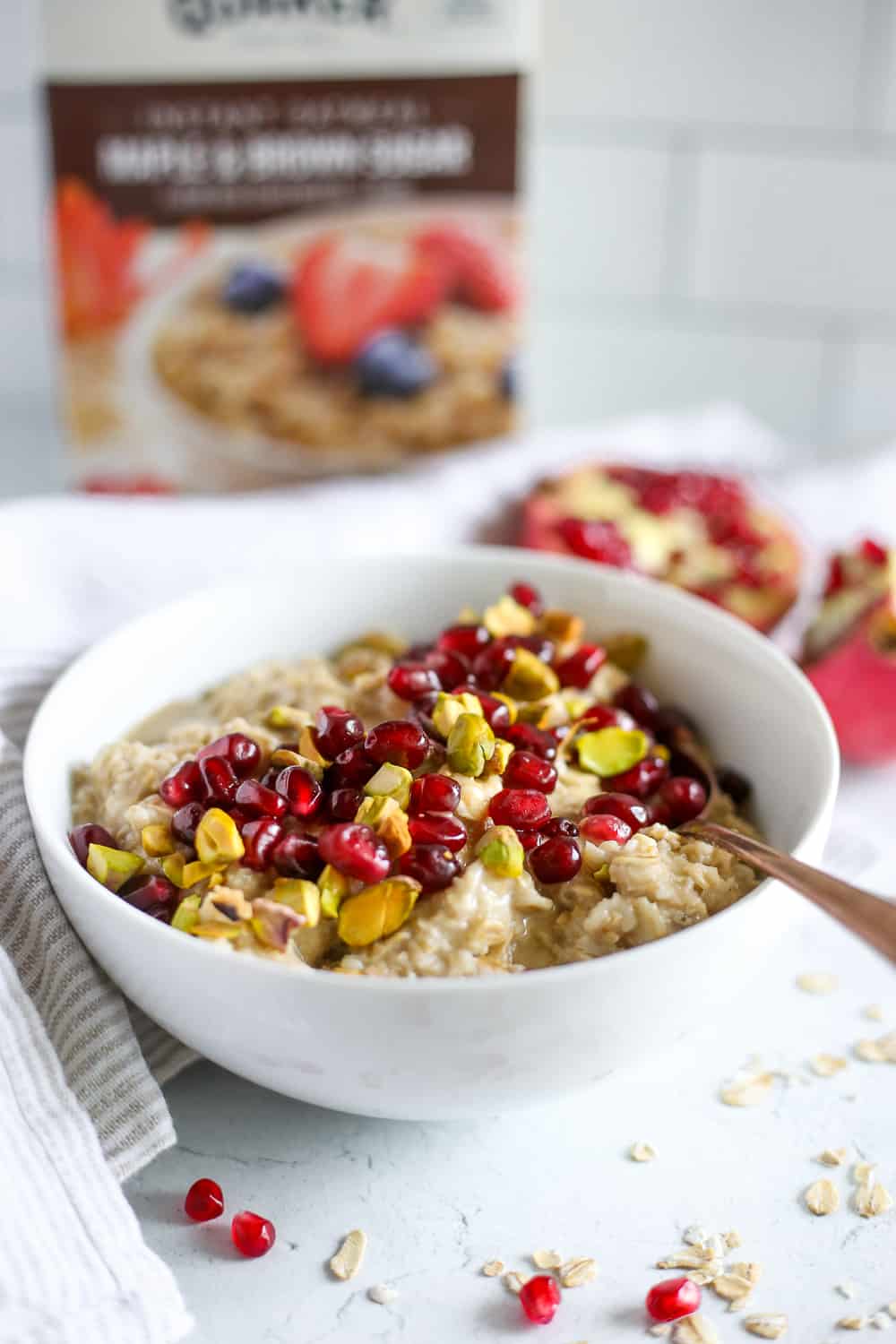 Make sure you drizzle the remaining tahini over your oatmeal bowl before serving. Depending on your taste preferences, you can also add more maple syrup, pomegranates, or pistachios.
There are two key things for establishing healthful habits (like nourishing your body with breakfast in the morning): making it simple AND satisfying. Easy prep, quick recipes like this one take only a few minutes. That can leave you more time to focus on other important things. And customizing your bowl or adjusting the portions makes it fit your body and its needs. You can ensure it's satisfying and flavorful enough to keep you full.
Here's the recipe for Maple-Tahini Oatmeal with Pomegranates & Pistachios!
Maple-Tahini Oatmeal with Pomegranates and Pistachios
Step up your oatmeal game with this unique flavor combination using maple syrup, tahini, and pomegranates. It's a delicious hot breakfast option that's ready in minutes!
Ingredients
1/3

cup

quick-cooking or rolled oats

2/3

cup

milk

1 1/2

tbsp

tahini

1

tbsp

maple syrup

1/4

cup

pomegranate arils

2

tbsp

chopped pistachios
Instructions
Measure the oats into a microwave-safe bowl. Stir in the milk, half of the tahini, and the maple syrup.

Microwave on HIGH for one to two minutes (or according to package instructions).

Remove from the microwave, then top with the pomegranate arils and pistachios. Drizzle with the remaining tahini. Serve immediately.
Nutrition
Serving:
1
serving
,
Calories:
504
kcal
,
Carbohydrates:
56
g
,
Protein:
16
g
,
Fat:
26
g
,
Saturated Fat:
6
g
,
Cholesterol:
16
mg
,
Sodium:
82
mg
,
Potassium:
709
mg
,
Fiber:
7
g
,
Sugar:
27
g
,
Vitamin A:
341
IU
,
Vitamin C:
6
mg
,
Calcium:
270
mg
,
Iron:
3
mg
If you enjoyed this recipe for Maple-Tahini Oatmeal with Pomegranates and Pistachios, be sure to check out other popular oatmeal recipes on the Street Smart Nutrition Blog!