July is National Blueberry Month! It is a perfect time to celebrate with a simple and tasty dessert. This Blueberry Hemp Heart Crumble is both delicious and nutritious, a perfect way to enjoy summer's bounty.
---
Note: I'm going back and updating my old blog posts with new photos, improved recipes, and (probably most importantly) a look at how my writing has changed since adopting a non-diet, HAES informed approach. You'll see the original post featuring the recipe from years ago with edits made to show how even dietitians need a little time to come full circle with intuitive eating.
Everything has a month these days, and foods are no exception! July is designated as "Blueberry Month" according to the U.S. Department of Agriculture. And I'm OK with that because they are one of my favorite ingredients of summer (as evidenced by my recipes for Blueberry Coconut Overnight Oats and Wild Blueberry Mango Lassi).
Lately they've also earned the "superfood" designation due to their nutritional qualities. While I don't necessarily love the super-food label, it is something trendy that catches consumers' eyes without fail. And there's always a sexy, glamorous flavor of the month (or year) when it comes to the next big thing in the nutrition world. But most dietitians will tell you, ignore the trendy fads or superfood labels and look for the tried and true. That is, ingredients you love that you know will taste good and serve your body well. After all, nothing is nutritious until we eat it!
EDIT: There is no such thing as superfoods so let's make that a little more clear. Yes, it's trendy. It's trendy because diet culture wants us to think a single food can work wonders for our health. It can add to orthorexic thinking or obsession with healthy eating…let's just let blueberries be the fruit of the month because they're amazing! And if you don't like blueberries, please don't feel obligated to eat them this month or any other time.
While I'm generally not too blown away by any one food or ingredient over another, I've really enjoyed adding hemp hearts to various recipes and meals lately. Hemp hearts are raw, shelled hemp seeds. I wasn't very familiar with them until fairly recently and I got a funny reminder of how hemp is usually perceived in our culture. I brought home a bag a Mr. Street Smart asked what they were. When I told him they were hemp hearts, he immediately looked confused and said, "Is that legal in Kansas now?" WRONG HEMP, sorry Mr. Street Smart! So no, apologies to those who are disappointed, but there are no hallucinogenic properties to hemp hearts.
But….what they do feature is a fairly impressive nutrient profile. They're a great way to boost nutrition in a wide variety of meals and snacks. In a serving (3 Tbsp.), you'll get: 10 grams of polyunsaturated fat, 3 grams of fiber, and 10 grams of plant-based protein. All with only 3 grams of carbohydrates and zero milligrams of sodium.
That's based on Manitoba Harvest's nutrition facts label for their standard Hemp Hearts (just look for the orange and white bag). This is the brand I prefer because I know I can always find a bag at my local Costco or other grocery store with a health foods section, but there are other brands out there, too. Though the packaging features a lot of labels and extraneous information that I don't necessarily agree with (specifically, the Non-GMO Project Verified label, which is irrelevant because there is no GMO version of hemp that exists), I do make exceptions to my otherwise steadfast boycotting pledge. That's a whole 'nother story.
EDIT: Praising myself for NOT posting calories here. I was probably thinking about them though…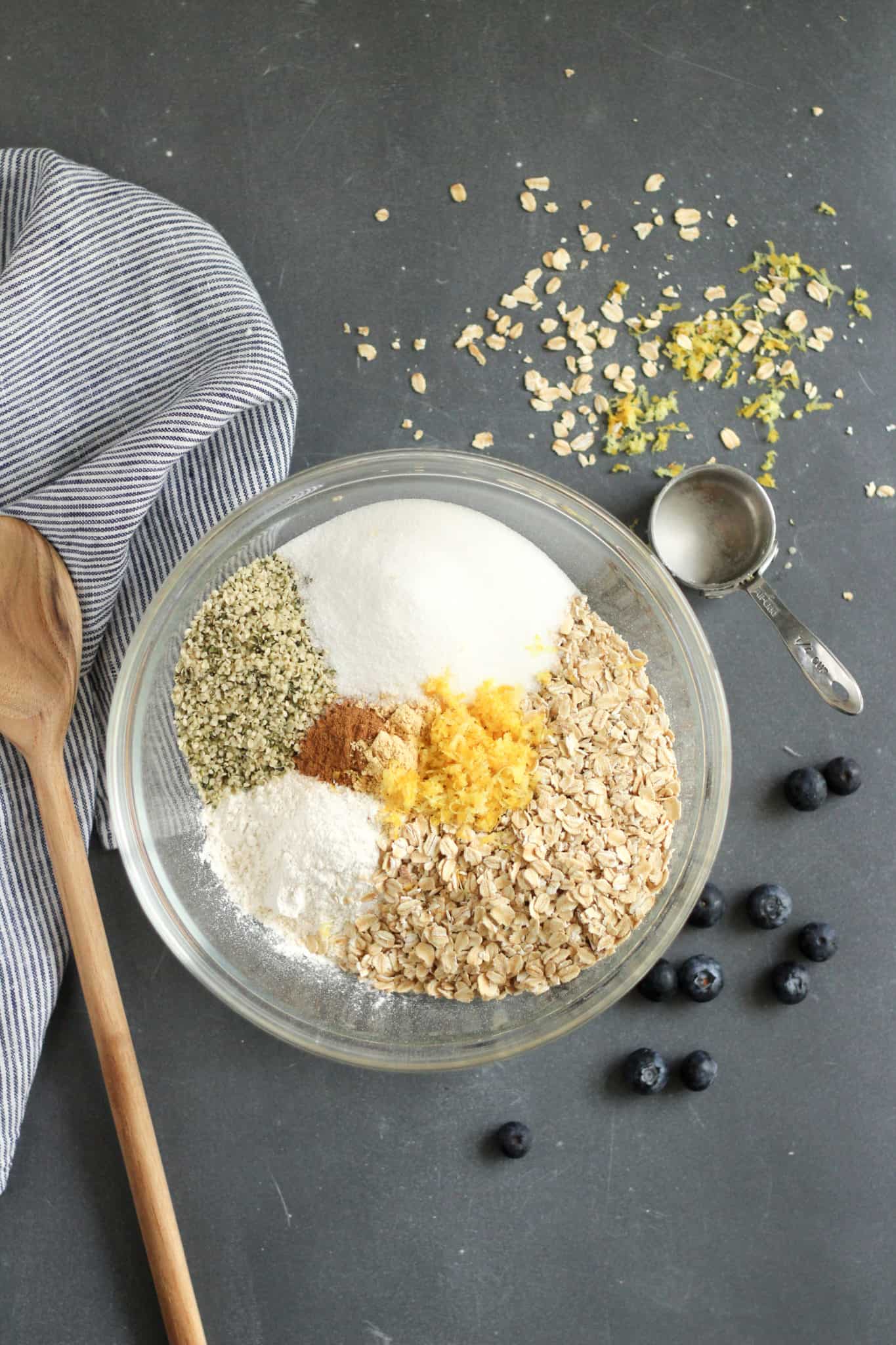 The texture of hemp hearts is soft and they have a slightly nutty flavor. They make a great addition to salads or a topping for main dishes. But my favorite way to use them is in the morning with breakfast foods like oatmeal, yogurt parfaits, or smoothies. I don't really measure, just spoon out whatever looks good at that particular moment.
Given that I love combining these little guys with oats, and it happens to be Blueberry Month, I wanted to try a recipe that combines a crumbly topping with juicy, baked fruit to use as a breakfast, snack, or dessert option. I found my inspiration from a recipe from Eating Bird Food, then modified it to use ingredients I already had. And the Blueberry Hemp Heart Crumble was born! Brittany's version is gluten-free (be sure to check that the oats are certified gluten-free) while mine is not. I also added a dash of cinnamon and ginger because I really wanted to smell those spices while this was all baking together. And I certainly did, it smelled amazing. The hardest part was waiting until it cooled enough to dig in with a spoon!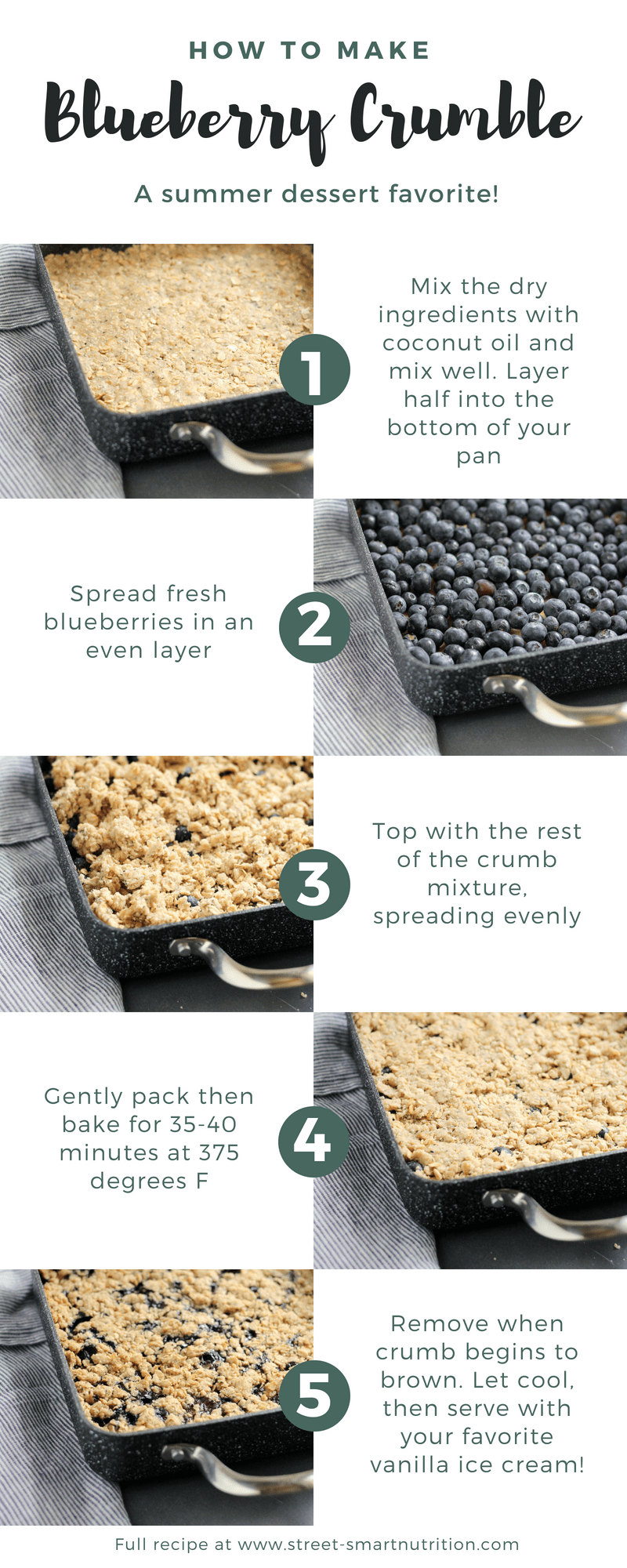 The texture was a bit more crumbly than I expected. If you want to create bars to store in the fridge and serve later, I recommend allowing to cool completely (or even placing in the fridge) before attempting to cut for dessert. However, if you are like me on most days and don't care about presentation, grab a spatula and get right in there! Served warm with vanilla ice cream is of course the preferred serving method for a sweet dessert treat. A breakfast version looks more like what I show here. I used a partial container of siggi's 4% Vanilla skyr (#TeamFullFatDairy) and tossed in a few extra berries.
EDIT: Want to see what the old photos looked like? Yikes. They're pretty awful, but here's one for comparison *closes eyes, pretends they aren't awful but deep down acknowledges they're completely awful*
Have you tried hemp hearts before? Share your favorite way to add them to foods!  And even as Blueberry Month draws to a close, don't forget that frozen blueberries are a great option year-round!
And if you're a fan of the blueberry-lemon flavor combo, it is not just for dessert! Be sure to check out my Blueberry Lemon Baked Oatmeal Cups for an easy make-ahead breakfast!
Here is the recipe for Blueberry Hemp Heart Crumble:
Blueberry Hemp Heart Crumble
Fruit crumbles are a simple dessert for those of us who don't bake - try this delicious version with fresh blueberries.
Ingredients
1

cup

all-purpose flour

2

cups

quick or rolled oats

3/4

cup

coconut oil

1/2

cup

white granulated sugar

1/2

cup

hemp hearts

Zest of one lemon

1

tsp

vanilla extract

1

tsp

cinnamon

1/2

tsp

ginger

1/2

tsp

kosher salt

3 1/2

cups

fresh blueberries
Instructions
Preheat the oven to 375 degrees F. Line a 9″ x 9″ baking dish with parchment paper or use a non-stick spray to lightly grease the pan. Thoroughly rinse and dry the fresh blueberries, sorting through to remove any remaining stems and set aside.

In a large mixing bowl, combine the flour, oats, coconut oil, hemp hearts, sugar, salt and spices. Using your hands, gently work the ingredients together until the coconut oil is evenly distributed. Add the lemon zest. Using your hands again, mix thoroughly until all ingredients are well combined and a crumbly texture forms. Divide in half, spreading one half into the lined or greased baking dish. Press firmly into the bottom. Add a little more if needed to evenly cover the bottom of the baking dish.

Spread the fresh blueberries in an even layer on top of the crumb mixture. Add the remaining crumb mixture over the top, pressing lightly into the pan. Bake for 35-40 minutes, or until the topping becomes golden brown.

Remove from the oven and serve warm if you want a more crumbly texture. If you prefer bars, allow to cool completely before cutting into nine even squares. Serve with additional fresh berries, your favorite yogurt, or vanilla ice cream.
Nutrition
Serving:
1
serving
,
Calories:
418
kcal
,
Carbohydrates:
43
g
,
Protein:
8
g
,
Fat:
25
g
,
Saturated Fat:
16
g
,
Sodium:
131
mg
,
Potassium:
124
mg
,
Fiber:
4
g
,
Sugar:
17
g
,
Vitamin A:
89
IU
,
Vitamin C:
6
mg
,
Calcium:
33
mg
,
Iron:
3
mg
[Tweet "Celebrate summer with a simple Blueberry Hemp Heart Crumble – perfect with vanilla ice cream!"]
---
You can find a version of this Blueberry Crumble dessert recipe, along with many other delicious and nourishing recipes, in my cookbook. Check it out, it's now available on Amazon!