Baked Oatmeal Cups are a gamechanger – super convenient and perfect for meal prep! Get your breakfast taken care of this week with these Blueberry Lemon Baked Oatmeal Cups.
---
If you're thinking this recipe looks a little familiar, you're right! It's a spin-off of my popular Lemon & Fig Baked Oatmeal Cups, which have been quite the hit ever since they landed on the blog earlier this year. It's the same recipe, but since figs are tough to find most of the year, they've been replaced in this version by blueberries!
And if you're interested, check out a seasonal version for fall: Pumpkin Spice Baked Oatmeal Cups!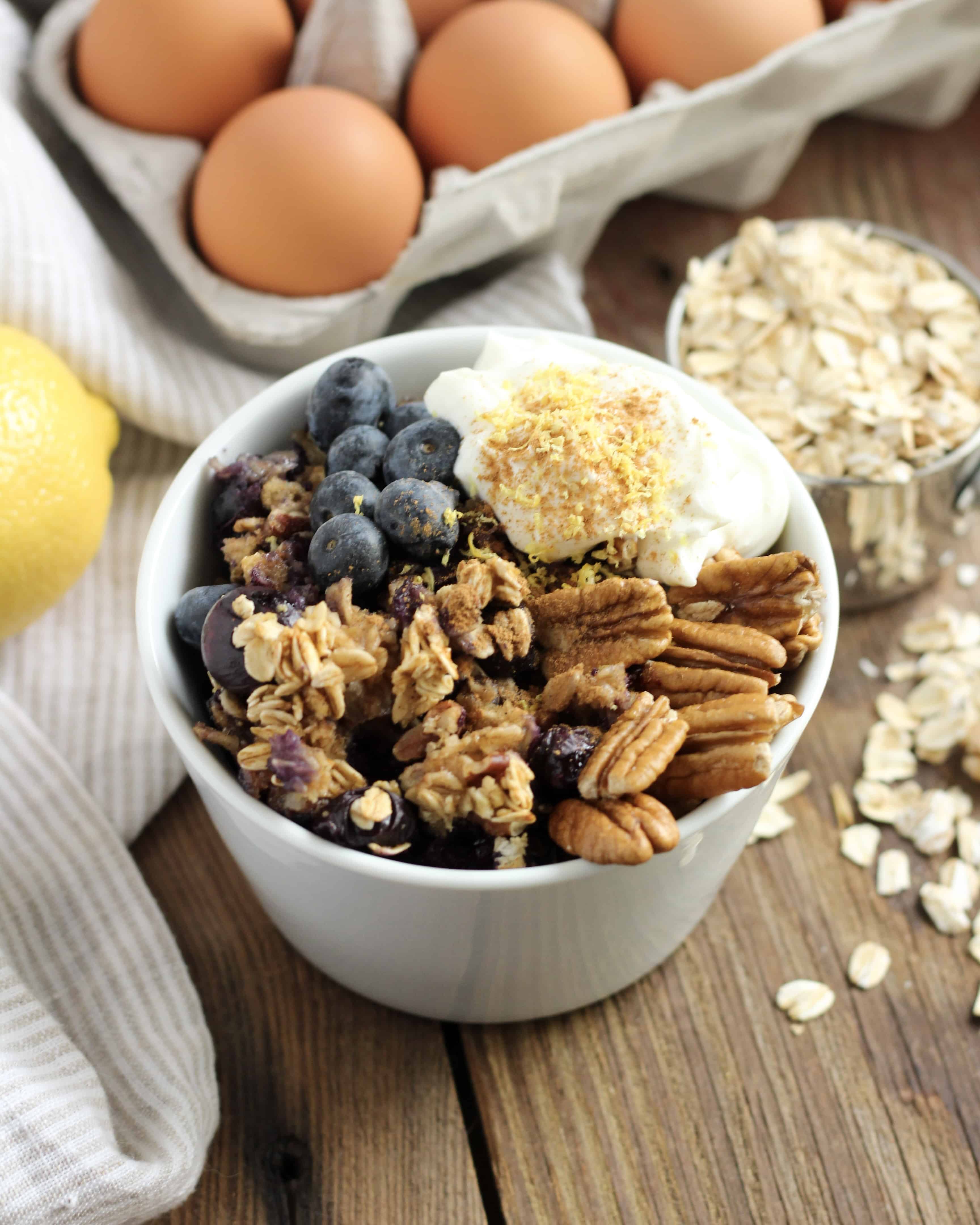 The inspiration for this recipe came from a recent Facebook Live I did for a client of mine that compared fresh fruits and vegetables with their frozen or canned counterparts. I thought it would be a fun experiment to make the same recipe using each in this recipe for blueberry lemon oats. We wanted to see if there was a major difference in cost, appearance, and most importantly: TASTE!
You can check out the full video HERE and get a glimpse inside my office kitchen.
[Tweet "How does frozen or canned produce stack up against fresh in a recipe? Find out HERE"]
In case you don't have time to watch me subject my friend and colleague to an unofficial scientific experiment, here's the breakdown of what we found out when we compared frozen and fresh blueberries:
Cost
One of the most common things I hear about fresh vs. frozen or canned produce is that fresh is always more expensive. We set out to test this myth on this blueberry lemon oatmeal recipe.
This is what my shopped receipt revealed:
Fresh blueberries (purchased in November): 6 oz. container for $3.99
Frozen blueberries (purchased during the same shopping trip): 12 oz. bag for $3.99
So you do end up getting a lot more for your money when you go the frozen route in this example. But when I compared prices for vegetables and beans, the canned and frozen stuff worked out to be nearly equal. Now, keep in mind this happened in November, so the outcome could look different depending on where and when you do your shopping.
Bottom Line: The cost difference may or may not be significant for buying fresh produce over frozen or canned fruits and veggies.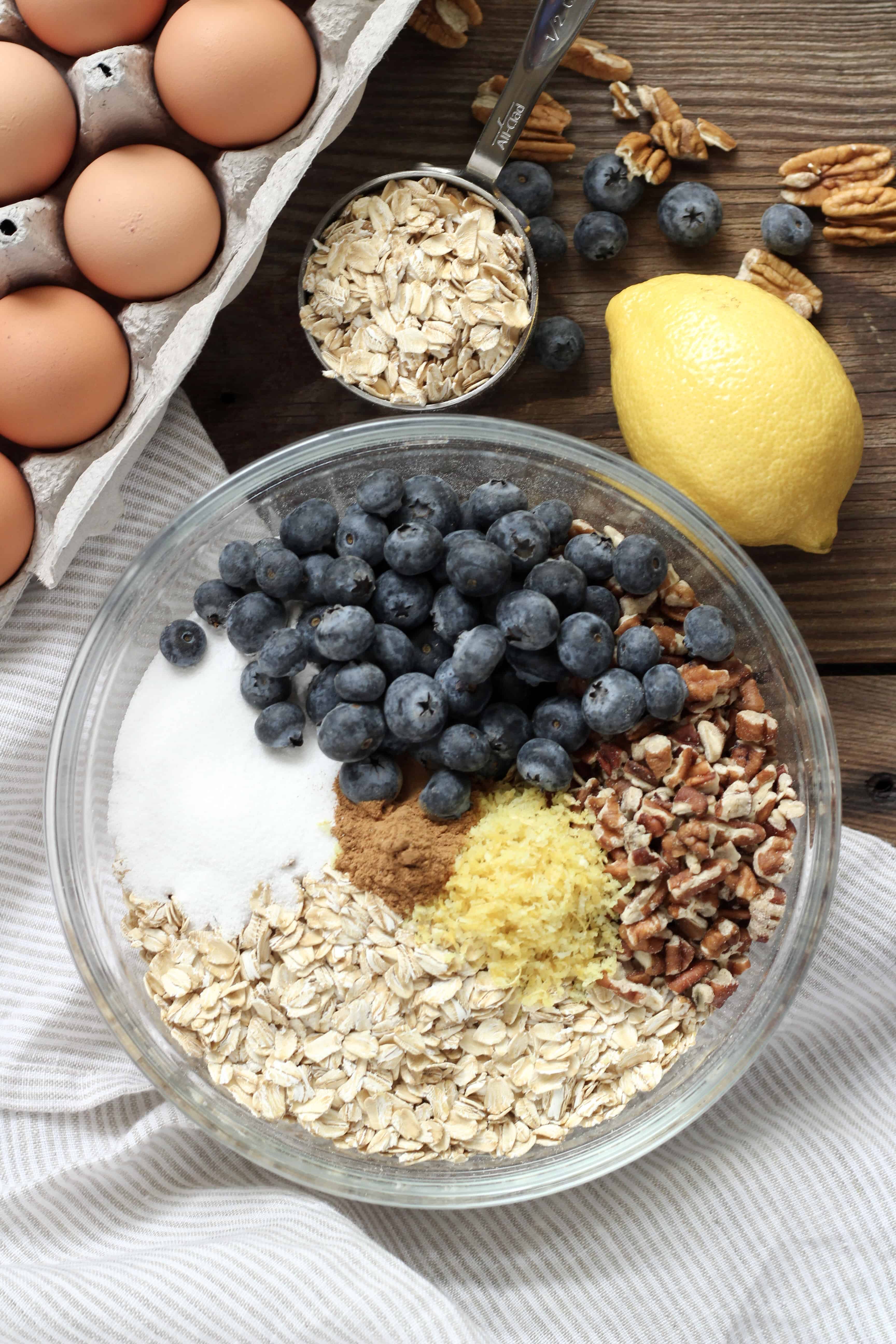 Appearance
You know the saying, we eat with our eyes. I'm a big believer that we want our food to look tasty and appetizing, regardless of its nutritional content. This was no exception, and since baked oatmeal is typically eaten at breakfast, it's nice to start your morning with something that looks good enough to make you actually want to eat breakfast!
I made one batch of these Blueberry Lemon Baked Oatmeal Cups but divided it evenly. A standard muffin tin makes 12 muffins, so six ended up with the fresh blueberries, and six used the frozen version. The biggest difference in appearance was the color of the baked oatmeal itself. Because the freezing process bursts the cell walls, the frozen berries leach much more of their pigment into the mixture. This results in a purple-blue tinge to everything in the baked oatmeal cup. The frozen berries were also slightly smaller than the fresh ones, which meant the cups using the fresh berries were a little bit taller and more full looking than the ones that used frozen berries.
The verdict, however, was that they simply looked different – not that one looked better than the other. Side by side you could definitely tell there was a difference. But had the entire batch been made with one or the other, I'm not convinced you would have thought anything was significantly different or "off".
Bottom Line: Depending on how you want the finished product to look, fresh produce might give you a "prettier" result in some cases.
Taste
Last, but certainly not least, we compared flavor in the two versions of my blueberry lemon baked oatmeal cups. This was actually the toughest one to pinpoint a difference in, as we could really only tell there was a change in texture but not actually flavor. That would make sense since the recipe was identical and the preparation method was the same.
One thing that commonly happens in the freezing or canning process is that flavors become a little diluted or washed out. There's no denying that fresh produce tastes amazing when it's at peak ripeness. But when you're cooking or baking with fruits and vegetables, you introduce all kinds of other flavors into the mix. Spices, herbs, oils or fat, and other ingredients will change how flavors interact with and complement each other. So, just like with appearance, fresh produce really only has a clear advantage for things that are intended to be eaten raw or in their natural state.
Bottom Line: There was no clear difference in the actual flavor when comparing the two versions of this recipe.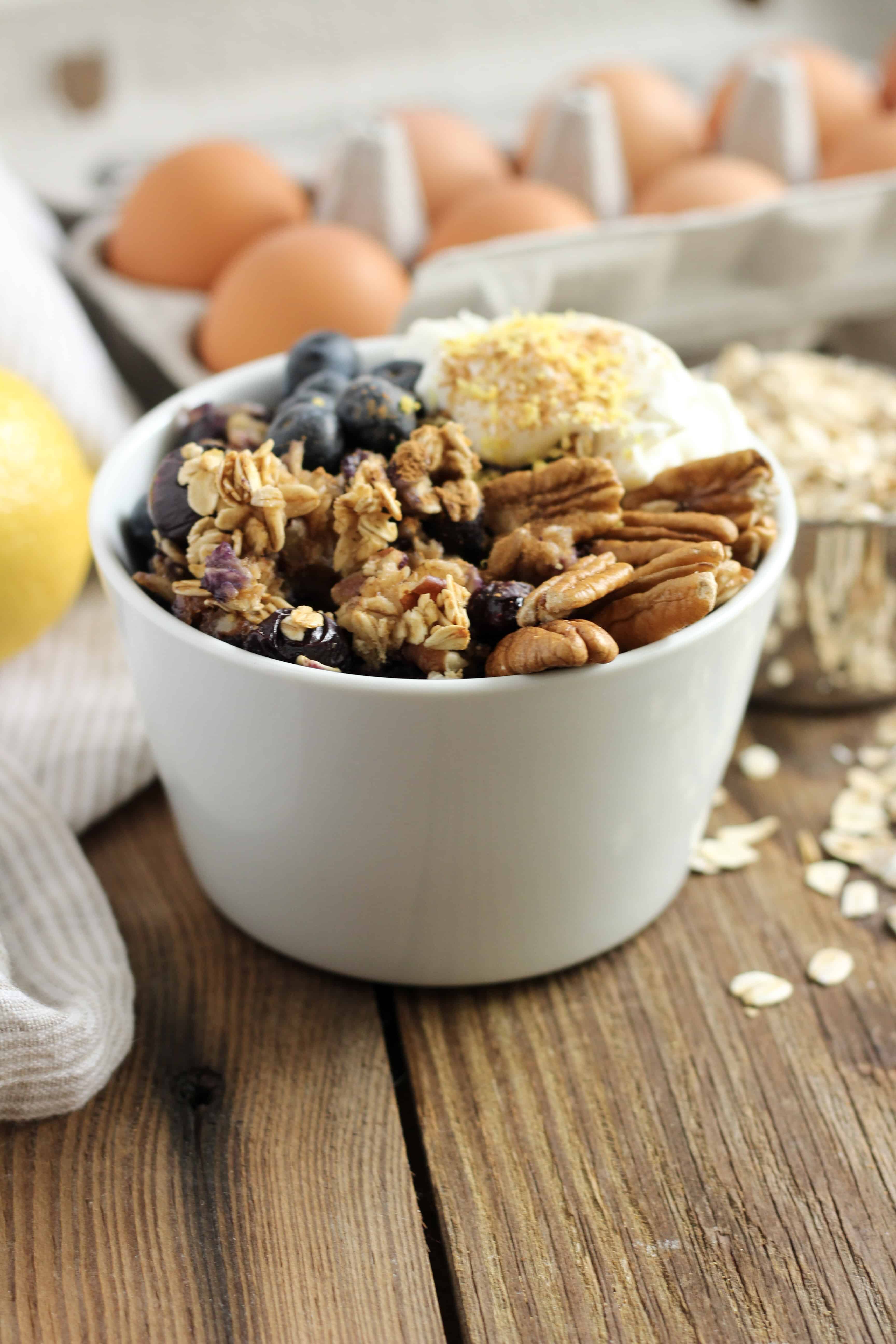 So in the end, I stand by my original hypothesis that both fresh and frozen or canned fruits and vegetables perform equally well in recipes. Sometimes clients and families feel like they're doing a disservice by opting for the latter but I'm here to tell you, that couldn't be further from the truth. We can make food choices based on any number of factors, but I'm a firm believer that cooking has to be convenient and enjoyable if we intend to do it on a regular basis.
Here are a few takeaways before we get to the recipe:
Fresh produce may look better, but it also takes longer to prep.
Canned produce might not have the freshest flavor, but if you're adding to a recipe you may not notice a big difference.
Shopping according to your budget and priorities is always important.
[Tweet "These Blueberry Lemon Baked Oatmeal Cups are perfect for a simple make-ahead breakfast or snack"]
So with all of that being said, here's what you really came for! Enjoy this recipe whether you use fresh or frozen, I'm confident you'll find it equally tasty as a make-ahead breakfast or snack!
Here's the recipe for Blueberry Lemon Baked Oatmeal Cups!
Blueberry Lemon Baked Oatmeal Cups
Here's another version of my baked oatmeal cups. This one features fresh blueberries and lemon for a pop of fresh flavor!
Equipment
Muffin Pan

Mixing Bowl

Spatula
Ingredients
3

cups

rolled oats

1/3

cup

Splenda® Naturals Sugar & Stevia Blend

1 1/2

tsp

baking powder

3/4

tsp

cinnamon

1/2

tsp

fine sea salt

1

tbsp

lemon zest

2

large

eggs

,

lightly beaten

2 1/2

cups

milk

1

tsp

vanilla extract

1 3/4

cup

blueberries

3/4

cup

chopped pecans
Instructions
Preheat oven to 350 degrees F. Line a muffin tin or spray with non stick oil.

Add the dry ingredients to a large mixing bowl (oats, Splenda, baking powder, cinnamon, salt, lemon zest). Fold together until well combined. Mix the wet ingredients separately (eggs, milk, vanilla extract). Add to the large mixing bowl, along with the blueberries and chopped pecans. Fold together, then spoon into the muffin tin. The mixture will be very wet with excess liquid. Evenly distribute the excess liquid between the 12 muffins.

Bake on the middle rack of the oven for 30 minutes, or until the muffins set and tops begin to brown slightly. Remove from the oven and allow to cool slightly before serving. Top with Greek yogurt (optional) or serve with additional blueberries, pecans, cinnamon, or lemon zest if desired.
Notes
If using frozen blueberries or wild blueberries, reduce to 1 1/2 cups.
To serve immediately: Remove the muffin from the liner and break apart into a small bowl. Add toppings and serve warm.
Nutrition
Serving:
1
muffin
,
Calories:
200
kcal
,
Carbohydrates:
26
g
,
Protein:
6
g
,
Fat:
9
g
,
Saturated Fat:
2
g
,
Cholesterol:
36
mg
,
Sodium:
193
mg
,
Potassium:
196
mg
,
Fiber:
3
g
,
Sugar:
10
g
,
Vitamin A:
139
IU
,
Vitamin C:
3
mg
,
Calcium:
114
mg
,
Iron:
1
mg
---
You can find a version of this recipe in my cookbook, plus many more delicious and nourishing recipes. Check it out on Amazon!

SaveSave
SaveSave