These easy pumpkin spice baked oatmeal cups are the ultimate mixture of flavor and simplicity! You don't have to be a skilled baker to enjoy these seasonal baked oatmeal cups!
---
'Tis the season for pumpkin-flavored everything!
Yes, I'm gonna go there. Because I'm not going to lie and say I don't love some pumpkin-flavored things. Do I think it goes a little too far sometimes? Sure. Do I genuinely prefer apple spiced things over pumpkin spiced things? You bet. But when I was dreaming of my next version of my baked oatmeal cups I wanted a seasonal flair and pretty fall color so pumpkin it is!
Want to see the other versions? Check out the Lemon-Fig and Blueberry Baked Oatmeal Cups!
Pureed pumpkin is a very (for lack of a better word) moist ingredient. Trust me, I cringed when I wrote that just like you probably cringed when you read it. But it's true! And it needed a little something extra to help it bake to a firmer texture. That's why this version includes ground flax. It's a small amount per muffin, so you won't necessarily get a lot of nutrition benefits from adding it. But if you're looking for an easy way to add extra fiber, plant-based omegas, and not affect flavor, consider adding ground flax to your recipes. I mostly use it in smoothies and baking but it can easily be added to waffle or pancake mixes, and even baked into savory recipes like meatballs.
I recently discovered this super smooth version from Manitoba Milling Co. They didn't sponsor this post but I was so impressed by the texture that I wanted to tell you about it!
I like to bake my pumpkin spice oatmeal cups until the tops begin to brown just a tiny bit. It's a little different than baking a cupcake or muffin, but you can still use the toothpick test to make sure the inside of your baked oatmeal cups are fully cooked.
If I'm serving these right away I let them cool for a few minutes, then bite right in. Other times, especially if I'm working through the leftovers, I break it apart in a bowl and microwave until warm. Then I top with honey or almond butter (or regular butter) for a quick version of hearty oatmeal in a bowl.
Either way, it gives me less of a reason to skip breakfast because the hard part is already done! I rely on a version of these baked oatmeal muffins a lot during busy times of the year. They also double up as a convenient snack. I find two is usually enough to keep me full for breakfast and one is the perfect size for a snack, but play around with serving sizes to find what works for your appetite!
Curious about my other breakfast staples? Check out my Berry Cherry Overnight Oats or Peaches and Cream Overnight Oats!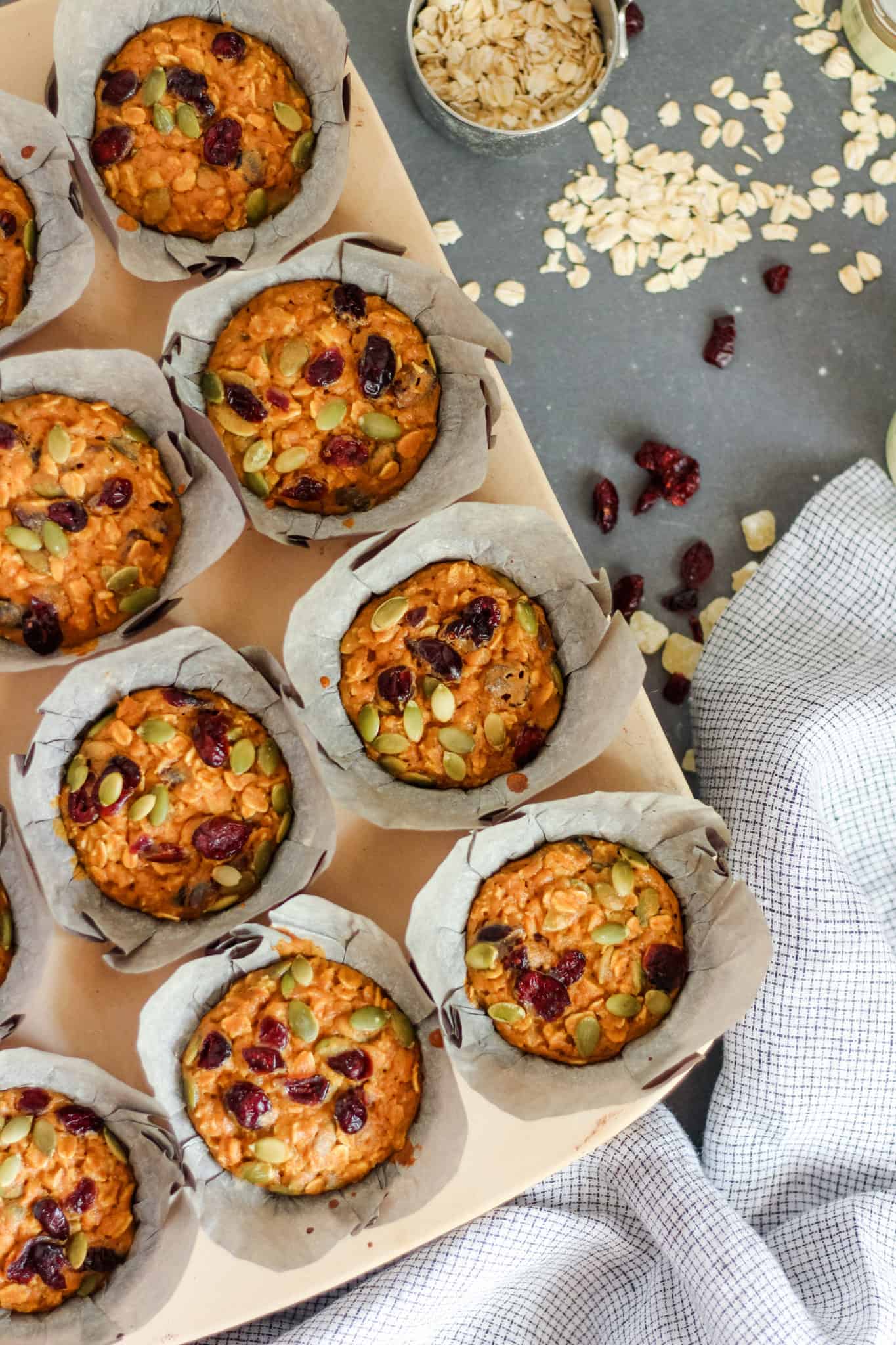 Did I mention these make the house smell amazing? I think it's the combination of spices – I wanted to be a *little* extra so instead of just adding pumpkin spice, I used extra cinnamon and crystallized ginger too. It's easy to find in the spice section of your grocery store but might also be found in the bulk section. But I used it as an excuse to visit Penzey's, one of my favorite places for culinary-inspired shopping. We're fortunate to have a brick-and-mortar Penzey's in Kansas City, otherwise online ordering is the way to go.
Here's the recipe for Pumpkin Spice Baked Oatmeal Cups!
Pumpkin Spice Baked Oatmeal Cups
Here's a fall version of one of my favorite breakfast recipes. This time it features the classic pumpkin pie spice, but also ginger, cinnamon, and vanilla. 'Tis the season for pumpkin flavored everything!
Ingredients
1 2/3

cups

rolled oats

1/2

cup

sugar

1/2

cup

dried cranberries

,

plus more for topping (optional)

1/2

cup

pepitas

,

plus more for topping (optional)

3

tbsp

crystallized ginger, finely chopped

2

tbsp

ground flax seed

1 1/2

tsp

baking powder

3/4

tsp

pumpkin pie spice

3/4

tsp

cinnamon

1/2

tsp

kosher salt

3/4

cup

pureed pumpkin

2

large eggs, lightly beaten

1 2/3

cup

whole milk

1 1/2

tsp

vanilla extract
Instructions
Chop the crystallized ginger if needed. If the dried cranberries are large, chop as needed until all are a similar size. Prepare a muffin tin and preheat the oven to 350 degrees F.

Mix the dry ingredients in a large mixing bowl: oats, sugar, cranberries, pepitas, flax seed, baking soda, spices, and salt.

Mix the wet ingredients together separately: eggs, milk, and vanilla. Once combined, add the pureed pumpkin and mix until thick and smooth. Pour over the dry ingredients and stir to combine. The mixture should be very wet. Top with additional cranberries and pepitas if desired.

Carefully spoon into the prepare muffin tin, filling each cup close to the top. Bake 30 minutes or until the tops begin the brown. The muffins should rise slightly and appear fully baked.

Remove from oven and allow to cool before serving.
Notes
Store leftover baked oatmeal cups in the refrigerator in a sealed container or individually wrapped. To reheat, microwave in 10-15 second increments until heated through. 
Nutrition
Serving:
1
muffin
,
Calories:
128
kcal
,
Carbohydrates:
18
g
,
Protein:
5
g
,
Fat:
5
g
,
Saturated Fat:
1
g
,
Cholesterol:
34
mg
,
Sodium:
187
mg
,
Potassium:
160
mg
,
Fiber:
2
g
,
Sugar:
8
g
,
Vitamin A:
2483
IU
,
Vitamin C:
1
mg
,
Calcium:
93
mg
,
Iron:
1
mg
---
What's your favorite way to prep breakfast ahead of time? Are you a fan of pumpkin spice?
[Tweet "'Tis the season for pumpkin spice everything! Try these Pumpkin Spice Oatmeal Muffins for your breakfast this week"]