Try this Wild Blueberry Mango Lassi for a refreshing twist on the classic yogurt based drink. You'll get a boost of antioxidants and flavor from these ingredients. Keep scrolling to see more!
By posting this recipe I am entering a recipe contest sponsored by the Wild Blueberry Association of North America and I am eligible to win prizes associated with the contest. I was not compensated for my time.
Have you ever tried mango lassi? Until a few years ago, I had not, but lemme tell you, once I did it was like love at first sip. The creamy texture, sweet flavor, and subtle hints of exotic spices were so, so  good and unlike anything I had tried before then. Fast forward a few years and I started working at a clinic that happened to have an Indian restaurant right across the street with a weekday lunch buffet special. Mango lassi included.
Want to guess where I spent more than a few weekday lunch breaks? Yep.
Sadly, I no longer work within walking distance of mango lassi on tap. I've attempted to make it a few times on my own at home but could never quite replicate the exact taste. I know that likely has something to do with a lot of things, but I decided to give it one more shot with a twist: wild blueberries.
I know, I know. This runs risk of offending the mango lassi traditionalists. It's a risk I'm willing to take because this turned out ah-mazing.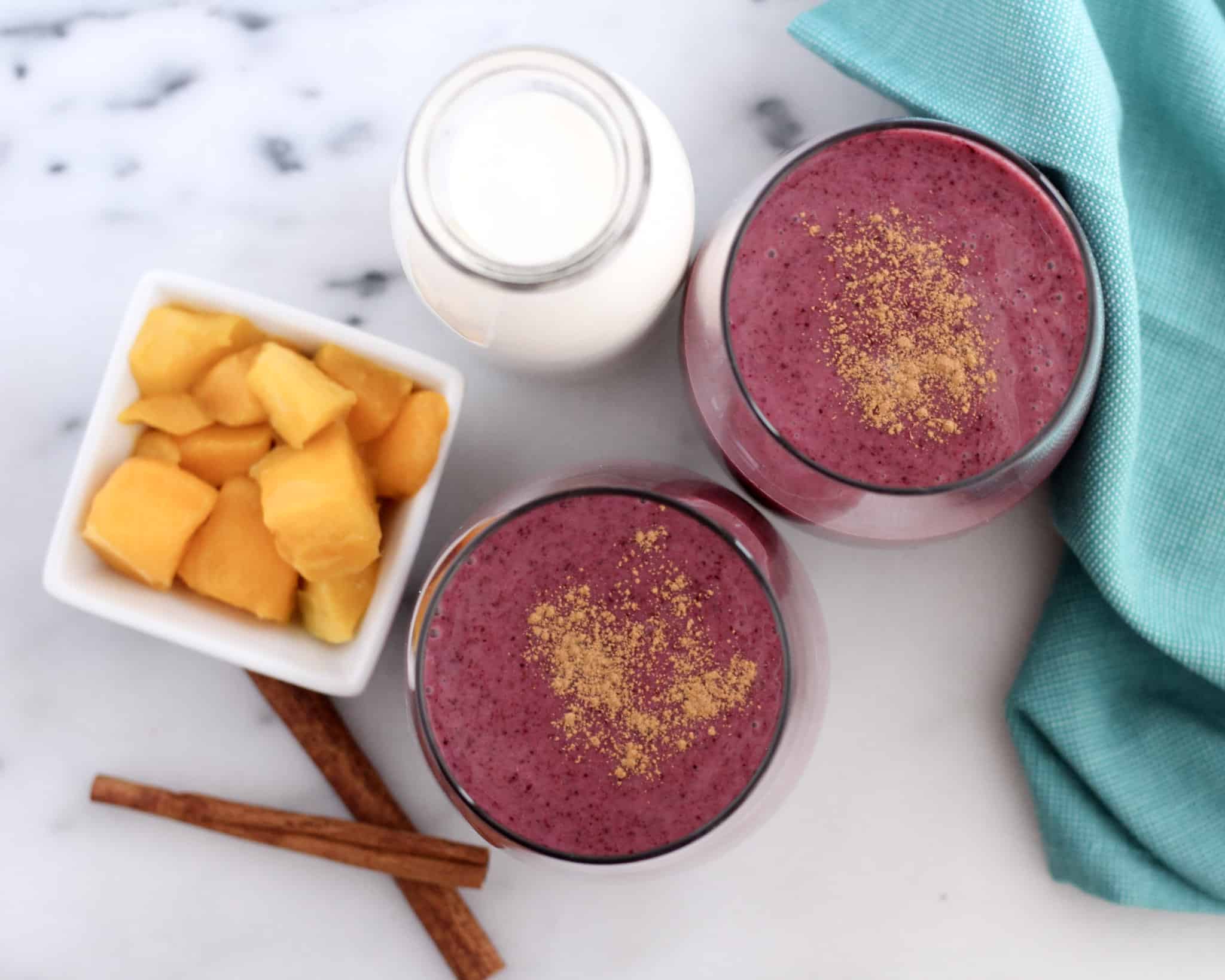 Wild Blueberries have a wonderful tart, yet sweet, flavor that nicely compliments an ultra-sweet fruit like mango. To keep things simple, I used only frozen fruit (though when mangoes are in season, go crazy). Frozen fruit is a great option, especially during winter months, because fruit is picked at the peak of ripeness while it's in season. In the case of frozen Wild Blueberries, they undergo the IQF process (individual quick freezing) so you can easily measure the amount you need, rather than getting stuck with one massive clump of frozen fruit.
In the case of nachos, that would be one nacho. But in the case of blueberries, that's not one blueberry.
Wild Blueberries are truly wild – they grown in barrens of Maine and Eastern Canada in a network of interconnected plants. Since they aren't cultivated, there's a unique flavor that really stands out when compared to the cultivated blueberries I usually pick up at the grocery store or market.
[Tweet "More flavor, more fiber, more antioxidants! Wild blueberries are an easy way to step up your smoothie game #WildYourSmoothie"]
How do you know if what you're getting is wild or not? Check the for the color. Wild Blueberries have a darker pigment which is a sign of their higher antioxidant content. Also, check the size. Wild Blueberries are a more compact version of their cultivated cousins. Lots of goodness squeezed into a smaller package! Look for them in the frozen aisle. Most brands label them as "Wild" which makes it much easier as well.
With a kefir base, this smoothie provides a food-based source of gut-friendly probiotics. I recommend using the plain version (much lower in added sugar) but this recipe is also delicious with vanilla, coconut, and of course mango versions. Look for it in the refrigerated section of your grocery store alongside the yogurt and milk.
So get wild this weekend and start your morning with this Wild Blueberry Mango Lassi. Enjoy!
[Tweet "#WildYourSmoothie with this Wild Blueberry Mango Lassi from Street Smart Nutrition"]
Wild Blueberry Mango Lassi
Try this Wild Blueberry Mango Lassi for a refreshing way to #WildYourSmoothie. Find wild blueberries in the frozen section of your grocery store
Ingredients
1

cup

frozen Wild Blueberries

1

cup

frozen mango chunks

1

cup

plain kefir

1/2

cup

water

1 1/2

tsp

honey

1/4

tsp

ground cardamom

1/4

tsp

ground cinnamon
Instructions
Measure 1/2 cup water into a measuring cup. Add the Wild Blueberries and allow to thaw while prepping the other ingredients.

Add the mango chunks to your blender, along with the kefir, honey, cinnamon, and cardamom. Pour the thawed Wild Blueberries on top (do not drain). Blend on high for 1 to 2 minutes until a smooth liquid consistency is reached. Pour equal amounts into two tumblers and serve immediately.

Garnish with additional cinnamon or cardamom if desired. If you prefer a thinner consistency, add an addition 1/4 cup of cold water.
Nutrition
Serving:
1
smoothie
,
Calories:
184
kcal
,
Carbohydrates:
34
g
,
Protein:
5
g
,
Fat:
5
g
,
Saturated Fat:
2
g
,
Cholesterol:
15
mg
,
Sodium:
67
mg
,
Potassium:
196
mg
,
Fiber:
3
g
,
Sugar:
29
g
,
Vitamin A:
1179
IU
,
Vitamin C:
37
mg
,
Calcium:
159
mg
,
Iron:
1
mg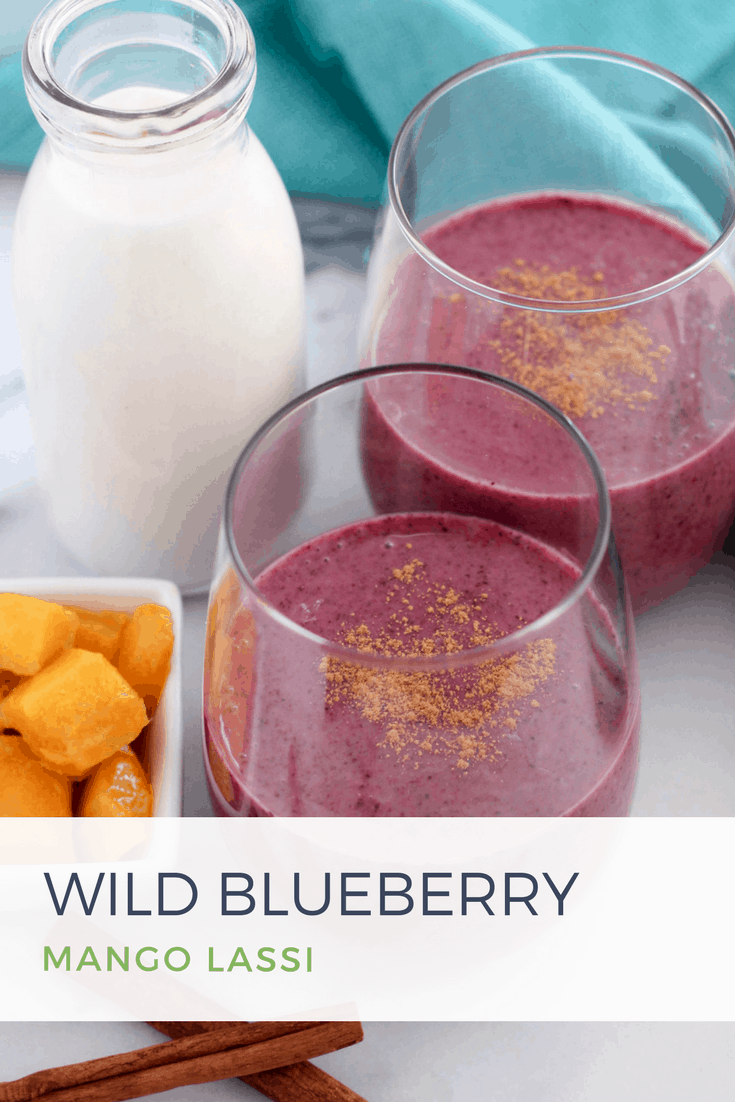 SaveSaveSaveSave