Fresh sweet corn is literally everywhere right now, and this Creamy Corn Pasta recipe will put it to good use! It features a creamy sauce, plus salty bacon, fresh basil, and butter beans. You won't want to miss your chance to make this summery pasta dish before the season is over!
I recently polled my audience on social media to see if they wanted more summer recipes. The answer was an enthusiastic yes! While I love fall (and have plenty of amazing autumn recipes, too) I totally understand the appeal. And I didn't want to wait until next year to share this creamy sweet corn pasta recipe!
I saw a version of it in Southern Living magazine…I'm not sure how I ended up on their mailing list but I was flipping through a recent issue and their recipe caught my eye. With a few changes and the addition of basil and butter beans (more on that below), we landed here!
Why You'll Love This Creamy Corn Pasta
If you don't love perfectly cooked al dente pasta wrapped in a silky smooth sauce with bacon and cheese, well. This recipe is probably not for you. But for everyone else, let me prime you for what's to come!
This dish has it all…yes, there's bacon, but there's also fresh vegetables and butter beans, adding nutrition and more creamy texture.
One of the best parts is how simple the cream sauce is to make. There's no tedious measuring or multiple ingredients, and it can all be made right there in the same pan you use for everything else.
You'll learn my favorite technique for squeezing every bit of corn flavor out of the corn cobs, making your finished dish taste even better!
Let's get started!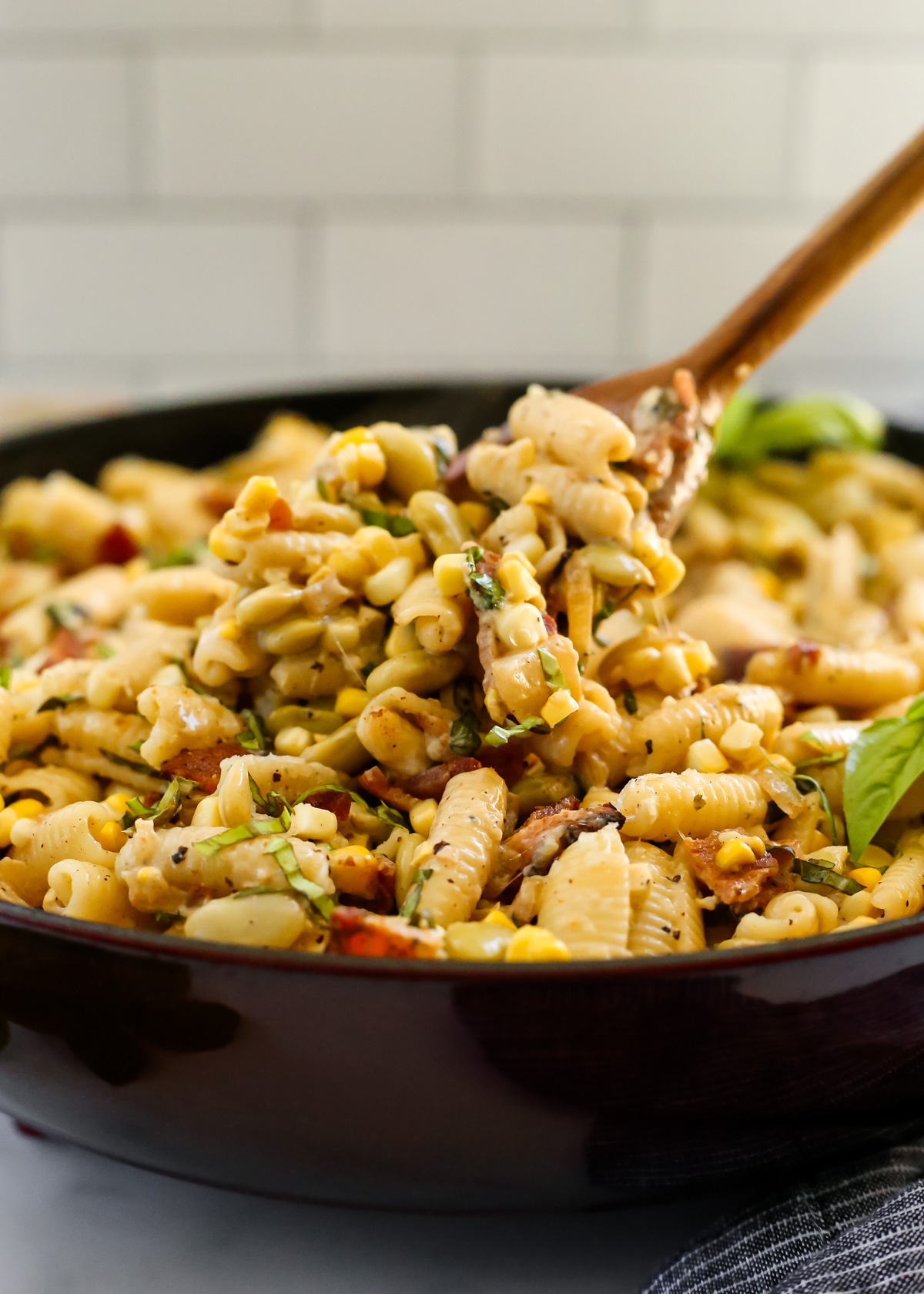 Creamy Corn Pasta Ingredients
Sweet summer corn. Four fresh ears of corn yields about three cups, so if using canned corn or frozen corn, aim to match the volume for similar results.
Heavy cream
Thick-cut bacon
Yellow onion
Garlic
Canned butter beans or baby lima beans
Mozzarella cheese. I prefer to shred the cheese from a block, which seems to have a smoother texture. Bags of shredded cheese have additional ingredients to prevent clumping in the bag, which can leave a grainy or gritty texture. However, in a pinch you can save some time and effort by using a pre-shredded cheese. 
Fresh basil
Salt and black pepper
Medium cut pasta, such as rigatoni, cavatelli, medium shells, or similar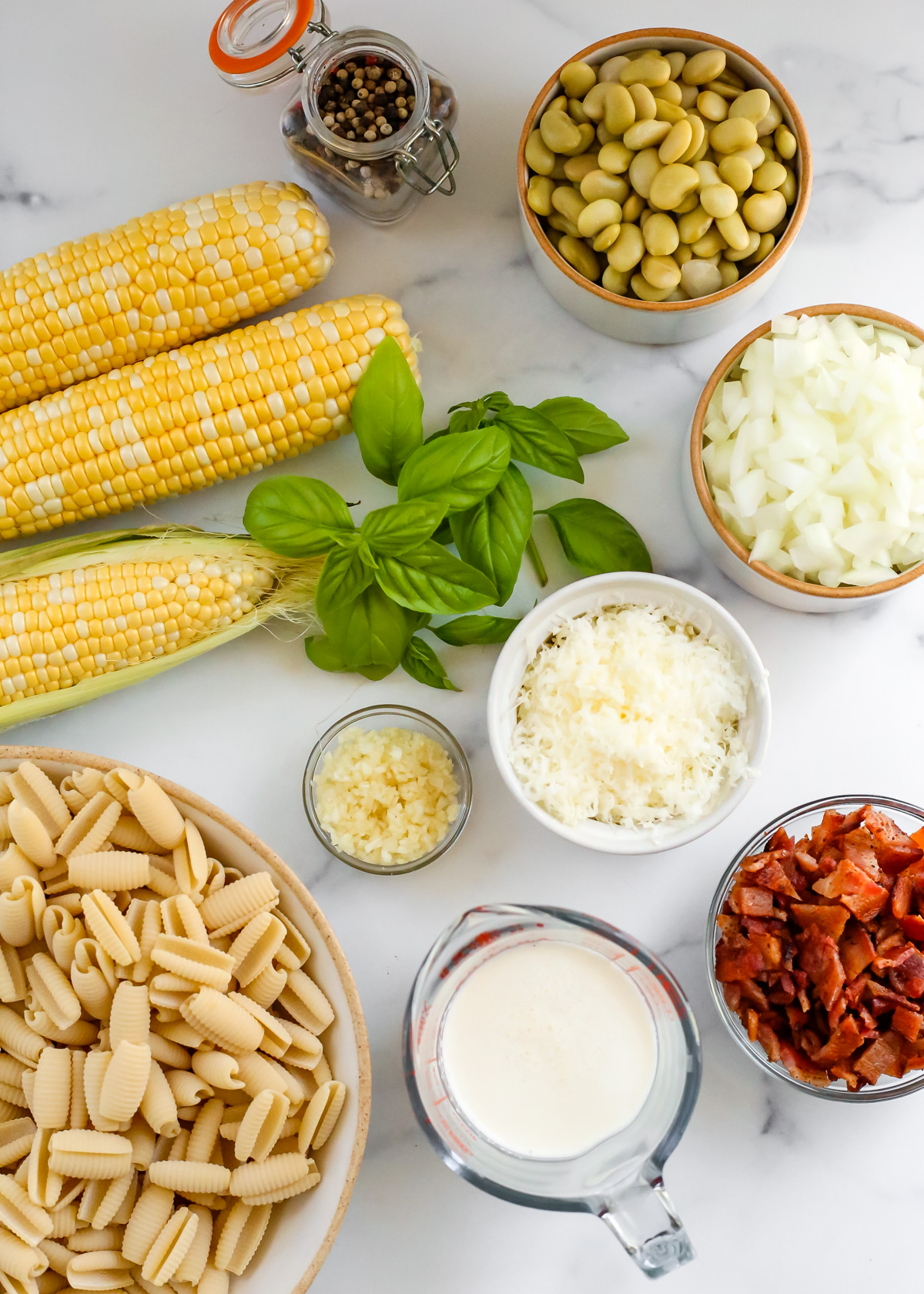 All of these ingredients can be easily found at any grocery store. But if you want to save a trip, grocery delivery can be a convenient option. Click HERE for a ready-to-use list for this creamy corn pasta recipe, thanks to our friends at InstaCart!
If you love summer pasta dishes, be sure to also check out my Antipasto Pasta Salad, Beans & Greens Pasta Salad, or Chicken Caesar Pasta Salad while you're here!
Why add butterbeans?
OK, first of all: did you know butter beans and lima beans are the same thing?
If this is new information, did that change how you think about lima beans? I think it's such a shame they aren't more popular, and trust me, I used to be one of those people who shied away from any dish made with them. Even the name "lima beans" brought up associations of an unpleasant meal. I totally blame pop culture for this, since the link between lima beans and a "terrible, horrible, no good, very bad day" lingers in our minds.
And while they can be a little bit bitter or gas-inducing thanks to the naturally occurring starch, a cooked butter bean (or lima bean) does indeed have a smooth, creamy, buttery texture. That makes them perfect for this dish, especially if you used canned baby lima beans. They're so soft that once they're mixed into the creamy corn sauce, they actually add to the creaminess. No need to rely on extra heavy cream or melted cheese (although you can if you want to) but each bite will automatically have a deliciously smooth texture in a luscious sauce.
​Of course, as a dietitian, I should also note that adding beans to a pasta dish amps up the plant-based protein and fiber content. Canned beans are inexpensive, easy to cook with, and shelf-stable, so stock up on butter beans (or baby lima beans) or any other kind of white beans so you can enjoy this Creamy Corn Pasta on repeat!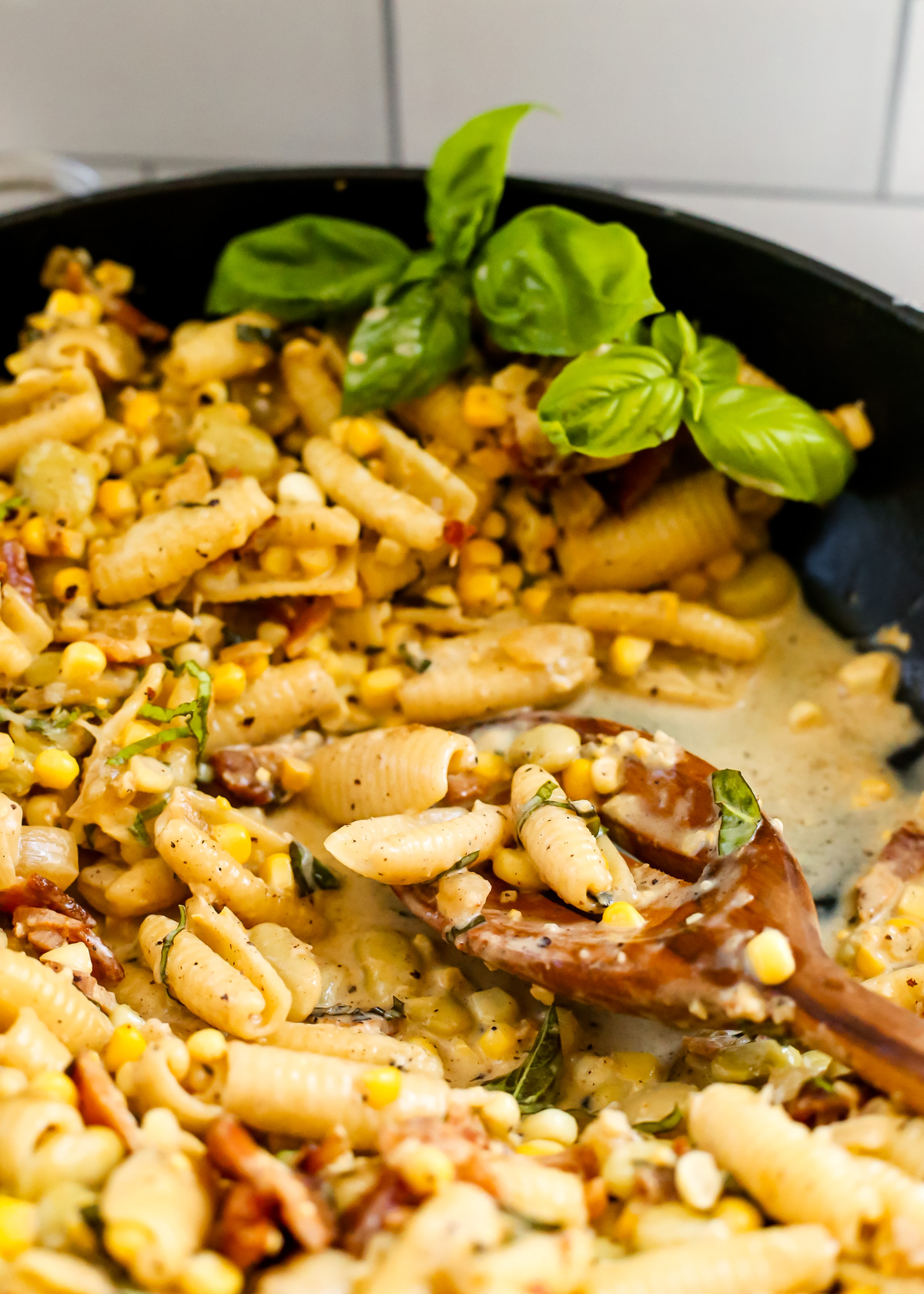 Street Smart Nutrition Tip: Draining and rinsing canned beans under water can remove up to 40% more sodium than just draining. It's an easy way to reduce the overall sodium in your recipes. Read more about How To Make a Low-Sodium Diet Taste Better!
How to Make Creamy Corn Pasta
This creamy corn pasta recipe will feel easier if you think of it as two parts: the prep process and the cooking process. Let's start with the first one and I'll show you how to "milk" your corn cobs to squeeze out every drop of corn flavor!
​"Milking" Corn Cobs
If you're new to this technique, don't worry. No special equipment needed and it takes just a few minutes. Start by shucking your ears of corn, removing as much of the silk as possible. Then, following these step-by-step instructions:
Grab a large, shallow bowl and place on end of the corn cob in the center so it stands vertically. To get better access, you can set it on top of a small bowl turned upside down in the center.
Hold the top end firmly and use a serrated knife to slice the corn kernels away from the cob, collecting the kernels in the large bowl. Repeat with all of the ears of corn.
Take the cobs and use a spoon or the back of the knife to scrape downward along the cob. You'll be removing the base of each corn kernel, which holds a lot of flavor and extra moisture. The "milk" will be a chunky from the remnants of the kernels, but also a bit watery.
Here's a comparison of how much is actually left on the corn cob if you skip this step:
Mix the sweet corn kernels with the "milk" in a small bowl and add the heavy cream. Let this sit as you complete the other prep steps to mince garlic, dice an onion, wash the fresh basil, shred the cheese, and drain and rinse the canned baby lima beans (butter beans).
Cooking Creamy Corn Pasta
When you're ready to cook, heat a large skillet or braising pan over medium-high heat. Around this time you can also set a large pot of salted water to boil for the pasta. Make your way through these next steps to complete this creamy corn pasta recipe:
Cook the bacon to a crispy texture. Once fully cooked, remove the strips of bacon from the skillet and pat with a paper towel to remove excess grease. Drain most of the grease from the skillet, leaving some of the drippings for sautéing the onion.
Reduce the heat to medium heat and add the onions. Stir often and cook for 5-6 minutes, or until they onions are softened and fragrant. Add the garlic and cook for one minute more.
As this is happening, the water should be boiling. Add the pasta and cook according to package directions for al dente pasta. This is probably about 8 to 10 minutes. Before draining the cooked pasta, reserve about one cup of the pasta cooking liquid in a measuring cup.
As the pasta cooks, stir in the corn and cream mixture with the onions and garlic. Once everything is mixed, slowly add small amounts of cheese. Add a little at a time to ensure it fully melts before adding more.
Add half the bacon and all of the butter beans to the skillet with the creamed corn mixture. Then add the drained pasta and start to mix everything together.
While stirring, add in small amounts of the reserved pasta water. You may not need to use all of it, but that starchy pasta water helps emulsify the fat in the bacon and cream so it will cling to the pasta. Once that happens (which should take only a minute or two) remove from heat and stir in the fresh basil. Add the rest of the bacon for garnish when serving, along with extra cheese and basil.
From there, just season with salt and cracked black pepper to taste. Serve and enjoy!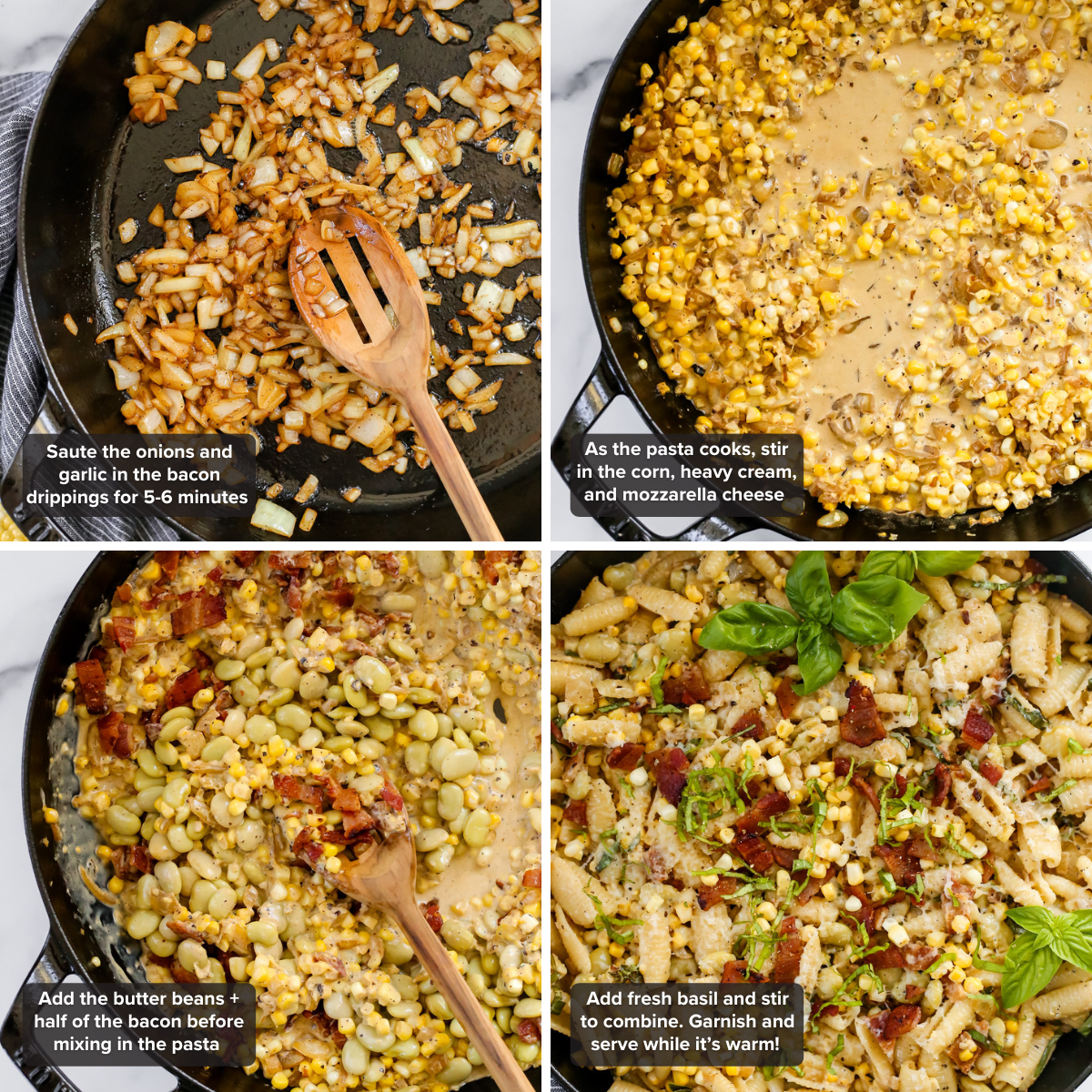 Serving Suggestions and Storage Tips
I think this is one of those recipes that can double as a side dish or a main entree. As written, the recipe yields about 8 servings for a hearty side (just needs an added protein) or a main dish if paired with a side or other vegetable on the side.
Get creative with the garnishes, as I intentionally left it pretty basic by using what's already in the recipe. But I think this creamy corn pasta would taste great with red pepper or chili flakes, green onions, toasted bread crumbs, or even a drizzle of hot sauce over the top.
Store leftovers in an airtight container. Refrigerate and eat within 4-5 days for best results. To reheat, simply microwave in 30-45 second increments, stirring occasionally, to ensure it heats evenly. Add a little bit of extra cheese or splash of heavy cream to refresh the sauce and enjoy!
Here's the full recipe for my Creamy Corn Pasta with Bacon, Basil, and Butter Beans!
Creamy Corn Pasta with Bacon, Basil, and Butter Beans
Celebrate the taste of summer with this creamy corn pasta recipe featuring salty bacon, creamy butter beans, and fresh basil. It's full of fresh flavor thanks to a special technique to "milk" the corn cobs, removing the entire kernel for the best corn flavor. Serve it up before the season ends!
Equipment
large skillet or braising pan

large pot for cooking pasta

cutting board and sharpened knife,

plus a serrated knife

prep bowls,

including a large shallow bowl

measuring cups and spoons

fine mesh strainer or colander
Ingredients
4

ears

fresh corn, shucked and milked

,

about 3 cups

1

cup

heavy cream

6

slices

thick cut bacon

1

medium

sweet or yellow onion

,

diced, about 1 1/2 cups

3

cloves

garlic

,

minced (or about 1 tbsp + 1 tsp)

1

cup

mozarella cheese

,

plus 1/4 cup for serving

1

can

butterbeans (lima beans)

,

about 1 1/2 cups drained

1

lb

medium cut pasta

1

cup

reserved pasta water

1/4

cup

fresh basil

,

chopped, plus more for garnish

Kosher salt and pepper to taste
Instructions
Use a sharp knife to carefully carve the kernels from the cob. Then take a spoon or the back of the knife to scrape the cob, "milking" the remaining pieces of the kernels. Yield should be approximately 2 1/2 cups kernels and 1/2 cup milk for 4 average ears of sweet corn.

Place the kernels and corn milk in a mixing bowl and stir in the heavy cream. Mix lightly to combine then set aside to complete the rest of the prep steps.

Cook the bacon to a crispy texture in a large skillet. Once fully cooked, remove the bacon from the skillet and pat with a paper towel to remove excess grease.

Reserve some of the drippings and rendered fat from the bacon in the skillet. Bring back to medium heat and add the onions. Stir often and cook about 5-6 minutes, or until the onions are softened and fragrant. Add the garlic and cook 1-2 more minutes.

Meanwhile, bring a large pot of salted water to a boil. Add the pasta and cook according to package directions for al dente pasta (8 to 10 minutes). Reserve about 1 cup pasta water then drain the pasta.

Stir in the corn and heavy cream mixture into the skillet with the onions and reduce the heat to medium-low. Over the course of 3-5 minutes, add in small amounts of the mozzarella cheese, allowing it to fully melt and incorporate into the creamed mixture before adding more.

Roughly crumble the cooked bacon into small pieces. Stir in half of the bacon and use the rest for garnish when serving. Add the drained beans to the skillet with the creamed corn mixture as well.

Add the drained pasta. While stirring, add in small amounts of the reserved pasta water. Once the sauce is clinging to the pasta, remove from heat and stir in the fresh basil.

Season with salt and pepper to taste, then garnish with remaining cheese and crumbled bacon, plus extra basil. Serve warm and enjoy!
Notes
Note that as written, this recipe yields 8 servings for a side dish. If using as a main entree, adjust portions accordingly with additional pairings. 
You may not use all of the reserved pasta water to achieve a creamy, smooth texture for the sauce. Adjust accordingly to fit your preferences for a thicker or thinner sauce.
Nutrition
Serving:
1
serving
,
Calories:
474
kcal
,
Carbohydrates:
46
g
,
Protein:
15
g
,
Fat:
25
g
,
Saturated Fat:
12
g
,
Polyunsaturated Fat:
3
g
,
Monounsaturated Fat:
8
g
,
Trans Fat:
0.04
g
,
Cholesterol:
62
mg
,
Sodium:
325
mg
,
Potassium:
247
mg
,
Fiber:
2
g
,
Sugar:
3
g
,
Vitamin A:
584
IU
,
Vitamin C:
2
mg
,
Calcium:
110
mg
,
Iron:
1
mg
I hope you enjoy this summer pasta recipe! While you could make it any time of the year thanks to the convenience of canned and frozen corn, it just tastes so much better with just-picked sweet corn and fresh herbs. If you try it out, let me know what you think by leaving a rating or comment below.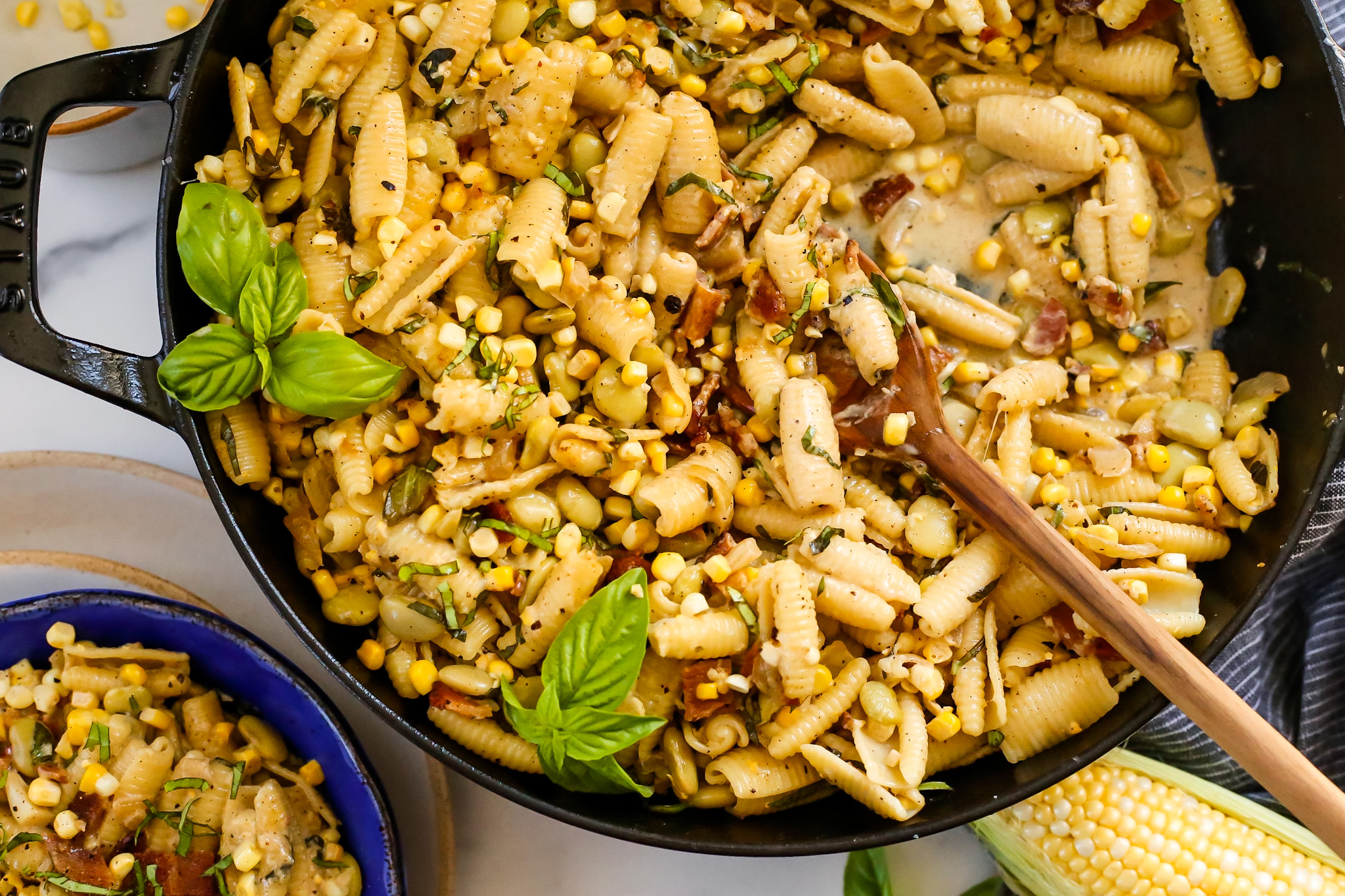 And as always, thanks for stopping by the Street Smart Nutrition blog! You can find more and follow along on Instagram and YouTube (plus all the other social media platforms), and don't forget to sign up for my newsletter so you never miss a new post.
Cheers to more fearlessly nourishing meals!