It's surely summer when the corn, zucchini, tomatoes, and basil show up in abundance! This Freekeh Salad recipe is one of my favorite grain salads for summer, using freekeh, fresh basil, plenty of veggies, and a simple DIY dressing to complement vibrant summer flavors.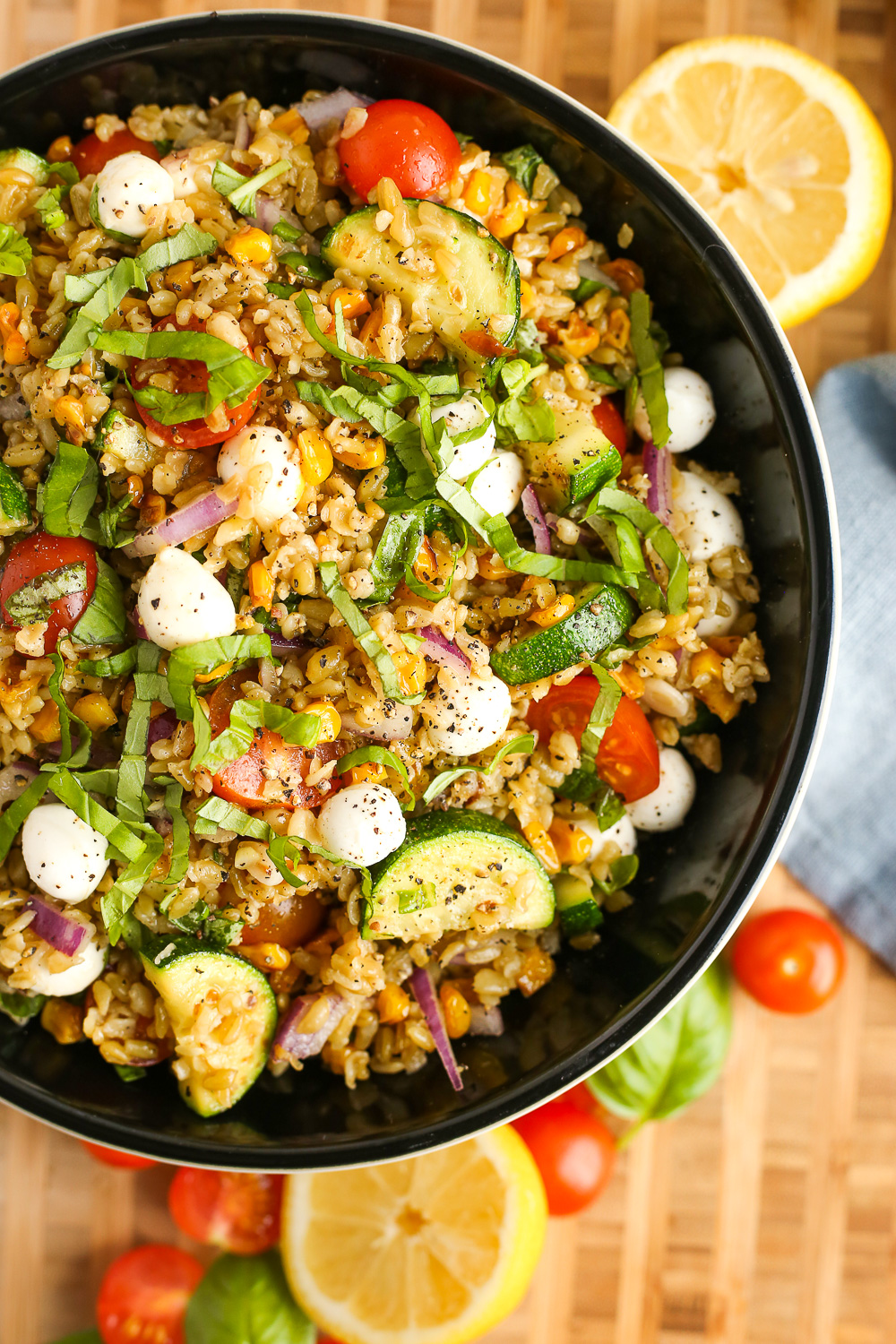 Is there anything better than vine-ripe tomatoes in summer? I'll wait…
If you're like me, you spend the cold months pining away for fresh tomatoes that have that home-grown, "I actually taste like a tomato" flavor. Don't get me wrong, I love relying on canned options but that summer-ripe taste just hits different (as the kids would say).
I just scooped up some delicious-looking grape tomatoes while grocery shopping. They were conveniently nestled in between some sweet corn and zucchini, and my basil is growing out of control on the deck, so I thought, perfect! Those four amazing ingredients inspired me to make this freekeh salad recipe.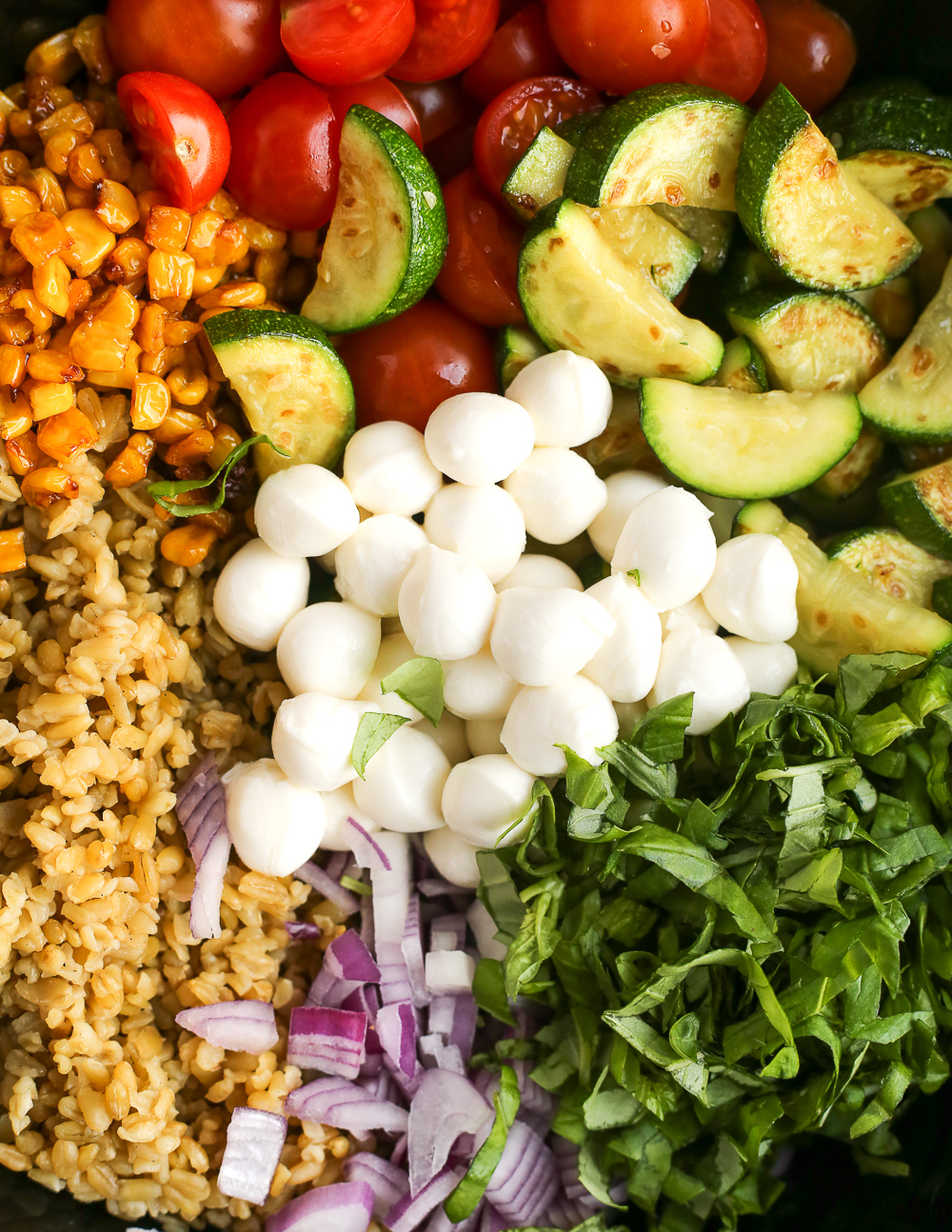 Why You'll Love This Freekeh Salad Recipe
It's colorful, vibrant, and full of texture! This is the kind of salad that you'll truly want to eat.
It uses freekeh, an ancient grain that I personally LOVE. It's somehow dense and hearty, yet fluffy at the same time. Cook it like you would rice on the stovetop with water or vegetable broth.
It's a "recipe" but one that's flexible to the max. I offer some exact measurements in the recipe below but use what you have on hand. Extra zucchini? Toss it in. Short on fresh corn? Use canned or frozen instead. Love mozz? Me too, load it up.
But first, you might be wondering…
What is freekeh?
Freekeh is an ancient grain hailing from North Africa. It's still popular in cuisines throughout the Mediterranean Basin and Middle East region. "Freekeh" comes from the Arabic word "farik" which means "to rub". This refers to the unique threshing process used for producing freekeh.
Freekeh is grown as green durum wheat. It's harvested which the grain is still tender with a high moisture content. After the green wheat is harvested, it's piled up to dry. A careful roasting process ensures only the chaff and straw burns, and the high moisture content protects the grain inside, essentially roasting it. The threshing process shakes the grains loose and individual kernels can be gathered for cooking.
Fast forward to modern times, and freekeh shows up in Syrian, Egyptian, Turkish, and Lebanese dishes. Cooked freekeh is a nutty grain with a slightly toasty flavor from the roasting process. It's similar in texture to bulgar, barley, or pearled spelt with a chewy texture. And the cooking process is super simple, similar to making rice on the stovetop. More on that below!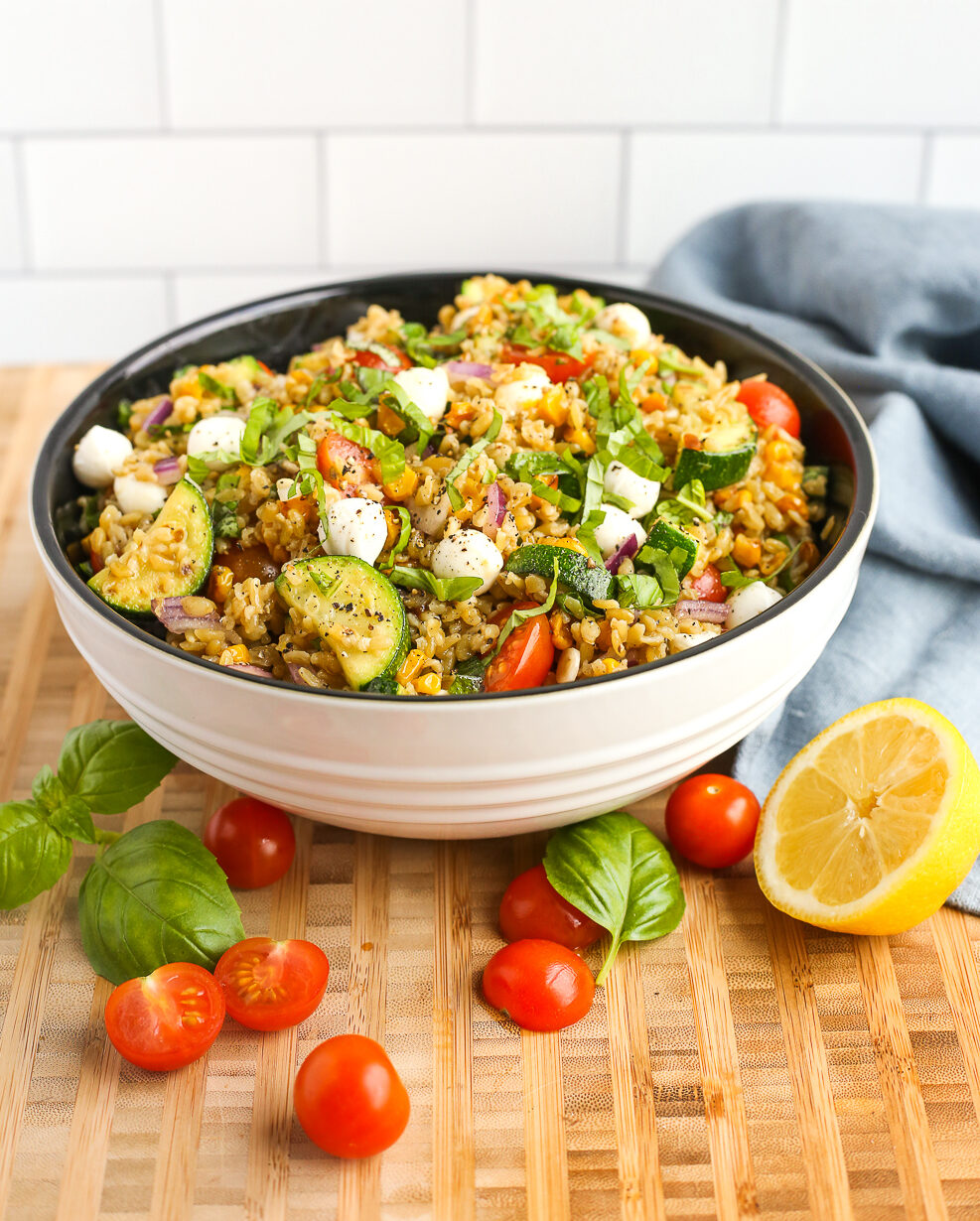 Ingredients You'll Need for Freekeh Salad
Ready to get cooking? Here's what you need to make this delicious freekeh salad recipe for summer:
Freekeh. There's more info below, including where to find freekeh and what to use instead of freekeh if you can't find it. 
Ripe tomatoes. I personally love using cherry tomatoes or grape tomatoes. 
Zucchini
Sweet corn
Fresh basil
Diced red onions
And for the dressing, you will need olive oil, balsamic vinegar, garlic, lemon zest, and lemon juice for some nice acidity.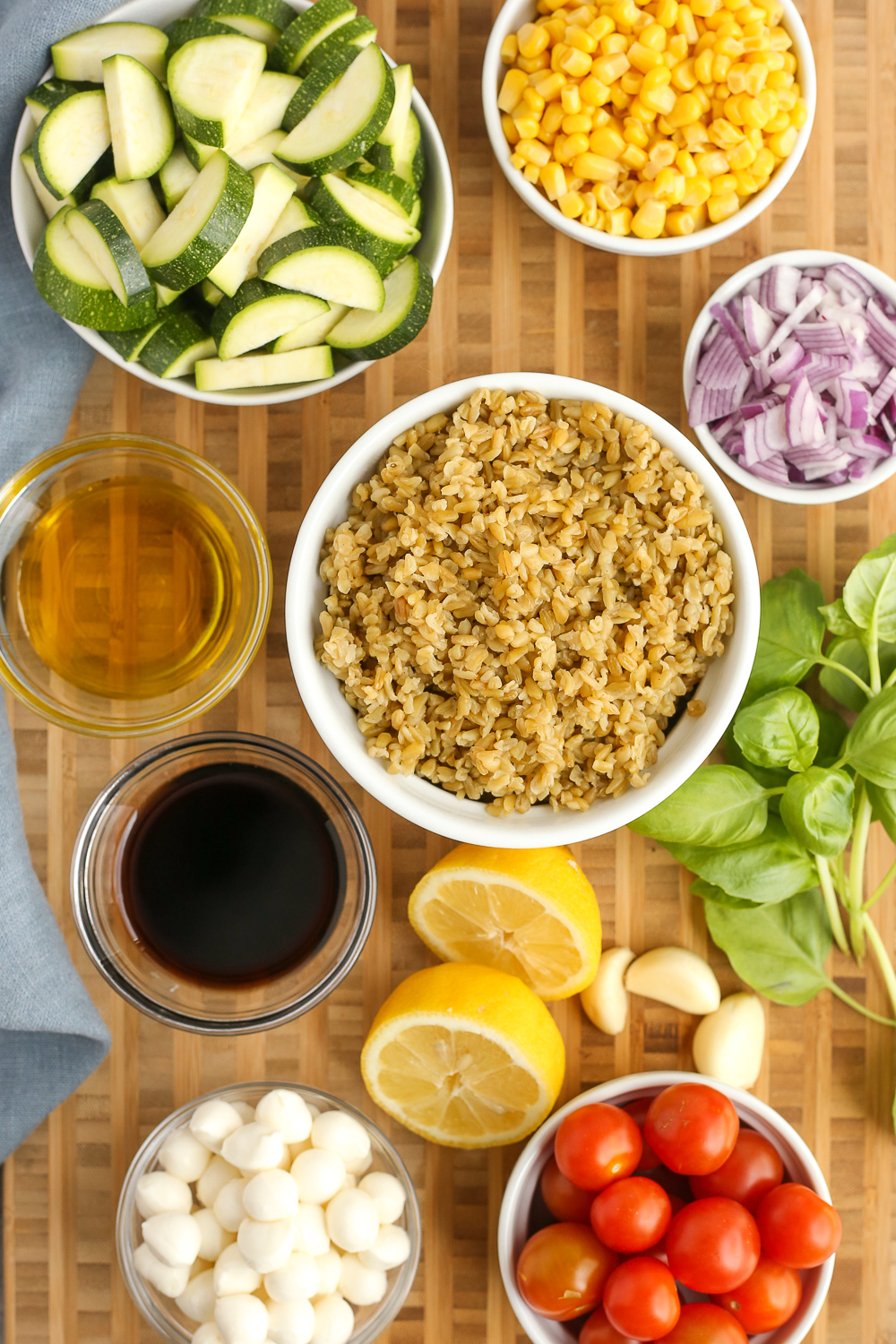 If you're craving more summer flavors, be sure to check out some seasonal favorites like my Creamy Corn Pasta with Bacon, Basil, and Butter Beans or Furikake Tomato Toast on Sourdough.
Where can I buy freekeh?
This ancient grain is becoming more popular so I'm seeing it more often. Look for it in the grains/pasta aisle or near the rice. It might be in the "health food" section or sold in bulk. And these days you can buy just about anything online, including freekeh! I like the cracked freekeh from Bob's Red Mill, which I can always find in a local grocery store.
Street Smart Nutrition Tip: You might see "whole freekeh" and "cracked freekeh" options. Keep in mind that all freekeh is considered a whole grain, so that term just means it's an intact or unbroken grain. The cracked version has a slightly shorter cooking time thanks to that extra surface area. The final texture will also be slightly more fluffy or less dense.
How to Make Freekeh Salad
Making this freekeh salad recipe is a total breeze! There's some veggie prep needed, but once you're done with that the steps come together quickly. In less than 30 minutes, you'll be ready to eat!
Use a ratio of 1 cup uncooked freekeh to 2 1/2 cups water. Add that to a saucepan and bring it to a boil. Add the freekeh, reduce to medium heat, and simmer for until all the liquid is absorbed. This should take about 10 minutes.
In the meantime, slice the corn from the cob. Cut the ends off the zucchini and slice in half lengthwise, then into half-moons about 1/4″ thick. Heat the olive oil in a nonstick skillet or pan over medium heat. Let the corn roast for 4-5 minutes before adding the zucchini and searing it until slightly browned.
Mix up the dressing in a jar or small bowl. Add all the dressing ingredients and shake or whisk until everything is combined.
Once the cooked freekeh is finished, let it cool before adding it to a large bowl. Add the corn, zucchini, tomatoes, red onion, basil, and mozzarella. Drizzle the dressing over the top and give it a good stir. Add some salt and black pepper, to taste, along with extra basil or other fresh herbs for garnish. Then serve and enjoy!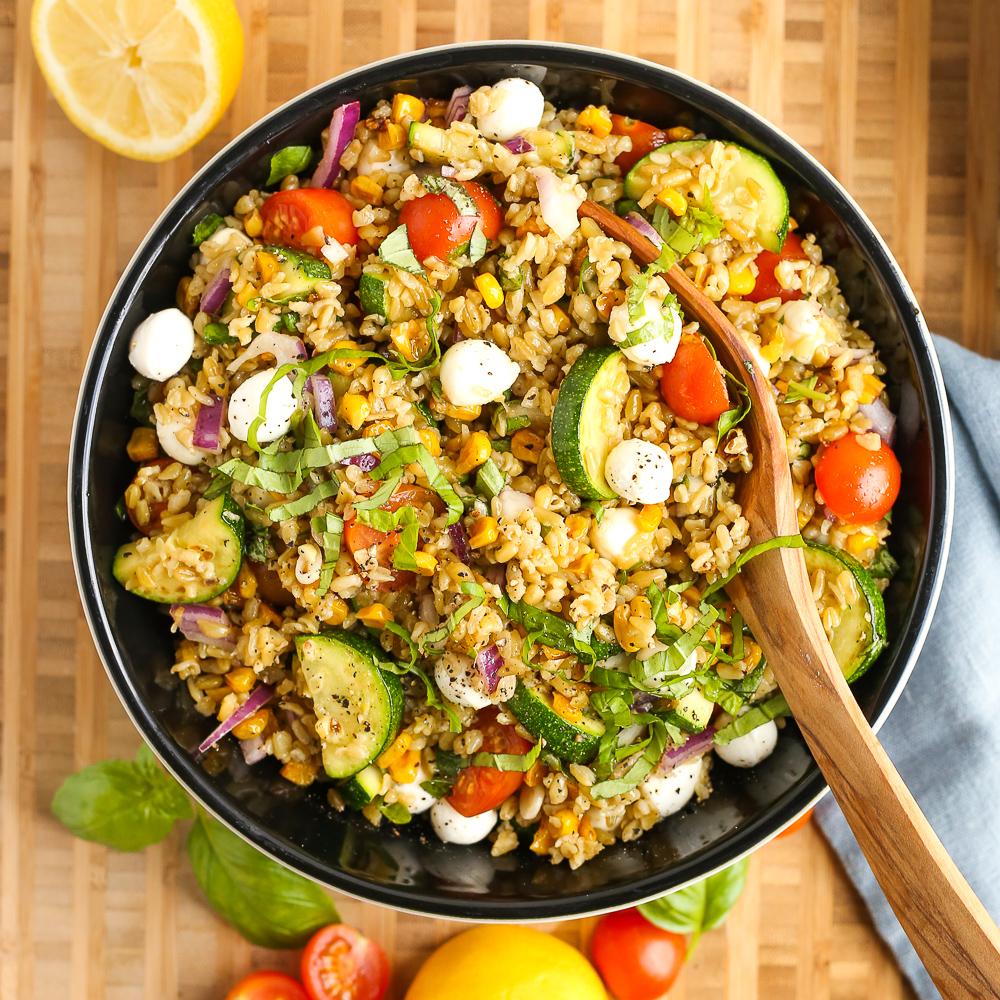 This freekeh salad can be enjoyed warm, just after cooking. Or, prep it in advance to serve at room temperature. It can even work well for meal prep with no reheating necessary.
Store any leftovers in an airtight container. Try to eat within two to three days for best quality.
Can I make substitutions for freekeh?
Absolutely! While I personally enjoy the texture of this freekeh salad, you might be partial to something else or not have it as an option. If that's the case, you can use about three cups of any other cooked grain. One cup of uncooked freekeh yields about 3 cups cooked.
The other options that will be most similar to freekeh are:
Quinoa
Farro
Barley
Whole wheat or giant (pearled) couscous
Brown rice
As always, your summer salad recipes can be inspired by whatever you have on hand! Adding a handful of leafy greens, sliced avocado, green onions, other summer herbs, or extra veggies wouldn't be a bad idea. Scale the amount of dressing you use, or double the amount to use on other summer salads.
Here's the recipe for my Freekeh Salad with Tomatoes, Corn, Zucchini, and Basil!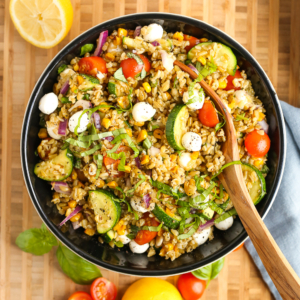 Freekeh Salad with Tomatoes, Corn, Zucchini, and Basil
You'll love this hearty grain salad that's designed to take advantage of fresh summer flavors. Serve with a simple dressing and fresh mozzarella for some salty creaminess in every bite.
Equipment
cutting board and sharpened knife

measuring cups and spoons

Saucepan

Large Nonstick Skillet
Ingredients
For the Salad:
2 1/2

cups

water

1

cup

freekeh

,

uncooked

1/2 to 1

tbsp

olive oil

3

large

ears of sweet corn

2

medium

zucchinis

2

cups

grape tomatoes

,

halved

1/2

cup

finely diced red onion

1/3

cup

fresh basil

,

thinly sliced

8

oz

fresh mozzarella pearls

,

drained

Kosher salt and pepper to taste
For the Dressing
2

tbsp

olive oil

2

tsp

balsamic vinegar

2

cloves

garlic

,

minced

1

tbsp

lemon zest

2

tsp

lemon juice
Instructions
Bring the water to a boil in a medium saucepan over high heat. Add the freekeh, then reduce heat to a simmer. Cook, uncovered, for 8-10 minutes or until all the water is absorbed. Remove the cooked freekeh from heat, fluff with a fork, and set aside until ready to mix and serve.

Meanwhile, use a serrated knife to cut the sweet corn kernels from the cob. Prep the zucchini by slicing in half lengthwise, then chopping into half-moons, about 1/4" thick.

Heat the olive oil in a large skillet until shimmering. Add the corn and roast over medium-high heat for 4-5 minutes or until the edges begin to brown and the kernels begin to soften. Add the sliced zucchini and cook 3-4 minutes longer until the zucchini develops sear marks and browning. Remove from heat and allow to cool slightly.

Combine all ingredients for the dressing and whisk or shake until blended.

To mix the salad, transfer the cooked freekeh to a large mixing bowl. Add the roasted corn and zucchini, grape tomatoes, red onion, basil, mozzarella pearls, and prepared dressing. Gently fold together until well mixed. Garnish with additional basil, if desired, and season with Kosher salt and pepper to taste.
Notes
When in doubt, err on the side of undercooking your zucchini, especially if you use thinner slices. This will yield better results when stirring or mixing your salad, or when storing or reheating for leftovers. 
Eat within 2-3 days for best results. This salad can also be served chilled.
Nutrition
Serving:
1
serving
,
Calories:
338
kcal
,
Carbohydrates:
37
g
,
Protein:
17
g
,
Fat:
16
g
,
Saturated Fat:
6
g
,
Polyunsaturated Fat:
1
g
,
Monounsaturated Fat:
7
g
,
Cholesterol:
30
mg
,
Sodium:
314
mg
,
Potassium:
478
mg
,
Fiber:
6
g
,
Sugar:
8
g
,
Vitamin A:
1026
IU
,
Vitamin C:
25
mg
,
Calcium:
234
mg
,
Iron:
1
mg

Serve this delicious freekeh salad recipe with your favorite grilled proteins or a simple green salad all summer long. There's so many different ways to enjoy it! If you try it out, let me know what you think by leaving a rating or comment.
If you're looking for more summer salad recipes, don't worry, I got you! Check out these other recipes for #SaladsThatDontSuck:
And as always, thanks for checking out the Street Smart Nutrition blog! We're all about fearlessly nourishing meals, so be sure to browse through our other recipes highlighting seasonal ingredients and simple cooking techniques.
Disclosure: This post was originally published in July 2021. It has since been updated to improve the overall quality of the information and/or images.