Winter blues have you craving some fresh color and crunch? This colorful Vegan Pomegranate Salad with Creamy Pom-Honey Mustard Dressing has you covered!
---
Disclosure: This post was created as part of my ongoing partnership with the Produce for Better Health Foundation. I was not compensated for my time. 
The new year is a time when everyone is making resolutions and setting intentions for the year. I'm not alone in recognizing that resolutions rarely make it a full year, but there are other ways to set goals and be intentional about how you take care of yourself.
One of my favorite ways? Making sure I add servings of colorful fruits and vegetables whenever I can!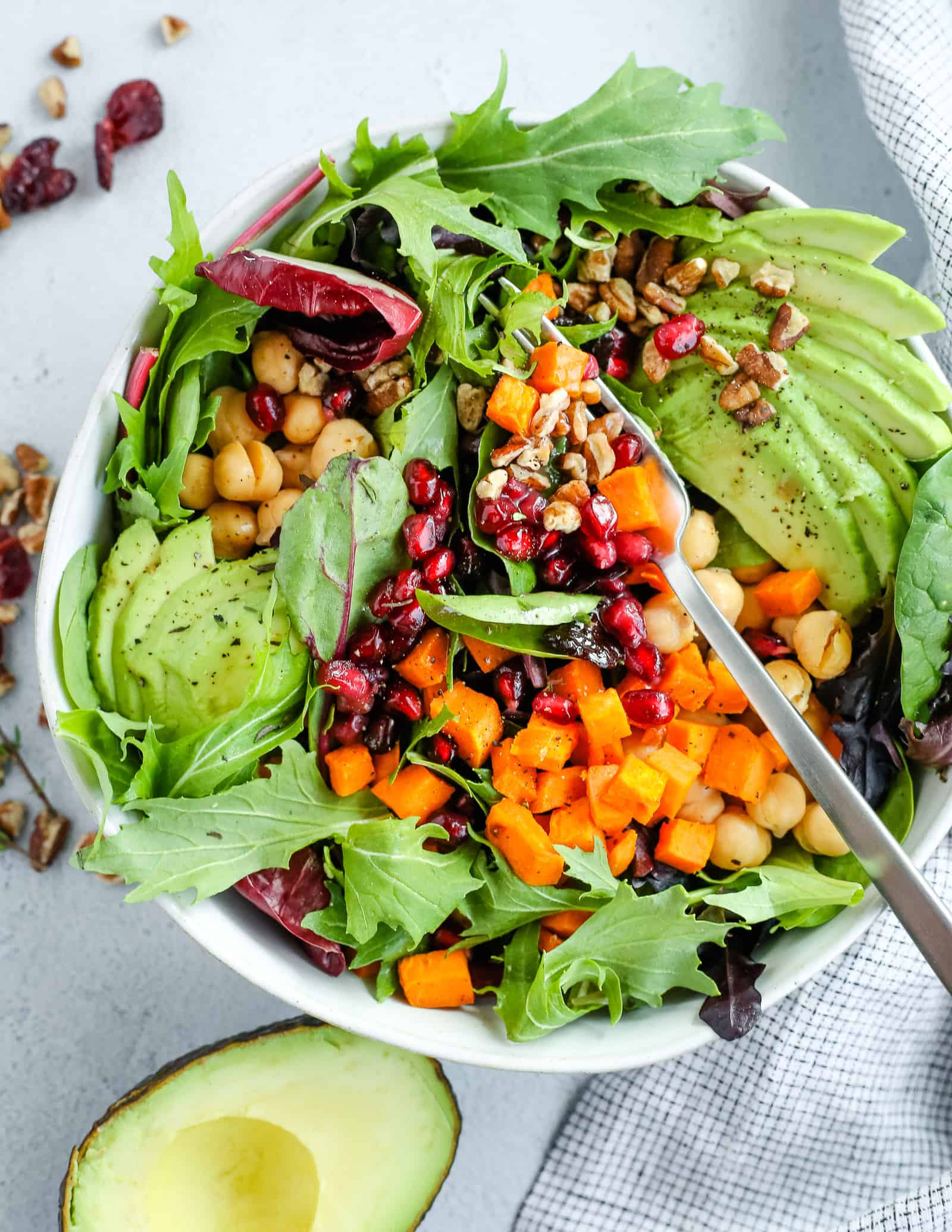 Refresh Yourself for the New Year
If you've been following along for a while, you've seen my partnership with the Produce for Better Health Foundation. They recently launched their #HaveAPlant campaign to encourage us to enjoy a plant in any form with meals and snacks. I couldn't be more excited to be back on board for this year!
Each month, they round up some of the most delicious recipes from across the web. Plus, they share valuable resources about the fruit & vegetable nutrition, background about where produce is grown, and food safety information.
This month, we're focused on all the unique ways to refresh yourself post-holidays and start 2020 off with a bang!
Celebrating Fruits & Veggies In All Forms
My favorite part about creating recipes is the sheer number of options I have for ingredients. Even in the dead of winter, there is no shortage of options thanks to canned, dried, and frozen produce. And did you know 100% juice also counts towards your daily servings of fruits & vegetables?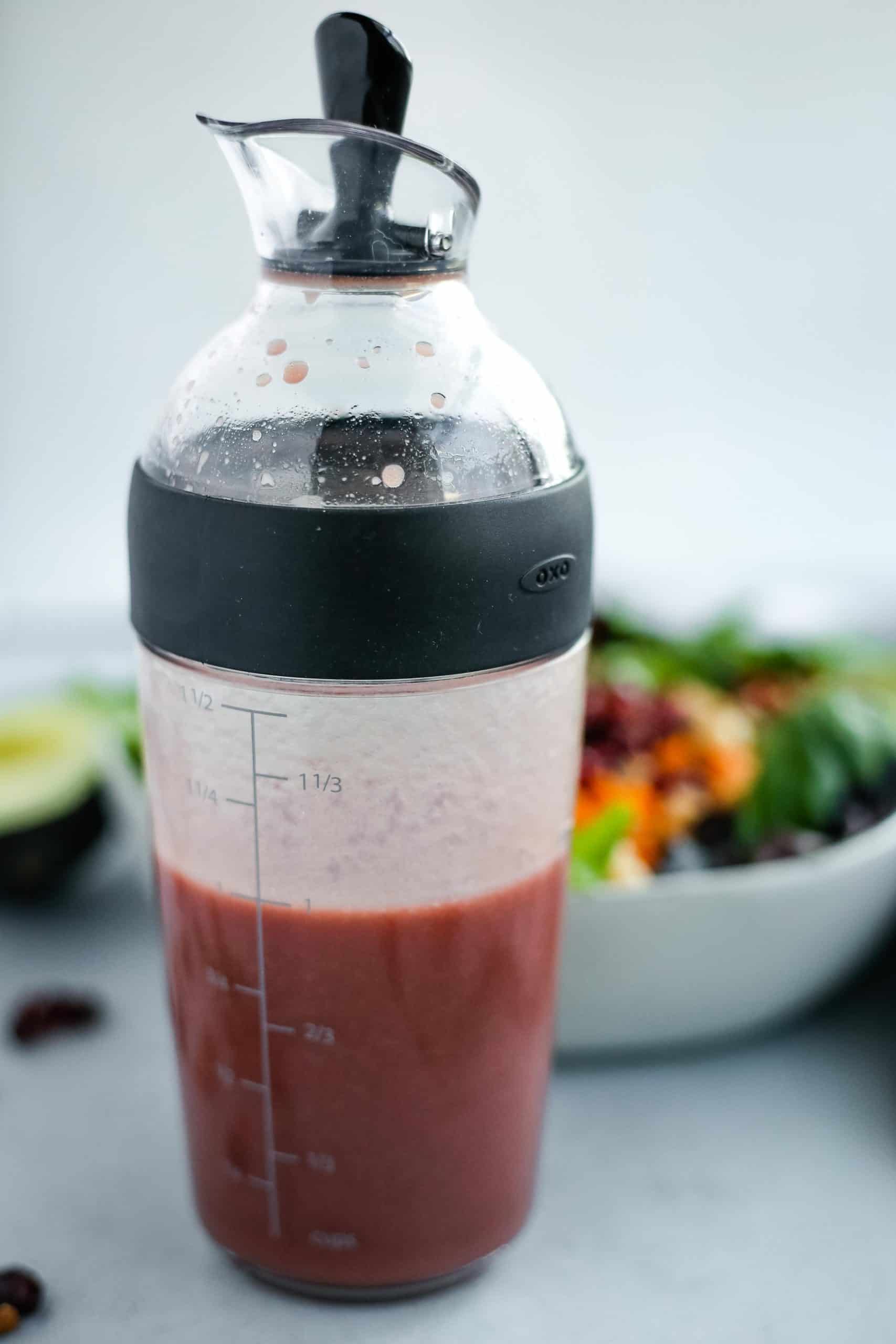 Pomegranate juice is something I always have on hand in my fridge. It's a versatile, nutrient-packed option and it tastes so dang good! I add it to DIY sports-drink mixes, smoothies, cocktails and mocktails, and now I can add salad dressings to the list!
I love this OXO Salad Shaker for mixing up my own dressings at home. In fact, ever since I got it I rarely purchase bottled salad dressings because it's so easy and quick to make my own. This shaker is basically like a measuring cup with a tight-sealing lid that lets me get the ratios and measurements just right. After I give it a vigorous shake, the top spout opens easily with one hand!
Here's the version I have (affiliate link):
It's easy to clean and dishwasher safe so I definitely get a lot of use out of it!
Check out more recipes featuring pomegranate juice:
While I typically love fresh fruit, I find it really challenging in the winter months. It's not that I don't like the flavor or texture anymore, but I find myself craving heartier, warm foods most of the time. Plus, I know I'm not alone when I realize fresh fruit is either difficult to find at my local grocery store or that the price is higher than summer months when it's in season.
So what's a girl to do? It's easy! I just turn to other forms and rest easy knowing I'm still getting the variety of nutrients (and flavors!) I need to feel my best. And doesn't it just make you feel a teeny tiny bit happier to look at this colorful Vegan Pomegranate Salad?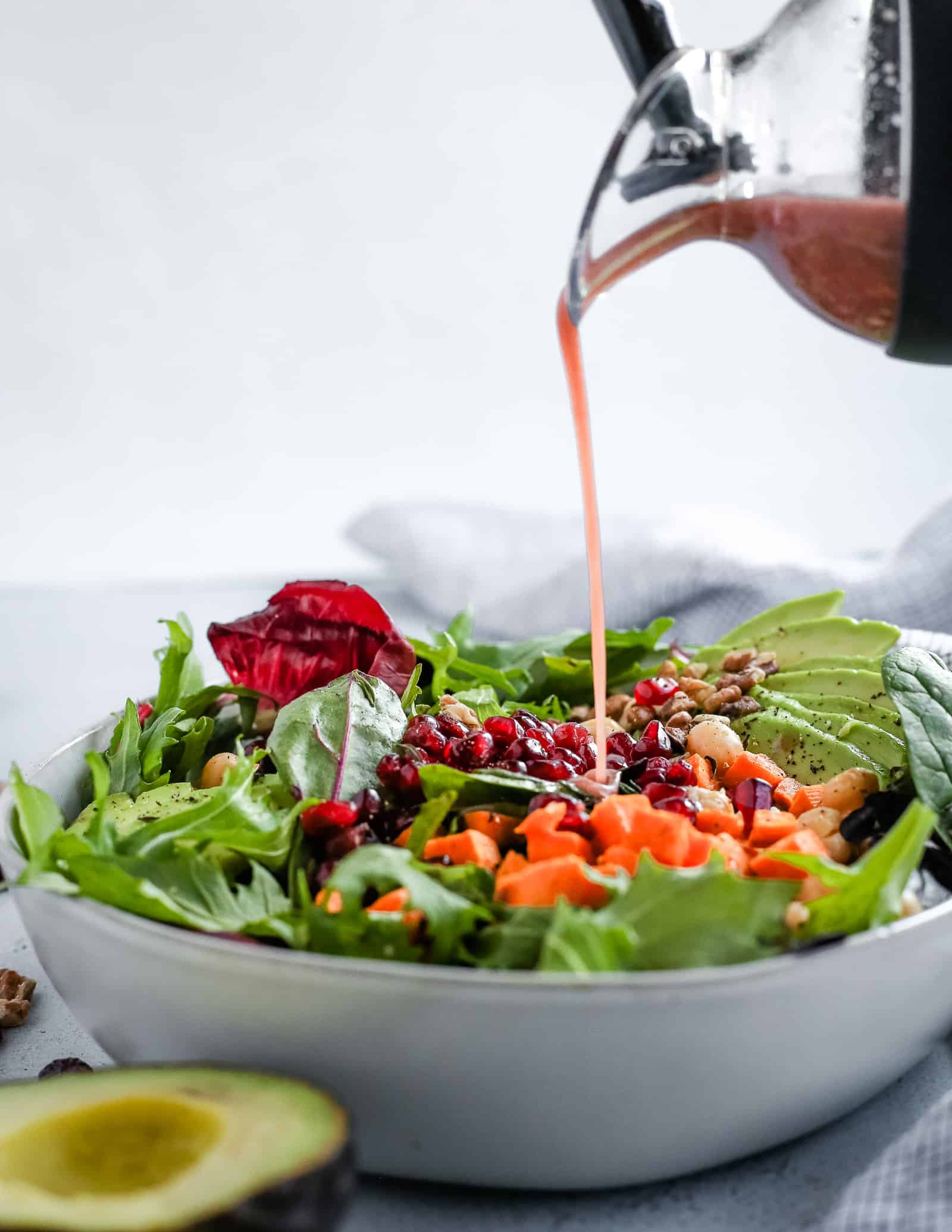 A Colorful Vegan Pomegranate Salad
I always feel a little sad when someone describes their plans for eating in the new year and they sigh and say salads are at the top of their list. First of all, there's no need to get on board with an overly restrictive diet in the name of health. Secondly, why do salads need to be sad and boring?!
To that I say, no thanks. Re-introducing: "Salads That Don't Suck".
This is sort of my personal mission to show how amazing and delicious salads can be. For example, this colorful Vegan Pomegranate Salad features everything I love and crave in a meal. We've got crunchy texture, crispy veggies, sweet flavors, fiber-filled ingredients to keep me full, and bright colors that make me happy. Although this version is 100% plant-based, you can add your favorite proteins to make it an even heartier meal.
In the future, I'll add shrimp, chicken, or pork but I also think some seared tofu would be tasty, too. What would you add? Don't feel bad if you think it's perfect just the way it is…because after eating this bowl that's exactly how I felt!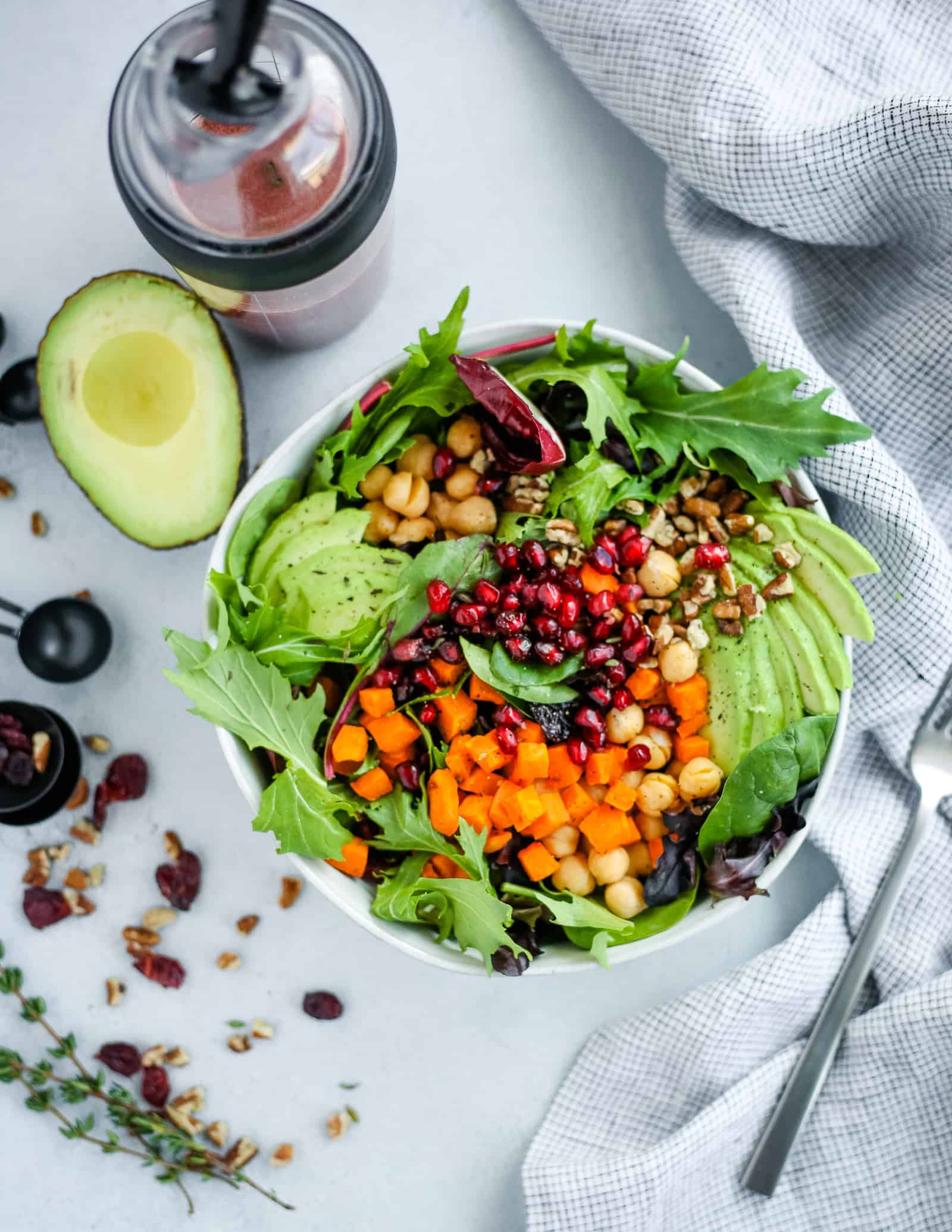 Here's the recipe for this Vegan Pomegranate Salad with a Creamy Pomegranate Dressing!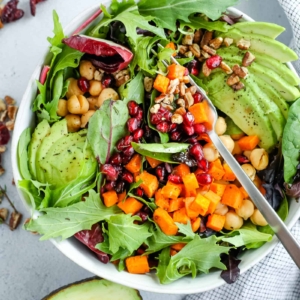 Vegan Pomegranate Salad with Creamy Pom-Honey Mustard Dressing
This plant-based beauty will satisfy all your cold-weather cravings for flavor, crunch, and nutrition! Roasted sweet potatoes, fresh avocado, and pomegranate arils provide sweet flavor in this vegan salad.
Equipment
Cutting Board

Chef's Knife

Baking Sheet

Mixing Bowl

Measuring Cup

Measuring Spoons
Ingredients
6

cups

spring mix or baby spinach

1

medium

sweet potato

,

peeled and diced small

1

can

chickpeas

,

drained and rinsed

1/4

cup

dried cherries

1/3

cup

pecans

,

chopped

1/3

cup

pomegranate arils

1

medium

avocado

,

diced or sliced

cracked black pepper

,

to taste
Creamy Pom-Honey Mustard Dressing
1/4

cup

pomegranate juice

1/4

cup

olive oil

2

tbsp

dijon mustard

2

tbsp

honey

1

tsp

fresh thyme

Kosher salt and pepper

,

to taste
Instructions
To Make the Dressing
Combine all ingredients in a measuring cup and whisk to combine. Alternatively, you make combine in a jar with a sealed lid and shake until fully mixed. Adjust seasoning based on your taste preferences.
To Make the Salad
Preheat oven to 400 degrees F.

Prepare a baking sheet by lining with non-stick foil or parchment paper, or spraying with non-stick cooking spray. Arrange the diced sweet potatoes in a single layer, then bake for 10-12 minutes. Flip once and remove from oven once edges begin to brown and sweet potatoes are fully cooked.

While the sweet potatoes are cooling, add the lettuce mix to a large mixing bowl. Add the chickpeas, pomegranate arils, pecans, and dried cherries and mix to combine.

Drizzle the prepared dressing over the top and toss to combine. Arrange the sliced or diced avocado on top and sprinkle with black pepper. Serve immediately.
Nutrition
Serving:
1
serving
,
Calories:
575
kcal
,
Carbohydrates:
58
g
,
Protein:
8
g
,
Fat:
38
g
,
Saturated Fat:
5
g
,
Sodium:
126
mg
,
Potassium:
1233
mg
,
Fiber:
14
g
,
Sugar:
21
g
,
Vitamin A:
18079
IU
,
Vitamin C:
44
mg
,
Calcium:
87
mg
,
Iron:
3
mg
Are you on board with #SaladsThatDontSuck? Tag me in your posts if you try this one out (or any other)! I'll be enjoying this dressing on other salads, plus I want to test it as a marinade for chicken or pork, too.
I can't wait until the warm weather returns, but until then this Vegan Pomegranate Salad is all I need to get me through!