Look no further for the best non-alcoholic pomegranate cocktail: Spicy Pomegranate Mojito Mocktail! A pomegranate mocktail will always have a gorgeous, vibrant color but this one adds a deliciously spicy kick.
---
This fabulous pomegranate mocktail is for everyone! Doesn't matter if you're doing Dry January, getting sober-curious, or all-in with the zero-proof lifestyle, this Spicy Pomegranate Mojito Mocktail should be in your regular rotation.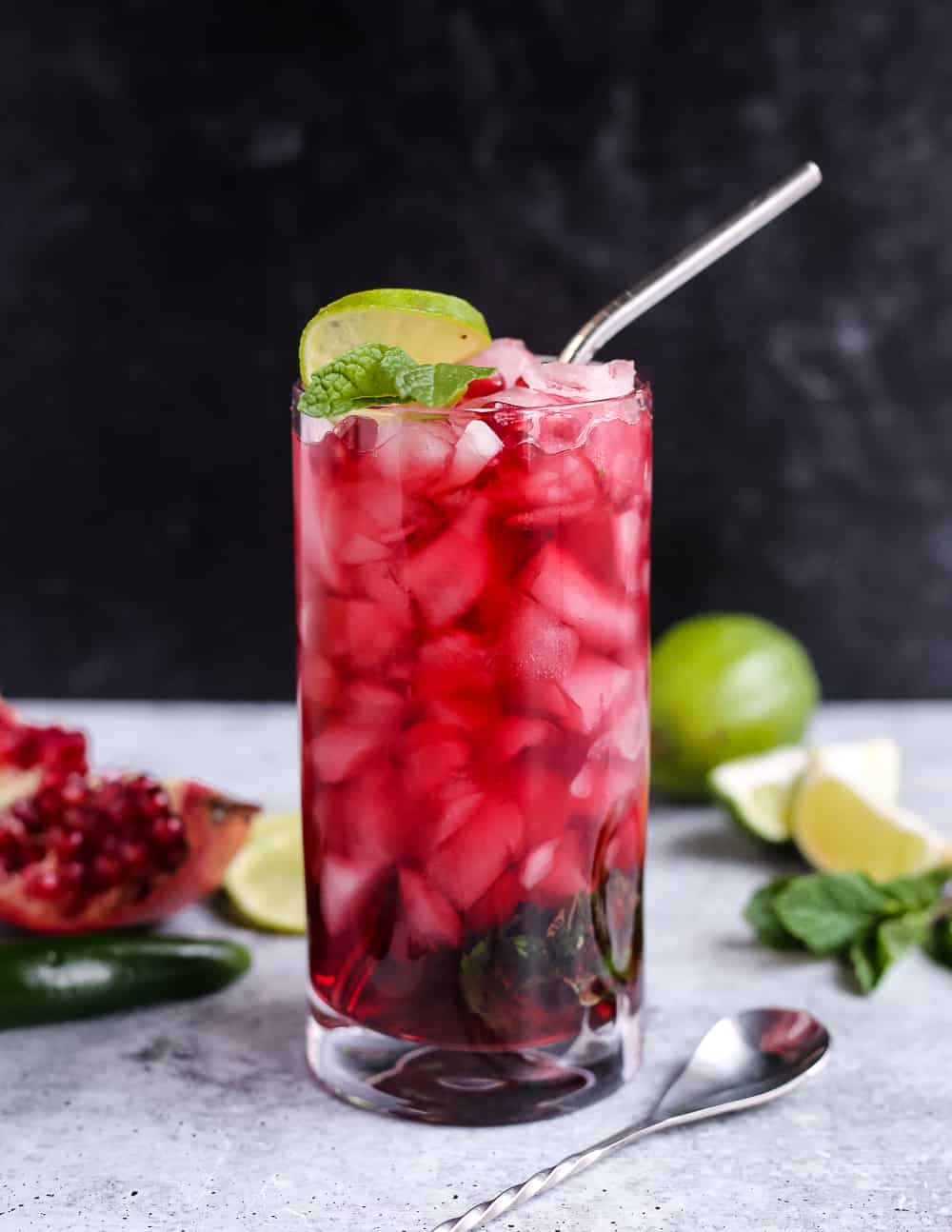 I mean…just look at that gorgeous color! This pomegranate mocktail is cool, refreshing, and leaves a little tingle on your lips thanks to the simple syrup made with serrano pepper.
Here are a few other reasons to love this recipe:
Pomegranate juice is a little sweet, a little tart, and contains higher levels of polyphenol antioxidants than other types of fruit juice and green tea
It's stirred (not shaken) so no special equipment needed as even the muddler is optional!
It's super easy to customize by using another mixer, different ratios, or extra garnishes
Spicy Pomegranate Mojito Mocktail
This pomegranate mocktail is sort of a two-part recipe. But once you have the simple syrup prepped, you can enjoy it again and again!
Serrano Simple Syrup
Sugar doesn't dissolve well at cold temperatures, which is why you often end up with gritty little granules at the bottom of your iced coffee or iced tea. We get around that by making a simple syrup, where heat helps the sugar completely dissolve. You can then add it to your cold drinks (like this pomegranate mocktail) with no issues!
Simple syrup is indeed simple – it's just one part sweetener (I use granulated white sugar or honey) and one part water. The serrano simple syrup for this Spicy Pomegranate Mojito Mocktail uses one cup water, one cup sugar, and two serrano peppers. Slice off the stems, then cut in half lengthwise. Carefully remove as many of the seeds as you can, then set aside while you bring the water and sugar to a low simmer in a saucepan on your stovetop.
Curious about where the sugar in this recipe comes from? Check out my recap of a sugar cane farm tour to learn more!
Once it's simmering, turn off the heat and add the peppers. Steep for at least 10 minutes to infuse the simple syrup with the spice from the pepper. If you like more heat, leave up to 20-30 minutes, and once the simple syrup has cooled, strain out the peppers and any loose seeds. Store your serrano simple syrup in a container in the fridge and use it in any of your favorite mocktails or cocktails!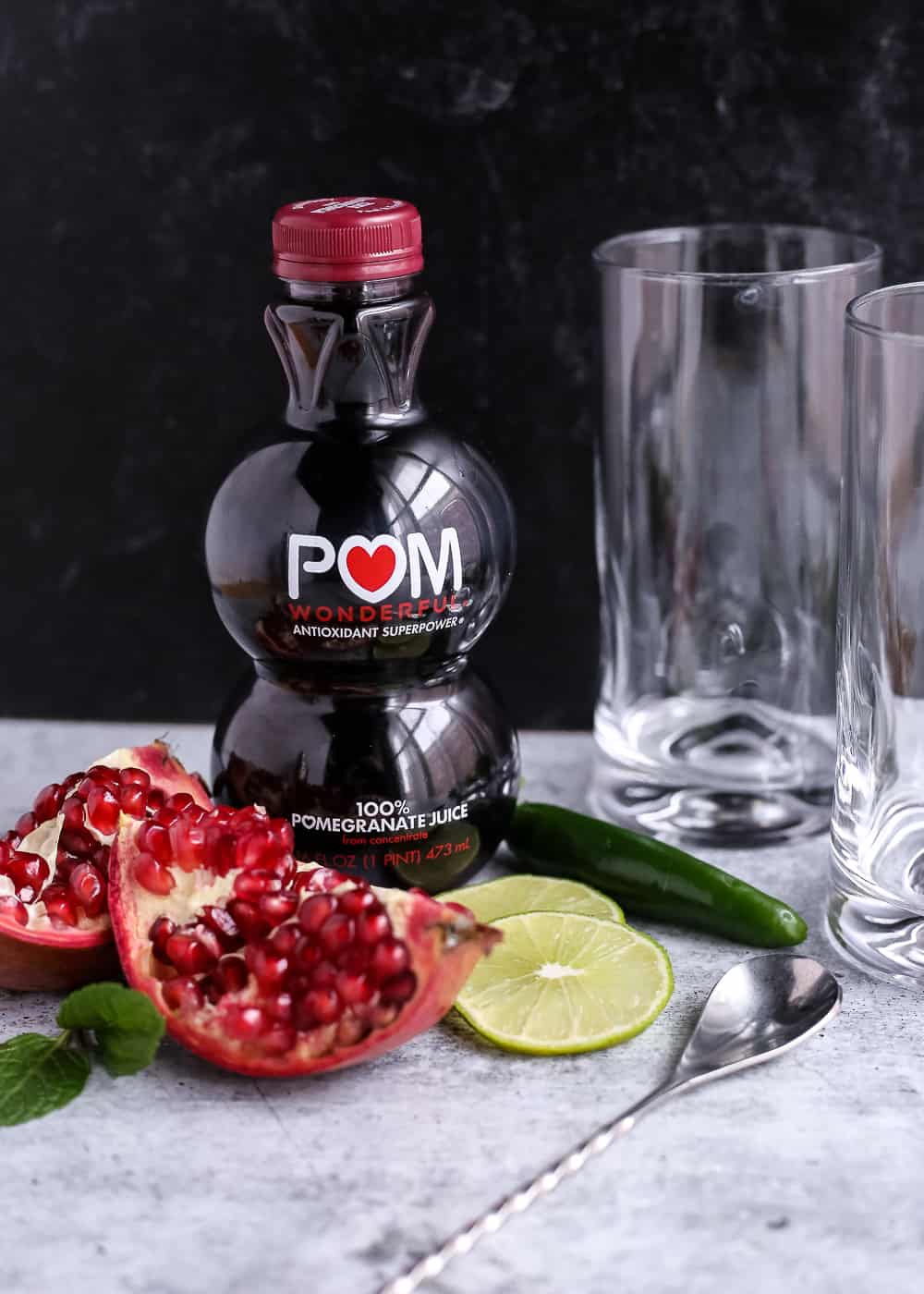 How to Make a Spicy Pomegranate Mojito Mocktail
Once you have your simple syrup prepared, gather the other items needed to make this non-alcoholic pomegranate cocktail:
Ingredients: pomegranate juice, fresh limes, fresh mint, seltzer or soda water, and pomegranate arils for optional garnish. And of course, ice! I prefer crushed (which is also more traditional for mojitos) but if that's not an option, 5-6 ice cubes should be plenty
Equipment: Cocktail muddler and a tall glass, plus a long spoon for stirring. You can also use a small juicer or citrus squeezer if you prefer that over hand squeezing the limes
This pomegranate mocktail is intentionally simple because while I do love a professionally crafted drink, I like to leave that up to the pros. When I making concoctions at home, I want something that doesn't involve too many steps or ingredients. All you need to do for this one is muddle the mint in the bottom of your glass, add the rest of the ingredients, and stir!
Muddling is the processing of breaking down herbs or fruit, similar to using a mortar and pestle to grind spices. Muddling is a little more gentle and will bring out the aroma and flavors of your ingredients. In this case, muddling the mint prior to adding the liquid ingredients breaks down the cell walls to release more flavor, which can then easily bind to the other ingredients and infuse throughout your drink.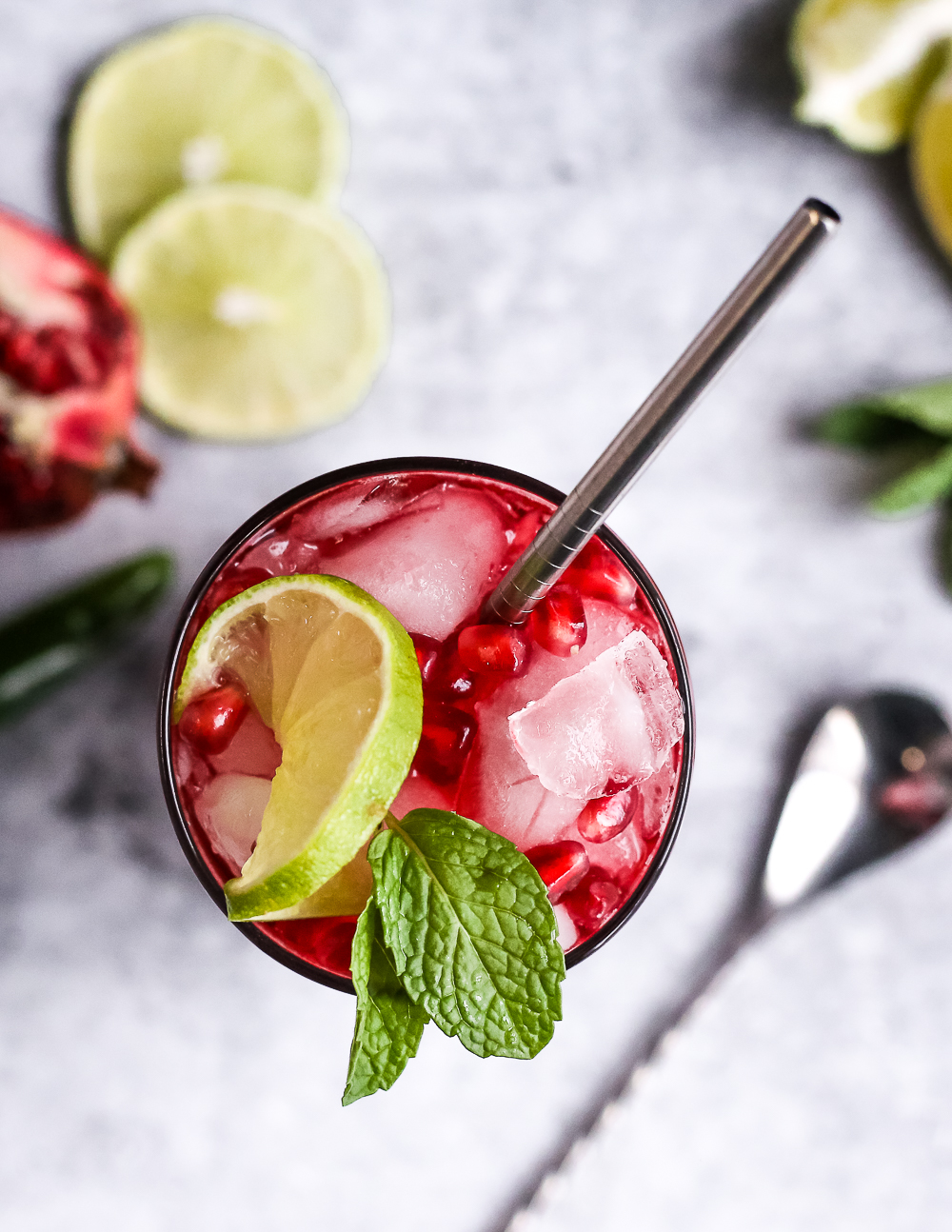 What if I want to add alcohol?
Be my guest! One of the great things about mixing drinks at home is the flexibility to experiment with different types of liquors if you choose to include them. Mojitos are traditionally made with rum so a pomegranate mojito is practically begging for the same treatment. But other variations exist, like the "South Side" which uses gin and the "Mojito Blanco" which uses tequila.
Regardless of which type of liquor you add to your pomegranate mojito, I recommend starting with 1-2 oz depending on your preference. If you find yourself at risk of overfilling your highball glass, adjust by using slightly less serrano simple syrup, seltzer, or ice.
Here's the recipe for my Spicy Pomegranate Mojito Mocktail!
Spicy Pomegranate Mojito Mocktail
This non-alcoholic pomegranate cocktail looks incredible and tastes even better! Enjoy the mix of sweetness, tartness, and a little bit of heat from the serrano simple syrup.
Ingredients
5-6

fresh mint leaves

1

oz

serrano simple syrup

4

oz

pomegranate juice

1/2

lime

,

juiced

3-4

oz

seltzer or soda water

Crushed ice

Pomegranate arils, mint, and lime wedges

,

for garnish
Instructions
Refer to notes for instructions for the serrano simple syrup.

Add the fresh mint tp the bottom of a highball glass and muddle gently. Add the crushed ice to the glass, filling to the top.

Pour in the serrano simple syrup, pomegranate juice, and fresh lime juice. Stir to combine, then top off your glass with tonic water and stir again.

Garnish with pomegranate arils, lime wedges, and fresh mint. Serve immediately.
Notes
To make the serrano simple syrup, slice two serrano peppers in half and remove the seeds. Add one cup water and one cup granulated white sugar or honey to a small saucepan. Bring to a simmer, add the serrano peppers, and remove from heat. Steep 10-20 minutes, then strain the simple syrup. Use 1 oz. for this Spicy Pomegranate Mojito Mocktail and store the rest in the refrigerator. Use within 2 weeks.
Nutrition
Serving:
1
serving
,
Calories:
151
kcal
,
Carbohydrates:
40
g
,
Protein:
1
g
,
Fat:
1
g
,
Saturated Fat:
1
g
,
Polyunsaturated Fat:
1
g
,
Monounsaturated Fat:
1
g
,
Sodium:
47
mg
,
Potassium:
325
mg
,
Fiber:
1
g
,
Sugar:
36
g
,
Vitamin A:
229
IU
,
Vitamin C:
11
mg
,
Calcium:
44
mg
,
Iron:
2
mg
If you enjoyed this recipe for a Spicy Pomegranate Mojito Mocktail, you might also like these other refreshments from the recipe archives!
I've learned a lot about DIY mixology from YouTube, workshops, and recreational reading, which can make mixology at home even more fun! Here are a few places to check out if you want to see more: