My Blueberry Lavender Mojitos look amazing and taste even better. Learn more simple it is to make your own lavender-infused simple syrup to enjoy in cocktails like this!
---
Is it just me, or was spring basically nonexistent this year? At least where I live it was like, cold cold cold…here's a little snow…BAM it's now 90 degrees and humid, you're welcome. Safe to say I'm already craving fall and it's the middle of May.
All this hot weather has me craving all the cold things to drink. My transition to iced coffee is permanent and you can find me sipping on that pretty much nonstop. That is, until a certain time of day rolls around and I take a break from the caffeine.
Today's recipe for Blueberry Lavender Mojitos can help you beat the heat and serve kombucha in a  whole new way!
[Tweet "What happens you mix booze with your booch? Find out, plus a recipe for Blueberry Lavender Mojitos #TheRecipeReDux #guthealth"]
What Happens When You Mix Booze with Your Booch?
Don't lie. I know you're thinking it in your head. What actually happens to probiotics in fermented drinks like kombucha when they mix with alcohol? Well, as with most answers I give, I default to, "It depends." Kombucha is slightly alcoholic by nature (think 0.5%…not anything significant) and the little bugs do just fine. They're pretty tough but not indestructible. They can be destroyed by things like heat, extreme acidity, and yup, you guessed it: exposure to higher concentrations of alcohol.
And regular alcohol consumption has been linked to gut microbiome alterations, namely a disruption in the balance between "good" and "bad" bacteria. Certain strains of probiotics are able to metabolize alcohol because they have the proper enzyme for it, meaning that a diet that includes probiotics may help reduce symptoms associated with drinking. In short, maybe your hangover would be less miserable if you made sure to include a few sources of probiotics in your routine.
But safe to say if you're mixing booze with your booch, the probiotics are probably not your top priority. When I knock back one of these Blueberry Lavender Mojitos, it's safe to say that's pretty far from top of mind.
With all that being said, why would you want to use kombucha in a cocktail recipe if you aren't getting the full benefit of the gut-friendly microbes? Here are a few reasons I still like to use it:
The bubbles. What can I say? I like the fizz. That's the same reason I enjoy sparkling water and soda. The carbonation is a plus and with kombucha it's a little more subtle than something like soda water or tonic.
The flavor. These days there's no shortage of options. If you want to get creative with your mixers but don't have bitters, shrubs, or simple syrups on hand, bottled kombucha can help you cut that corner.
The leftovers. If I'm just making a drink or two I never end up using the whole bottle. And since I'll sip on a bottle of kombucha over the course of a day, the leftovers leave me something to look forward to finishing later!
Are you convinced yet? Even if you're not, you should check out this recipe to adapt it to a version that you like – non-alcoholic options abound! And although it's a multi-step process, it's actually pretty simple (and the prep can be done ahead of time!
I started by making the lavender-infused simple syrup. A local Kansas business (Sweet Streams Lavender) supplies culinary lavender to the KC area and I'm kind of having a moment with it. I never realized the flavor potential of lavender. We can chalk that up to my general lack of knowledge and assumption that it all had to do with essential oils…something I'm definitely no expert in. But I found it at one of my favorite local culinary shops and had to find a way to use it. After a quick peek at The Flavor Bible (my go-to resource for combining flavors and pairing ingredients) I knew what I was going to make!
The infused simple syrup can chill (literally, in the fridge) until needed and the blueberry mash is ready in minutes. I recommend using the smallest saucepan you have. Watch for the berries to turn to a deep, dark purple color, then remove from the heat and add in the fresh mint leaves. After it has a chance to cool off you're ready to make your drinks!
If you're feeling fancy you can crush your ice cubes by placing them in a large Ziplock bag. Then take a rolling pin or other inventive crushing device and break up the cubes until they're looking approximately the same as what they used in overpriced drinks at upscale bars in a ritzy part of town.
I'm so serious. That was exactly what I based my crushing on and kept going until I thought, "Hmm, yeah, I think that looks about right."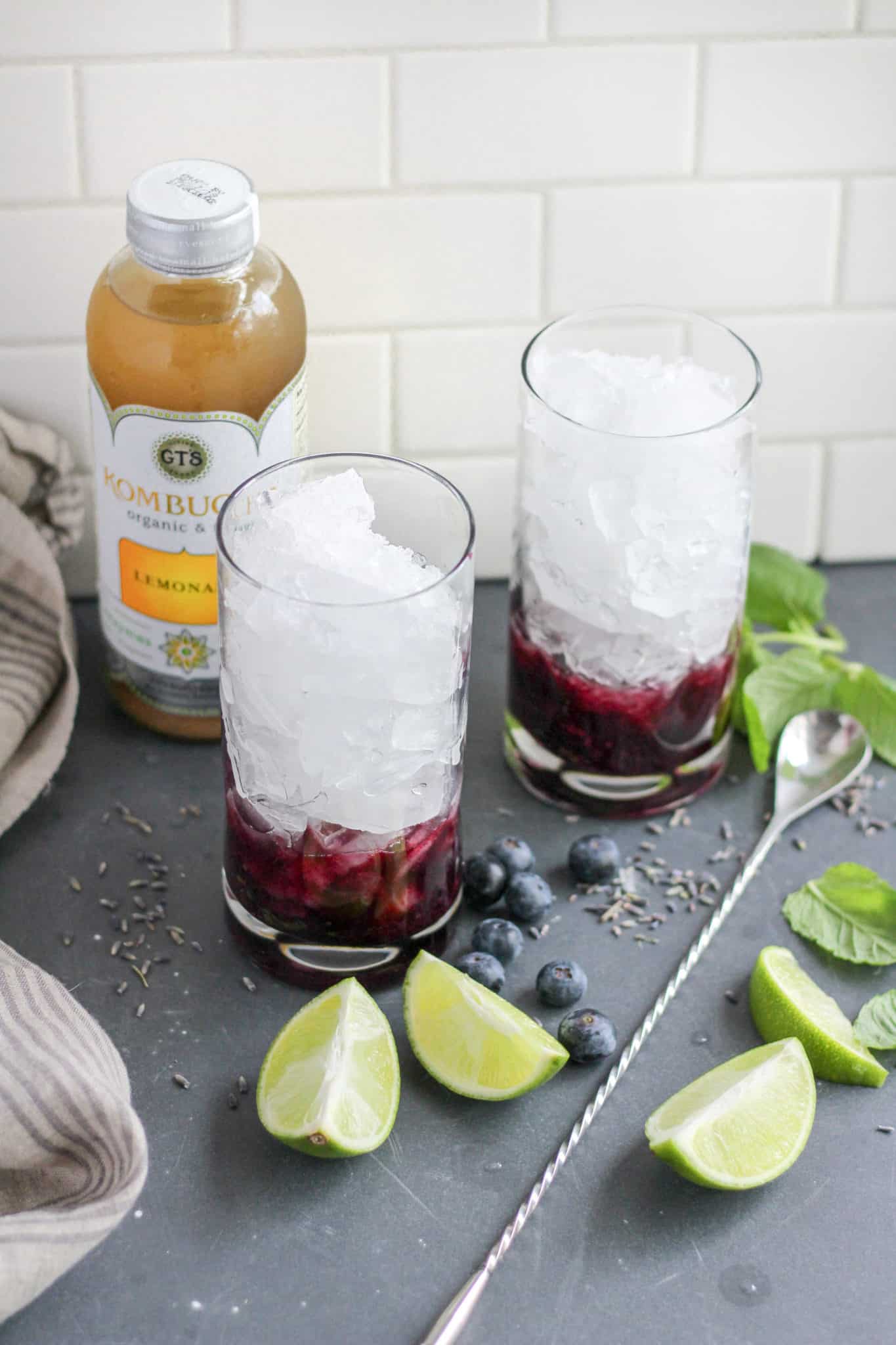 If going the boozy route, add your rum at this point and top off the rest of your glass with lemonade or lemon-flavored kombucha. Another option (non-alcoholic) is to replace the rum with extra kombucha or get some bubbles from club soda or tonic water. Garnish with some fresh blueberries, a slice of lime and a few fresh mint leaves to muddle around in there, and you're all set!
And once you mix it up you might be thinking, "How can I ever drink something that looks THIS GOOD?!"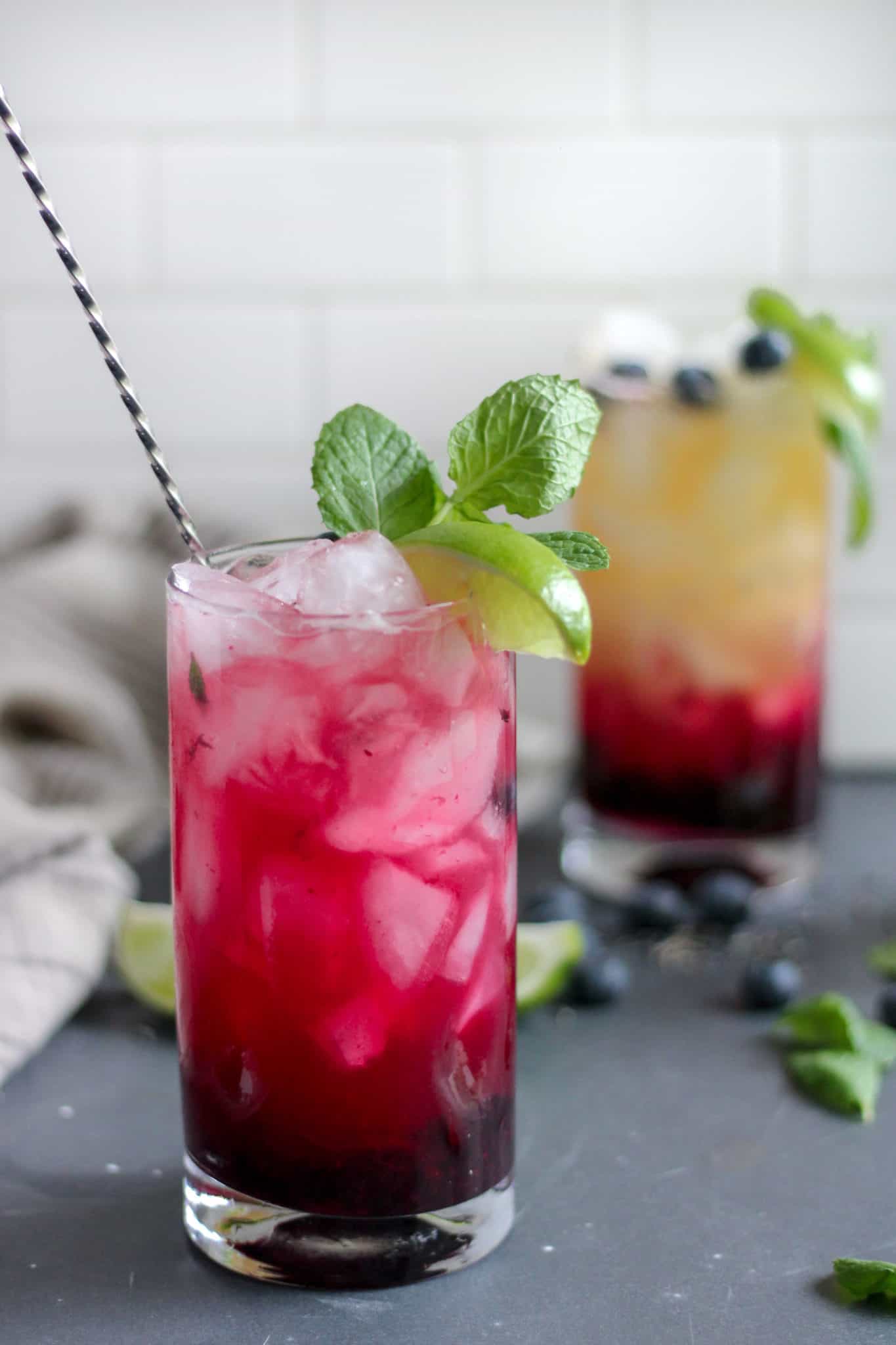 The answer: You can drink it veerrrryyyy easily. And maybe even go back for another 🙂
Have you ever mixed booze with your booch before? I'd love to hear how you liked it!
Here's the recipe for Blueberry Lavender Mojitos
Blueberry Lavender Mojitos
These colorful and refreshing summer cocktails can easily be made without alcohol. Garnish with fresh mint and extra fruit and enjoy!
Ingredients
Lavender Simple Syrup
1/2

cup

water

1/2

cup

sugar

1

tbsp

culinary lavender
Blueberry Mash
1/2

cup

blueberries

,

fresh

1

fl oz

lavender simple syrup

,

previously made

1

bunch

mint leaves, about 10

,

fresh
Blueberry Lemonade Mojitos
16

fl oz

lemon or lemonade kombucha

2

fl oz

lavender simple syrup

,

previously made

2

lime wedges

3

fl oz

white or spiced rum
Instructions
First make the lavender simple syrup by combining the water, sugar, and culinary lavender in a small saucepan. Bring to a simmer to dissolve the sugar and allow to simmer for one minute. Remove from heat and allow to cool. Strain through a fine mesh strainer to remove the lavender buds and store in an airtight container. Refrigerate until ready to use.

When ready to prepare your drinks, add blueberries and one ounce lavender simple syrup to a small saucepan. On medium heat, bring the mixture to a slight simmer, gently crushing or muddling blueberries once they become juicy. Heat until the mixture becomes a deep purple and berries reduce to a syrupy consistency. Remove from heat. Roughly tear the mint leaves and add to the heated mixture, stirring to combine. Allow to cool slightly.

Once cool, evenly distribute the blueberry mixture into two Collins glasses or tall tumblers. Add one ounce lavender simple syrup to each glass and stir. Fill each glass with crushed ice and add 1 1/2 ounces rum (if using). Fill remainder of glass with lemonade kombucha and garnish with lime wedge, blueberries, and fresh mint. Serve immediately.
Notes
Simple syrup may be made in advance and stored in the refrigerator.
For a non-alcoholic version, omit rum and replace with club soda or additional kombucha.
Nutrition
Serving:
1
serving
,
Calories:
366
kcal
,
Carbohydrates:
71
g
,
Protein:
1
g
,
Fat:
1
g
,
Saturated Fat:
1
g
,
Sodium:
45
mg
,
Potassium:
65
mg
,
Fiber:
1
g
,
Sugar:
64
g
,
Vitamin C:
10
mg
,
Calcium:
22
mg
,
Iron:
2
mg
If you enjoyed these Blueberry Lavender Mojitos, you might also like: