Disclosure: The original recipe for this Lavender Infused Milk & Honey Cocktail appeared in the Summer 2018 Issue of Half & Half Magazine in partnership with Dairy Farmers of America. I was not compensated for this blog post. 
---
This is a weird week. I'm busier than ever and have my nose to the grindstone (what feels like) every single day but kids are going back to school, families are still on vacation, summer is still rolling along. Things have been a little quiet here on the blog but that's because there's some big updates happening! I figured I'd use this cocktail recipe to write a post to share what's going on behind-the-scenes, and then we can figuratively raise a toast to that!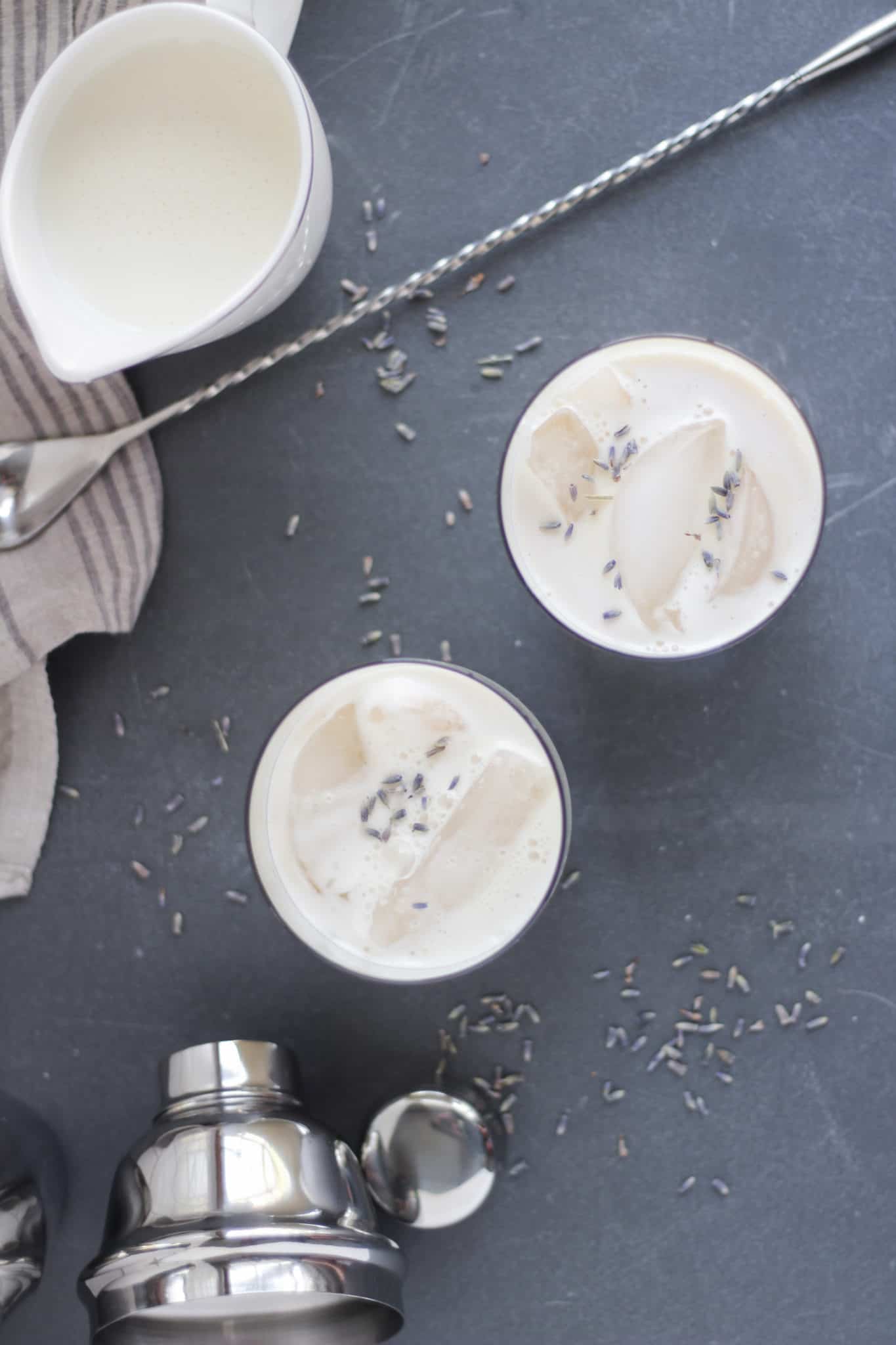 Street Smart Nutrition is Getting a Makeover!
Well, not necessarily a makeover but it IS getting a complete redesign. From the beginning – which was over two years ago at this point (EEK!) – it's been a DIY project. When I first started blogging I was beyond clueless. If it wasn't for some close friends with experience blogging, endless YouTube tutorials, and a lot of frustrating time figuring it out, I don't think I could have done it.
I still like the DIY route because it helped me learn how to do it myself. If I had outsourced from the start I feel like I'd be incompetent when it came to making minor changes or adding new things. It was also cheap. I pieced together what I could, when I could and ended up with a site that's more or less functional, not completely hideous, and managed to bring some business my way. But it wasn't ideal.
I'm glad to say I'm now at the point where I want a website that WORKS for me, meaning it can really showcase my work, let you know what Street Smart Nutrition is all about and make it easier for potential clients to find me and work with me! Stay tuned for a "re-launch" in October!
[Tweet "Exciting things are happening around here! Read some updates from Street Smart Nutrition, plus a new recipe!"]
I Wrote a Cookbook!
This summer went by in a blur partially because I spent about four weeks doing almost nothing but write a cookbook. It's really exciting because the topic, pescatarian recipes, is something I love to talk about. I'm honored to have had the opportunity to take on a project like this and it just seemed to align perfectly with having a flexible schedule, a few recipes from the blog I could modify and repurpose, and of course a ton of support from Mr. Street Smart. As grueling as the writing process was, I still enjoyed it and can't wait to make more announcements about the book. It will be available after Thanksgiving (holiday shopping anyone?) and I hope you'll keep it in mind for foodie gifts and cookbook collectors!
I'm a Podcaster Now!
As if things weren't busy enough, I'm also starting up a podcast! It's a continuation of the "You Can Eat With Us" Facebook group (which you're more than welcome to join!) that focused on intuitive eating, Health at Every Size, and body acceptance. The group got started at the very beginning of 2018 and quickly grew, but it was a little more than I could handle by myself to keep it active and give some value to the members. Thankfully, I have some help in managing it now AND I rolled it into a podcast by the same name.
The goal is to tell personal stories about struggles and celebrations with intuitive eating – these are the stories I wish I had heard when I was experiencing my own disordered relationship with food and my body. I want to use it as a platform to give a voice to those whose voices are underrepresented so there will be a wide range of guests and topics featured in the first season. It officially launches August 20 and you can find more information on the Libre Connections website!
So Let's Raise a Toast!
Whew! Between all of that, I somehow still managed to travel for a few conferences, take a vacation with Mr. Street Smart, and attend a farm tour in Iowa to learn about pig farming. I was ready to settle down at home and catch my breath and remembered this recipe I developed for a client earlier this summer. It's perfect for when you feel like upgrading your cocktail game or discovering your inner mixologist. I'm all about the simple stuff – beer, wine, vodka tonic, but this is a little more elevated and worthy of any celebratory cause!
You might take a look at the ingredients and think, hmmm…that's interesting. And in full disclosure, I thought the same thing. But as I was recipe testing numerous cocktails and mocktails for this project this one was far and away my favorite. The egg white creates a smooth, frothy texture that's sort of similar to a latte, plus it smoothes out the liquor so you get the flavor but not the burn in the back of your throat. I used the leftover simple syrup for other drinks throughout the week so if you want to do that step ahead of time, make a bigger batch and store it in the fridge until needed.
If you enjoy lavender in general, be sure to check out this recipe for Blueberry Lavender Mojitos – another favorite summer cocktail of mine!
Here's the recipe!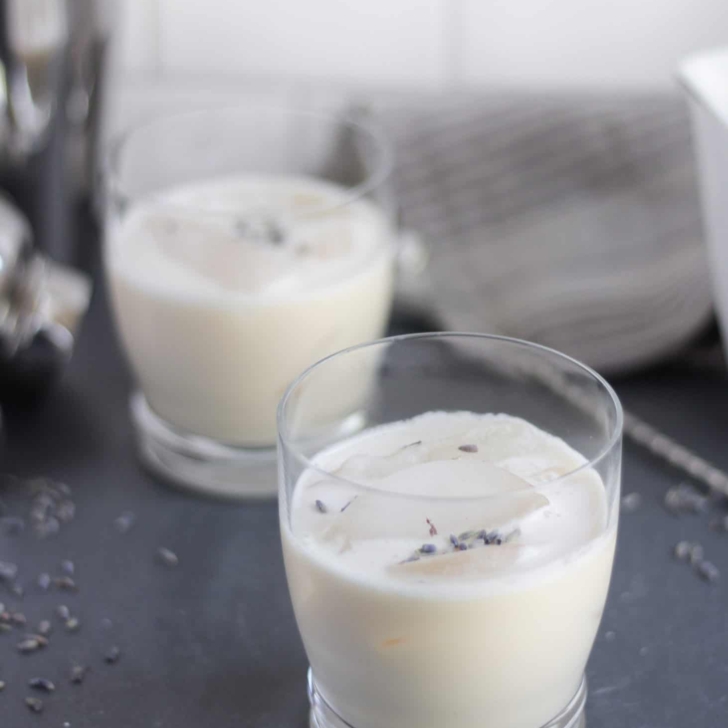 Lavender Infused Milk and Honey Cocktail
The original version of this recipe appeared in the Summer 2018 Issue of the Half & Half Magazine, but it's a perennial favorite in our kitchen. If you've never tried an egg white or dairy-based cocktail before, this is a good one to start with!
Ingredients
Lavender Honey Simple Syrup
1

tbsp

culinary lavender or dried lavender buds

1/4

cup

honey

1/4

cup

water
Lavender Infused Milk & Honey Cocktail
2

fl. oz

spiced rum

2

fl. oz

heavy cream

2

fl. oz

lavender honey simple syrup

1

egg white

Ice for cocktail shaker and serving
Instructions
Heat water and honey in a small sauce pan over medium high heat. Allow honey to fully dissolve and add culinary lavender. Bring to a gentle simmer for 5 to 10 minutes then remove from heat and allow to cool.

Strain syrup through a fine mesh strainer to remove lavender. Store in a mason jar or other airtight container, chilled, until needed.

To craft your cocktail, add ice to a cocktail shaker. Pour in spiced rum, lavender honey syrup, and egg white. Add heavy cream last.

Cover and shake vigorously for at least 30 seconds.

Pour over ice into two lowball glasses or small tumblers. Garnish with additional lavender if desired, serve immediately.
Notes
Culinary lavender can be sourced from local culinary centers or spice/tea shops, or purchased online for delivery. Use good food safety practices when handling raw eggs. Use fresh, unbroken eggs and carefully wash and dry your hands before separating egg whites. Avoid cross contamination by disposing of shells immediately and washing hands again after separating egg whites.
Nutrition
Serving:
1
drink
,
Calories:
258
kcal
,
Carbohydrates:
23
g
,
Protein:
2
g
,
Fat:
11
g
,
Saturated Fat:
7
g
,
Cholesterol:
41
mg
,
Sodium:
54
mg
,
Potassium:
65
mg
,
Sugar:
22
g
,
Vitamin A:
435
IU
,
Calcium:
19
mg
,
Iron:
1
mg
So I hope this recipe inspires you to push your comfort zone and meet your inner mixologist. I certainly never envisioned a combination like this would have its appeal for me, but you can never say never in the kitchen!
What's something unusual you tried lately that was surprisingly good?
If you enjoy this honey-lavender simple syrup, check out this post with a recipe for a Homemade Vanilla Lavender Latte (served hot or iced!)
[Tweet "Dreaming of the land of milk and honey? Try this summer cocktail from Street Smart Nutrition to get one step closer"]
SaveSave
SaveSave
SaveSave