I mostly like this recipe because the name is fun to say: "Crunchy Curried Tuna Salad Snackers."
Come on. Say it out loud. It's fun.
But I also really like it because it's got everything I could hope for in a recipe when I'm slammed with work and feeling like there's no time left to think, let alone cook. This month's theme for The Recipe ReDux is "Crunchy Snacks" and I am all about it. I love the crispy, crunchy texture of anything from raw veggies to kettle cooked chips and everything in between. This recipes has no cooking required and it can be mixed in the same bowl you eat it from – that's a win-win! I also cut some corners by using some key ingredients. Here's how:
Canned Tuna
Though it's not thought of as fancy or upscale, canned fish is such a reliable ingredient in my kitchen. It's nearly always on our grocery lists (this includes the pouch versions, too) because Mr. Street Smart and I always need options for quick, no-cook lunches we can pack for the week. It's shelf-stable so it doesn't take up room in the fridge or freezer and can be incredibly versatile for a number of recipes.
Here's another tuna recipe that's great for leftovers: Gouda Tuna Noodle Casserole
Shredded Veggies
Don't think for a second that I spend time hand chopping all of these. Hardly! I usually outsource this, either by buying the bags of shredded cabbage or carrots in the salad/lettuce section of grocery store or grabbing what I need off the salad bar. You might pay a little more in the big scheme of things because it's packaged or prepared, but to me, it's a small price to pay for the convenience of already having it done. The only chopping I had to do for this recipe was the onion.
Want to see some other ways to use prepared or shredded veggies? Try this Thai Freekeh Salad with Spicy Peanut Sauce
Pantry Staples
This is where I think recipes really start to shine because they take on their own personality when you add spices and condiments. It also helps with boredom so you don't get stuck eating the same version over and over again. This time, I went for sweet curry powder, salt and crushed red pepper, then plain Greek yogurt and mayonnaise, both of which are nearly always in my fridge. Add a squeeze of citrus and you take your snack from bland to delicious in seconds!
If you prefer a chicken salad version instead of tuna, I've also made Curried Pistachio Chicken Salad with the same ingredients! 
[Tweet "No time to cook? Try this simple recipe for a crunchy snack that easily becomes a meal #TheRecipeReDux"]
The other interesting thing that's helped with snacks lately has been being more intentional with leftovers. Meaning, if I'm preparing a snack, I can work ahead on some of the prep for dinner. I repurposed some ingredients for this snack into other recipes and saved part of the tuna salad for a sandwich the next day. Other options include lettuce wraps, serving on a salad, or stuffing into a pita for a one-handed alternative.
I noticed that the more I relied on leftovers, the more plastic wrap I seemed to waste. This was partly my fault for not being a responsible adult and keeping the lids matched to the containers…whoops. I know I can't be the only one with that problem, but I also liked the simplicity of throwing a cover onto the bowl it's already in and avoiding another dirty dish. I recently discovered these bees wax food wraps when browsing online (I blame Amazon Prime day) and decided to give them a go!
The sampler pack I got came with three sized, which have already proven to come in handy for a lot of things in my kitchen. I use the smallest size to cover bowls and mugs for things I plan to eat later. The medium size is great for wrapping leftover ingredients to go back into the fridge, and the largest size can cover a mixing bowl or seal baked goods on the counter.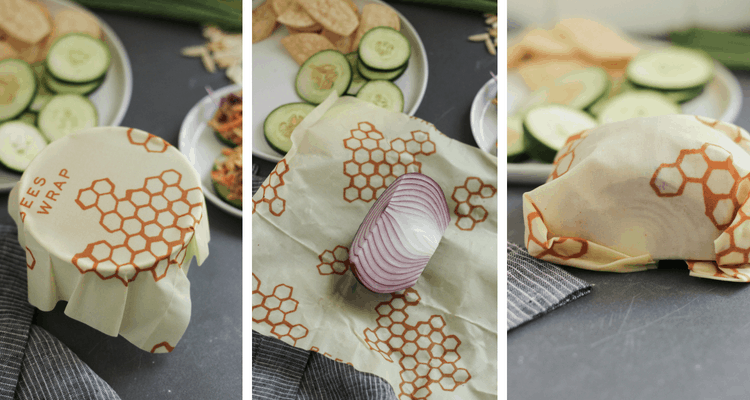 They're reusable and can last up to year. I'm curious to see how they hold up so stay tuned! If you're interested in trying them too, this is version I purchased (affiliate link):
So far, so good! It doesn't seal as tightly as the press-and-hold plastic wrap, so be careful not to turn it upside down. But it seems to be keeping things fresh and crunchy for a couple of days. To clean, I simply wipe with warm water and hang to dry like I would a dish towel. I'm admittedly not the most careful when it comes to single-use plastic but I am making 
to be more conscious with how much waste I create. I see this as a small investment because I'll no longer have to buy as much plastic wrap, and I'll be more intentional about eating leftovers and using up ingredients for less food waste.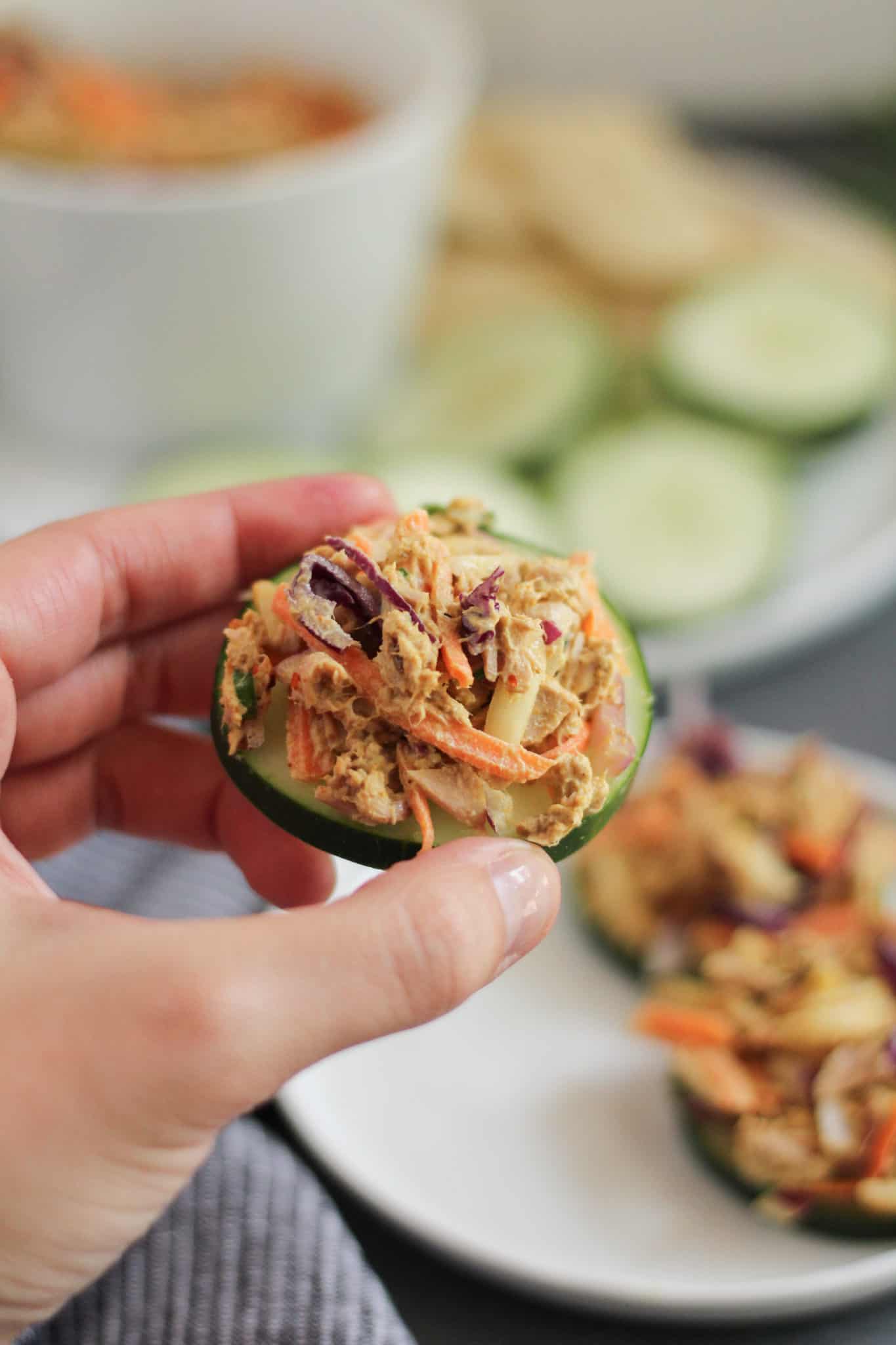 Here's the full recipe!
Curry Tuna Salad Snackers
The Recipe ReDux challenged us to make our favorite crunchy snacks, and this is one of mine! I love the crispy crunch from fresh cucumbers, cabbage, and red onion and this is a perfect summer recipe when fresh produce is abundant.
Ingredients
1

can

tuna in water

,

drained

1/4

cup

shredded carrots

1/4

cup

shredded red or green cabbage

1/4

cup

dried apricots, chopped

2

tbsp

diced red onion

2

tbsp

slivered almonds

2

tbsp

mayonnaise

1

tbsp

plain Greek yogurt

juice of 1/2 lemon

1

tsp

sweet curry powder

1/4

tsp

red pepper flakes

1

large

cucumber

,

sliced

1

pinch

fine sea salt
Instructions
Prepare the dressing by mixing the yogurt, mayonnaise, curry powder, red pepper flakes, and lemon juice together.

Add the remaining ingredients and stir to combine and evenly distribute all ingredients.

Arrange sliced cucumbers on a plate and scoop the tuna mixture onto each one. Serve immediately, or store separately for up to three days.
Notes
Adjust spice level to your preference as curry powders are available from sweet to hot. If no cucumbers available, serve with pita chips or crackers or other crunchy raw vegetable. 
You can also sub all mayo or all Greek yogurt if you don't have all ingredients on hand. 
Nutrition
Serving:
1
serving
,
Calories:
303
kcal
,
Carbohydrates:
19
g
,
Protein:
21
g
,
Fat:
17
g
,
Saturated Fat:
2
g
,
Cholesterol:
37
mg
,
Sodium:
323
mg
,
Potassium:
653
mg
,
Fiber:
5
g
,
Sugar:
13
g
,
Vitamin A:
3482
IU
,
Vitamin C:
9
mg
,
Calcium:
83
mg
,
Iron:
3
mg
---
[Tweet "Need a satisfying snack you don't have to cook? Try these Crunchy Curried Tuna Salad Snackers from Street Smart Nutrition"]
If you need even more crunchy snack inspiration, check out the other recipes in this month's Recipe ReDux theme. It's the first and only recipe challenge founded by registered dietitians, and you'll find plenty of options to fit your tastes!
And if you're looking for other crunchy snacks, try these Sweet Curry Hummus Crostinis!
---
Discover this plus many other delicious pescatarian recipes in my cookbook, now available on Amazon!