Mix up your morning smoothie routine with this Wild Blueberry Ginger Peach Smoothie. There's no skimping on taste or nutrition in this mix of wild blueberries, fresh greens, and crystallized ginger for a kick of flavor!
By posting this recipe I am entering a recipe contest sponsored by the Wild Blueberry Association of North America and I am eligible to win prizes associated with the contest. I was not compensated for my time.
---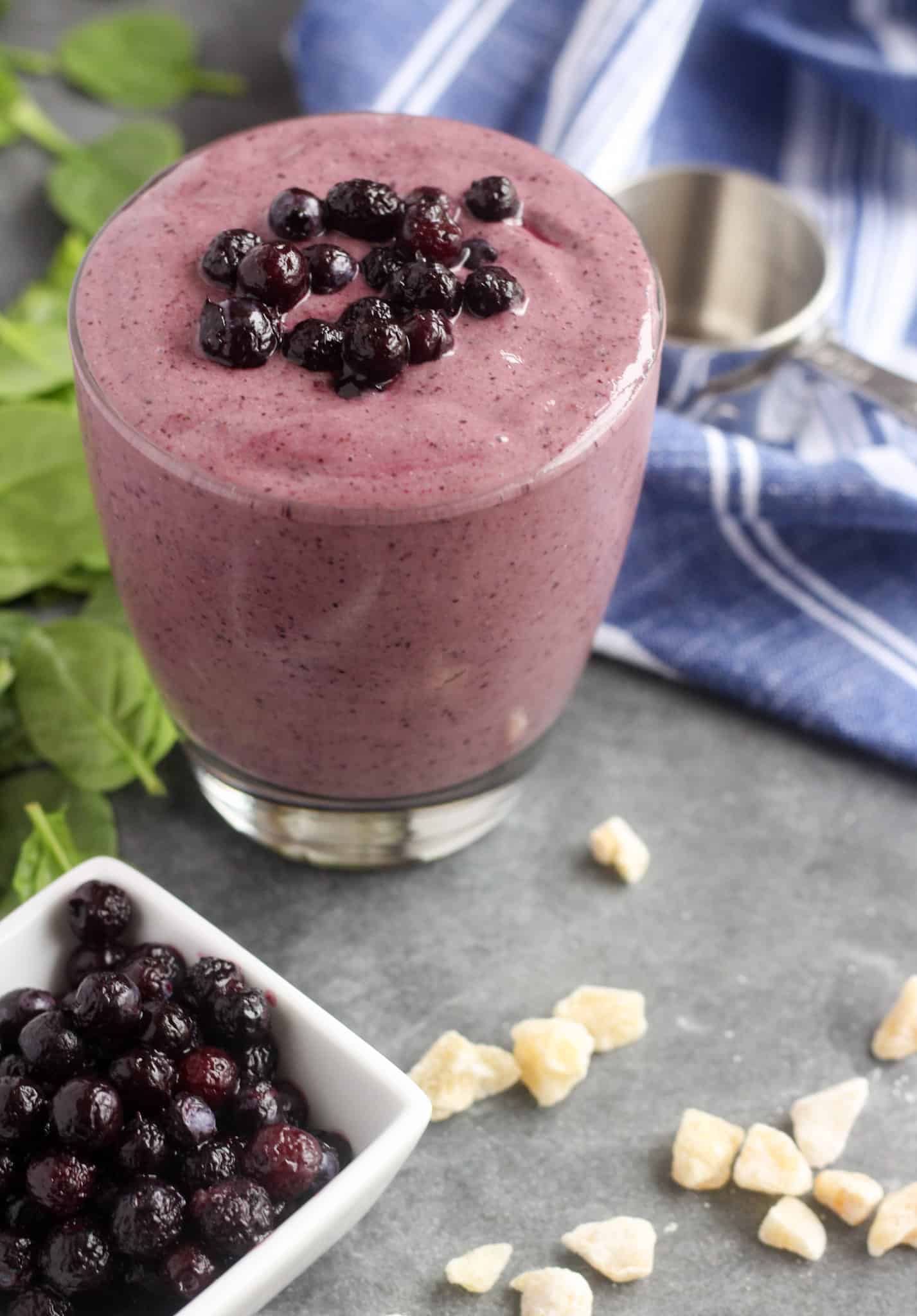 By now, thanks to the wonders of modern agriculture and the freezer aisle, most of us are familiar with frozen blueberries.  The fresh ones are great, don't get me wrong, but for someone like me who lives in the Midwest and operates on a reasonable budget, I can't/don't want to pay the premium price for fresh blueberries year round. Frozen fruit is such a staple during the winter – this year we even upgraded our kitchen situation with a small deep freezer in the garage. Woo hoo! No more growing science projects in the back of the fridge….no more hassle of the "Omigosh the fruit is going bad let's hurry up and freeze it so we don't waste it!" frenzy. Admit it, that's happened to you. Am I right?
This past year I've really stepped up my frozen fruit game by switching to Wild Blueberries. Most people don't know that there are two kinds of blueberries – Wild Blueberries and regular cultivated blueberries – and how they are different. I certainly didn't until I started hearing about them from fellow dietitians and foodie friends. I asked myself, what's the big deal?
Well, what I came to find out is that Wild Blueberries are special for a number of reasons but I really love them for 1) the flavor and 2) the nutrition.
Wild Blueberries are truly wild – they grow naturally in the barrens and fields of Maine and Eastern Canada in a huge spread of interlocking plants. There is a lot genetic diversity there, so the flavor we end up with is more complex and intense than cultivated blueberries. You can see the difference too, since Wild Blueberries are smaller and often darker in color. That deeper pigment is a sign of their delicious sweet and tart flavor, but also the deep nutrition inside of them.
Wild Blueberries have double the amount of antioxidants than regular blueberries. Antioxidants get a lot of buzz these days and for good reason. There's a lot of potential health benefits, and from a prevention standpoint it's never a bad idea to add in as many fruits and vegetables as you can. And for athletes, antioxidants can help stifle some of the inflammation that results from intense exercise.
Great flavor + great nutrition = a winning combination!
[Tweet "Want to #WildYourSmoothie? Try my Wild Blueberry Ginger Peach Smoothie with @WildBberries "]
Frozen Wild Blueberries are a convenient option for things like smoothies and recovery shakes. Each berry goes though the IQF (individually quick frozen) process to lock in nutrition and flavor. That intense flavor is great for "hiding" or masking the flavors of other ingredients. Like green things….I'm sorry but I can't get behind green smoothies that have no fruit because they just don't taste good to me! Too bitter, too gritty, just much too much.
The spinach in this recipe is never noticed with that beautiful, rich color. And there's one more secret ingredient hiding in there: cottage cheese! Yep, adding low fat cottage cheese to my smoothies is how I bulk it up to avoid feeling hungry again an hour after drinking one. The flavor is neutral, so all you taste is the fruit and a kick of ginger. But the added protein and fat are the winning combo for fullness and satisfaction. It's a little trick I learned from Lauren of Nutrition Starring You – she's a superstar at sneaking more protein into breakfast meals and it really works!
Finally, using plain kefir adds gut-friendly probiotics without a sugar rush. Yogurt, milk, or dairy alternatives like soy or almond milk can also be used in a pinch.
And shoutout to my Vitamix, it's da real hero here. If you don't know if your blender is up to the task, consider using ground ginger. Crystallized ginger is great if you don't mind the intense flavor or chewy texture, but if you prefer to avoid that you may need to blend a little longer than normal. If using ground ginger, you might try adding the same amount as what the recipe call for. If using fresh ginger root, try slightly less as the flavor will be more intense. Of course, adjust as needed, you're the boss!
[Tweet "You can #WildYourSmoothie and get a protein boost at breakfast with this winning combo"]
So if you're inspired to make this version of my Wild Blueberry Ginger Peach Smoothie, head out to your grocery store and check the frozen fruit section. Make sure the package says "Wild" to ensure you're getting the real deal! Enjoy!
Wild Blueberry Ginger Peach Smoothie
#WildYourSmoothie with wild blueberries. Find them in the frozen section of your grocery store
Ingredients
3/4

cup

frozen Wild Blueberries

5-6

frozen peach slices

,

or 1 small fresh peach

3/4

cup

fresh spinach

1/2

cup

low fat cottage cheese

3/4

cup

plain kefir

1 1/2

tsp

crystallized ginger

1

tsp

honey
Instructions
If using a fresh peach, carefully cut in half and remove the pit and stem.

Add all ingredients to your blender and blend on high for 1-2 minutes until you reach a smooth texture. Pause the blade and stir ingredients if necessary. Be sure to check for any remaining pieces of crystallized ginger. Continue blending if needed.

Serve immediately.
Nutrition
Serving:
1
smoothie
,
Calories:
358
kcal
,
Carbohydrates:
53
g
,
Protein:
23
g
,
Fat:
8
g
,
Saturated Fat:
4
g
,
Cholesterol:
27
mg
,
Sodium:
573
mg
,
Potassium:
555
mg
,
Fiber:
5
g
,
Sugar:
45
g
,
Vitamin A:
2963
IU
,
Vitamin C:
26
mg
,
Calcium:
316
mg
,
Iron:
1
mg