This easy, no-bake summer dessert is the perfect way to take full advantage of strawberry season! This Balsamic Macerated Strawberries and Cream recipe is a sweet sendoff for any summertime meal.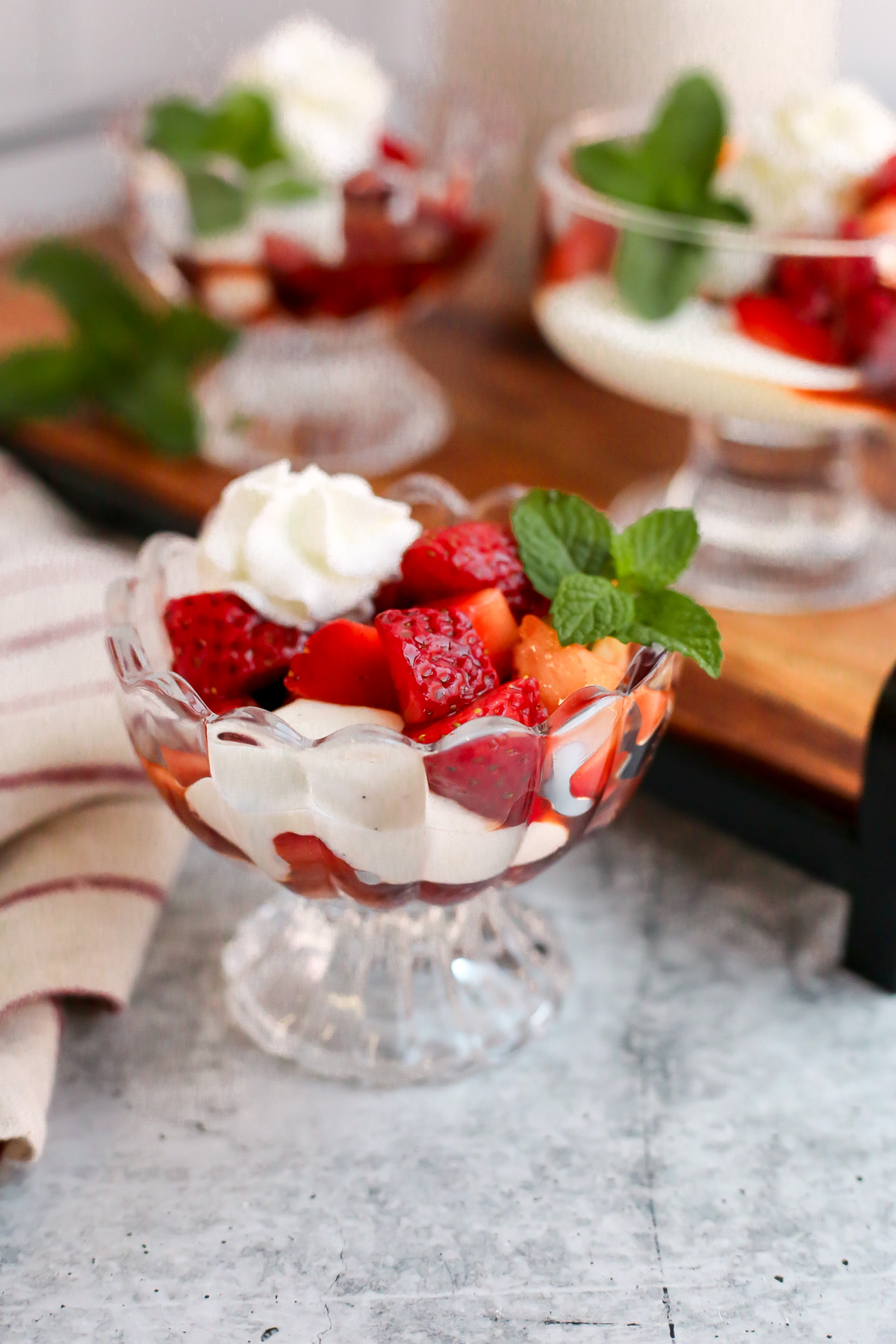 We absolutely adore our local grocery store (shout out to The Merc!) because we can walk there in exactly seven minutes. It's a rare find in a city that's unfortunately not that walkable. And they have some great deals for co-op members. When I saw one-pound containers of strawberries on sale, two for $4, I immediately snagged some to bring home!
While we've been loving strawberries for breakfasts and snacks, I wanted to make a low-effort dessert with a big flavor payoff. I don't do a lot of baking or dessert recipes so my Balsamic Macerated Strawberries and Cream is exactly what I was in the mood for!
Why You'll Love Balsamic Macerated Strawberries
Strawberries and cream is a classic dessert and such a simple recipe…with just a few ingredients, I'm not sure you can even call it a "recipe"! This version featuring balsamic macerated strawberries adds just a little something extra to make it feel special.
The prep work takes just a few minutes and you can chill and relax while the maceration process does its thing.
There are plenty of ways to mix it up to suite your style. Try Greek yogurt, whipped cream, mascarpone, whipped cream cheese, or ice cream for the "cream" component.
This is one of my favorite ways to get a serving of fruit in. Strawberries are a good source of vitamin C and deliver a few grams of dietary fiber in each 1/2 cup serving.
To learn more about strawberry nutrition, check out the resources from California Strawberries.
This is a great way to take full advantage of strawberry season. So if you're ready, grab some bright red strawberries and keep reading!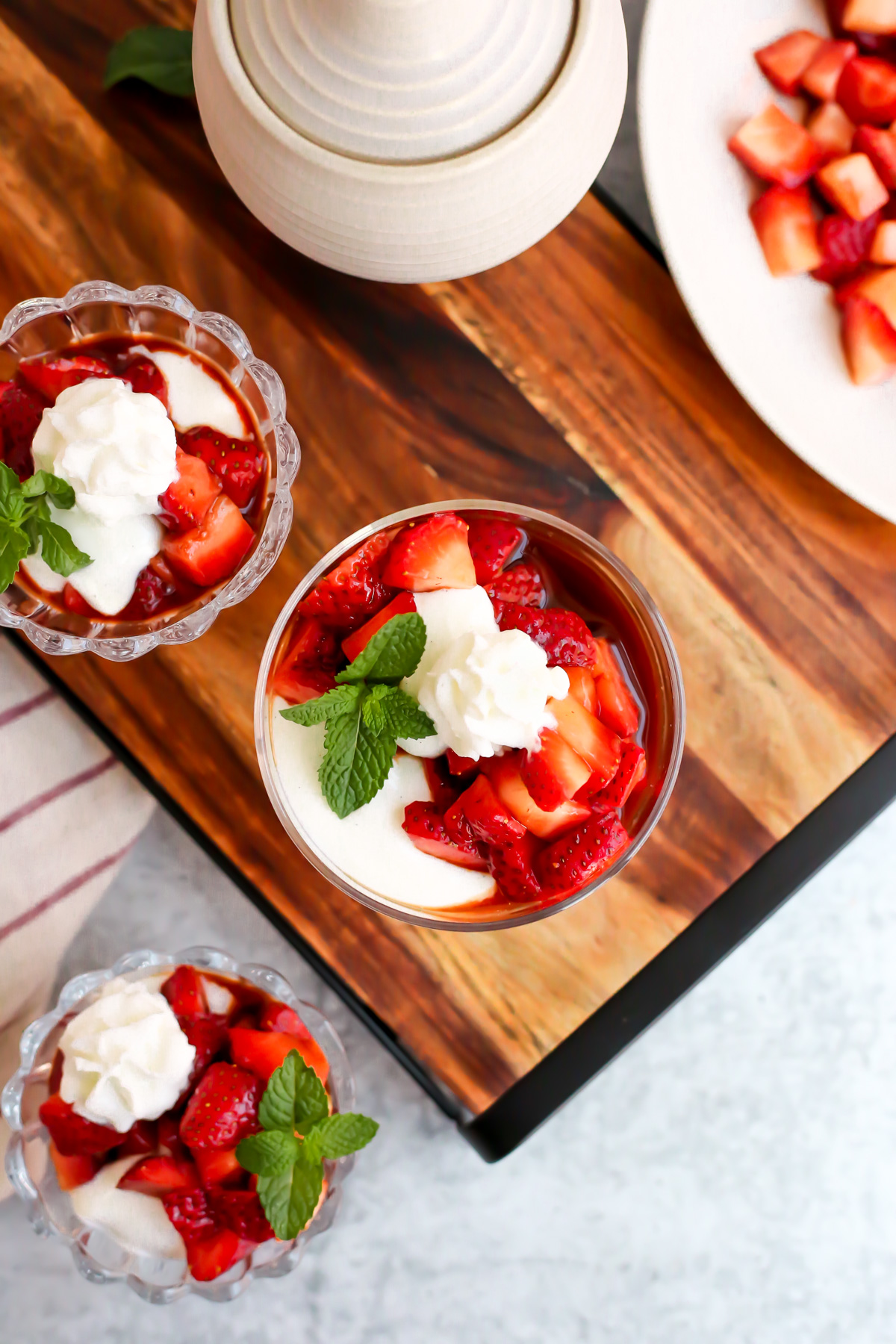 What Are Macerated Strawberries?
Macerated strawberries are fresh strawberries that have been sweetened with sugar or another sweetener, then allowed to sit for 15-30 minutes up to 24 hours. The result is a soft, juicy berry and a rich, syrupy sauce that pairs well with a variety of sweet fruit desserts and savory dishes.
Macerating fruit is a time-honored tradition of enhancing the sweetness and other flavors of fruit. The basic principle is simple: soak fruit in sugar to draw out the natural juices. It's a common technique for strawberries and other berries, as well as stone fruits like peaches, cherries, plums, and apricots. In the past, maceration techniques helped preserve fresh fruit, especially when using something like wine or vinegar. But today, we thankfully have many other methods of processing and preserving fresh fruit to last throughout the year.
Strawberries are especially good for macerating because the process enhances the sweet flavor while also softening the texture. I recommend this when strawberries are just barely underripe. The firmer fruit usually has a more tart flavor. The juice that's drawn out of them makes a rich sauce that's just as enjoyable as the berries themselves.
Macerated strawberries are a whole new way to enjoy this popular fruit. They pair well with various desserts and can even be used as a filling for pastries or other baked goods. They also make the perfect topping for pancakes, waffles, and pound cake. Plus, I use them in my version of Korean Strawberry Milk!
Ingredients You'll Need
Fresh strawberries. Remove the stems and slice or chop into pieces that are mostly the same size.
Balsamic vinegar
Honey
Vanilla yogurt. Use whatever you like best. I know everyone thinks plain Greek yogurt is the go-to because of the extra protein, but I personally prefer regular yogurt. It has a thinner consistency which seems to slide right over the berries and mix nicely with the syrupy sauce.
Whipped cream
A fun garnish like a sprig of mint or fresh basil. See my notes on serving suggestions for even more ideas!
Patience
Ok, that last one isn't exactly an ingredient. But for me, the hardest part of making this dish is waiting! I'm always tempted to snack on the ripe strawberries as I'm prepping them. So if you're like me, maybe account for that while you're shopping a pick up a few extra.
You probably already have most of these items, but if not, use my link to Instacart to set up a quick and convenient delivery! Click HERE to shop.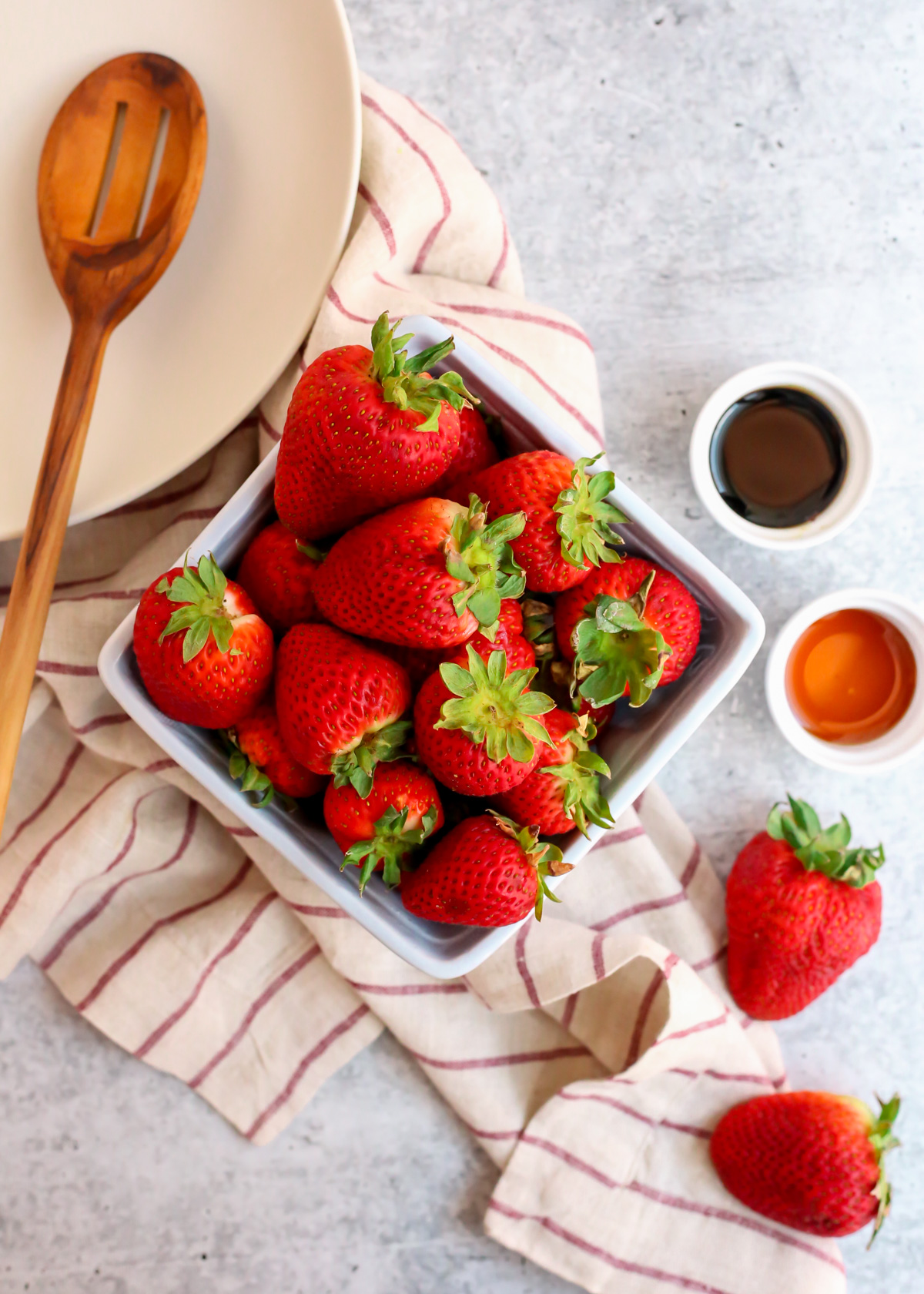 Can I use frozen strawberries?
Most of the time I'd say yes. All forms count when it comes to getting a serving of fruit, whether it's fresh, frozen, canned, dried, or 100% juice. The best way to get a serving of fruit is to serve it in a way you want to eat it!
But in this case, frozen berries aren't the best option for balsamic macerated strawberries. The freezing process breaks down the cell walls of the fruit. Once it thaws, the strawberries will already have a softer texture. Not only that, but they'll release a lot of liquid. Some macerated strawberry recipes recommend mixing the vinegar and sugar into this excess liquid before adding the thawed berries back in. But when I tested this method, I didn't love the ratio of liquid to berries so I recommend sticking with fresh if that's an option.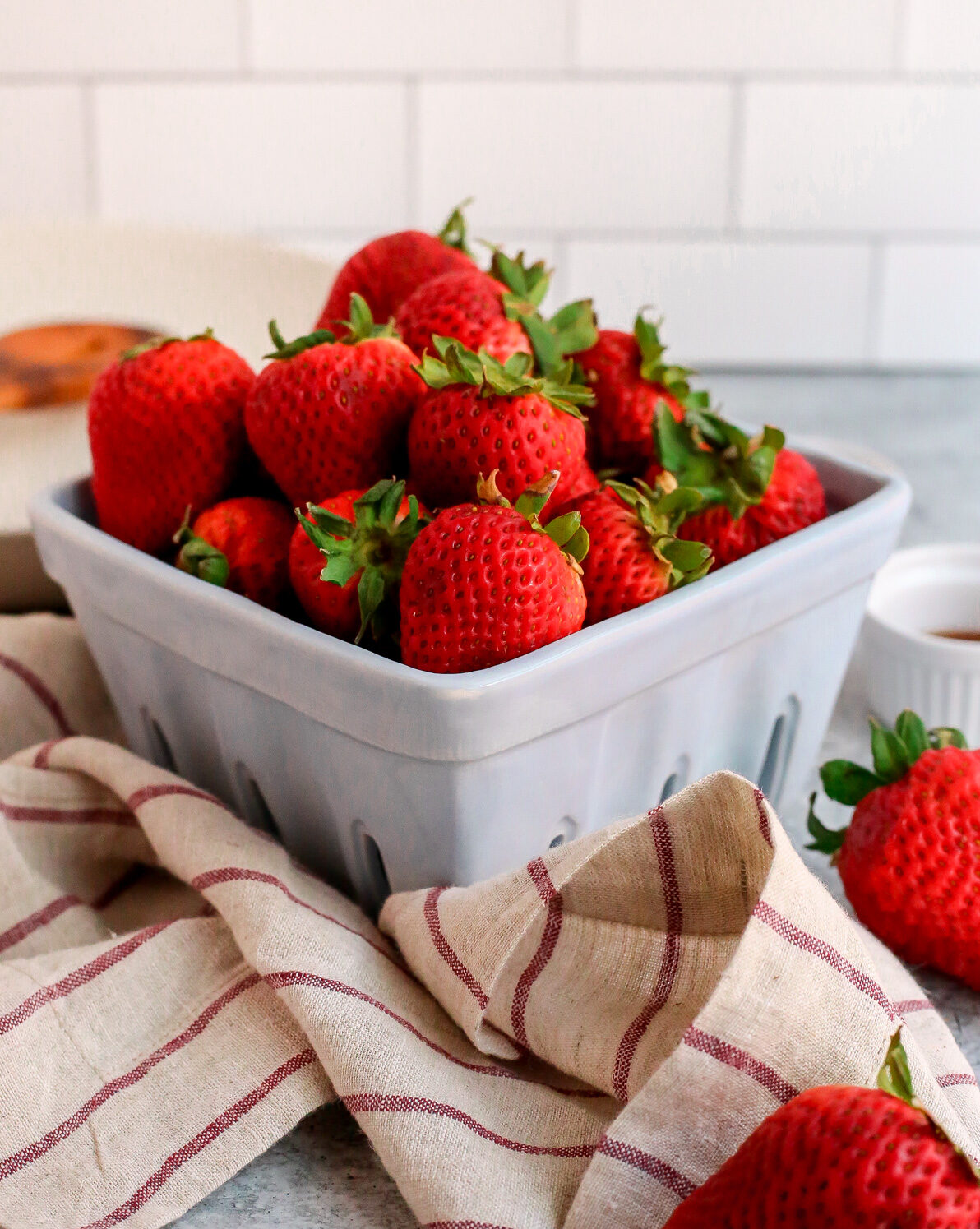 How to Make Balsamic Macerated Strawberries and Cream
Follow these basic steps for one of the best desserts with no exact measuring or baking required!
Start with clean, dry strawberries and grab a cutting board and knife. Remove the stems and slice or chop into similar sized pieces.
Place strawberries in a large bowl. Drizzle the balsamic vinegar and honey over the top and gently fold everything together until each strawberry is coated. Cover with a lid or a press-and-seal wrap. For best results, refrigerate for at least 30 minutes.
Prep your serving bowls by spooning some vanilla yogurt into the bottom. Add the balsamic macerated strawberries on top, making sure to include some of the syrupy sauce. Add a little bit of whipped cream and any garnish you're using and enjoy!
Note that 30 minutes is the minimum recommended chill time. You can prep this recipe up to 24 hours in advance, but just be aware the texture will be softer and flavors will be slightly different depending on how "fresh" the macerated berries are.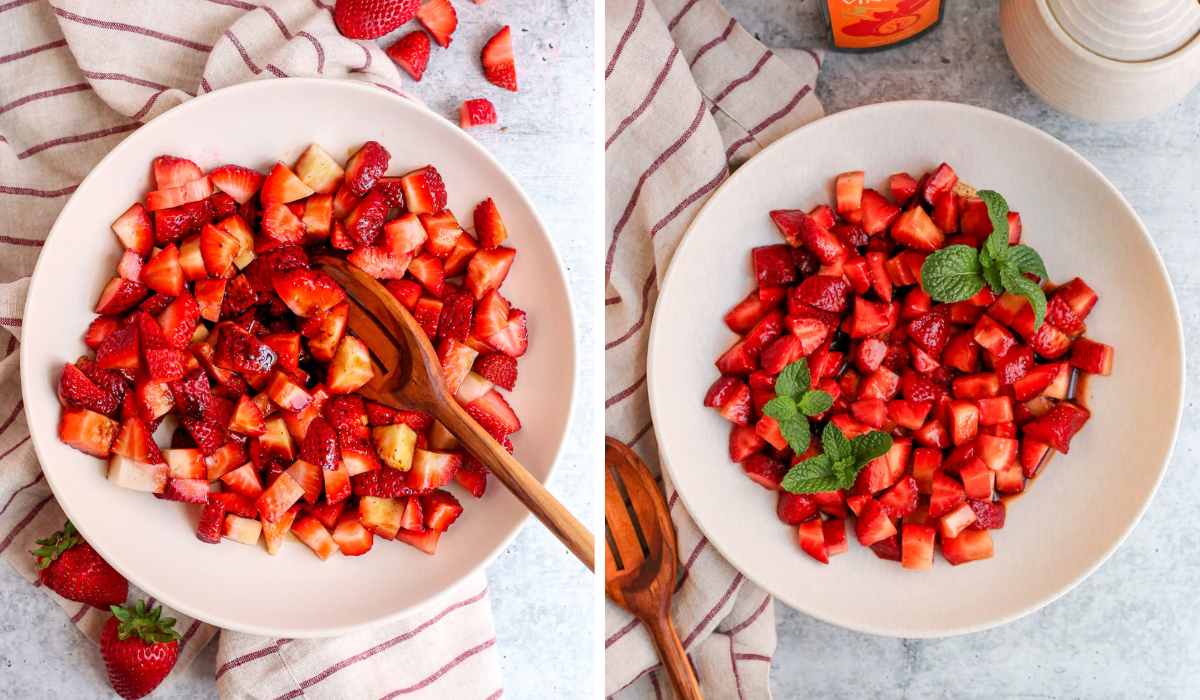 Serving Suggestions
What are you waiting for, just grab a spoon and dig in! Seriously, don't overthink it as these balsamic macerated strawberries are delightful all on their own.
But if you're looking to dress them up a bit, here's how I would do it:
Intensify the vanilla flavor by adding a small amount of vanilla extract.
Instead of yogurt, swap for vanilla ice cream, mascarpone, or even whipped cream cheese. And if you're feeling ambitious, you can use heavy whipping cream to make your own homemade whipped cream.
If you don't have honey, try maple syrup, agave syrup, brown sugar, or plain ol' white sugar. Start with a ratio of 1-2 tablespoons per cup of fruit and adjust from there according to your taste preferences.
Add some extra flavors with fresh herbs (especially fresh basil or extra mint), cinnamon, nutmeg, brown sugar, or even some cracked black pepper. This might sound like an odd combo but according to The Flavor Bible (my go-to flavor pairing resource) it works! I tried this with some pink peppercorns leftover from another recipe and it was such a unique and memorable flavor.
Use a different type of vinegar such as apple cider vinegar or champagne vinegar. You can also use balsamic glaze for added sweetness and intensity. Or, if you're a fan of citrus, try adding some lemon juice or lemon zest.
Make a rustic strawberry shortcake with leftover biscuits or graham crackers. Just spoon the sliced strawberries over the top and let the flavors of the liquid soak in.
You can even make a boozy version by adding a splash of orange liqueur like Grand Marnier or triple sec.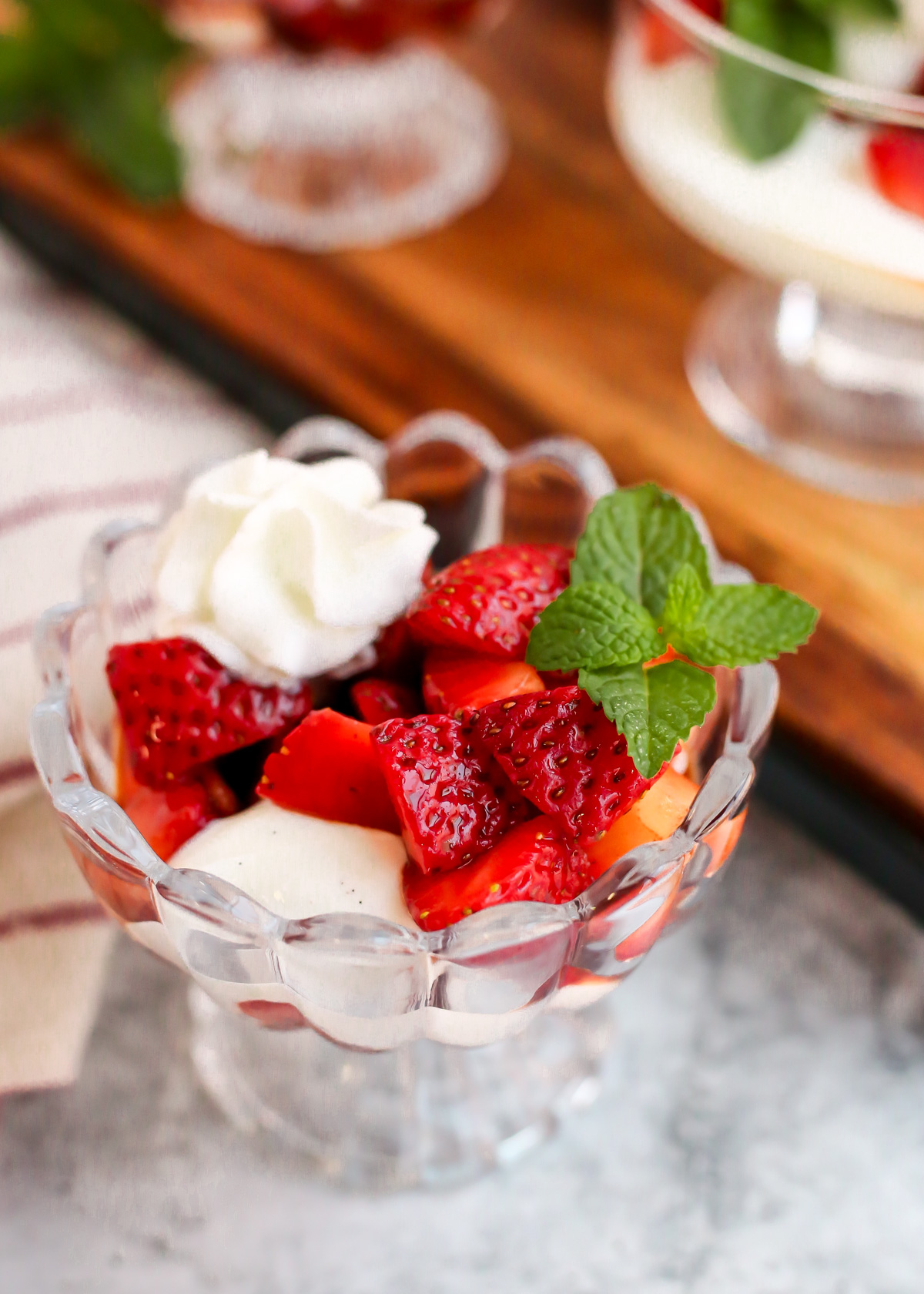 How to Store Balsamic Macerated Strawberries
If you manage to have leftovers, congrats! These balsamic macerated strawberries tend to disappear very quickly in my house. But storage is simple, just seal them in an airtight container and stash in the refrigerator.
If you can, try to eat within the next 24-48 hours. While they're perfectly safe to eat up to 4-5 days later, it's really more of a quality thing. The juicy strawberries will just get softer and softer the longer they sit. And since this recipe is so simple to make, why not just whip up a fresh batch?
Here's the full recipe for my Balsamic Macerated Strawberries and Cream!
Balsamic Macerated Strawberries and Cream
This is a simple summer dessert you can prep in minutes! Fresh strawberries take on the rich flavor of honey and balsamic vinegar, enhancing their natural sweetness. Serve with vanilla yogurt and whipped cream and enjoy!
Ingredients
1

lb

strawberries

1-2

tbsp

balsamic vinegar

1-2

tbsp

honey

10

oz

vanilla yogurt

,

or two containers

1 1/2

cups

whipped cream or cool whip

fresh mint or basil

,

for garnish, optional
Instructions
Wash and dry the fresh strawberries, then remove the stems. Chop or slice the strawberries into small, uniform pieces. A 1 lb (16 oz.) container will yield about 2 1/2 to 3 cups chopped.

Place the chopped strawberries into a mixing bowl. Add the balsamic vinegar and honey, adjusting the amount used according to your taste preferences. Gently fold together until all pieces are coated. Cover and refrigerate for at least 30 minutes (or up to 24 hours) before serving.

To serve, spoon a dollop of vanilla yogurt into the bottom of a serving bowl. Spoon the balsamic macerated strawberries on top, then add whipped cream on top. Garnish with a sprig of fresh mint (if using) and serve immediately.
Notes
To store leftovers, seal the macerated strawberries in an airtight container. Refrigerate and serve chilled, and eat within 48 hours for best results. 
Nutrition
Serving:
1
serving
,
Calories:
116
kcal
,
Carbohydrates:
18
g
,
Protein:
3
g
,
Fat:
4
g
,
Saturated Fat:
2
g
,
Polyunsaturated Fat:
0.3
g
,
Monounsaturated Fat:
1
g
,
Cholesterol:
14
mg
,
Sodium:
34
mg
,
Potassium:
246
mg
,
Fiber:
2
g
,
Sugar:
15
g
,
Vitamin A:
132
IU
,
Vitamin C:
45
mg
,
Calcium:
109
mg
,
Iron:
0.4
mg
I hope this strawberries and cream recipe is the perfect dessert to satisfy your sweet tooth this summer! If you enjoyed it, be sure to leave me a rating or comment to let me know what you think. For more delicious recipes for strawberry season, check out my Korean-Style Strawberry Milk or Balsamic Strawberry Avocado Toast.
And as always, thanks for stopping by the Street Smart Nutrition blog! You can find more and follow along on Instagram and YouTube, and don't forget to sign up for my newsletter so you never miss a new post. Cheers to more fearlessly nourishing meals!