Cool down with this refreshingly tart, colorful, and subtly spicy Cranberry Granita with Jalapeño and Lime. This is not your average cranberry recipe! Plus, read more about the health benefits of 100% cranberry juice.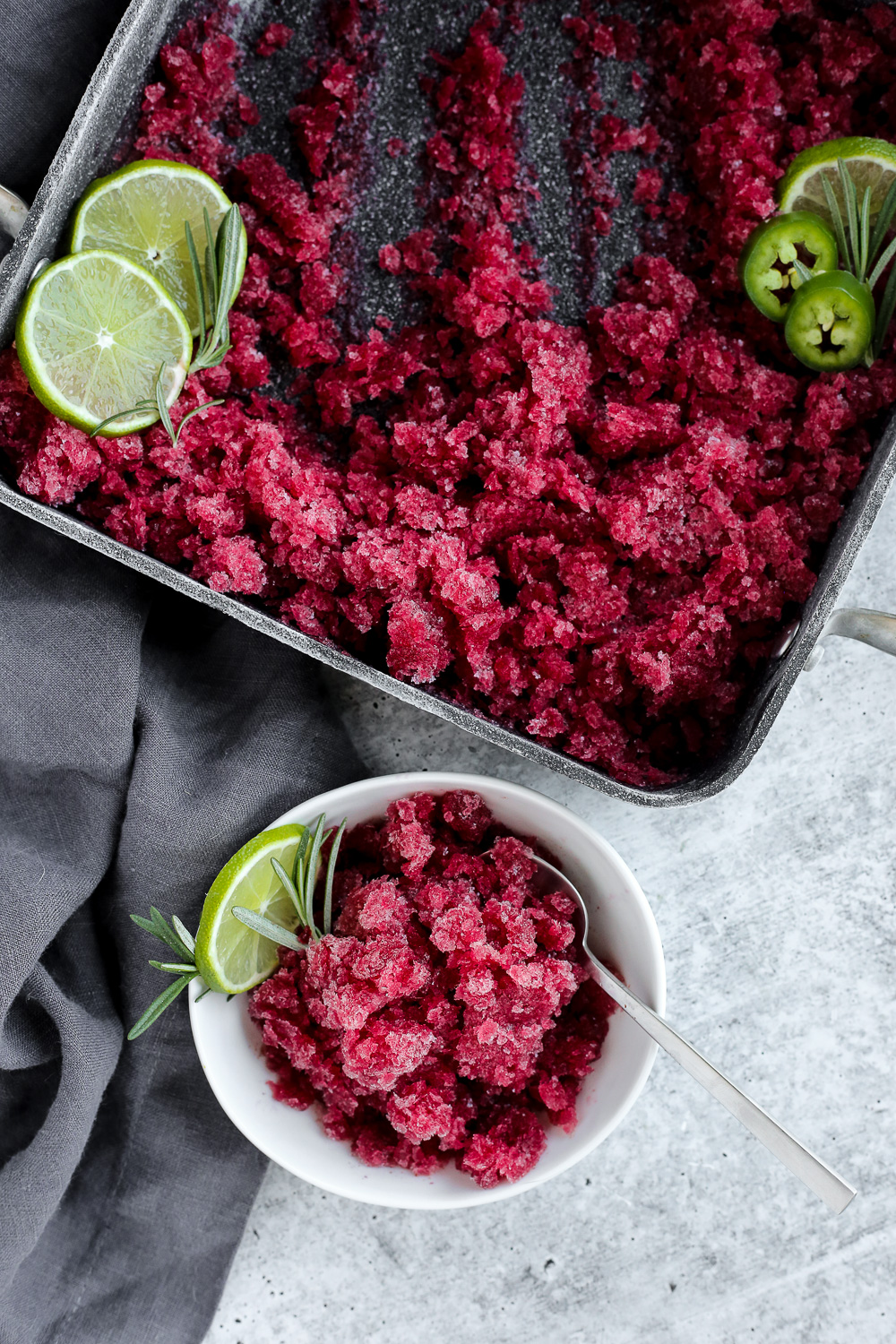 I just love when a recipe looks impressive but is actually super simple to make. I shared this cranberry granita recipe with my family and they were so impressed. That is, until I shared that it's only five ingredients and my freezer did most of the work!
Why You'll Love This Cranberry Granita Recipe
If you're a fan of shaved ice, you'll love granitas! They are great recipes for peak summertime when you want to cool off, and this cranberry granita is no different.
It's subtly sweet and spicy at the same time, with some natural tartness from 100% cranberry juice. Enjoy an incredible explosion of flavor in each bite!
The color is hands-down gorgeous. I mean, I'm a huge fan of vibrant, colorful, flavorful food but this summer snack feels next level.
It stores well for up to a month. If you want to avoid a dash to the grocery store to pick up frozen desserts, simply double up on a batch of this and serve it up at a later date.
What is granita?
Granita is a semi-frozen, crystallized dessert that's sort of like shaved ice, sort of like sorbet. And while I'm treating it like a dessert, it could also be a snack or palate cleanser between courses. That's how I first saw it on a menu at a rather upscale Italian restaurant, which made me think it's hard to make or super fancy. I couldn't be more wrong!
The basic formula for making granita at home is fruit juice + sweetener (I used honey) with a side of patience. The mixture is first heated so the sugar dissolves, then frozen. It takes a few hours to freeze. You have to go in every 30-45 minutes or so to scrape the mixture so it doesn't freeze into a solid block. The sugar helps it develop a crystallized shaved ice texture. And while you can also make homemade granitas with blended fruit plus a little water, I opted for simplicity with 100% cranberry juice.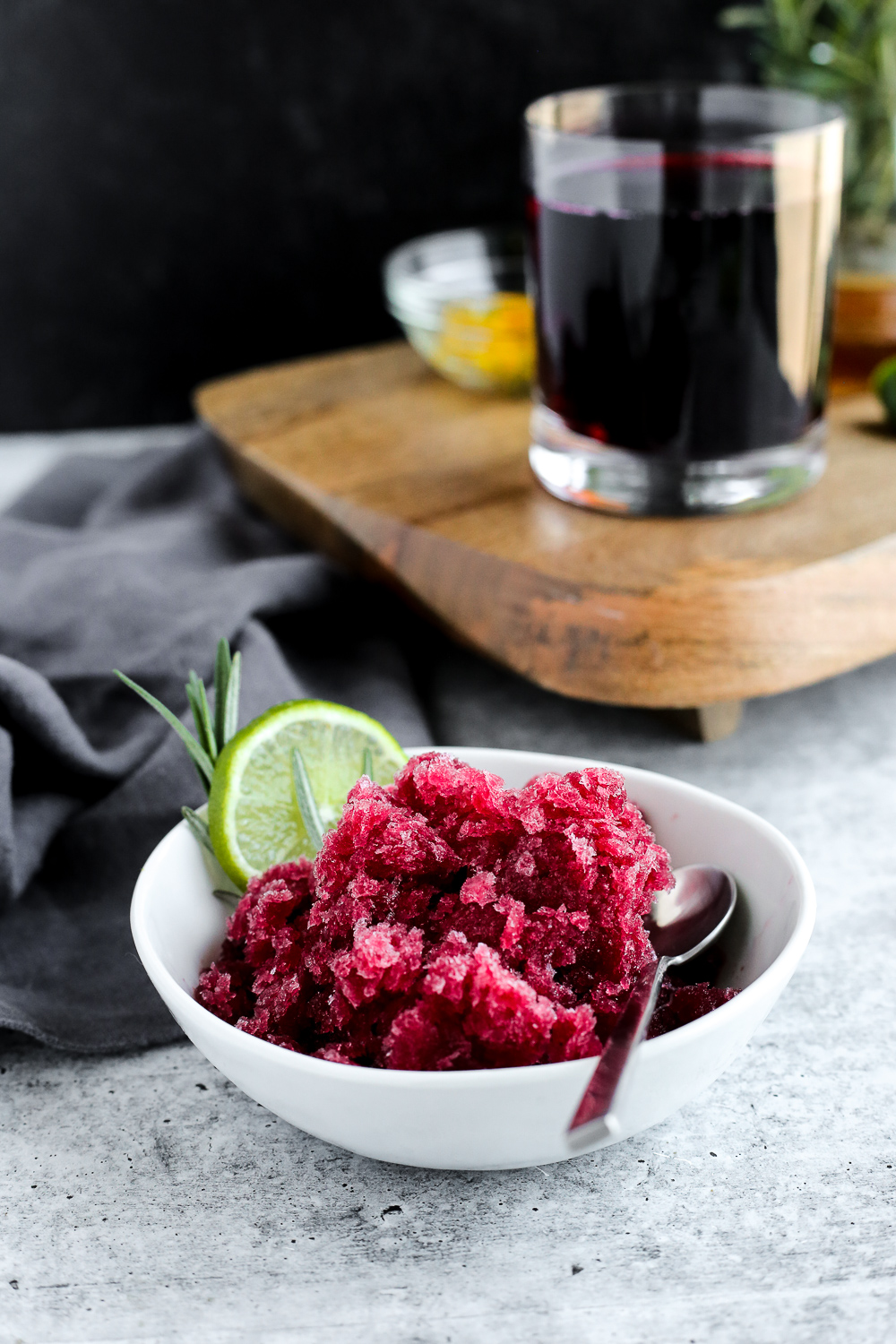 Health Benefits of Cranberry Juice
When you think of cranberry juice, you might think of urinary tract health. But I want to highlight a recent clinical trial that was published in 2020.
This study looked at the role of cranberry juice in gut health among adults with H. pylori infections in China. H. pyloriis the primary identified cause of gastric cancer. This trial found that consuming cranberry juice containing 44 mg of proanthocyanidins (or "PACs" because that is a mouthful) per 240 mL serving twice daily for eight weeks resulted in a 20% reduction in the H. pylori infections rate in Chinese adult participants when compared to those consuming lower amounts of juice and a placebo.
More research is needed to determine the exact role that cranberry juice can play in gut health. This new clinical trial adds to the decades of research already out there for cranberry juice and urinary tract health.
Here's another benefit of cranberry juice: it can count as a serving of fruit! Yep, adding cranberry juice can get you closer to the recommended total servings of fruits & veggies every day. That's something most of us don't get enough of. The only thing you lose out on is dietary fiber. But there are other good sources to help you get the recommended amount of 25-30 grams per day.
Cranberry juice is tart, colorful, and easy to find in most supermarkets. To make it even more convenient, you can place an order for delivery through Instacart. Just click HERE to be instantly guided to a shopping list for this cranberry granita recipe!
Ingredients You'll Need
This list is a short one, only four ingredients total! Well, five if you plan on adding a garnish.
Cranberry juice, preferably 100%
Fresh jalapeños
Honey
Lime zest or orange zest (or both). You can also use a splash of orange juice or lime juice in a pinch.
Fresh rosemary, mint sprigs, or another fresh herb for garnish. This is optional, of course, but I always think a recipe feels more fancy with a garnish!
The aromas coming off this cranberry mixture as I prepped it were amazing! The jalapeño is also a fun addition. There's just enough heat to make your lips tingle. It's an interesting contrast to taste spice in such a cold, frozen food! If you don't have fresh jalapeños, skip the pickled stuff (it will totally change the flavor) and try serrano peppers instead.
And if you prefer to use another type of sweetener, try adding 1/3 to 1/2 cup of regular or brown sugar. How much sugar really depends on how sweet vs. tart you want the finished product to be. But I wouldn't recommend using more than that as it will slow the freezing process or result in a different texture.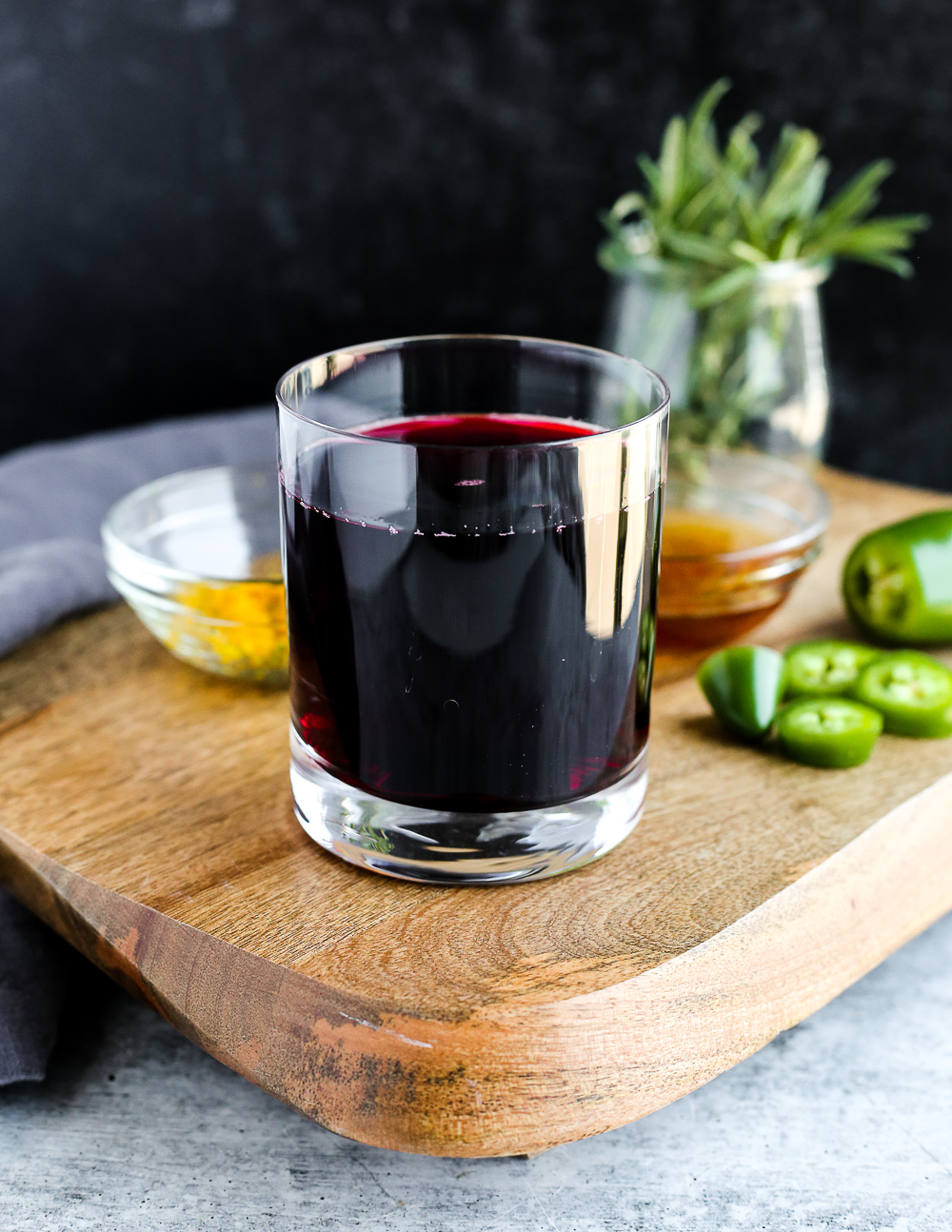 Street Smart Nutrition Tip: Did you know while cranberries may be best known for their urinary tract health properties, cranberries support gut health, too? Research such as this study here continues to reveal even more notable health benefits of America's Original Superfruit. All forms of cranberries are versatile and can be added to a variety of recipes and refreshing cocktails or mocktails!
You'll also need some simple kitchen basics to prep this cranberry granita recipe.
A small saucepan and fine mesh strainer
Cutting board and sharpened knife
A shallow pan or baking dish and fork
Plenty of freezer space so it sits flat and level until fully frozen
How to Make Cranberry Granita
I think you'll like how straight-forward and simple this recipe is. Since I'm not much of a baker, these are exactly the types of desserts I prefer to make!
First, wash and dry the jalapeños and slice them crosswise. Remove the seeds and pith if you want to limit the heat, but I prefer to leave them in. You're going to strain them out eventually so don't worry about biting into one later! Zest your orange or lime and slice what's left of it to juice or use as a garnish.
Next, add the cranberry juice and the rest of the ingredients to the saucepan. Adjust your stove to medium heat. By the time it's just barely simmering, the honey will be fully dissolved.
Set your baking dish nearby and transfer the mixture into it, running it through the strainer to remove the seeds and zest. Pop it into the freezer and set a timer for 45 minutes.
Once ice crystals start to form around the edges, go in with the fork and scrape the icy flakes to the center. Freeze for another 30-45 minutes and repeat.
When you have a slushy texture like what's pictured below, start scraping ever 20-30 minutes until the cranberry granita is fully frozen.
At that point, you're ready to garnish and enjoy! I served mine with a slice of lime, some extra rosemary to make it extra aromatic, and if you're craving more flavor you can garnish with extra lime or orange zest. Just be sure to work quickly! The icy flakes in granita makes it melt more quickly than other summer desserts!
Save any leftovers in your freezer for up to one month, but good luck getting it to last that long! I think you'll be reaching for this refreshing recipe as a snack or dessert any time the temperature or humidity starts to rise.
Here's the recipe for my Cranberry Granita with Jalapeño and Lime!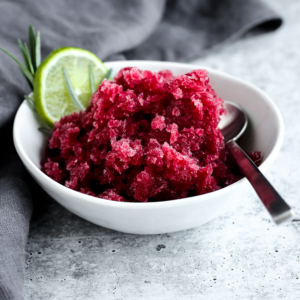 Cranberry Granita with Jalapeño and Lime
Reap the benefits of nourishing cranberry juice in this simple summer recipe with subtle spice. It resembles shaved ice or sorbet, but with a more fluffy and crystallized texture.
Equipment
small saucepan

cutting board and sharpened knife

Fine Mesh Strainer

shallow pan or baking dish

sturdy fork
Ingredients
2

cups

100% cranberry juice

1 to 2

small

jalapeno peppers

,

sliced

1/3

cup

honey

1

tbsp

orange and/or lime zest

2

sprigs

rosemary

,

or similar herb, for garnish
Instructions
Combine all ingredients except the herbs into a saucepan and bring to a low simmer. Stir to fully dissolve the honey, then remove from heat and strain immediately (for a more intense flavor, allow to cool before straining).

Pour the cranberry juice mixture into a shallow baking pan and place it on a level surface in the freezer. After 45 minutes, take the pan out of the freezer and use a form to scrape through the ice crystals that started to form. Put the pan back in the freezer.

Repeat this step every 30-40 minutes until the mixture resembles the texture of shaved ice. Fluff it with a fork before spooning it into serving dishes. Garnish with additional lime or orange zest, if desired, and serve immediately.
Notes
You may need to adjust the total time in the freezer to achieve the desired texture. Removing it earlier will yield a less frozen texture, leaving it in longer will yield a more solid or sorbet-like texture.
Once frozen, transfer to an enclosed freezer-safe container and eat within one month for best results. 
Nutrition
Serving:
1
serving
,
Calories:
145
kcal
,
Carbohydrates:
39
g
,
Protein:
1
g
,
Fat:
1
g
,
Saturated Fat:
1
g
,
Polyunsaturated Fat:
1
g
,
Monounsaturated Fat:
1
g
,
Sodium:
4
mg
,
Potassium:
121
mg
,
Fiber:
1
g
,
Sugar:
39
g
,
Vitamin A:
96
IU
,
Vitamin C:
16
mg
,
Calcium:
13
mg
,
Iron:
1
mg
If you give this Cranberry Juice Jalapeno Granita recipe a try, let me know what you think! Leave a rating or review and be sure to Pin it or save it for later.
If you enjoyed this cranberry-based recipe, you might also like my Orange-Cranberry Oat Bars or Spiced Cranberry Simple Syrup (it's perfect for cocktails and mocktails)! This should hopefully tide you over until the holiday season when you can crack open a can of cranberry sauce!
Disclosure: This post was sponsored by the Cranberry Marketing Committee and I was compensated for my time. It was originally published in July 2021 and has since been updated to improve the overall quality of the information and/or images. As always, thank you for supporting the partners who support Street Smart Nutrition! And for more information about cranberries or the Cranberry Marketing Committee, visit uscranberries.com.