Maple Pecan Baked Oatmeal with Cranberries practically screams winter flavors for your breakfast table – and you can enjoy leftovers of this baked oatmeal recipe all week long!
---
Disclosure: This recipe and blog post were created in partnership with The Quaker Oats Company. I was compensated for my time. As always, all opinions are my own. Thanks for supporting the brands that support Street Smart Nutrition!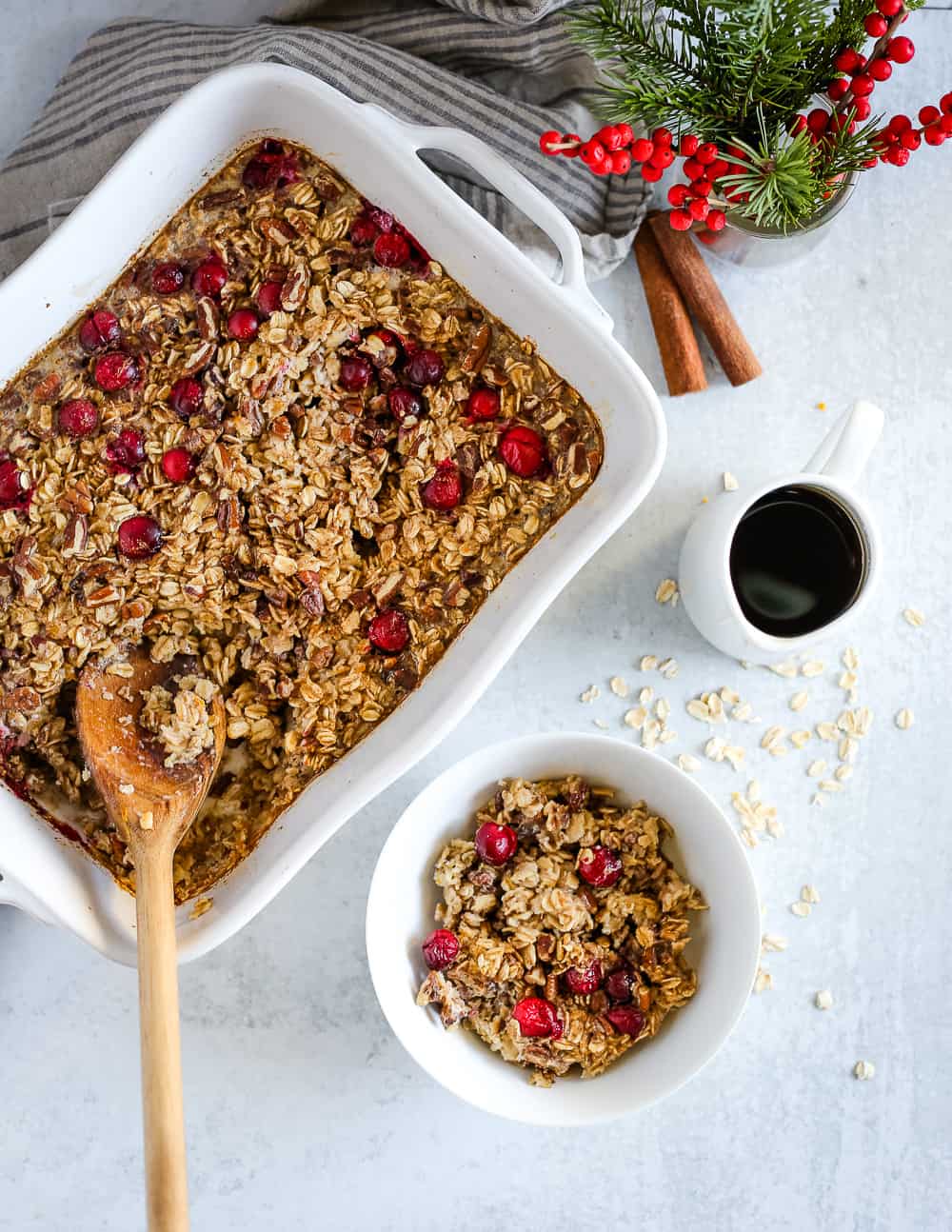 After a small, low-key holiday last year, I realized I had a ton of leftover ingredients. Did you run into that challenge, too? I had a bag of fresh cranberries rolling around in my fridge, along with pecans from a holiday side dish I made.
So naturally, I reached for a pantry staple: Quaker Oats! Seasonal ingredients like cranberries and pecans work so nicely in morning recipes and I was inspired to create a baked oatmeal recipe that celebrates both the whole grain goodness of oats and festive flavors of the winter season.
Oat Nutrition
Oats are a pantry staple because they're so versatile! I make sweet and savory recipes, served hot or cold, and no matter what time of day it is I know I can rely on Quaker oats for taste and nutrition.
The oats used in each variety (Instant, Quick, Old Fashioned, and Steel Cut) are 100% whole grain. Ounce per ounce, they provide similar amounts of fiber, vitamins, and minerals. A ½ cup serving of uncooked oats are also a good source of fiber, which may help support a healthy digestive system but it's a shortfall nutrient. That means most people aren't getting the recommended amount of fiber. That same 1/2 cup serving is also a good source of vitamin B1, magnesium, phosphorus, and manganese.
While the nutrition in oats is pretty impressive, I turn to them for taste and flavor, too. They're a culinary blank canvas so I'm constantly finding inspiration for new and creative ways to cook with oats. For example, I've recently made a Miso-Mushroom Steel Cut Oat Risotto, Banana Nut Baked Oatmeal Cups, and Spicy Harissa Oatmeal with Eggs. And of course, you can't go wrong with the classic pairings of fruit and oatmeal. Check out my Balsamic Raspberry Breakfast Bowls – they're one of the top oatmeal recipes on the Street Smart Nutrition Blog!
Quaker Oats and Feeding America
I love partnering with Quaker because their mission and values are so well aligned with my own. They've spent more than 143 years finding modern ways to help people benefit from the taste, versatility, and nutrition of whole grain oats. Quaker also believes that life's circumstances should never be a barrier to good nutrition.
The pandemic has amplified the existing food insecurity issue across the country. Feeding America projects that more than 50 million people could be food insecure this year due to the impact of the pandemic—that is one in six people and one in four children. 
Quaker is partnering with Feeding America to help provide nourishment for people in need. The goal is to raise up to $250,000 to help Feeding America provide meals to families in need across the country.
To join Quaker's efforts, you can simply purchase a participating Quaker Cereal product and enter the UPC code online at QuakerOats.com/FeedingAmerica now through February 28. You can also visit that site to see the list of participating Quaker Cereal products. Quaker will donate $1 to Feeding America for each corresponding UPC code up to $250,000. Each UPC code entry online allows Quaker to fund 10 meals for families in need through Feeding America.
Food insecurity is something that shows up in every community in America. I try to do my part with regular donations of food and dollars to local organizations, and since Feeding America works to address hunger nationwide, they may be partnering with organizations that can have an impact in your own community. Please consider supporting this important cause!
Once you've picked up your canister of Quaker oats, you'll be all set to make this Maple Pecan Baked Oatmeal recipe!
Maple Pecan Baked Oatmeal
This baked oatmeal recipe couldn't be simpler, and that's because I'm not much of a baker. But trust me, if I can handle this recipe, so can you! I broke it down into three simple steps:
1. Measure and mix the dry ingredients.
Use a large mixing bowl for your dry ingredients. I like to use a wooden spoon to gently fold everything together. Once it's well-mixed and all the pecans and cranberries are evenly distributed, you're all set for this step!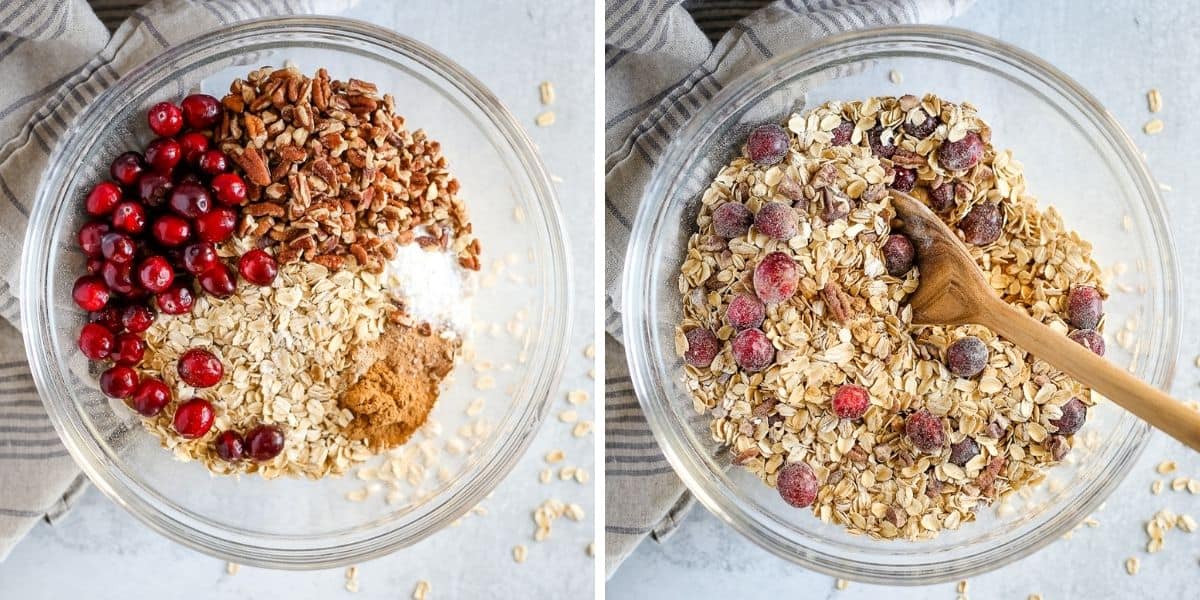 2. Measure and mix the wet ingredients.
Use a slightly smaller mixing bowl for your wet ingredients. I like to use a whisk to stir everything together. You'll notice a delicious aroma once the maple syrup, vanilla, and orange zest come together. The orange zest is just enough to brighten up the sweeter flavors and make your kitchen smell amazing!
3. Combine, bake, and enjoy!
Ok, this last step is actually more like three steps. But once you have your dry and wet ingredients measured and mixed, pour the wet ingredients into the larger mixing bowl. Stir the wet and dry ingredients together, then carefully transfer everything to your baking dish.
Pop it into a 350 degree F oven for 30-35 minutes, and it will come out looking like this!
You can top your baked oatmeal with some additional pecans or cranberries, or drizzle a little bit of maple syrup over the top. It will soak into the hot oatmeal and add even more seasonal deliciousness to this easy recipe with breakfast or brunch.
Serve this Maple Pecan Baked Oatmeal warm, or allow it to cool slightly before covering it and placing it in the fridge. The leftovers can be reheated and enjoyed throughout the week, which is why I'm such a fan of baked oatmeal recipes.
The other reason I like recipes like this is that it can be a helpful dish to make for friends or family members who need a helping hand. This could be a welcomed treat for a neighbor with a new baby, a busy colleague or friend, or a family member who's resting and recovering at home. Since it makes multiple servings, it can help ease the challenge of cooking tasty meals at home for someone else!
If you're using that option, I recommend baking it ahead of time. Just like you would if you were at home, allow it to cool then cover and store in the fridge.
To reheat in the microwave: Transfer to a microwave safe bowl. Heat in 30 second increments, pausing to stir for even reheating, for 1 1/2 minutes total. Top with additional pecans or cranberries if desired.
To reheat in the oven: Preheat your oven to 350 degrees F. Cover the baking dish with aluminum foil. Place on the center rack and heat for 15-20 minutes or until hot. Serve immediately.
Here is the recipe for Maple Pecan Baked Oatmeal!
Maple Pecan Baked Oatmeal with Cranberries
This easy baked oatmeal recipe can be prepped in minutes. Enjoy seasonal flavors of maple syrup, pecans, and cranberries this winter!
Ingredients
Dry Ingredients
2

cups

Quaker Old-Fashioned Oats

1

tsp

baking powder

3/4

tsp

kosher salt

1

tsp

cinnamon

1

tsp

nutmeg

1/2

tsp

cardamom

2/3

cup

chopped pecans

,

toasted

1

cup

fresh cranberries
Wet Ingredients
1 3/4

cup

whole milk

1

large

egg

3

tbsp

maple syrup

1 1/2

tsp

vanilla extract

2

tsp

orange zest
Instructions
Preheat the oven to 350 degrees F. Prepare a 9x13" baking dish by spraying with nonstick cooking spray.

Measure all dry ingredients and add to a large mixing bowl. Stir gently to combine.

Measure all wet ingredients and add to a medium mixing bowl. Whisk to combine.

Add the wet ingredients to the dry ingredients. Stir to combine, then transfer the mixture to the prepared baking dish. Bake at 350 degrees for 30-35 minutes, or until the top begins to brown.

Top with additional maple syrup, chopped pecans, or cranberries if desired. Serve immediately, or cool to room temperature and store up to five days in the refrigerator.
Nutrition
Serving:
1
serving
,
Calories:
331
kcal
,
Carbohydrates:
38
g
,
Protein:
10
g
,
Fat:
16
g
,
Saturated Fat:
3
g
,
Cholesterol:
69
mg
,
Sodium:
527
mg
,
Potassium:
332
mg
,
Fiber:
6
g
,
Sugar:
11
g
,
Vitamin A:
215
IU
,
Vitamin C:
3
mg
,
Calcium:
177
mg
,
Iron:
2
mg
Just like Quaker, I believe in providing nourishment for all. I hope you enjoy this recipe and share it with your friends and family this winter. If you do, be sure to support the partnership with Feeding America and submit the UPC from your canister at QuakerOats.com/FeedingAmerica before February 28!