This Sweet Balsamic Fig Compote is a must-try before summer is over! You'll love how simple and flavorful this fresh fig compote recipe is. It can swing from sweet to savory dishes, and everything in between, and can be made quickly with just a handful of ingredients. 
Fig season is finally here!
Every year I wait impatiently for the end of summer, when cartons of fresh figs grace us with their presence. It feels like such a luxurious splurge to add them to my cart. And I've got just the recipe for you to take full advantage before the season is over!
Why You'll Love This Sweet Balsamic Fig Compote
Don't get me wrong, there's absolutely nothing wrong with munching away on fresh figs. They're literally perfect as is. But if you're ready to experiment with something else, let me make the case:
This is one of those deceptively easy recipes. Just a handful of ingredients and a short cooking time on the stovetop is all it takes to create this syrupy sweet fig compote.
It's a versatile topping for sweet and savory dishes. From an ice cream sundae to grilled pork chops to an overloaded cheese board, it's the perfect addition!
While not the most visually stunning recipe, it makes up for what it lacks in the looks department with full flavor that's sweet and slightly tart thanks to the balsamic glaze or vinegar.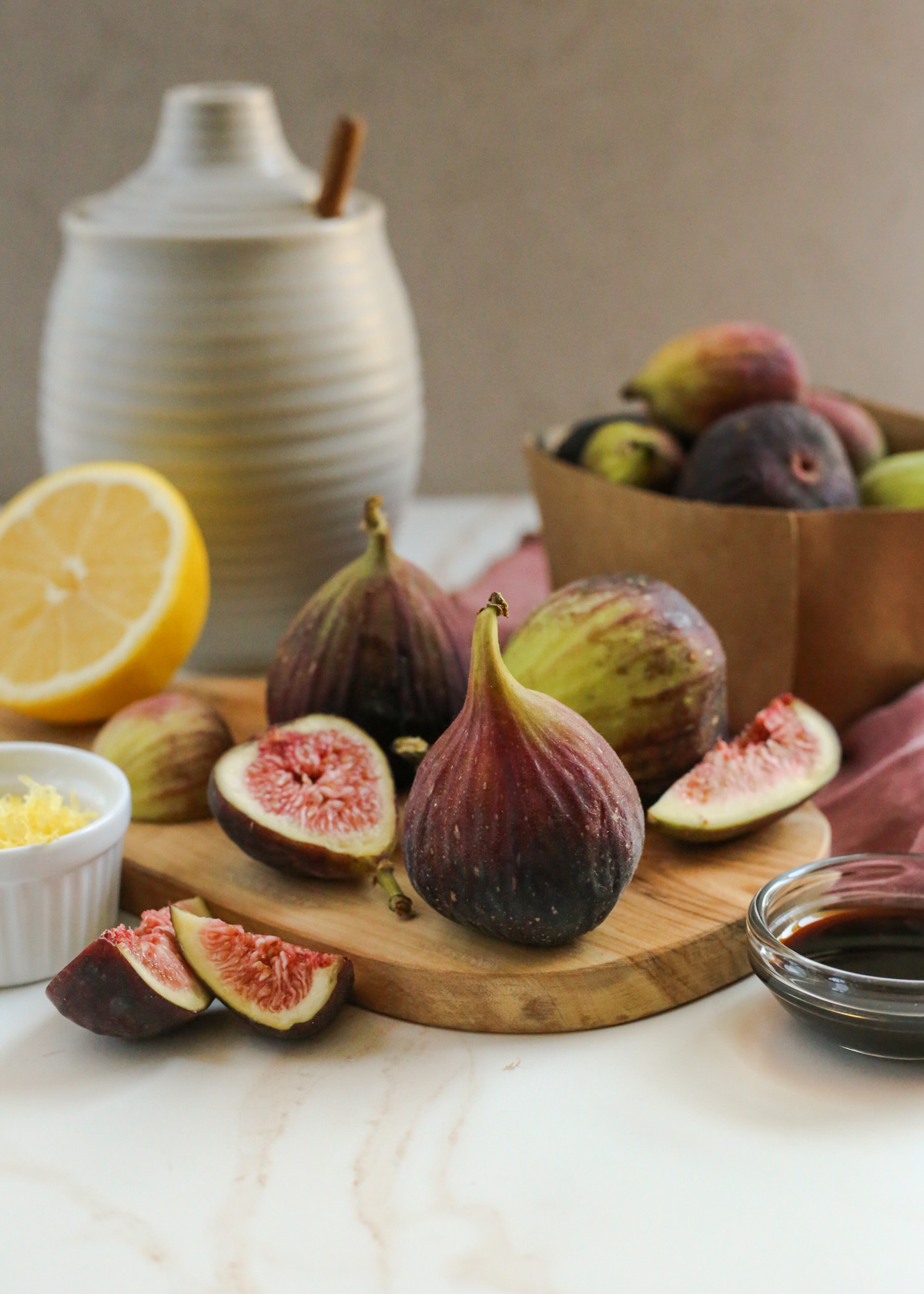 What is a compote?
In the past, compotes were used to preserve fresh fruit. Whole fruits were cooked or stewed over low heat in water with spices and sugar to infuse them with additional flavor. A compote is chunky, unlike a smooth jelly, and much less thick than a jam, chutney, or marmalade. Another key difference is that with proper canning techniques for food safety, these other options can be shelf-stable. Meanwhile, a compote should be served and eaten pretty much right away.
A fruit compote is different than macerated fruit. The general idea for both processes is similar, but macerating fruit doesn't involve any heat. If you're curious about that, check out my Balsamic Macerated Strawberries and Cream for more details. Plus, it's another super simple summer dessert you're going to love.
A compote can be served with sweet or savory dishes. Whether served warm, chilled, or at room temperature, something like this Sweet Balsamic Fig Compote recipe is a great way to instantly elevate the flavor at your table no matter what you're serving.
Ingredients You'll Need
This fresh fig compote recipe uses just a handful of main ingredients:
Fresh figs. You'll most likely see Black Mission figs or Brown Turkey figs as you shop, but if you're lucky enough to have more options, you can try using any variety. Trader Joe's and Whole Foods are two reliable retailers who always seem to carry fresh figs towards the end of August or late summer.
Honey
Lemon juice and lemon zest
Balsamic glaze. You can also use balsamic vinegar if you prefer a less sweet flavor, but adjust the amount according to taste preference.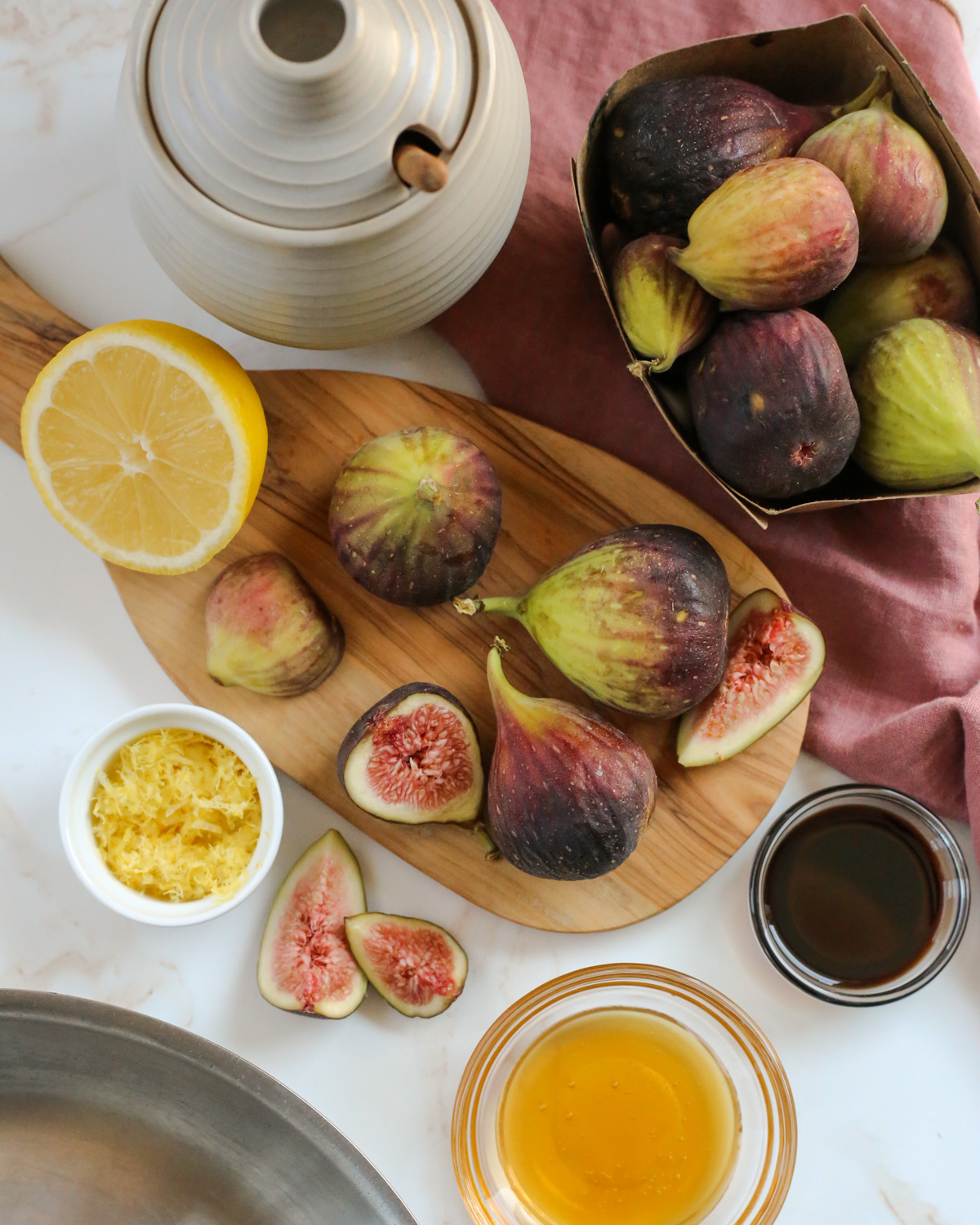 And like I mentioned above, the best part about this fresh fig compote recipe is you don't have to fret over freshness. When I was testing this fig compote recipe, the figs at my local grocery store were all over the place in terms of ripeness. Some were still green and firm, very much on the underripe side. While others were fragrant but already squishy, nearing the point of overly ripe. Since everything is getting mixed together, sweetened, and cooked down, it almost doesn't matter. You can save the perfectly ripe fresh figs for recipes where flavor or presentation matters more.
Fresh Figs vs. Dried Figs
You might also be wondering if you can used dried figs for this Sweet Balsamic Fig Compote recipe. And I totally get it, fig season is fleeting and if you don't score the opportunity to snag fresh figs while they're around, they'll be gone before you know it!
However, I haven't tested this fig compote recipe with dried figs. Which means I can't provide any details about adjusted quantities or speak first-hand about the flavor or texture of the end result. My gut tells me it would work, in theory. But I also think it's just as easy (and probably cost-effective) to buy a jar of fig preserve or fig jam if you have a recipe in mind when fresh figs aren't available.
How to Make Sweet Balsamic Fig Compote
This fresh fig compote recipe could not be simpler. You're just going to chop your fresh figs into small pieces that are mostly the same size. No need to be perfect, especially since they will cook down. Juice and zest and lemon (which is much easier with the right tools like a microplane and hand juicer). Then grab a medium saucepan or skillet and head to the stove!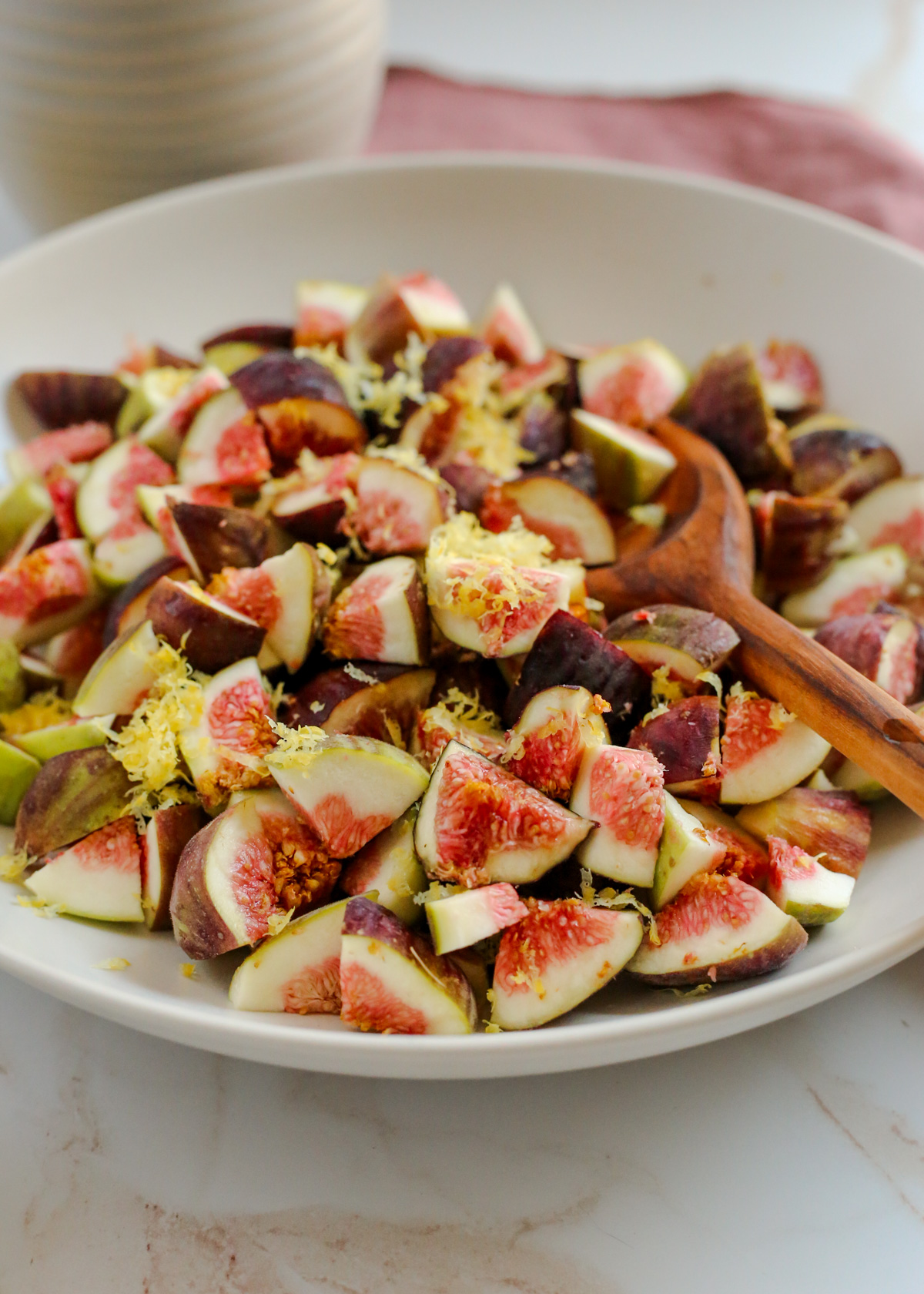 From there, just follow these easy steps:
Add all of the ingredients to the saucepan or skillet, minus any lemon zest you want to reserve for garnish. Turn on the burner and set to medium heat. Note that we're heating everything together, versus adding it to a pre-heated pan. We're not trying to sauté the figs, simply bring them to higher heat gradually and more gently. 
Use a rubber spatula or wooden spoon to slowly stir, blending everything together. Reduce the heat to low, making sure the fig mixture is barely simmering. 
Cook for about 10 minutes, while should be enough to reduce the liquid into a syrupy, thick consistency. The figs will cook down, losing some of their shape and color.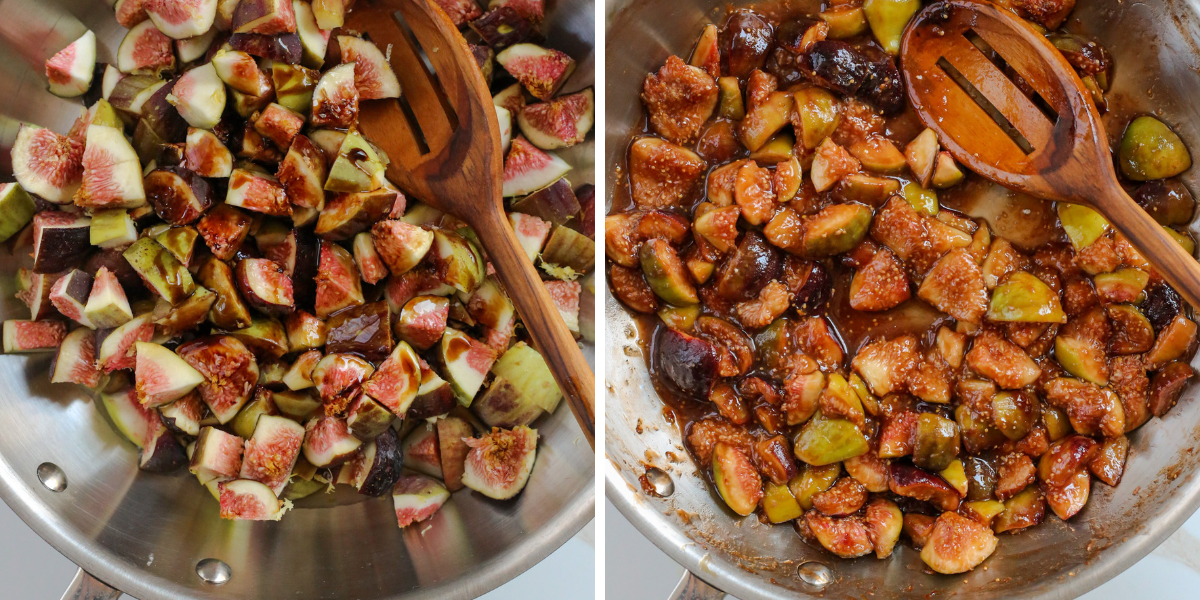 Take the fig compote off the heat. It will continue to thicken as it cools, and at any point you can pair it with your preferred recipe (suggestions below) or save for later.
Store your Sweet Balsamic Fig Compote in an airtight container. Yes, the very cute little glass jars will work if you like that aesthetic. And keep it refrigerated until you're ready to use it again. You can bring it to room temperature or reheat it before serving again, but make sure to use everything within 1-2 weeks for best results.
What to Serve with Fig Compote
There are so many delicious pairings for this Sweet Balsamic Fig Compote!
When I first finalized the recipe, I was picturing a sundae with heaping scoops of vanilla ice cream. This fig compote could be added on top, letting the sweet syrup glaze the ice cream before topping it with pecans or walnuts and a pinch of flaky sea salt. I tried it, and it was just as good as I imagined! I didn't manage to get photos (because not every eating occasion ends up on the blog!) but it's on my list for next summer. 
But don't think it ends with sweet pairings. I always reference The Flavor Bible to draw inspiration for featured ingredients. And it never fails to give me so many ideas, it's hard to know what to make next! In no particular order, here's what I'm suggesting for you:
Any grilled protein, but especially pork chops, pork tenderloin, duck, or lamb.
A goat cheese crostini smeared with fig compote and topped with walnuts, pecans, or almonds. A good blue cheese or gorgonzola would also be delicious!
Spread onto a ham sandwich made with hearty sourdough bread, especially if grilled and toasted to fully incorporate all the flavors.
Served on a charcuterie board or cheese plate with prosciutto, fresh summer fruits, and various nuts or cheeses
Let your imagination take over, there's no wrong way to enjoy this Sweet Balsamic Fig Compote recipe as long as you enjoy the end result! Here's the full recipe and instructions:
Sweet Balsamic Fig Compote with Fresh Figs and Honey
This fresh fig compote recipe highlights the beauty and versatility of fresh figs! Take advantage of the short season during late summer with this versatile compote that can easily pair with sweet and savory dishes.
Equipment
medium saucepan or skillet

cutting board and sharpened knife

microplane or zester

hand juicer

rubber spatula or wooden spoon
Ingredients
1

lb

fresh figs

,

quartered, about 3 cups

1/4

cup

honey

2

tbsp

lemon juice

1/2

tbsp

lemon zest

2

tbsp

balsamic vinegar

,

or about 3 tbsp balsamic vinegar
Instructions
Wash and dry the fresh figs and lemon. Remove the stems, then chop the figs into small, uniform pieces. Zest and juice the lemon, reserving half of the zest, and measure the honey and balsamic glaze or balsamic vinegar.

Add all ingredients except half of the lemon zest to a medium saucepan or skillet and stir to combine. Gradually bring the saucepan or skillet to medium heat, then reduce to low heat when the fig mixture begins to simmer.

Cook for 10-15 minutes or until the figs have reduced in size and faded in color. The liquid should become thick and syrup-like in texture. Remove from heat, then stir in the remaining lemon zest.

Allow to cool slightly, 10 to 15 minutes, and continue to thicken. Serve as a topping for ice cream sundaes or cobblers, grilled meats, or on a charcuterie platter or cheese board.
Notes
Yield as written is approximately 1 1/2 cups. Note that the final yield will depend on the degree to which you cook down and reduce the fig mixture. Longer cooking times leads to greater reduction in volume. 
Serving size is estimated at 3 tablespoons per serving. Adjust accordingly to fit your needs.
Store in an airtight container in the refrigerator if not using right away. Use within 1-2 weeks for best results. 
Nutrition
Serving:
1
serving
,
Calories:
629
kcal
,
Carbohydrates:
165
g
,
Protein:
4
g
,
Fat:
1
g
,
Saturated Fat:
0.3
g
,
Polyunsaturated Fat:
1
g
,
Monounsaturated Fat:
0.3
g
,
Sodium:
16
mg
,
Potassium:
1168
mg
,
Fiber:
14
g
,
Sugar:
149
g
,
Vitamin A:
647
IU
,
Vitamin C:
25
mg
,
Calcium:
178
mg
,
Iron:
2
mg
If this makes an appearance on your next cheese board, let me know! Leave a rating or comment, and if fig season has already passed you by this year, be sure to save it for the next time late summer rolls around.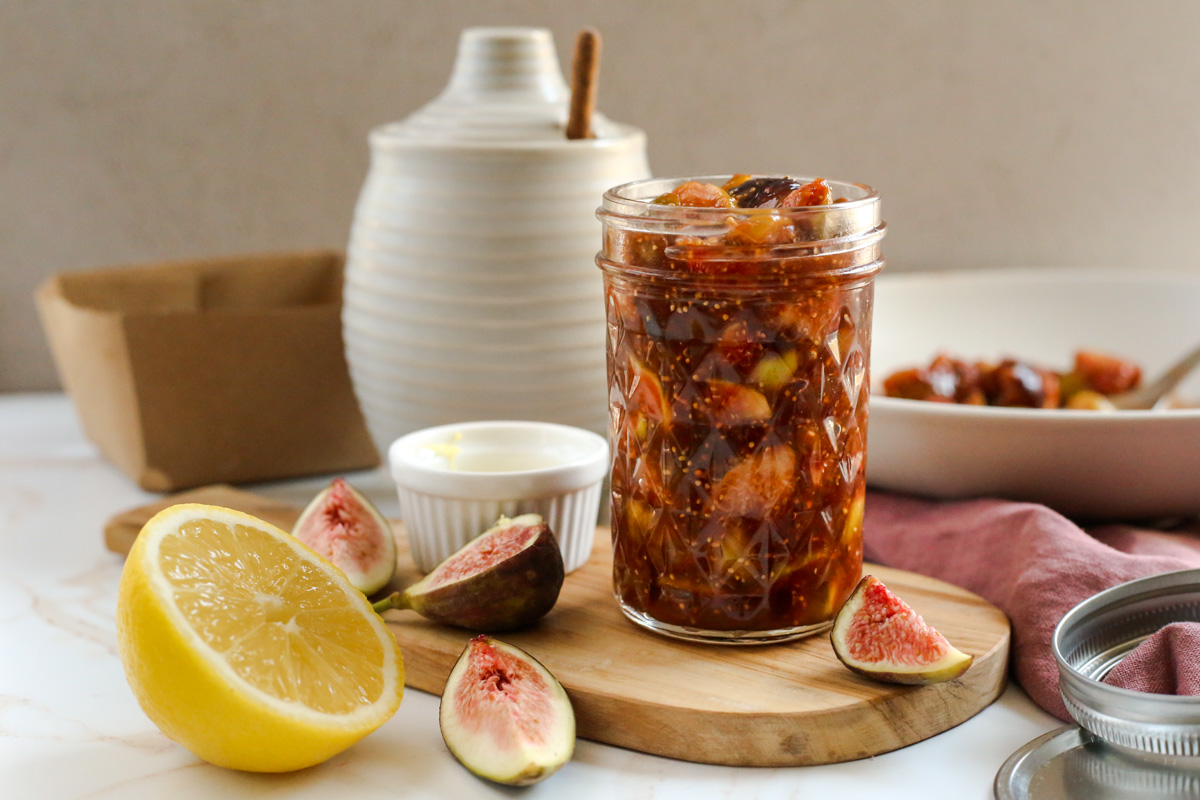 And as always, thanks for stopping by the Street Smart Nutrition blog! You can find more and follow along on Instagram and YouTube (plus all the other social media platforms), and don't forget to sign up for my newsletter so you never miss a new post.
Cheers to more fearlessly nourishing meals!