This Summer Panzanella Salad recipe is summer on a plate thanks to the addition of ripe, juicy cantaloupe and prosciutto. You'll love the abundance of colors, flavors, and textures in each bite!
I'm obviously biased but I think this Summer Panzanella Salad with Cantaloupe and Prosciutto might be some of my best work for #SaladsThatDontSuck.
I seriously can't get enough of this summer salad! A stroke of inspiration hit me after attending a webinar with some fellow registered dietitians earlier this summer. We learned all about how cantaloupes are grown (mostly in California) and I browsed through some cantaloupe-focused recipes. It made me think back to a past version of a panzanella-style salad and I knew I had to combine it all!
Why You'll Love This Summer Panzanella Recipe
It's a great way to use up garden-fresh veggies or excess produce from your last trip to the grocery store or farmers market
You can make this without any kind of salad base, which is perfect if you don't have leafy greens or lettuce in your fridge
It's easily customizable! Use your favorite type of bread, protein, or herbs and make it your own
If you're into that cantaloupe + prosciutto combo as much as I am, check out my recipe for this Easy Halloumi Salad that uses both, plus a hot honey dressing!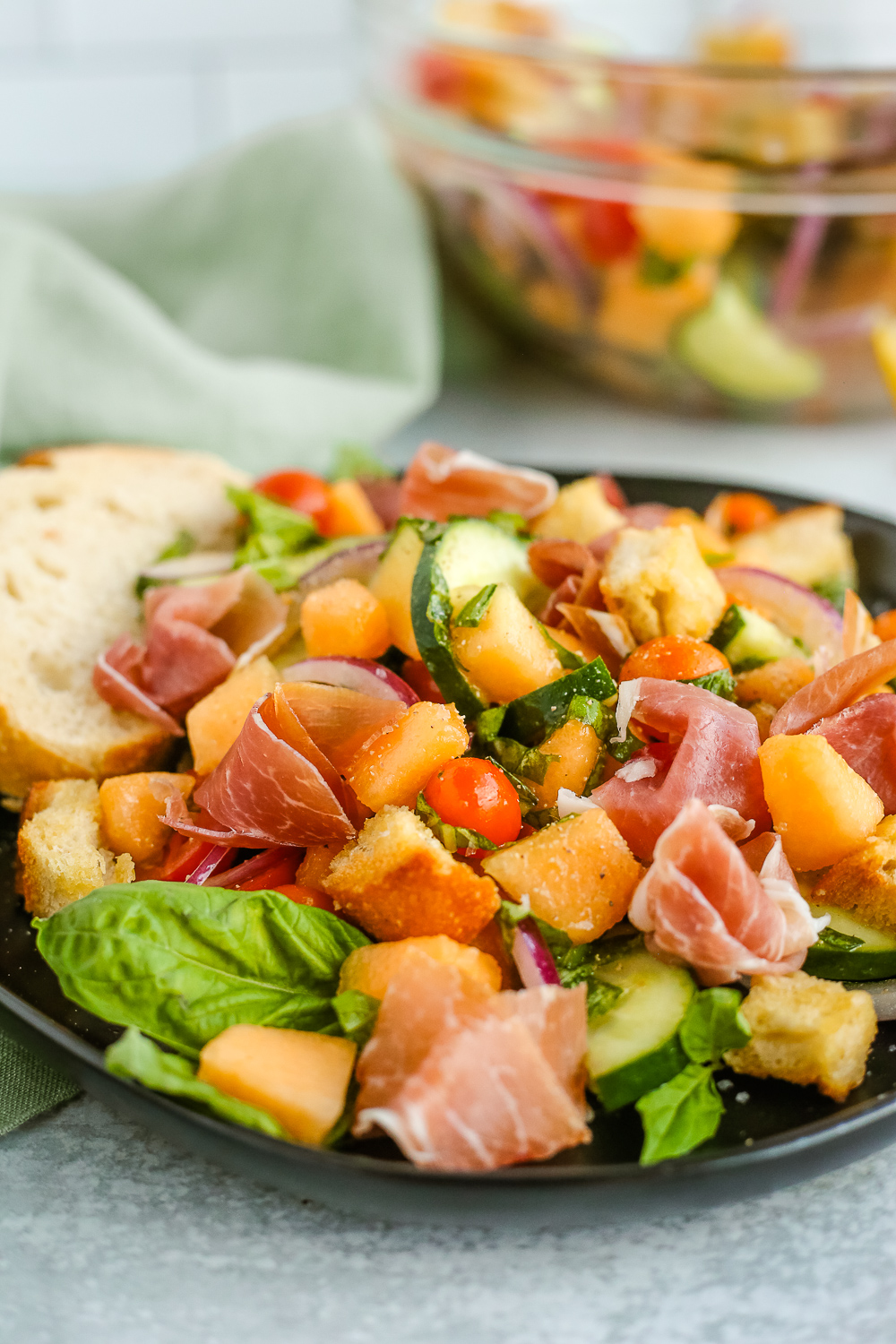 What is panzanella?
Panzanella is basically a chopped salad that uses tomatoes, onions, basil, and leftover bread or stale bread that's cut into cubes. That's why you may hear it described as an "Italian bread salad" or "tomato bread salad". The bread cubes are tossed with olive oil and vinegar and sometimes includes other ingredients like cucumbers, olives, and parmesan cheese. It dates back to at least the 1500s, and is thought to have originated as a way to use up day-old bread that's close to spoiling.
The key is to use ripe tomatoes. I mean, all tomatoes can be juicy tomatoes, but ripe ones have so much more flavor! They can help soften the crusty bread so it's easier to eat, and each bite will soak up all that flavor. A classic panzanella salad doesn't need much of a dressing, making it super simple option for any summer meal.
Why add cantaloupe and prosciutto?
Cantaloupe and prosciutto are a power couple when it comes to flavor pairings. The cantaloupe is juicy, light, and sweet while the prosciutto is salty, savory, and thinly sliced. It's easy to tear into small pieces that get incorporated throughout the finished salad. Plus, prosciutto is a type of dry-cured ham that originated in Italy, too, so it made more sense to me to use it instead of something else.
I recommend The Flavor Bible anytime you're looking for more flavor inspiration. It's basically an encyclopedia of flavor pairings and I use it almost every time I work on new recipes! There's even a vegetarian counterpart for plant-based combinations.
While the flavor is essential, I'm a dietitian so I can't ignore the fact that cantaloupe adds some valuable nutrients to this recipe. Cantaloupe is high in vitamins A and C, with a one-cup serving providing 30% of your recommended vitamin A intake and 60% of your daily vitamin C needs. It also provides smaller amounts of B-vitamins (niacin, thiamin, vitamin B6, and pantothenic acid), potassium, and the antioxidants lutein and zeaxanthin. These antioxidants are associated with eye and brain health. And according to California Cantaloupe's Nutrition Highlight, "Cantaloupe also contains beta-cryptoxanthin. This antioxidant may lower the risk of developing some forms of cancer and degenerative diseases and help delay the onset of osteoporosis."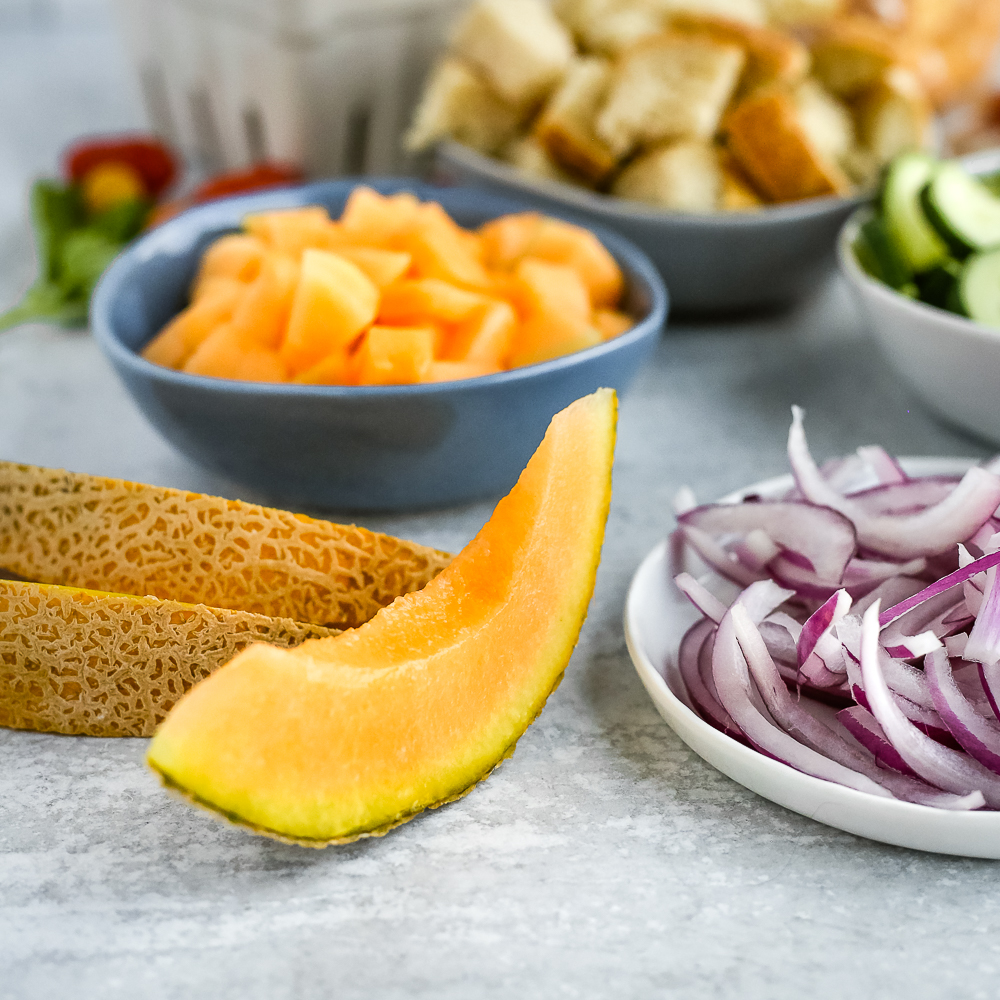 Ingredients You'll Need
Are you ready to get started? Here's what you need:
Fresh tomatoes, like cherry tomatoes, grape tomatoes, or a similar variety that's bite-sized
Cucumber
Red onion
Cantaloupe
Plenty of fresh basil leaves
Prosciutto
A few big slices of crusty bread like sourdough or Italian bread
And for the simple vinaigrette dressing you will need olive oil, a lemon or lemon juice (which you can swap for red wine vinegar), and a little bit of garlic, salt, and pepper. Or, maybe you have leftover dressing from another recipe. Feel free to use that up or shake up a fresh batch of my simple Red Wine Vinaigrette!
Street Smart Nutrition Tip: If you need a convenient option for grocery delivery, click HERE to get a ready-to-shop list of ingredients. This is thanks to Instacart, who can help you source what you need and consolidate trips to the grocery store or farmers market.
How to Make a Summer Panzanella Salad
There's really no wrong way to make this easy panzanella salad. If everything ends up in one large serving bowl, it can still be considered a success!
But there are a few tools that can make the process easier. Grab a cutting board along with a serrated bread knife and your favorite chefs knife, plus a mixing bowl with salad tongs. And if you're working with fresh (or fresher) bread, grab a baking sheet for the oven. And yes, there are measurements in the recipe card. But this simple panzanella salad recipe is one of those where you can just estimate the quantities by eyeballing it. To me, that's a good thing because I love going off-recipe to use up what I have or fit it to my tastes.
Street Smart Nutrition Tip: It might seem redundant to use two types of knives. But trust me, you'll want both a serrated bread knife and a sharpened chefs knife for this panzanella recipe. Trying to use either for the job it's not designed for will result in frustration or mutilated ingredients. Probably both!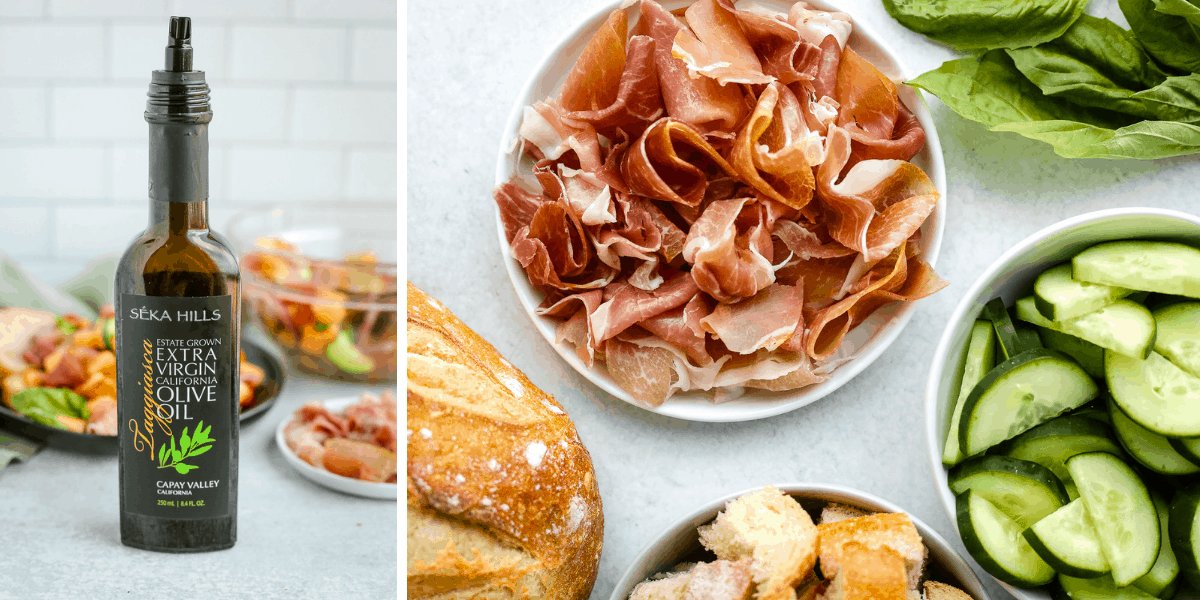 When it comes to the olive oil component of this summer panzanella salad recipe, I like to use one of my bottles from Séka Hills. These olive oils have different tasting notes depending on the variety, and it feels like a really luxurious way to enjoy these other summer flavors with cantaloupe and prosciutto. All of the olive oils are grown, milled, and bottled by the Yocha Dehe Wintun Nation. I first tasted their olive oils a few years ago when I participated in a tasting event that used them in a culinary demo. I've been hooked ever since!
Street Smart Nutrition Tip: It doesn't matter which type or brand or olive oil you're partial to, all of them contain the heart-healthy fats that help with the absorption of fat soluble vitamins. The vitamin A in cantaloupe is one of them, so you can enjoy a double benefit of taste + good nutrition!
Best Bread for Panzanella Salad
I'll make the argument that any dry bread can be a great option for a good panzanella salad. Especially if you want to avoid wasting it and don't have an alternate idea to use it up! But I personally really like using sourdough bread. I love the flavor and there are multiple bakeries in my area that make rustic loaves that are perfect for roughly tearing or chopping into 1-inch cubes. 
That being said, use whatever you have around! To make this summer panzanella salad recipe, just allow the bread to get stale and dry. You can do this a couple different ways:
Tear or chop the bread into small bite-sized pieces the night before and let it sit out to harden. By the time you're ready to prepare the salad, it will be ready to soak up all the juices without becoming too soggy.
Tear or chop the bread just like Option 1, but lightly toast it in your oven under a low broil. Keep in mind I said "lightly" toast – we're not trying to make croutons here! Keep a close eye on it and flip or rotate as needed to avoid scorching any pieces.
The goal is to get the bread to the point where it can soak up all the tomato juices and liquid from the canteloupe, olive oil, and lemon juice/vinegar without totally disintegrating. For that reason, this salad is best served fresh. The longer it sits, the more the bread will soften. If you happen to have leftovers, I recommend storing the chunks of bread and salad components separately and combining them again when you're ready for Round #2.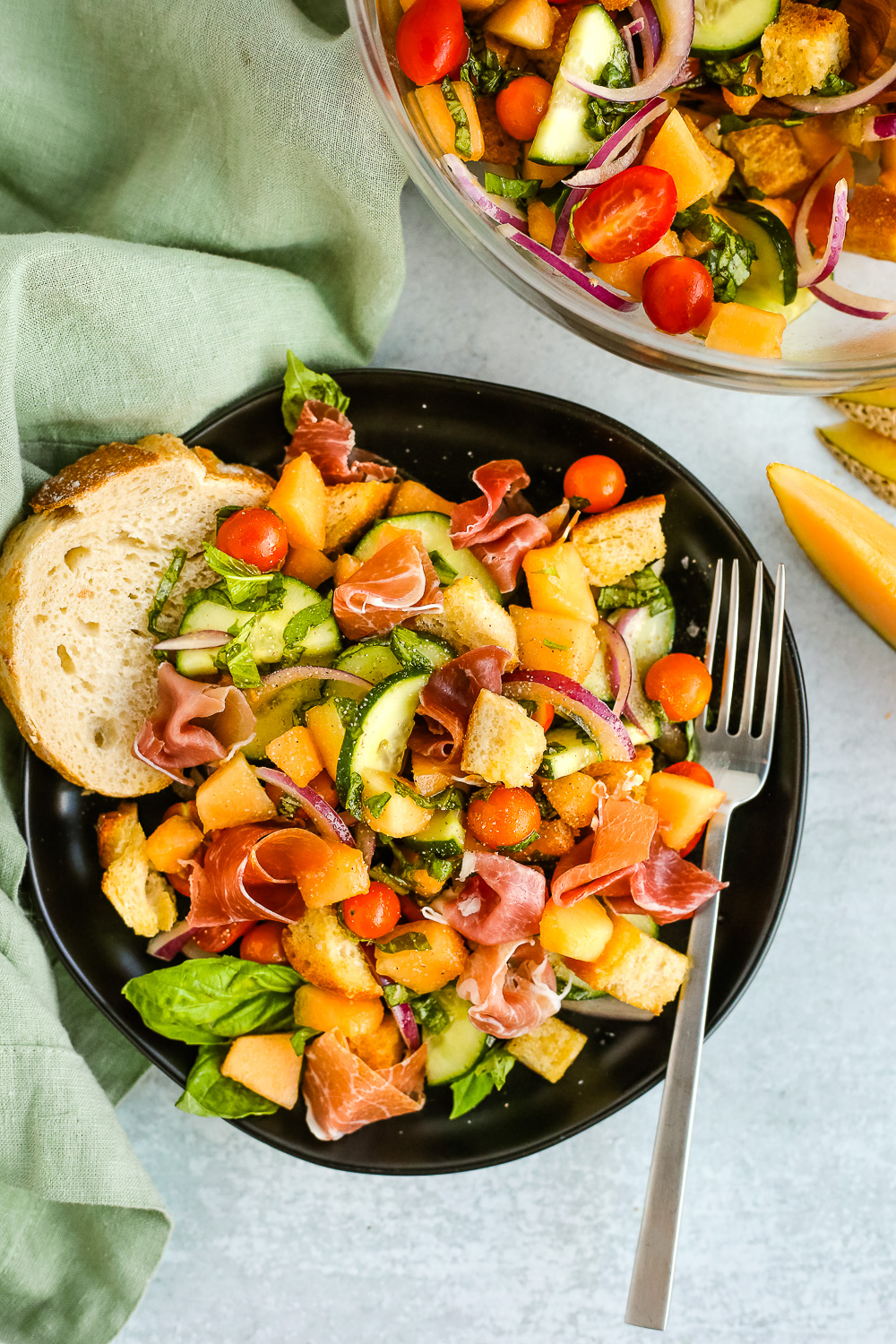 ​Assembling Summer Panzanella Salad
One of my favorite things about this summer salad is how vibrant and colorful the finished dish is. But you can achieve the same result without precisely slicing or chopping every little thing that goes into it. Here's how I approach it (and I recommend these steps for you, too):
Slice the red onion into thin strips, following the lines naturally running from the root to stem.
Slice the cherry tomatoes into halves, or if using larger tomatoes, try quarters. If using heirloom tomatoes, roma tomatoes, or other varieties, simply use a serrated knife to slice in half, then into chunks that are roughly bite-sized.
Slice the cucumber in half lengthwise, then slice into half moons. No peeling necessary!
Carve through the cantaloupe and scoop out the seeds. Slice into manageable pieces that can safely lay flat on your cutting board. Carefully run your knife between the rind and the flesh, then cut into chunks that are also roughly bite-sized.
Open your package of prosciutto and tear or chop into smaller pieces, separating the slices. A little goes a long way, so smaller pieces ensure the prosciutto is evenly mixed throughout the panzanella salad.
Add the components for the dressing to a small mason jar and seal the lid. Shake vigorously until it's well combined. You can also add the ingredients to a small bowl and whisk together.
At this point, you can build your summer panzanella salad on serving plates or in a large serving bowl. Spread or layer all of the ingredients, including the chunks of bread. Then drizzle lightly with the mixed dressing. Garnish with chopped basil, black pepper, and salt to taste. Then just dig in and enjoy!
Swaps and Substitutions for Panzanella Salad
As with most of my recipes, the ingredient list and quantities are more like a suggestion than anything else. You can add other summer produce, use a different type of bread, or swap for other proteins. Here are a few delicious ideas to get you thinking:
Fresh mozzarella cheese or burrata
An aged parmesan for a double whammy of subtle sweetness + savory umami flavors
Rotisserie chicken (if you want a heartier entree salad) or grilled pork chops
Add a few slices of ripe peaches or use summer stone fruits instead of cantaloupe. Conveniently, the peak season for all over these tends to overlap. You can breathe new life into this summer panzanella salad every time you make it!
Infused vinegar or oils, or balsamic glaze to play up the flavors even more
Here's the recipe for my Summer Panzanella Salad with Cantaloupe and Prosciutto!
Summer Panzanella Salad with Cantaloupe and Prosciutto
This simple summer panzanella salad features the sweet flavors of juicy, ripe cantaloupe in a classic Italian-style tomato and bread salad. Use up any extra summer produce you have lying around!
Equipment
cutting board and chefs knife

serrated bread knife or utility knife

salad tongs
Ingredients
2

cups

cantaloupe

,

chopped

1

medium

cucumber, halved and sliced

,

about 1 1/4 cup

1/2

red onion, thinly sliced

,

about 1 cup

2

cups

cherry or grape tomatoes

,

halved

1/2

cup

basil

,

chopped

4

cups

sourdough or Italian bread, chopped

2

tbsp

olive oil

4

oz

prosciutto
For the Dressing
1/4

cup

olive oil

1/2

lemon

,

juiced

1

clove

garlic

,

finely minced

1/4

tsp

white pepper

1/8

tsp

Kosher salt
Instructions
If toasting the bread, heat the oven to 350 degrees F and prepare a baking sheet. Drizzle the chopped bread with olive oil and season with salt and pepper to taste, then arrange in a single layer on the baking sheet. Lightly toast for 5-10 minutes, flipping if needed, until bread is dry and firm. Remove from oven and continue to Step 3.

If using stale/old bread, roughly chop or tear into pieces, then continue to Step 3.

Prepare the dressing by combining all ingredients in a small bowl. Stir well to combine, then set aside.

Add the chopped cantaloupe, cucumbers, onions, tomatoes, and basil to a mixing bowl. Gently fold together to combine, then add the prepared bread. Drizzle with the prepared dressing (you may not need to use all of it) and gently fold together again.

Serve in a bowl or on a salad plate with the prosciutto (divided and torn), along with an additional slice of bread if desired.
Notes
This salad does not store well as leftovers and is best served freshly made. Adjust quantities accordingly for the number of servings you need. If storing leftovers, omit the bread and seal the salad in an airtight container. Store the bread separately in a sealed bag or container. Eat within 2-3 days. 
Nutrition
Serving:
1
serving
,
Calories:
435
kcal
,
Carbohydrates:
29
g
,
Protein:
9
g
,
Fat:
33
g
,
Saturated Fat:
7
g
,
Polyunsaturated Fat:
4
g
,
Monounsaturated Fat:
20
g
,
Trans Fat:
1
g
,
Cholesterol:
19
mg
,
Sodium:
425
mg
,
Potassium:
547
mg
,
Fiber:
3
g
,
Sugar:
10
g
,
Vitamin A:
3187
IU
,
Vitamin C:
53
mg
,
Calcium:
48
mg
,
Iron:
2
mg
If you're a fan of #SaladsThatDontSuck, be sure to sign up for my email list below – you'll get a FREE copy of my e-book that features my guide to creating filling, satisfying, and delicious salads (plus all my best recipes in one place)!
In the meantime, check out a few of my most popular summer salads:
If you give any of these recipes a try, be sure to leave a rating and comment, or share with someone else!
Disclosure: This post was originally published in August 2021. It has since been updated to improve the overall quality of the information and/or images.