Perk up salads of any kind with this easy Homemade Red Wine Vinaigrette! This versatile dressing also pairs well with roasted vegetables, grilled meats, and pasta or grains. Save this recipe for the next time you want to add bright, tangy flavor to your dish!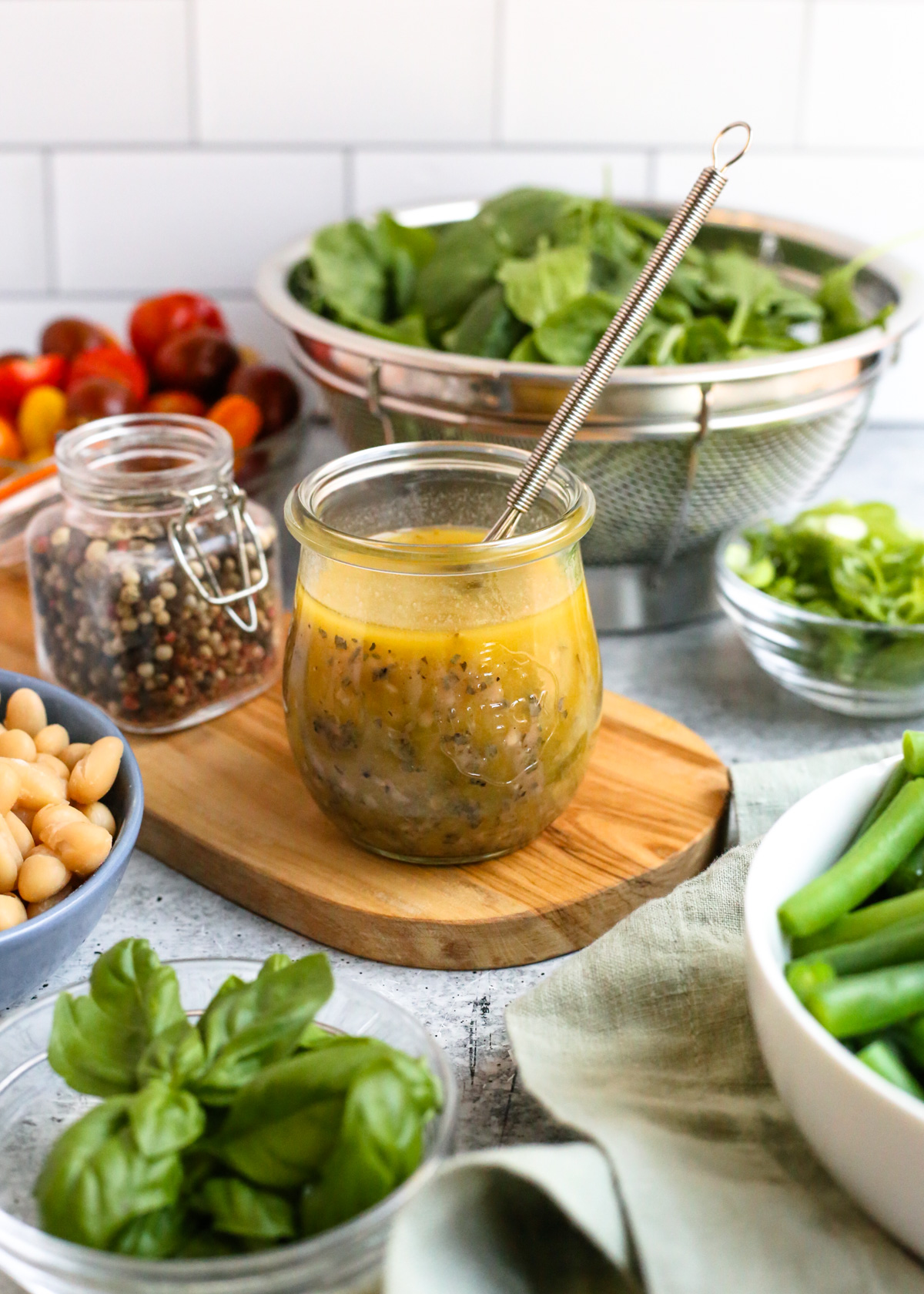 This classic red wine vinaigrette makes a great addition to your collection of delicious salad dressings. It's such an easy recipe and adds the perfect combination of flavor and texture to fresh dishes. My Beans and Greens Pasta Salad immediately comes to mind but you really can't go wrong with it!
Why You Should Make a Homemade Red Wine Vinaigrette
Let me very clear: there is absolutely nothing wrong with NOT making your own salad dressing!
Store-bought dressings are convenient and quick and I think we need that when the ultimate goal is feeding ourselves a meal. Lots of folks get judge-y about non-homemade salad dressings because of added sugar, too much sodium, or artificial flavors. And it's true, they are a more "processed" option. But when paired with tons of fresh veggies in a salad, or used to infuse flavor into something savory, it's more about the big picture. We can acknowledge that yes, there may be a nutritional difference between homemade dressings and store-bought, but no salad dressing is morally "better" than another.
So that being said, why would you want to make your own red wine vinegar dressing? I can think of at least a few reasons:
You like variety and making a small batch of homemade red wine vinaigrette makes more sense that crowding your refrigerator with too many bottles.
After tasting the other options, you realize you like being able to control how tangy, salty, or sweet your salads dressings are.
You only need a little bit for your finished recipe and already have the simple ingredients in the pantry.
It's already dinnertime and you realize you forgot to shop! Instead of making an extra trip to the grocery store, you can throw together a homemade vinaigrette in just a few minutes.
Can you think of any other reasons? I haven't done the math to decide if this is more cost effective in the long-run. But it does feel like I end up wasting less. Fewer packages and bottles, more using up what I already have…if that gives you a warm fuzzy feeling inside, you might agree.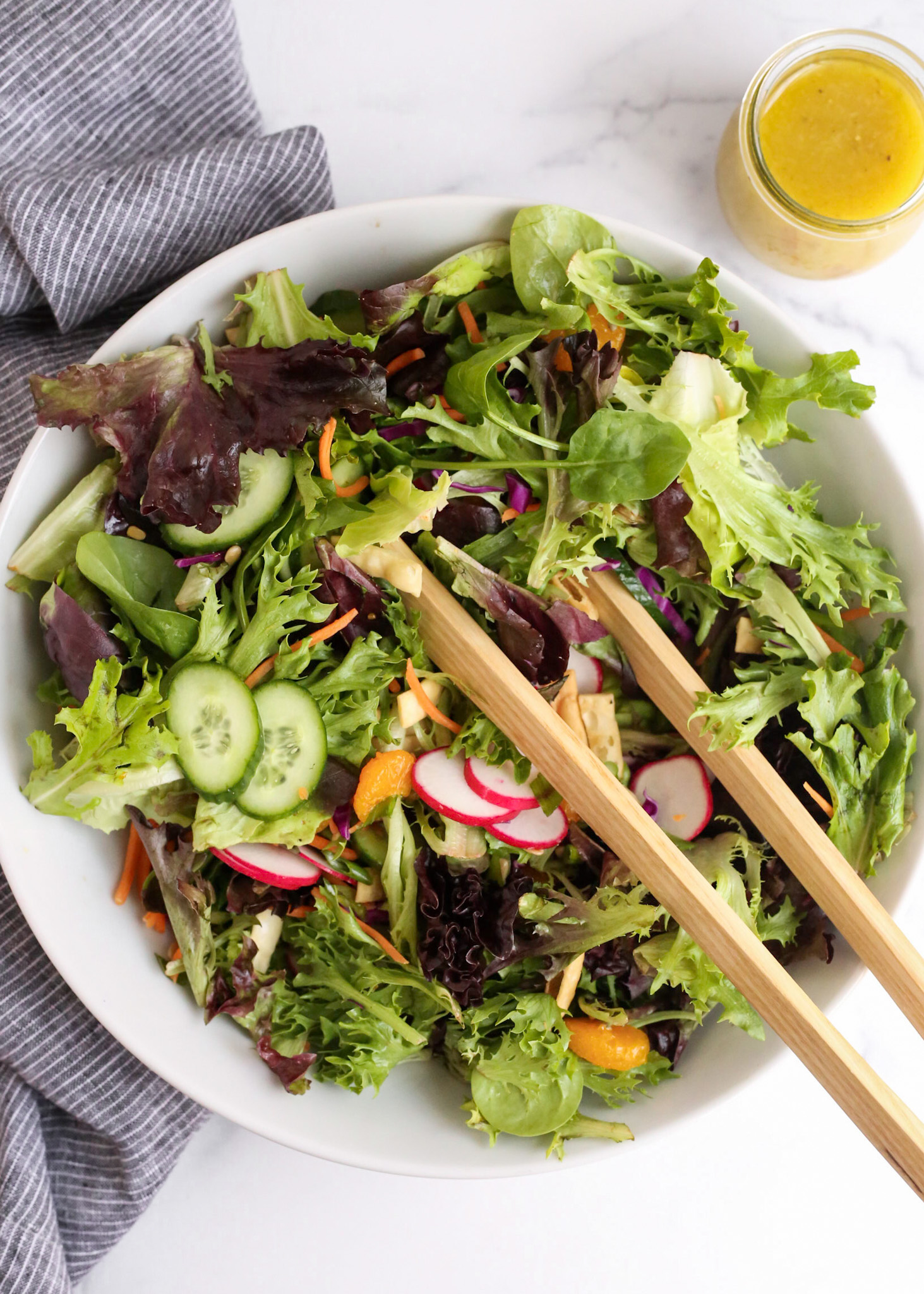 Ingredients You'll Need
This is indeed an easy homemade salad dressing with no secret ingredient or special equipment needed. Just grab a mason jar with a tight-fitting lid or a small bowl and whisk, as well as:
Olive oil
Red wine vinegar
Dried Italian herbs. You can easily use fresh herbs, especially if they're in season or available. But we always have a jar of dried herbs around, so even in the dead of winter, we can add tons of flavor without buying extra ingredients.
Garlic. Fresh garlic is optional, so if not mincing up your own cloves, use about 1-2 tsp of pre-minced garlic from a jar or 1/2 tsp of garlic powder and adjust from there.
Dijon mustard. This will not only add great flavor, but also helps emulsify the oil and vinegar. Don't skip it!
Salt and black pepper
Honey, maple syrup, or brown sugar (optional if you want to add a little bit of sweetness for salad greens with a bitter taste)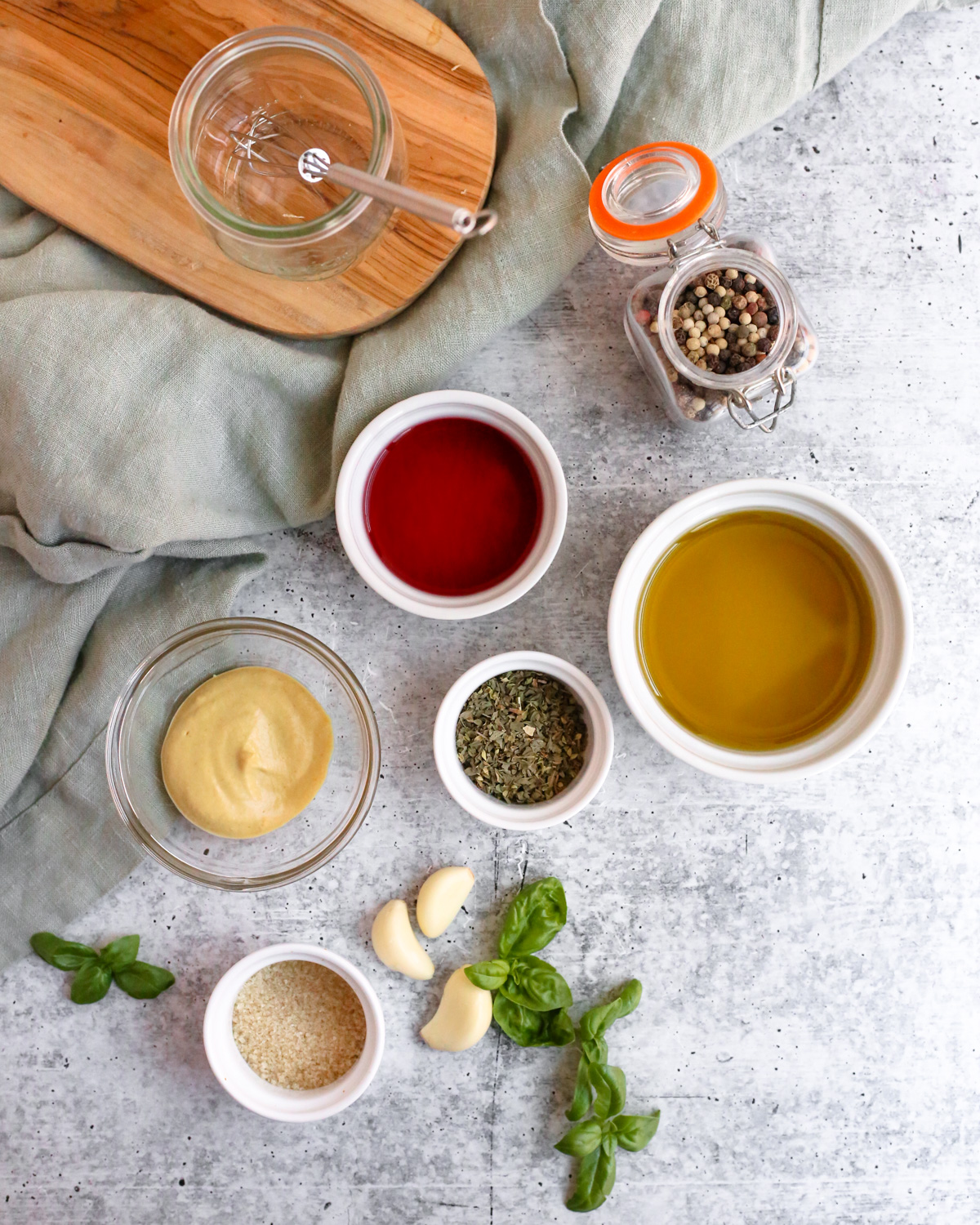 Hopefully you already have these staples hanging out in your pantry. But if you need to restock on anything from this ingredient list, use my link to place an order through Instacart. It's a convenient and easy way to get what you need, so click HERE to shop!
A Note About Olive Oil
You've probably notice I didn't say, "use extra-virgin olive oil". And you might be wondering why, since so many recipes and food experts declare it to be the "best". But the reality is that not all olive oils are the same, regardless of whether they're labeled as extra virgin olive oil. The best way to select the best olive oil is to smell and taste it. It should be aromatic and fresh, with grassy or herbal notes. Unfortunately, you can't assess this until you open a bottle and try it. If your budget allows, I recommend working your way through a few different brands until you find one that you like, extra virgin or otherwise.
To be clear, I'm not arguing against extra virgin olive oil. I'm simply saying not to read that as a higher quality, fresh, great-tasting olive oil simply because of that single distinction. If you're going to invest in the extra cost, be sure to store it properly. That means in a dark place or opaque container to minimize exposure to light, limiting oxidation by using it regularly after opening, and protecting it from high temperatures that can impact the flavor of the oil.
How to Make a Homemade Red Wine Vinaigrette
​Making your own red wine vinaigrette recipe is as easy as 1, 2, 3!
Measure all ingredients into a small jar or bowl.
Shake vigorously (or whisk for 30-60 seconds) until everything is well mixed.
Drizzle it over your favorite salad and enjoy!
If you're interested in variations, try swapping out the vinegar. Obviously, this will no longer be a homemade red wine vinaigrette. But the process is the same or similar if using balsamic vinegar, white wine vinegar, apple cider vinegar, flavored or infused vinegars, or even lemon juice. Be sure to adjust according to your taste preferences. You can play around with the ratios to use more or less oil to vinegar if needed.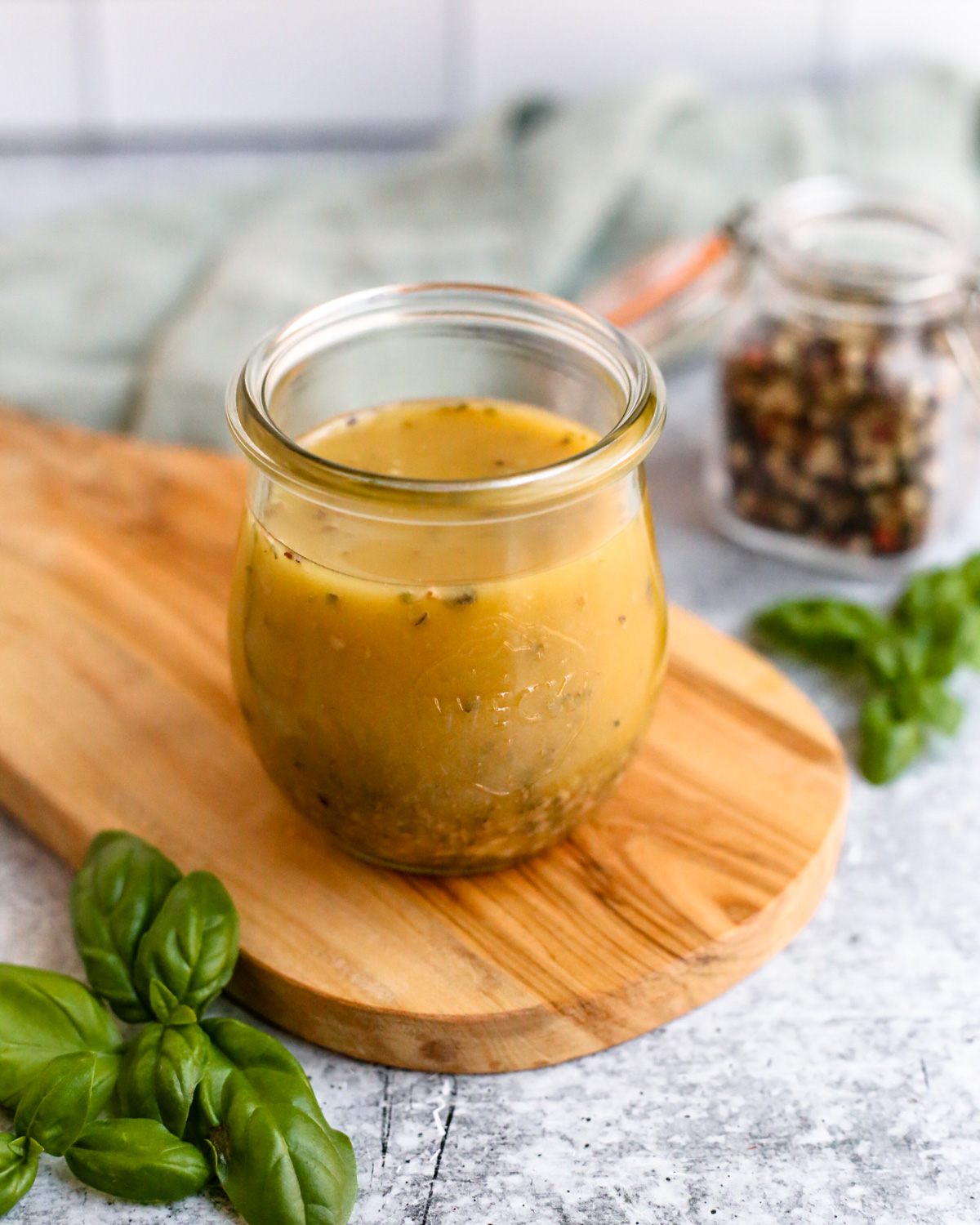 Serving Suggestions
This is where I think the fun really starts! There is so much flavor in this simple salad dressing, but it can be used for so much more than that. But to start, try pairing it with: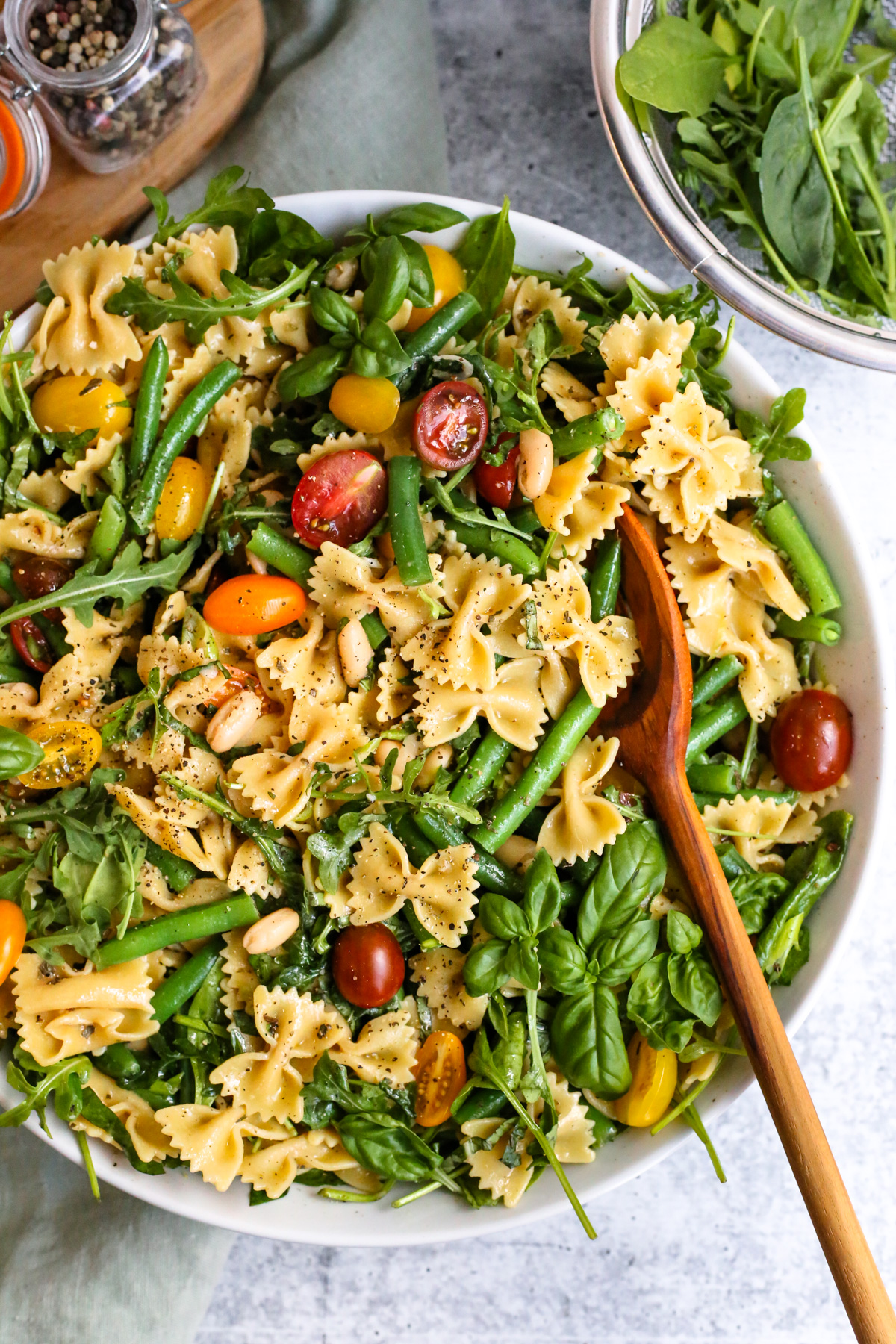 If you're looking to branch out, try this simple red wine vinaigrette as a marinade for grilled meats or seafood, drizzled over roasted veggies, or brushed over the toppings for sandwiches and wraps.
Storage Tips for Homemade Red Wine Vinaigrette
As written, this recipe yields about 2/3 of a cup. It's intentionally meant to be a small batch, good for about 4-5 servings or a couple of meals. But if you want to make a bigger batch for meal prep or other meals throughout the week, just seal it tightly in an airtight container. Stash it in the refrigerator where it will last 1-2 weeks.
​You might see some separation as the oil cools. So before serving just bring it out onto the countertop to rise to room temperature. Remix it or shake it up, and freshen it up by adding new ingredients if you want to. The beauty of making your own dressing is that you're not locked into a single flavor profile. Don't be shy about experimenting!
Here's a recipe for a Homemade Red Wine Vinaigrette you can use as a starting point.
Homemade Red Wine Vinaigrette
This simple homemade salad dressing will add tangy flavor to fresh salads and so much more! Double (or even triple) the batch to enjoy for meal prep and pair it with all your #SaladsThatDontSuck!
Equipment
measuring cups and spoons

small whisk or fork

small bowl or jar with a tight fitting lid
Ingredients
1/2

cup

olive oil

3

tbsp

red wine vinegar

2

tsp

dried Italian herbs

2

cloves

garlic

,

minced

1 1/2

tsp

dijon mustard

1/4

tsp

black pepper

1

pinch

kosher salt

1-2

tsp

brown sugar or honey

,

optional for sweetness
Instructions
Mince the garlic if not using prepared chopped garlic. Measure all ingredients into a small bowl or jar with a tight fitting lid.

Whisk or shake until the red wine vinaigrette is emulsified and mixed. Some separation may occur. Serve immediately as a salad dressing, or store for other uses in the refrigerator for 1-2 weeks.
Notes
As written, this recipe yields approximately 2/3 cup, or about 150 ml. Adjust the serving portions according to your preference or individual nutrition needs. 
Nutrition
Serving:
1
serving
,
Calories:
195
kcal
,
Carbohydrates:
1
g
,
Protein:
0.1
g
,
Fat:
22
g
,
Saturated Fat:
3
g
,
Polyunsaturated Fat:
2
g
,
Monounsaturated Fat:
16
g
,
Sodium:
26
mg
,
Potassium:
11
mg
,
Fiber:
0.1
g
,
Sugar:
0.03
g
,
Vitamin A:
1
IU
,
Vitamin C:
0.4
mg
,
Calcium:
4
mg
,
Iron:
0.2
mg
After making this simple recipe a few times, you probably won't need my tips to guide you anymore! I hope you enjoy it with all your favorite salad recipes and put it on repeat the way we have. If you tried it and liked it, be sure to leave me a rating or comment to let me know what you think!
And as always, thanks for stopping by the Street Smart Nutrition blog! You can find more and follow along on Instagram and YouTube, and don't forget to sign up for my newsletter so you never miss a new post. Cheers to more fearlessly nourishing meals!