'Tis the season for summer #SaladsThatDontSuck, and I'm excited to highlight one of my all-time favorite flavors in this Yuzu Vinaigrette Salad Dressing! Yuzu is a small citrus fruit similar to lemons but with a complex, floral flavor. It pairs well with the base ingredients of a simple vinaigrette salad dressing, so keep reading to see how it's done!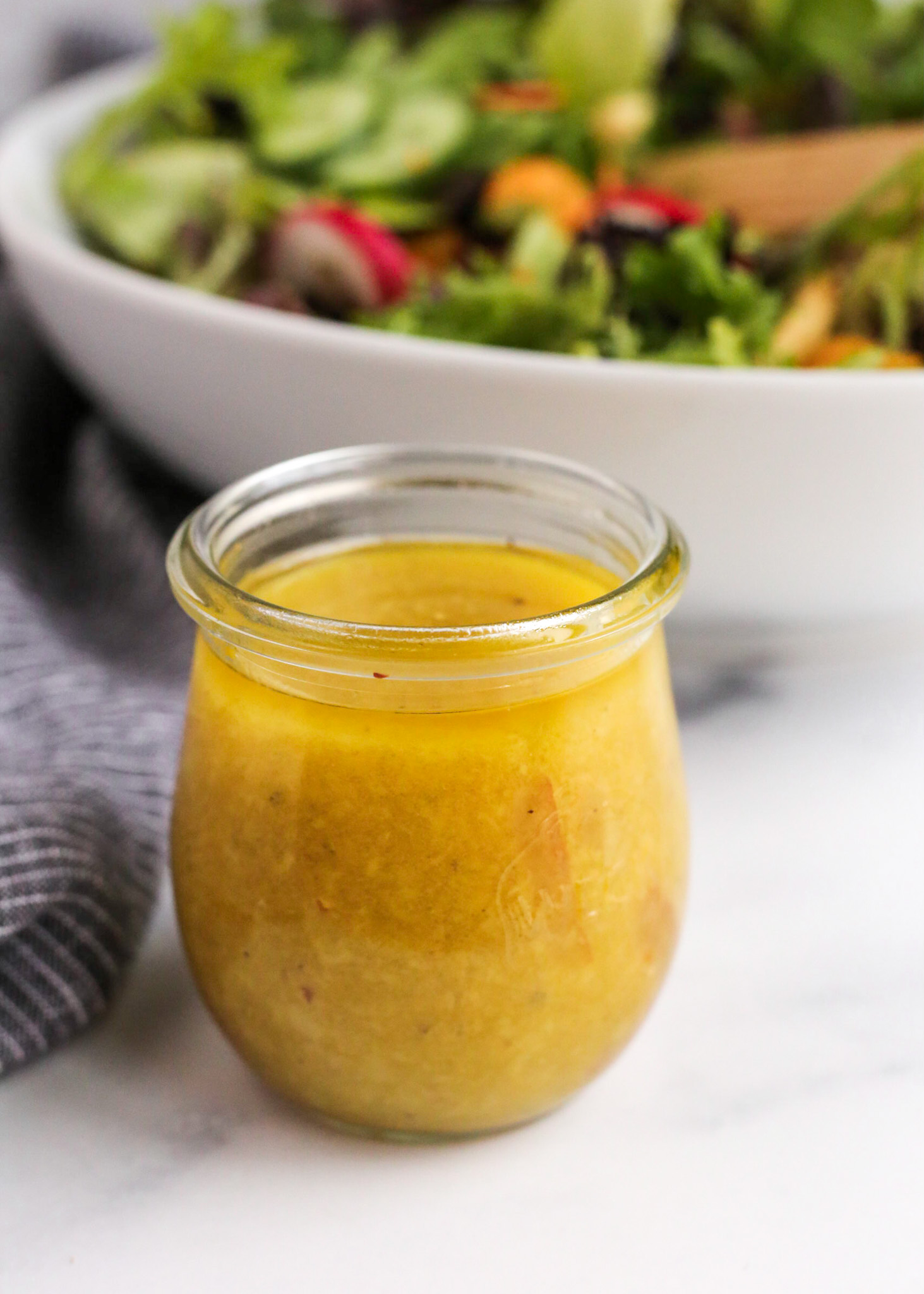 Why You'll Love This Yuzu Vinaigrette
It's so incredibly easy to make yourself! Not that there's anything wrong with store-bought salad dressing (I use it myself) but I think homemade options should be just as convenient to assemble.
This dressing pairs well with so much more than salad, although I think you'll love the way it coats each leafy green in your bowl.
If you appreciate unique flavors or the ability to customize a salad dressing, this one is for yuzu…get it? OK, OK, let's move on…
What is Yuzu?
Yuzu is a small, citrus fruit that originated in China before being more widely cultivated and used in Korean and Japanese cuisines. These days it's much more common in the latter, but it's finally starting to trend here in the United States. The fruit looks like a small, bumpy version of a lemon. It starts out green and gradually turns fully yellow as it ripens. You can't really eat the fruit itself, but the juice, extract, zest, and rind are used for making a variety of yuzu-flavored products.
​I haven't had good luck finding the fruit, and even the juice, puree, or marmalade options can be tough to find unless you have an Asian grocery store in your area. Online shopping might be your best bet.
To learn more about what to pair with yuzu and where to find it, check out my Ultimate Guide to Cooking with Yuzu.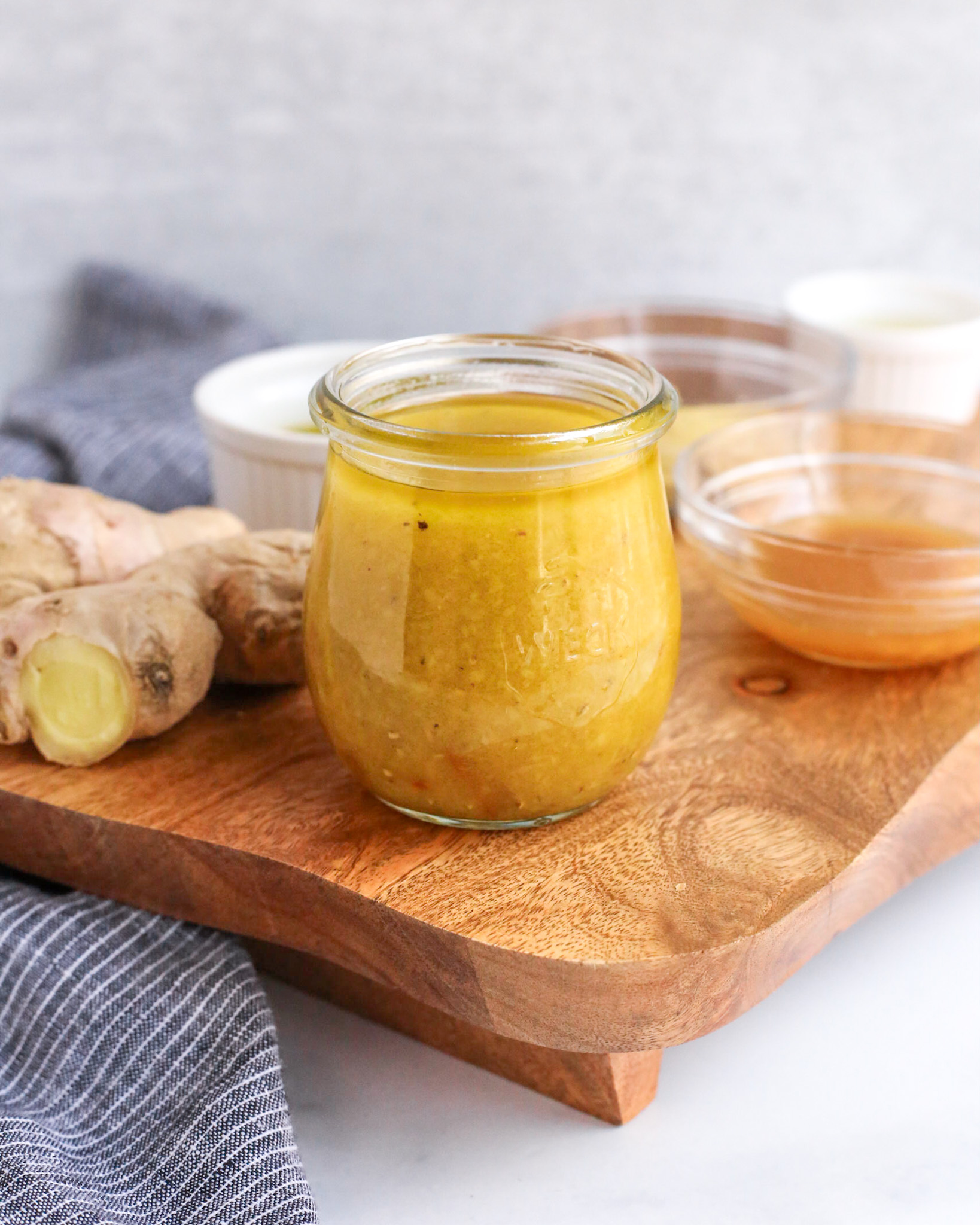 What Does Yuzu Taste Like?
Yuzu has a very distinctive flavor. You might think it's going to taste just like a lemon based on its looks, but you're in for a surprise! It's like a combination of lemon, mandarin orange, and sour grapefruit, with a strong aroma.
I would describe it as tangy, acidic, refreshing, and subtly sweet. It has some floral or botanical notes as well, which can make it feel like a very different option than typical citrus like lemon or lime.
Ingredients You'll Need
The base ingredients for this yuzu dressing are the same:
Olive oil. Whether extra virgin olive oil or otherwise, pick an olive oil that tastes good to you and fits your budget.
Ginger. You can use fresh grated ginger or prepared ginger paste. I've found both work well in salad dressings.
Kosher salt. You can also substitute sea salt or even a small splash of soy sauce to achieve a balanced, salty flavor.
Black pepper or, if you're like me, white pepper (I just like the flavor better so I tend to use it more often when I cook). I've also seen some fun blends with tricolor or pink peppercorn varieties.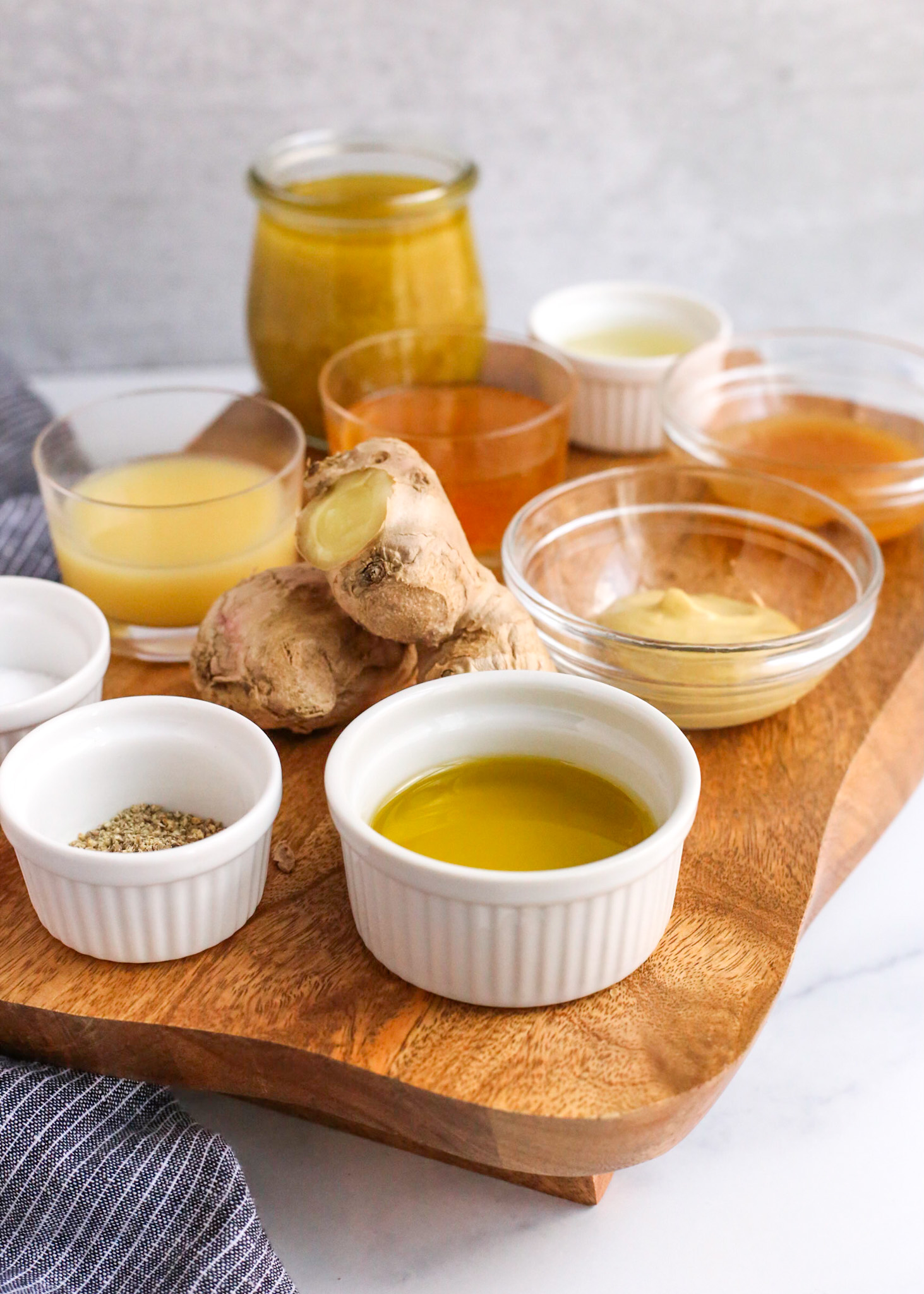 The difference comes down to whether you bought yuzu juice (or yuzu extract) vs. yuzu puree or yuzu marmalade. And it has everything to do with the sweetness. Yuzu juice is very tart and sour, so I recommend pairing it with a sweetener like honey. On the other hand, yuzu puree like this option from Monin is already sweetened or else concentrated enough to not need additional sweeteners.
Street Smart Nutrition Tip: If you don't have yuzu juice or yuzu puree, you can swap for lemon juice or try using grapefruit juice plus some lemon zest. The flavor won't be exactly the same, but at the end of the day, this is simply a citrus-flavored vinaigrette so you can make it your own with whatever you already have.
How to Make Yuzu Vinaigrette
Making this yuzu vinaigrette recipe is quick, simple, and to-the-point. Just what I'm looking for in an easy DIY salad dressing! Here's all you need to do:
Use a microplane or zesting tool to grate the ginger if you're using a fresh knob. Otherwise, skip to Step 2 and use a measuring spoon for prepared ginger paste.
Measure the rest of the ingredients and add everything to small bowl. Use a fork or whisk to vigorously stir everything together.
Keep mixing until the dijon mustard is well distributed and the mixture looks emulsified. It's OK to have some separation between the layers, as some of the ginger or pepper might sink to the bottom.
If you're serving this right away, it's fine to leave it at room temperature. Otherwise, seal it up in a small jar with a lid or other airtight container and let it chill until you're ready to eat.
Pro Tips for Best Results
I did several rounds of recipe testing for this yuzu vinaigrette. And I'm glad I did, because I now have some pro tips to share with you! Here's a peek at the results when I used three different yuzu options. All other ingredients were identical.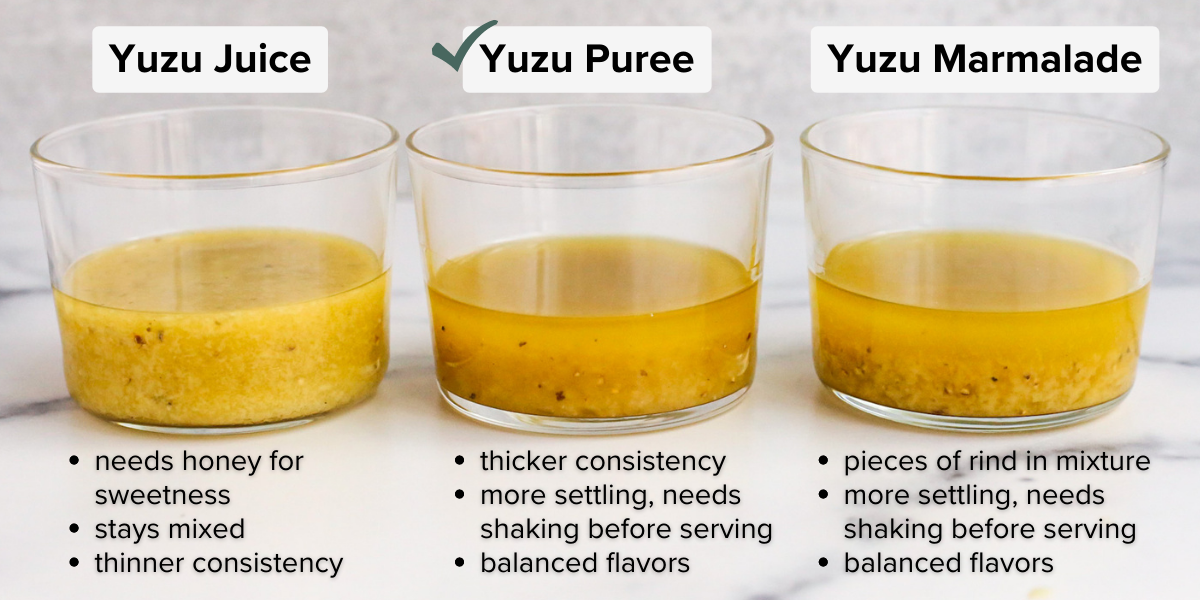 As you can see, they look pretty similar at first glance. But once you get up close and take a taste, the differences become clear. The yuzu juice alone needs some kind of sweetness, otherwise the dressing is just too sour and bitter. This isn't ideal for salads because raw vegetables often have their own bitterness to contend with. I found a small amount of honey did the trick.
Next, I tested the recipe using yuzu puree and yuzu marmalade. If you try either of these, reduce the amount to just 1 1/2 tablespoons (instead of the 2 tablespoons + honey for the first version). The flavor was quite similar between these two but the yuzu puree is my top pick. That's because marmalades include the rind or peel of the fruit. Once whisked or mixed into a salad dressing, they tend to settle to the bottom. You might have to stir or shake more often to keep them suspended. Plus, as you're eating you might end up with a bite with a much stronger flavor if it includes pieces of the rind.
Generally speaking, though, I thought all versions tasted good. Those subtle differences mostly disappear once you mix them into a salad or other recipe. It just comes down to personal preference and which type of yuzu product you're able to buy to get that unique flavor.
Serving Suggestions
​My favorite way to use this yuzu vinaigrette is as a salad dressing. That's exactly what I did in this super simple Mixed Greens & Veggie Salad. Perfect for hot summer nights when you want something colorful, refreshing, and delicious! It also tastes amazing with this Massaged Kale Salad.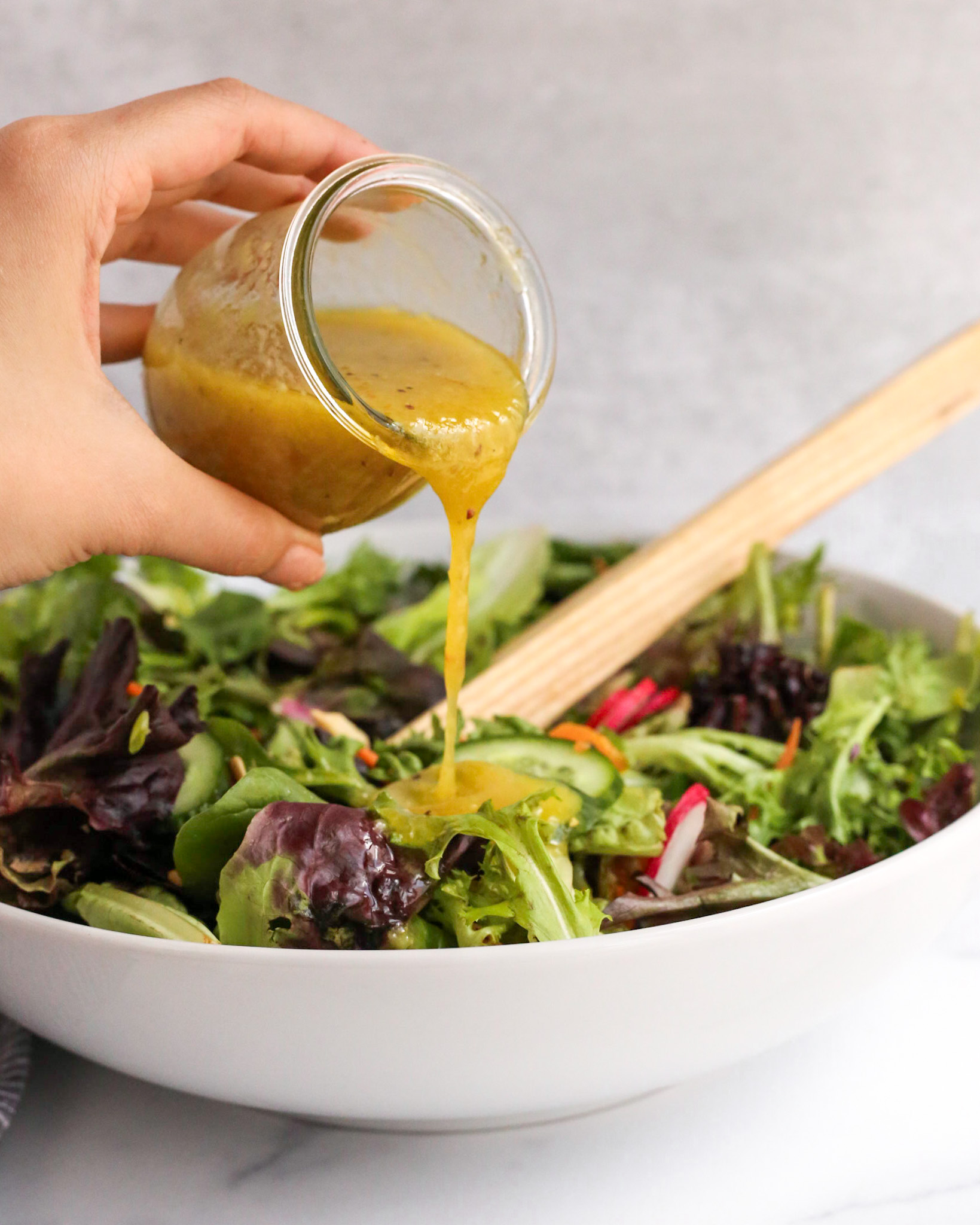 But don't let your imagination stop there. The subtle sweetness, tangy flavor, and olive-oil base of this yuzu dressing also works well with:
Grilled or roasted vegetables
Brushed over grilled meat, fish, or seafood
Mixed into chicken salad or smashed chickpea salad
Drizzled over avocado toast
How to Store Leftover Yuzu Vinaigrette
This dressing stores well in the refrigerator for up to one week. Make sure it's in an airtight container or small jar with a lid. If you notice some separation, simply let it gradually warm up and give it a shake or quick stir to mix everything together again.
Although I have not tried this yet, I also think you could freeze it if needed. I do this with other olive-oil based dressings and vinaigrettes. It works especially well in an ice cube tray so you can pop out one or two pieces as needed.
But let's not skip ahead and assume you have leftovers! Here's the full recipe for my Yuzu Vinaigrette Salad Dressing, which you might want to make a double batch of once you taste it!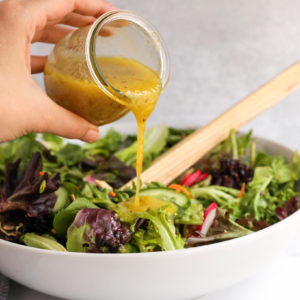 Yuzu Vinaigrette Salad Dressing with Ginger and Honey
This simple DIY vinaigrette is bursting with citrusy flavor, all thanks to yuzu. See my notes for a few tips on cooking with yuzu if you're new to this fruit!
Equipment
microplane or zesting tool

small jar with tight-fitting lid

Measuring Spoons
Ingredients
4

tbsp

olive oil

2

tbsp

yuzu juice

1

tsp

rice vinegar

1

tsp

dijon mustard

1

tsp

ginger

,

grated

1

tsp

honey

1

pinch

Kosher salt

,

or to taste

1/8

tsp

white pepper

,

or to taste
Instructions
Use a microplane or zesting tool to grate the ginger if preparing from fresh.

Measure all ingredients and add them to a small jar with a tight-fitting lid. Shake until well-combined, then serve or store. Alternatively, measure all ingredients and place in a small bowl. Use a whisk or fork to vigorously stir until well-combined.
Notes
If using yuzu puree or yuzu marmalade, reduce the amount to 1 1/2 tbsp (vs. 2 tbsp) and leave out the honey until you have a chance to taste. It can end up overly sweet since both of these options are usually sweetened already. Adjust as needed depending on your personal taste preferences. 
Nutrition
Serving:
1
serving
,
Calories:
132
kcal
,
Carbohydrates:
2
g
,
Protein:
0.1
g
,
Fat:
14
g
,
Saturated Fat:
2
g
,
Polyunsaturated Fat:
1
g
,
Monounsaturated Fat:
10
g
,
Sodium:
24
mg
,
Potassium:
21
mg
,
Fiber:
0.1
g
,
Sugar:
1
g
,
Vitamin A:
1
IU
,
Vitamin C:
3
mg
,
Calcium:
3
mg
,
Iron:
0.1
mg
If you try this recipe and enjoy it, let me know! Leave a rating or comment to let me know what you think.
And as always, thanks for stopping by the Street Smart Nutrition blog! You can find more and follow along on Instagram and YouTube, and don't forget to sign up for my newsletter so you never miss a new post. Cheers to more fearlessly nourishing meals!