Switch things up for your side salad and try my Mixed Greens & Veggie Salad with Yuzu Dressing! We're not reinventing the wheel, just sprucing up a basic side salad with some fresh, colorful ingredients and a tangy, citrusy dressing. Easy to prep and serve, I think you'll like this one!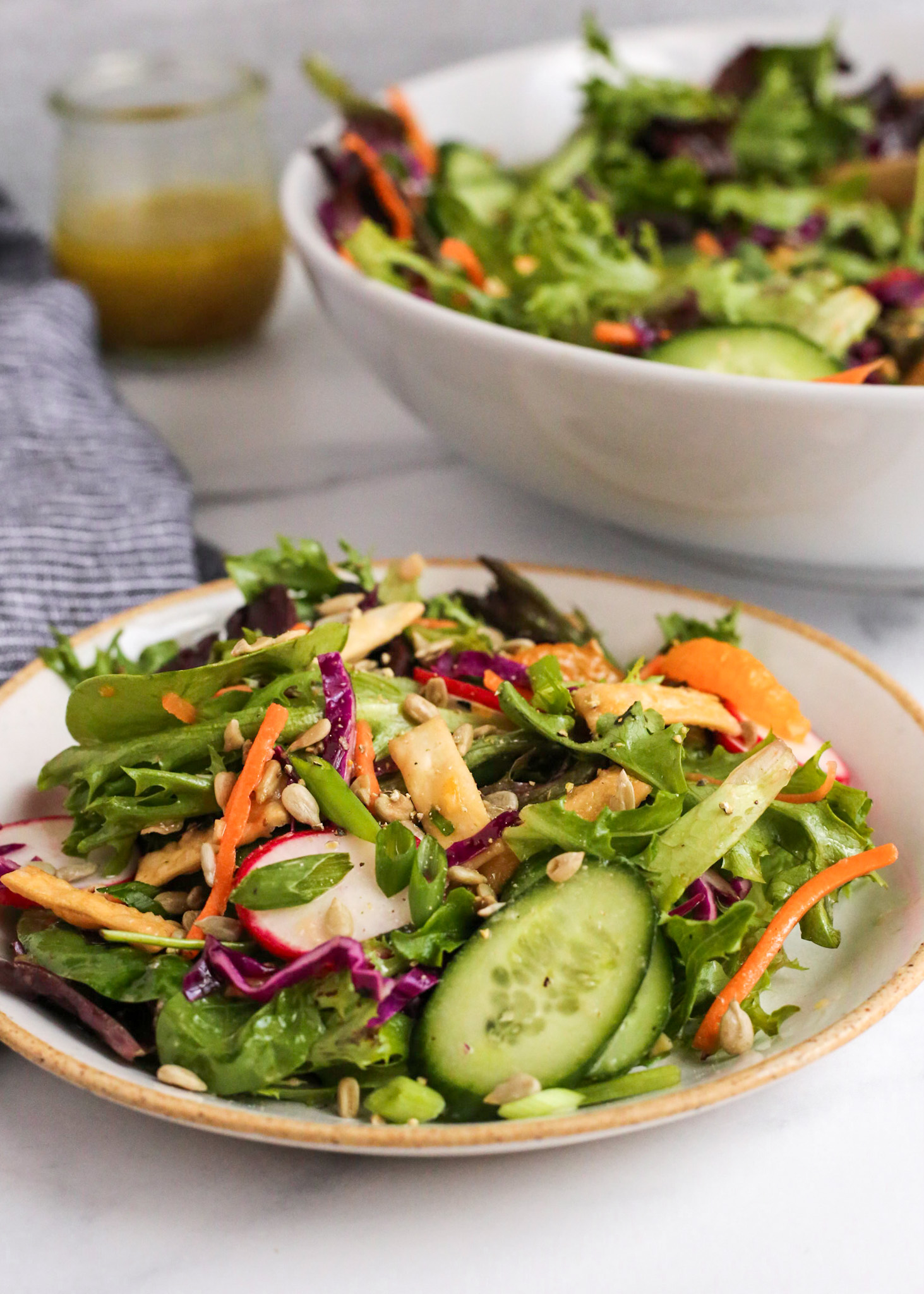 It's no secret that making incredible salads is kind of my thing. In fact, I've informally claimed the hashtag #SaladsThatDontSuck as my way of highlighting delicious, satisfying salads of all kinds. And this Mixed Greens & Veggie Salad with Yuzu Dressing is an impressive plant-based, vegan option to serve as a side salad whenever you're craving lots of veggies.
Why You'll Love This Salad with Yuzu Dressing
I hope you're already hooked on the colorful mix of ingredients, but here are a few more reasons to love this salad with yuzu dressing!
You can save time and effort on the prep work by using pre-sliced or chopped vegetables.
It features yuzu juice or yuzu extract in the dressing, which is a delicious way to experiment with yuzu. It's a trending ingredient this year and you might end up wanting to include it in everything!
This version is designed to be a side salad, but if you add some protein it easily transitions to a main meal.
This isn't the only veggie-packed salad worth adding to your menu. I also recommend checking out my Crunchy Cabbage Salad with Miso-Peanut Dressing or my Massaged Kale with Sesame-Lime Dressing. They both share some of the same ingredients so you can use up any leftovers and (hopefully) avoid wasting food.
Speaking of ingredients, here's what you'll need to throw together this salad with yuzu dressing!
Ingredients You'll Need
Leafy greens or lettuce. I used a spring mix this time, but this salad recipe also works well with spinach, arugula, or romaine lettuce.
Shredded red cabbage and carrots. This is where convenience is king because although I love the texture of finely chopped or shredded veggies, I don't love doing all the work myself. Look for bags of pre-sliced or shredded veggies in the produce section of your local grocery store. You may also find them on the salad bar (no one has to know there's only a few ingredients in your to-go box).
Radishes
Cucumbers
Green onions. You can also use fresh chives if you prefer.
Mandarin oranges. If you want to peel and divide fresh segments, go for it. But I find it much easier and just as tasty to use canned fruit.
Sunflower seeds. You can replace these with slivered almonds, chopped walnuts, pistachios, or any other nut or seed you have on hand.
Wonton strips
The dressing ingredients include: olive oil, dijon mustard, rice vinegar, yuzu juice or yuzu extract, honey, grated ginger, and a pinch of kosher salt and white pepper. You can easily swap for black pepper, but I'm more fond of the flavor of white peppercorns.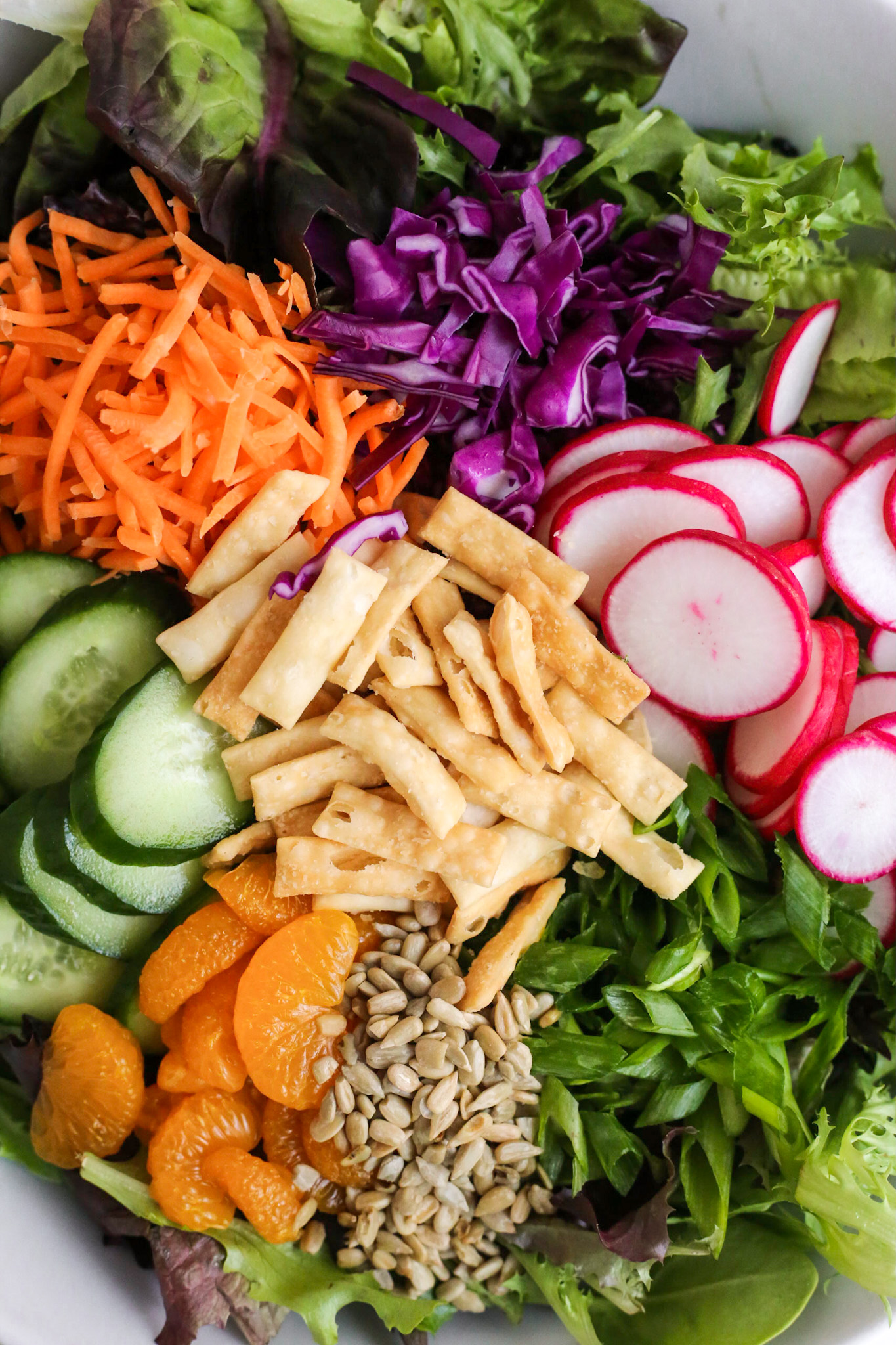 What Is Yuzu?
Yuzu is an Asian citrus fruit with origins in China. It was later cultivated in Korea and eventually spread to Japan and beyond. It's a popular ingredient in Japanese cuisine. Now, it's trending here in the United States and showing up on menus everywhere. It tastes like a funky mashup of lemon, mandarin orange, and sour grapefruit with some floral notes thrown in. It's tangy, sour, aromatic, acidic, and one of my all-time favorite flavors. It's inspiring a lot of creative dishes, so this salad with yuzu dressing is just the start!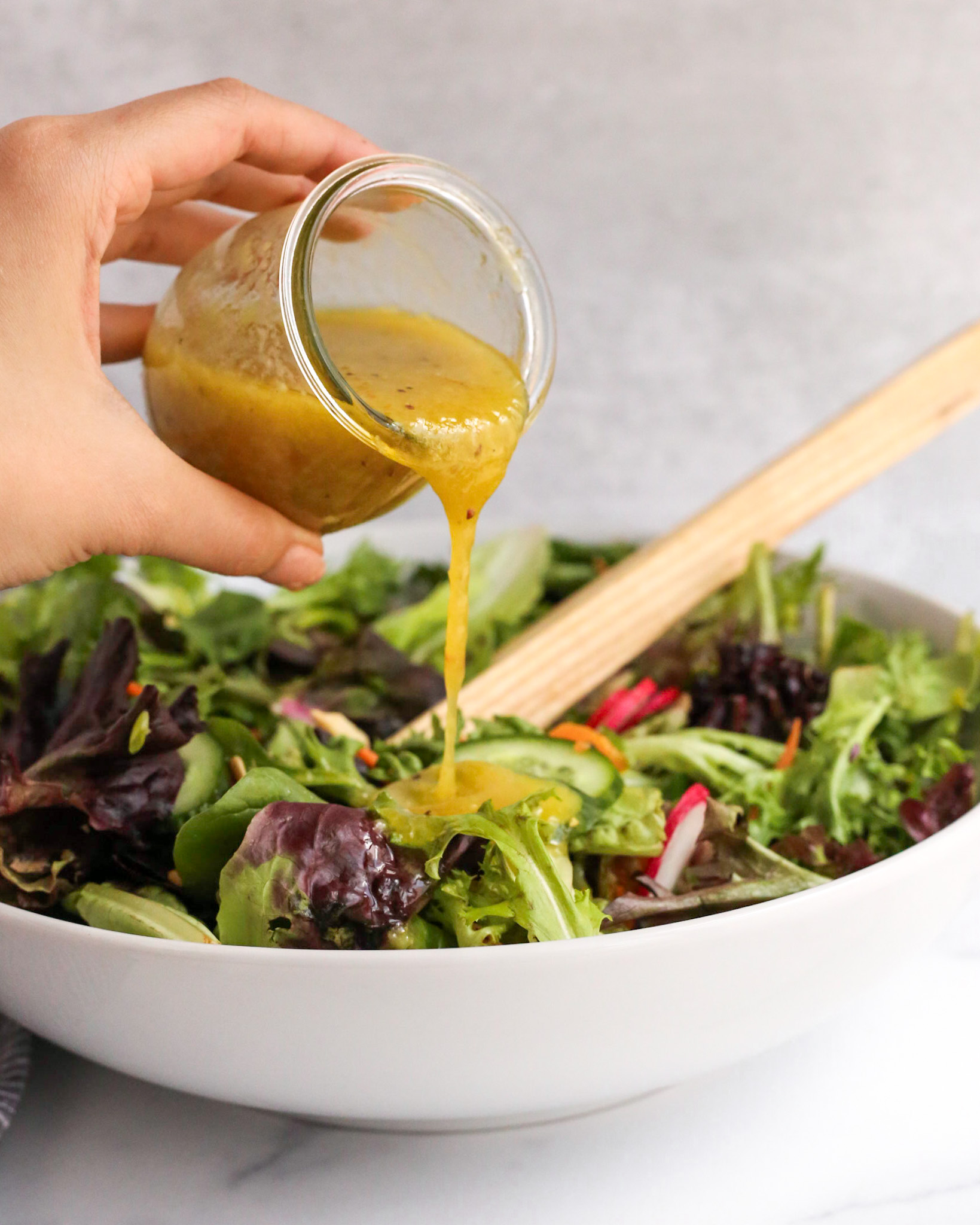 Look for yuzu juice or extract in specialty foods stores (here in Kansas City, Better Cheddar on the Plaza has a few options). You can also find yuzu products in Asian markets or Japanese grocery stores. And if there are no Asian supermarkets near you, ordering online makes it easer than ever to find yuzu juice.
Learn more about yuzu, including the differences between yuzu-flavored products and the health benefits, in my Ultimate Guide to Cooking with Yuzu.
If you can't find yuzu, you can use whatever citrus fruits you may have in the kitchen to create a unique mix of juice base.
A mix of fresh lime juice and lemon juice
Meyer lemon (my second favorite option if yuzu isn't available)
Orange
Grapefruit
How to Make Yuzu Dressing
​This is one of my favorite salad dressings because it's just so easy! There's no need for precise measuring (although I do include that in the recipe card below). Just follow your taste buds and adjust as needed to get the right balance of sour, tangy, and sweet flavors.
Grab a small bowl and a whisk or fork.
Peel the fresh ginger (if not using the prepared stuff), and cut off a few small pieces. Grate them with a microplane or zesting tool and add to the bowl.
Add all other ingredients, then go to town with the whisk or fork until everything is well-mixed.
​Simple as 1-2-3, right? Just transfer this to a serving container or store until you're ready to eat.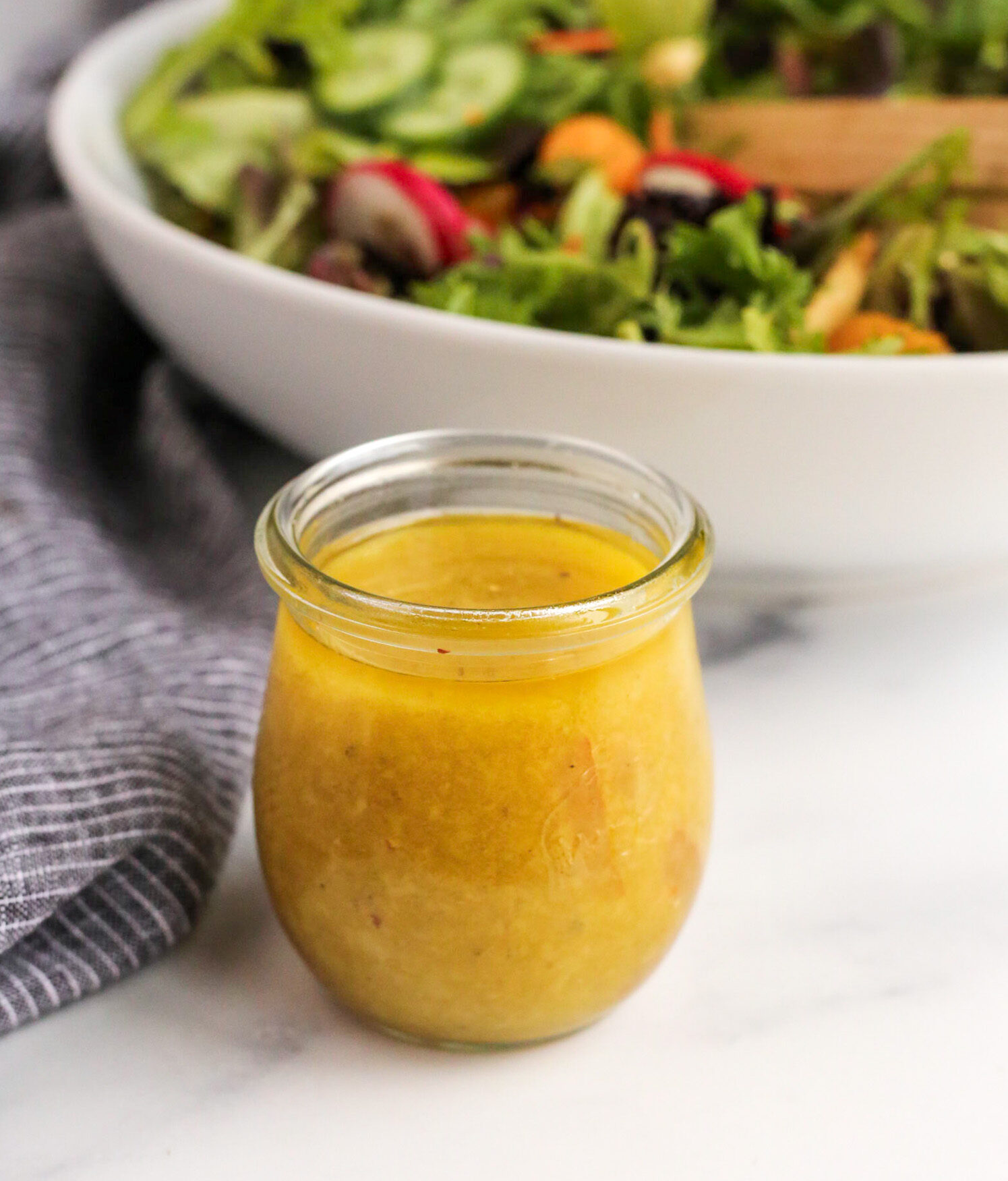 How to Make a Mixed Greens Salad
This how-to is really just about the order of operations. The goal is to avoid a soggy salad (definitely not what you want for #SaladsThatDontSuck). But you also want to make it look visually appetizing with a variety of colors and textures. Here's how I approach any salad-assembly process:
First, pick your leafy green base. Make sure it's washed and dried then add to a large bowl. I really recommend a salad spinner if you don't use pre-washed lettuce. It's bulky and can be annoying to store BUT if you make salads on a regular basis, it makes life so much easier!
Next, take care of any slicing or chopping for other vegetables. I usually look for pre-shredded or chopped veggies whenever I can, like the matchstick carrots I used in this salad with yuzu dressing. It's just that much less prep work and that much more time saved! And in this case, I also drained the juice from my canned mandarin oranges and tossed them in, too.
Layer the veggies into the mixing bowl, and finally add your crunchy elements. Nuts and seeds, wonton strips, or anything else you like.
Finally, drizzle the dressing over the top and toss everything until it's all mixed and coated with the yuzu dressing. Serve it up and enjoy!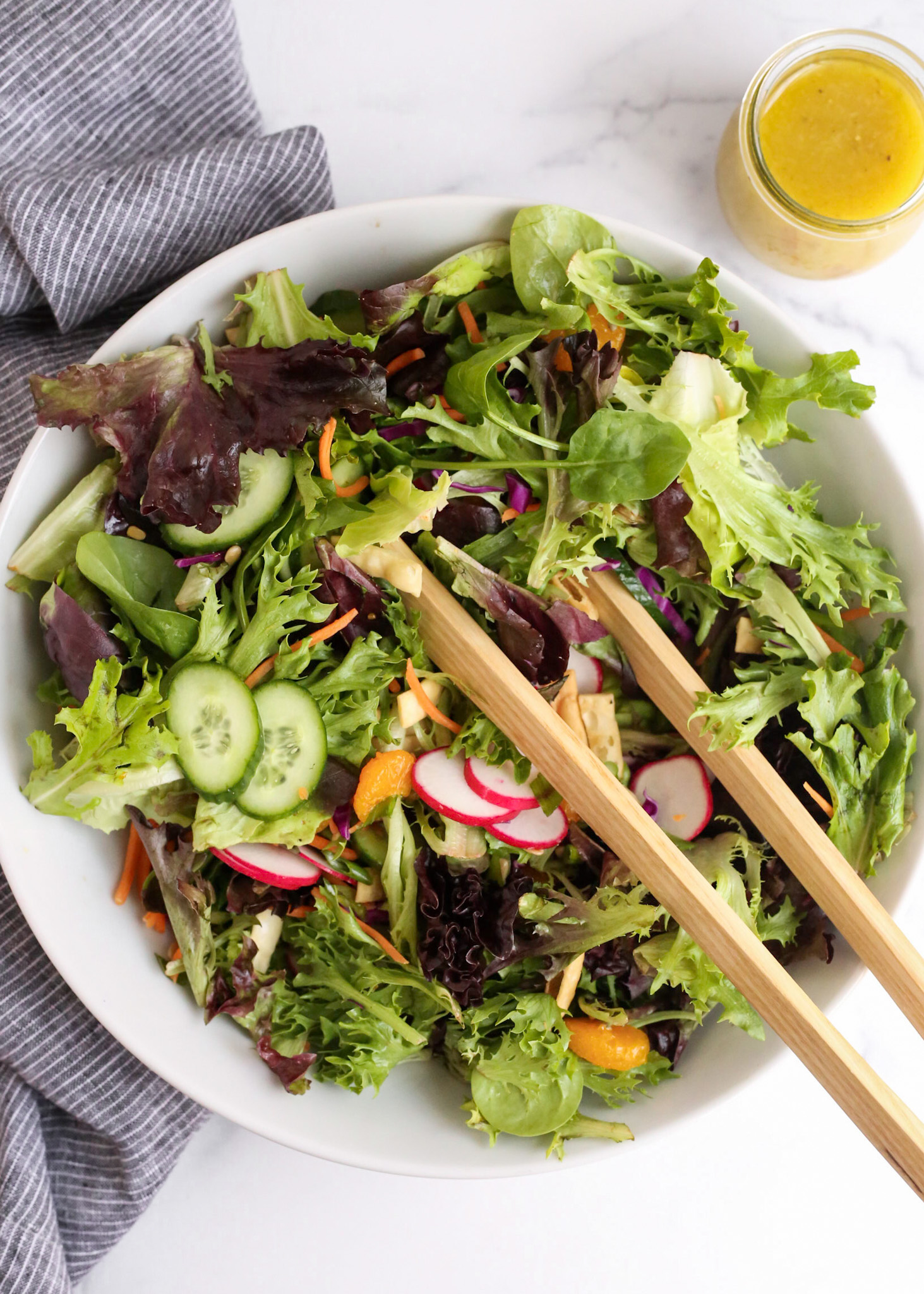 One quick note is that if you aren't serving this salad right away, hold off on adding the dressing. You can even leave the wonton strips off until you're ready to eat. This keeps things from getting soggy or drenched in dressing. That's always one of the biggest quality problems with salads made ahead of time. But easy to avoid!
Swaps and Variations
This salad with yuzu dressing is so versatile, I really hope you get creative and make it your own! If you need a little inspiration to get started, here's a few ideas:
Add a protein like grilled shrimp, seared salmon, or rotisserie chicken (the ultimate time-saving hack for busy weeknights).
If you need a vegan or plant-based option, try thawing frozen edamame to mix in. I've also seared sliced tofu in a pan on medium-high heat for a few minutes and it pairs so well with the finished salad.
Mix a little miso into the yuzu salad dressing and grate or mince a large garlic clove instead of the ginger. I don't have an official recipe for a yuzu miso dressing, but this is an easy swap to make!
Instead of leafy greens, try chilled or cold soba noodles.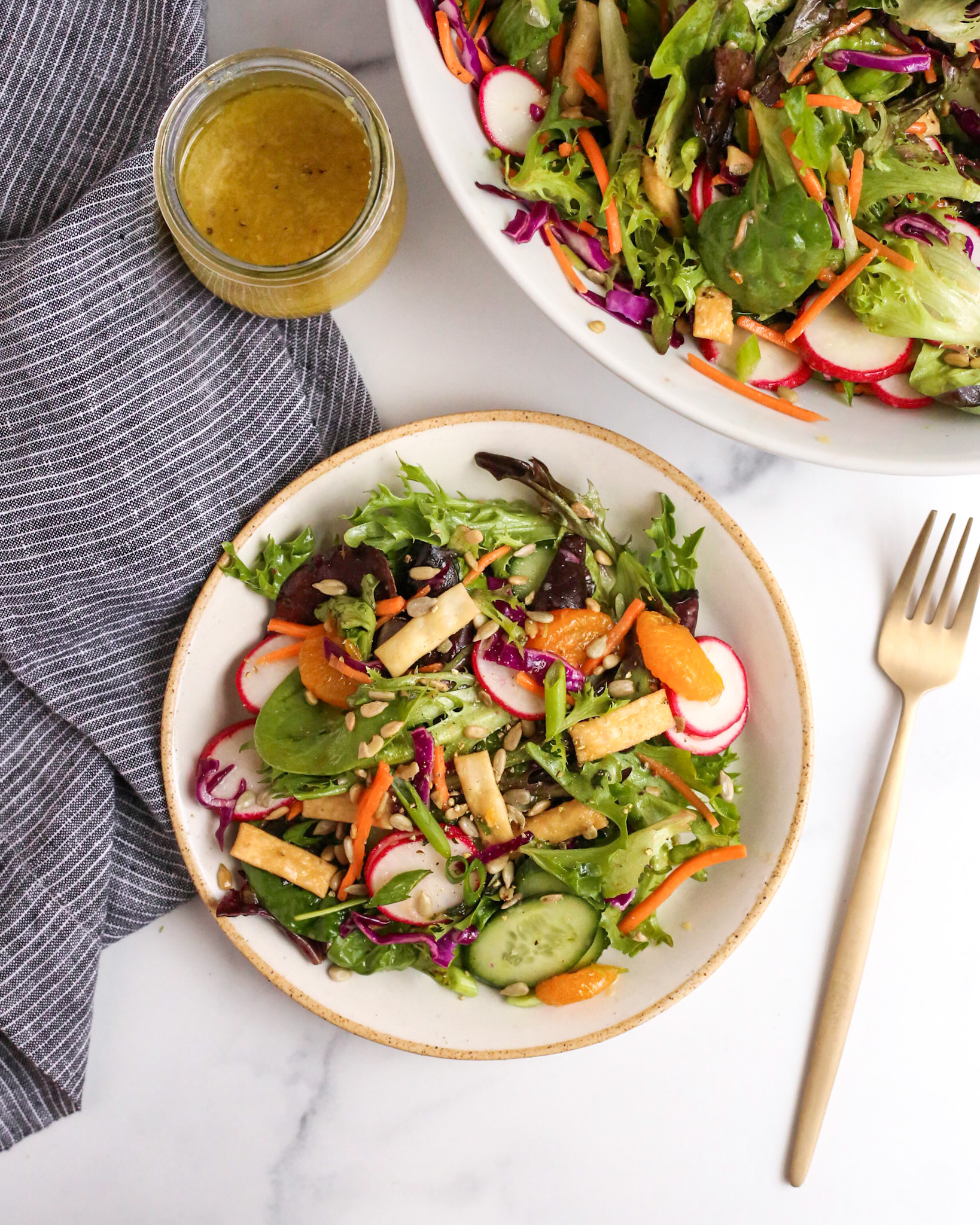 So grab your appetite and let's get started. Here's the full recipe for my Mixed Greens and Veggie Salad with Yuzu Dressing!
Mixed Greens and Veggie Salad with Yuzu Dressing
This simple side salad is bursting with color and flavor thanks to the yuzu vinaigrette salad dressing. Mix and match to make it your own, and put it in the regular rotation for #SaladsThatDontSuck!
Equipment
cutting board and sharpened knife

measuring cups and spoons

salad tongs or serving utensils

fine mesh strainer or colander
Ingredients
16

oz

mixed greens or spring mix

1

cup

matchstick carrots

1

cup

red cabbage

,

shredded

2

Persian cucumbers

,

sliced

2

green onions

,

sliced

5-6

radishes

,

trimmed and sliced

1/2

cup

fresh or canned mandarin orange segments

,

drained

1/2

cup

wonton strips

1/4

cup

sunflower seeds

,

shelled, roasted and salted
For Yuzu Dressing
4

tbsp

olive oil

2

tbsp

yuzu juice

1

tsp

rice vinegar

1

tsp

dijon mustard

1

tsp

ginger

,

grated

1

tsp

honey

1

pinch

kosher salt

,

or to taste

1/8

tsp

white pepper

,

or to taste
Instructions
For the Mixed Greens and Veggie Salad
Complete any necessary slicing or prep work, including washing and drying the leafy greens if not using preached. Drain the mandarin oranges and set aside.

Add the mixed greens to a large salad bowl. Add the carrots, cabbage, cucumbers, green onions, radishes, mandarin oranges, sunflower seeds, and wonton strips. Toss gently to combine.

Drizzle the prepared yuzu dressing over the top and toss again until well coated, adding more if desired. Serve immediately, garnishing with extra sunflower seeds or wonton strips (optional).
Notes
If not serving right away, avoid soggy ingredients by leaving the wonton strips out of the mixture and adding the dressing just before serving. 
Nutrition
Serving:
1
serving
,
Calories:
254
kcal
,
Carbohydrates:
20
g
,
Protein:
5
g
,
Fat:
19
g
,
Saturated Fat:
2
g
,
Polyunsaturated Fat:
4
g
,
Monounsaturated Fat:
12
g
,
Sodium:
103
mg
,
Potassium:
541
mg
,
Fiber:
3
g
,
Sugar:
7
g
,
Vitamin A:
7143
IU
,
Vitamin C:
53
mg
,
Calcium:
67
mg
,
Iron:
2
mg
And as always, thanks for stopping by the Street Smart Nutrition blog! You can find more and follow along on Instagram and YouTube, and don't forget to sign up for my newsletter so you never miss a new post. Cheers to more fearlessly nourishing meals!