This soba noodle salad with pork and peanut sauce is a refreshing option that's perfect for warmer months. Plus, the colors, textures, and flavors offer a way to become deliciously mindful!
---
Disclosure: This post and recipe are sponsored by the National Pork Board. I was compensated for my time. As always, thank you for supporting the brands that support Street Smart Nutrition!
Have you ever tried mindful eating?
I remember first being introduced to the concept in one of my first nutrition classes. The professor instructed us to hold a single raisin in our hand. Before we could eat it, we were supposed to see it, feel it, smell it, listen to it (maybe), and then finally taste it.
It was a great exercise in bringing intention to the act of eating. And mindful eating is often mentioned anytime we discuss healthy habits. As a non-diet dietitian, it's something I often share with clients, especially to clear any confusion about how it differs from intuitive eating.
Today's recipe is a great example of how incorporating mindfulness at mealtimes can help you feel happier and healthier!
Soba Noodle Salad with Pork and Peanut Sauce
Let's start with the visuals. After all, since you're seeing this on your screen that's really the only way you can mindfully appreciate this recipe until you make it yourself!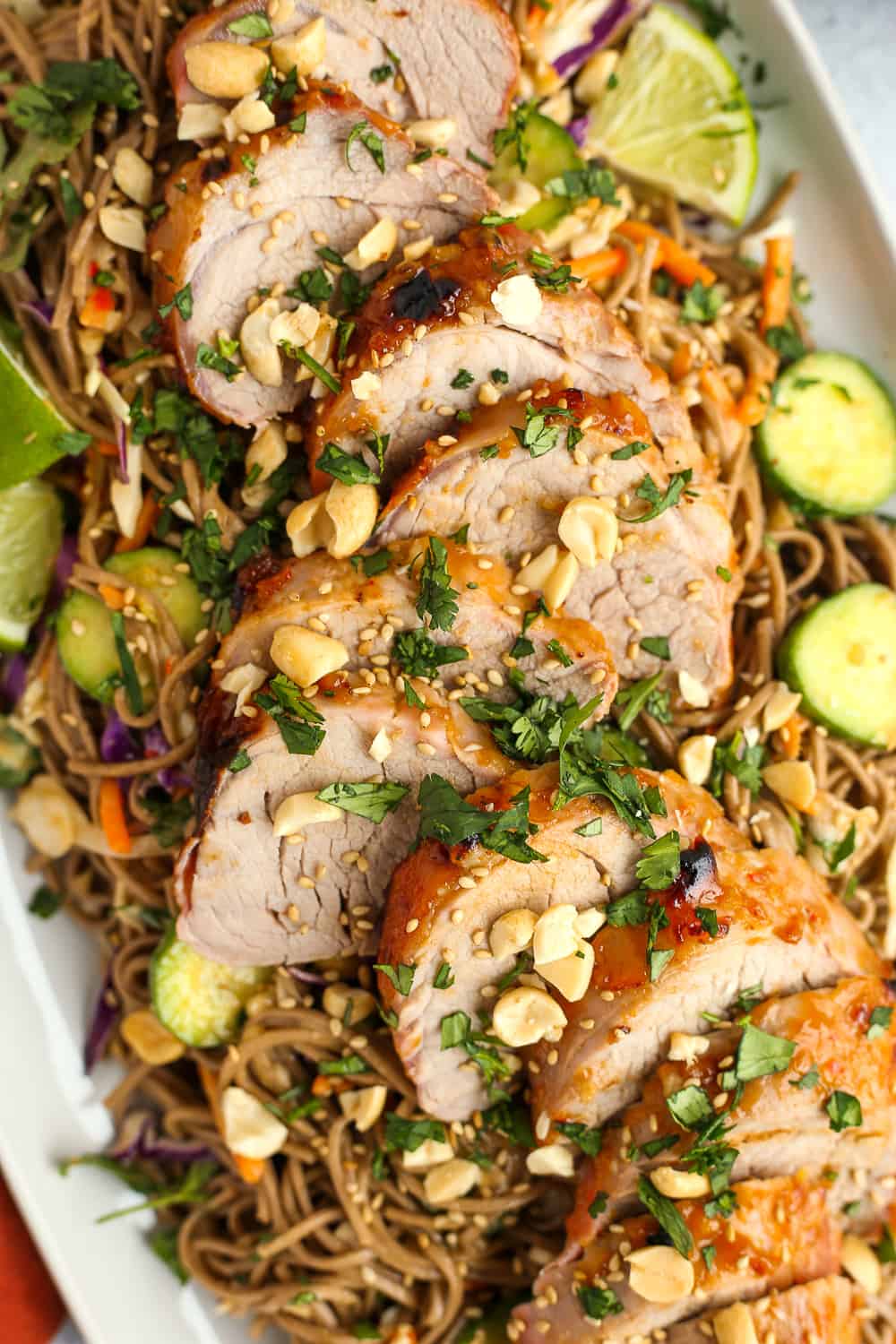 I see a delicious contrast of flavors, textures, and colors in this soba noodle salad recipe. And if you were hanging out in my kitchen, you'd be able to smell the amazing aromas from the roasted pork tenderloin, feel the weight of the chilled soba noodles as they drain in a colander, and hear the blade of my chef's knife as it chops through a handful of roasted peanuts.
Then comes the best part: tasting it! The peanut sauce in this soba noodle salad recipe is also the marinade for the pork tenderloin. In both uses, the creamy, salty, and savory flavors complement the other ingredients. The final result is a meal that lets you practice mindfulness with each and every bite!
Mindfulness Tips for Meals
You may or may not already have a regular mindfulness practice. If you're just getting started (or even if you're already practicing mindfulness in other areas), these quick tips can help you get started:
Try to slow down at mealtimes. I sometimes get in the habit of eating very quickly so I could use this reminder, too! Slowing down gives you the chance to be fully present as you enjoy and savor your food. With such hectic schedules, meals can be one opportunity to slow down and take time for yourself before going back to your busy lifestyle.
Limit distractions when you can. This is easier said than done! You might be used to having your phone nearby, or perhaps there's music or TV noise in the background. If you eat meals with other people, you may not be able to entirely limit distractions, but that isn't the goal! It's simply to try to bring more awareness to your surroundings and remain present. Family meals are another way to foster better health through connection with others, so your mindfulness practice could also include anyone you consider family.
Plan ahead with intention. Meal planning is one of my favorite forms of self-care (you can read more about that HERE). Planning recipes like this Soba Noodle Salad with Pork and Peanut Sauce can alleviate some stress. That way you're not stuck scrambling for something at the last minute! It's hard to be mindful when you're overly hungry or feeling frazzled.
If you can't use all (or any!) of these tips at every meal, that's OK. The goal is not to be the "most perfect" mindful eater out there. Instead, I encourage you to consider how mindful eating could support your other health-focused goals.
For me, it helps me appreciate where my food comes from and how it supports my body. I have an active, busy life, so including nourishing meals with great taste is important for me! Cooking with some of my favorite ingredients like pork, a variety of veggies, and flavorful, spicy sauces helps me do that.
How to Cook Soba Noodles
To make this soba noodle salad recipe, you'll need to gather your ingredients and cooking equipment.
Ingredients: a pork tenderloin (about one pound), shredded red and green cabbage, a couple of small cucumbers, and grated carrots. You'll also need a package of soba noodles, some roasted and salted peanuts, and all of the ingredients for the sauce (listed in the recipe card below). Don't worry, I made sure all of these ingredients can be easily found at any supermarket!
Street Smart Nutrition Tip: Despite what the name implies, buckwheat is not actually wheat. Soba noodles made with buckwheat are gluten-free. However, check labels carefully as some soba noodles have wheat flour added and would therefore no longer be a gluten-free option.
Note that the options for garnishes here are indeed optional. This soba noodle salad recipe is easily customized to fit your tastes. More on that below!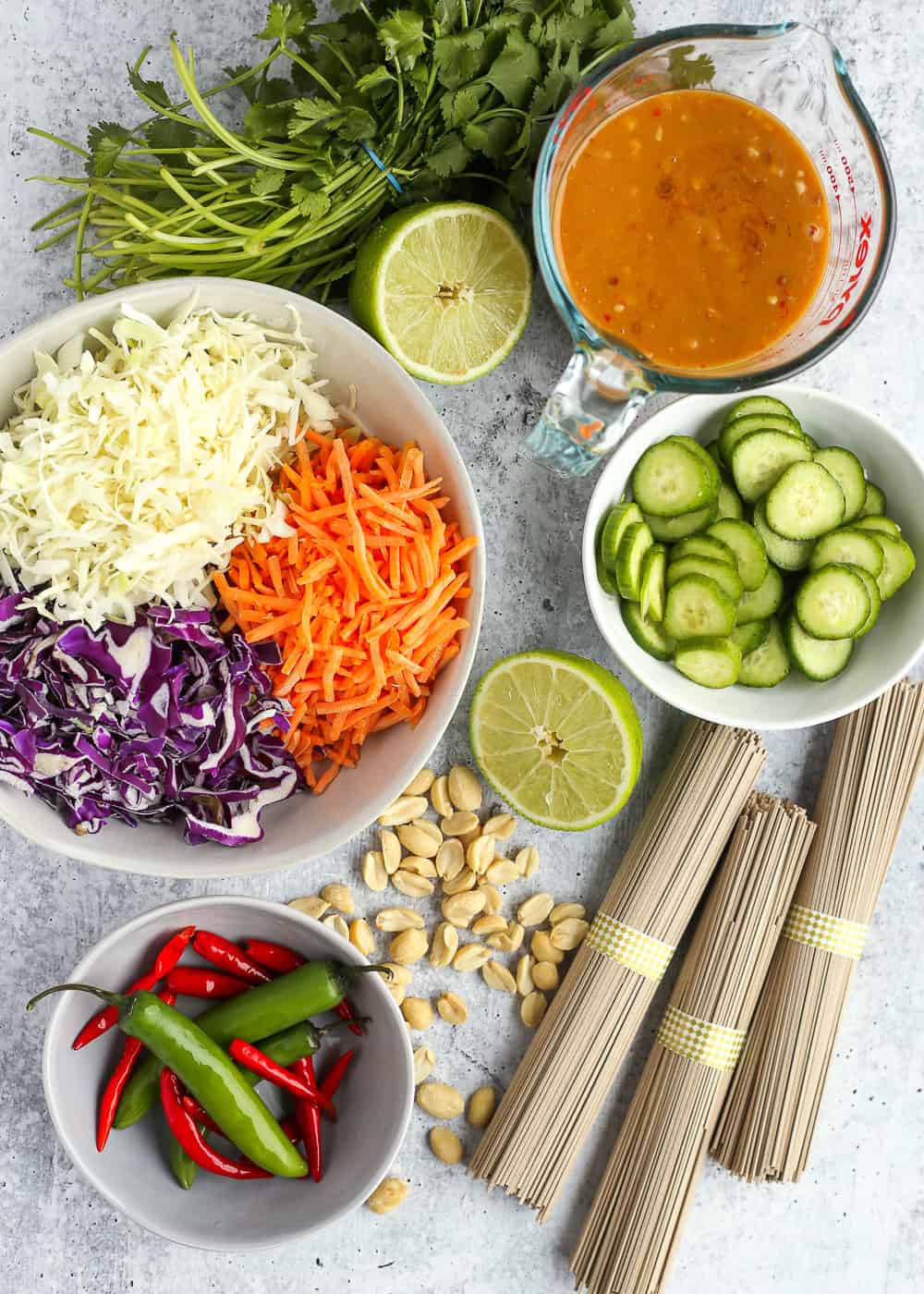 Equipment: Cutting board and sharp chef's knife, a pot to boil the soba noodles, baking sheet for the pork tenderloin, and measuring cups and spoons. You'll also want to grab a mixing bowl large enough to combine all ingredients together before serving
The key to preparing soba noodles is to undercook them. If you're familiar with the cooking concept of al dente for wheat pasta, take that even further with soba noodles. If overcooked, they can become gummy and clump together. It's very difficult to mix in the sauce at that point. I think this soba noodle recipe with pork tastes the best when you get a little bit of everything in each bite – so make sure you don't overcook the noodles!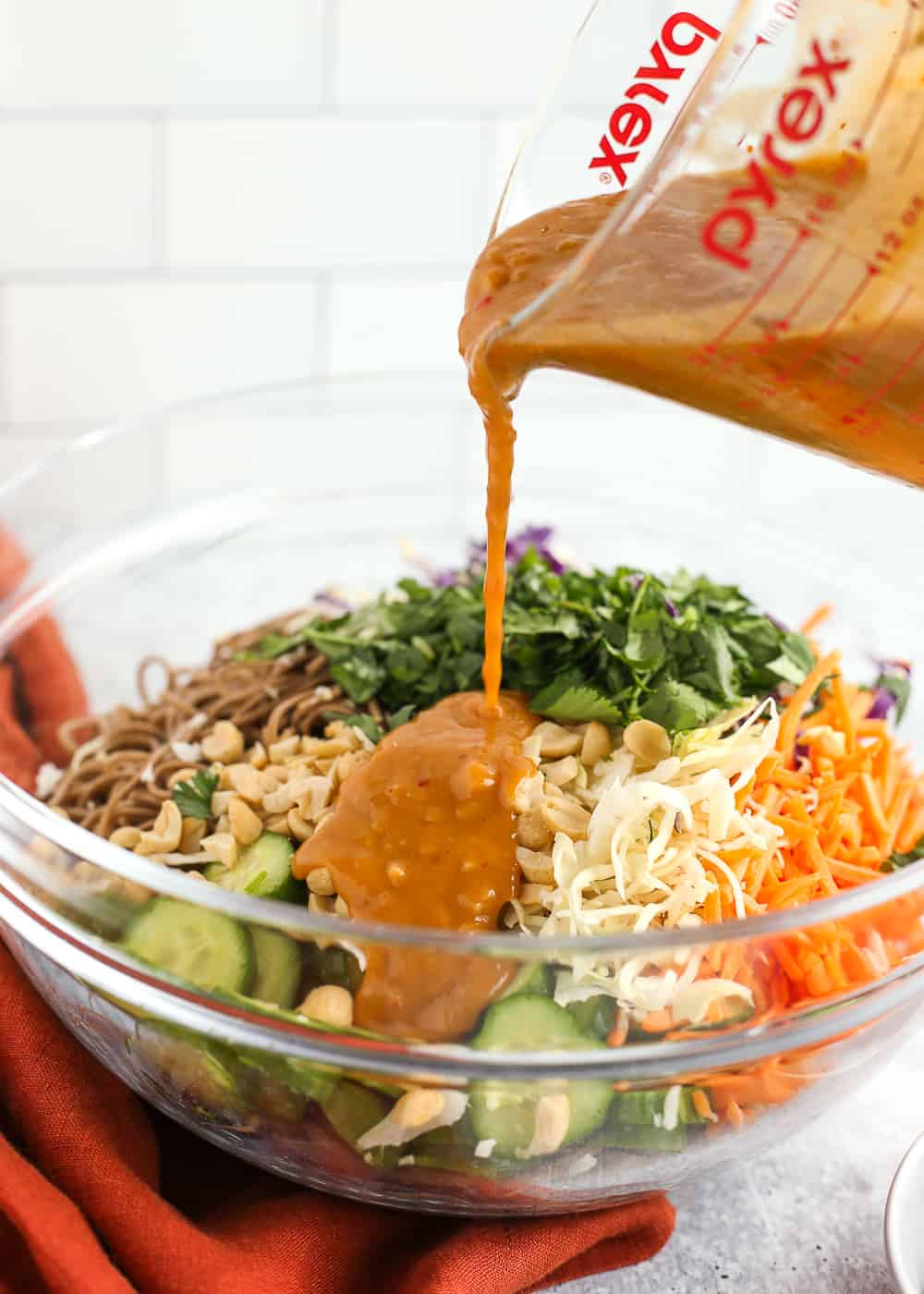 The other key is to be mindful of the cooking temperature on your pork tenderloin. Cook pork to a minimum internal temperature of 145 degrees F. Use a meat thermometer to gauge the internal temperature. I use this one because it's an instant-read thermometer (AKA, very fast!) and has a long probe so I can avoid burning my hand or fingers while taking the temp.
Street Smart Nutrition Tip: To read more about food safety and cooking with pork, check out this resource on endpoint cooking temperatures.
Let your pork tenderloin rest for 5-10 minutes before slicing and adding to the soba noodle salad. This helps lock in moisture for a more tender bite of pork.
This recipe is easy to customize depending on your taste preferences and tolerance for spice. You can add more of the creamy peanut sauce, or garnish with hot peppers, extra peanuts or cilantro, or a squeeze of fresh lime juice. All of these elements can add to your mindful eating experience, plus they provide the added benefit of satisfying flavor. When paired with pork, they combine to create a balanced meal that will nourish and fuel your body no matter what's on your schedule.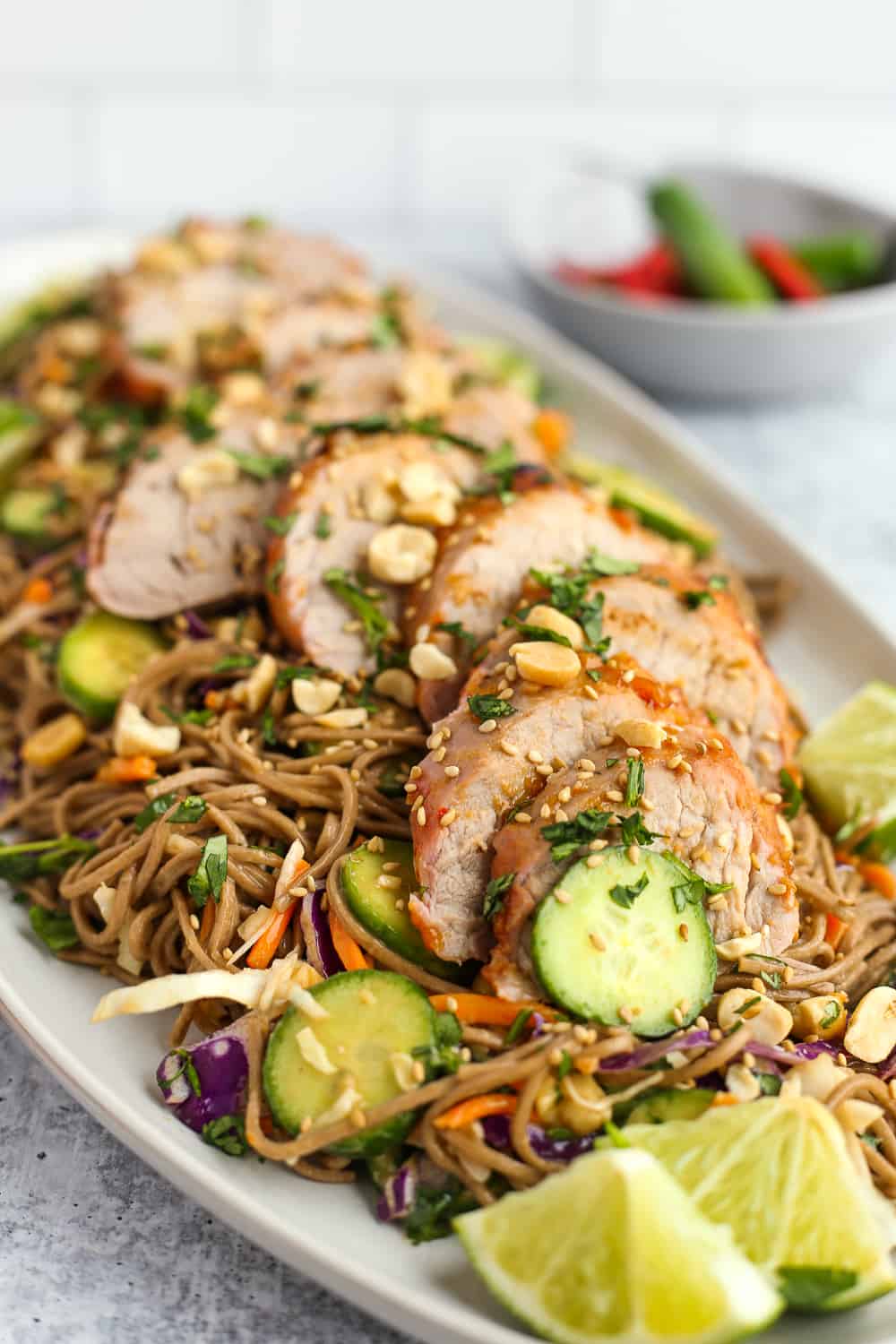 Here's the recipe for my Soba Noodle Salad with Pork and Peanut Sauce!
Soba Noodle Salad with Pork and Peanut Sauce
This chilled noodle salad will be a colorful, flavor-packed addition to your table. The delicious, creamy peanut sauce serves as both the marinade and the dressing.
Ingredients
Creamy Peanut Sauce
2/3

cup

sweet chili sauce

1/3

cup

peanut butter

,

creamy

1/2

cup

canned coconut milk

2

tbsp

rice vinegar

2

tbsp

sesame oil

2

tbsp

low sodium soy sauce

1

tbsp

fresh grated ginger

4

cloves

garlic, finely minced
Soba Noodle Salad
1

lb

pork tenderloin

7

oz

soba noodles

,

plus water for cooking

1

cup

grated carrots

1

cup

shredded red cabbage

1

cup

shredded green cabbage

1/2

cup

cilantro, chopped

2

small

cucumbers

,

thinly sliced

1/3

cup

chopped peanuts

1

medium

lime

,

cut into wedges

sesame seeds

,

garnish (optional)

hot peppers, sliced

,

garnish (optional)
Instructions
For the Creamy Peanut Sauce
Add all ingredients to a measuring cup and whisk together until combined.

As written, recipe will yield approximately 1 1/2 cups. Divide into one 1/2 cup portion to use as the marinade and reserve the rest for serving.
For the Pork Tenderloin
Prepare the pork tenderloin by patting dry. Place in a sealed bag with 1/2 cup of the prepared sauce. Allow to marinade for at least four hours (or overnight if preferred).

When ready to cook, preheat the oven to 400 degrees F. Prepare a baking sheet by lining with foil. Transfer the pork tenderloin to the center of the sheet pan. If desired, spoon some of the remaining marinade over the tenderloin before placing on the center rack of your oven.

Bake, uncovered, for 30-35 minutes or until 145 degrees F in the center. Remove from the oven and allow to rest for 5-10 minutes before slicing into 3/4" thick medallions.
For the Soba Noddle Salad
Once the pork nears the end of cooking (last 5-10 minutes before removing from the oven), prepare the other ingredients for the soba noodle salad. To cook the soba noodles, bring a large pot of water to a rolling boil. Place the soba noodles in the water and cook for 2 1/2 minutes.

Strain in a large colander and run under cold water to rinse, cool, and stop the cooking process. Transfer to a large mixing bowl and add the prepared carrots, cabbage, sliced cucumbers, and cilantro. Drizzle with the creamy peanut sauce and use tongs to mix and combine until evenly coated.

To serve, place the sliced pork tenderloin on a bed of soba noodle salad. Drizzle with additional dressing, if desired, and garnish with crushed peanuts, sliced hot peppers, or sesame seeds (if using).
Nutrition
Serving:
1
serving
,
Calories:
615
kcal
,
Carbohydrates:
62
g
,
Protein:
39
g
,
Fat:
26
g
,
Saturated Fat:
8
g
,
Trans Fat:
1
g
,
Cholesterol:
74
mg
,
Sodium:
1001
mg
,
Potassium:
1111
mg
,
Fiber:
5
g
,
Sugar:
16
g
,
Vitamin A:
5806
IU
,
Vitamin C:
26
mg
,
Calcium:
91
mg
,
Iron:
4
mg
If you give this recipe a try, I'd love to know what you think! If it helps you become more mindful at mealtimes, let me know in a comment.
And you can always find more delicious pork recipes to inspire mindfulness in your kitchen in the archives from the National Pork Board. Plus, don't skip over my Ground Pork Egg Roll In A Bowl recipe or Sweet Miso Pork Stir Fry. Since pork tenderloins are often sold two per package, it's another delicious option that uses some of the same ingredients!