You'll love how easy it is to make my Orange Cranberry Oat Bars with Browned Butter! This oat bar recipe is a breeze to prep and features a mashup of sweetened cranberries and orange zest between layers of crumbly oats, almonds, and browned butter.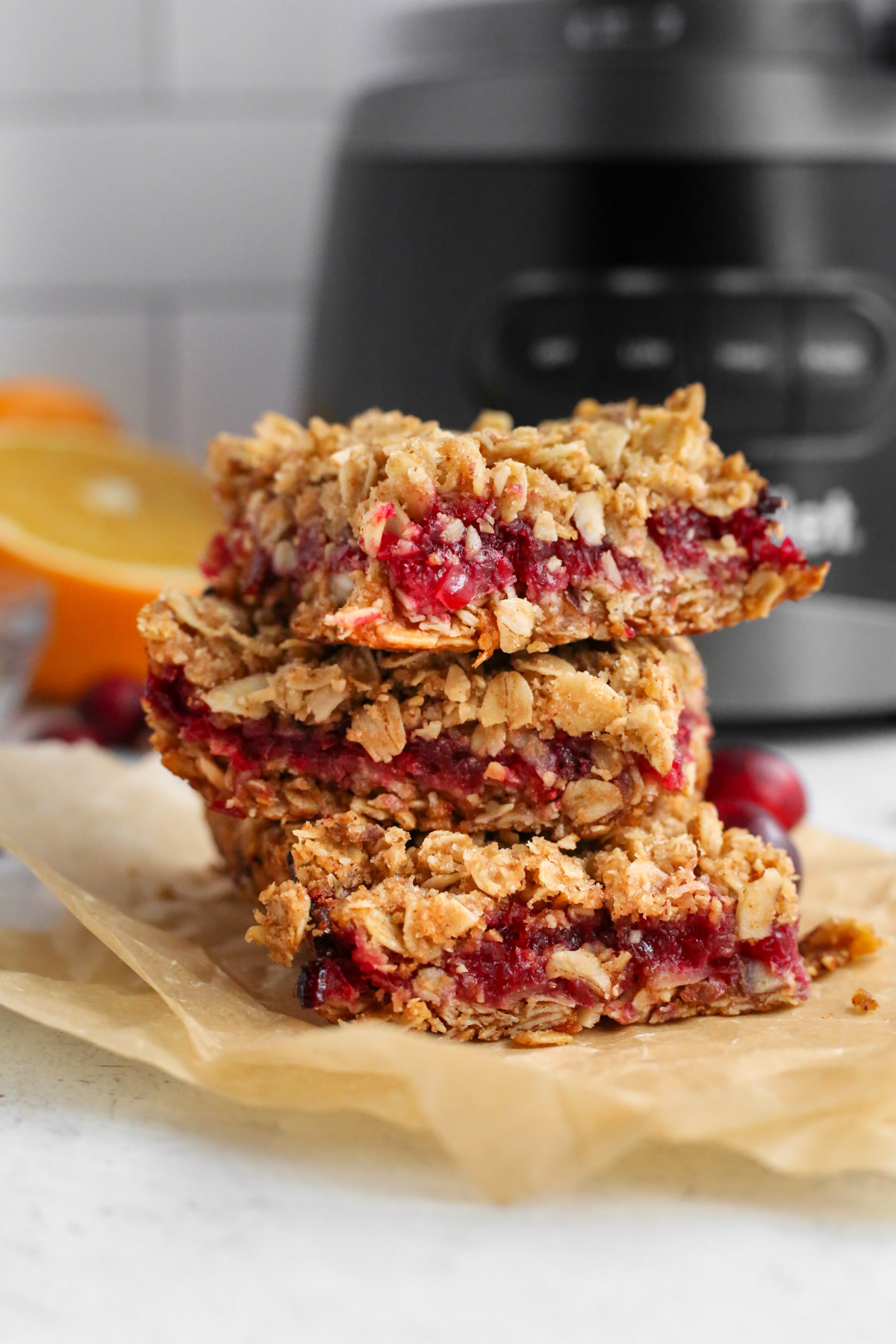 I don't consider myself much of a baker, but when it comes to baking with oats, I'm all in!
Oats are one of my favorite ingredients and they're the perfect base for the Orange Cranberry Oat Bars. And they can be yours with just a few simple steps and some help from my partner nutribullet!
Why You'll Love This Cranberry Oat Bar Recipe
No professional baking skills needed! This is a forgiving recipe where exact measurements are nice, but not totally necessary.

It's a great way to use festive flavors like cranberry + orange and baking spices, especially during the winter season. This flavor combo seems to strike the perfect balance between tart cranberry flavor and rich sweetness. 

Oar bars are delicious for breakfast, dessert, snacks, or all of the above!
On top of all that, the browned butter takes them to the next level. I think it's totally worth the extra prep time for the rich, toasty flavor it adds to the crumbly layers. I could have easily called these cranberry crumble bars because that's exactly what they seem to do when you bite in. But in the best way possible!
If you're looking for more recipes like this, I suggest my Maple Pecan Baked Oatmeal with Cranberries!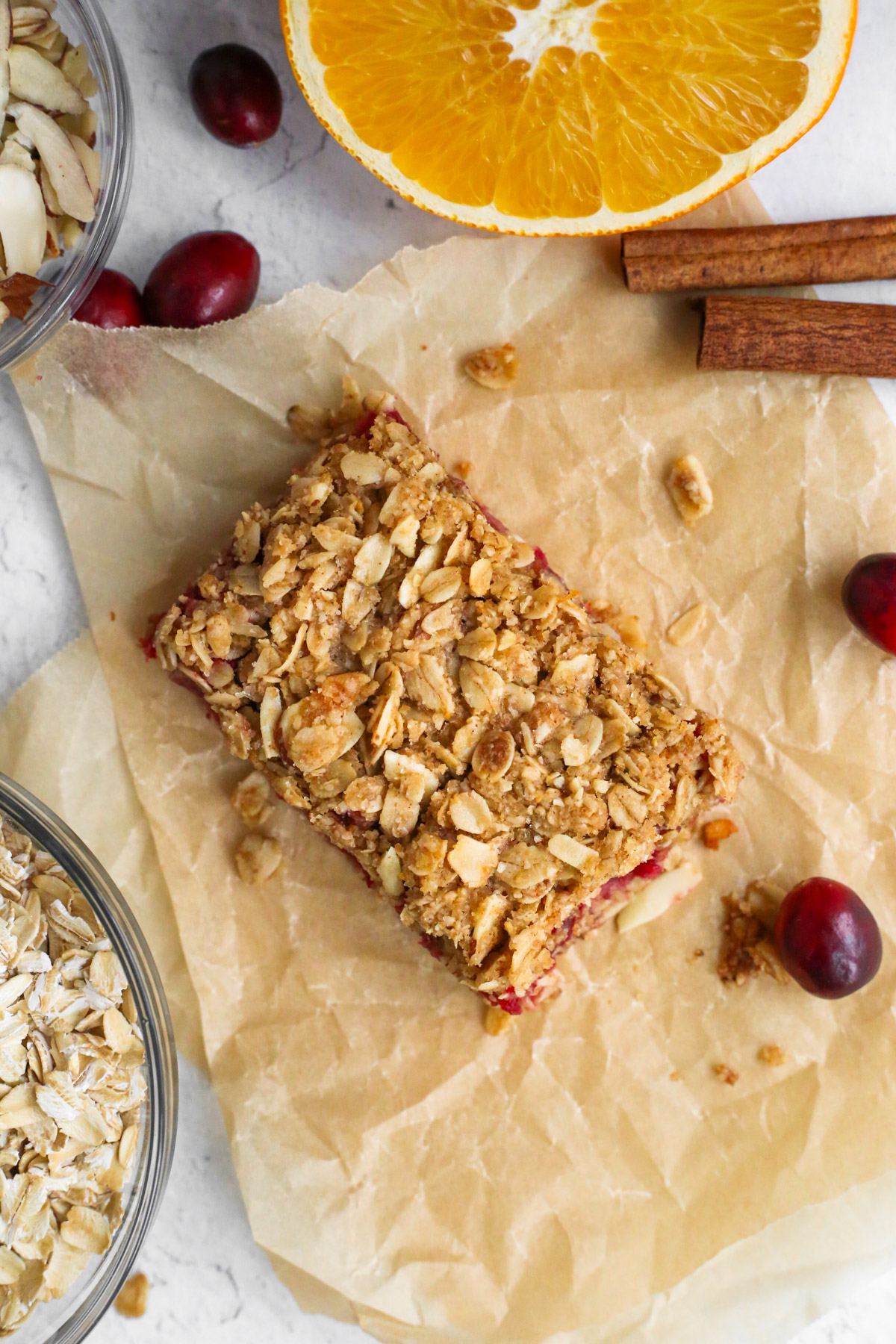 Ingredients for Orange Cranberry Oat Bars
Here's what you'll need to make these Orange Cranberry Oat Bars with Browned Butter:
Old-fashioned or rolled oats. Did you know these are the same type of oat? In fact, they're the same as quick oats or instant oats, only in a different shape. Nutritionally, they're all pretty similar but cooking times and texture will differ. I like the hearty texture of old-fashioned oats, so that's why I chose them for this oat bar recipe. Regardless of what you go with, oats are a fantastic way to get some more whole grains in your baking recipes.
Fresh cranberries. Luckily, you can probably find bags of fresh cranberries almost year-round at this point, but if you're not baking these cranberry oat bars during the winter season, try swapping for frozen cranberries (just be sure to thaw them first) or dried cranberries, adjusting for a similar volume.
Unsalted butter. You need two sticks for the browned butter. I really suggest taking the extra time to brown the butter but if you're in a big hurry, just fully melt the butter instead.
Sliced almonds. Almonds make a delicious flavor pairing for oranges, cranberries, and baking spices. I like the sliced texture, but if you have chopped or slivered almonds, go ahead and use what you have.
Orange zest. I zested an entire navel orange, which yields about two tablespoons.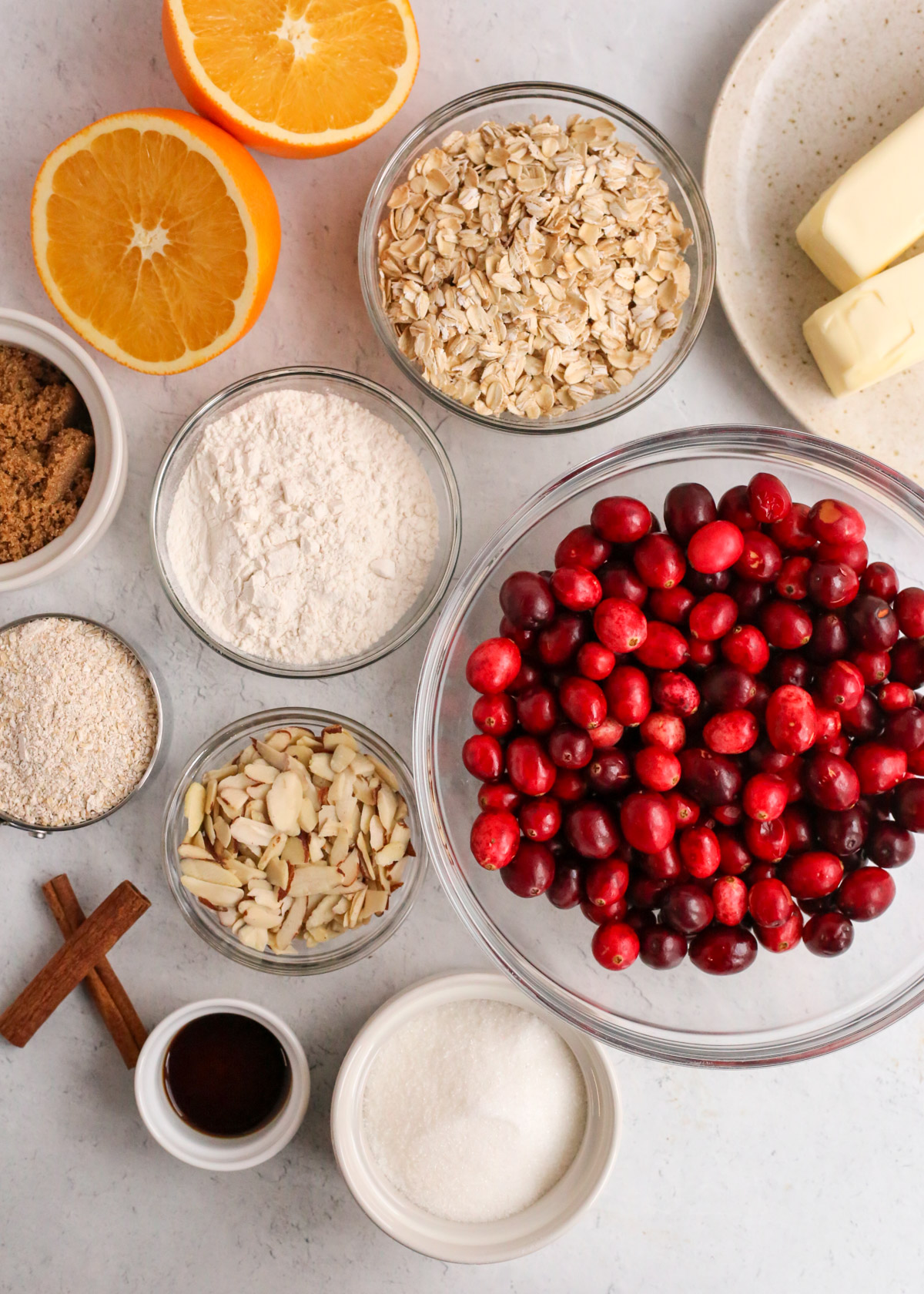 In addition to these key items, you need some baking staples: all-purpose flour, white granulated sugar or cane sugar, brown sugar, baking soda, salt, vanilla extract, and cinnamon. And don't forget extra old-fashioned oats to make some oat flour! Save this ingredient list for the next time you hit the grocery store, or save some time with the convenience of grocery delivery. My friends at Instacart put together a list that's ready to go, just click HERE!
Street Smart Nutrition Tip: If you don't have almonds, try using chopped walnuts or pecans (one of my other favorites!)
How do I make my own oat flour?
No need to make a special purchase, it's super simple to make your own oat flour at home!
I just load one cup of old-fashioned oats into my nutribullet food processor. It has powerful blades and multiple speed settings, so pulverizing oats into a coarse flour is a piece of cake! If you plan to do a lot of baking, use the large 7-cup capacity bowl to make several batches. Store extra oat flour in the fridge to prolong its shelf life and you can enjoy baking many more recipes like these cranberry oat bars.
Street Smart Nutrition Tip: Oat flour is more dense than the oats you make it from, so be aware your measurements will change. One cup of old-fashioned oats yields about 2/3 cups oat flour.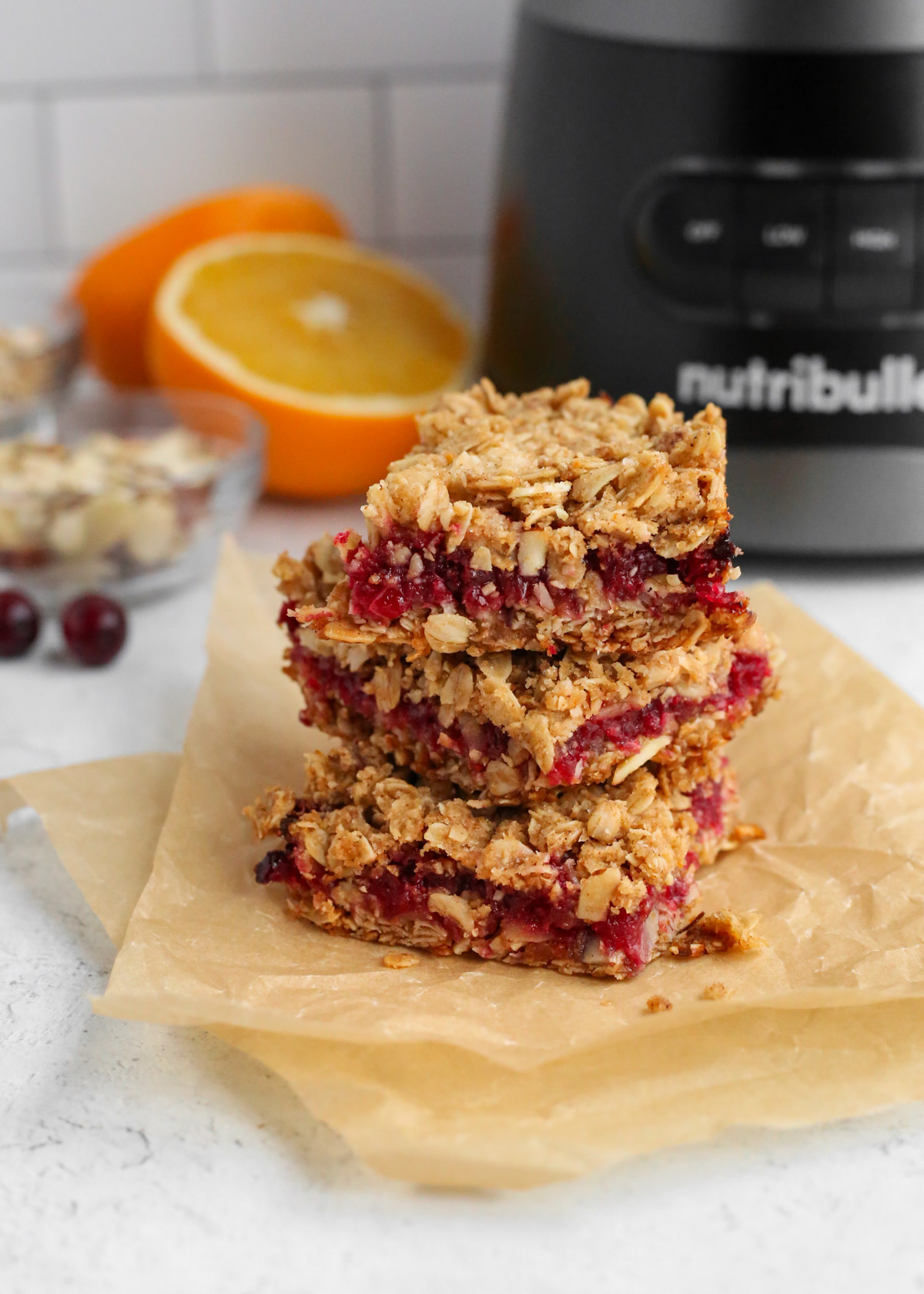 How To Make Orange Cranberry Oatmeal Bars
First, prep your baking dish. The baking time for this cranberry oat bar recipe is based on a 9″x9″ square baking pan. Line it with parchment paper, trimming it down to size. Leave a little bit of overhang on two of the side, which will make it much easier to remove the bars after baking. You can spray lightly with cooking spray if you're worried about it sticking. Preheat the oven to 350 degrees F.
Melt the butter in a small saucepan, keeping the heat very low. Browning butter is a bit of an art and a science, since it can go from browned to burnt very quickly. Watch it closely and stir often, removing it from the burner as soon as it started to smell toasty and takes on a deeper golden brown color.
In addition to using the food processor for the oat flour, you can use it to blend the fresh cranberries with sugar and orange zest. Pulse or blend on low speed until you get a chunky consistency.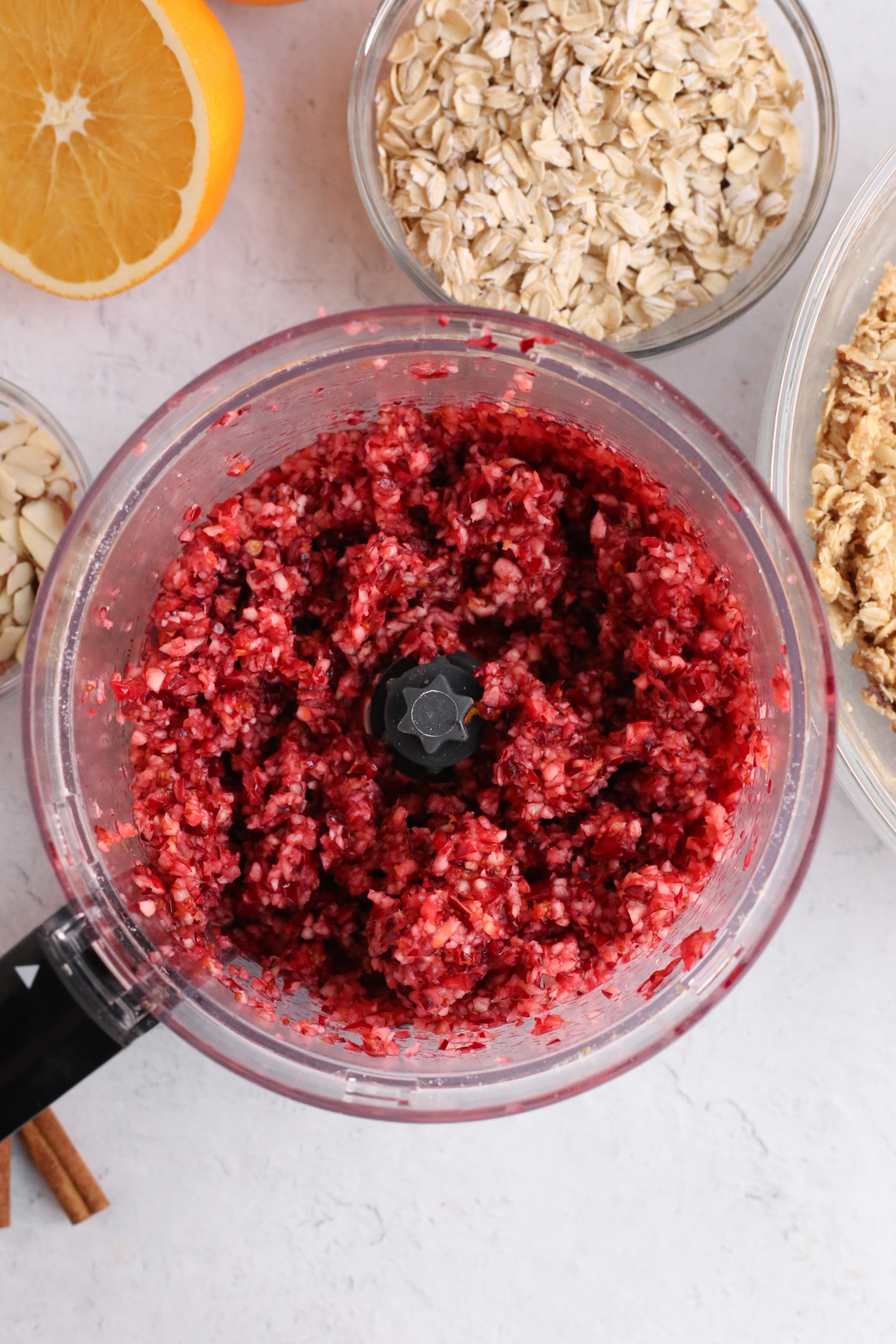 In a large bowl combine the dry ingredients plus the wet ingredients (vanilla and browned butter). Stir together until you get a crumbly mixture, then it's time to layer the cranberry oatmeal bars. Use the back of a spatula or clean hands to press half of the oat mixture into the corners, creating an even layer across the bottom. Make sure you cover the entire pan to ensure there's a solid base.
Next, add the cranberry mixture and repeat, spreading the cranberry layer evenly into all corners.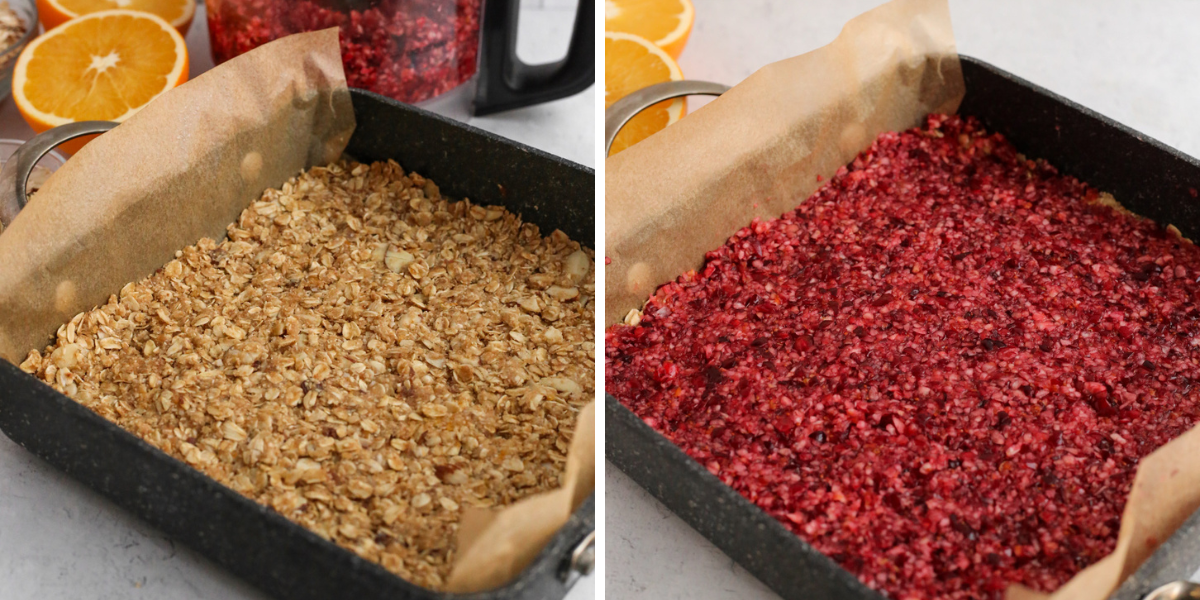 Finally, add the remaining crumb mixture and gently press it down. There should be enough to cover everything with no bare spots. Bake for 50 to 60 minutes, rotating halfway through if needed. Once it turns a golden brown color, it's done! 
Let it cool to room temperature on a wire rack before cutting into squares or individual bars. Then you can dig it! Watch the full tutorial in this video from my YouTube channel: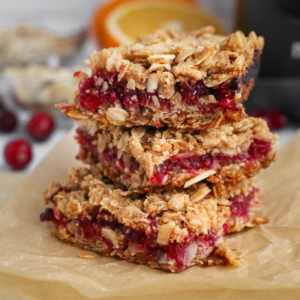 Cranberry Orange Oat Bars
This versatile, easy-bake recipe can be a simple snack, breakfast, or dessert option this holiday season and beyond. Take the classic flavor combo of orange and cranberry to the next level by layering them between oats mixed with browned butter.
Equipment
Food Processor

prep bowls and mixing bowls

measuring cups and spoons

small saucepan

9"x9" baking pan
Ingredients
12

tbsp

unsalted butter

2

cups

old-fashioned or rolled oats

1

cup

old-fashioned oats

,

for oat flour

2/3

cup

all-purpose flour

2/3

cup

sliced almonds

2/3

cup

granulated sugar

1/3

cup

brown sugar

,

packed

1-2

tsp

vanilla extract

,

or to taste

1

tsp

kosher salt

3/4

tsp

ground cinnamon

3/4

tsp

baking soda

2

tbsp

orange zest

12

oz

fresh cranberries

,

1 bag

nonstick spray and parchment paper
Instructions
Preheat the oven to 350 degrees F.

Prepare a 9"x9" baking pan by coating all sides with nonstick spray. Trim the parchment paper to line the bottom and two sides of the pan, then lightly spray again to help prevent sticking.

Heat a small saucepan over low to medium heat. Add the butter and melt, then reduce the heat to brown the butter. Cook for 8 to 9 minutes, or until the milk solids darken to a golden brown color. Remove from heat as soon as the color darkens to avoid scorching and set aside.

Use the food processor to blitz 1 cup of the old-fashioned oats until crumbly and flour-like. Add the oat flour to a large mixing bowl along with the remaining oats, all-purpose flour, sliced almonds, 1/3 cup granulated sugar (half), brown sugar, salt, cinnamon, vanilla, baking soda, and half of the grated orange zest.

Pour the browned butter over this mixture and stir until combined. Use approximately half the mixture to line the bottom of the pan and form the base layer. Press firmly to pack it in.

Add the cranberries to the bowl of a food processor, along with the remaining orange zest. Pulse to combine, then blend until chunky and paste-like. Add 1/3 cup granulated sugar (half) and pulse until combined. Scrape onto the first layer of oats and spread in an even layer across the pan.

Distribute the remaining oat mixture over the cranberry layer and press gently as needed to form a top layer. Bake for 50-60 minutes, rotating as needed, until the edges become golden brown.

Take the baking pan out of the oven and let it cool completely on a wire baking rack. To remove from the pan, tug on the overhanging pieces of parchment paper until it becomes loose enough to lift from the pan. Cut into 16 square bars, and serve.
Notes
To store, place in a sealed container and keep in the refrigerator for up to one week.
Nutrition
Serving:
1
piece
,
Calories:
234
kcal
,
Carbohydrates:
31
g
,
Protein:
4
g
,
Fat:
12
g
,
Saturated Fat:
6
g
,
Polyunsaturated Fat:
1
g
,
Monounsaturated Fat:
4
g
,
Trans Fat:
0.3
g
,
Cholesterol:
23
mg
,
Sodium:
201
mg
,
Potassium:
116
mg
,
Fiber:
3
g
,
Sugar:
14
g
,
Vitamin A:
279
IU
,
Vitamin C:
4
mg
,
Calcium:
29
mg
,
Iron:
1
mg
If you're serving them right away, these cranberry oatmeal bars can sit out at room temperature. Otherwise, store them in the fridge. This can help them last 5-7 days. Be sure to toss them if you see any signs of mold after the first few days. 
Can I freeze Cranberry Oat Bars?
Yes! Not every recipe stores well in the freezer, but this one does.
If you double the batch or just have leftovers, you can wrap them tightly in cling wrap. Or, just layer them with parchment paper in an airtight container. Store for up to three months, and for best results let them thaw overnight before eating.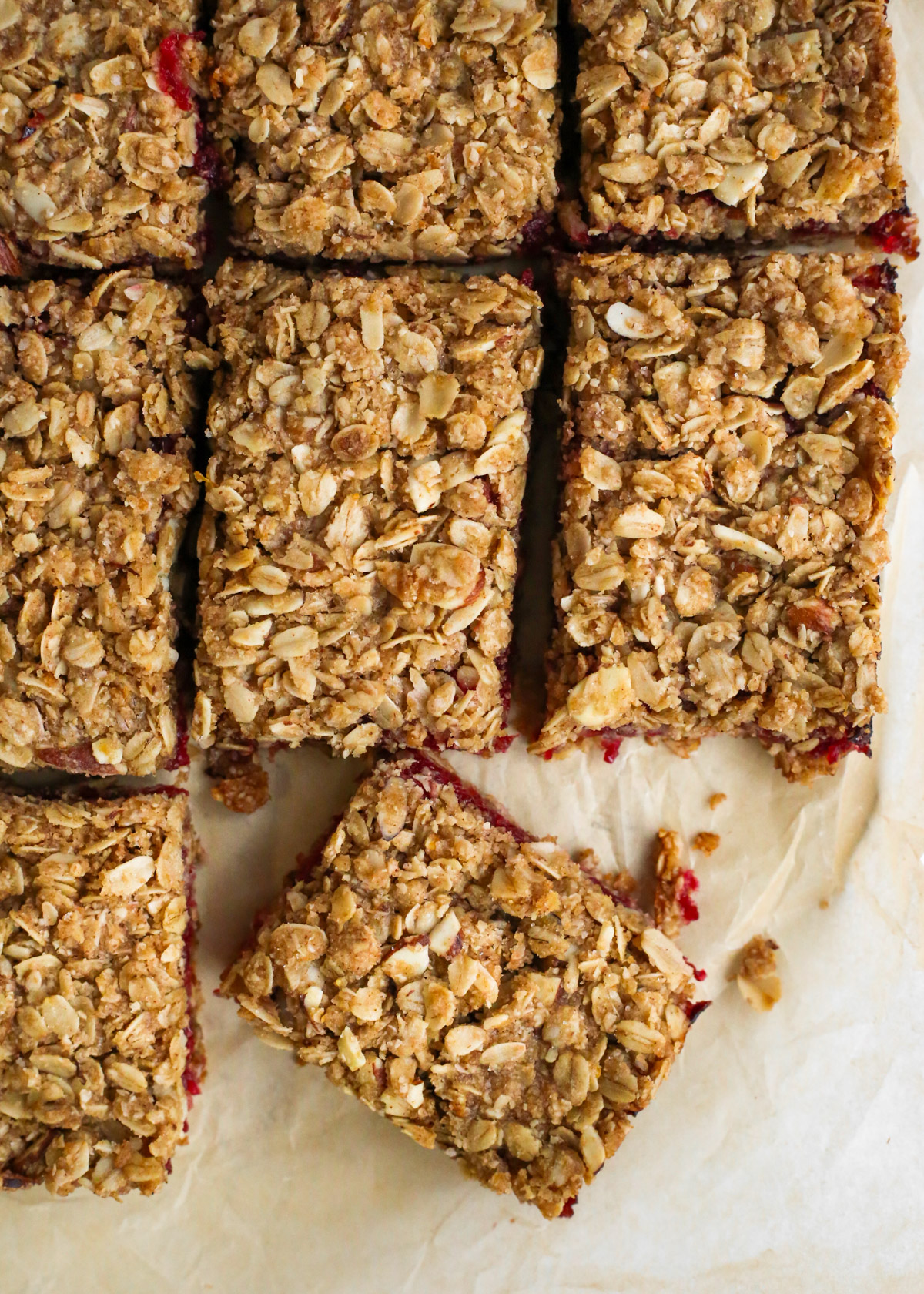 I hope you enjoy this Orange Cranberry Oat Bar recipe as much as I do. The holidays are coming up and it's one of my favorites for this time of year! If you try it and like it, be sure to leave a rating or comment to let me know what you think.
And as always, cheers to more fearlessly nourishing meals!
Disclosure: This post was sponsored by nutribullet when it was first published in December 2022. I was compensated for my time. As always, thank you for supporting the partners who support Street Smart Nutrition. The post has since been updated to improved the overall quality of the information and/or images.