It's a bit of a tongue-twister to say "fresh fruit from Florida" five times fast…but the naturally sweet and juicy flavor is a treat for the tastebuds! Keep reading to learn more about oranges, grapefruit, and tangerines from the Sunshine State.
Disclosure: This post is sponsored by the Florida Department of Citrus. Thanks for supporting the partners who support Street Smart Nutrition!
Every year, around the middle of February, I start to crave sunshine, warmth, and color. If you live in a climate where dreary winter weather stretches into March or beyond, you probably know what I'm talking about! That's why I was so excited to continue my partnership with the Florida Department of Citrus. Turning my focus to fresh citrus infused my days with brightness and flavor that made the single-digit windchill a little easier to deal with!
I mean, it's hard to not instantly feel my mood start to lift when I see a big ol' bowl of oranges on the kitchen counter.
Florida is the second-largest producer of citrus in the world. They also supply more 100% orange juice than any other state. But today we're taking a closer look at the fruit itself: oranges, grapefruit, and tangerines! Keep reading to learn more fast facts about fresh citrus fruit from Florida.
You can read more about the health benefits of orange juice in one of my recent posts, just click HERE!
Fresh Florida Oranges
Florida supplies a LOT of fresh citrus, and oranges are always in high demand. Third-, fourth-, and even fifth-generation farmers take advantage of the subtropical climate in Florida. That, combined with the sandy soil, ample rain, and sunshine help them grow the best tasting, juiciest oranges. I mean, there's a very good reason why Florida is known as the Sunshine State!
Vitamin C is probably the first nutrient that comes to mind when you think of Florida Oranges. A medium orange is an excellent source and  also a good source of fiber and thiamin. And they provide some potassium, folate, calcium, and magnesium. Since oranges are allowed to fully ripen on the trees, vitamin and mineral content stays as high as possible. Letting the oranges fully ripen before harvest also ensures they're as sweet and juicy as possible.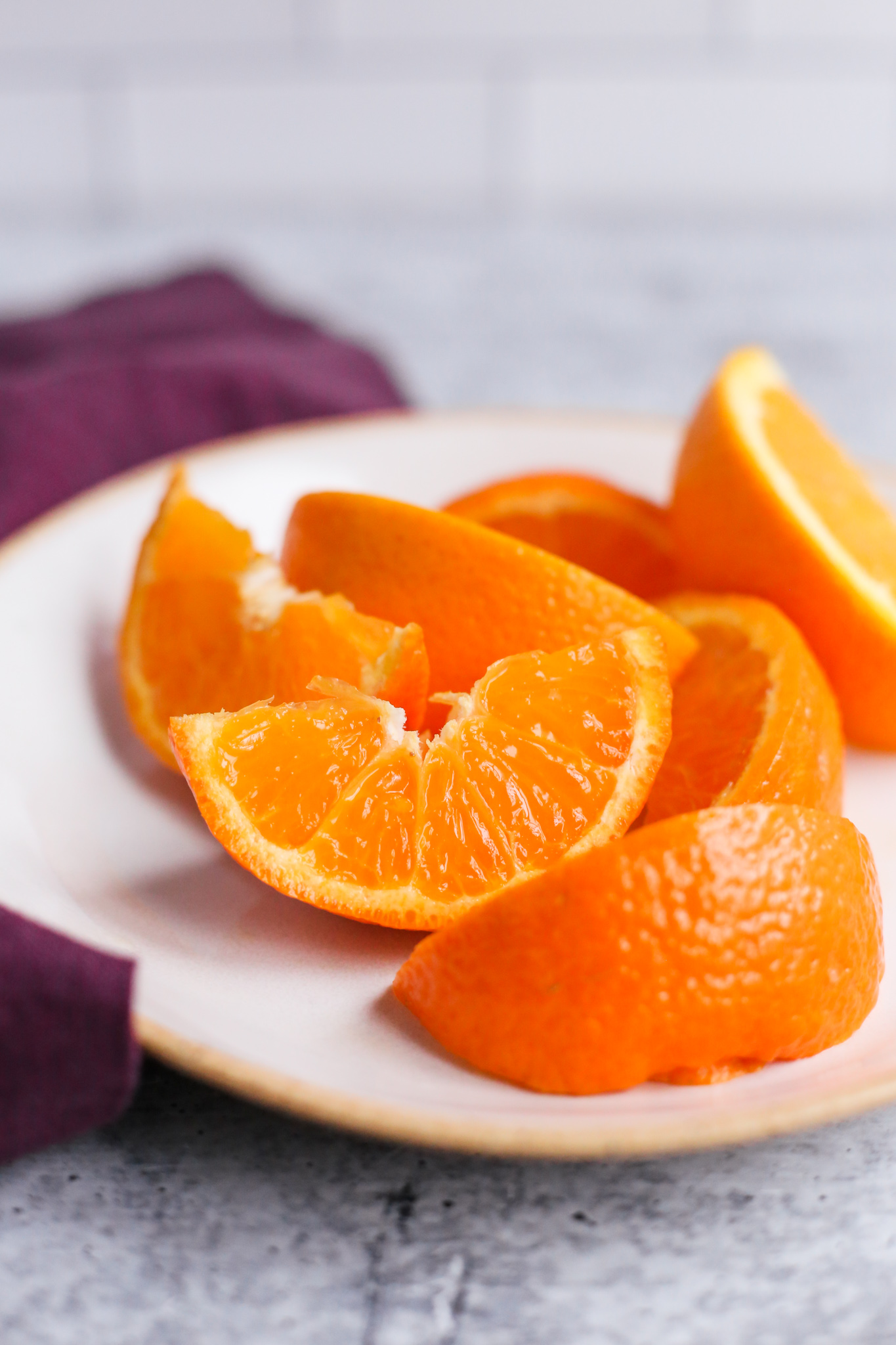 There are lots of varieties grown in Florida, each with slightly different flavor profiles and growing seasons. The season spans from November to May. Throughout these months, you'll find the juiciest oranges come from Florida. That makes them ideal for juicing at home!
Selection Tip: Look for Florida Oranges with firm texture and feel heavy for their size (meaning they're juicy and ripe). And you may think it's better to pick fruit with even, smooth coloring, but not necessarily. Florida Oranges often have blemishes on the exterior of the fruit which is caused by Florida's subtropical climate so don't let that deter you because they are amazing inside. Ripe oranges will also have a slightly sweet, citrusy smell.
Put all that juice to work in a brine or pan sauce! My Orange Glazed Pork Chops are infused with sweet citrus flavor from Florida Oranges in each bite.
Fresh Florida Grapefruit
Florida Grapefruit range from yellow-skinned with a white or pale interior, to medium orange colored with vibrant red or pink on the inside. But no matter which variety you choose, the nutrition is very similar.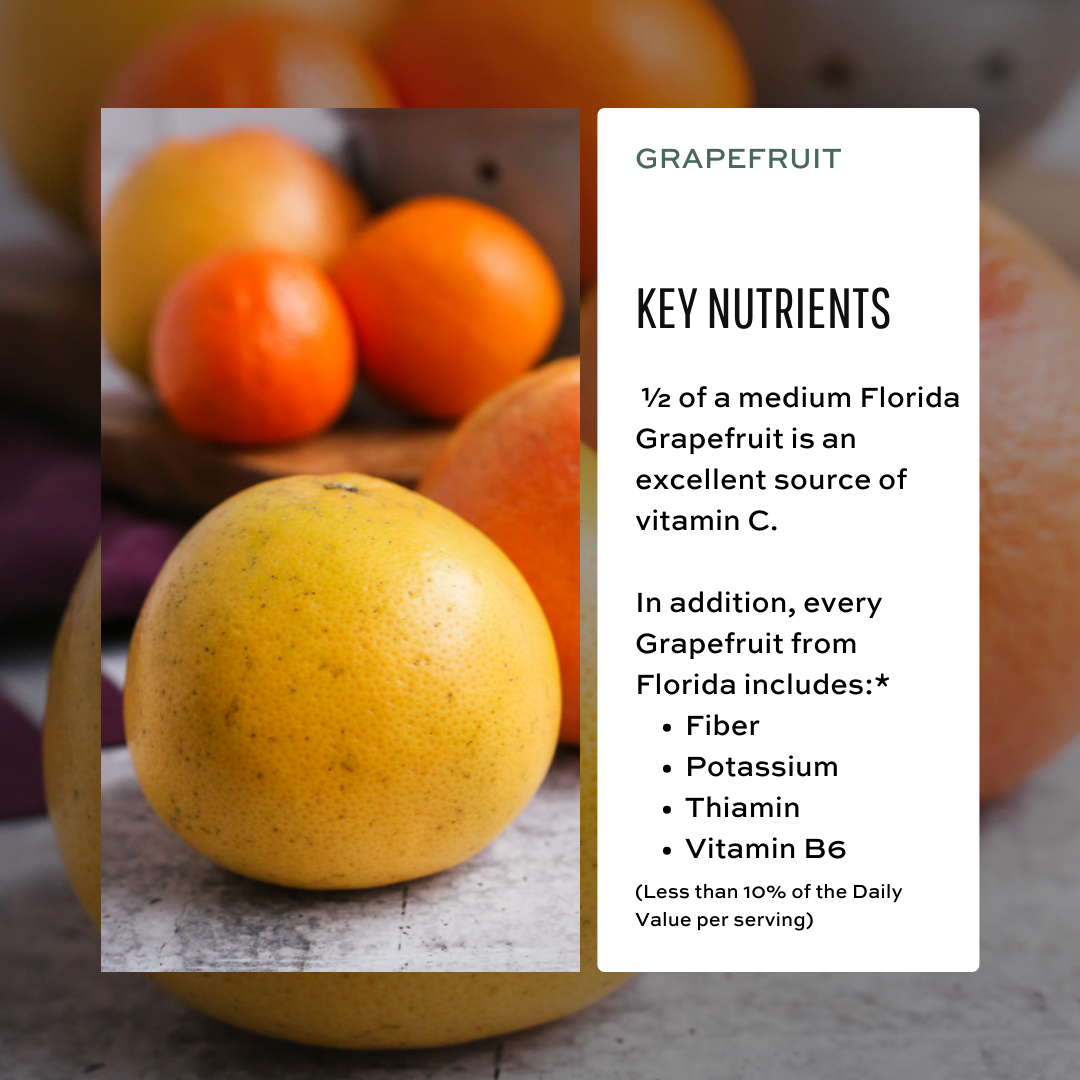 A serving of Florida Grapefruit is 1/2 fruit, so you're actually getting two-for-one every time you slice one open. In that 1/2 fruit serving, you get an excellent source of vitamin C. Just like with oranges! You also get some fiber, potassium, thiamin, and vitamin B6.
I really love juicing grapefruit, especially when we have extra carrots and ginger. The flavor is tart compared to some of the varieties of oranges but still sweet enough to not need any extra sugar. I also think their bigger size makes them easier to cut up or "supreme" for salads and other recipes (more on that if you keep scrolling).
Selection Tip: Just like with oranges, pick a grapefruit that feels heavy for its size. They should also have a fairly smooth rind with a dimples and maybe a few blemishes or wind scars due to Florida's subtropical climate but that doesn't affect the amazing quality on the inside. My favorite way to describe the perfect grapefruit is "plump" – you feel like the one you're holding meets that description, you've got a good one!
Fresh Florida Tangerines
Fresh Florida Tangerines are also an excellent source of vitamin C. Plus, you'll get some fiber, vitamin B6, thiamin, magnesium, and vitamin A. They have a mellow flavor that's especially good in salads or for snacking.
Even though tangerines have a tougher rind, they're very easy to peel and you don't end up with a lot of pith (white, fibrous material between the fruit and the rind).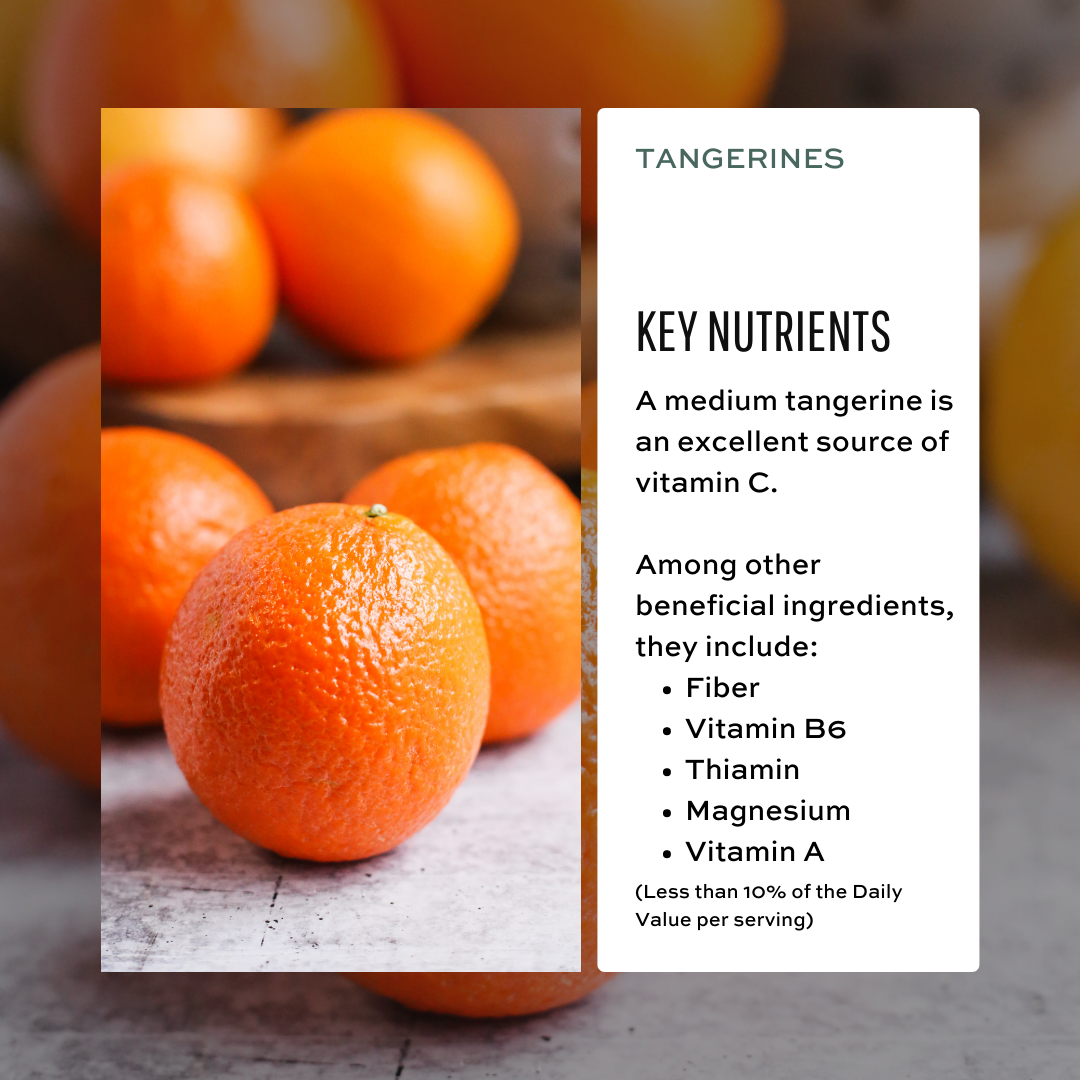 Selection Tip: Look for a smooth, ripe rind that feels a little bit loose. Some varieties will also have a somewhat flat end, but they should all feel firm and juicy when you pick them up.
How to Use Fresh Florida Citrus
While fresh Florida Oranges, Grapefruit, and Tangerines are delicious on their own, here are a few tasty ways to enjoy them in recipes!
Added to breakfast dishes like layered yogurt parfaits, overnight oats, or hot oatmeal
Peeled and blended into smoothies or juiced with other fruits and vegetables
Sliced as garnish for hot or iced tea, cocktails, or mocktails
Making candied orange peels or chocolate-dipped orange slices
Peeled and sliced for salads, with the juice used for a DIY dressing or vinaigrette
If that last option has you interested, try this technique next time. I first learned how to "supreme" an orange at my first job as a registered dietitian. It's a more advanced technique but it makes for a pretty presentation and great texture, especially if you aren't a fan of the pith. Here's how to do it:
First, use a sharp chef's knife to slice off each end of your orange.
Place the orange flat side down on your cutting board. Carefully run the knife along the shape of the orange to slice away the rind and pith without removing too much of the fruit itself.
If needed, flip the orange over to cut away any remaining pith that got missed on the first pass.
Switch to a smaller serrated knife and carefully cut towards the center of the orange along of the membranes that separates the wedges.
Move to the other side of the same wedge and make a similar cut, gently pulling away with the knife to remove the segment from the orange.
Work your way around the orange until all segments have been removed. You'll end up with small, delicate segments to add to your salads or use as garnish!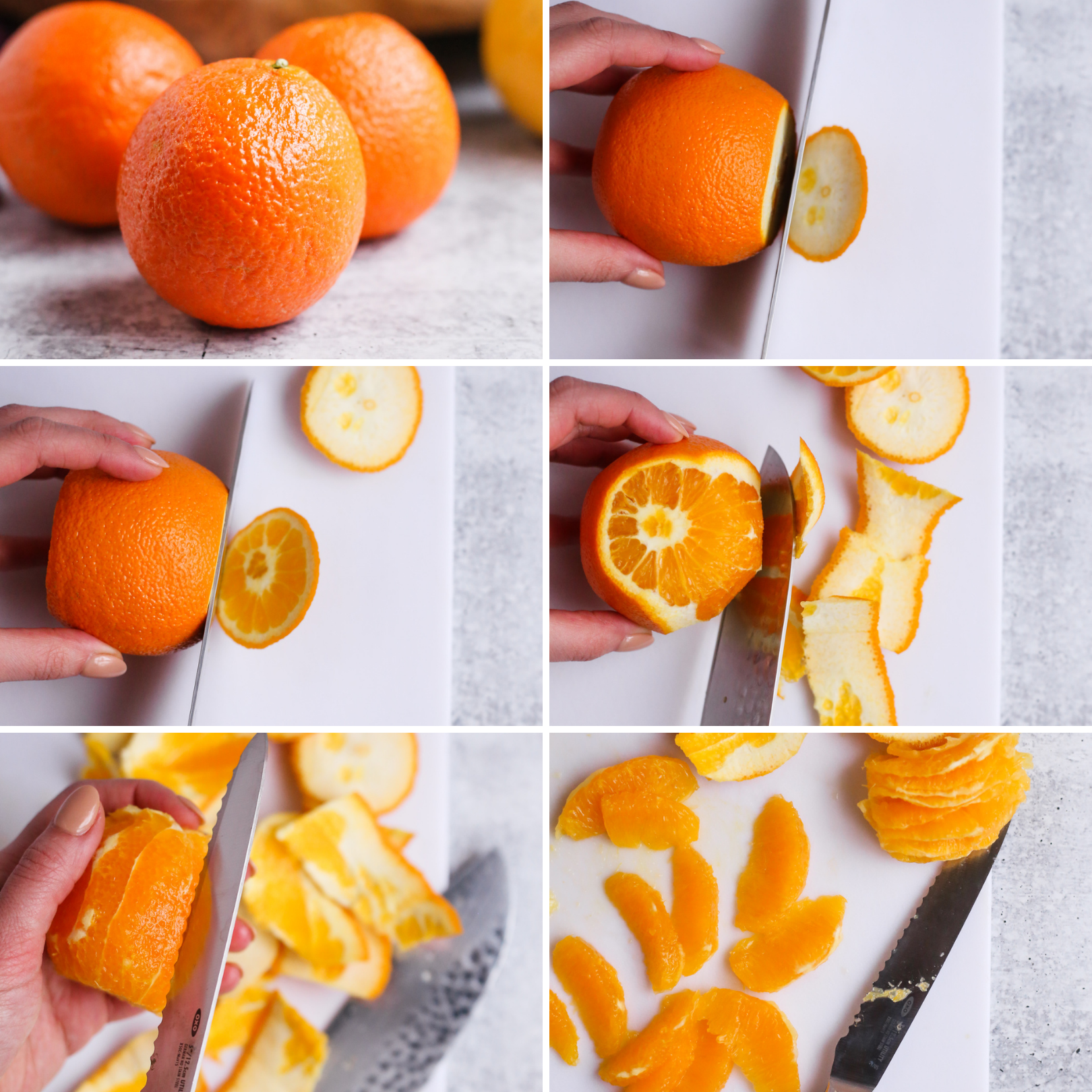 If you try this, hang onto whatever is left of your orange and squeeze into a cup or container. Use that juice to make a simple DIY dressing for your salad, add to a smoothie, freeze for flavored ice cubes, or add some sweetness to a marinade.
For more creative recipe ideas, head over to the Florida Department of Citrus's website. What's your favorite way to enjoy fresh citrus fruit this time of year?