Disclosure: This post is part of a paid campaign with Seafood Nutrition Partnership. I have been compensated for my time. As always, thank you for supporting the organizations that support Street Smart Nutrition. All opinions my own. 
---
October is National Seafood Month and there are so many ways to #CelebrateSeafood! I just returned from the Food & Nutrition Conference and Expo (or "FNCE" as we dietitians call it) where I got to connect with the team from Seafood Nutrition Partnership. I fully support their mission to encourage Americans to enjoy seafood more often. Did you know that most adults fall short of the recommended two servings of seafood per week? That's only 8 to 12 ounces but most of us eat far less than that!
I've heard a lot of reasons why clients and their families don't eat seafood often. Whether it's the myth that it's expensive or difficult to prepare, might leave their kitchen smelling like a fish market, or lack of confidence in combining ingredients to make a meal, I can assure you there are simple ways to get around that! I answered some of the most commonly asked seafood questions in this post so be sure to check it out if you want to learn more about seafood nutrition. And of course, I turned to my creative dietitian colleagues for some help to round up the best recipes for using canned tuna and salmon!
Canned tuna and salmon are regular items on my shopping list for a lot of reasons. Here are a few that keep me coming back to them again and again:
Shelf-stable. I don't have to worry about using fish or seafood within a day or two of shopping, nor do I have to add prep time to thaw fish or seafood. I just reach in the pantry and I'm ready to get cooking!
Easy to prepare. Often instead of cooking I should say assembling. Because although cooking can be involved, it's often much easier than that since canned tuna and salmon are ready-to-eat straight from the can or pouch. It doesn't get much easier than that!
Easy to find. This is a big one for me in the Midwest. I can usually trust that no matter where I'm shopping, I'll be able to find an option that I know I can put to good use. If frozen isn't available and fresh doesn't look so fresh, go with canned!
Affordable. Last but certainly not least, canned tuna and salmon are a budget-friendly option. I can mix up a quick lunches for the week for less than the cost of a single sandwich if I eat out, and it's a protein- and nutrient-packed option for adding to meals at home.
So let's get started! Up first: our roundup of tuna recipes!
Creative Canned Tuna Recipes
These recipes feature canned tuna, but you can also swap canned salmon. Some call for seasoned pouches so keep an eye out for those as you're doing your shopping!
Simply Satisfying Kale & Tuna Salad from Seafood Nutrition Partnership
Tuna Avocado Salad from Betsy's Kitchen
Nicoise Pasta Salad from Jessica Levinson
Healthy Zucchini Tuna Cakes from Stephanie Lee Nutrition
Lemon Pepper Tuna Avocado Toast from The Domestic Dietitian
Zesty Tuna Lettuce Wraps from The Nutrition Adventure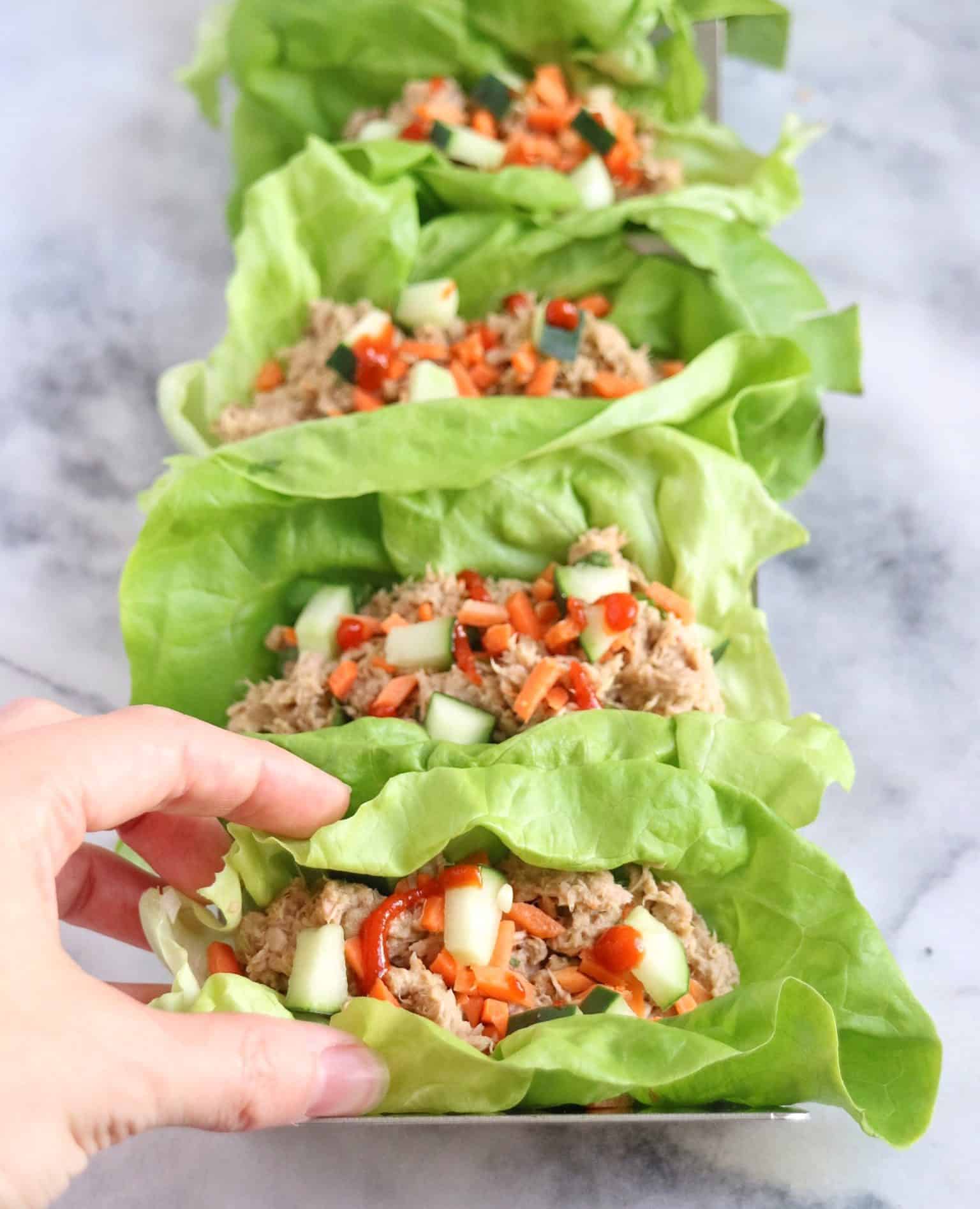 Healthy Zucchini Tuna Cakes from Stephanie Lee Nutrition
Spicy Tuna Cucumber Sushi Rolls from The Gourmet RD
Balsamic Tuna Sorghum Salad from Nutrition Starring YOU
Tuna Melt Lasagna from Perspective Portions
Cheddar Pesto Tuna Melt from My Cape Cod Kitchen
Pesto Tuna Pasta Salad from Christy Wilson Nutrition
Tuna Superfood Power Salad from Sweet Cayenne
Tuna Sushi Rolls from Create Kids Club
Spicy Tuna Bowl from Erica Julson
French Salad Niçoise with Lemon-Dill Dressing from Kumquat
And of course, I have my own contributions to make to the list. Here's a couple of recipe that feature canned tuna from my blog that also appear in my book, "The Pescatarian Cookbook"!
Gouda Tuna Noodle Casserole from Street Smart Nutrition
Crunchy Curried Tuna Salad Snackers from Street Smart Nutrition
Delicious Canned Salmon Recipes
Up next we have our delicious canned salmon recipes. Just like the others, it's easy to swap salmon for tuna and vice versa depending on what you have in your pantry. Salmon is one of the species highest in omega-3 fatty acids, so it packs a lot of nutrition bang for your buck when used in recipes like these!
Salmon Cakes from Seafood Nutrition Partnership
Honey Garlic Salmon Patties from Your Choice Nutrition
7-Ingredient Curry Spiced Salmon Cakes from C It Nutritionally
Wild Salmon and Sorghum Bowl from Triad to Wellness
Speedy Salmon Tacos from CJ Nutrition
Summer Squash and Dill Salmon Burgers from It's a Veg World After All
Salmon Potato Cakes from The Wandering RD
Sriracha Lime Salmon Collard Wraps from Dana White Nutrition
And here's one of my favorite ways to use salmon: my Easy Pesto Pasta Salad with salmon added on top! It's an easy way to turn a side dish into a full blown meal without doing any extra prep or cooking. It's great for lunches for the office or for quick meals on busy weeknights.
This video for Tuna Salad from Culinary Nutrition Cuisine also works well for salmon:
And for more ideas and quick facts, check out this mini-roundup with five easy recipes from Snacking in Sneakers (including this Salmon Avocado Toast for breakfast)!
I hope this encourages you to think beyond the can when it comes to tuna and salmon. There are so many delicious and creative ways to use them and this list of recipes is just the beginning. Be sure to check out other resources from Seafood Nutrition Partnership if you're ready to bring seafood to the table more often. You can discover more about sustainable seafood choices and take the pledge to enjoy #Seafood2xWk for optimal health. I've already taken the pledge – have you?