Lemon Baked Shrimp with Pasta is an easy, filling weeknight meal that comes together in just 30 minutes. Use your favorite pasta, fresh or frozen shrimp, and sliced lemon for tons for flavor!
Are you ready for a post that has nothing to do with the holidays?! I'll be honest, I love seeing the festive, seasonal stuff. It's fun to mix things up and the holidays only happen once a year. But they can be a little over-the-top. Not in a bad way, but in the sense that they're a little more involved and extravagant than the type of cooking I usually do.
I'm all about the simple stuff. And the minimal cleaning stuff.
So when I think of the weeknight meals I rely on, they tend to repeat my favorite ingredients in various combinations. Added bonus: If it's a one-pot meal I only have to clean….one pot! This is usually my trusty non-stick skillet (extra large for cooking in mass quantities) or my favorite cast iron skillet. But baked dishes fit the bill too and that's what I'm bringing you today.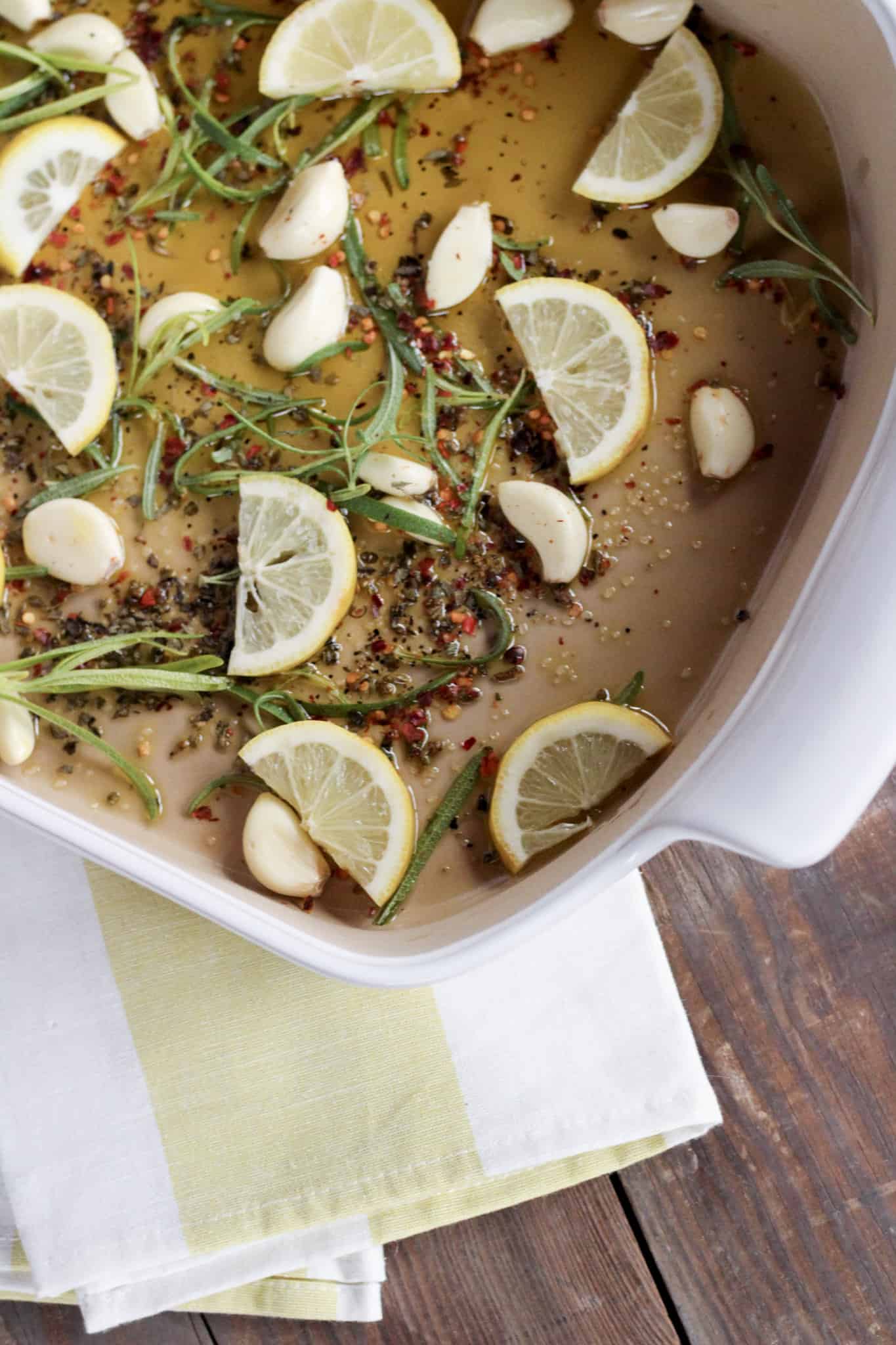 Fresh herbs, lemon, spices, and a metric ton of garlic cloves (not quite, but close) get a quick bake in your baking dish to get things started. In approximately 5 minutes, your kitchen will smell like heaven. I can almost guarantee that…if your version of heaven smells like roast garlic, I can absolutely guarantee that.
Fresh or frozen shrimp work equally well for this recipe. I personally base that choice on what's currently in my fridge, and if we don't have any frozen shrimp, what the prices look like. I personally don't love peeling and deveining shrimp. I'm not sure who does, so if the ready-to-go stuff is an option I'm all about it.
All of this goodness mixed in with pasta? Yum. Yum.
[Tweet "Try this Lemon Baked Shrimp with Pasta to make your kitchen smell heavenly any night of the week"]
I'm foreseeing a lot of meals like this in my future. I recently started a new job working in a different setting and packed lunched are about to become my jam. I was fortunate to have tasty on-site options at my last position, and I still do, but my schedule is changing as well and I'm going to make a committed effort to bringing leftovers from home more often.
The biggest challenge with this? Fending off Mr. Street Smart and staking my claim to the Tupperware containers. I love that my husband loves leftovers. I just don't love it that we sometimes battle it out over who gets to take the last batch to work. Anyone else know how real the struggle is?
I'm all about working smarter, not harder during the holidays. I'm going to try to keep my weeknight kitchen clean and open for when I do break out all the bells and whistles for a fancy holiday treat! What about you? Are you a leftover lover or hater?
Lemon Baked Shrimp with Pasta
Thirty minutes is all you need to make this delicious and nourishing baked shrimp recipe!
Ingredients
1/2

cup

olive oil

4-5

sprigs fresh rosemary

1

tsp

dried oregano

10-12

garlic cloves

,

peeled

1/4

tsp

black pepper

1/4

tsp

crushed red pepper

1

dash

fine sea salt

1

lemon

,

sliced into half moons with seeds removed

1

small head of baby broccoli

1

pound

raw shrimp

,

26-30 ct., peeled and deveined with tails left on

12

oz

linguine or thin spaghetti pasta
Instructions
Preheat the oven to 400 degrees F. Pour the olive oil into a large baking dish. Add the rosemary, oregano, garlic cloves, black pepper, crushed red pepper, salt, and about half of the sliced lemons. Bake for 12-15 minutes or until it becomes fragrant. Meanwhile, wash and chop the baby broccoli into bite sized spears.

Remove the baking dish from the oven. Layer the baby broccoli and shrimp over the top of the herb mix. Gently toss until everything is evenly coated. Top with the remaining lemon slices and bake for an additional 10 minutes or until the shrimp are fully cooked.

Bring pot of water to a boil and cook the pasta for 7-9 minutes or until al dente. Remove the baking dish from the oven, drain the pasta, and add the cooked pasta to the baking dish. Gently toss to fully combine.

Garnish with salt and pepper to taste or additional fresh or dried herbs.
Notes
Frozen, pre-cooked shrimp may be used in this recipe. Fully thaw the frozen shrimp first, then adjust baking time as needed to ensure the broccoli is fully cooked.
Nutrition
Serving:
1
serving
,
Calories:
739
kcal
,
Carbohydrates:
79
g
,
Protein:
39
g
,
Fat:
31
g
,
Saturated Fat:
4
g
,
Cholesterol:
286
mg
,
Sodium:
941
mg
,
Potassium:
828
mg
,
Fiber:
8
g
,
Sugar:
6
g
,
Vitamin A:
984
IU
,
Vitamin C:
157
mg
,
Calcium:
274
mg
,
Iron:
5
mg
[Tweet "Lemon Baked Shrimp with Pasta is an easy weeknight meal ready in less than 30 minutes!"]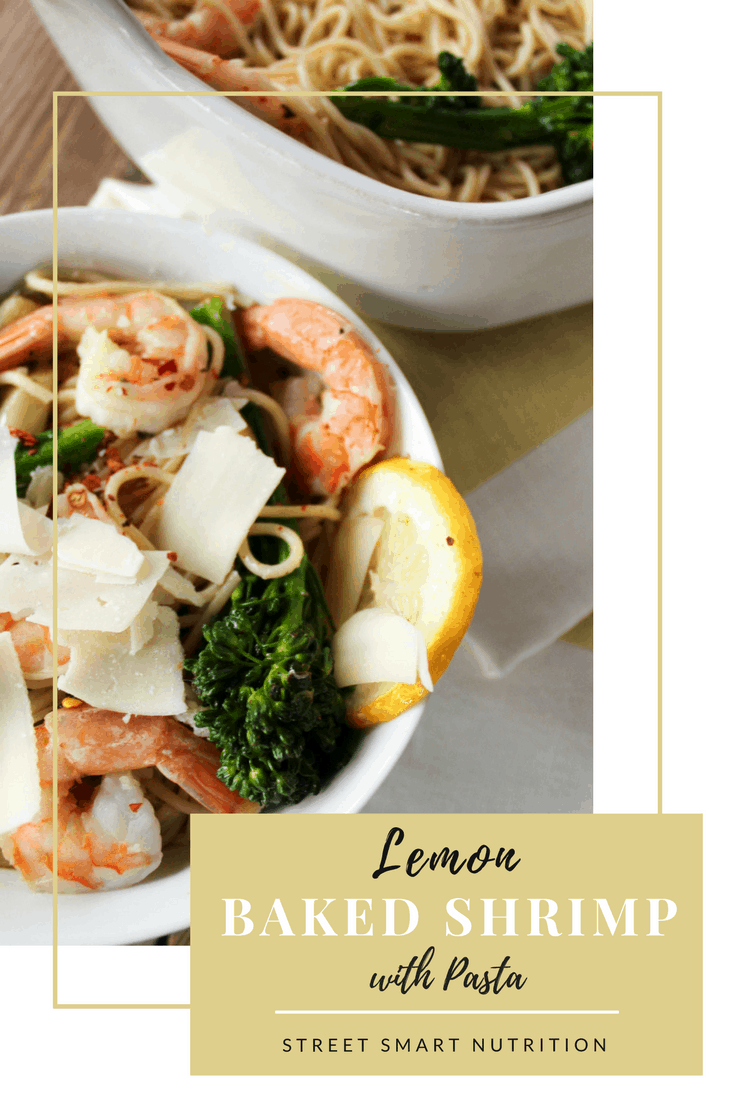 ---
Find more tasty seafood recipes like this one in my cookbook, now available on Amazon!

SaveSave