Fragrant, flavorful cilantro-lime rice is always delicious, but you can make it a meal by pairing it with smoky chipotle meatballs. This recipe uses U.S.-grown brown basmati rice and a simple, no-fuss cooking method for great results every time!
---
Disclosure: This recipe was created in partnership with the USA Rice Federation. I was compensated for my time. Thanks for supporting the brands that support Street Smart Nutrition!
Hey, Street Smart Nutrition fans! You really loved one of my recent recipes for Elotes-Inspired Mexican Street Corn & Rice Bowls. I developed that recipe in partnership with the USA Rice Federation and was excited to work with them again to bring you this recipe!
A few reasons to love my Smoky Chipotle Meatballs with Cilantro-Lime Rice:
You can upgrade the ever-popular Cilantro-Lime Rice recipe to meal status with the protein and produce additions I included.
You don't have to rinse brown rice! More on that below, so keep reading.
You don't have to measure the water – the cooking technique I use for brown rice yields great results every time, so no measuring cup needed!
And if you want to work this into your meal prep routine, be my guest! I've doubled the recipe to ensure we have meals for the week, and you can even freeze the meatballs to thaw and use at a later date.
I'm a big fan of meatballs because they're so meal prep friendly. Check out my other favorites like Korean-Inspired Gochujang Meatballs or Sweet & Spicy Turkey Meatballs.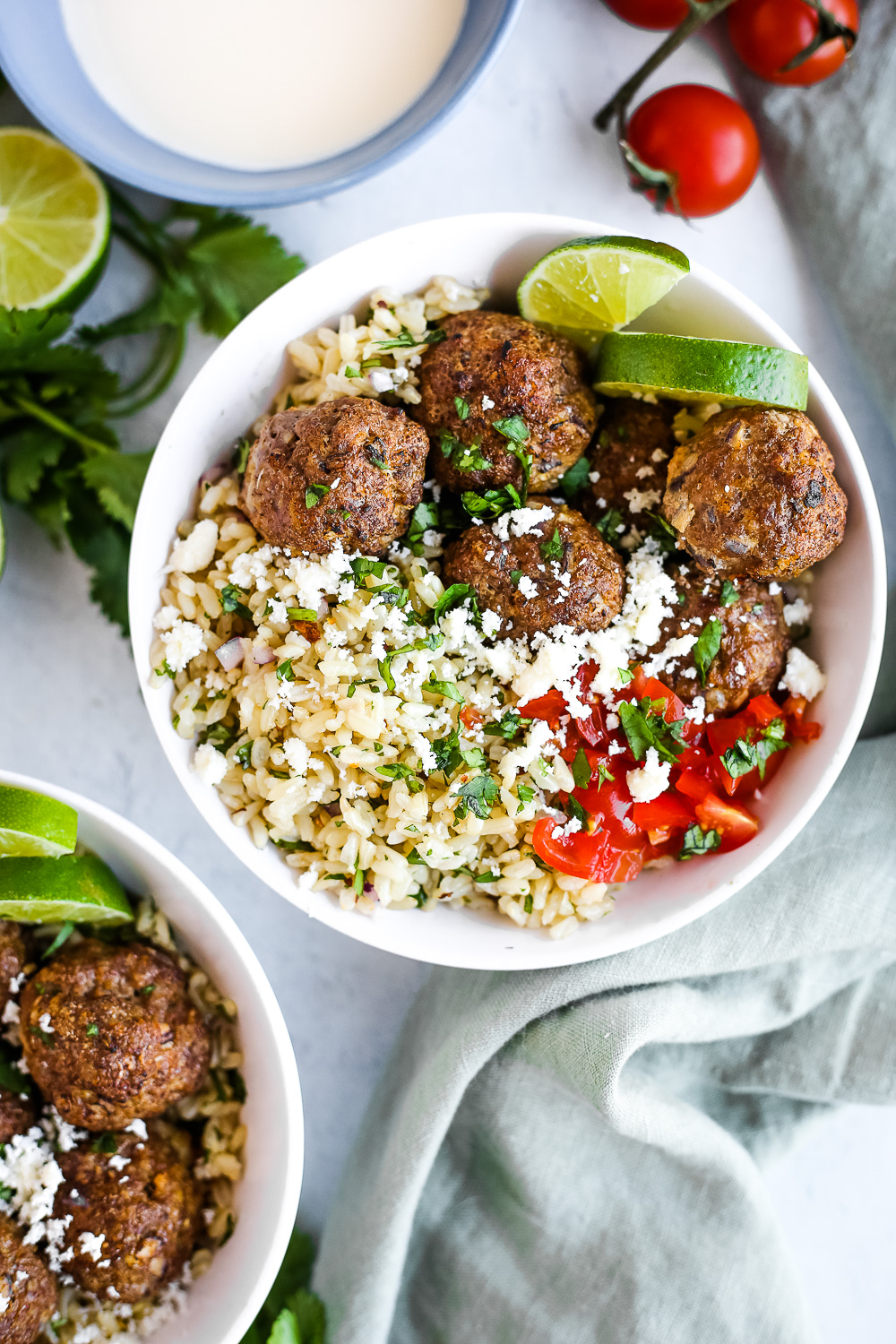 Here's what you'll need to make these Smoky Chipotle Meatballs with Cilantro-Lime Rice:
Ingredients: Brown basmati (long-grain) rice, grapeseed oil, fresh cilantro, limes or lime juice, ground beef, breadcrumbs, red onion, garlic, and an egg. The spices and seasonings include red pepper flakes for a little spice, cumin, smoky ground chipotle powder (or smoked paprika), dried oregano, and salt and pepper.
Street Smart Nutrition Tip: Grapeseed oil is a good choice when you want to add fat, but not flavor. This will help keep the brown basmati rice from sticking together or clumping without interfering with the cilantro-lime flavor.
Equipment: A saucepan for cooking the rice, plus the standard equipment of a cutting board, sharpened knife, measuring spoons, and a sheet pan or baking sheet. You can use an electric rice cooker if you have one, but with this brown rice cooking method, you don't need one!
What is brown basmati rice?
Brown basmati rice is a type of long-grain rice. Long grain rice tends to be lighter, fluffier, and more separated than the medium or short grain counterparts. You can find basmati rice in both white and brown varieties.
U.S.-grown brown basmati rice is nutrient-rich and contributes more than 15 vitamins and minerals, including folic acid and other B-vitamins, as well as iron and zinc. It's primarily grown in Arkansas, California, Louisiana, and Texas. The cooked grains are long, separate, and fluffy, and have a slightly chewy texture. One fun fact about basmati rice is that when you cook it, it expands to become longer, but not wider.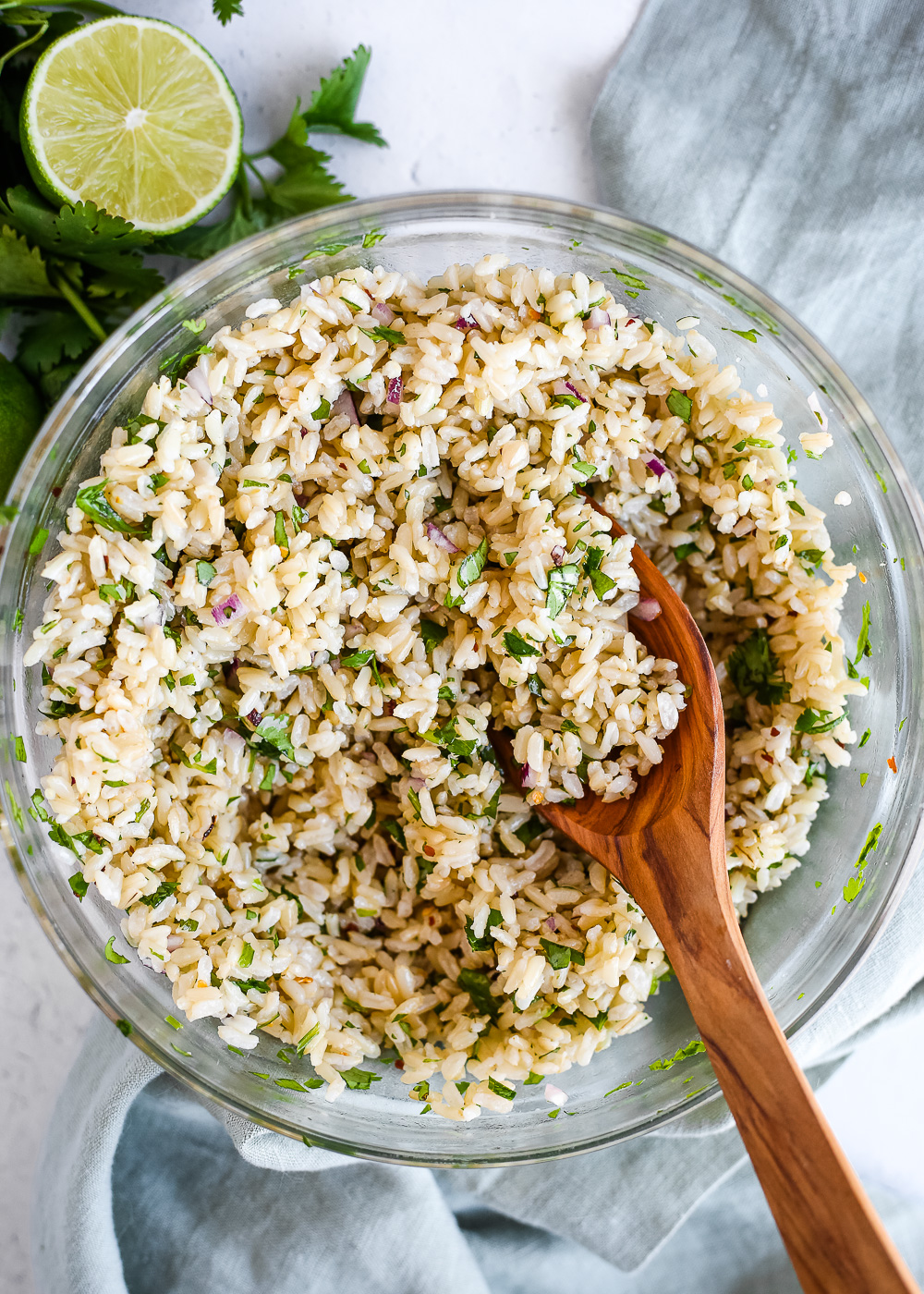 Do you have to wash brown rice?
This is one of the most common questions I hear from people about cooking brown rice. I suspect it's because they know I'm adamant about rinsing white rice before cooking for the best quality!
The answer is, no, rinsing or washing brown rice isn't going to significantly change the outcome. A quick rinse might be a good idea to remove any debris, but anything more than that might lead to wasted water. Brown rice still has the outer hull, meaning there's less starch to remove, but it can't hurt. If you're super short on time or don't want to mess with this step, it's fine to skip.
Smoky Chipotle Meatballs with Cilantro-Lime Rice
This recipe was inspired by a local chef who shared a photo of the staff meal earlier this year. He made a "Tex-Mex Meatloaf" and served it on top of a bed of rice with cilantro creme. I thought, I'm not such a fan of meatloaf but I love a good meatball, and now here we are!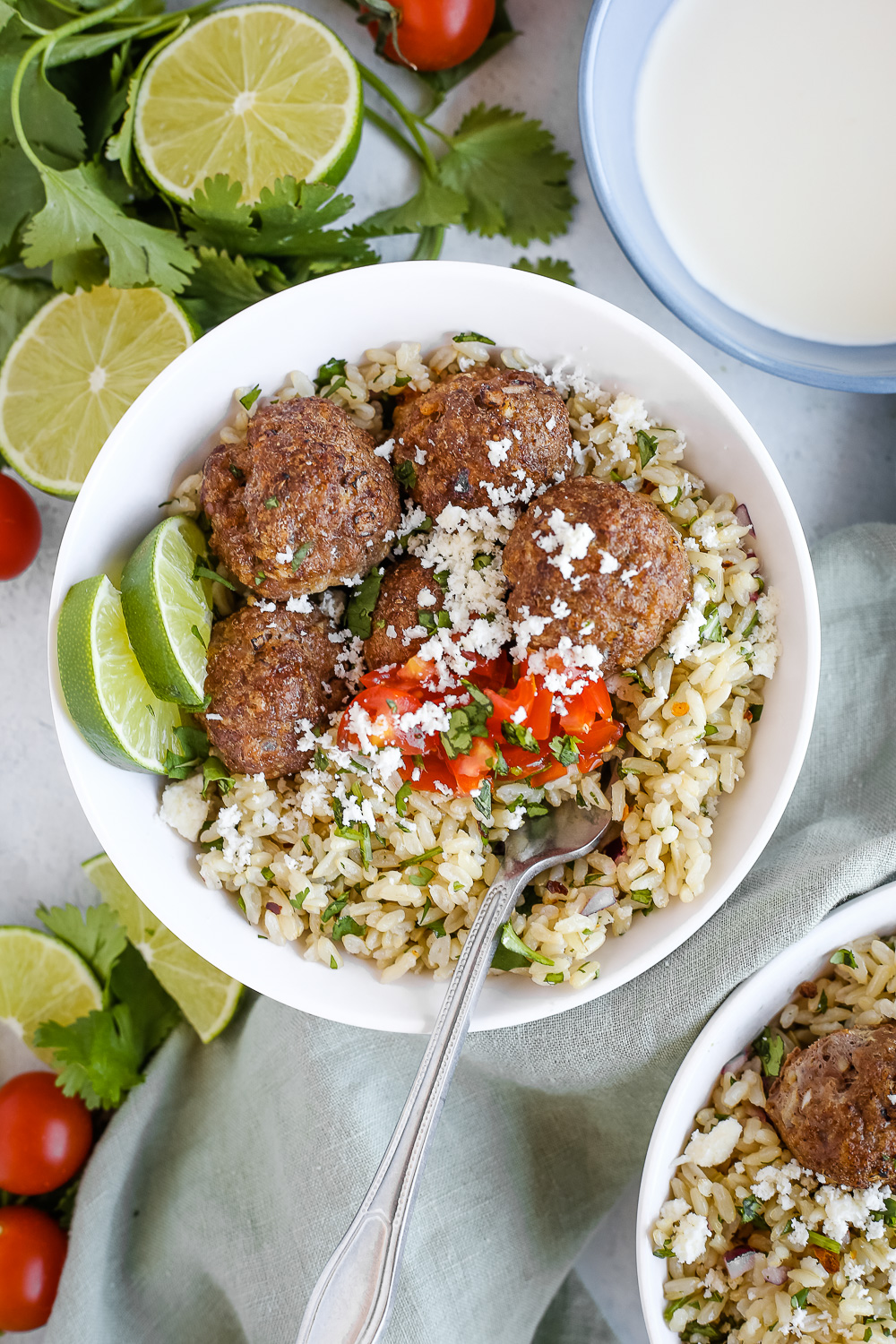 Here's the recipe for Smoky Chipotle Meatballs with Cilantro-Lime Rice!
Smoky Chipotle Meatballs with Cilantro-Lime Rice
Fragrant, flavorful cilantro-lime rice is always delicious, but you can make it a meal by pairing it with smoky chipotle meatballs. This is a delicious summertime recipe that makes for great leftovers when you double the batch!
Ingredients
Smoky Chipotle Meatballs
1

lb

ground beef

1/2

cup

bread crumbs

1/4

cup

minced red onion

1

large

egg

2

cloves

garlic, minced

1/2

tbsp

cumin

1

tsp

ground chipotle

1/2

tsp

dried oregano

1/2

tsp

kosher salt
Cilantro-Lime Rice
1

cup

U.S.-grown brown basmati rice

4-5

cups

water

1/4

tsp

kosher salt

,

or to taste

2

tbsp

grapeseed oil

2

tbsp

lime juice

1/3

cup

finely chopped cilantro

1/2

tsp

crushed red pepper flakes

kosher salt and pepper to taste
For Serving
Diced cherry tomatoes

Grated queso fresco

Additional cilantro

Crema or sour cream
Instructions
To Make the Brown Rice
Gently rinse and drain the uncooked rice and measure the water. Bring the water to a boil, salt the water to taste, then add the rice. Reduce heat and maintain a steady boil for 30 minutes, uncovered.

Drain the cooked brown rice in a colander, then return to the saucepan. Cover, then allow the rice to sit (off heat) for 10 minutes while you finish preparing the meatballs and garnishes.

Remove the lid and fluff with a rice paddle or fork. Add the remaining ingredients for the Cilantro-Lime rice and stir to combine. Season with salt and pepper to taste and serve with the accompanying meatballs and garnishes.
To Make the Meatballs
Preheat the oven to 400 degrees F.

Add all ingredients for the meatballs to a large mixing bowl. With clean or gloved hands. Mix together, being careful to overwork the ground beef to avoid a tough texture.

Once well mixed, shape into golf-ball-sized meatballs (about 3/4 oz) and place on a lined baking sheet 1/2" to 1" apart. Bake for 20 minutes, or until the outside of the meatballs begins to brown and the internal temperature reaches 160 degrees F.
To Serve
Assemble the bowls by serving the Cilantro-Lime Rice topped with 1/4 of the prepared meatballs. Top with diced tomatoes, additional cilantro, grated queso fresco, and crema or sour cream if desired. Serve immediately.
Notes
If using a rice cooker, reduce the amount of water to 1 3/4 cups. Add the water, rice, and salt to the bowl of the rice cooker and follow the settings/directions for brown rice (adjust cook time as needed).
Nutrition
Calories:
607
kcal
,
Carbohydrates:
49
g
,
Protein:
27
g
,
Fat:
33
g
,
Saturated Fat:
10
g
,
Trans Fat:
1
g
,
Cholesterol:
127
mg
,
Sodium:
744
mg
,
Potassium:
545
mg
,
Fiber:
3
g
,
Sugar:
2
g
,
Vitamin A:
398
IU
,
Vitamin C:
4
mg
,
Calcium:
92
mg
,
Iron:
5
mg
You can store leftovers in the fridge for up to five days, but good luck for having them last that long!
If you like this recipe, you might also like some of the other delicious rice recipes on the blog: