Curious about cooking with MSG? This Sweet and Spicy Turkey Meatball recipes shows you how delicious and versatile this ingredient can be! Scroll to learn more about umami flavor and get the full recipe.
---
Disclosure: This post and recipe are part of a sponsored partnership with Ajinomoto and the Know MSG campaign. As always, thank you for supporting the partners who support Street Smart Nutrition!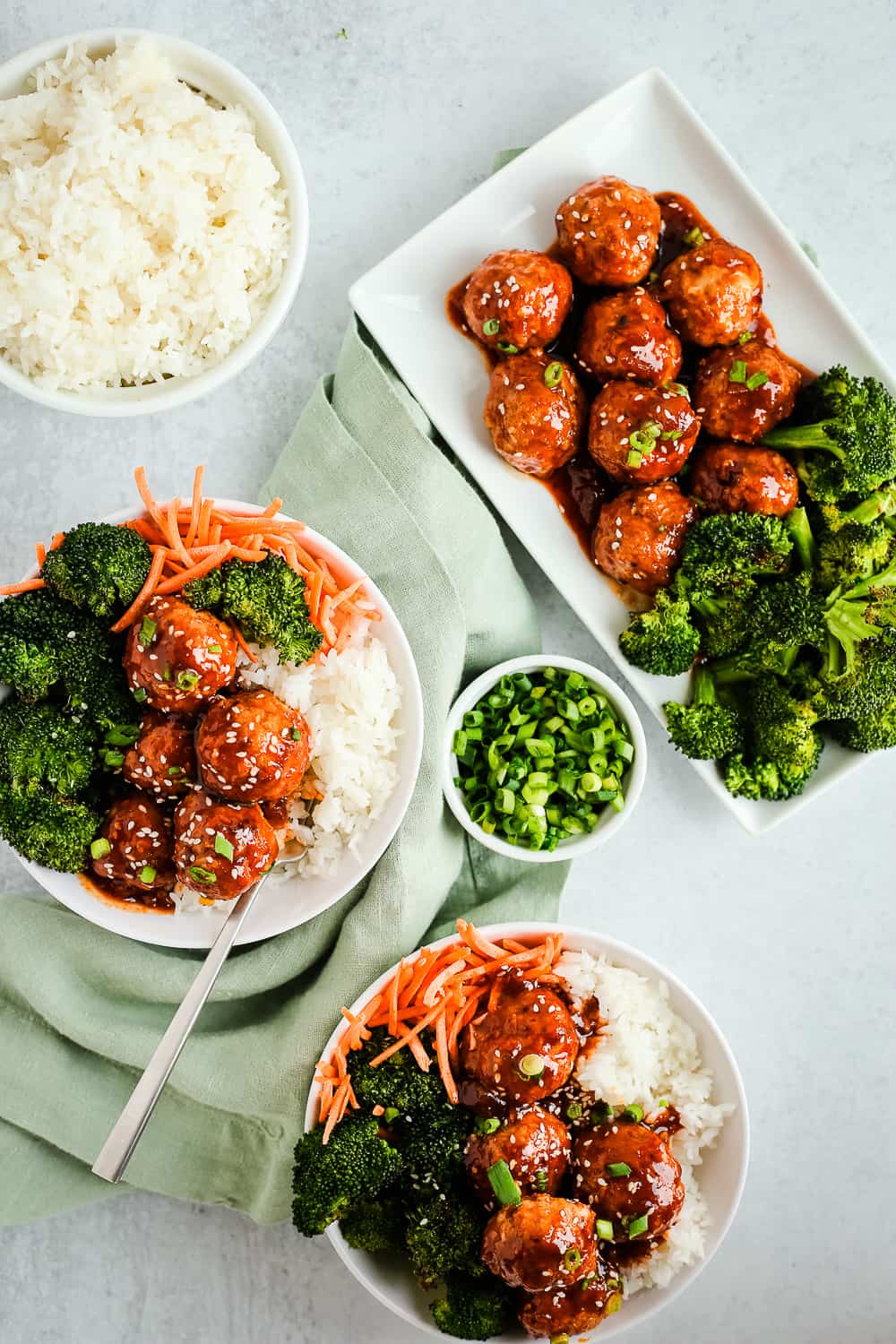 Sometimes you find something that offers the best of both worlds. Take, for instance, this Sweet and Spicy Turkey Meatball recipe. These spicy turkey meatballs are amazing as an at-home appetizer, especially if you're like me and missing the days of tailgating and potlucks. But they're also delicious as part of a full meal (and meal-prep friendly to boot).
For me, the same goes for cooking with MSG (monosodium glutamate)! It offers a boost of savory, umami flavor in my recipes. At the same time, it provides a health benefit since it contains 2/3 less sodium than table salt. 
Does it sound unusual that a dietitian is so passionate about cooking with MSG? To me, it's a no-brainer but I understand you might have more questions. Keep reading to learn more!
Sweet and Spicy Turkey Meatballs
This recipe for spicy turkey meatballs showcases how cooking with MSG can bring your food to life! I've been a fan of MSG for a long time and have been cooking with it in my kitchen since, well, I first learned how to cook on my own. That's why I recently partnered with Ajinomoto to share the launch of the Know MSG Campaign along with this original recipe. 
If you're looking for more flavorful meatball recipes, be sure to check out my Korean-Inspired Gochujang Meatballs!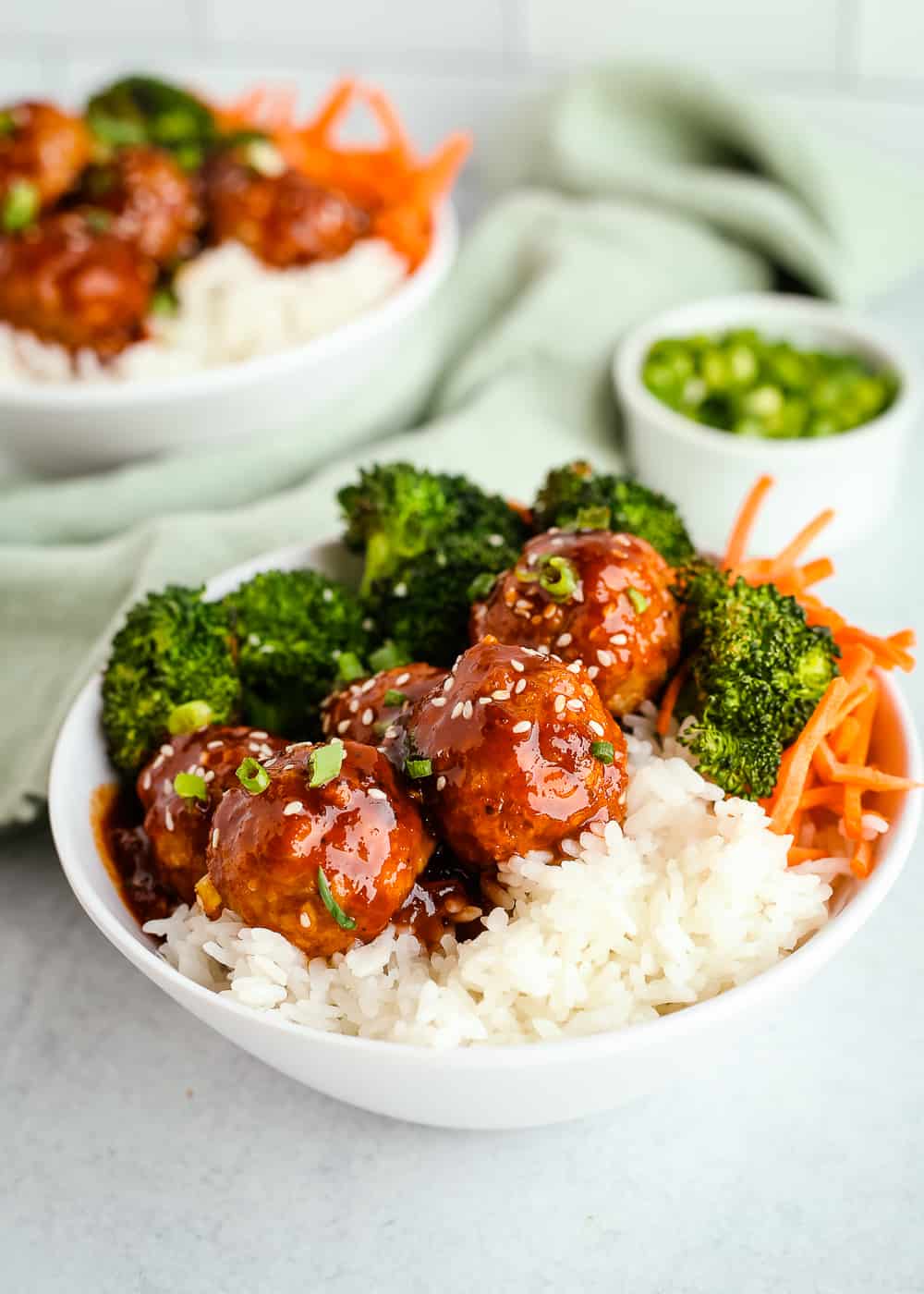 Cooking with MSG
MSG, or monosodium glutamate, is a naturally occurring flavor molecule that provides umami. Umami is sometimes used interchangeably with "savory" to describe the flavor of food. It's one of the five basic tastes, along with sweet, salty, sour, and bitter.
At the chemical level, MSG is sodium (AKA what is in table salt which is sodium chloride, or NaCl) + glutamate. Glutamate is the most abundant amino acid in nature and is what provides umami (the flavor I mentioned above). Did you know the human body produces its own glutamate? It's also found in foods such as tomatoes, mushrooms, aged cheeses like Parmesan, soy sauce, seaweed (especially kombu), and even breast milk. Regardless of the source, your body can't tell the difference between these sources of glutamate, whether it's coming from MSG, other foods, or your own body.
Amino acids are often called the "building blocks" of protein. Each of the twenty unique amino acids has its own flavor or taste if you were to isolate it and place it on your tongue. In the case of glutamate, the specific taste you get registers in your brain as savory or umami. It hits the taste receptors on the wide, middle part of your tongue and kicks your salivary glands into high gear. This can make other flavors in your food seem more pronounced, plus it may improve the mouthfeel or texture.
Street Smart Nutrition Tip: Since glutamate is part of larger proteins, recipes or dishes with proteins often include savory flavors. The average American adult eats 70-100 grams of protein each day, which amounts to about 7-10 grams of glutamic acid (bound to protein) and 1-2 grams of free glutamate.
What does all this mean? Well, at the end of the day, cooking with MSG can turn you into a better cook! The simple addition of this affordable ingredient can improve the overall flavor of your recipes. I think it makes the eating experience that much more enjoyable, but I'm not alone in thinking that.
Certain ingredients have been paired together in cuisines around the world for generations. In the past, we didn't fully understand why. Other than the obvious: that it tastes good! But now science has revealed that MSG can take a lot of the credit for some of these classic combos:
Parmesan cheese grated over a serving of pasta and tomato sauce

Anchovies in a Caesar dressing (perhaps with some Parmesan, too!)

Cabbage or mushrooms in a soup or stew

Fish sauce, soy sauce, or dashi broth in a steaming-hot noodle dish or ramen bowl 
You can build deep, satisfying umami flavor through long, slow cooking methods, food pairings, or fermentation. Or you can look for a cute little panda-shaped shaker or bag of AJI-NO-MOTO® MSG in your local Asian market or a bottle of Ac'cent® in the spice aisle of most mainstream supermarkets! MSG is pure umami and looks very similar to table salt. But there is a big difference in the overall sodium levels that can actually provide a health benefit. 
More on that next!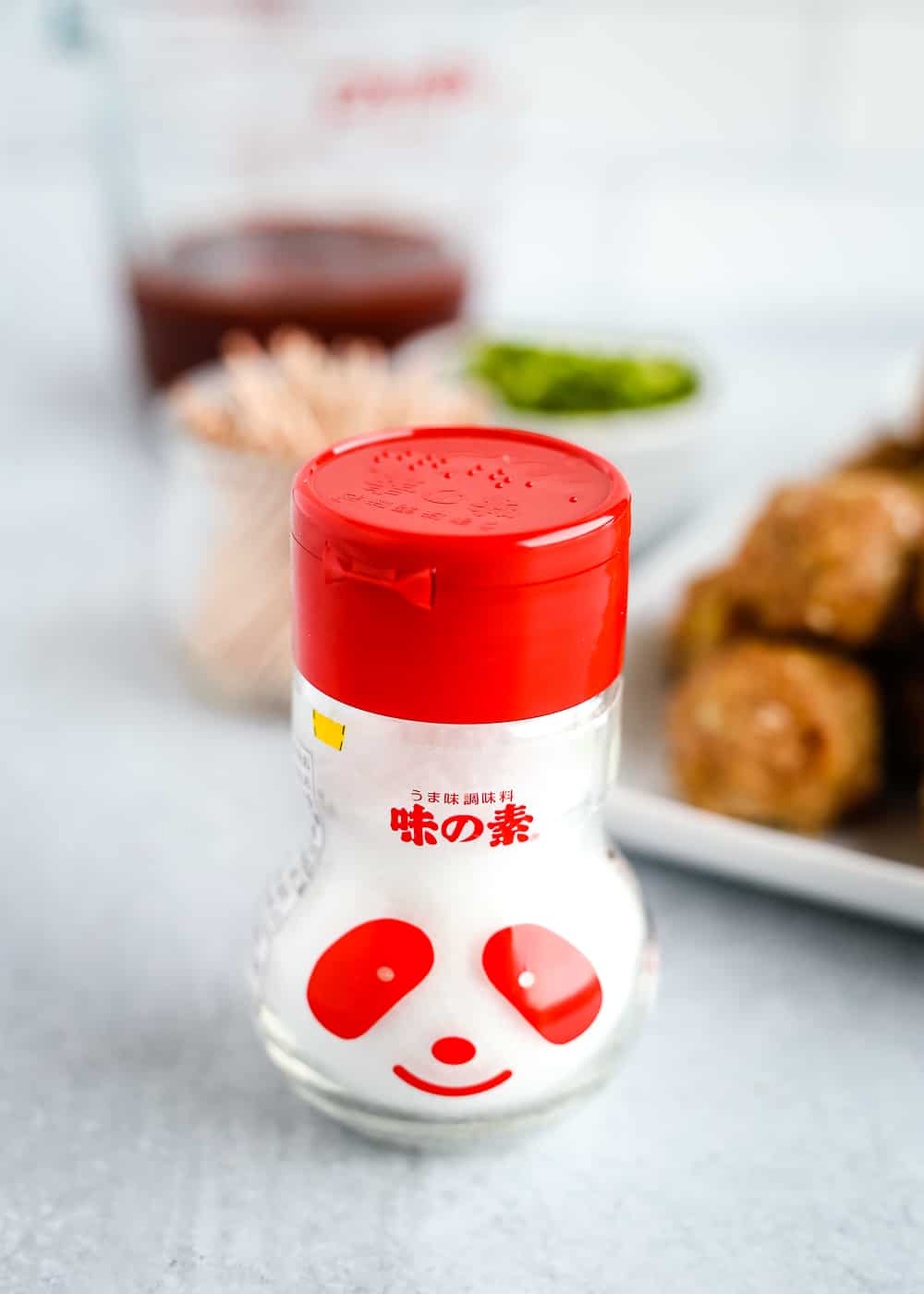 MSG Safety and Health Benefits
Whenever the topic of cooking with MSG comes up, I know there will be at least a few questions about safety. The short answer is – it is absolutely safe. I can't do the full story justice in this post, so I encourage you to check out this resource from the Know MSG website. If you want to learn more about why this myth falsely came to be, check out the prologue of Episode 668 from This American Life: The Long Fuse.
As a dietitian, I support any tools, culinary or otherwise, that can help people pursue health on their own terms. For many people, that involves reducing overall sodium in their diet for heart health. This is where I think MSG can really shine. It may be one of the most powerful sodium-reducing tools in the kitchen! And that's because it has ⅓ the sodium as table salt.
Using umami-rich seasonings like MSG, or a combination of 50/50 MSG and table salt, can reduce total sodium levels in your home cooking by up to 61% without losing out on flavor or satisfaction. In fact, the National Academy of Medicine (formerly called the Institute of Medicine) has recommended the use of MSG as a strategy to reduce the need for added salt and recognized its GRAS status (generally recognized as safe) by the FDA (U.S. Food and Drug Administration).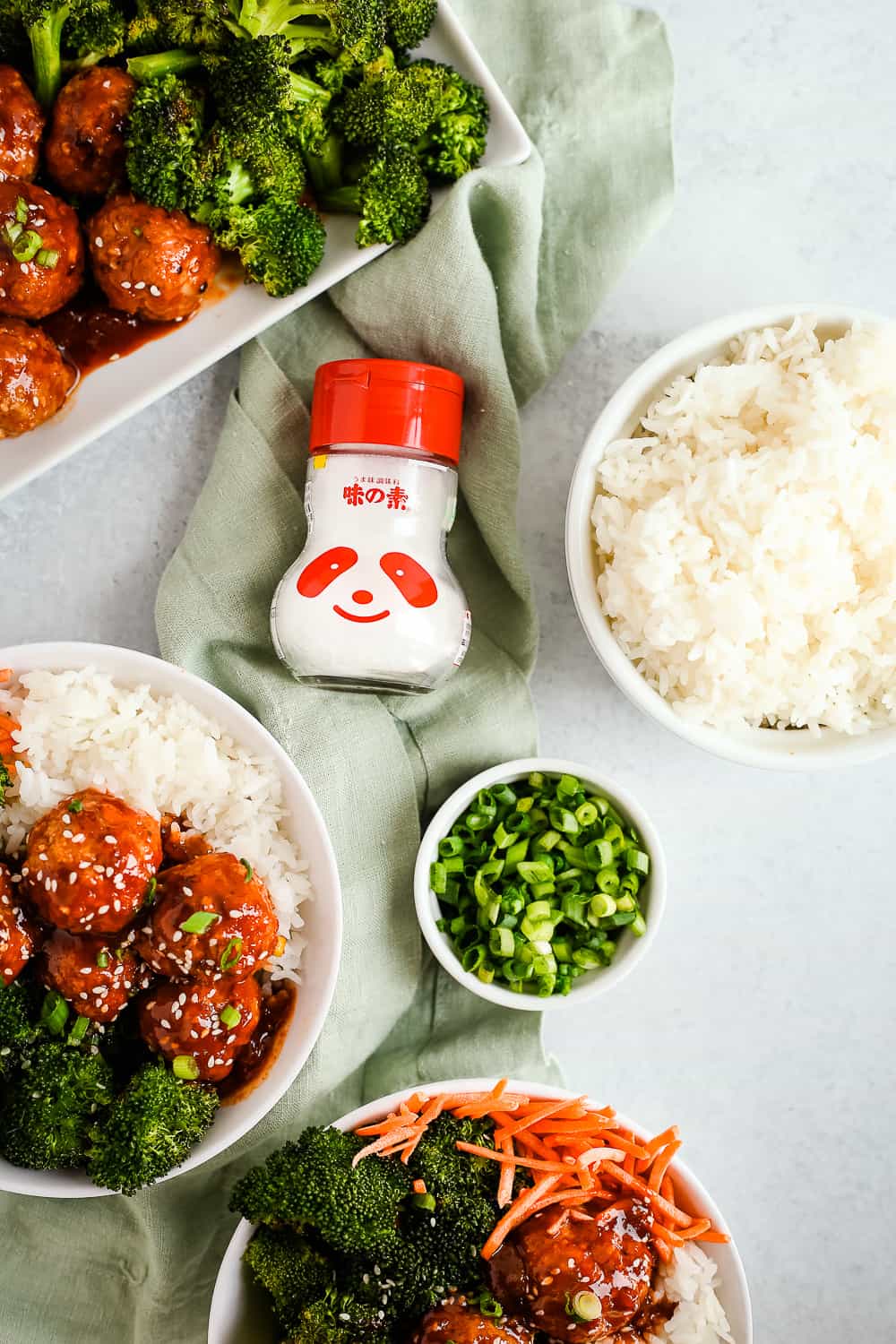 To enjoy these salt-reducing benefits of cooking with MSG, try swapping out half of the table salt in your salt shaker for MSG. 
In recipes, you can usually use less MSG than the salt it replaces. For example, if your recipe calls for two teaspoons of salt, you can try using two teaspoons of the 50/50 mix, or 1-1 1/2 teaspoons of pure MSG + 1 teaspoon of salt.
Street Smart Nutrition Tip: The important thing to remember is that it will take some time and patience as you experiment! Don't be afraid to test your favorite recipes with varying amounts of MSG to find the balance your taste buds like best.
Now it's time for the fun part. We get to pull all of this knowledge together on the plate…or bowl. You'll see what I mean in the recipe below! 
How to Make My Sweet and Spicy Turkey Meatball Recipe
This turkey meatball recipe couldn't be simpler. You simply prep and measure all ingredients into a mixing bowl and combine using clean hands. Shape the meatballs into ping-pong ball-sized pieces and place them on your baking sheet. Note that since ground turkey tends to be leaner than other proteins, you may need to spray your pan with nonstick oil or use a non-stick foil.
The meatballs need to bake for 20 minutes, which gives you ample time to prepare the sweet and spicy sauce. I like to combine mine in a measuring cup for easy pouring. You can also measure into a mason jar with a lid and shake to mix it all up.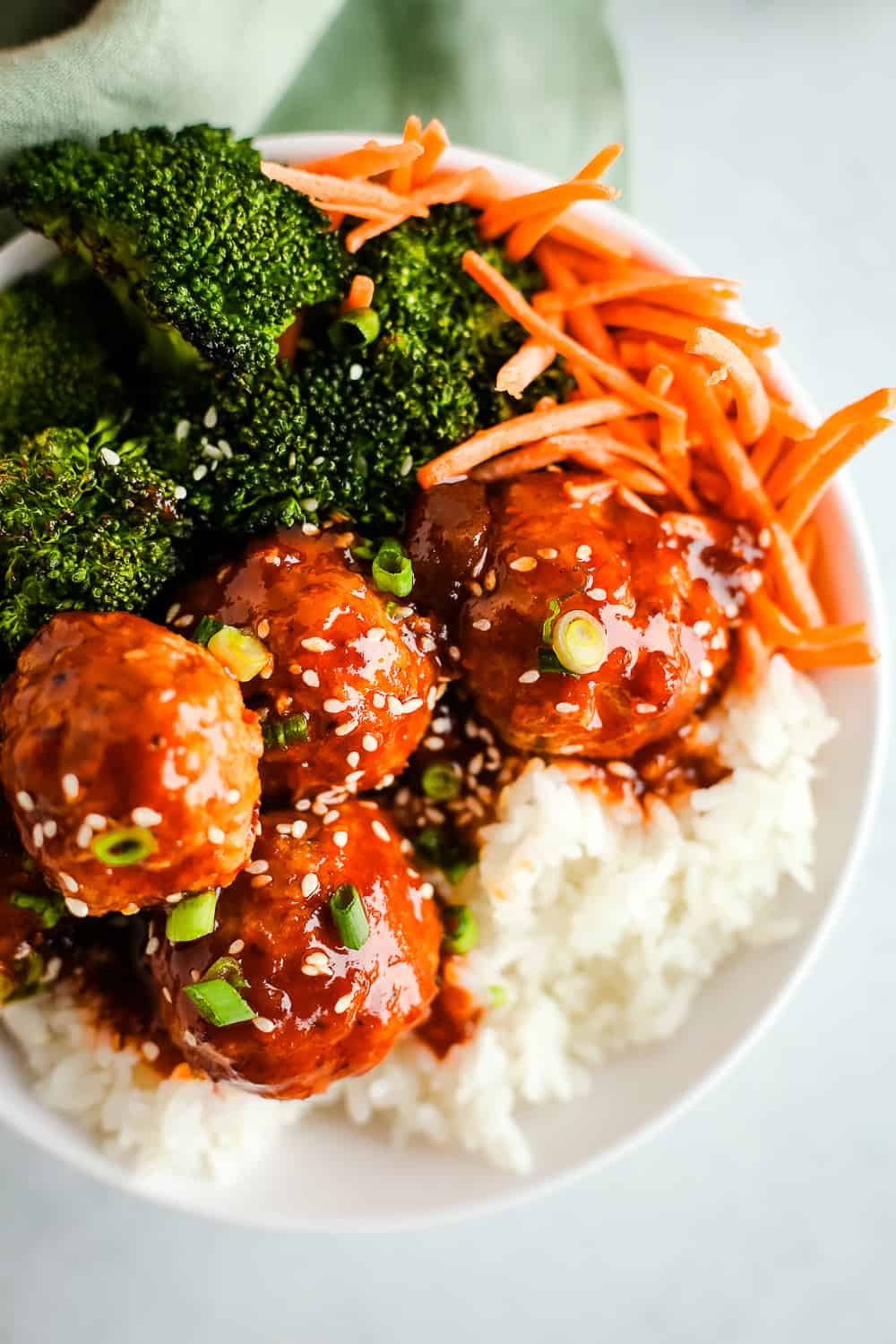 These lil' guys are great on their own as an appetizer or party snack, as well as a full-blown entree for your dinner table.
If you're going to serve them up as a snack or appetizer, I suggest holding them warm in a slow cooker on low heat. The sauce may thicken slightly, but you'll maintain a safe temperature for eating. Garnish with sesame seeds and some thinly sliced green onions. And don't forget to set out a small ramekin with toothpicks for easy eating!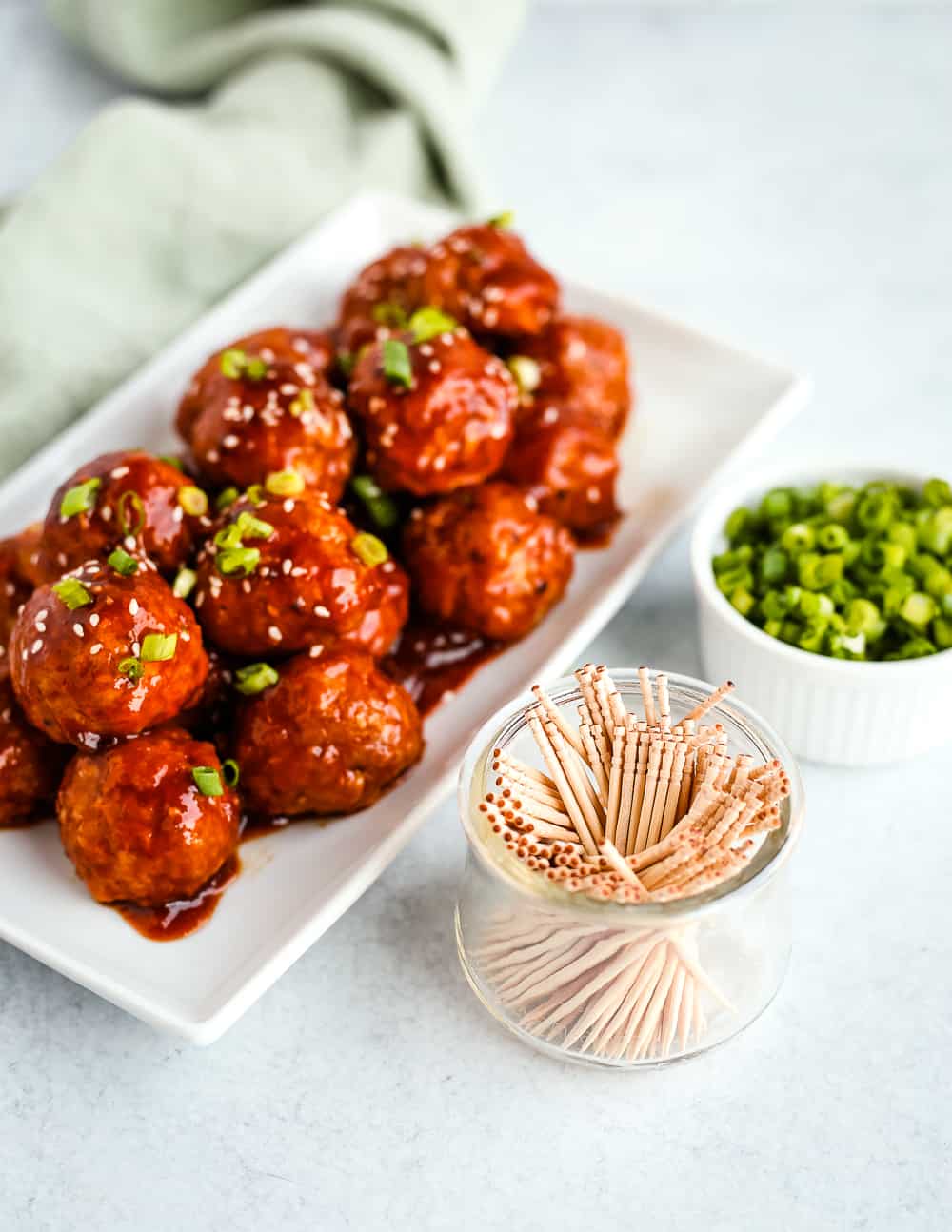 If you want to feature these Sweet and Spicy Turkey Meatballs as a meal, you really can't go wrong with rice bowls. Add your favorite roasted veggies and you've got a complete one-dish meal. I mean, your oven is already going to be turned on – why not put it to good use?
If you want to feature them as a meal, you really can't go wrong with rice bowls. Add your favorite roasted veggies and you've got a complete one-dish meal. I mean, your oven is already going to be turned on – why not put it to good use?
Here are some suggestions for delicious flavor pairings:
Roasted broccoli (also rich in glutamate) seasoned with garlic and red pepper flakes

Sweet carrots, roasted with a little bit of sesame oil and a sprinkle of MSG

Seasonal veggies like asparagus (also rich in glutamate) in the spring or butternut squash in the autumn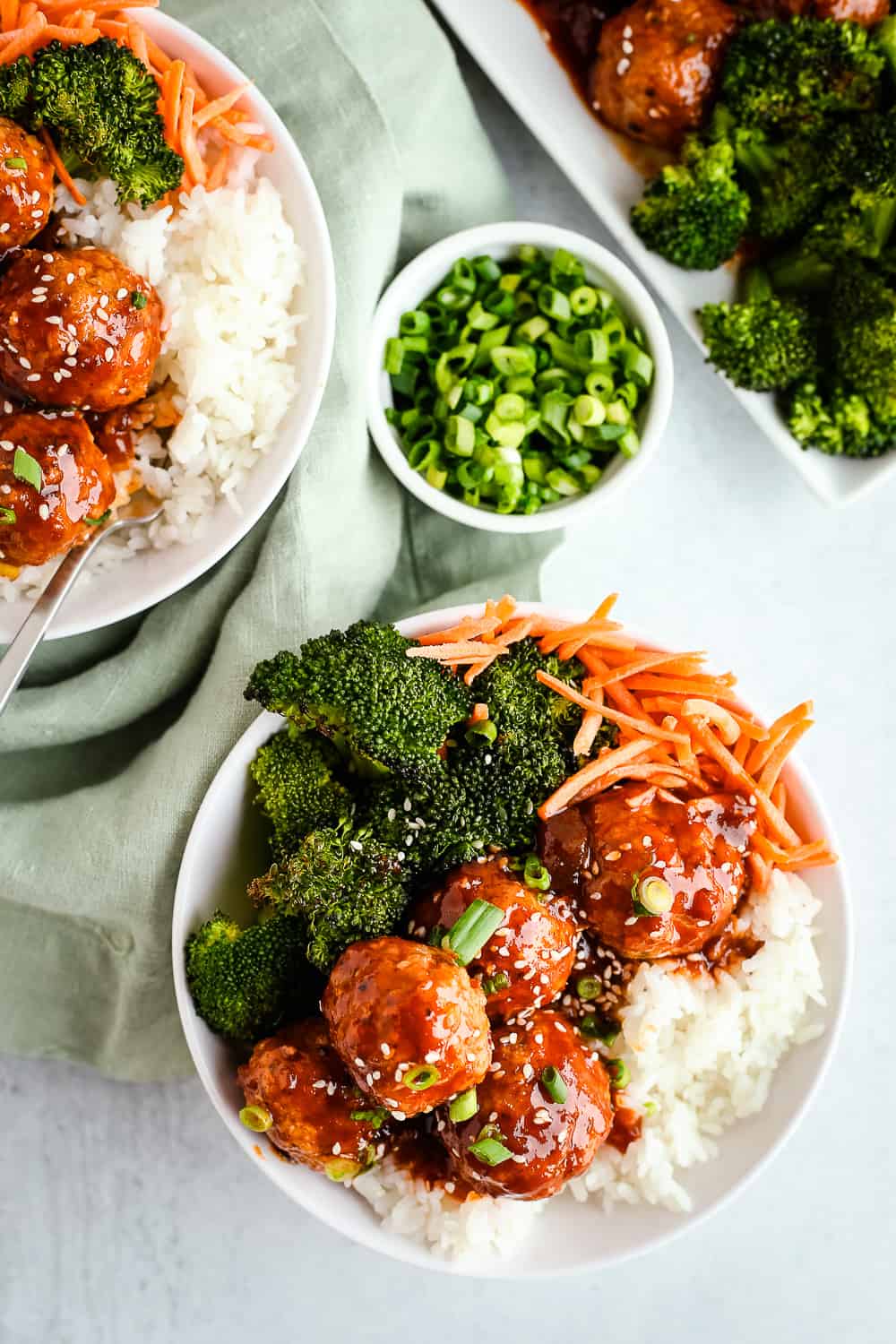 If you prefer, you can also swap the rice for your favorite noodles. Either option works well for reheating, so add this to your list the next time you sit down to do some meal planning for the week! Now let's get into my Sweet and Spicy Turkey Meatball recipe: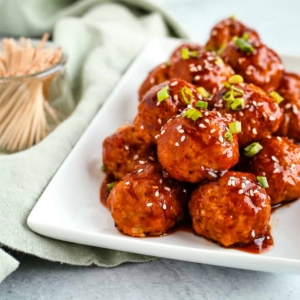 Sweet and Spicy Turkey Meatballs
These glazed turkey meatballs will be the star of the show whether they're an appetizer or entree. Their delicious umami flavor comes from using MSG in both the meatball mix and the sauce!
Ingredients
Turkey Meatballs
1

lb

ground turkey

,

lean (93/7)

3

cloves

garlic

1/4

cup

minced yellow onion

1

tbsp

sesame seeds

3/4

tsp

MSG

1/2

tsp

red pepper flakes

1/4

tsp

kosher salt

1

large

egg

1/2

cup

panko bread crumbs
Sweet and Spicy Sauce
1/4

cup

sriracha

1/4

cup

orange marmalade

1/4

cup

sweet BBQ sauce

1

tbsp

low-sodium soy sauce

1

tbsp

toasted sesame oil

1/2

tsp

MSG

1/2

tsp

red pepper flakes
Instructions
Turkey Meatballs
Preheat the oven to 400 degrees F. Prepare a large sheet pan or baking sheet with aluminum foil. Oil or spray with nonstick spray, then set aside.

Crack the egg into a small bowl or measuring cup. Measure all other ingredients and add to a large mixing bowl.

Using clean hands, combine all ingredients for the meatball mixture. Do not overwork. Shape into approximately 3/4 oz. meatballs (about the size of a ping pong ball) and place 1/2-1" apart on the prepared baking sheet.

Bake for 20 minutes or until edges begin to brown and internal temperature safely reaches 165 degrees F. Remove from oven and allow to cool slightly.
Sweet and Spicy Sauce
Measure all ingredients for the sauce into a measuring cup. Whisk to combine, then set aside until meatballs are finished cooking.

To serve, add the cooked meatballs to a mixing bowl. Pour the prepared sauce over the meatballs, then use a spoon to carefully fold together until all meatballs are coated. Transfer to plates or bowls, if serving as an entree, or hold warm if serving as an appetizer.
Notes
One serving = 5 meatballs. As written, recipe yields 20 meatballs.
Nutrition
Serving:
1
serving
,
Calories:
309
kcal
,
Carbohydrates:
29
g
,
Protein:
30
g
,
Fat:
9
g
,
Saturated Fat:
2
g
,
Trans Fat:
1
g
,
Cholesterol:
109
mg
,
Sodium:
1010
mg
,
Potassium:
487
mg
,
Fiber:
1
g
,
Sugar:
19
g
,
Vitamin A:
321
IU
,
Vitamin C:
14
mg
,
Calcium:
67
mg
,
Iron:
2
mg
Have you ever tried cooking with MSG? I'd love to hear about your experience with it.
And if you're looking for even more flavor inspiration, check out the recipe archive on the Know MSG website. Plus, I've been adding MSG to recipes like these Pork Egg Roll Bowls and my Simple Sesame Edamame Hummus. 
---
References: