Welcome to the Intuitive Eating FAQ Series. This is where I answer some of the most frequently asked questions about Intuitive Eating and a non-diet approach. Read more to learn how to get started with non-diet meal planning for intuitive eating!
---
QUESTION: I need some help – my busy schedule is hectic enough as it is, and I think planning some meals would ease some stress. But whenever I look for tips on getting started, the meal plans are all designed to help with weight loss. I don't want to go back to following food rules, and weight loss isn't my goal, I just want to make it simple in the kitchen! How can I make meal planning work for a non-diet approach?
ANSWER: I hear you loud and clear! One of the most significant revelations in my journey with intuitive eating was finally separating a Meal Plan (TM) with meal planning. Instead of rigid food rules to live and die by, meal planning became a form of self-care that made life less chaotic.
If you want to read more about the benefits of meal planning, check out this post: What You Need to Know About Meal Planning & Intuitive Eating.
Sounds like you're ready to get started with that! Here are some practical tips for non-diet meal planning for intuitive eating that might be helpful!
Tips for Non-Diet Meal Planning
First, try to think about how meals fit into your current lifestyle or routine. This helps you get clarity on not only your goals and expectations for how meal planning can help. It also helps you see how you can make it a sustainable behavior change.
For example, think about your schedule and when you will have the opportunity to go to the grocery store, prep food, and clean up afterwards. Consider your taste preferences and favorite recipes, and be sure to include those so you can have meals you enjoy. And consider reframing your goals around non-diet meal planning as an act of self-care (to reduce stress and chaos in the kitchen at mealtimes) instead of a rigid set of food rules to follow.
Should you make a meal plan in advance?
Traditionally, most meal plans are broken down into week-by-week segments. Which is fine…if you go grocery shopping every week or dedicate time to cooking and prepping food regularly. But in reality, many of us can't and don't follow a predictable routine with that. We either shop more or less often, are constrained by storage space, or prefer to cook more or less often than what a meal plan recommends.
If you're new to non-diet meal planning, try tackling a shorter amount of time. One week can be a good starting point, but you may find you go to the store more or less often and need to adjust accordingly. In my experience, clients sometimes prefer shorter versions of meal planning to allow for variety. It also helps reduce boredom. But there's a tradeoff: this can also be time-intensive. As a solution, you might try creating 3-5 versions of a one-week meal plan and cycle or rotate through them.
Here's a graphic that illustrates what a one-week template might look like: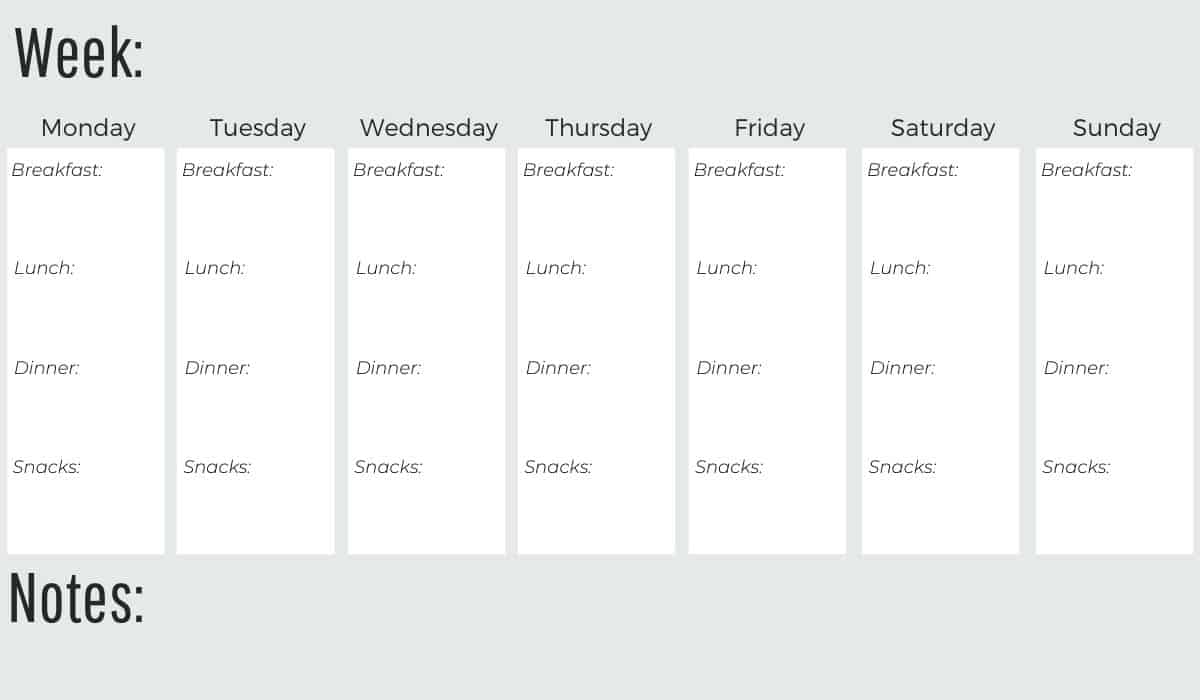 When you're writing out or thinking about your non-diet meal plan, you can honor your food preferences, appetite, and individual needs. You can also account for your unique schedule and work in gentle nutrition.
But as you can see, it can feel a little overwhelming to think, "How the hell am I going to plan for 21 meals PLUS snacks?!" But read on, and you'll see why maybe you don't have to do all that!
How do you plan meals for the week?
I like to use an approach that works backward to account for the meals I know I don't have to plan for.
For example, if I know we are going to order curbside on Friday night, I cross out that block from my meal planning calendar. If I know a recipe will have enough for leftovers, I can also block out lunch the following day. This helps reduce the total number of meals I have to actually cook, thus reducing the overwhelming feeling of thinking about how big of a task it is.
Another strategy is to plan specific meals, versus an entire day. For example, if family meals are the focus, plan breakfasts and dinners, leaving flexible options for lunch. Or if you know that lunch is the greatest challenge, use a short-list of favorite recipes for dinner and focus on preparing lunches when your time and energy are less available.
What are some other ways to plan meals?
Making a "meal plan" is, in its simplest form, just a way of putting some intentional forethought into what you'll eat in the future. Some people like to plan based on what ingredients they already have, or around a special event (birthday, anniversary, etc.) on their calendar. Some people like to plan 100% of their meals and snacks, down to every detail. Others plan parts of their meals and leave room for flexibility (such as, the same base recipe but a different sauce or dressing each time you have leftovers).
There are many ways to go about this, and again, it depends on your kitchen and budget. In my experience, there are pros and cons to all of them and there's nothing wrong with some trial and error to find the approach that works best for you.
For example, you might plan to batch cook larger quantities of certain ingredients. When it comes time to eat, you just reheat and serve. Batch cooking requires more assembly time during reheating/eating, but offers much more variety in how you mix and match ingredients. If you get bored easily, you may favor this strategy versus fully pre-assembled meals that are identical to one another.
That being, if you like predictability and routine (and don't mind eating the same thing each day), that option might make sense. It takes larger time commitment upfront, but once your meals are assembled, there's no thinking required when you're ready to reheat and eat.
Are there any shortcuts for non-diet meal planning?
Of course! Like anything else in the kitchen, I think there are lots of ways to cut corners when you need to.
One of my favorite shortcuts is to rely on some convenience foods for certain meals. For example, I usually keep some frozen meals and cans of soup on hand for the days when my meal planning either didn't line up with my schedule, or I want something other than what is prepared. This shortcut saves time (and usually money) because you can still enjoy a meal at home and avoid wasting food.
I also recommend taking advantage of freezer space if you have it available. Many prepared foods freeze well, and if you can tackle a large batch of cooking at once, you can stock your freezer with meals or ingredients that save you time and effort later.
And again, don't forget about the option to plan for dining out – that's still putting forethought into what you'll eat in the future, with the added convenience of little to no time needed for cooking or clean up. Granted, that might be pricier for your budget, but if that's a tradeoff you're willing to make, you can absolutely rely on that whenever you need or want to.
Finally, there are options like meal kits that tackle the shopping and some of the ingredient prep for you. During especially busy weeks, or when I get back from traveling, I turn to options like Blue Apron or something similar because it just makes everything simple, even if it does require a little planning in advance. You can read more about my experience with meal kits HERE, but just know that they can offer an alternative to planning and prepping every meal yourself if that's something you need or want!
---
So there you have it! Some of my best, tried-and-true tips for non-diet meal planning. If you enjoyed this post, you might also like:
Don't forget to stock up on the right tools for meal prepping! Check out my Cooking Resources page to see some of the products I rely on and recommend.