If you're looking for ways to simplify your meal prep efforts, look no further! This guide features some of my best strategies for working efficiently in the kitchen to cook meals you actually want to eat as leftovers. Keep reading for 10 simple meal prep ideas from Street Smart Nutrition!
Disclosure: This post is sponsored by nutribullet. I was compensated for my time. As always, thank you for supporting the partners who support Street Smart Nutrition.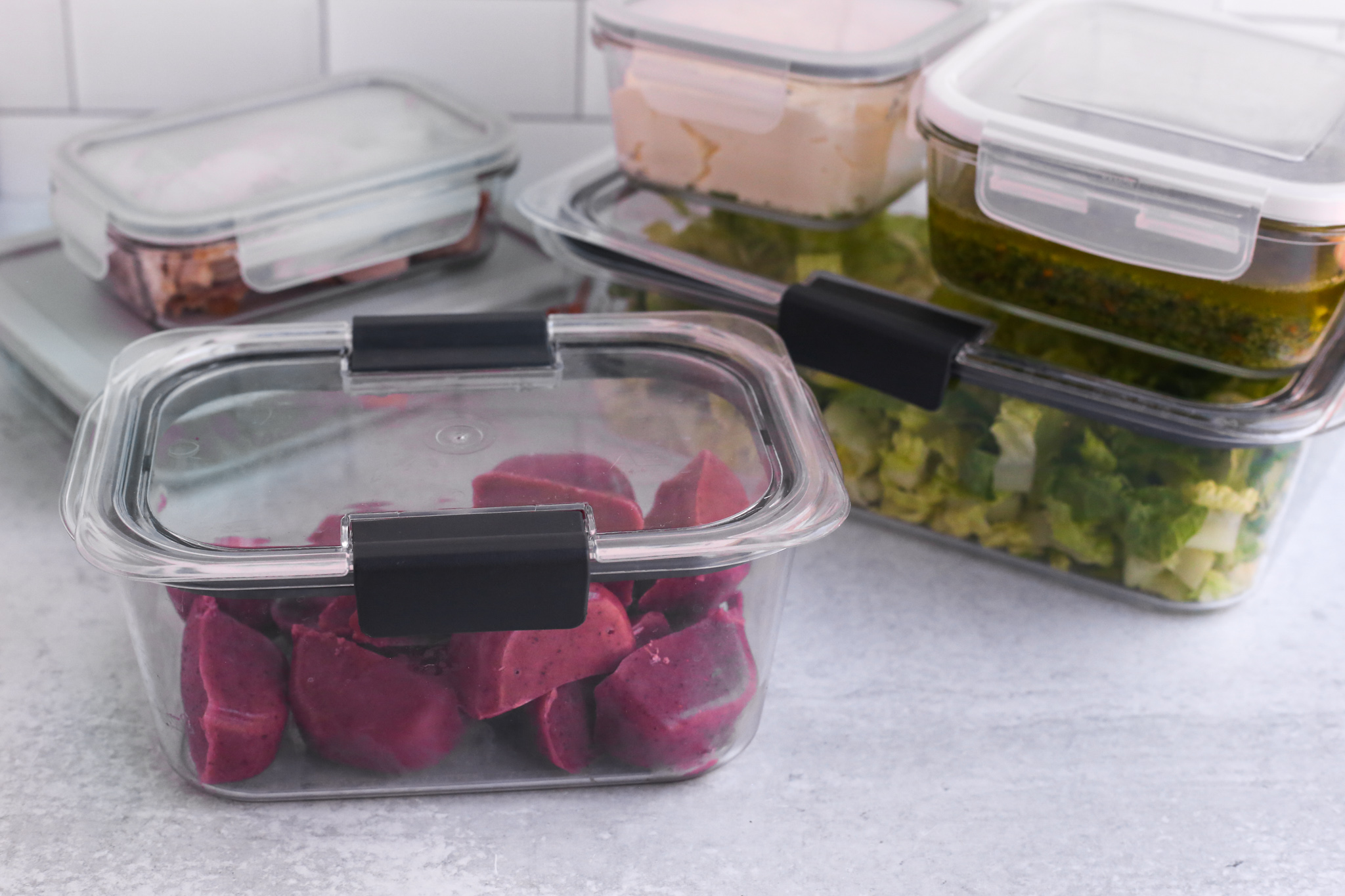 Time to toss any visions of perfectly prepped meal containers out the window! Today we're getting REAL with what it means to plan and prepare meals for busy schedules.
When I first became a dietitian, meal prep was all the rage. It was really common to see stacks upon stacks of perfectly portioned, identical meals lined up on someone's kitchen island. Or a sparkling clean refrigerator with neatly organized ingredients just waiting to be eaten each day.
Well, I don't know about you but my fridge never looks like that. Maybe in an ideal world where I had unlimited time, money, and energy. But my reality looks a little more like this:
And there's nothing wrong with that! I don't always prep complete meals. Sometimes I only prep certain ingredients (or components…more on that later). And sometimes I do the absolute bare minimum to make sure I have a great tasting, nourishing meal in no time flat. I partnered with nutribullet to share more about how you can simplify your meal prep efforts for maximum payoff when life gets busy!
Simple Meal Prep Ideas for Meals In A Hurry
When you have a busy schedule, it can feel easier to pick something up on your way home or order in. And while that can absolutely be an option, you might have reasons for not wanting to do that every time. Here are a few alternatives for prepping quick meals that can hit the spot, fast!
Prep in batches. For this first idea, we're sticking with the mantra of "eat now, eat later". Doubling your recipe or making a few extra servings can save tons of time later in the week. I do this with anything I don't need to precisely measure, like pasta dishes, sheet pan meals, grilling, or smoothies. I get to enjoy a nourishing, refreshing smoothie while I work on other meal prep options, and any extras can go in the freezer in an ice cube tray. Later, I can use them as a smoothie "starter" and just add a little liquid to reblend the smoothie. It's super simple and the flavor ends up more concentrated which I personally find very satisfying!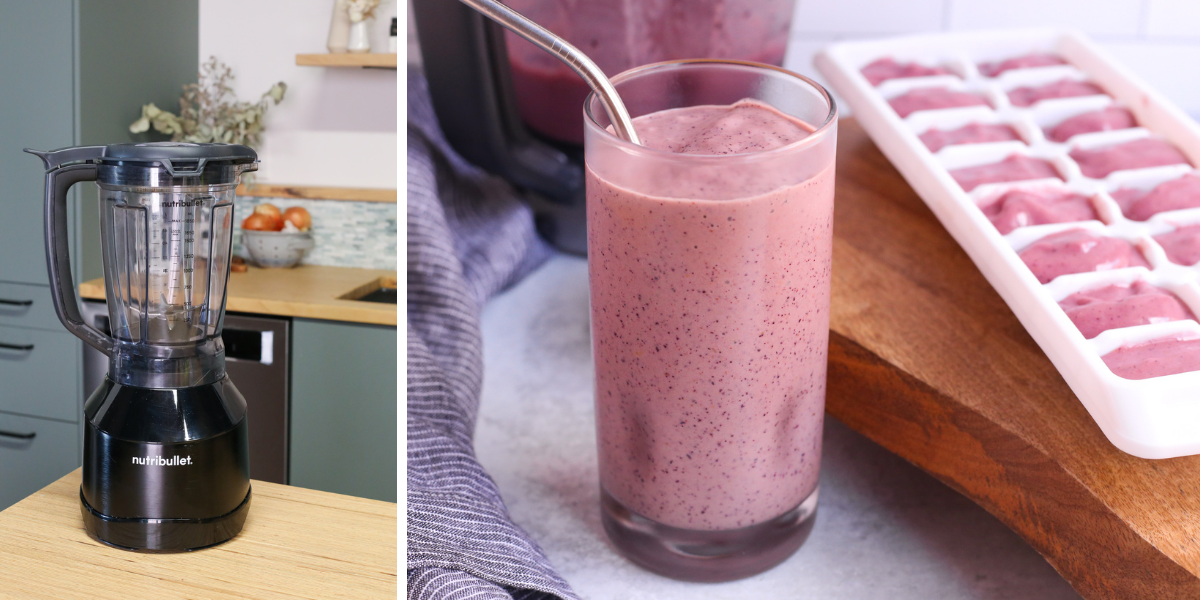 Looking for some smoothie ideas? Check out my Spiced Pomegranate Smoothie or my Blueberry Cardamom Coconut Smoothie. You can also find tons of Smoothie Recipes on the nutribullet website!
Cut corners if you need to. Wellness influencers might have you thinking you have to cook everything from scratch for meal prep to count. And I'm here to tell you that packaged, prepared, and processed foods certainly count just as much, if not more, when time and energy is limited! I cut corners all the time by using pre-chopped veggies, canned or frozen foods, minced garlic from a jar, and anything else that makes cooking easier or more fun. Take some time to make a list of common cooking tasks that you might be able to outsource or simplify. There's no shame in preserving your time and energy for something else. And using the nutribullet lineup of small kitchen appliances can make things like shredding, chopping, and blending so much easier!
Spruce it up. Remember how I mentioned packaged or convenience foods? This strategy can work well if you're only cooking for one or two people, but heat & eat options can save loads of time. If you find they're a little skimpy on portions, flavor, or nutrition, just add whatever you need to make it more balanced or complete. For example, I sometimes start with a can of soup or instant ramen then add some frozen veggies, a handful of fresh spinach, extra beans or edamame, or even an egg or other simple protein. Same with a frozen entree, where I can add extra veggies or greens to get my fill!
Simple Meal Prep Ideas That Don't Need A Recipe
Don't get me wrong. It can be lots of fun to browse through recipes and try something you've never made before. I do it myself whenever I can! But a hectic weekday is usually not the best time to spend extra time just trying to decide what to make. Here are a few quick tips for simple meal prep ideas that don't require a recipe at all!
Think of components, not individual ingredients. When you lock yourself into using specific ingredients, meal prep can be challenging if you don't have the exact item the recipe calls for. Instead, I try to think of "components" or "elements" of a meal. These are much more interchangeable. For example, if I'm making a salad without a recipe, I only need to think of new "components" to make a complete and balanced meal: leafy green base, carb for energy, protein and fat for fullness, and dressing for flavor.
Use a template for basic meals. Simplify your meal planning by consolidating your recipe archive into a few categories. For example, our go-to categories (in no particular order) usually include sandwiches, salads, and stir-fries or rice bowls. This lets us use whatever is already hanging out in our fridge, pantry, and freezer to fill out a "template" for these simplified meals. Other categories you might like better: soups/stews, slow-cooker meals, sheet pan meals, go-to grilling option, breakfast-for-dinner, pizza night, no-cook snack meal, or anything else you or your family loves to look forward to.
Outsource the cooking. One of my favorite ways to "cook" without a recipe is to actually do as little "cooking" as possible. This is where having a stash of heat & eat meals, canned soups, or freezer entrees can be a lifesaver. I actually plan on not cooking on particularly busy nights, so the only decision I need to make is which option I need to shop for or heat up.
For more on this, read about "meal planning" vs. a "meal plan" in my post What You Need To Know About Meal Planning and Intuitive Eating.
Simple Meal Prep Ideas for Food That Tastes Better
If you're like me, you grew up eating leftovers. Which meant some nights were great, even something we looked forward to. Other nights, it was more like, "Well, this is what we're having…" with little excitement or satisfaction to be found. Now that I'm an adult, I have an even greater appreciation for leftovers. But I've also learned how to make them taste as good as possible!
Here are a few quick tips so you end up with food that tastes good enough to enjoy more than once:
Say "so long" to sogginess. Let cooked foods come down to room temperature (or close to it) before sealing and storing in the fridge. However, be mindful of the time. Don't leave leftovers sitting for more than two hours, as this allows potentially harmful bacteria to grow and creates a food safety concern.
Undercook the veggies. This is particularly helpful for vegetables because they can get overly soft if they're cooked too long. That problem can get even worse when you reheat them. I use this strategy when I cook vegetables like squash, mushrooms, bell peppers, and onions to preserve some of the firm or crispy texture I prefer. There's no hard and fast rule for when to pull them off the heat, but if you want to avoid overcooked veggies in your leftovers, adjust your cooking time accordingly when you're making your simple meal prep recipes.
Make an extra sauce or dressing. Something that instantly rejuvenates leftovers into something you want to eat: more flavor! Adding a simple sauce or dressing can be one of the simplest ways to add more flavor to your simple meal prep efforts. This week I used my nutribullet Food Processor to make a pesto-style sauce. I can use this on pasta, grains, or rice. As well as for sandwiches, salads, proteins, and anything else that could use a boost of flavor.
For a similar recipe, check out my Easy 5-Ingredient Pesto Sauce!
Finally, I'll share a tenth and final Bonus Tip: properly reheat your meals! I usually rely on the microwave, but also sometimes use the oven or stovetop depending on the dish.
This might sound like a no-brainer, but I've talked to numerous clients (and even a family member or two) who didn't realize what a difference this can make. First, it helps reduce the risk of food borne illness. It's similar to cooking proteins to the minimum safe internal temperature. Second, flavor is perceived by taste buds and receptors in your nose. Reheating food can help carry these aromas into your nasal cavity, helping your brain register that there's a tasty bite on the way! If you need even more help in the flavor department, keep your favorite spices and seasonings on hand. Add them to leftovers before or after reheating them if you notice the flavors and aromas seemed dulled after storing them in the fridge or freezer.
---
I hope these simple meal prep ideas will inspire you to think of even more creative ways to make meal prep work for you. Remember, there's no "right" or "wrong" way to take care of yourself with fearlessly nourishing meals!
It also helps to have the right tools, so if you're looking for some help from small kitchen appliances, keep nutribullet in mind! They have a whole range of kitchen tools that make simple meal prep even easier. I regularly use my full-size blender, food processor, and the original nutribullet blender for a variety of meals and snacks throughout the week. Plus, they recently released some beautiful new matte colors, available online only!
Meal planning got you stressed? Read this post about "Gentle Nutrition: Nourishing Yourself Through Stress and Anxiety". You might also like these non-diet meal planning tips.
And if you're looking for more simple meal prep ideas for busy schedules, check out a few of my no-cook snack ideas!