I've said it before and I'll say it again: any pesto recipe should basically be as simple as:
Throw it all in a food processor and blend.
Eat with a spoon.
That's it. That's all you need to know to make an easy pesto sauce! If you want to get fancy, sure, throw it in a recipe. But I honestly can't get enough of fresh pesto sauce this time of the year. That's why this post is going to keep it short and sweet because I'm a busy lady and have a lot of pesto to get through. I'm stockpiling it away for the winter when fresh basil is impossible to find. I really do make an effort to eat by the seasons when I can so freezing pesto sauce is one easy way to preserve some of the flavors from summer and early fall for the cold winter months.
[Tweet "If you have five minutes and five ingredients, this easy pesto sauce can be yours!"]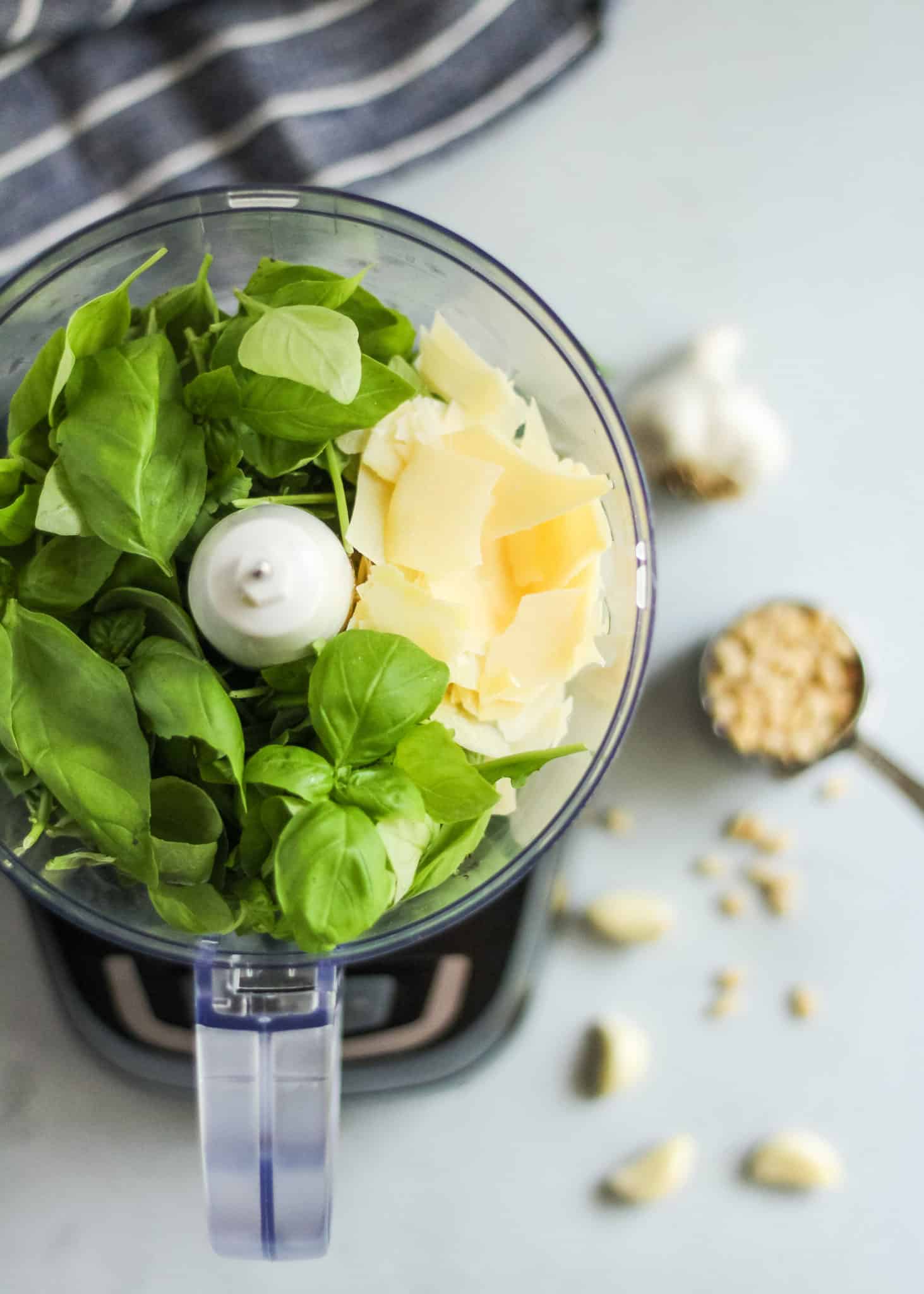 Pesto sauce is about as versatile as they come. Aside from obvious clashes, I've yet to find anything it doesn't go well with. Here are a few of my favorite uses:
Drizzled over eggs (breakfast pesto party!)
Spread on toast or sourdough (or corstinis if you want an appetizer pesto party!)
As a dressing for salads, both leafy and grain-based
Spread for sandwiches and wraps
Dipping sauce for fresh veggies, the crunchier the better!
…And I could go on and on.
I went the traditional route for this easy pesto sauce with pine nuts and this one uses just five ingredients. There are a lot of variations on pesto sauce, a lot of which I've tried. Sometimes I don't have a lot of fresh basil so I sub spinach or arugula or kale (any type of greens can work). There's also the cost factor: pine nuts can be hella expensive. I rarely use pine nuts even though that's what a traditional pesto sauce calls for. You're more likely to find me using pecans or walnuts to create a less expensive version. And I sometimes like mine with crushed red pepper instead of black pepper.
Are you a fan of garlic? Try this Five-Minute Garlic Scape Pesto next time.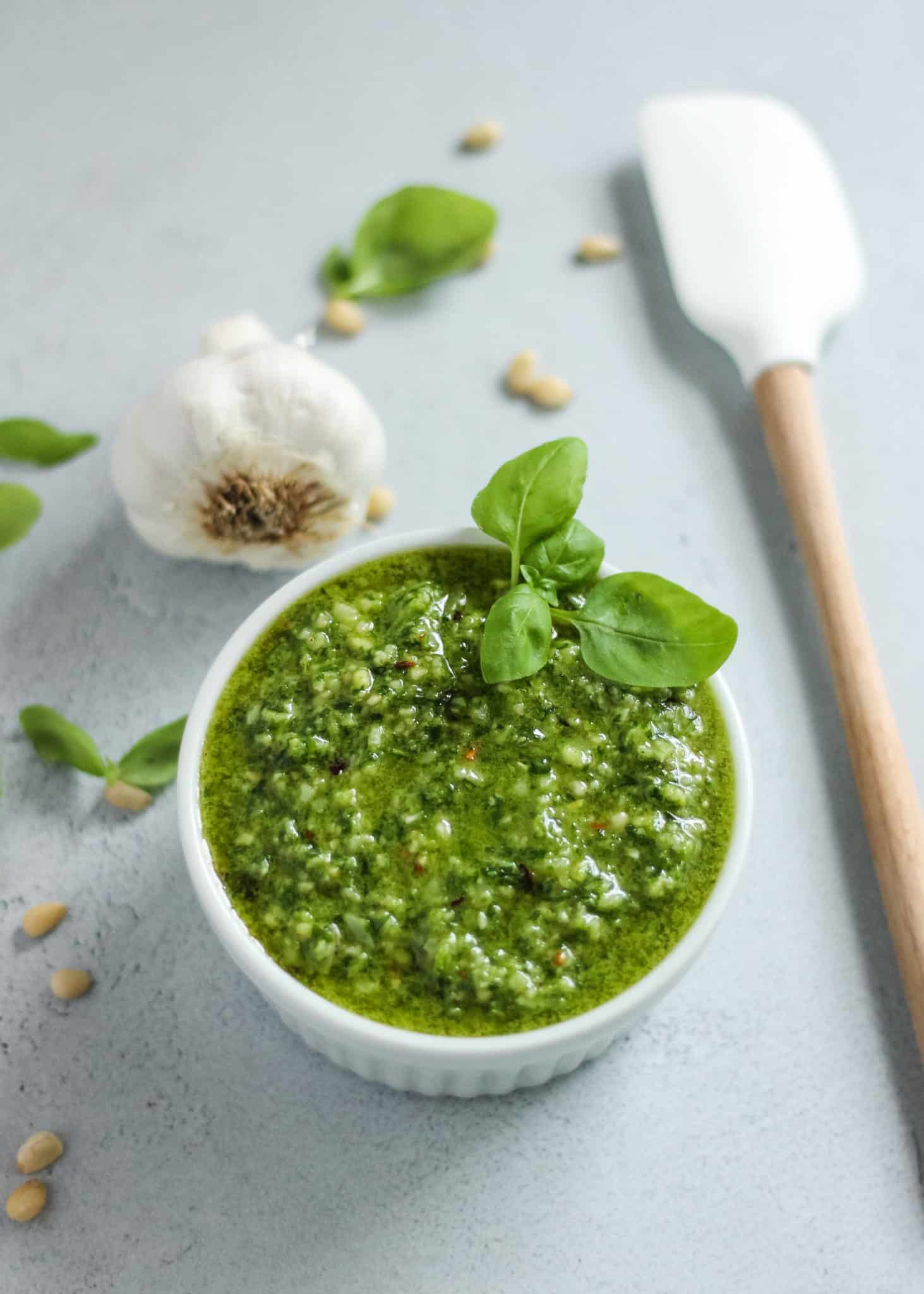 As always, there are a lot of different ways to make these recipes you're own, so start with this Easy Pesto Sauce as the base and adjust according to your tastes.
Now you know all you need to know for how to make an easy pesto sauce! Here's the recipe!
Easy Pesto Sauce
This basic pesto sauce could not be any easier! Adjust ratios to make more or less - as written, this recipe will make about one cup of sauce.
Ingredients
1

cup

fresh basil leaves

1/2

cup

olive oil

1/2

cup

shredded parmesan cheese

1/4

cup

pine nuts

2-4

cloves

garlic

,

peeled

Coarse sea salt and pepper to taste
Instructions
Combine all ingredients in the bowl of a food processor. Pulse to combine, then continue processing until a chunky texture forms. Pause to scrape the sides as needed until all ingredients are well combined.

Adjust seasoning with salt and pepper if needed. Transfer to a food storage container until needed, or add to your recipe.
Notes
If making a larger batch, pesto sauce can be frozen in an airtight, sealed container for up to six months. 
Nutrition
Serving:
1
serving
,
Calories:
348
kcal
,
Carbohydrates:
2
g
,
Protein:
6
g
,
Fat:
36
g
,
Saturated Fat:
6
g
,
Cholesterol:
9
mg
,
Sodium:
201
mg
,
Potassium:
80
mg
,
Fiber:
1
g
,
Sugar:
1
g
,
Vitamin A:
414
IU
,
Vitamin C:
2
mg
,
Calcium:
161
mg
,
Iron:
1
mg
---
So it really is that easy! I mean, this probably could have been a one-step recipe. Either way, get out there and throw a little pesto party while you still can! This fresh basil isn't going to be around much longer!
What's your favorite way to include pesto sauce in your meals or snacks?
[Tweet "Pesto sauce stores well in the freezer – make some batches now to enjoy all winter!"]