This Pecan Pesto is my new favorite way to make sure fresh basil doesn't go to waste! This versatile recipe for homemade pesto without pine nuts uses pecans for a slightly sweet flavor and less of a dent in your grocery budget. Keep reading to get the full scoop!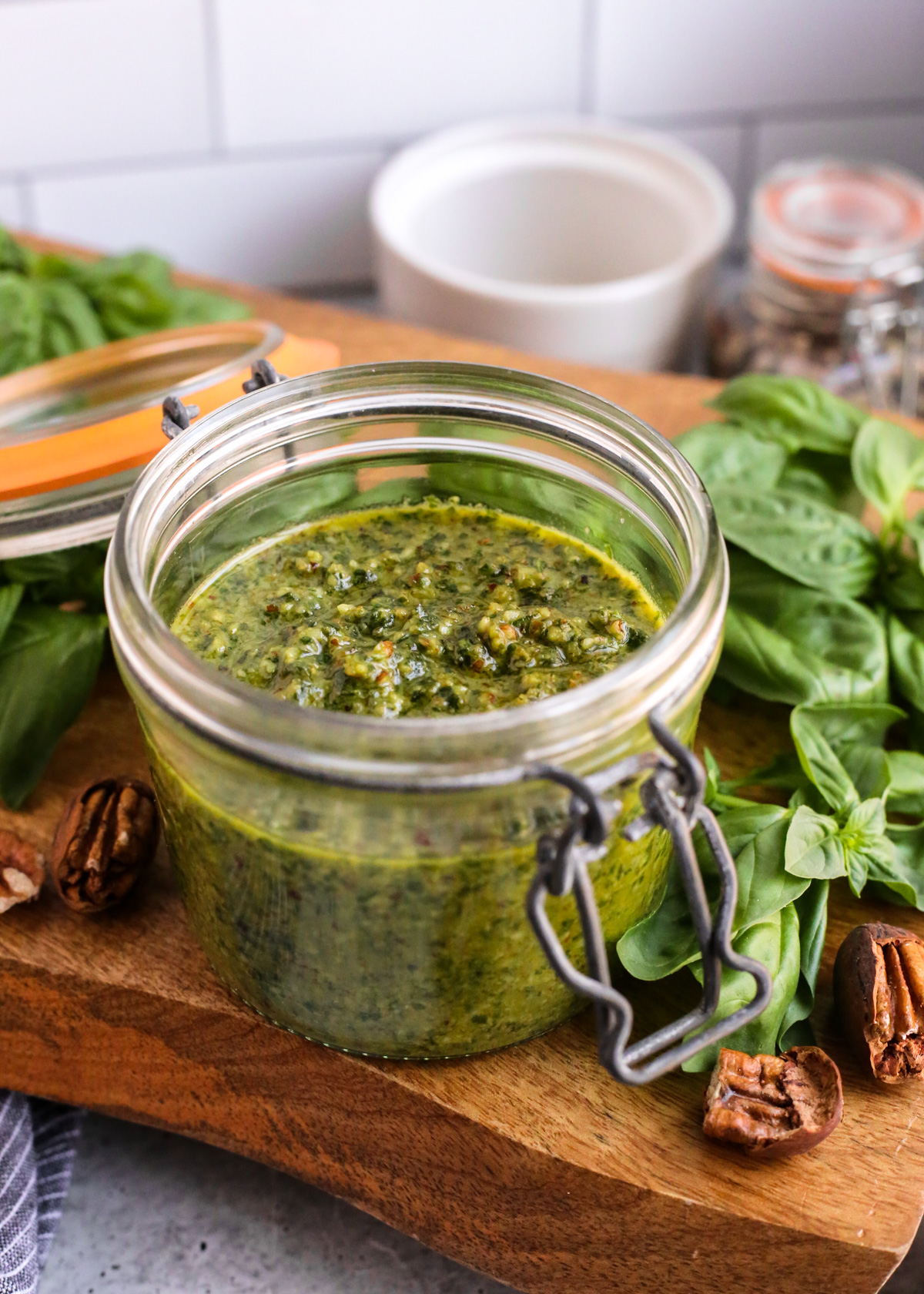 My basil plants are absolutely thriving in containers on the back patio. I featured basil pretty prominently in my Beans & Greens Pasta Salad recipe and I just can't get enough of it. The color and aroma instantly make me think of summer and I want to make the most of it while I can!
The season won't last forever and neither will easy access to fresh basil. So let's throw it into this Homemade Basil Pecan Pesto recipe! I already know the future version of myself will be thanking me when we'll be able to reach into the freezer for a taste of summer. Stock your freezer so you can do the same.
But first…
Why Make Pesto without Pine Nuts?
I'll put a big emphasis on the fact that you can always make pesto with pine nuts. It's the most traditional, authentically Italian way to make it, and there's no disputing that. Pine nuts are delicious, with a flavor and texture I love munching on straight out of the bag. They're borderline addicting.
But I have to admit, the price is usually the #1 consideration when I make a pesto without traditional pine nuts. Recently, I saw a small 4 oz. bag on sale for $7.99. Yes, that was the sale price!
Pine nuts (ICYMI) are the edible seeds from pine trees. Harvesting pine nuts is a labor intensive process and supply is limited. So simple economics of supply and demand drive the price higher than other nuts. The pecans I used for this recipe, for example, only cost $8.99 for a full pound. Cost can vary considerably between a grocery store and farmers markets, but generally speaking, pecans can be a much more budget-friendly option compared to pine nuts.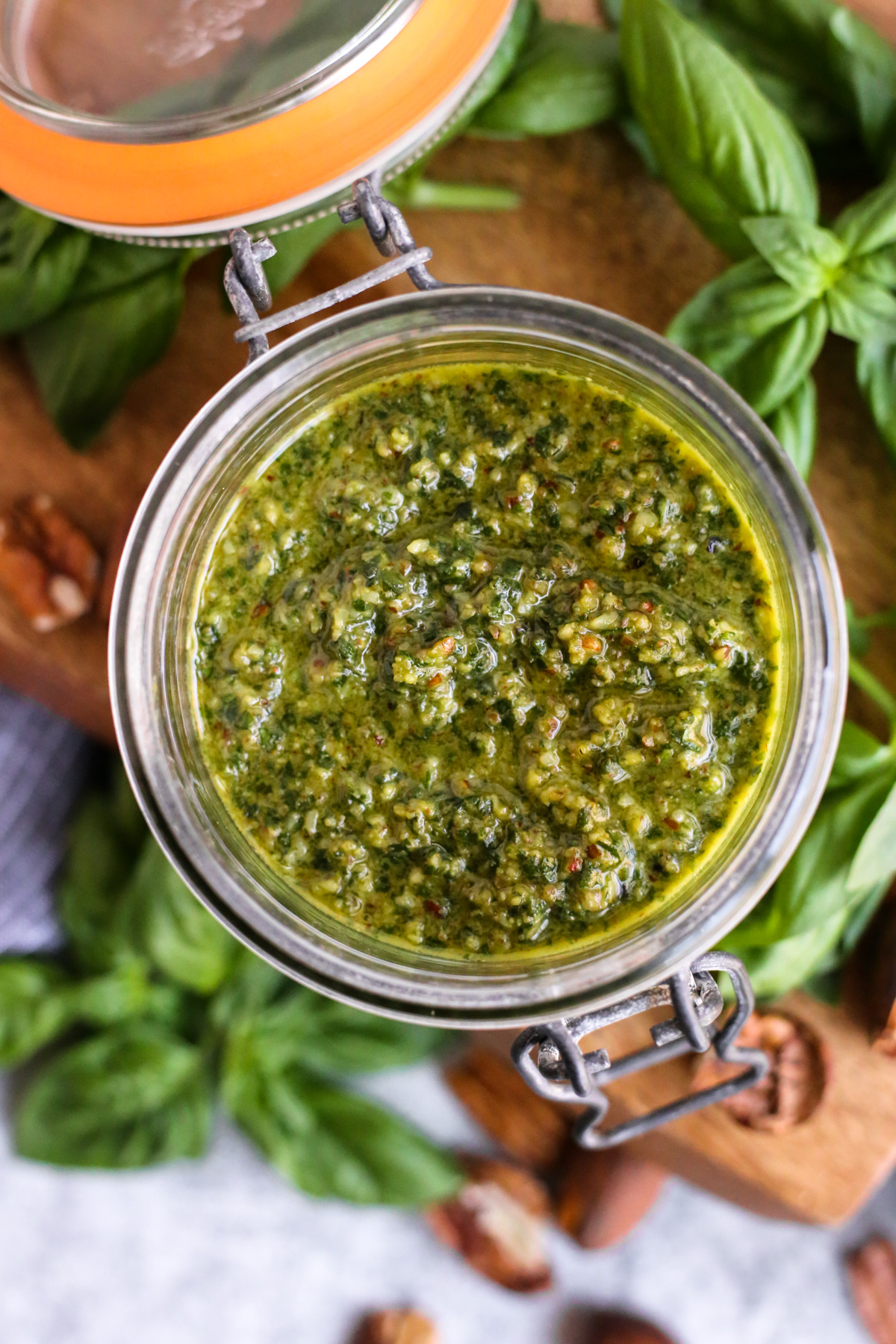 Another reason I prefer making my own pesto at home is because, try as I might, I can't find a jarred or remade version that tastes quite right. They might nail the look or texture but the taste is just never as fresh, and a few have been downright unpleasant. Making a homemade pesto with pecans feels like a great way to still enjoy the fresh flavor of basil and reserve pine nuts for another use where they aren't pulverized beyond recognition.
Ingredients You'll Need for Homemade Pesto
Fresh basil. A must! I grabbed a large handful (very precise measurement, I know) which worked out to about three cups, lightly packed. If basil is a little pricey or not in season, you can also use half basil, half spinach since spinach will be similar enough in color, texture, and flavor.
Pecans
Olive oil. While most pesto recipes will specify extra virgin olive oil, I recommend using a high-quality, fresh olive oil that's within your budget. Look for one that's stored in an opaque container to protect against light exposure, and do your best to store it away from heat. Good quality olive oil should smell and taste fresh, herbaceous, and grassy.
Parmesan cheese
Garlic. Fresh garlic is probably ideal since the pre-minced stuff is usually slightly pickled or packed in oil, and might change the flavor. But use whatever you have as long as you include garlic of some kind!
Salt, black pepper, and MSG
No, MSG (monosodium glutamate) is not part of traditional pesto recipes. But I think the extra umami flavor is a nice balance. Instead of simply adding more salt (which may not be an option if you're sticking to a lower sodium diet), MSG can add an extra savory element to this pecan pesto. If you don't have MSG or prefer to skip it, just start with 1/4 teaspoon of kosher salt and adjust based on your taste preferences.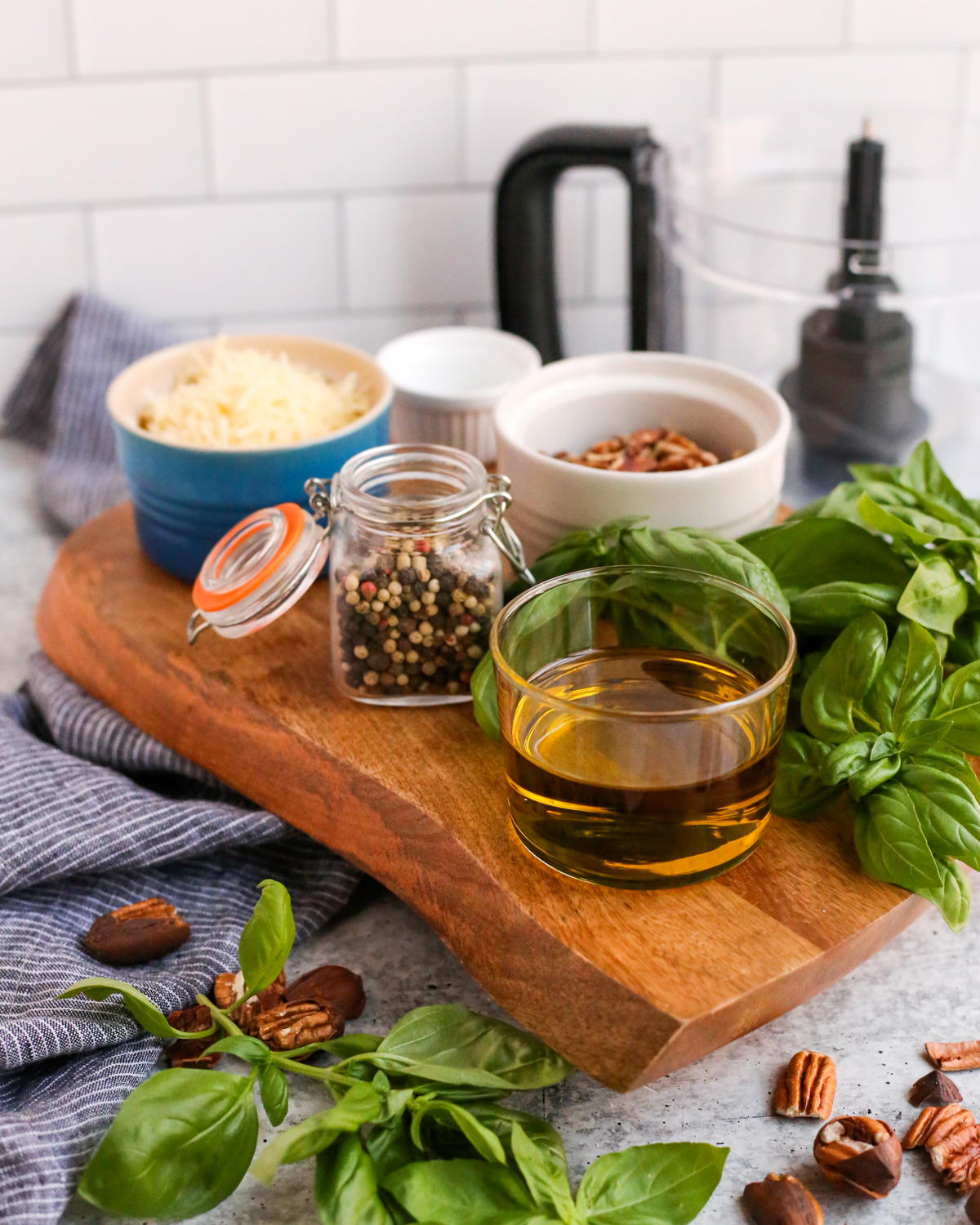 How to Make Pecan Pesto
I know making a sauce from scratch doesn't always feel like a priority. But I promise this homemade pesto recipe will be worth the effort! Here's the step-by-step guide to make it happen in less than ten minutes.
First, wash and dry the fresh basil leaves. Pick through to remove any thick stems (the woody ones). It's totally fine to leave the smaller, more tender stems as they still carry some flavor and bulk. You won't even know they're in there by the time it's blended. Just make sure you pat it down with a paper towel or clean dish cloth to remove excess moisture.
Next, add the shelled pecan pieces, garlic cloves, and parmesan cheese to the bowl of a food processor. Pulse the blades a couple of times so the mixture appears crumbly and uniform in size, like what you see below:
Next, add the basil, salt, MSG, and black pepper. Pulse again to chop the basil before setting the food processor to blend on a low setting.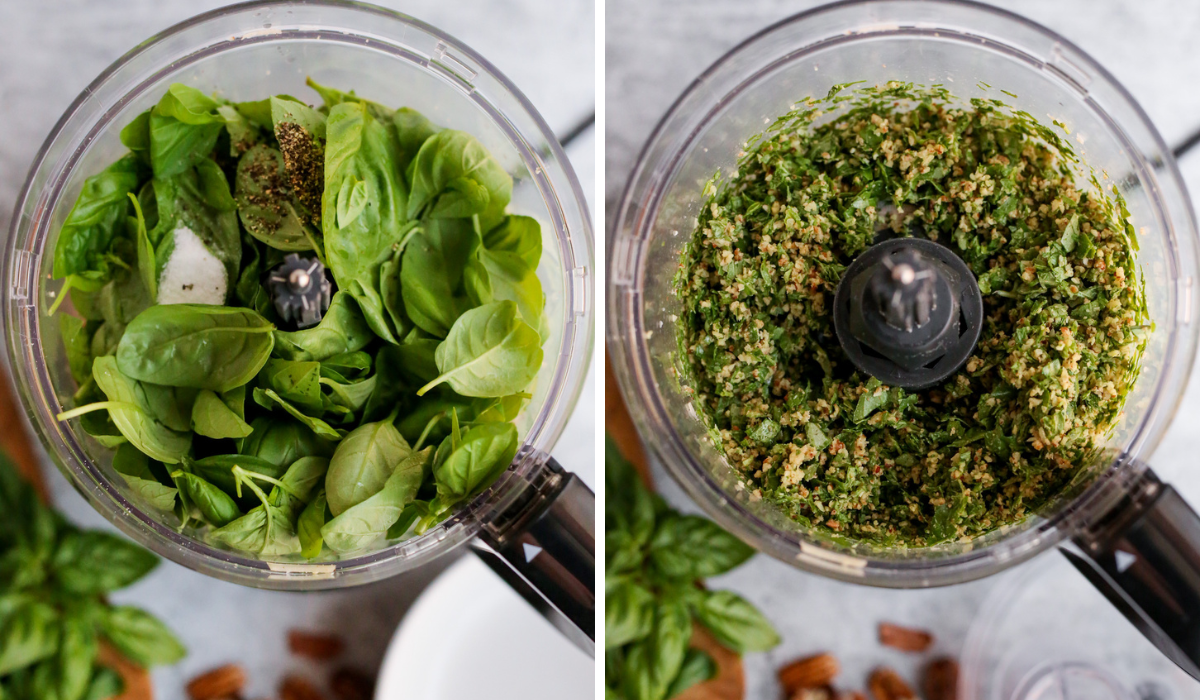 ​Slowly (and carefully!) pour the olive oil down the spout in the lid. Pause as needed to scrape down the sides of the bowl with a soft rubber spatula, then blend until it's fully mixed with a slightly chunky consistency.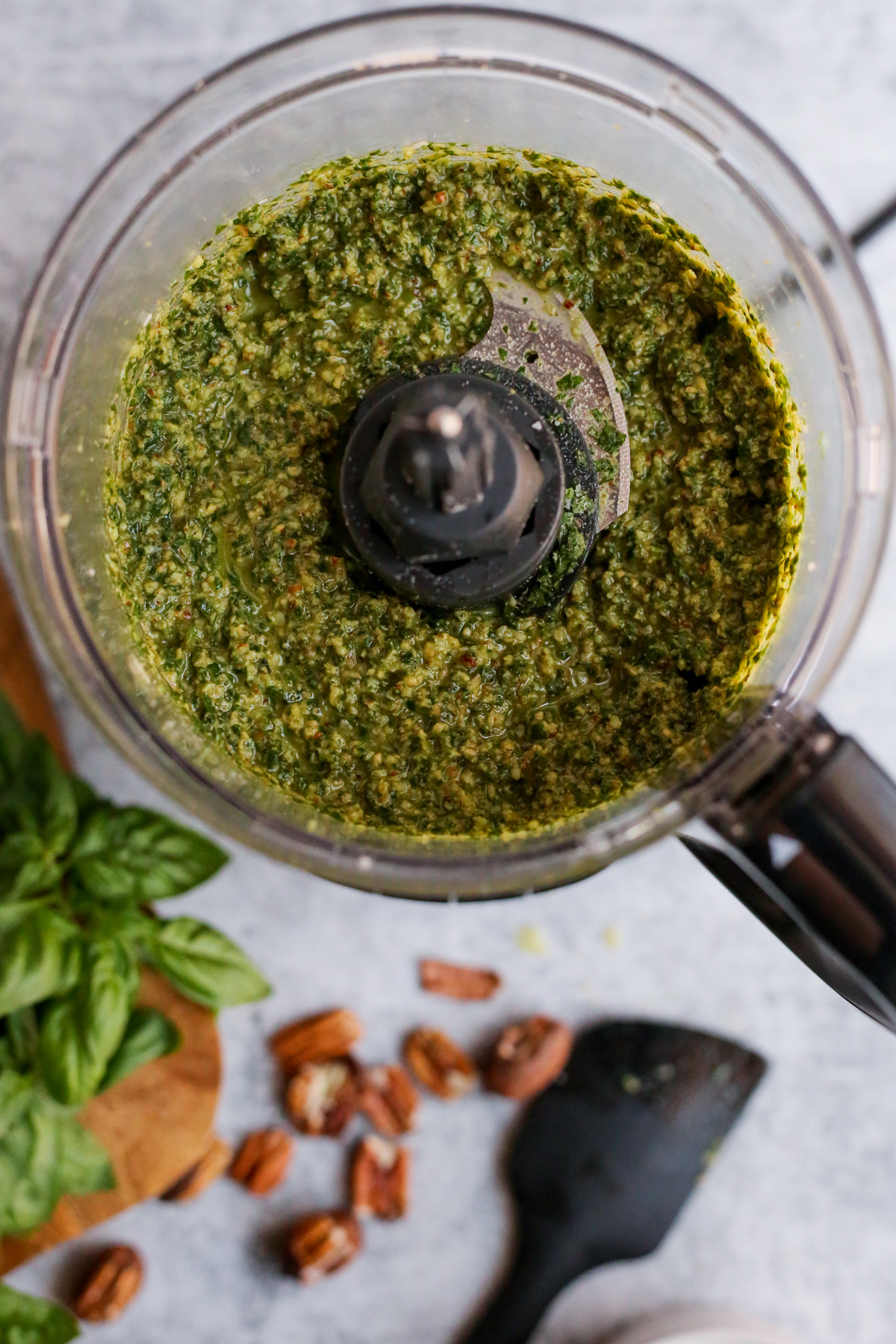 That's it! You can transfer it to a small bowl or storage container depending on what you plan to use it for. Keep scrolling for some delicious recipe inspiration and my best tips for storing for max flavor!
Serving Suggestions
This is where things really get fun. Besides the obvious serving suggestion of eating it straight off a spoon, try some of these ideas:
Serve with your favorite cooked pasta (hot), pasta salad (chilled) or grain. Pecan pesto also works great with other carbs or starches like potatoes.
Spread it over thick cut toast for something like my Caprese Avocado Toast with Pesto and Balsamic Glaze
Pecan Pesto is the perfect accompaniment for roasted vegetables or grilled proteins. It could even work as a last minute marinade for quick-cooking proteins like shrimp or seafood.
Use this pecan pesto as a salad dressing, spooning a scoop of it over leafy greens and any other toppings you like. Add a little more olive oil if needed to help it mix into the salad. Or drizzle over caprese salads with extra fresh basil replacing the lettuce.
Make a savory breakfast by adding it to eggs or this Savory Pesto Oatmeal Bowl.
Storage Tips
If you plan to use up this Pecan Pesto within a week, great! Just seal it in an airtight container and stash it in the fridge.
If you're worried about browning due to oxidation, drizzle a couple of tablespoons of olive oil into a thin layer right on top. This covers the exposed portion and prevents some of the browning. The olive oil is liquid at room temperature but will harden once chilled. To serve, just bring it out as you're prepping everything else. It will soften to the point you'll be able to easily stir it back in.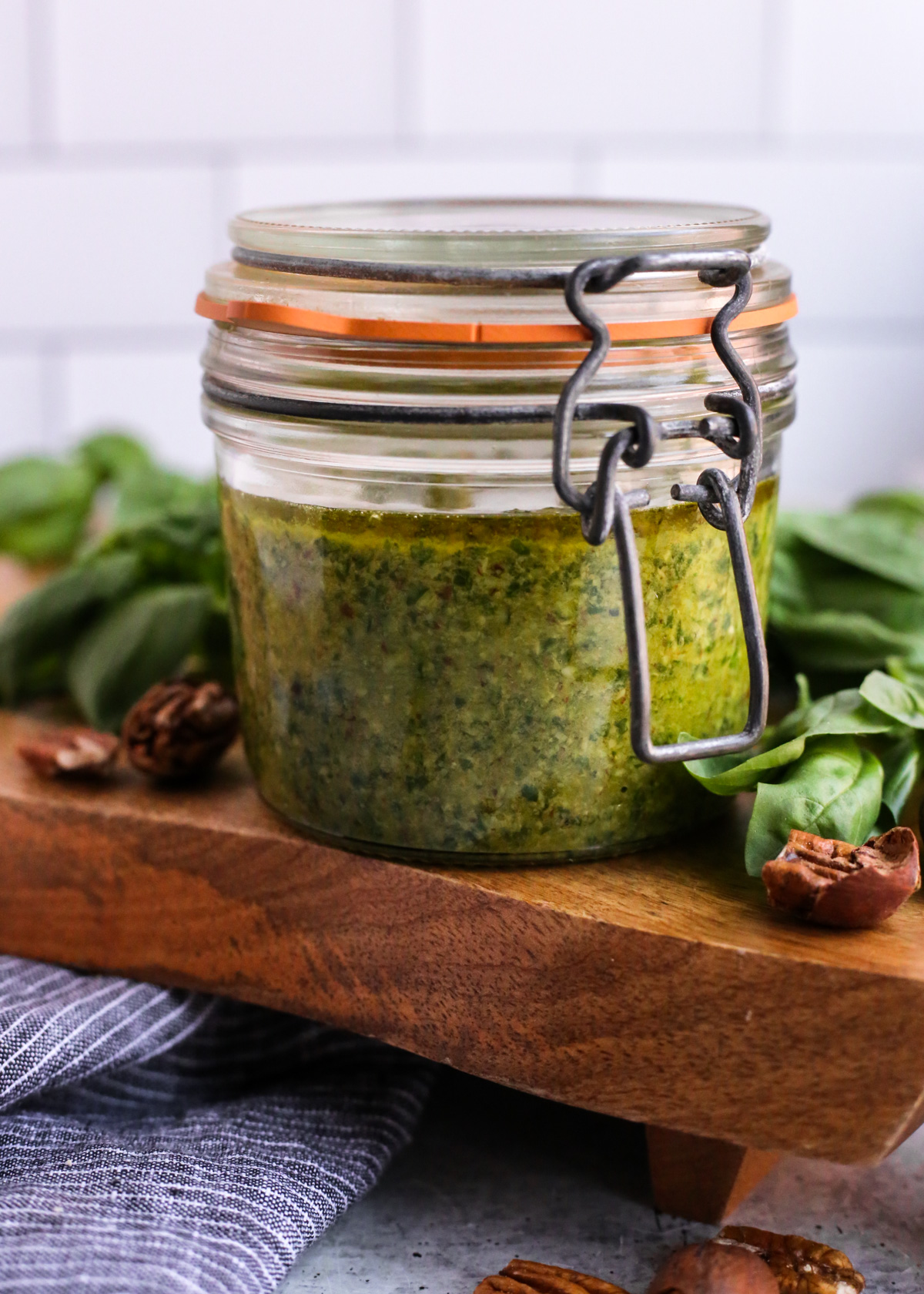 If you're making a batch to freeze for later there are a couple of ways to do it:
​Grab some ice cube trays and carefully spoon the Pecan Pesto into each section and freeze overnight. Once frozen, remove them from the trays and seal in a freezer bag so you can pluck out as much or as little as you need. Use within 3-6 months for best results.
If you plan on using bigger portions, simply store in a freezer-friendly container with a tight fitting lid. This method will stretch the storage life from six months to one year. It's my preferred method to getting this homemade pesto to last me well into the winter months and early spring.
If you're ready to get started, here's the full recipe for my Homemade Basil Pecan Pesto without pine nuts!
Homemade Basil Pecan Pesto
Make the most of summer by making all the fresh homemade pesto you can! This Pecan Pesto without pine nuts is versatile, simple, and so flavorful. Prep a double or triple batch to freeze and enjoy once the dog days of summer are behind us.
Servings:
servings (2 tbsp)
Equipment
Food Processor

measuring cups and spoons

soft spatula or long-handled scraper
Ingredients
3

cups

basil

,

lightly packed

1/2

cup

pecans

,

shelled

1/2

cup

olive oil

3

tbsp

parmesan cheese

,

grated or shredded

2-3

cloves

garlic

1/4

tsp

kosher salt

1/4

tsp

MSG (monosodium glutamate)

1/8

tsp

black pepper
Optional, for Storing
2

tbsp

olive oil

,

approximately
Instructions
Wash and dry the fresh basil leaves, removing any thick stems.

Set up the food processor and add the pecans, garlic cloves, and parmesan cheese to the bowl. Pulse until the mixture appears crumbly and uniform in size.

Add the basil, salt, MSG, and black pepper. Pulse again to incorporate the basil. Then run the food processor on low, slowly adding the olive oil through the spout. Pause as needed to scrape the sides of the bowl with a soft spatula.

Serve with your recipe or transfer to an airtight container to store until needed in the refrigerator. To minimize browning due to oxidation, drizzle a small amount of olive oil in a thin layer, covering the exposed portion of the pecan pesto. Use within one week or freeze up to six months.
Notes
As written, this recipe yields about one cup of pecan pesto. Serving sizes are estimated at two tablespoons per serving, but adjust accordingly for your planned uses in recipes. 
Nutrition
Serving:
1
serving
,
Calories:
204
kcal
,
Carbohydrates:
1
g
,
Protein:
2
g
,
Fat:
22
g
,
Saturated Fat:
3
g
,
Polyunsaturated Fat:
3
g
,
Monounsaturated Fat:
15
g
,
Cholesterol:
1
mg
,
Sodium:
104
mg
,
Potassium:
57
mg
,
Fiber:
1
g
,
Sugar:
0.3
g
,
Vitamin A:
493
IU
,
Vitamin C:
2
mg
,
Calcium:
44
mg
,
Iron:
1
mg
I'm convinced fresh basil for pesto recipes is one of the best things about summer in the Midwest. I hope our little container plants keep being as productive as they have been!
If you enjoyed this Homemade Basil Pecan Pesto recipe, leave me a comment or rating to let me know what you think! And don't be shy about sharing the great flavor with family or friends this season.
As always, thanks for stopping by Street Smart Nutrition. You can find more and follow along on Instagram and YouTube, and don't forget to sign up for my newsletter so you never miss a new post. Cheers to more fearlessly nourishing meals!