If you're a fan of bold flavors, you'll love the savory-sweet combo in this recipe for Chicken Flatbreads with Caramelized Onions and Blueberry-Balsamic Sauce. It's a no-brainer recipe to enjoy a boost of blue this summer!
---
Disclosure: This post is sponsored by the U.S. Highbush Blueberry Council. I was compensated for my time. As always, thank you for supporting the partners who support Street Smart Nutrition!
Summer is here and I can't wait to make blueberries the star of the show in my kitchen! And while you might think of summertime as the season for perfectly ripe blueberries, blueberries are in season all year round. They're native to North America, where we can grow them from April through September. The rest of the year, I use options from South America (where their summer is our winter) or frozen.
I'm excited to partner with the U.S. Highbush Blueberry Council as a member of their 2022 Blue Crew. And I'm equally as excited to highlight blueberries in my newest recipe. Let's get into it!
Chicken Flatbreads with Caramelized Onions and Blueberry-Balsamic Sauce
As a registered dietitian who loves to cook, I'm always trying new flavor combinations in the kitchen. And this summer is no different! I think flatbreads are a versatile and easy dish for baking or grilling, offering a blank canvas to pile on your favorite toppings. 
Here are a few reasons to love these Chicken Flatbreads with Caramelized Onions and Blueberry-Balsamic Sauce:
They're easy to customize, allowing the whole family to create their own version with simple toppings

Double up on the Blueberry-Balsamic Sauce or caramelized onions, and you can enjoy the same flavors in other dishes

This recipe is a savory way to enjoy the health benefits of blueberries, fresh or frozen (more on that below!)
Fast Facts About Blueberry Nutrition
You may not be thinking about the small details of blueberry nutrition each time you grab a handful. If you're like me, you might be thinking more about the delicious burst of sweetness each time you bite into a perfectly ripe blueberry! But June is Brain Health Month so I'm going to shine a spotlight on the nutrition benefits of blueberries with these fast facts:
One cup of fresh or frozen blueberries is considered one serving of fruit

That same one cup serving is a good source of fiber, providing about 4 grams

Blueberries contribute essential nutrients including vitamin C, vitamin K, manganese, and phytonutrients called polyphenols

They get their signature blue color from compounds called anthocyanins (163 mg/100g)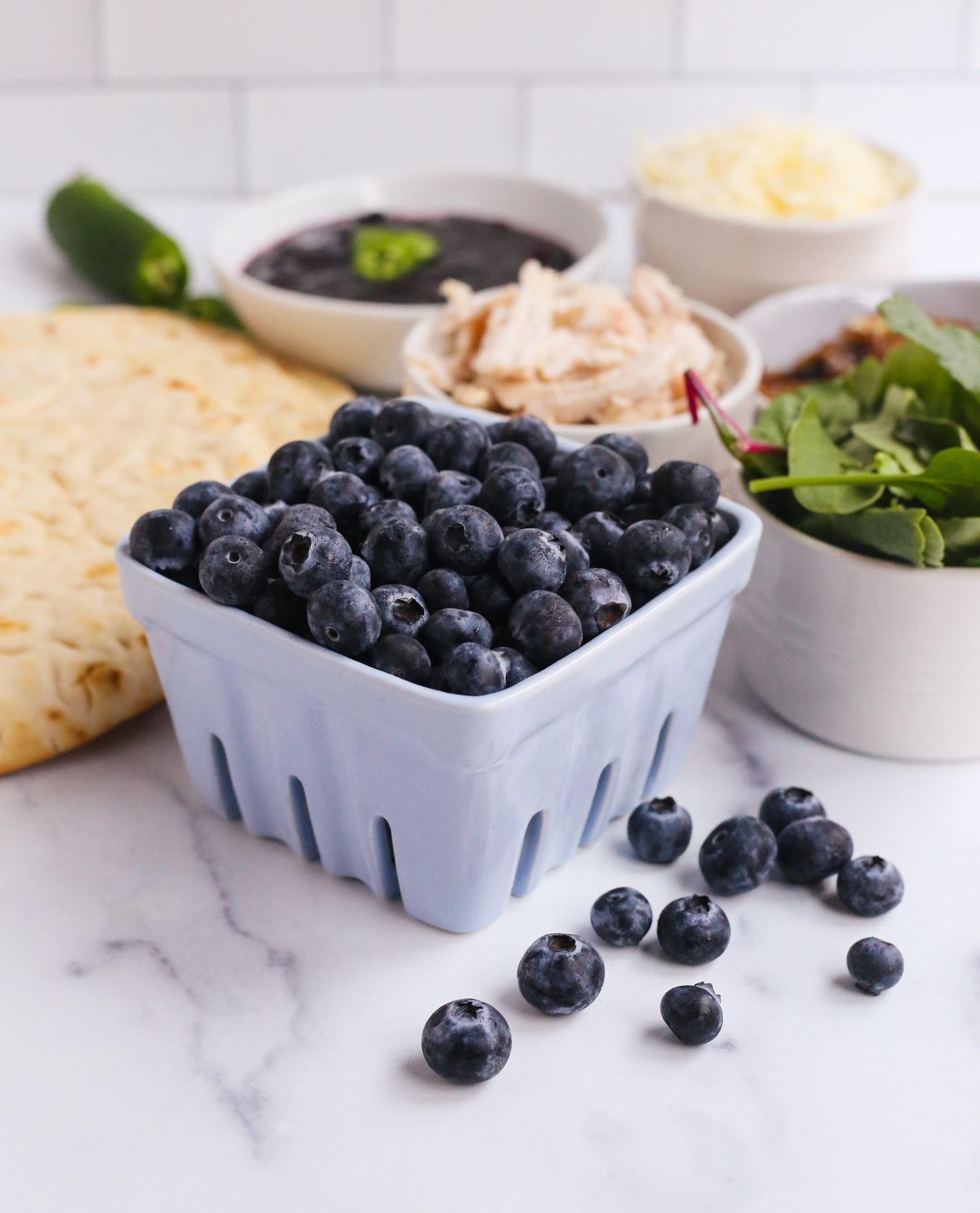 The anthocyanins that give blueberries their blue color can also help support brain health. There's a growing body of scientific evidence that's looking at how blueberries can be a part of eating patterns to support brain health as part of an overall healthy lifestyle. In fact, one new research study published in April in Nutrients found that blueberries have cognitive benefits. The researchers found that the equivalent of a half cup of fresh blueberries per day, consumed as freeze-dried blueberry powder, may contribute to protection against cognitive decline when implemented early in at-risk individuals. For more information on how blueberries can help to support brain health, be sure to check out this comprehensive Brain Health Month toolkit, courtesy of the U.S. Highbush Blueberry Council. Within the toolkit you'll find ready-made social media content and digital ads, tip sheets, a research deep-dive, mouthwatering recipes, eye-popping blueberry images, and more. 
In addition to these new findings, the old wisdom of eating more fruits and vegetables still stands. According to the Dietary Guidelines for Americans, eating fruits and vegetables, including blueberries, is associated with a reduced risk of many chronic diseases. Despite this, 80% of Americans are still not meeting their recommended intake for fruit, so all the more reason to grab a boost of blue!
Here's the recipe for my Chicken Flatbreads with Caramelized Onions and Blueberry-Balsamic Sauce!
Chicken Flatbreads with Caramelized Onions and Blueberry-Balsamic Sauce
Serve up a boost of blue this summer with these delicious and easy-to-prep flatbreads! Save any leftover Blueberry-Balsamic Sauce for sandwiches, wraps, or glazing other grilled meals.
Ingredients
For the Blueberry-Balsamic Sauce
1

cup

frozen blueberries

1/4

cup

brown or turbinado sugar

2

tbsp

balsamic vinegar

1

tbsp

minced jalapeno

1

tbsp

cornstarch

1

tbsp

water
For the Chicken Flatbreads
4

flatbreads

,

can substitute pita if desired

1 1/2

cups

shredded rotisserie chicken

1/2

cup

prepared blueberry glaze

,

plus more for garnish

2

cups

fresh greens

,

such as arugula or spinach

1

large yellow onion

1

tsp

olive oil

pinch

kosher salt

1

cup

shredded mozzarella cheese

1/2

cup

blueberries

Optional garnish: sliced jalapeños or fresh basil
Instructions
To caramelize the onions, slice into thin strips. Heat the olive oil in a skillet over medium heat, then add the onions.

Saute until the onions become translucent (about 5-10 minutes) then reduce heat to low. Cook 40 minutes longer or until you reach your desired level of browning and caramelization. Season with kosher salt.

Optional: Add a splash of balsamic vinegar towards the end of cooking to intensify the caramelization effect.

To build the flatbreads, preheat the oven to 400 degrees F. Spread the blueberry glaze evenly on each flatbread, then layer on the greens, chicken, caramelized onions, and blueberries. Top with the shredded cheese.

Bake for 8 to 10 minutes or until the edges of the flatbread begin to brown and cheese is fully melted. Remove from oven and allow to cool slightly.

Garnish with sliced jalapeño, additional blueberries, or fresh basil (if using). Serve immediately.
Nutrition
Serving:
1
flatbread
,
Calories:
403
kcal
,
Carbohydrates:
52
g
,
Protein:
24
g
,
Fat:
12
g
,
Saturated Fat:
5
g
,
Polyunsaturated Fat:
2
g
,
Monounsaturated Fat:
4
g
,
Cholesterol:
61
mg
,
Sodium:
397
mg
,
Potassium:
378
mg
,
Fiber:
5
g
,
Sugar:
23
g
,
Vitamin A:
509
IU
,
Vitamin C:
17
mg
,
Calcium:
182
mg
,
Iron:
3
mg
---
If you enjoyed this recipe for Chicken Flatbreads with Caramelized Onions and Blueberry-Balsamic Sauce, you'll want to check out these other recipes that include a boost of blue!
And if you're a fan of rotisserie chicken for easy weeknight meals, check out my series "What To Do With a Rotisserie Chicken" for more inspiration!
Be sure to also check out the recipe archive from my partners at U.S. Highbush Blueberry Council. They also share tons of resources to learn more about the health benefits of blueberries. Plus, quick tips to make it even easier to grab a boost of blue more often!