Learn what to do with a rotisserie chicken to use it all up and feed the whole family. Leftover rotisserie chicken is an easy, budget friendly meal idea.
---
Wrapping up my series on "What To Do With A Rotisserie Chicken" today! And, as a die-hard dark meat fan, I feel like I saved the best for last when it comes to leftover rotisserie chicken.
Disagree? Be sure to check out Part 1 and Part 2 to see if you prefer the other rotisserie chicken ideas I shared.
These last two recipes can also be made using rotisserie chicken leftovers (especially dark meat) depending on your preference.  Remember that the goal of the series was to highlight how to use all parts of your rotisserie chicken in recipes to cut down on food waste and stretch your grocery dollars as far as possible.
Budget-Friendly Rotisserie Chicken Ideas
Depending on where you shop, rotisserie chicken is usually in the price range of about $5 to $10. Since these recipes are intended to yield 2 to 4 servings each, you can count on getting anywhere from 8 to 14 servings out of these recipes.
Talk about getting some bang for your buck!
The convenience was part of the reason I started opting for rotisserie chickens, but learning how to make a single chicken feed me multiple times really sold me on them. And if you like leftover rotisserie chicken, you're in luck! This might *almost* save you from cooking for an entire week!
[Tweet "Saving the best for last! Here's Part 3 of "What To Do With A Rotisserie Chicken" – Two more simple summer recipes"]
So let's get into the recipes!
Easy Chicken Saag
I'll admit – convincing family to give homemade Indian food a try was no easy task. I had only just barely gotten them on board with trying it in a restaurant. And although they trust me in the kitchen it was still a bit of stretch for them. But the flavorful spices and creamy texture helps make this a comforting, satisfying dish.  Really, it isn't all that different from other rice-based casseroles or bowls that we were already making.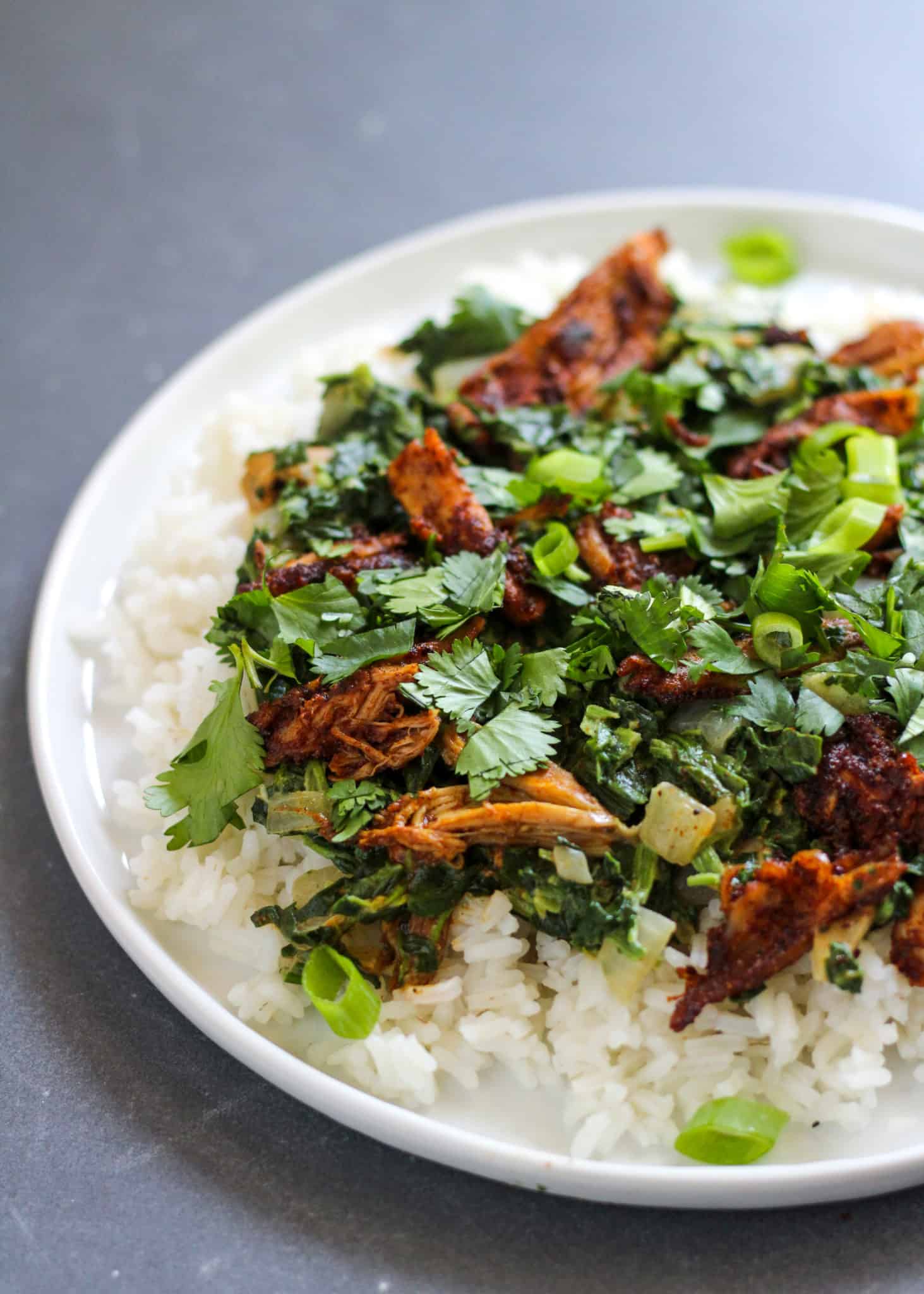 Inspiration for this dish actually came from a magazine of all places. I was never into foodie or culinary magazines (other than Cook's Illustrated….I love that one and treasure my stack of past issues!).
But I was catching a flight for a conference earlier this spring and picked up a copy of Fine Cooking. While reading, I stumbled upon a piece using chicken thighs. "Perfect!" I thought to myself, that would be a great way to use the dark meat from the thigh and drumstick on a leftover rotisserie chicken. So that's I did! After some adjustments to the seasonings and tweaking the ratios on the cream and spinach, I landed on a version that could be done and on the table in practically no time at all!
Rotisserie chicken + frozen spinach + minute rice. It doesn't sound glamorous, and I'll be honest with you and tell you it's not. But it is easy and quick and affordable. It really helps to have an option like this for hectic weeknights when you feel like your time is slipping out from under you. If you're looking for a budget-friendly recipe for rotisserie chicken, this is it!
Here is the Recipe for Easy Chicken Saag:
Easy Chicken Saag
Don't be intimidated, this is an Indian-inspired recipe that's simple enough to prepare with ready-to-cook ingredients. It's a fast, simple weeknight dinner that makes for great leftovers.
Ingredients
12

oz

rotisserie-style chicken, dark meat

,

chopped or shredded

2

tsp

garam masala

1

tsp

ground cumin

1

tsp

smoked paprika

1

tsp

ground turmeric

1/2

tsp

fine sea salt

2

tbsp

canola oil

1

yellow onion

,

chopped

3

cloves

garlic

,

minced

1 1/2

tsp

ground ginger

1

jalapeno

,

deseeded and minced

1

package

frozen spinach (16 oz bag)

,

thawed

2

green onions

,

chopped

1 1/4

cup

heavy cream

1/2

cup

fresh cilantro

,

chopped

1

cup

minute rice

1

cup

water
Instructions
Add the chopped or shredded dark meat chicken to a medium mixing bowl. Add the garam masala, cumin, smoked paprika, turmeric, and sea salt and use tongs to combine until spices are mixed and chicken is fully coated.

Heat the canola oil in a large, nonstick skillet over medium-high heat. Add the spiced chicken and allow to reheat, flipping occasionally. After 3-5 minutes, remove from skillet and set aside. While the chicken is heating, bring 1 cup water to a boil and prepare the minute rice according to package directions.

Once chicken is removed from skillet, add the chopped onion. Cook 5 to 7 minutes or until onions become translucent and begin to caramelize. Add the garlic, ginger, and jalapeño and cook 1 to 2 minutes more.

Gently squeeze the thawed spinach to remove excess water, then add to the skillet with the onion mixture. Add half of the chopped green onion and the 1 1/4 cups heavy cream. Cook 3 to 5 minutes more or until liquid starts to thicken and spinach is tender.

Add the spiced chicken back into the mixture and gently fold to combine. Fluff the rice with a fork. Serve the chicken saag over rice and garnish with additional green onion and chopped cilantro. Serve immediately.
Notes
If preferred, substitute minute rice with basmati or brown rice or another preferred grain. It may also be served with naan instead. 
If not using rotisserie chicken, substitute for 1 pound boneless, skinless chicken thighs. Follow same instructions for mixing spices but allow additional cooking time to sear on each side (additional 3 to 5 minutes). 
Nutrition
Serving:
1
serving
,
Calories:
596
kcal
,
Carbohydrates:
29
g
,
Protein:
28
g
,
Fat:
41
g
,
Saturated Fat:
19
g
,
Cholesterol:
166
mg
,
Sodium:
446
mg
,
Potassium:
629
mg
,
Fiber:
4
g
,
Sugar:
3
g
,
Vitamin A:
9932
IU
,
Vitamin C:
14
mg
,
Calcium:
177
mg
,
Iron:
5
mg

BBQ Chicken Flatbreads
Flatbreads are really just personal pizzas, right?
Even if they aren't a full-blown meal, flatbreads can be fun for snacks or appetizers if you do any summer entertaining. This one definitely hits all the components for me to call it a meal: carbs + protein + fat + SATISFACTION. That last one is a big one for me because if I'm going to have only one thing for a meal (in this case, a flatbread) it needs to have all of the above otherwise I end up hungry again minutes later.
I saved this recipe for last because it's a great way to use up any little odds and ends that came off your leftover rotisserie chicken. It doesn't need to be perfectly chopped or sliced, just shredded up and tossed wherever you see some open real estate. My goal was to try to get a little bit of everything in each bite – sweet corn, creamy avocado, zesty BBQ sauce, crunchy onions, and savory cheesy chicken. Think I got close enough to accomplish that?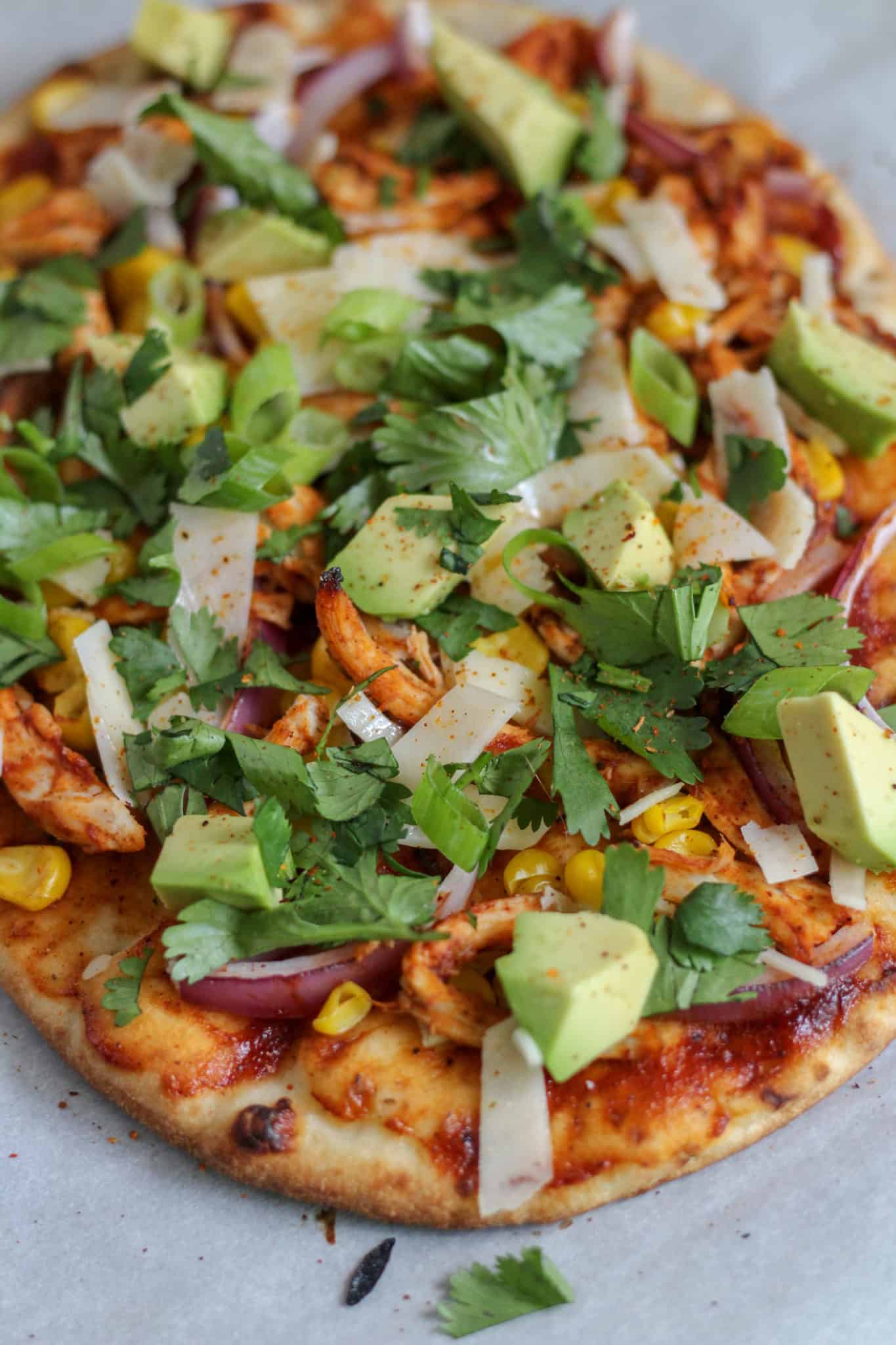 I used a garlic naan bread for the base of mine, but these could also be done with other flatbreads, pitas, even English muffins for a snack-sized version. Then it kind of morphs into an open-faced sandwich…would that really be a bad thing? I don't think so, but check out the full recipe below and see what you might want to make with it!
Here is the recipe for BBQ Chicken Flatbread:
BBQ Chicken Flatbread
Flatbreads are so versatile and this one is no different! Break it out for an easy meal, snack, or appetizer whether you're feeding a few or an entire crowd.
Ingredients
4

flatbreads or pita

1/4

cup

sweet or spicy BBQ sauce

1/2

small red onion

,

thinly sliced

1

cup

sweet corn kernels

,

frozen or canned

1

cup

shredded rotisserie-style chicken

,

white or dark meat

1

avocado

1/2

bunch

cilantro

,

roughly chopped

1

cup

Parmesan or mozzarella cheese
Instructions
Heat oven to 400 degrees F.

While oven is heating, arrange flatbreads on parchment paper and place on baking sheets. Spread BBQ sauce evenly on each flatbread, then layer the onion, corn, and chicken in a thin layer.

Bake 8 to 10 minutes or until edges of the flatbread begin to turn golden brown and crispy. Remove from oven and immediately top with cheese. Dice or slice the avocado and add to each of the flatbreads. Top with cilantro and additional toppings if desired. Serve immediately.
Notes
Allot 1/4 of each of the ingredients per flatbread. Adjust as needed according to your tastes. 
Nutrition
Serving:
1
flatbread
,
Calories:
406
kcal
,
Carbohydrates:
44
g
,
Protein:
21
g
,
Fat:
17
g
,
Saturated Fat:
6
g
,
Cholesterol:
48
mg
,
Sodium:
605
mg
,
Potassium:
539
mg
,
Fiber:
6
g
,
Sugar:
9
g
,
Vitamin A:
486
IU
,
Vitamin C:
8
mg
,
Calcium:
195
mg
,
Iron:
2
mg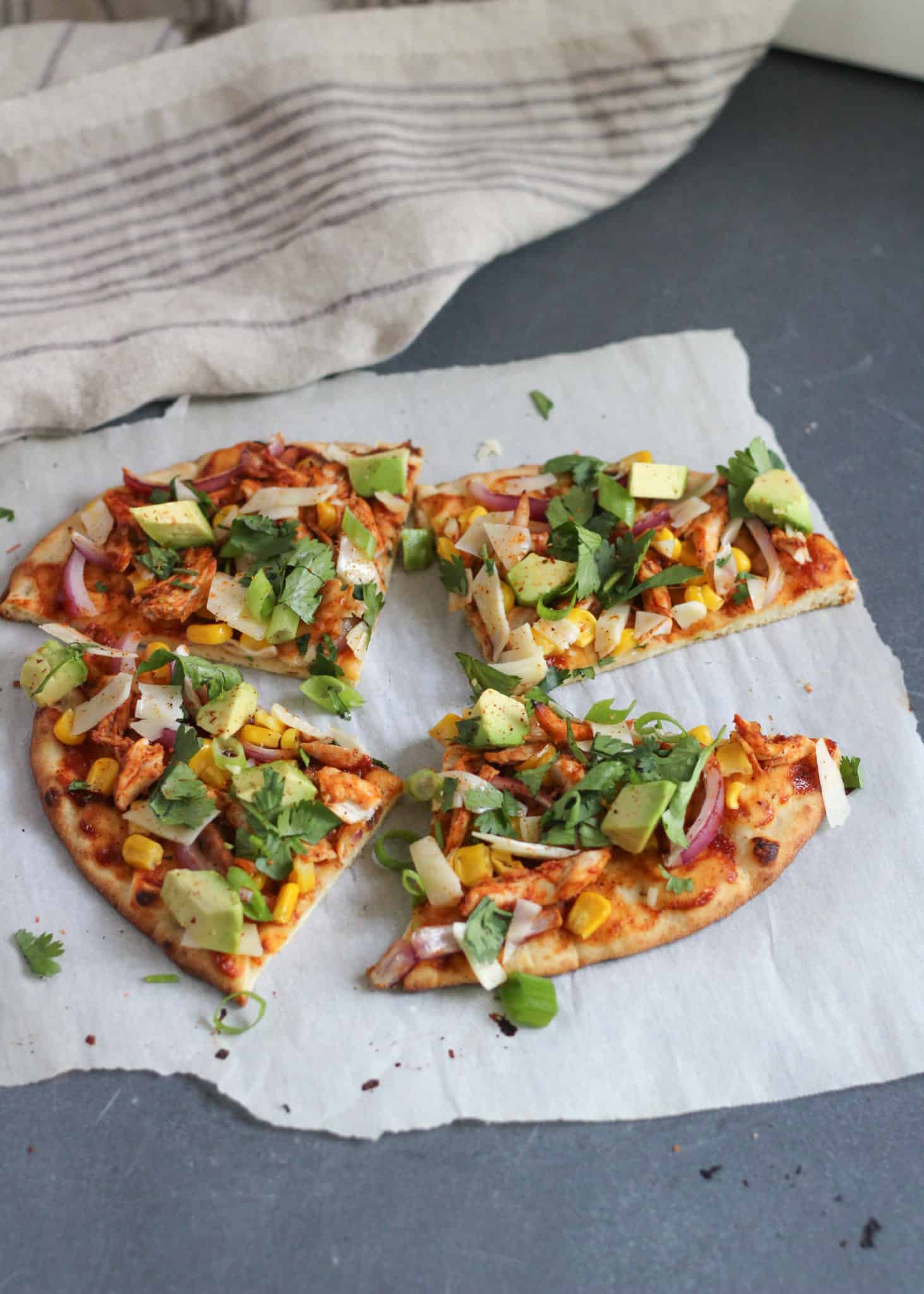 Best Ways to use Leftover Rotisserie Chicken
So this brings us to the end of our recipe series on "What To Do With A Rotisserie Chicken". Be sure to check out recipes for an Easy Instant Pot Chicken Stock in Part 1 and two ways to use white meat in Part 2. And don't forget about one of my other favorite rotisserie chicken recipes: Easy Weeknight Fried Rice with Rotisserie Chicken. I hope these recipes leave you feeling inspired and creative enough to take them on for yourself. And I'd love to hear your ideas too!
What's the tastiest thing you've ever made with a rotisserie chicken?
[Tweet "Cut food waste and stretch your grocery dollars – learn how to use all of your rotisserie chicken with these simple summer recipes!"]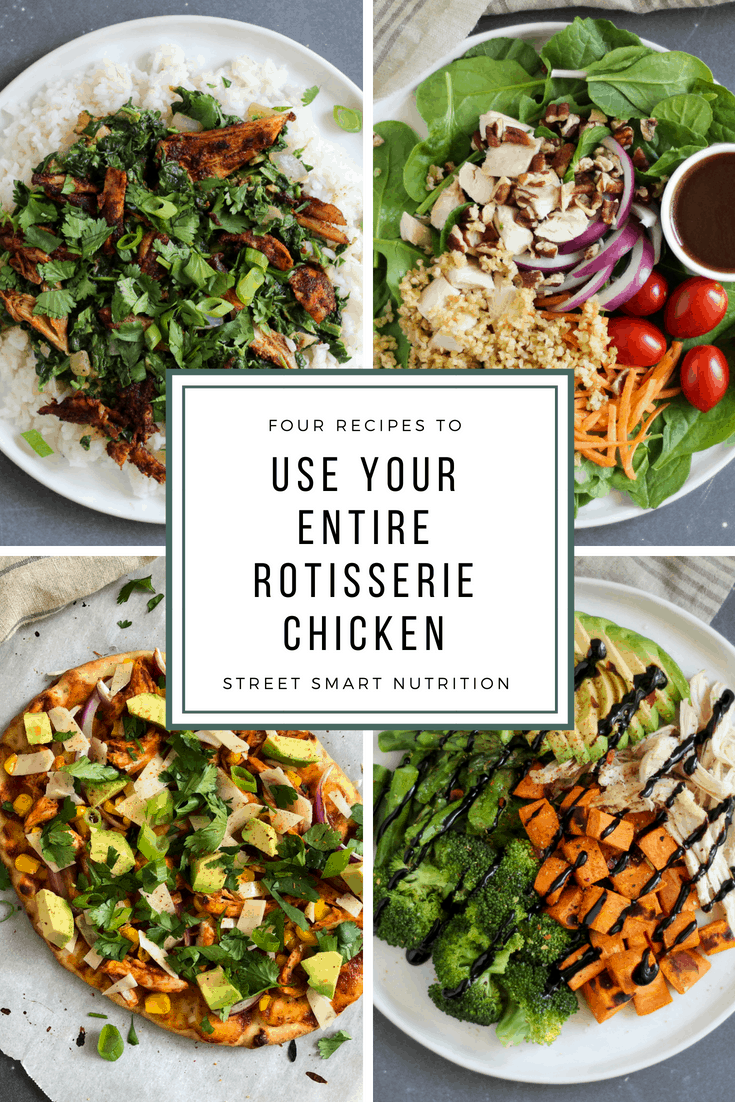 SaveSave
SaveSave