Wake up and start your morning with this savory oatmeal breakfast bowl made with Old Fashioned Quaker Oats. This savory pesto oatmeal bowl is ready in minutes!
---
Disclosure: This recipe and blog post was created in partnership with The Quaker Oats Company. I was compensated for my time. As always, all opinions are my own. Thanks for supporting the brands that support Street Smart Nutrition!
Raise your hand if you're feeling a little rocked by December…
(Shoots hand straight up in the air)
Yeah…I'm feeling it. It's my birthday month (!) and we have some major holidays. Add in year-end projects, busy schedules, and shorter days with the sun making limited appearances and I feel my energy being sapped a lot faster than usual. It's easy to want to stay snuggled in bed with my flannel sheets and all my cats, but with a breakfast option like this waiting for me, it's a *little* bit easier to roll out and start the morning.
A breakfast that includes Quaker oats is always a reliable option for my busy days, but when it's frigid outside the sweet or fruity options don't call to me as much as they do other times of the year. I created this Savory Pesto Oatmeal Bowl with Quaker Old Fashioned Oats to give myself a quick, delicious breakfast option for cold mornings. Let me tell you more about it!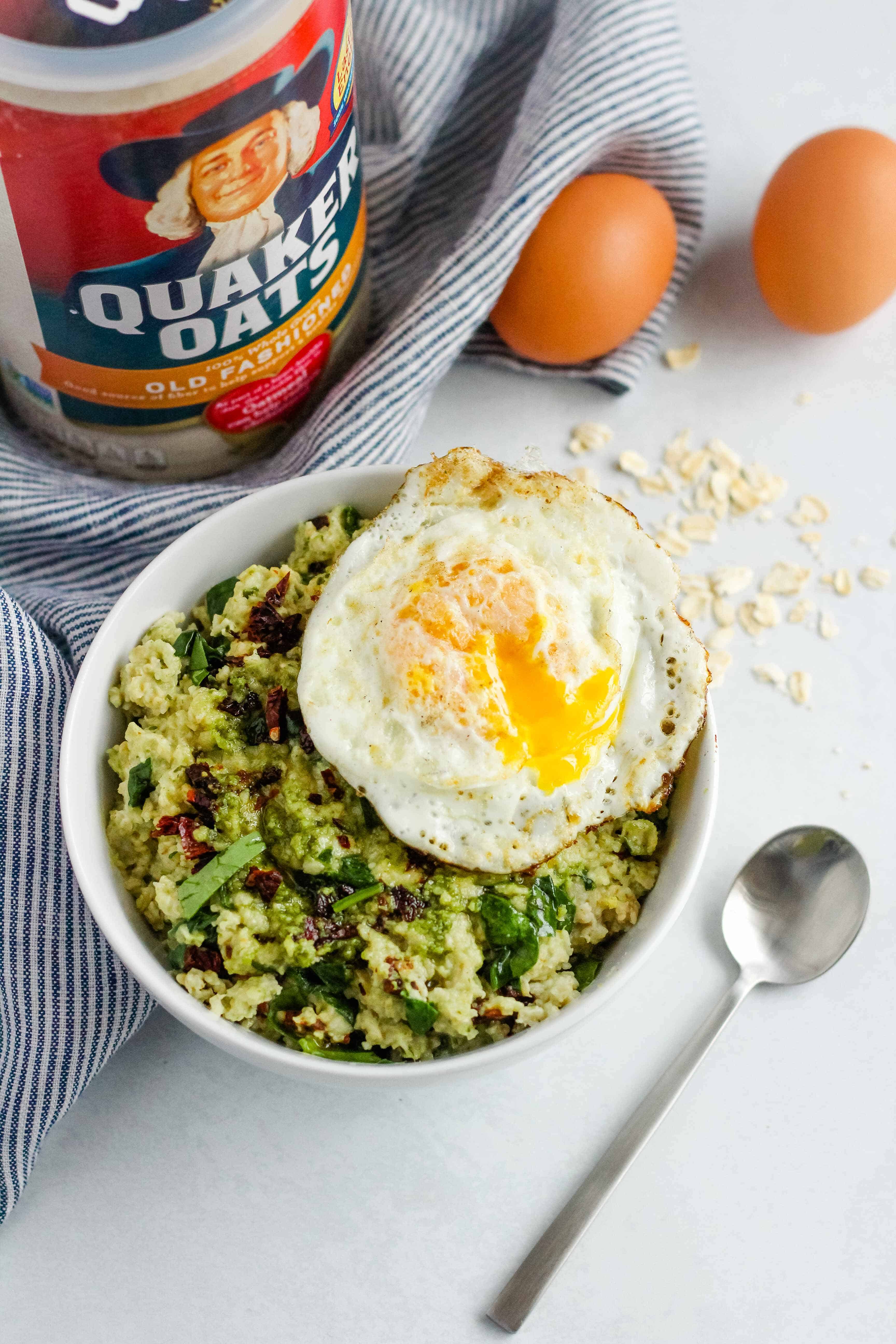 Oats Are A Nutrition Powerhouse
Nutrition is important to me, but so is convenience, flexibility, and great taste. That's exactly why oats are a staple in my pantry — they haven't failed me yet in any of those areas! I can really appreciate the versatility and affordability of oats, too. After all, nutrition and taste are important, but when we think about the big picture of sustainable health-promoting behaviors, we also want to consider options that fit our lifestyle no matter what life may be throwing at us.
Quaker is a big believer that life's circumstances shouldn't stand in the way of good nutrition. They've been a leading expert in oats for over 140 years and are committed to researching all that this powerful grain has to offer. 
That's where this recipe comes in!
I'm partial to Old Fashioned Oats, but regardless of which variety you choose, ounce per ounce, oats are 100% whole grain and provide similar benefits of fiber, vitamins, and minerals. If you took a peek in my pantry, you'd also see instant, quick, and steel cut oats – basically, a version for any possible occasion or recipe!
Adding oats to recipes or meals can help increase consumption of whole grains, which is something most Americans don't get enough of (according to NHANES data). Plus, oats have a unique nutrition profile with a balance of both soluble and insoluble fiber. The soluble fiber in oatmeal may help slow digestion, and the release of glucose into the bloodstream, providing a slower supply of energy.
Savory Pesto Oatmeal Bowl
Did I mention using oats gives you a blank canvas for piling in other flavors? My first instinct for the longest time was to view oatmeal as something sweet and fruity. I've got a few other recipes you can check out if that's more your style, but lately I've started using oats like I would use other whole grains.
The key to making this recipe quickly is starting with Quaker Old Fashioned Oats. They fully cook when heated in the microwave for just 2 1/2 to three minutes depending on how much you're preparing. I usually start with a ratio of 1:1 oats and liquid, but always end up adjusting a little bit to get the consistency I'm going for.
I used fresh spinach for this recipe because that's something I can usually always find no matter what time of the year it is. But if it's not looking so great, feel free to use some frozen spinach instead. I mix mine in before heating the oatmeal so it has a chance to cook down and it gets easier to stir it in evenly.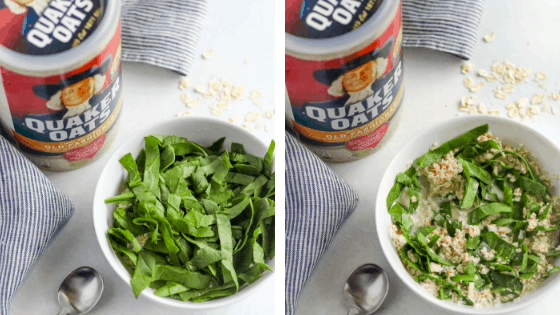 From there, I mixed in some prepared pesto and chopped sun-dried tomatoes for another level of flavor and texture. I usually prep big batches of homemade pesto in the summertime when basil is everywhere. It's tougher to do that in the winter, so if I already blew through the reserves (which, let's be honest, has already happened this year because I love me some homemade pesto) I reach for a store-bought version instead.
Finally, I top this savory oatmeal bowl with an egg because really…there are only a few things that wouldn't be improved if you put an egg on it. You've got options here, too. If you're cooking in the moment, a soft fried or over-easy egg is where it's at. But if you need to prep your ingredients ahead of time or pack this dish to go, a hard-boiled egg works just as well. The additional 6 grams of protein from an egg can really complement the complex carbs in this recipe to create a winning combo to help start your morning.
While this isn't my first venture into the savory oatmeal world, it's definitely my favorite creation so far! It's worked well for me as a breakfast option but don't be surprised if you find me enjoying this for a quick weeknight dinner, too. With December being as busy as it is, it's nice to have a hearty option like this that I can enjoy.
Here is the recipe for a Savory Pesto Oatmeal Bowl!
Savory Pesto Oatmeal Bowl
Swap the sweet for savory with this oatmeal breakfast bowl. It's simple to prepare in minutes using Quaker Old Fashioned Oats. Enjoy it any time of the day!
Ingredients
3/4

cup

Quaker Old Fashioned Oats

3/4

cup

water

3/4

cup

fresh spinach

,

chopped

2

tbsp

prepared pesto sauce

2

tbsp

sun-dried tomatoes

,

chopped, not packed in oil

1

large

egg

1/8

tsp

black pepper

1

pinch

kosher salt
Instructions
Heat a non-stick skillet over medium-high heat.

Place the Quaker Old Fashioned Oats, chopped spinach, and water into a microwave safe bowl and stir to combine. Microwave on HIGH for 2 1/2 to 3 minutes or until fully cooked, then stir again.

While the oats are heating, cook the egg to over-easy or over-medium, flipping once. When the oats are finished cooking, add the prepared pesto sauce and sun-dried tomatoes, then stir to combine. Season with salt and pepper to taste, then top with the cooked egg and serve immediately.
Notes
May substitute a hard-boiled egg (sliced) for convenience. Add more or less water to this recipe to create your desired consistency. 
Nutrition
Serving:
1
bowl
,
Calories:
449
kcal
,
Carbohydrates:
50
g
,
Protein:
18
g
,
Fat:
20
g
,
Saturated Fat:
4
g
,
Cholesterol:
188
mg
,
Sodium:
552
mg
,
Potassium:
757
mg
,
Fiber:
8
g
,
Sugar:
6
g
,
Vitamin A:
3072
IU
,
Vitamin C:
10
mg
,
Calcium:
141
mg
,
Iron:
5
mg
Stay tuned as I share more about the benefits of using oats in future posts once we hit the New Year. And in the meantime, be sure to visit QuakerOats.com to see other ways you can get started with oats! They also have an exciting partnership with Rosario Dawson. She gets real with real people about their nutrition and how everyone can get started with Quaker Oats – check it out HERE and learn more about the benefits of oats and energy HERE!

This was my first-ever savory oatmeal recipe, but it's not the last! Click below to see other variations of this breakfast trend: