Kick-off the new year with a smoothie that tastes good! My Spiced Pomegranate Smoothie uses aromatic baking spices to bring a winter flair to a no-cook favorite. Enjoy with breakfast or as a snack!
---
I'm hitting the "reset" button for the new year, but not in the way you might think. Instead of a health-focused New Years' resolution, I'm doubling-down on creating delicious, nourishing recipes and posts that can help you enjoy delicious foods of all kinds.
And I'm starting with one of the most photogenic fruits out there: pomegranate!
I mean, just look at those gorgeous pomegranate arils *insert multiple heart eye emojis* I can't help but feel inspired to make something delicious with them!
I took my own advice for making smoothies that taste good and crafted one that smells and looks as amazing as it tastes. My Spiced Pomegranate Smoothie uses cinnamon, allspice, and cardamom. You're probably already familiar with the other basic ingredients, so this delicious, great-tasting smoothie can be yours in a matter of minutes!
Spiced Pomegranate Smoothie
Smoothies are great because they only take minutes to make. Plus, the prep and clean up is simple. I don't think I need to convince you if you're already a fan. You've likely already figured out these benefits and more!
Here's what you'll need to make this Spiced Pomegranate Smoothie.
Ingredients: Pomegranate juice, fresh pomegranate arils (either from a whole pomegranate fruit or the pre-packaged version), a ripe banana, your favorite yogurt, ground cinnamon, allspice, and cardamom, plus some ice
Equipment: A blender, measuring cups and measuring spoons, and if you're using a fresh pomegranate, grab a cutting board and paring knife, plus a mixing bowl and sturdy spoon or spatula
There's a huge convenience advantage to using the pre-packaged pomegranate arils. However, it comes at a higher cost, especially at certain stores. I found a large, perfectly ripe pomegranate for about $2.50, which was far less expensive than an equivalent amount of packaged arils. Shop around for the best value, but also consider that it might be worth spending a little extra if you're in a hurry or want to avoid making a mess.
How to Cut and De-Seed a Pomegranate
There are multiple ways to do this, but this is the method that's been the most reliable for me. It helps reduce the amount of splatter (which stains literally everything it touches) and the number of broken arils (which leads to more stains).
Here's how I like to do it:
Use a paring knife to slice off the top (crown) and bottom of the pomegranate.
Use the knife to score, vertically, 4 to 5 cuts that break the outer rind.
Insert your fingers carefully into the top and pry apart the sections.
Working over your mixing bowl, use your fingers to carefully peel away the inner pith, which is usually a pale color like the inside of an orange. Strip away the arils and let them drop into the mixing bowl. An alternative option is to turn the section you're working on rind-up in your hand and lightly tap the rind with a sturdy spoon or spatula. This will loosen the arils so they can drop into the mixing bowl.
Repeat until all arils are removed from the pomegranate. Or, repeat until you're sick of this meticulous, messy task and you figure you have enough to at least recoup your investment in buying the pomegranate.
Street Smart Nutrition Tip: If you want to separate the arils from the other parts, run water into your mixing bowl. The arils will sink, everything else will float, and you can skim out the parts you don't want to end up in your recipe.
Note that this will add 5-10 minutes to your total prep time. But I don't mind because I only need about 1/3 of a large pomegranate for this Spiced Pomegranate Smoothie. I can put the rest in other recipes, like this colorful salad, or enjoy them as a snack. Pomegranate arils are also amazing with oatmeal, like in this heart-healthy Peach Pomegranate Oatmeal Bowl!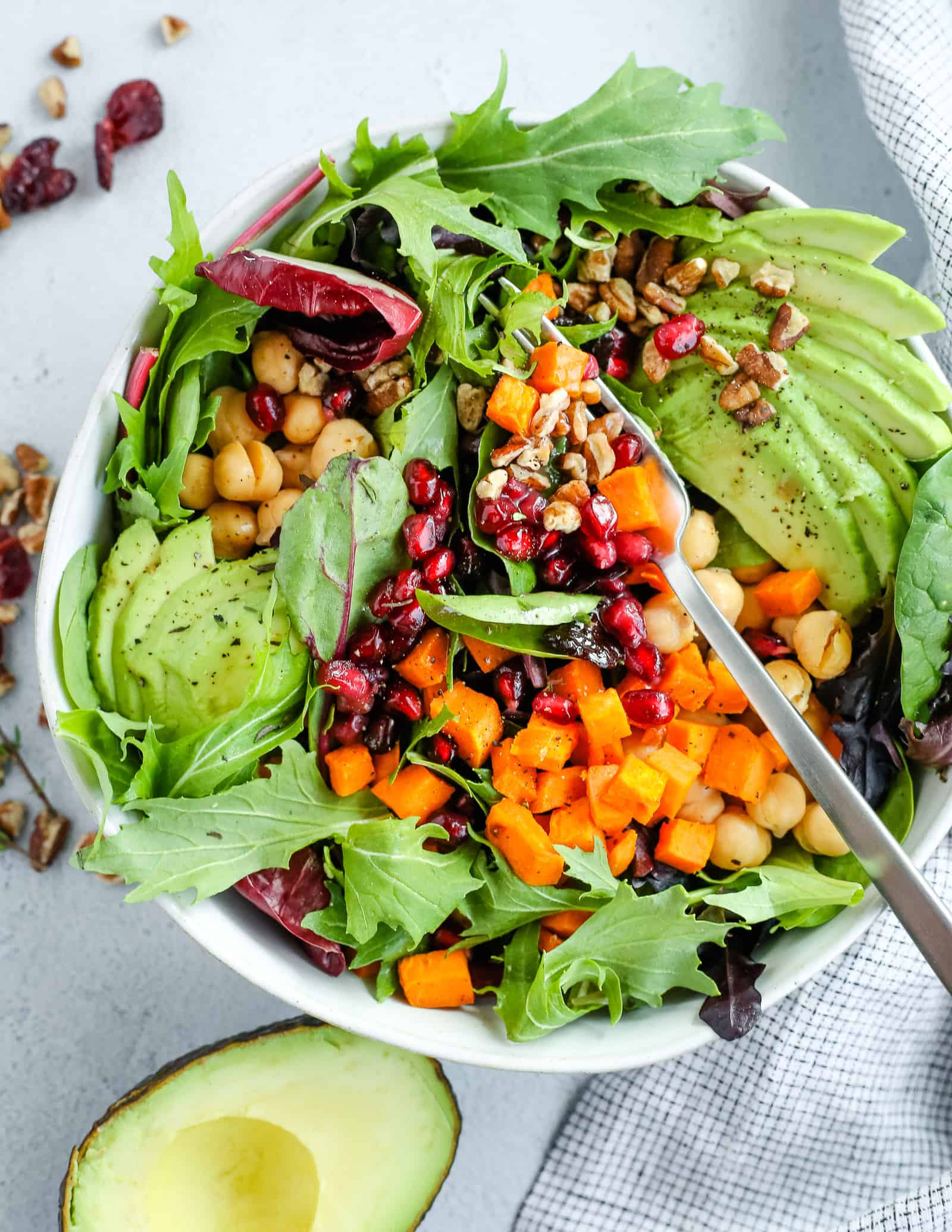 As for pomegranate juice, here's how I make it….
Wait. I'm just kidding!
I definitely outsource this to the pros. POM Wonderful is available in most grocery stores now and they're a huge supporter of dietitians and nutrition research. I usually buy one or two bottles at a time and use it in smoothies and in recovery drinks after tough workouts.
Here's the recipe for my Spiced Pomegranate Smoothie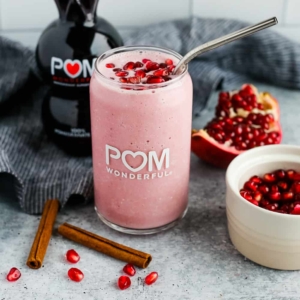 Spiced Pomegranate Smoothie
Enjoy this colorful, aromatic smoothie that uses delicious baking spices and fresh pomegranate. It's a great option with breakfast or as a nourishing snack.
Ingredients
1 1/2

cups

ice cubes

4

oz

pomegranate juice

1/2

cup

pomegranate arils

1

medium

banana

4

oz

vanilla yogurt

1/8

tsp

cinnamon

1/8

tsp

cardamom

1/8

tsp

allspice
Instructions
Add ice to the blender so it rests on the bottom.

Measure all remaining ingredients into the blender, then cover with the lid and pulse to break up the ice. Continue blending until a smooth, creamy consistency forms.

Pour and serve immediately. Garnish with additional spices or fresh pomegranate arils if desired.
Nutrition
Calories:
333
kcal
,
Carbohydrates:
73
g
,
Protein:
8
g
,
Fat:
3
g
,
Saturated Fat:
1
g
,
Cholesterol:
6
mg
,
Sodium:
107
mg
,
Potassium:
1107
mg
,
Fiber:
6
g
,
Sugar:
56
g
,
Vitamin A:
76
IU
,
Vitamin C:
20
mg
,
Calcium:
217
mg
,
Iron:
1
mg
For more tips on how to make a smoothie that tastes great, check out my post all about that topic HERE. It's no coincidence that it features another pomegranate-based recipe. They're delicious in everything but they really shine in smoothies!
One other tip for making an amazing smoothie is to invest in the right tools. For years I used a basic countertop blender and it worked…alright I guess. But it couldn't handle bigger portions or certain ingredients (ahem…ice cubes) because it just wasn't powerful enough.
If you're looking to invest in the right tools to get the job done (and make your life easier) consider upgrading. Nutribullet is one of the brands I love and use all the time in my kitchen, and with this affiliate link, you can get 15% off your purchase.
Use the code "streetsmartrd" at checkout when shopping online for Nutribullet for a 15% discount!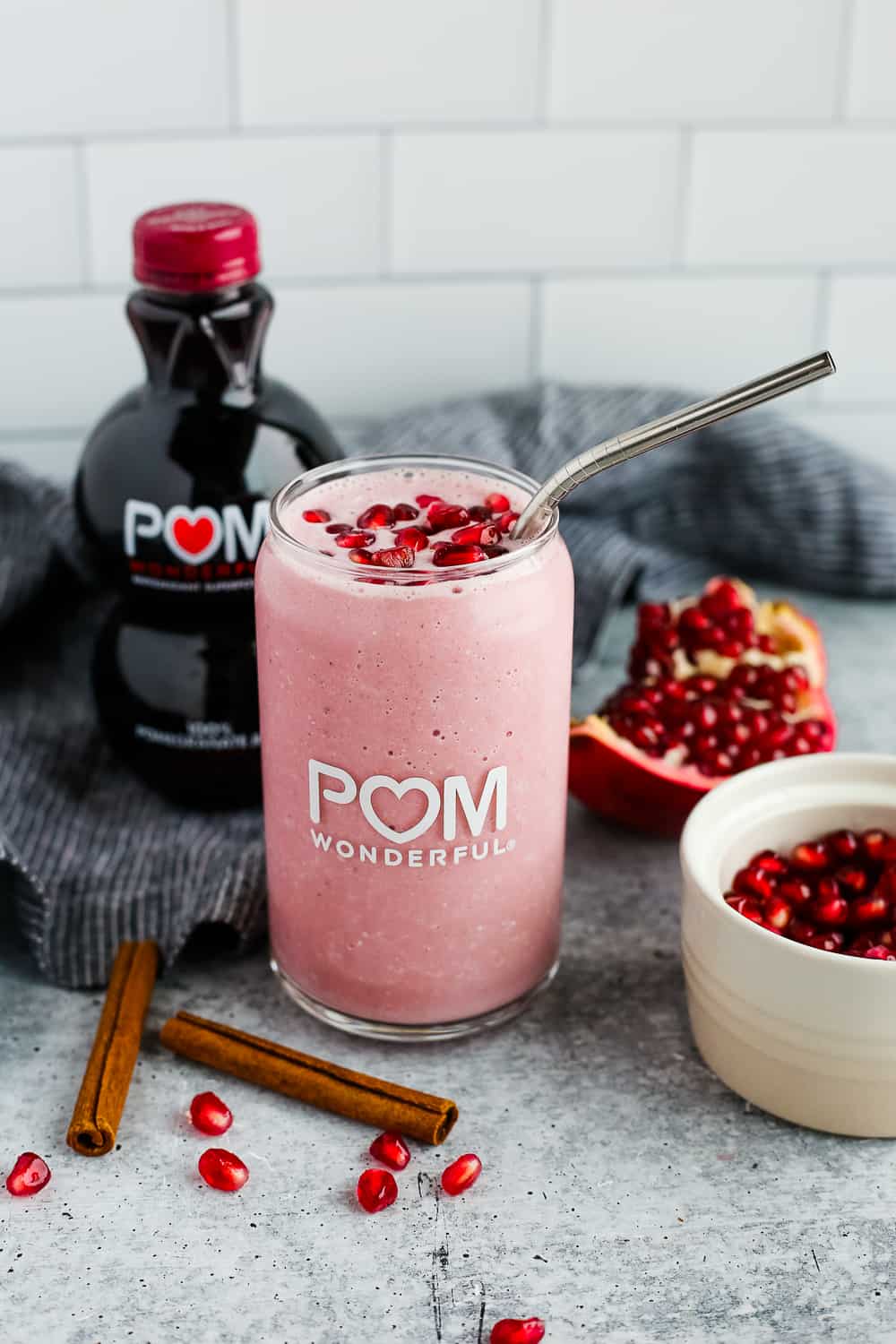 And if you enjoyed this Spiced Pomegranate Smoothie recipe, be sure to check out some other delicious options on the blog: