These Slow Cooker Korean Beef and Rice Bowls were inspired by my Korean heritage, a surplus of U.S. grown short-grain rice, and a great deal on a beef chuck roast. Read more for the full recipe and enjoy these Korean beef bowls!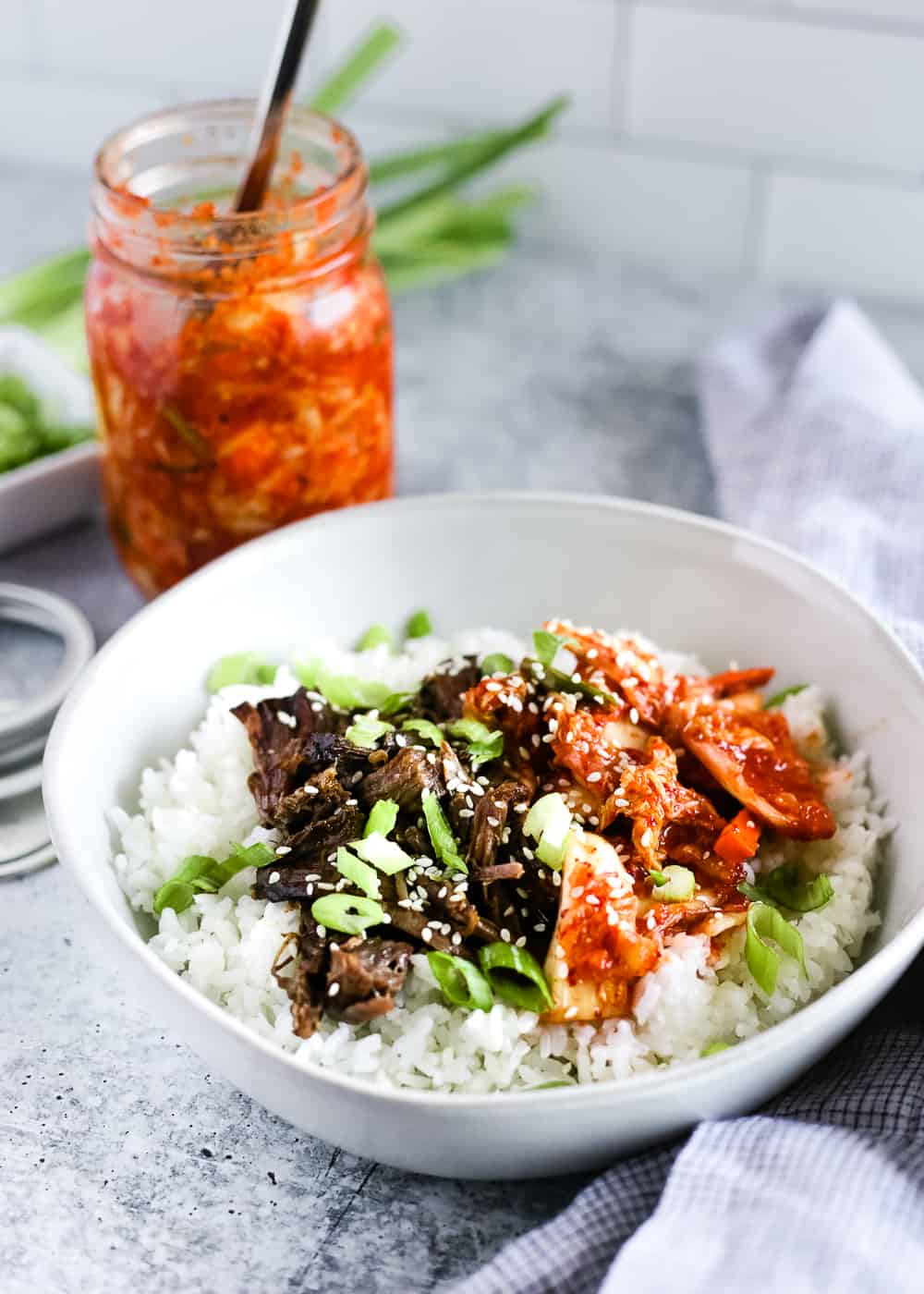 Disclosure: This recipe was created in partnership with the USA Rice Federation. I was compensated for my time. As always, all opinions are my own. Thanks for supporting the brands that support Street Smart Nutrition.
Did you know September is National Rice Month?
It's a celebration of the U.S. rice industry, including farmers, producers, and manufacturers. 2020 marks the 30th anniversary of National Rice Month. I teamed up with the USA Rice Federation last year to create a delicious rice recipe (which you can check out with the link below) but my kitchen has been churning out rice-based dishes for as long as I can remember!
Get the recipe for Stuffed Poblano Peppers with Chimichurri Rice and Chorizo!
Growing up, my family made various versions of fried rice (like this Easy Weeknight Fried Rice with Rotisserie Chicken) or pair U.S. grown rice with veggies from our garden and meat from our freezer. We had a heavy-duty rice cooker at the time and making rice was one of the very first cooking skills I learned. And I don't think it's a coincidence that the Korean word for rice, bap, is the same word for "food" and "meal" – rice is a central part of Korean culture and symbolizes community and family meals, connection, and culture.
Earlier this year, I scored a great deal on a big bag of U.S. grown short-grain white rice. Quarantine had just started and it was great to have a shelf-stable ingredient like rice to cook with. We were trying to limit the number of trips we made to the grocery store and use other frozen and canned foods, and it helped us get really creative with our meals! Finally, this summer we ventured cross-country on a socially-distanced road trip and spent some time with my uncle. He's an excellent home cook and recently made a big batch of homemade kimchi. He generously shared some with us and as soon as we got home I knew exactly what I wanted to make!
If you're a fan of global cuisine, you might also like my Elotes-Inspired Mexican Street Corn & Rice Bowls!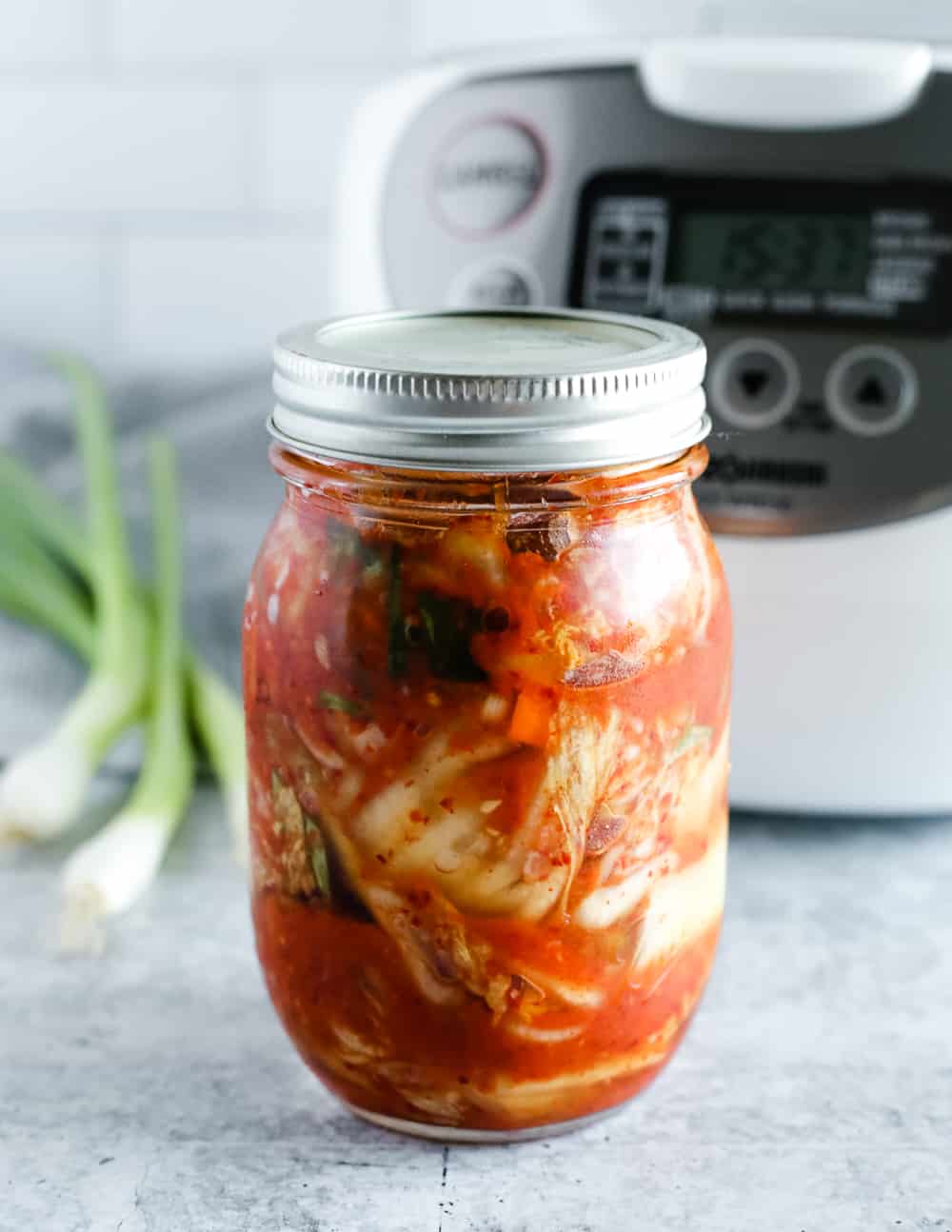 Slow Cooker Korean Beef and Rice Bowls
This recipe may sound like it takes a lot of effort, but thanks to the amazing technology of slow cookers and rice makers, it's actually incredibly convenient and simple! I'll walk you through it step by step so you can enjoy perfectly cooked rice every time.
Note: This recipe was written for an electric rice cooker, but you can also make rice on the stovetop or in an Instant Pot. I even keep a box of parboiled (instant or minute) rice on hand for when I'm super short on time.
This four-step process is a reliable and easy way to get fluffy, springy, perfectly cooked white rice that's ready to soak up all the flavor of slow cooker Korean beef!
Step 1: Measure and wash the rice.
I have a habit of cooking more rice than I need for a single recipe because the leftovers come in handy for meals later in the week. I generally use two to three cups of uncooked rice, but you can adjust the amount as needed.
Using a one-cup scoop or measuring cup, level off the rice as you would if you were measuring flour. Add that to the removable basin of your rice cooker. Run cold water over the rice, using one hand to swirl the rice to wash it. You'll see the water start to get cloudy or milky, which is a good sign! That excess starch that's getting rinsed off makes it harder to get a fluffy texture in the cooked rice. "Washing" rice doesn't mean you're starting out with dirty rice – it's safe and nutritious to eat as is – but this process improves the final cooked version.
Swirl for a few seconds, then slowly and carefully drain the water. The rice should sink to the bottom as long as you pour slowly enough, so don't worry, you shouldn't see grains of rice getting washed down the drain! Repeat a few more times until the water remains clear.
Step 2: Add water for cooking.
The ratio of uncooked rice to water will vary depending on the variety you're using, but the ratios for stovetop and rice cooker methods are also different. For short-grain white rice in the rice cooker, it ends up being a little bit more than 1:1. Most rice cookers have fill lines on the inside of the basin to help with this.
Another method I use is to level out the washed rice and add water until it reaches the first line in the knuckle of my index finger. Some people feel uncomfortable using this approach because it isn't an exact measurement and will vary from person to person, but after years of cooking rice this way, it's been fool-proof!
Step 3: Adjust the settings and wait.
Some rice cookers only have one setting for cooking, one for warming. Others have options for different rice varieties, Adjust the settings as needed, press the START button, and try to be patient! Cooking rice in a rice cooker usually takes about 35-40 minutes depending on the amount of rice you're making.
Once the alarm goes off to let you know it's done cooking, wait some more! I know, it sounds counterintuitive because the rice cooker says it's done, but this extra time allows for excess moisture to be absorbed slowly, without overcooking or scorching the rice. You only need 5-10 minutes of resting (with the lid closed), then it's finally done-done!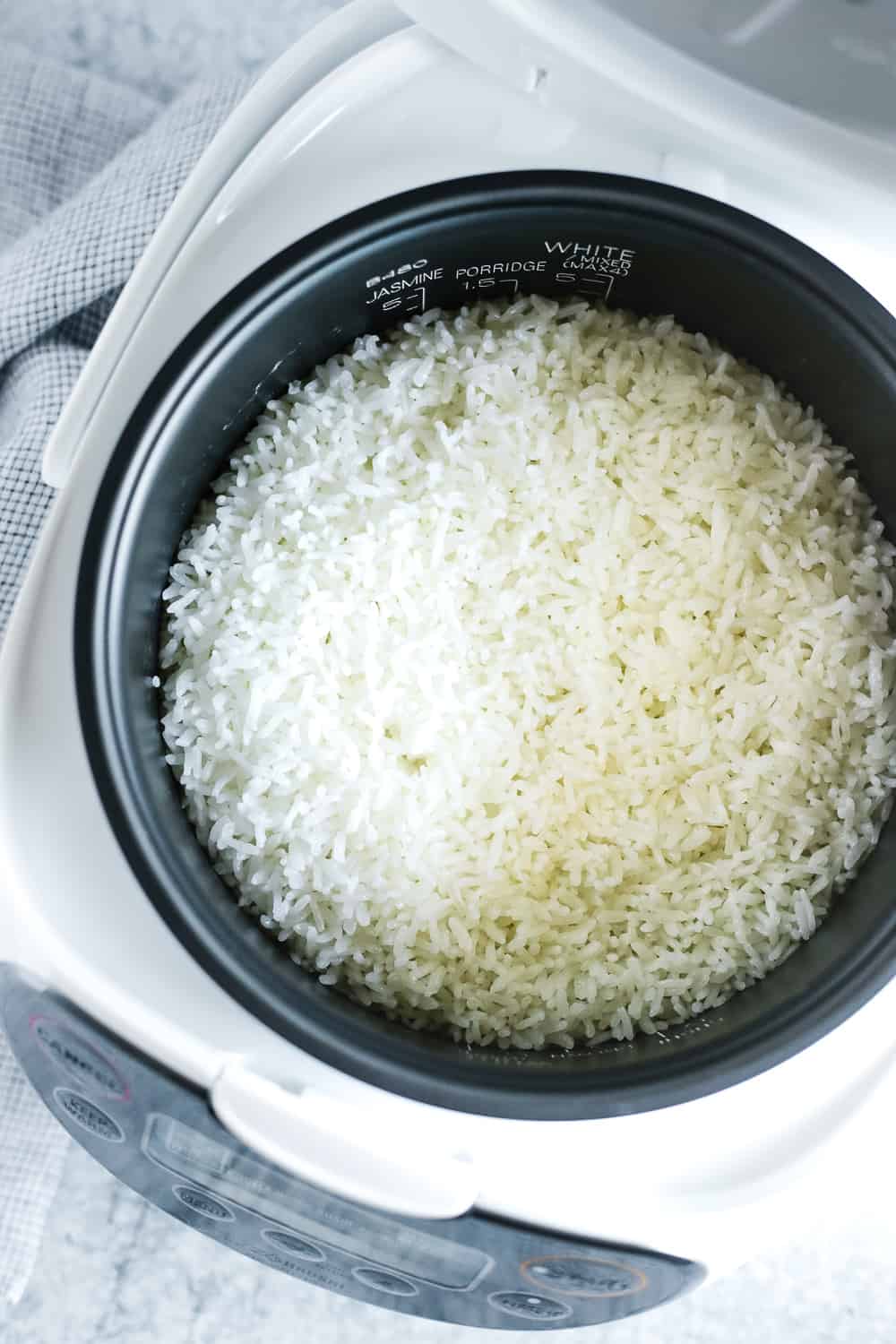 Step 4: Fluff and serve!
Most rice cookers come with a plastic paddle-shaped spoon. Use this, instead of a metal spoon, to avoid scratching the inside of your rice cooker. Fluff the rice layer by layer until it's broken up and looks fluffy and soft, then you're ready to serve!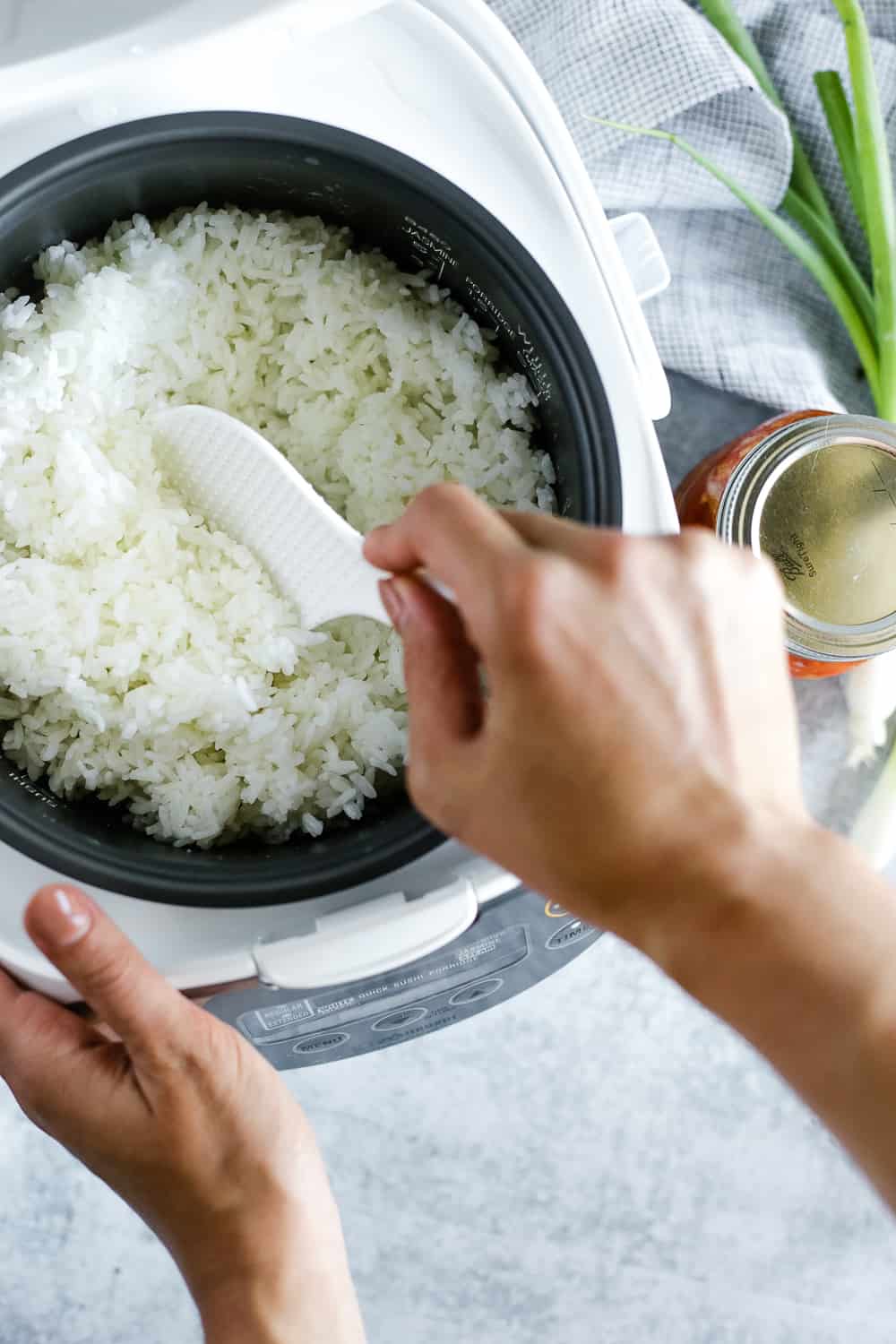 Here is the recipe for Slow Cooker Korean Beef and Rice Bowls!
Slow Cooker Korean-Inspired Beef and Rice Bowls
This beef and rice recipe is slightly sweet, slightly spicy, and incredibly easy! Serve with traditional Korean toppings and enjoy!
Equipment
Electric Rice Cooker

Slow Cooker or Crock Pot
Ingredients
3

cups

U.S. grown short-grain white rice

,

uncooked

3

cups

water

2

lbs

beef chuck roast

,

trimmed

2

tbsp

cornstarch

2

tbsp

rice vinegar

2

tbsp

sesame oil

1/2

cup

low sodium beef broth

1/4

cup

low sodium soy sauce

1/4

cup

brown sugar

,

packed

1

tbsp

minced ginger

1

tbsp

minced garlic
Garnish
1

tbsp

sesame seeds

3

green onions

,

thinly sliced

1

cup

kimchi

,

storebought or homemade

gochujang or sriracha sauce

,

optional
Instructions
To Cook the Beef
Gather all ingredients except the uncooked rice and water. Place the beef chuck roast in the center of your slow cooker or crock pot.

Mix all ingredients together in a measuring cup or small bowl. Pour over the beef chuck roast, place the lid on the slow cooker, and seal. Cook on HIGH for six hours.

When beef is finished cooking, remove the lid and transfer the roast to a large bowl. Use tongs and fork to shred the beef (it will be very tender). Use a ladle or large spoon to add some of the cooking liquid or "sauce" onto the beef. Allow to cool slightly before serving.
To Cook the Rice
Measure and wash the rice by rinsing under cold water and swirling. Drain the cloudy water and repeat several more times until the water runs clear.

Measure the water for cooking using the marks on the inside of the rice cooker basin. Seal the lid, adjust settings if needed and cook during the last hour of the slow cooker timer. Once the rice is finished, hold on the WARM setting and fluff before serving.

To build the Korean Beef and Rice Bowls, serve the white rice in bowls topped with the Slow Cooker Korean Beef, fresh kimchi, and garnishes of your choice.
Nutrition
Serving:
1
bowl
,
Calories:
716
kcal
,
Carbohydrates:
88
g
,
Protein:
37
g
,
Fat:
23
g
,
Saturated Fat:
9
g
,
Cholesterol:
104
mg
,
Sodium:
528
mg
,
Potassium:
702
mg
,
Fiber:
2
g
,
Sugar:
9
g
,
Vitamin A:
79
IU
,
Vitamin C:
2
mg
,
Calcium:
84
mg
,
Iron:
4
mg
I'd love to hear your favorite method for cooking rice! Does your family or culture have a unique or special way of preparing it?
No matter how you enjoy it, rice can be a nourishing addition to any of your meals for National Rice Month and beyond. Rice is naturally gluten-free and the least allergenic of all grains. And although the specific nutrients vary in the different varieties, all U.S. grown rice is nutrient-rich and contributes more than 15 vitamins and minerals to our meals, including iron, zinc, folic acid and other B vitamins. Rice is grown in California, Louisiana, Mississippi, Arkansas, Texas, and my home state of Missouri, so I consider it a "local" food!
I'm proud to support farmers in the rice industry and hope you enjoy this recipe for Slow Cooker Korean Beef and Rice Bowls!