Learn how to make stuffed peppers with this delicious recipe for Stuffed Poblano Peppers with Chimichurri Rice and Chorizo. Why use poblano peppers instead of bell peppers? They're large enough to add plenty of your favorite stuffing mixtures and carry a bit of a kick.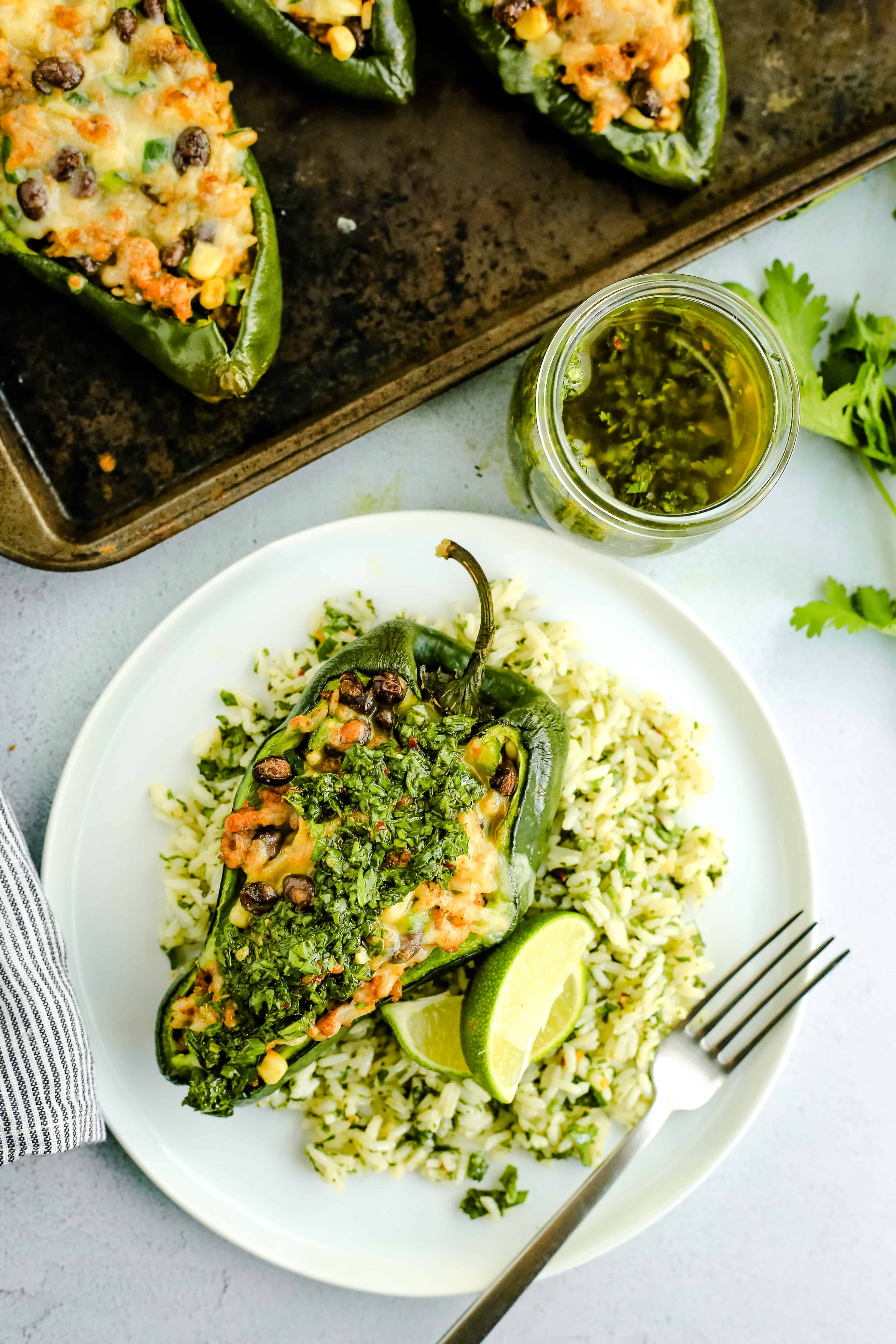 It's no secret we love rice in this household, but I especially look forward to National Rice Month every September. I teamed up with the USA Rice Federation to create this recipe and celebrate the U.S. rice industry, including farmers, producers, and manufacturers.
When I saw these giant poblano peppers, I knew exactly what I wanted to make to celebrate National Rice Month: Stuffed Poblano Peppers with Chimichurri Rice and Chorizo!
If you've been following along with me for a while, you know I'm a big fan of chimichurri sauce. I mean, I practically put that stuff on everything. It's a versatile South American condiment that features fresh herbs, olive oil, and vinegar. You'll see lots of different variations (like my Lemon Chimichurri Sauce) but this one is simple and closer to the traditional version. It adds such a nice, fresh pop of flavor to the long-grain white rice that accompanies these stuffed poblano peppers.
After I tested this recipe I was craving chimichurri rice all the time!
But don't stop there with the chimichurri love – check out my Summer Salmon Salad with Grilled Peaches, topped with (you guessed it) chimichurri!
Rice Nutrition
Did you know long grain rice, like the type I used in this recipe, accounts for more than 70% of the rice grown in the United States? I love fun foodie facts like that, especially knowing that some of it is grown in my home state of Missouri. The other major rice-producing states include California, Louisiana, Mississipi, Arkansas, and Texas. U.S.-grown rice is nutrient-rich and contributes more than 15 vitamins and minerals, including folic acid and other B-vitamins, as well as iron and zinc.
Rice is also naturally gluten-free and the least allergenic of all grains, which means more people can enjoy the fluffy texture, easy-to-digest carbohydrates, and great flavor.
I love cooking with U.S.-grown long grain rice because the cooked rice is lighter, fluffier, and more separated than the medium or short grain counterparts. Of course, you can use any variety you prefer for chimichurri rice.
I typically include rice in my meal prep efforts so I can speed up the cooking process for dishes like these stuffed poblano peppers later in the week. Whether you choose to cook rice on the stovetop or in a rice cooker or Instant Pot, the nutrition, flavor, and quality will be nearly identical. And if you're short on time (like I sometimes am!) ready-rice or microwavable pouches can be easy and quick to heat and serve.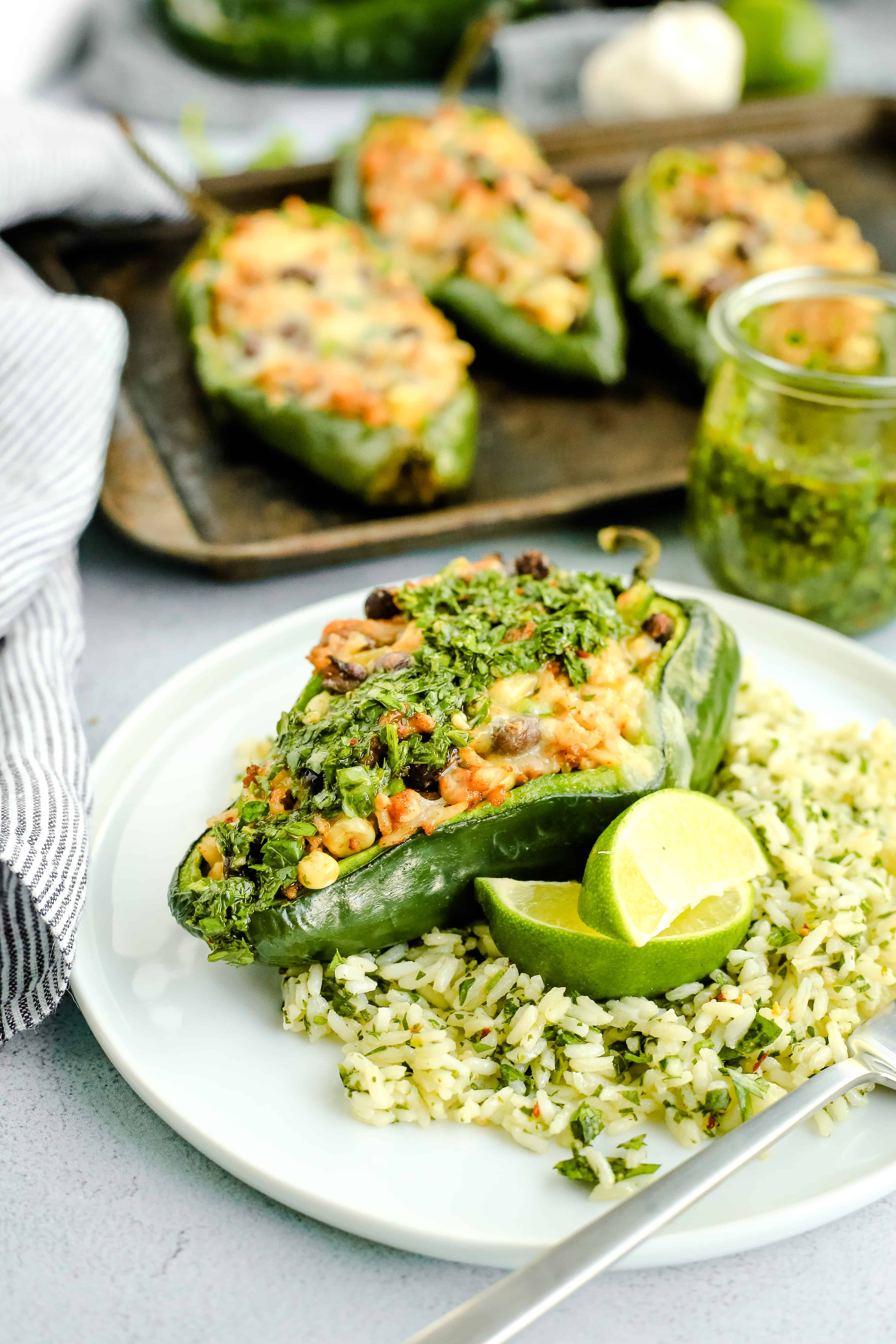 How To Make Stuffed Peppers
When I first learned how to make stuffed peppers, I was surprised by how simple the process actually is. In my mind, I imagined a long ordeal that took hours. Not so! I also learned a nice trick to avoid overly soggy peppers and that's made a world of difference.
To start, I slice the top 1/3 portion of the pepper off. I dice it and add it to the stuffing mixture to avoid food waste. I also remove the seeds and inner membranes. The result: a nice empty pepper that's primed and ready to be stuffed!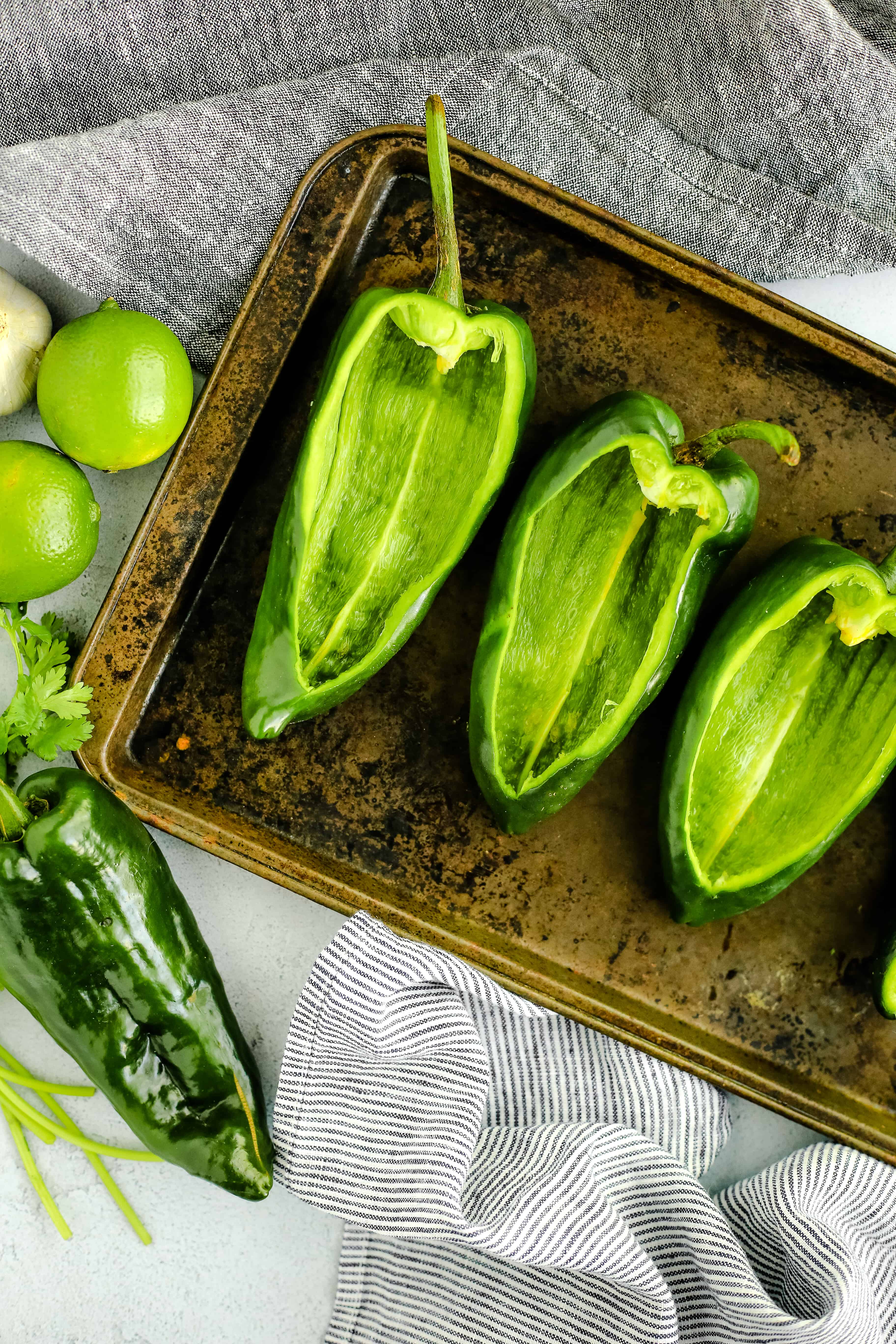 Since most of the ingredients are fully or partially cooked before entering the oven, the baking process is relatively short. But if you enjoy a softer texture for the peppers themselves, I recommend roasting the empty peppers for 12-15 minutes. Do this while you prepare the stuffing mixture. This allows them to soften which makes them much easier to stuff. It's a win-win!
If you try this out and notice liquid pooling inside the peppers, no worries. Most vegetables will naturally release some liquid as they cook. You can simply pour out any excess liquid before you add the stuffing mixture. That will make for less soggy stuffed peppers when you're ready to serve your meal.
I also recommend prepping the chimichurri sauce first. Although I don't mind the flavor right off the bat, the longer it sits, the better the flavors will meld together. If you happen to have leftovers (good luck!) store them in a sealed container. They will last in the refrigerator for up to one week.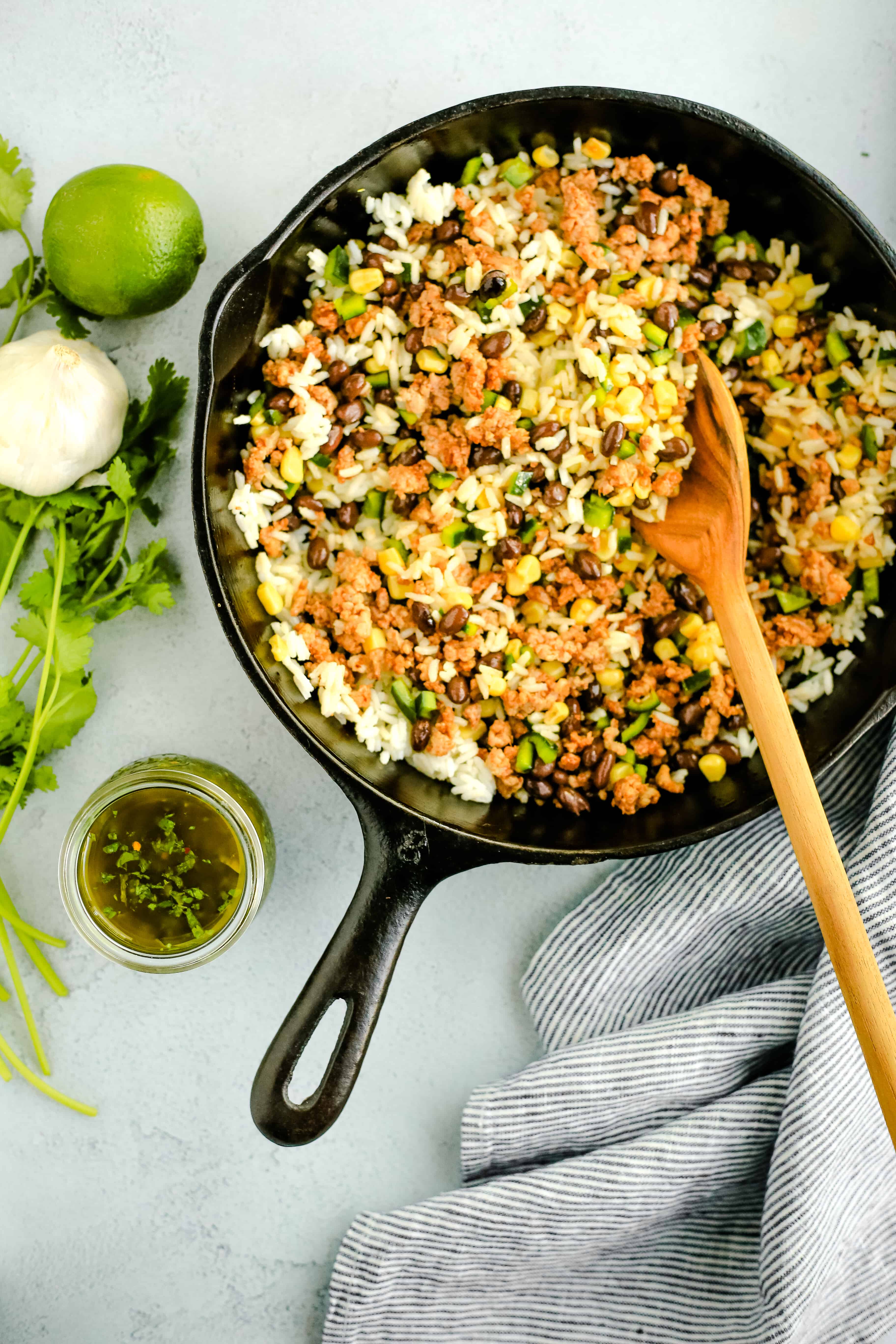 After you create the stuffing mixture, I use a small spoon to pile all that flavorful goodness into each pepper. Do your best to arrange them to lie flat. Otherwise they're prone to tipping over and we definitely don't want to deal that! Once you learn how to make stuffed peppers, you'll likely find you have a particular dish or baking sheet in your kitchen that's perfect for the job.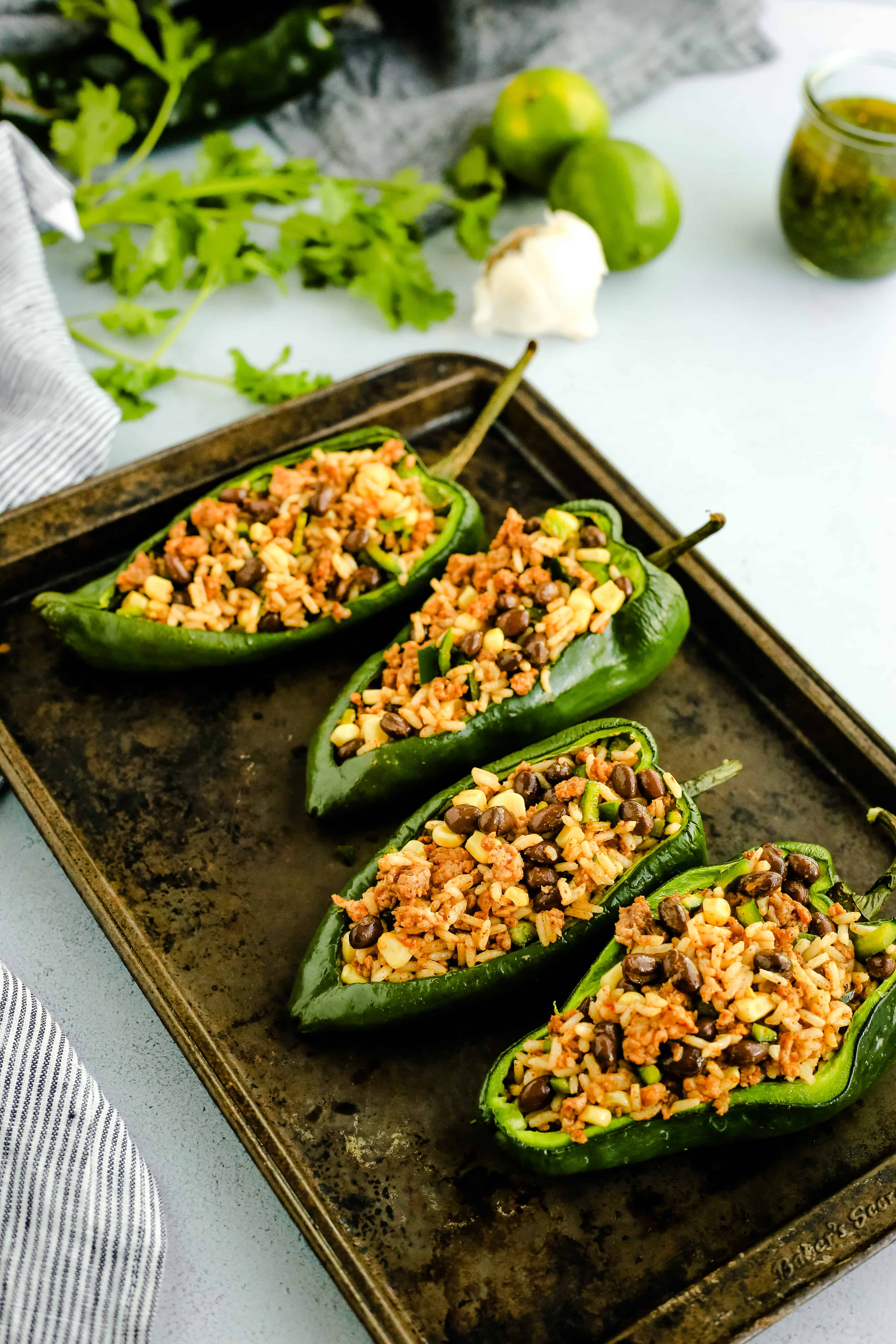 Top each pepper with shredded cheese, reduce the heat of the oven, and bake for another 10-12 minutes. If you like the bubbling cheese effect (and really, who doesn't?) move the baking sheet to the top rack and turn on the BROIL function for the last 2-3 minutes of cooking.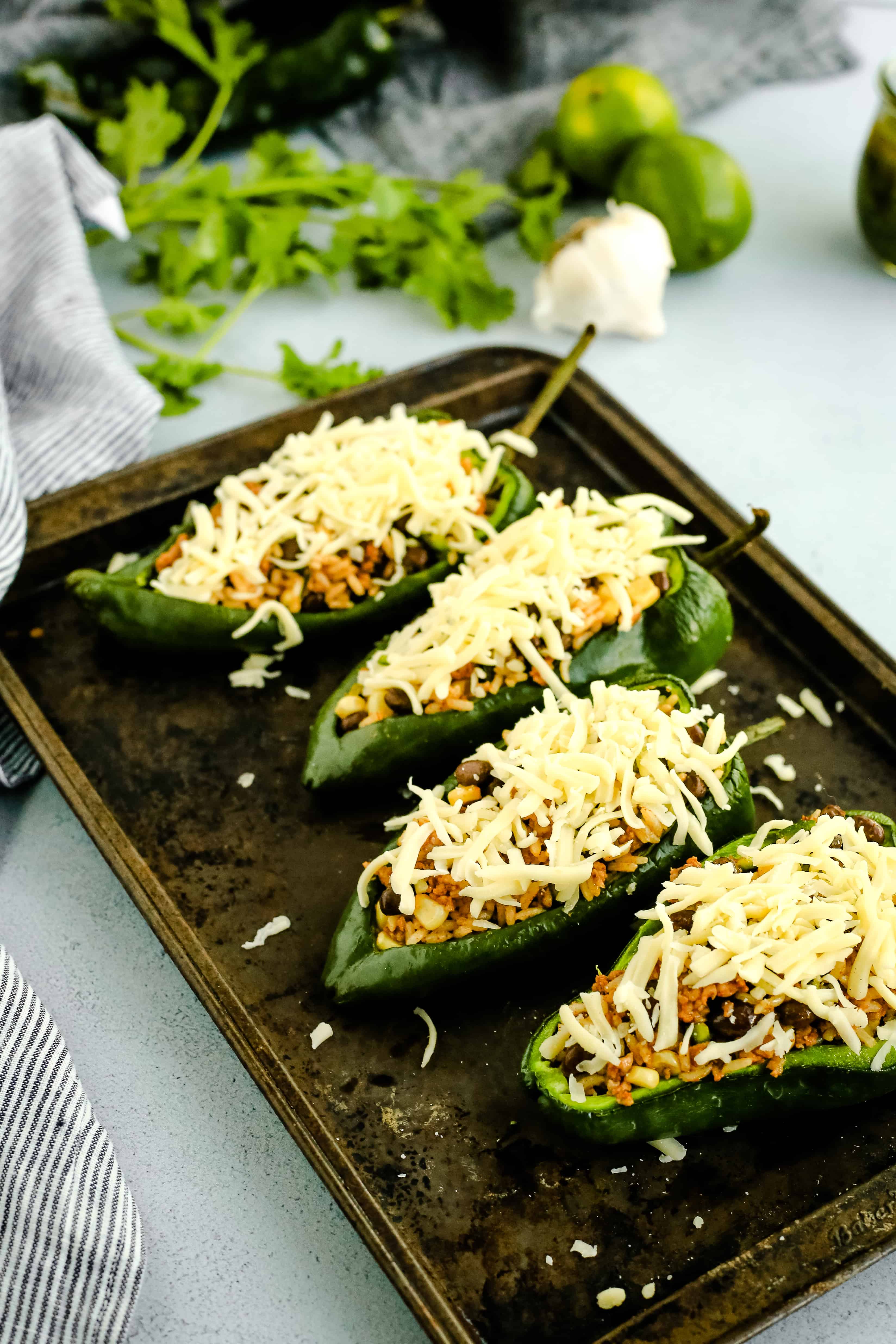 Finally, you can breathe easy – the hard part is over! From here, just mix together the chimichurri sauce and cooked rice and start plating your meals. Set a stuffed poblano pepper on top of a heaping bed of chimichurri rice. Garnish each stuffed poblano pepper with additional chimichurri sauce and a squeeze of lime juice and you're all set!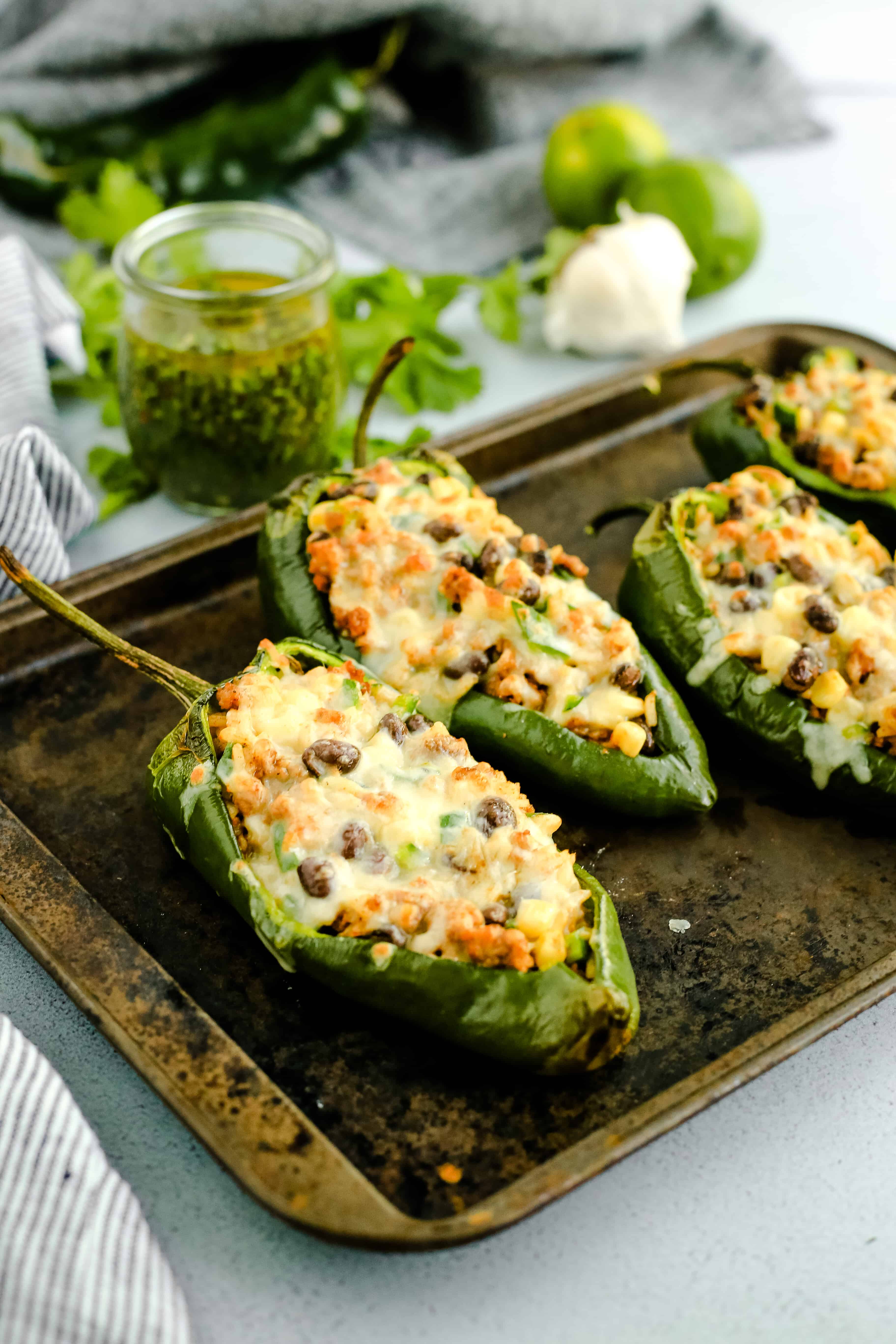 Stuffed poblano peppers are one of my all-time favorite meal prep recipes because they're so simple to pack and reheat. I will often pair them with leftover rice, fresh veggies, or a side salad. And don't be shy about making a mess. Once you start cutting into a stuffed pepper, it all sort of gets mixed and mashed together. But you won't be sacrificing any flavor whatsoever!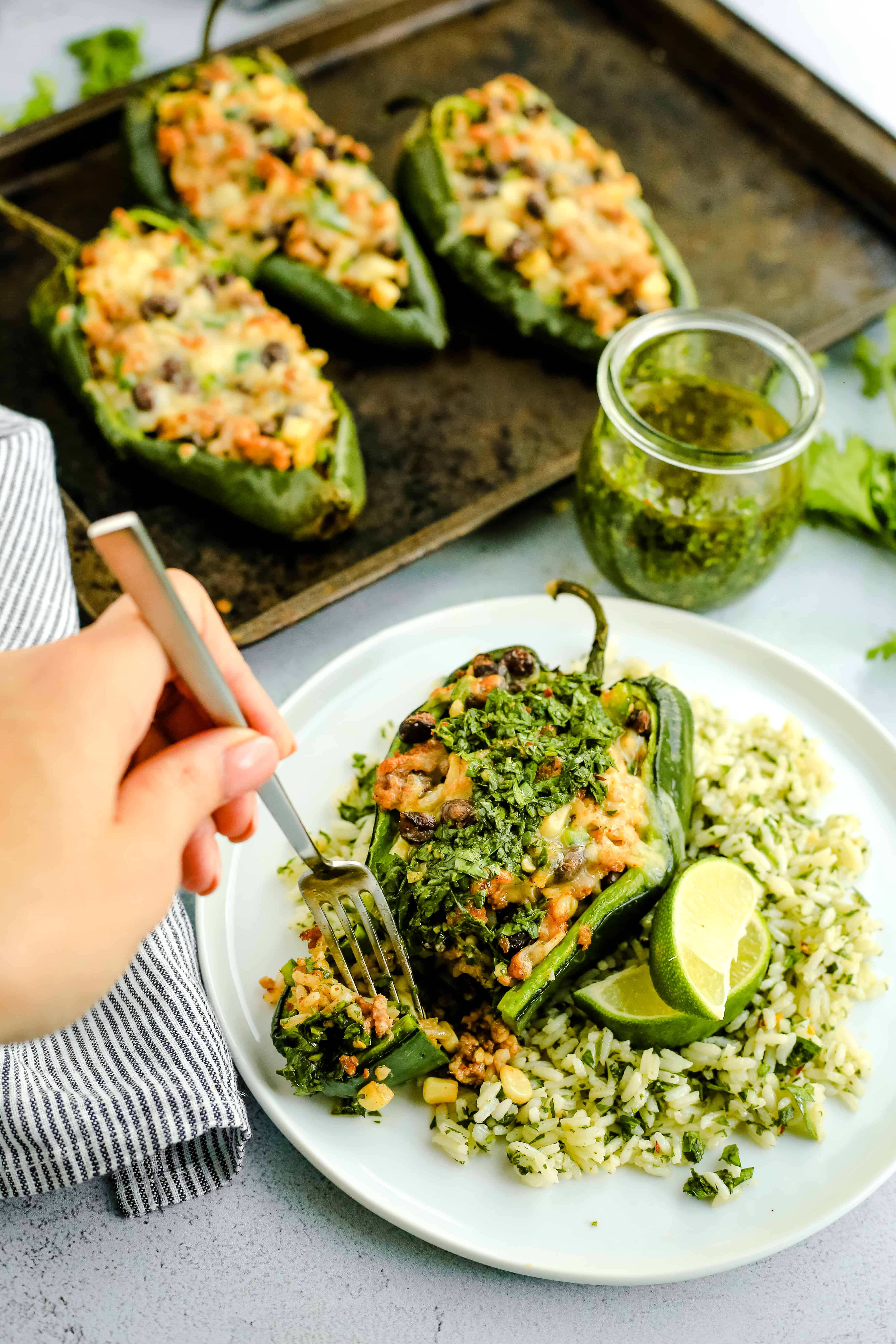 Here's the recipe for Stuffed Poblano Peppers with Chimichurri Rice and Chorizo! At this point, you'll be a pro at making stuffed peppers. You can totally riff on this recipe to make it your own.
Stuffed Poblano Peppers with Chimichurri Rice and Chorizo
Poblano peppers are perfect for stuffing. They're big like a bell pepper with less heat than a jalapeño. Prep the rice and chimichurri sauce ahead of time or batch cook to enjoy leftovers. 
Equipment
cast iron, nonstick, or stainless steel skillet

medium or large sheet pan

rice cooker, optional, otherwise prepare the rice on the stovetop
Ingredients
Stuffed Poblano Peppers
4

large

poblano peppers

,

washed and membranes removed

1

cup

U.S.-grown long grain white rice

,

uncooked

2

cups

water

1/2

lb

chorizo

1/2

cup

black beans

,

drained and rinsed

1/2

cup

sweet corn kernels

1

tsp

ground cumin

1/2

tsp

chili powder

3

cloves

garlic

,

minced

Kosher salt and pepper to taste

1/2

cup

chimichurri sauce

,

(see below)

1

cup

shredded mozzarella cheese
Chimichurri Sauce
1

cup

fresh parsley

,

packed

1/2

cup

fresh cilantro

,

packed

2

tbsp

fresh oregano

2

cloves

garlic

,

finely minced

1/2

cup

olive oil

1/4

cup

red wine vinegar

1/2

tsp

crushed red pepper flakes

1/2

tsp

coarse sea salt
Instructions
For the Chimichurri Sauce
Gather the fresh herbs (parsley, cilantro, and oregano) and finely chop using a sharp chefs knife and cutting board. Continue chopping until you achieve a fluffy, loose texture. Add the herbs to a small jar, then combine with the remaining ingredients. Shake to combine, then set aside to allow flavors to combine.

If you have leftovers, store in the refrigerator for up to one week.
For the Stuffed Poblano Peppers
Preheat the oven to 400 degrees F. Prepare the poblano peppers by washing and drying them, then remove the top 1/3 from each pepper. Reserve the top portions and dice to add to the stuffing mixture later. Remove the seeds and white membranes from inside each pepper, then arrange on a prepared baking sheet.

Prepare the rice using your preferred method (stovetop, rice cooker, Instant Pot, minute rice).

Place the baking sheet with the poblano peppers in the oven and allow to roast for 10 minutes while you complete the next step.

Heat a large non-stick skillet over medium-high heat. Add the chorizo and cook 5-6 minutes or until it begins to brown. Add the diced poblano peppers, black beans, corn, cumin, chili powder, and garlic. Stir to combine, then season with salt and pepper to taste. Remove from heat.

Remove the poblano peppers from the oven, and drain any liquid that pools in the bottom of the peppers. Add one cup of the cooked rice to the chorizo mixture and stir to combine. Carefully spoon the chorizo-rice mixture into each poblano pepper. Top each pepper with 1/4 cup of shredded mozzarella cheese.

Reduce oven to 350 degrees F and bake 10-15 minutes or until cheese is bubbling. Combine half of the prepared chimichurri sauce with the remaining rice, then divide and serve with the stuffed poblano peppers. Garnish with the remaining chimichurri sauce if desired. Serve immediately.
Notes
Although chimichurri sauce can be made in a food processor or blender, you may end up with a paste-like texture and/or a bitter flavor. It can be made in advance, chilled, then brought to room temperature before serving. 
Nutrition
Serving:
1
serving
,
Calories:
610
kcal
,
Carbohydrates:
59
g
,
Protein:
24
g
,
Fat:
31
g
,
Saturated Fat:
11
g
,
Cholesterol:
58
mg
,
Sodium:
1034
mg
,
Potassium:
623
mg
,
Fiber:
7
g
,
Sugar:
5
g
,
Vitamin A:
2664
IU
,
Vitamin C:
155
mg
,
Calcium:
252
mg
,
Iron:
5
mg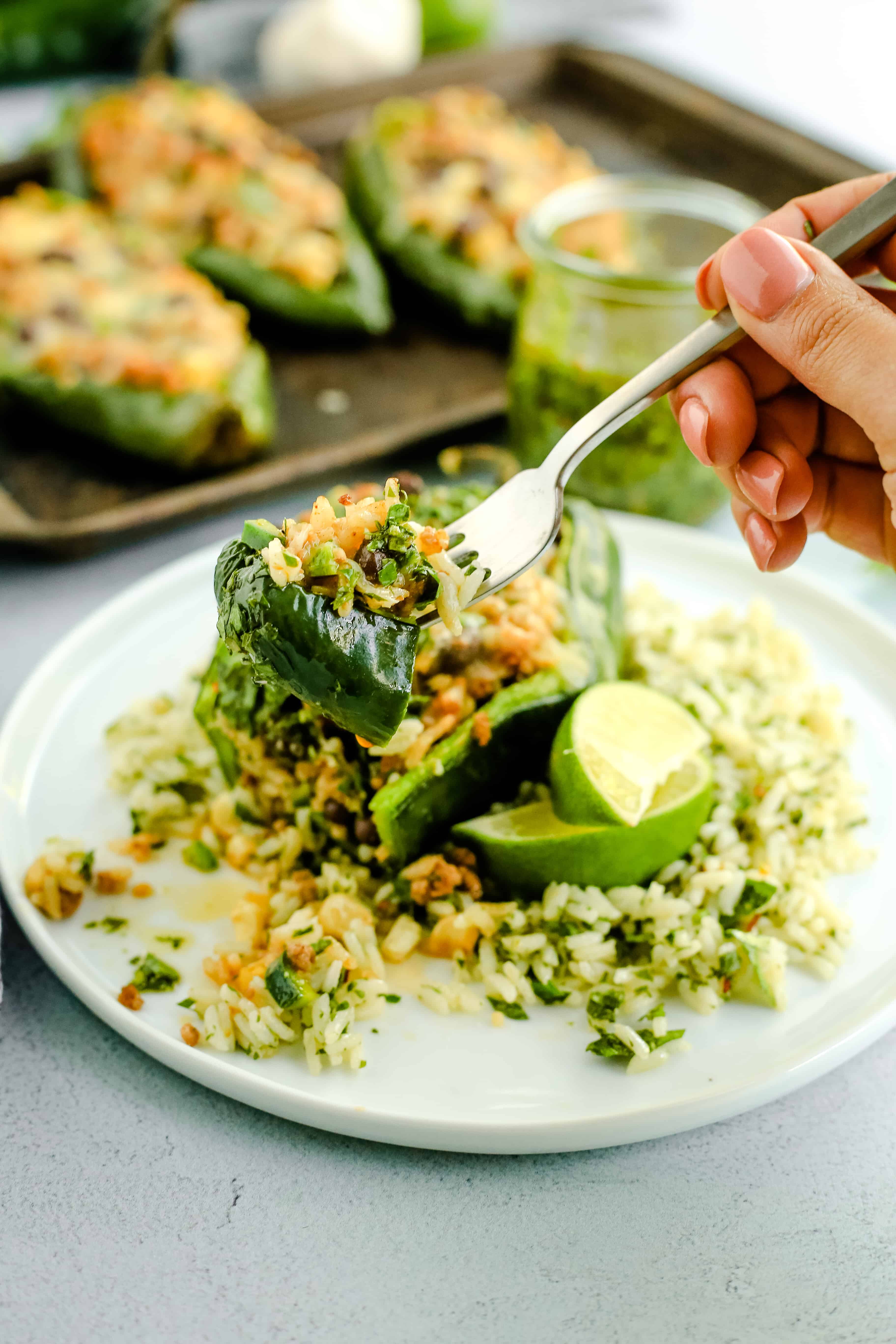 Be sure to check out USA Rice Federation and the archive of amazing rice recipes they have there. I also have lots of other delicious rice recipes to try, like my One-Pot Creamy Spinach Rice and Elotes-Inspired Mexican Street Corn and Rice Bowls.
And if you enjoy these stuffed poblano peppers, don't forget to share them with friends and family or Pin It for later!
Disclosure: This recipe and blog post was created in partnership with the USA Rice Federation when it was first published in 2019. I was compensated for my time, and minor updates and edits have been made. As always, all opinions are my own. Thanks for supporting the brands that support Street Smart Nutrition!