You'll love the festive flavor of this Spiced Cranberry Simple Syrup this holiday season! Use it for all your seasonal cocktails, mocktails, and other dressed-up beverages. Plus, it makes a great DIY holiday gift!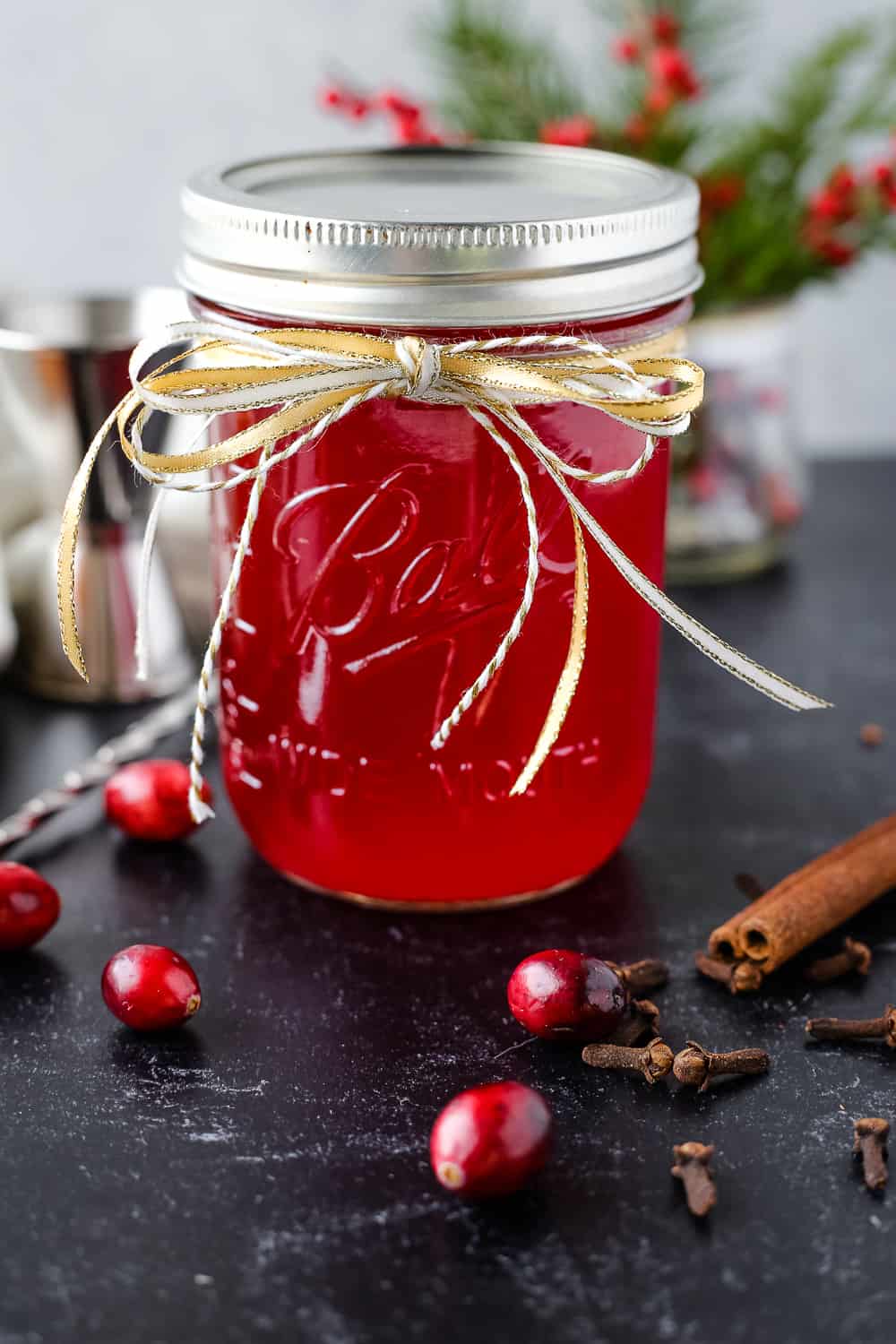 'Tis the season for holiday cocktails and mocktails! As we charge towards the end of the year, the theme quickly shifts from light and refreshing summer drinks to vibrant and festive recipes. Today I'm highlighting one of the season's most popular flavors: cranberry!
I've noticed mixed drinks are more popular than ever. But instead of the typical boozy offerings, more and more bars and restaurants are putting non-alcoholic mocktails or low ABV cocktails front and center. I personally love this trend, as it makes it more inclusive and normalizes that non-alcoholic drinks can be just as enticing.
I personally don't think you have to rely on alcohol to get into the holiday spirit. This Spiced Cranberry Simple Syrup fits right into the trend and is so easy to make at home!
Why You'll Love This Spiced Cranberry Simple Syrup
It's a great way to spruce up any drink, whether it contains alcohol or not!
You can't miss the bright, vibrant color. It's a nice contrast to all the oranges and browns…pumpkin seems to steal the spotlight this time of year but I think tart cranberries can really hold their own.
It's a breeze to make, so you can make a larger batch for yourself or share with friends and family who also love their winter cocktails and mocktails.
Making our own simple syrups is one of our favorite ways to instantly elevate our favorite cocktails at home. We've tried honey syrup, cinnamon syrup, and I recently tried a matcha syrup that was fantastic. All of this to say, it's easy to love something that makes everything it goes in taste so good!
Street Smart Nutrition Tip: As an advocate for informed and empowered decisions about what you eat or drink, that extends to alcohol. Get familiar with Standard Drink Equivalents and drink responsibly if you choose to partake. 
Cranberry Simple Syrup Ingredients
You need just a few simple ingredients to get started:
Sugar
Water
Fresh cranberries. This is a great way to use any leftover cranberries from other recipes, just skip the frozen cranberries for this one! The heating process breaks down fresh cranberries, and it happens even faster with frozen since the freezing process breaks down the cell wall structure. In testing this recipe, it seemed too tedious to strain for a clear syrup at the end so fresh seems like a better option.
Orange slices
Cinnamon sticks
Mulling spices
For equipment, you will need: a saucepan, ladle, fine mesh sieve or strainer, mason jar or other airtight container with a leak-proof lid, and a sharp knife and cutting board. Don't forget your measuring cups and spoons, too!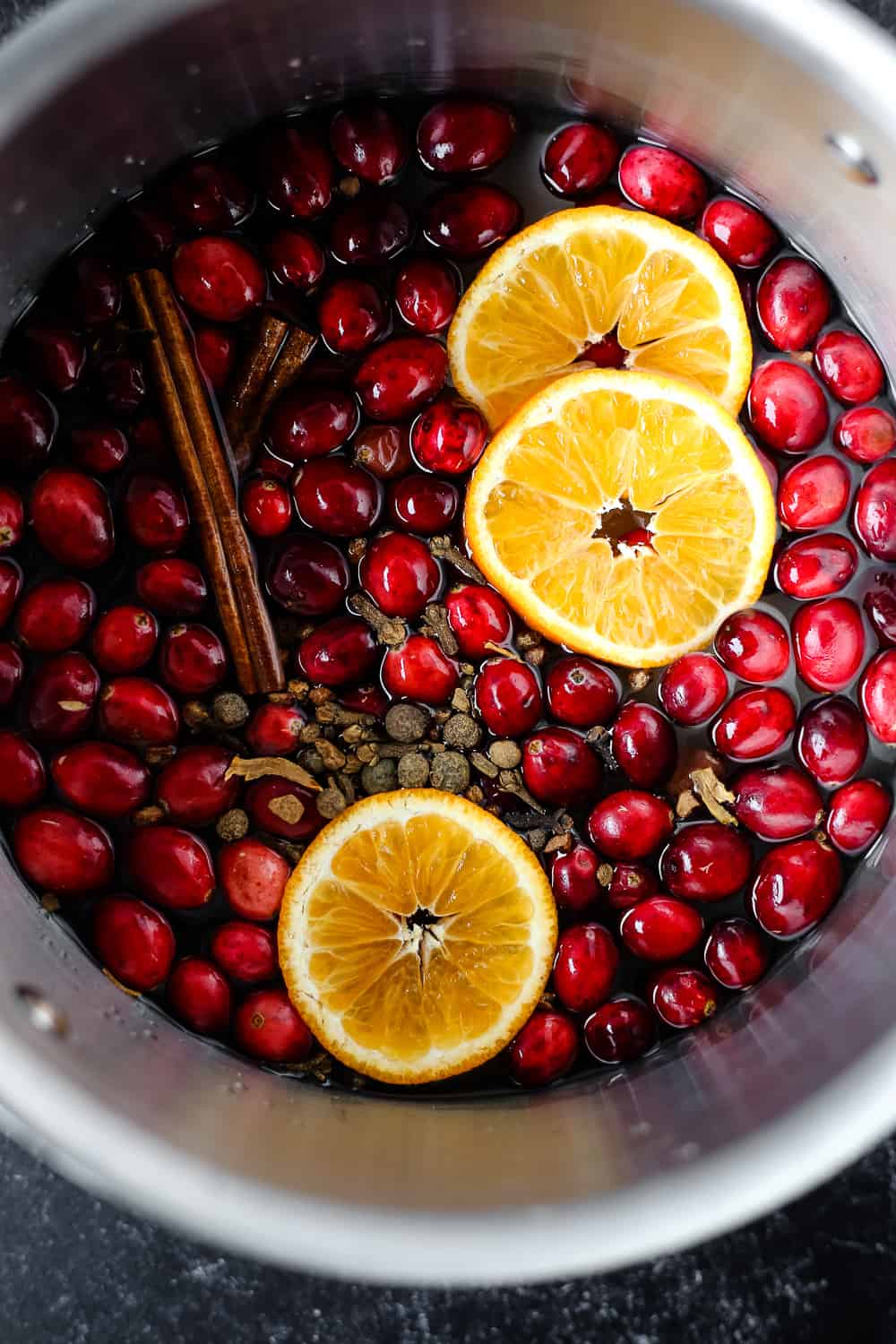 Sugar is a key ingredient for making a homemade simple syrup like this one. Check out my recap of a sugar cane farm tour to learn more about the sweet stuff and where it comes from!
How to make Spiced Cranberry Simple Syrup
First, measure out all your ingredients and add them to a small saucepan. Don't stress if you don't get the measurements exactly right. After all, this isn't baking! It won't impact the end flavor too much if you're slightly over or under. The key is to use equal parts sugar and water. This is the base ratio for any homemade simple syrup recipe.
The key ingredients here are the cranberries and the mulling spices. A mulling spice mix is typically used for making mulled wines and hot winter drinks like ciders or hot toddies. To "mull" means to heat, sweeten, and flavor, which is pretty much exactly what we're doing when we make a spiced cranberry simple syrup.
Mulling spices can come in a variety of mixes. They typically include cinnamon, whole allspice, whole cloves, star anise, and maybe some peppercorns or cardamom pods. You'll find some mixes that include dried orange peel, ginger, or other complementary flavors.
Street Smart Nutrition Tip: You can buy a pre-made mulling spice mix at a specialty spice store or find it in the spice aisle of your grocery store. You can also create a DIY version by combining the spices listed above if you already have them. No need to make a special purchase!
When you're making this Spiced Cranberry Simple Syrup, just chuck everything into a saucepan and heat that baby up! This is the same technique I used for a Honey-Lavender Simple Syrup, which I use in things like homemade lattes or cocktails & mocktails. You can use medium-high heat until it starts simmering, but reduce to medium heat or lower once it gets going.
Once it comes to a simmer, you need less than five minutes for everything to come together. You want to make sure of two things:
The sugar is fully dissolved. This won't take long, especially once the mixture starts to heat up.
Don't over-stir once it comes to a simmer.
I made that mistake the first time I tested this recipe. Fresh cranberries seem pretty hardy. In fact, they're one of my cat's favorite "toys" to dribble around the kitchen like a soccer player! But once they're heated, they actually break down pretty quickly.
Don't be surprised once the skins start to burst open. This is a good thing! It will add that beautiful, vibrant red color to the final product. But it also means that over-stirring will pulverize the mixture and make it nearly impossible to strain. It won't affect flavor, but it won't look as clear. Think of no-pulp orange juice vs. juice with the pulp.
Once your mixture has simmered for a few minutes, take it off the heat. Let it cool slightly so it's easier to handle. Then grab your ladle and fine mesh sieve.
I can't remember where I got my small handheld one, but it's one of my favorite little kitchen tools. You can purchase them in a set, like these, or just grab the smallest size. It's great for things like this, but I also use mine for straining a single can of beans or making homemade chicken stock. Carefully ladle the syrup through the sieve, a little bit at a time, to remove the mulling spices and chunks of cranberry.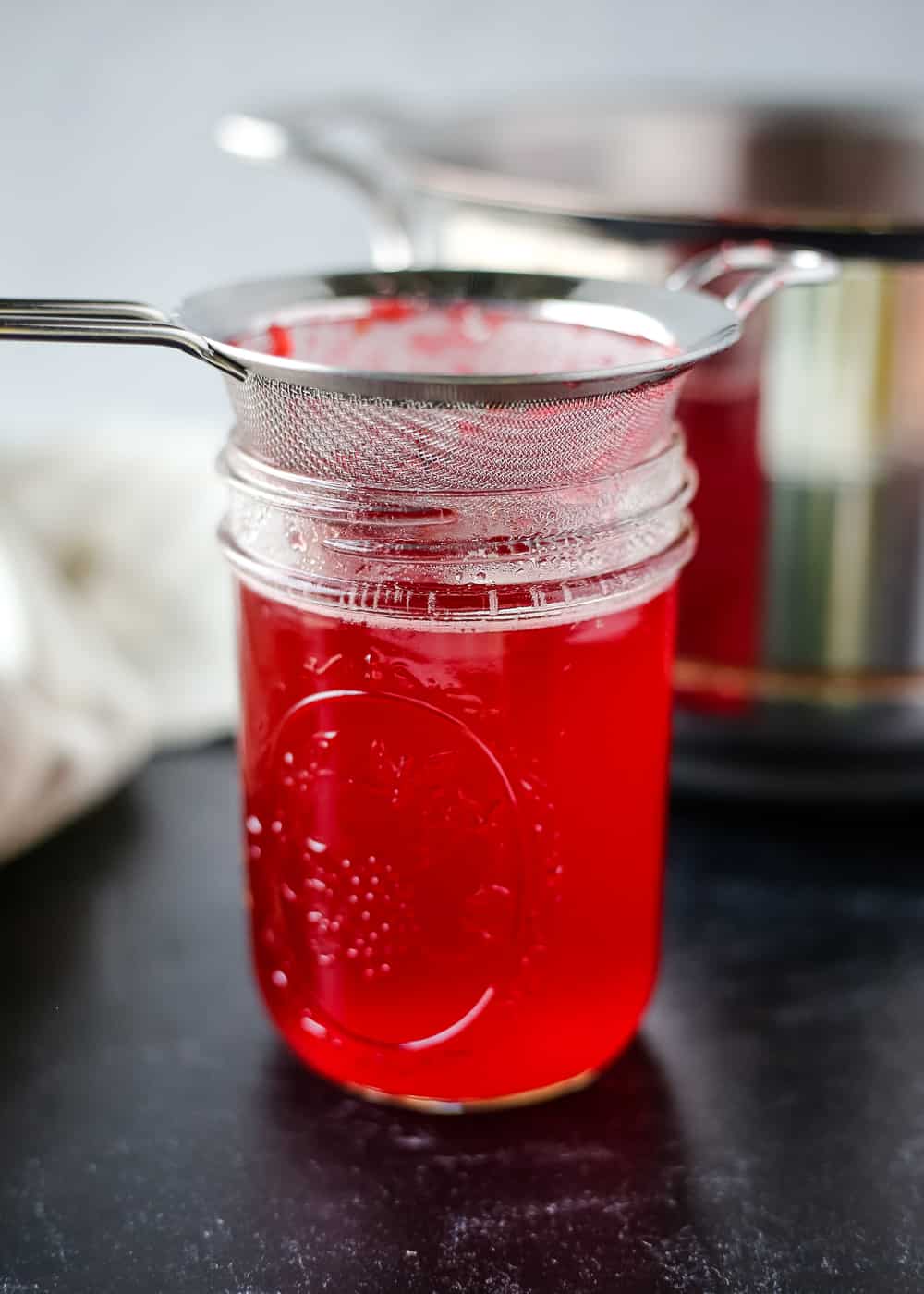 This recipe should make roughly 16 oz, or enough to just about fill up a single mason jar. I let mine cool for another 10 minutes or so before popping it into the fridge. It will keep in the fridge for about a month. Although, once your taste buds realize how delicious this Spiced Cranberry Simple Syrup is, I don't think it'll last that long!
​Serving Suggestions
​There's an endless number of homemade cocktails to make with this Spiced Cranberry Simple Syrup. In no particular order, I would start with:
Cranberry Old Fashioned
Cranberry Bourbon Smash
Cranberry Moscow Mules
Cranberry Gin & Tonic
Cranberry Vodka Sodas
Cranberry Margaritas
Cranberry Mojitos
Are you sensing a theme here? Basically, any cocktail can concert to a cranberry version.
But if you really dig that delicious cranberry flavor, cocktails aren't the only option. You can add this to seltzer water or tonic for a non-alcoholic mocktail, or try adding it to smoothies for a burst of sweet, seasonal flavor. I've also tried drizzling it into iced tea and coffee. It is definitely a very sweet flavor, so a little goes a long way. I typically use only about 1 oz or less in each drink.
Spiced Cranberry Simple Syrup
This simple syrup has some seasonal flair with cranberries, mulling spices, and vibrant red color. Use it for cocktails, mocktails, and other festive beverages!
Equipment
fine mesh sieve or strainer

Ladle

small saucepan

cutting board and sharpened knife

glass jars with tight-fitting lids
Ingredients
2

cups

water

2

cups

sugar

2

cups

cranberries

,

fresh

1

tablespoon

mulling spice

2

sticks

cinnamon

3

slices

orange
Instructions
Add all ingredients to a saucepan and place on the stove over medium-high heat. Bring to a low simmer and stir occasionally to help the sugar fully dissolve. Cook for 4 to 5 minutes, or until the cranberries burst open and the liquid becomes a bright red color.

Remove from heat and allow to cool slightly. Prepare a mason jar with a sealing lid or other leak-proof storage container. Use a ladle and a fine mesh strainer to strain the simple syrup liquid.

Allow to cool 5-10 mins longer, then seal and refrigerate. Garnish with a ribbon or other seasonal decorations if using for a DIY gift.
Notes
This recipe will yield about 16 fluid oz, and a serving size is based on 1 fluid oz. Adjust accordingly to make a larger batch. 
Nutrition
Serving:
2
oz
,
Calories:
104
kcal
,
Carbohydrates:
27
g
,
Protein:
0.1
g
,
Fat:
0.1
g
,
Saturated Fat:
0.003
g
,
Polyunsaturated Fat:
0.01
g
,
Monounsaturated Fat:
0.004
g
,
Sodium:
2
mg
,
Potassium:
17
mg
,
Fiber:
1
g
,
Sugar:
26
g
,
Vitamin A:
15
IU
,
Vitamin C:
3
mg
,
Calcium:
8
mg
,
Iron:
0.1
mg
Spiced Cranberry Simple Syrup as a DIY Gift
If there's a foodie in your life who could use an upgrade from traditional simple syrup, this homemade cranberry syrup can be a thoughtful (and delicious!) DIY gift. It also double as a unique housewarming gift or host/hostess gift if you plan on attending holiday parties. 
Allow the spiced cranberry simple syrup to cool to room temperature. Then simply pour it into small glass jars or glass bottles with tight lids. This is key, because if there's any spills or leaks it will get very sticky. Tie some colorful ribbon around the top and make it pretty. It can also be nice to attach a small recipe card or description, and maybe include a few recipe ideas you think they might enjoy. You can also include:
Jigger or shot glass
Copper mugs for a cranberry Moscow Mule
Case of ginger ale or sparkling water for mixers, or a bottle of tonic water
If you give this recipe a try, let me know! I'd love to hear what you used it for or who you gifted it to (plus how great your kitchen smelled while you were making it). Leave a rating or comment, and thanks for stopping by the Street Smart Nutrition blog!
If you want to see some other DIY cocktail and mocktail recipes, check these out:
Finally, if you want to enjoy more cranberry health benefits, read up on some of the latest research and get the recipe for a Cranberry Granita with Jalapeño and Lime!
Note: This post was originally published in December 2020. It has since been updated to improve the overall quality of the information and/or images.