Do you know how many drinks you're really having? Let's get familiar with standard drink equivalents, an important tool for making responsible, informed decisions about alcohol. This post will guide you through everything you need to know to start sipping smarter.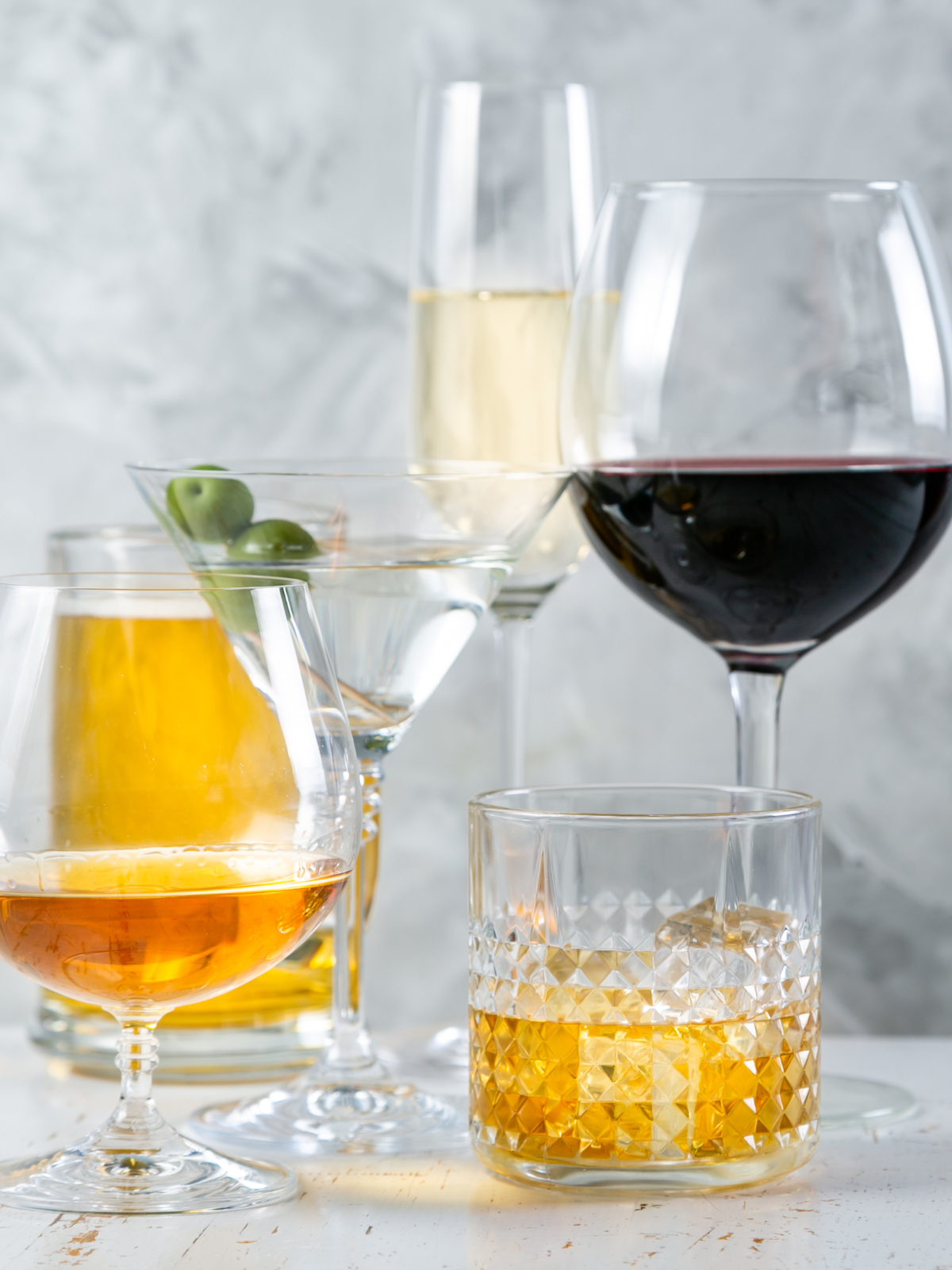 As a staunch advocate for fearlessly nourishing meals, my philosophy carries over to the world of drinking. Alcohol use is a personal choice, but just like with intuitive eating and a non-diet approach, it's not about judgment. I want you to feel confident in your choices, whatever that looks like, and having enough information to make an informed choice is key.
As a registered dietitian, I'm not recommending that you start drinking alcohol (or drink more alcohol) for health or well-being. But I am recommending that you take some time to learn more, and you're in the right place for that.
So let's get into it!
What Is a Standard Drink?
First things first: a standard drink, or standard drink equivalent, is defined as 0.6 oz of pure ethanol (ethyl alcohol), or 14 grams of pure alcohol. Ethanol is the pure alcohol found in all alcoholic beverages. It's the measurement that matters regardless of what you choose to drink. And no need to calculate it yourself, as it will appear on labels as a percentage of "alcohol by volume" or ABV.
In the United States, you'll also see it listed as "proof". To calculate the proof of a spirit or hard liquor, multiple the ABV by 2. So a 40% ABV spirit is considered 80 proof. This is less common throughout the rest of the world, so ABV is considered the standard measurement.
Standard drink sizes vary in other countries, but in the United States:
A standard drink of beer (5% ABV) = 12 fl oz
A standard drink of wine (12% ABV) = 5 fl oz
A standard drink of spirits (40% ABV or 80 proof) = 1.5 fl oz
This used to be pretty straightforward, but now we have more options than ever. Craft beers usually have higher ABVs than regular beer or light beer. We now have ready-to-drink cocktails in cans or bottles. And even wine can vary above the 12% ABV outlined in the current guidelines. Pours can vary greatly if you're ordering a drink from a bar or restaurant. Not only that, but there are so many different sizes of cans and bottles available for drinking at home.
Feel confused yet? Don't worry, there's a simple tool that can help you figure it all out. More on that below!
The Bottom Line: It's more important to consider the amount of pure alcohol in your drink, not the type of drink, ounces of liquor, or amount of liquid.
Current Guidelines for Alcohol Consumption
According to the 2020-2025 Dietary Guidelines for Americans (DGAs), adults age 21+ should consume alcohol in moderation. The limited definition of moderation is defined as:
Up to one drink (standard drink equivalent) for women
Up to two drinks (standard drink equivalents) for men
The difference is not based solely on weight, which is a common belief. In reality, the difference is based on how alcohol increases blood alcohol concentration (BAC). That's why the current guidelines are limited, because the gender binary doesn't consider how other factors affect BAC. To better understand how alcohol affects you, try the Blood Alcohol Content Calculator from Responsibility.org, which factors in age, gender, sex assigned at birth, height, weight, and whether or not you eat while drinking.
Street Smart Nutrition Tip: Eating before you drink can reduce your peak BAC by as much as 35-40%. This is just an estimate, but eating something about 15 minutes before drinking can slow alcohol absorption, which is why I don't recommend drinking on an empty stomach.
And of course, it's important to note that alcohol isn't right for everyone. Some people should not drink alcohol of any kind in any volume. This includes people who are underage, pregnant, trying to become pregnant, are taking medications that interact with alcohol. Other folks with a history of alcohol abuse/alcohol dependence or people who are breastfeeding or chest feeding should use discretion around drinking. Check out this resource from The Lactation Network for more about "pump and dump" practices for lactating parents.
How To Calculate a Standard Drink
Here's where we get into that simple tool I mentioned earlier. It can be stressful to overthink anything about your diet, kind of like stressing about tracking macros or counting calories. So I'm sharing this tool not to make you feel guilty or ashamed about your drinking habits, but to be a resource for making empowered choices. Understanding how much alcohol is in different drinks or types of alcohol can help you reduced the risk of alcohol-related harms. It can also help you identify a pattern of alcohol consumption or recognize if heavy drinking is starting to become an issue for you. 
Use A Standard Drink Calculator for Informed Drinking
There's an easy online tool you can use to quickly calculate how many standard drinks (or standard drink equivalents) are in your glass, can, or bottle. The Drink Calculator, developed by the Distilled Spirits Council of the United States, helps you add up how much alcohol you're really drinking.
Here's how it works:
First, measure the volume of the alcoholic beverage or liquor you're drinking. Enter the volume in milliliters (ml) or fluid ounces (oz). If you have a can or bottle with a label, this should be easy to find on the front of the packaging, but use a jigger or measuring cup for liquor, a mixed drink, or glass of wine.
Next, determine the alcohol by volume. The calculator lets you input it as a percentage of alcohol by volume (ABV) or proof. Again, this should be clearly displayed on the labels.
The Drink Calculator tells you the number of standard drink equivalents you're having based on that information. It also has an easy way to keep a running tally by adding another drink (which can be the same or different as the first).
This tool is really insightful and I think you might be surprised to learn that what you thought was one drink might be more! For example, I used the Drink Calculator for my Yuzu Margarita recipe, which calls for 1.5 oz blanco tequila + 1 oz Cointreau, both 40% ABV. This goes into a single mixed drink but according to the Drink Calculator, it's actually 1.67 standard drink equivalents.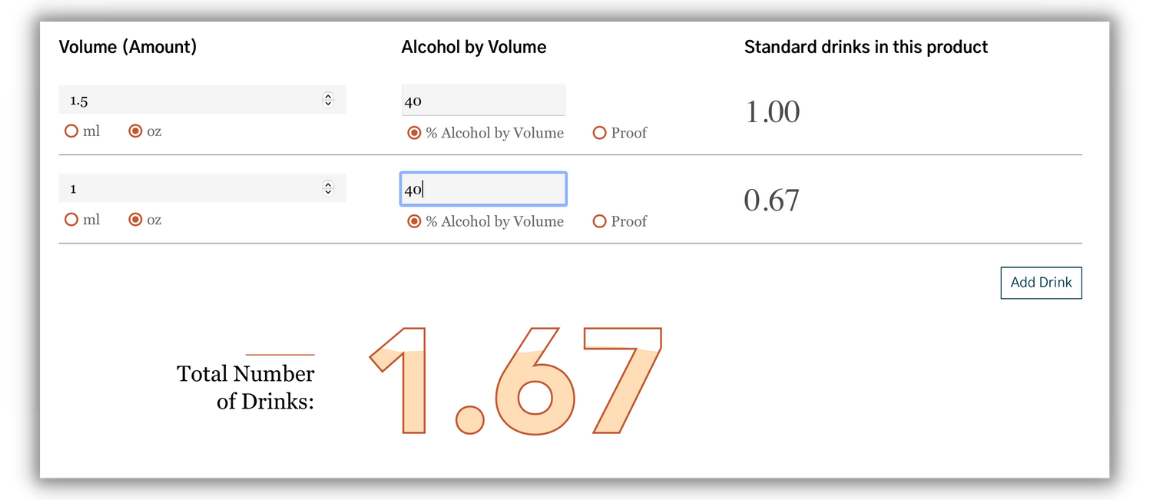 ​I recommend trying this out, especially if you have a favorite mixed drink that combines liquors or isn't as intuitive to calculate as a bottle or can. It may come as a surprise to you, or it may not, but once you're more informed you can confidently make more "street smart" decisions when you're imbibing.
Health Risks of Drinking Alcohol
Unlike other foods and beverages, alcohol doesn't contain other beneficial micronutrients. In other words, when you're measuring grams of alcohol, you're getting nothing but alcohol. Alcohol consumption is linked to an increased risk of several serious health conditions and chronic diseases.
Since alcohol is metabolized in the liver, heavy drinking can result in acute hepatitis (inflammation of the liver), alcohol hepatitis (chronic inflammation of the liver), which may lead to cirrhosis and liver failure.
Drinking can increase risk of certain types of cancer, including cancers of the mouth, throat, esophagus, and liver. It's also linked to breast and colorectal cancers. A recently published article suggests there is a dose response, with high intake of alcohol being more strongly associated with early onset colorectal cancer.
Alcohol impairs your coordination, judgment, and reaction time. This can raise the risk of accidents and injuries, especially when driving so you should never get behind the wheel even if you're only had a small amount. Drinking can also worsen depression, anxiety, or other mental health problems and interact negatively with certain medications.
Pregnancy complications, birth defects, and fetal alcohol spectrum disorders (FASDs) are also a serious concern for people who drink while pregnant.
Ethanol (AKA alcohol) is a known toxin. However, for most healthy adults, a small amount of alcohol or a few drinks every once in a while doesn't pose a significant health risk. To be clear, that doesn't mean there's low risk or no risk for drinking. But I'm realistic about the fact that drinking is a popular activity in our culture. Unless you're abstaining 100%, you might choose to have a drink or two in social settings or at home.
Keep in mind there are numerous variables that factor into the risk of chronic disease in the future. Some of these risks are modifiable, meaning they're within our control. Lifestyle habits like drinking all into this category. But many risk factors are non-modifiable and out of our control. This includes your age, sex assigned at birth, race and ethnicity, family history, and genetics. 
Are there health benefits for drinking?
The research is mixed on this, but the TL;DR version is that any associated or potential benefits are outweighed by the known risks. So I'll emphasize again: if you aren't already drinking, there's no point in starting "for your health." Don't get it twisted!
Some studies suggest certain types of alcohol, like red wine that contains antioxidants like resveratrol, may have a positive impact for cardiovascular health. But considering you may get the same or more benefit from other lifestyle habits, there's not a strong case for picking up a glass of wine for your heart.
The Bottom Line: It's up to you whether or not you partake. But as a registered dietitian, I don't recommend consuming alcohol for its potential health benefits. Even a small amount of alcohol can increase your risk for alcohol-related disease, and the safest option is probably to avoid drinking altogether. However, as humans, we engage in calculated risks all the time and ultimately, the decision is up to you. 
Tips for Drinking Responsibly
​Now let's turn our focus to some general guidelines for drinking responsibly. You've probably heard the phrase, "enjoy responsibly" but what does that really mean? Here are a few do's and don'ts I can offer.
What to Do
Stay hydrated! Alternate water or other hydrating, zero-proof beverages (AKA, mocktails) with alcoholic drinks.
Have something to eat before drinking or with your drink. Alcohol, just like nutrients, is absorbed in the small intestine. Having something (anything!) in your digestive tract can slow digestion and blunt the influence of alcohol.
Use one of the free standard drink calculators, like this one, to get a good idea of what's in your drink. Your eyes can be deceiving depending on the size of the glass or if you mix with other liquids, so be aware of the differences in serving sizes.
Know your limits! Alcohol can impair judgement and it's a slippery slope from having a good time to putting yourself at risk.
What NOT to Do
Don't "save up" your drinks to prepare for a night out. Binge drinking, or consuming more than the recommended number of standard drinks in a single occasion, isn't avoided by abstaining all week before drinking heavily.
Don't forget alcohol has different effects for different people.
Don't assume one type of drink is "better" or "worse" than another. If it contains alcohol in the form of pure ethanol, it can have the same intoxicating effects and contribute towards the total number of standard drinks you have.
Don't rely on old wive's tales like taking a cold shower to sober up or avoid a hangover. The most reliable factor is time, allowing your liver, kidneys, and natural detoxification systems to do their job.
Don't be shy about abstaining if you don't want to drink. Peer pressure can be hard to avoid, but the current trend for low- or no-ABV mocktails (alcohol-free, zero-proof cocktails) suggests more openness towards nonalcoholic alternatives.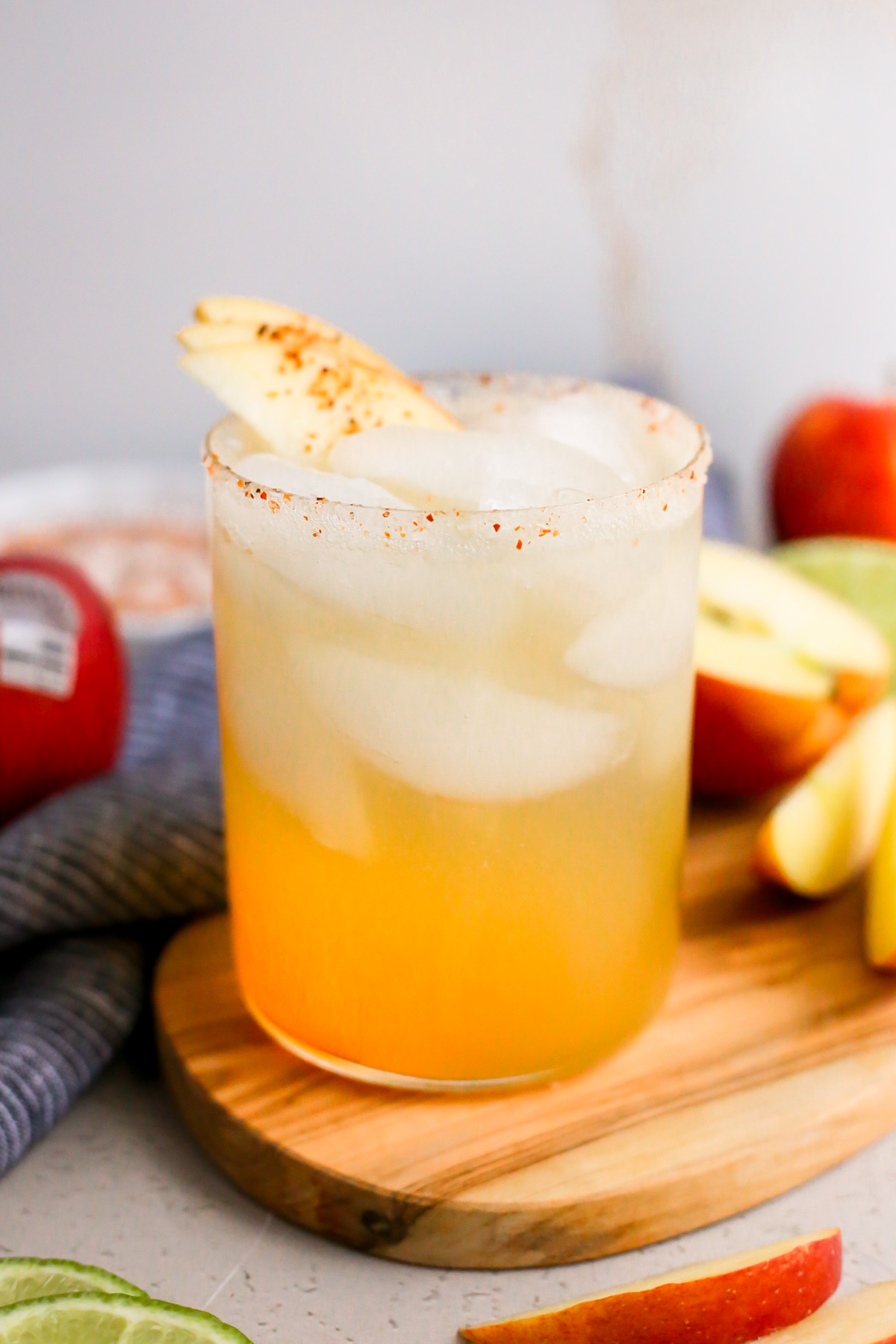 Remember, the guidelines I shared are specific to the United States. Responsible alcohol consumption recommendations may vary in different countries. Additionally, individual circumstances and health conditions should always be considered when making decisions about alcohol consumption. It's advisable to consult with healthcare professionals for personalized advice. I hope this post has been helpful if you've ever wondered about standard drinks.
As always, thanks for reading! I hope you consider the Street Smart Nutrition Blog a trusted source for evidence-based nutrition information! Follow for more on Instagram and YouTube, and don't forget to sign up for my newsletter so you never miss a new post. Cheers to more fearlessly nourishing meals!
---
Additional Resources