Shake up something different with this Yuzu Margarita recipe! It takes the classic margarita cocktail and infuses it with the unique flavor of yuzu. Add a lime wheel for garnish, then sit back and relax with this refreshing yuzu cocktail.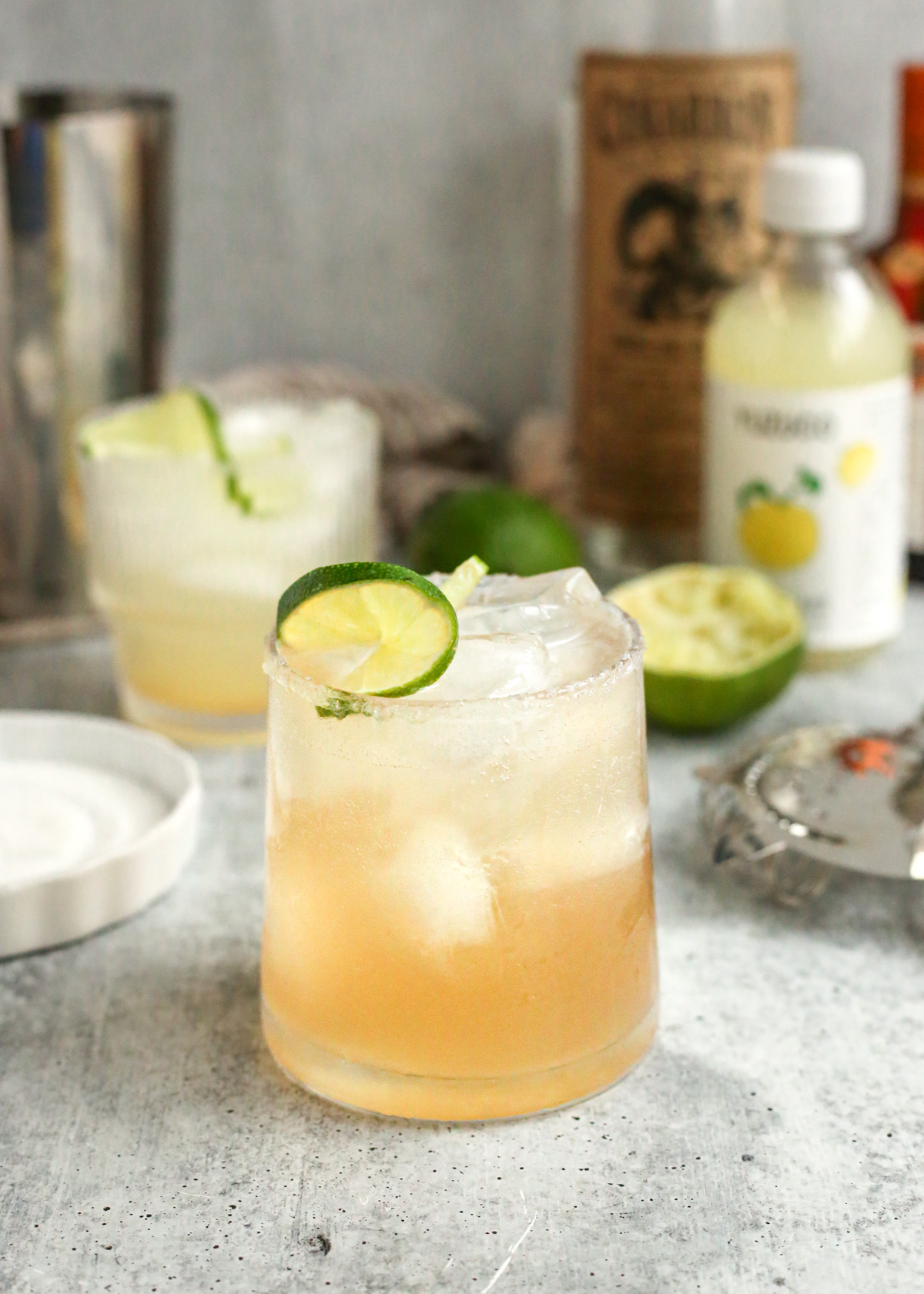 I first tried yuzu in a cocktail when we were traveling with family. To say it left an impression would be quite the understatement! There we were, cozied up to a mojito bar and I spotted a drink featuring a few of my favorite cocktail components. The only difference was yuzu juice, which (at the time) I'd never tried. I'm a sucker for ordering anything I can't make at home and it did not disappoint. That refreshing, tangy drink was so aromatic and beautifully garnished, I loved every sip! And I've been chasing that flavor experience ever since.
When we got back I promptly scoured the city for yuzu juice (which you can also buy online) and set out to experiment with recipes of all kinds. Now I'm excited to unveil my Yuzu Margarita!
If you're here for the mocktail version, you'll find an alcohol-free version below the recipe card!
Why You'll Love This Yuzu Margarita Recipe
If you like classic margaritas, I can all but guarantee you'll dig this one. It's familiar, it's reliable, what's not to love about not straying too far from the original recipe?
This cocktail is so fragrant, you'll be able to smell it long before it ever hits your lips. I like to encourage mindfulness when drinking and it's such a satisfying drink to sip when you tap into more than just your sense of taste.
It's an easy introduction to yuzu, tapping into the trend since yuzu was projected to be one of the breakout ingredients for 2023.
I'll pause here to add some credit for my partner. Lately, he's gotten really into making cocktails at home. While I wasn't too interested in the beginning (still enjoying the wine bottles we collected during quarantine circa 2020) I've really changed my tune lately.
As we've learned how to craft better cocktails at home, we realized it's just one more fun way to experiment with different flavors and ingredients. And he pretty much knows that if we're making drinks at home I'm going to ask him to mix up some kind of yuzu cocktail for me!
Street Smart Nutrition Tip: One guidebook he really found helpful was "Craft of the Cocktail" by renowned bartender and mixologist Dale DeGroff. However, I wasn't too impressed with his version of a yuzu margarita, which only called for 4 ml of yuzu juice. No offense, but that hardly seems worth it if you go through the trouble of tracking down yuzu juice. We used that as a base recipe but modified it to include a full ounce of yuzu juice.
What Is Yuzu?
Yuzu is a small, yellow citrus fruit from East Asia. While the fruit itself is difficult to find here in the United States, yuzu juice and yuzu extract is available. The flavor is like a combination of lemon, mandarin orange, and grapefruit. It also has a subtle lime flavor, which is why I think it works so well in this Yuzu Margarita.
It also has a very aromatic quality with floral notes and a hint of bergamot. It's truly one of my favorite flavors and I love featuring it in recipes. It works well in sauces, salad dressings, marinades, mocktails, baking or desserts, and pretty much anything that calls for lemon juice.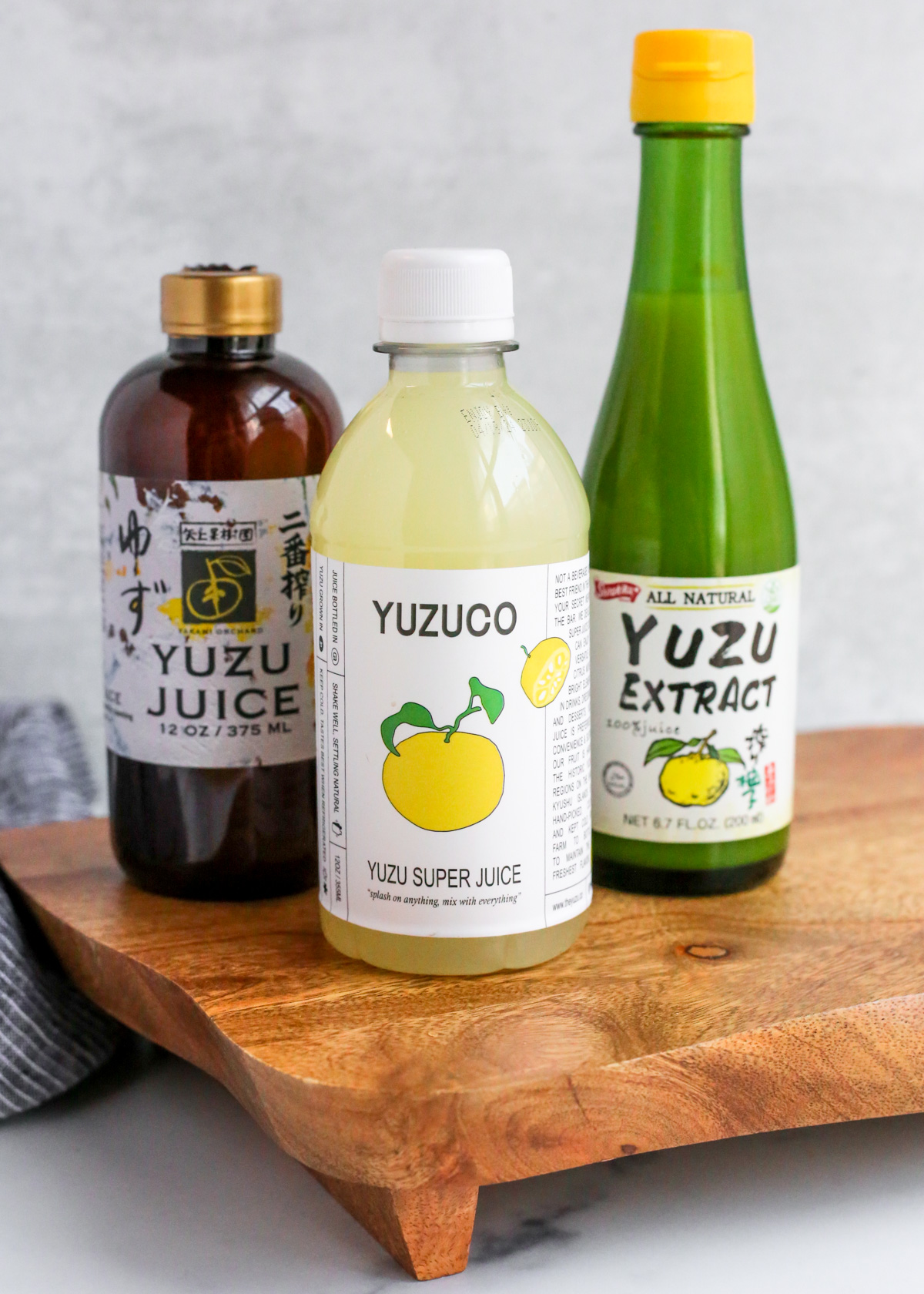 ​To learn more, check out How to Use Yuzu Fruit: The Ultimate Guide to Cooking with Yuzu. You'll soon be a pro at sourcing yuzu super juice and other yuzu-flavored ingredients for your recipes.
Ingredients You'll Need
Exact measurements are listed in the recipe card below, but here's what you'll need to make a Yuzu Margarita:
100% yuzu juice or super juice. This replaces the fresh lime juice in the classic margarita recipe. Yuzu and lime share some similar flavor notes, so don't worry, this recipe stays true to the classic margarita!
Cointreau. Triple sec will also work in this yuzu margarita recipe.
Blanco tequila
Simple syrup or agave syrup. Note that agave syrup is darker in color with more depth of flavor (which is why I prefer it). Adjust the amount of sweetness with more or less syrup regardless of whether you use agave syrup or simple syrup.
Coarse sea salt. Just a pinch is plenty! This helps balance the flavors without too much saltiness in each sip.
Lime wheel or wedge. This is strictly for garnish so if you don't want to mess with an extra ingredient, it's totally optional.
Yuzu juice can be hard to find. It can also get pricey in a hurry. That's why I love that Yuzuco has a super juice option. It's a little less expensive and very easy to find online (as is their 100% yuzu juice). Super juice is a more sustainable option for citrus juices, made using a combination of malic acid and citric acid to replicate the flavor. 100% yuzu extract or yuzu juice also works well in this recipe.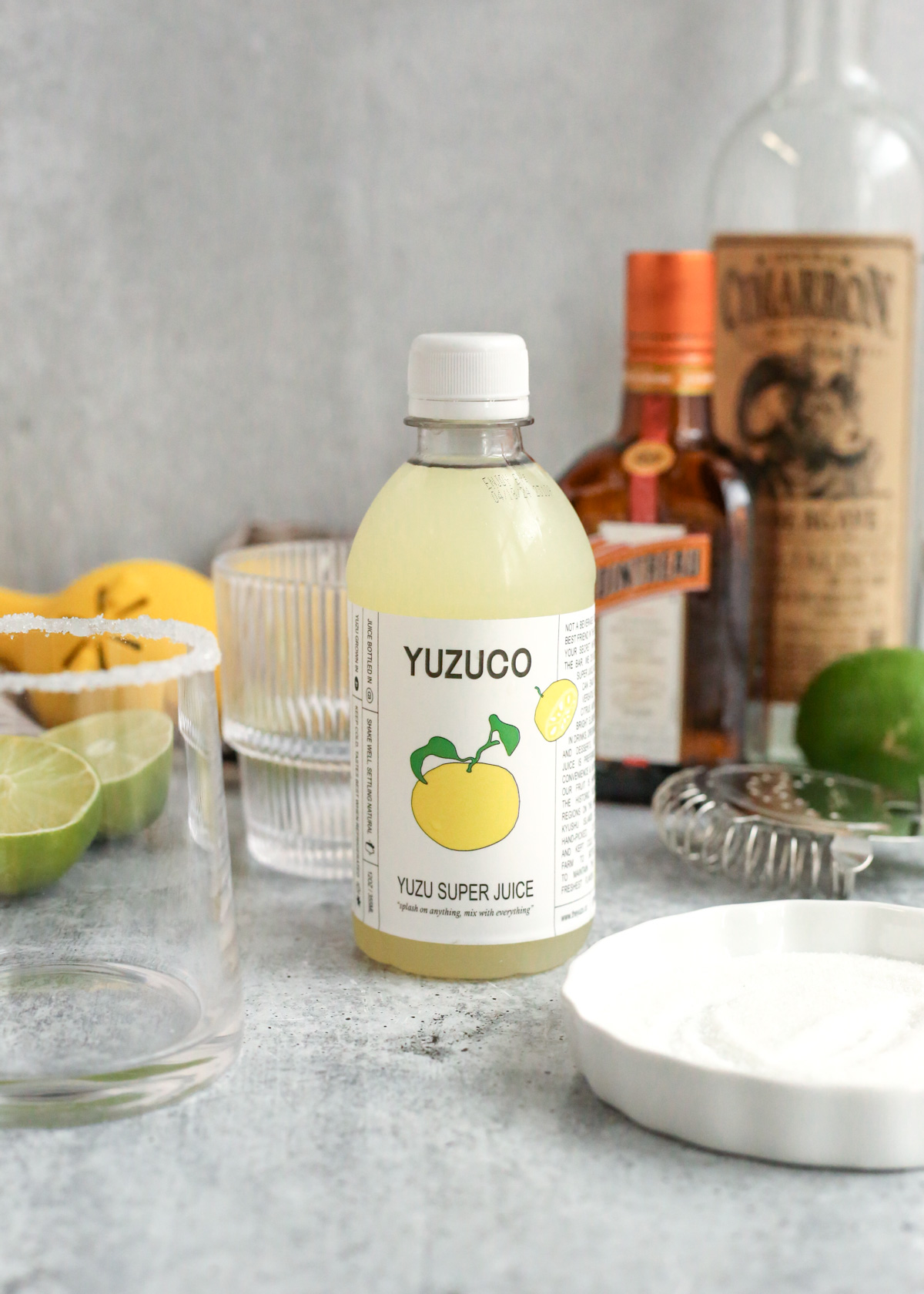 You'll also need plenty of fresh ice, a serving glass, and a cocktail shaker and strainer. Grab a small cutting board and knife as well, so you can carve out a nice lime wheel for garnishing your drink. And if you enjoy a salt or sugar rim, add a couple of tablespoons to a shallow dish before making your drink.
How to Make a Yuzu Margarita
Before you get to mixing, set up a work station with everything you need. One of the biggest enemies of cocktails is too much dilution, AKA melted ice. So once you combine everything, you'll want to work fast.
Prep your serving glass with a salt or sugar rim. This is totally optional, but it's a simple way to elevate a cocktail at home. Just add a couple of tablespoons of salt or sugar to a shallow dish. You can even add some Tajin seasoning for even more citrusy flavor. Moisten the rim of your cocktail glass by dipping it into a little bit of water or running a lime wedge around the edge. Place it upside down in the salt or sugar, then flip it over to set while you mix the yuzu margarita.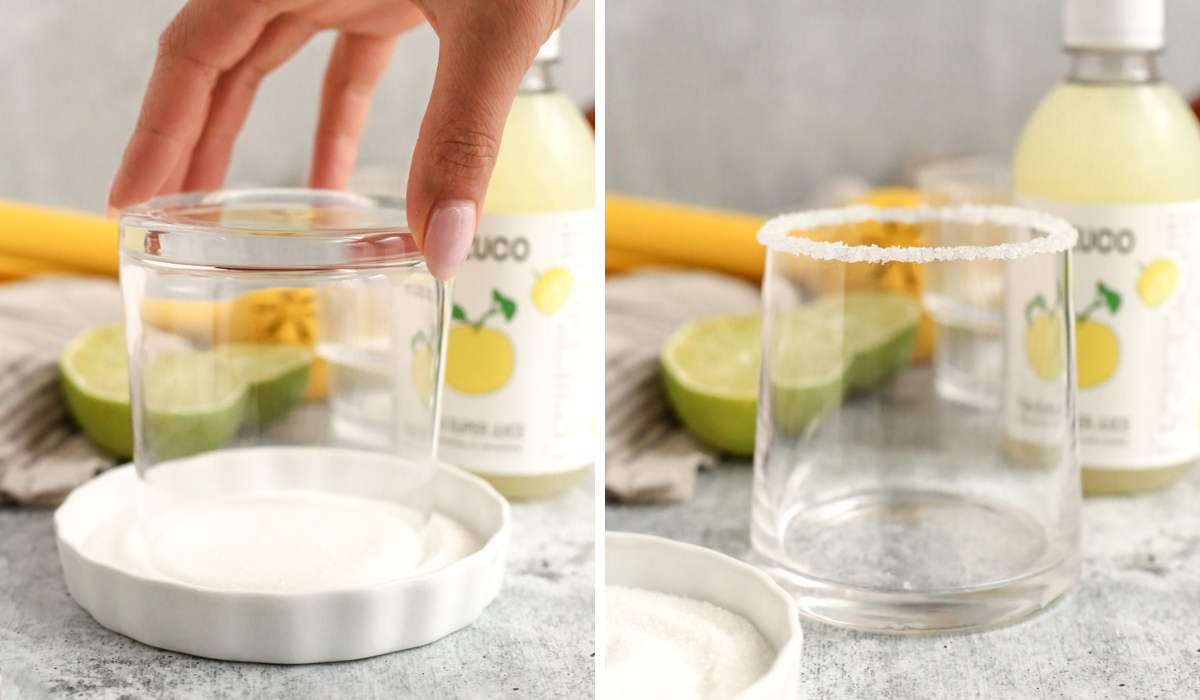 Follow these steps for craft the perfect cocktail:
Slice the lime in half, leaving one half for juicing into the cocktail mixture. Carefully slice thin wheels from the other half to use for garnish. To make a lime wheel, make a slice halfway through the lime and twist apart in opposite directions to form a spiral shape (see below).
Use a citrus press or handheld juicer to juice 1/2 oz of fresh lime juice. Pour it into one half of the cocktail shaker. Then measure and add all remaining ingredients. Add ice, then seal tightly and shake vigorously for about 15-20 seconds, or until adequately chilled.
Add ice to your serving glass, then strain the margarita through a Hawthorne strainer or fine mesh strainer. Garnish with a lime wheel (optional) and serve immediately.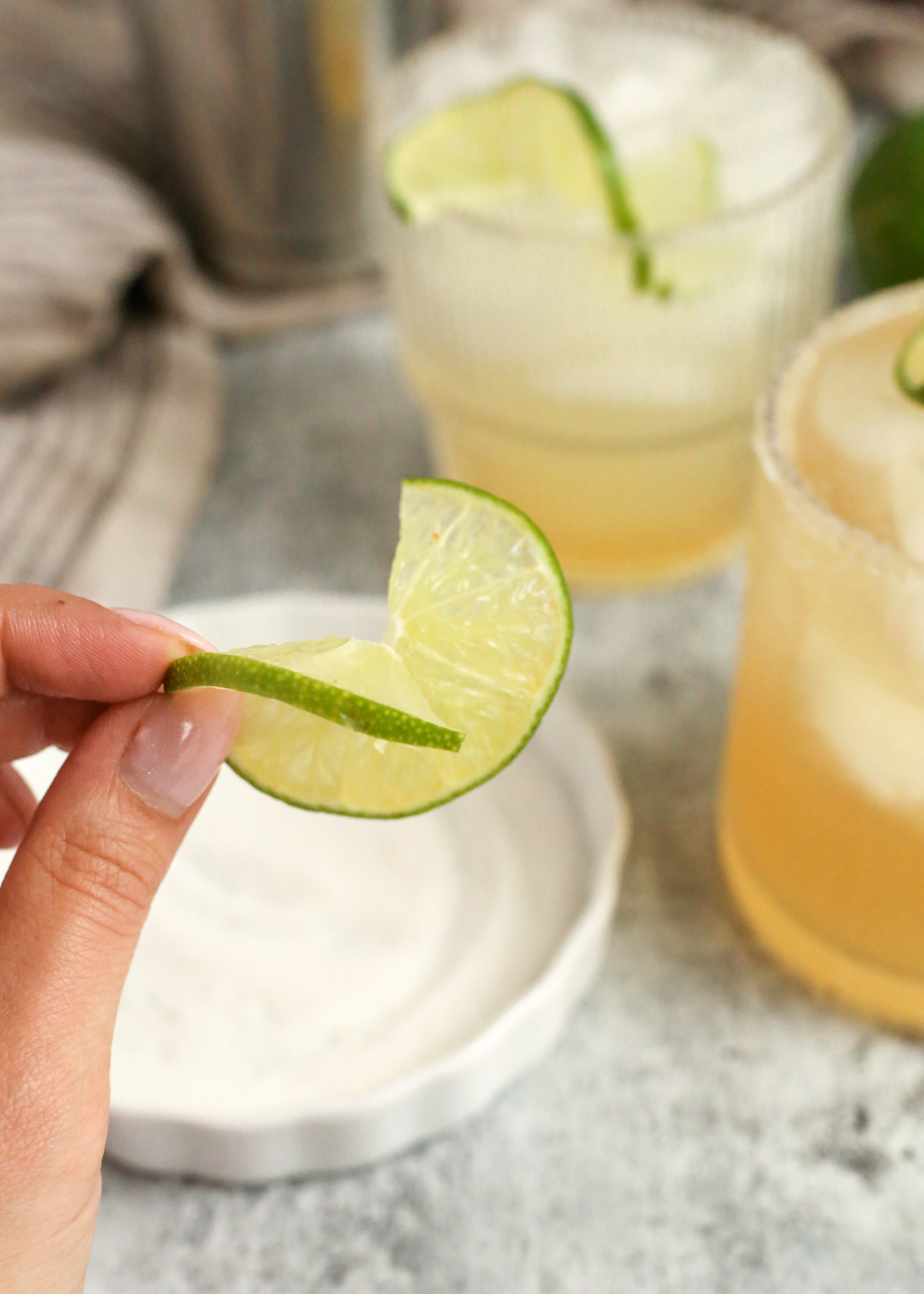 Cheers! You're ready to enjoy this Yuzu Margarita. Just remember to enjoy responsibly!
Street Smart Nutrition Tip: The decision about whether or not to drink alcohol is a personal one, but it should be an informed one. Check out my guide on Standard Drinks: The Measurement That Matters to learn more.
Shaken or Stirred?
But before we get to the recipe, I have to ask. Do you have strong feelings on this?
If you're going for a more traditional (dare I say, authentic?) margarita, shake it. This does a few important things:
Chills the drink, meaning when you serve it over ice, the ice won't melt as fast or dilute your drink too much.
Incorporates all flavors, which yes you could also do with stirring, but a vigorous shake really gets the job done.
Adds textures, because shaking adds a little air into your drink for a slightly frothy texture.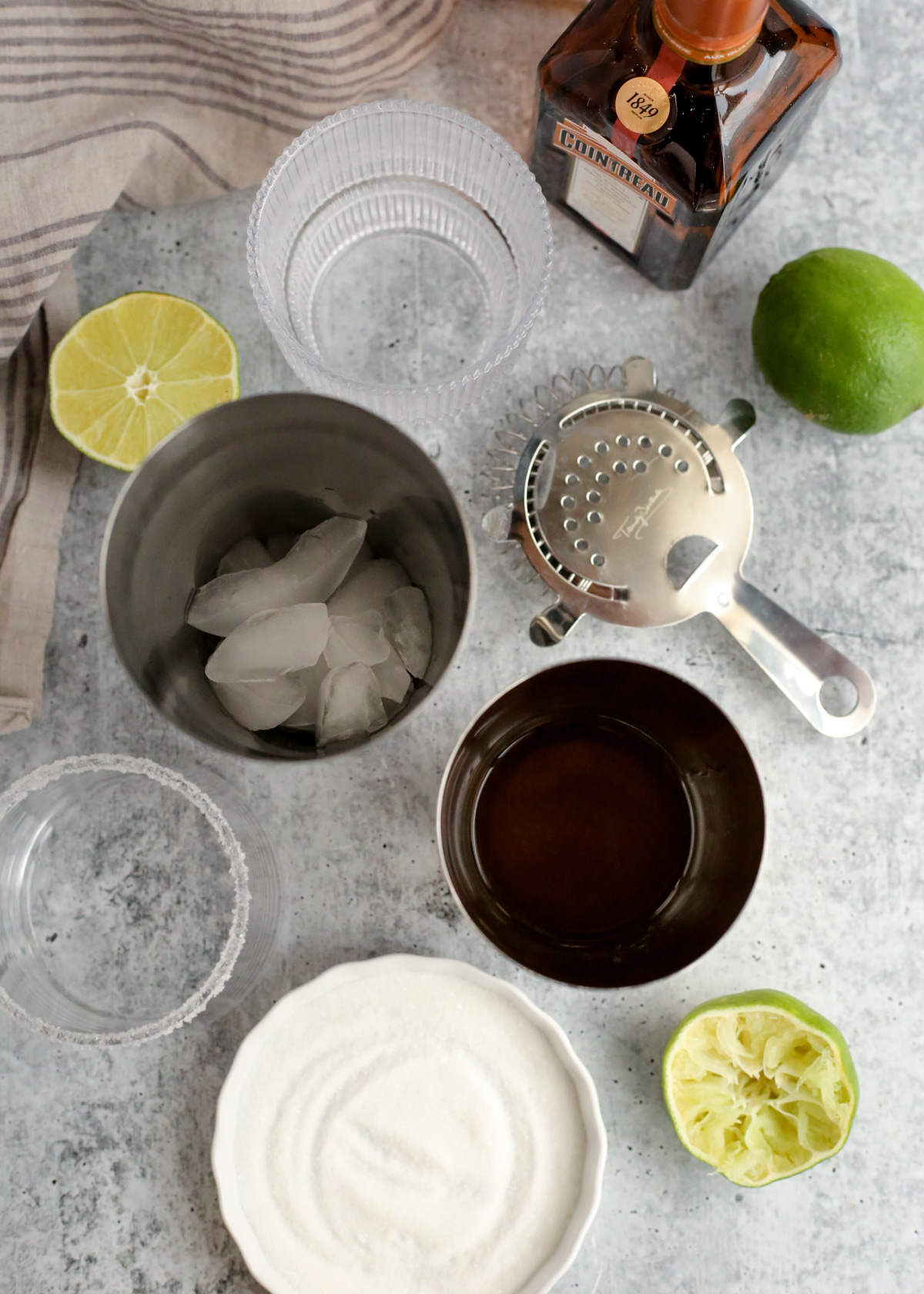 We usually use a Boston shaker, pouring the cocktail ingredients into one half and ice in the other. When ready to shake, pour the liquid over the ice and seal tightly before shaking. Use the heel of your palm to break the seal, then strain using a Hawthorne strainer to filter out small pieces of broken ice.
But I get it, sometimes you don't have a cocktail shaker around or don't want to get it out. This is totally me when I'm making a single drink. So when questioning whether to shake or stir, go with either option depending on personal preference.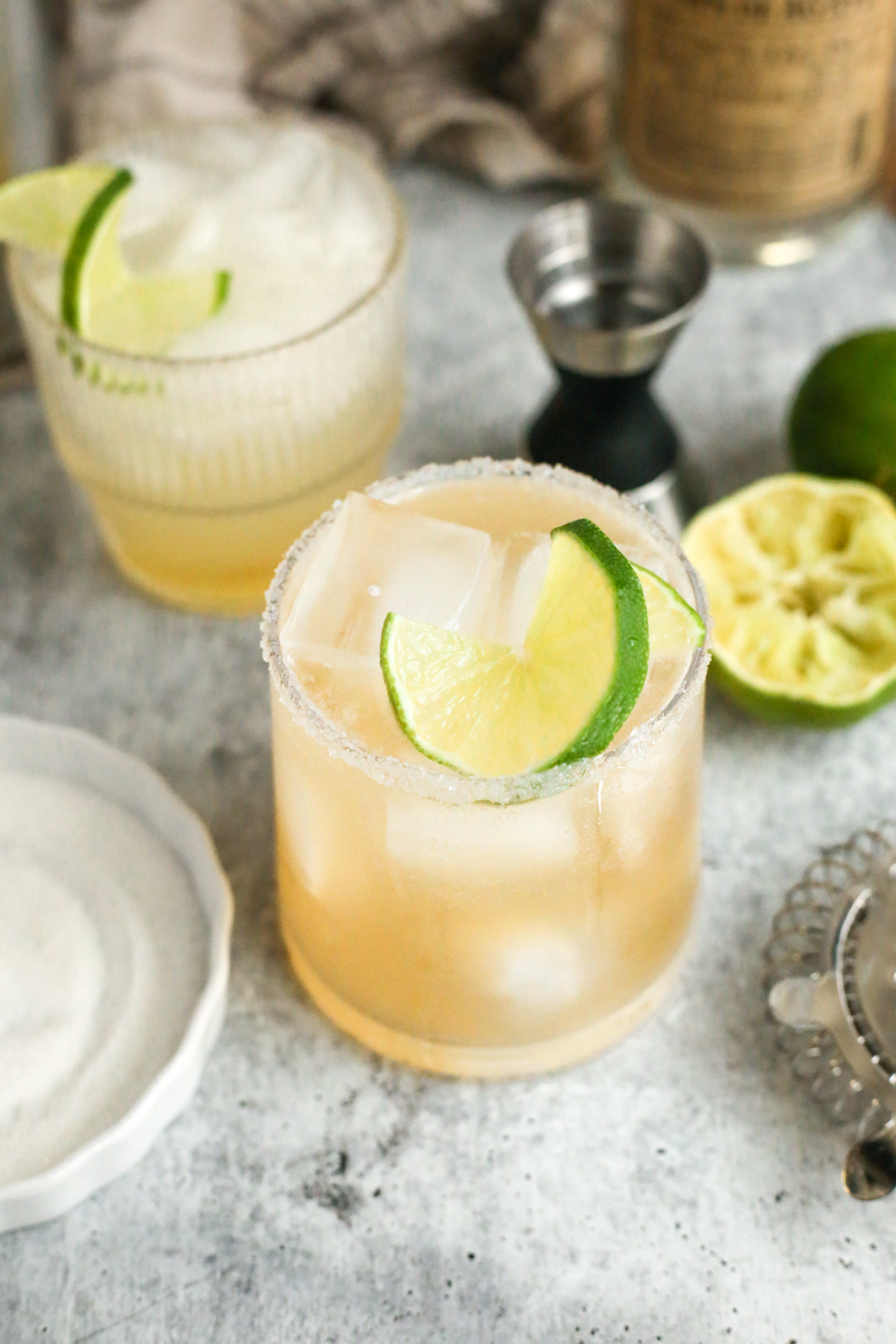 I hope those final tips will be helpful for making a top-shelf quality cocktail. Here's the full recipe for my Yuzu Margarita, enjoy!
Yuzu Margarita
Shake up a unique version of the classic margarita cocktail! Aromatic, citrusy yuzu juice infuses this recipe with a trendy flavor, while the mixing process is simple and familiar. Enjoy responsibly!
Ingredients
1

oz

yuzu super juice

,

or 100% yuzu extract

1/2

oz

fresh lime juice

1

oz

Cointreau or triple sec

1 1/2

oz

blanco tequila

1

oz

simple syrup or agave syrup

1

small pinch

coarse salt

ice

,

for shaking and serving

1

lime wheel

,

for garnish, optional

2

tbsp

kosher salt or sugar

,

optional, for the rim
Instructions
If salting or sugaring the rim of your serving glass, add two tablespoons to a shallow dish or bowl. Dip the top of the cocktail glass in water or run a lime wedge around the top of the glass to moisten it, then dip it into the salt or sugar. Let it dry until set while you prepare the yuzu margarita.

Slice the lime in half, reserving one half for juicing into the cocktail mixture. Carefully slice thin wheels from the other half to use for garnish. To make a lime wheel, make a slice halfway through the lime and twist apart in opposite directions to form a spiral shape.

Measure and add all ingredients to your Boston shaker or cocktail shaker. Add ice, then seal tightly and shake vigorously for about 15-20 seconds, or until adequately chilled.

Add ice to your serving glass, then strain the margarita through a Hawthorne strainer or fine mesh strainer. Garnish with a lime wheel (optional) and serve immediately. Cheers!
Notes
Store the yuzu super juice in the refrigerator after opening. Use the remaining juice within 2-3 weeks for best flavor and freshness. 
Nutrition
Serving:
1
serving
,
Calories:
271
kcal
,
Carbohydrates:
33
g
,
Protein:
0.2
g
,
Fat:
0.1
g
,
Saturated Fat:
0.03
g
,
Polyunsaturated Fat:
0.03
g
,
Monounsaturated Fat:
0.01
g
,
Sodium:
58
mg
,
Potassium:
103
mg
,
Fiber:
0.2
g
,
Sugar:
30
g
,
Vitamin A:
7
IU
,
Vitamin C:
16
mg
,
Calcium:
12
mg
,
Iron:
1
mg
What about a mocktail version?
This yuzu cocktail can definitely be converted to a mocktail version (meaning, zero proof with no alcohol).
To make a Yuzu Margarita mocktail, increase the measurements to 1 1/2 oz yuzu juice and 3/4 oz each agave or simple syrup and fresh lime juice. Shake or mix the yuzu super juice with the lime juice, agave syrup, and pinch of salt. Strain into a glass and top with tonic or club soda for a sparkling Yuzu Margarita Mocktail. Don't forget to add a lime wheel!
If this is your first introduction to a yuzu cocktail (or mocktail), let me know what you think! I'd love to hear if you make any adjustments to perfect your version of this yuzu margarita.
And as always, thanks for stopping by the Street Smart Nutrition blog! You can find more and follow along on Instagram and YouTube, and don't forget to sign up for my newsletter so you never miss a new post. Cheers to more fearlessly nourishing meals!