Once you taste this Homemade Caesar Salad Dressing recipe, you'll forget your favorite brand of the store-bought stuff! This creamy dressing features fresh garlic and lemon juice, plus umami flavor from kewpie mayo and anchovy fillets. My family loves it and I hope you do, too!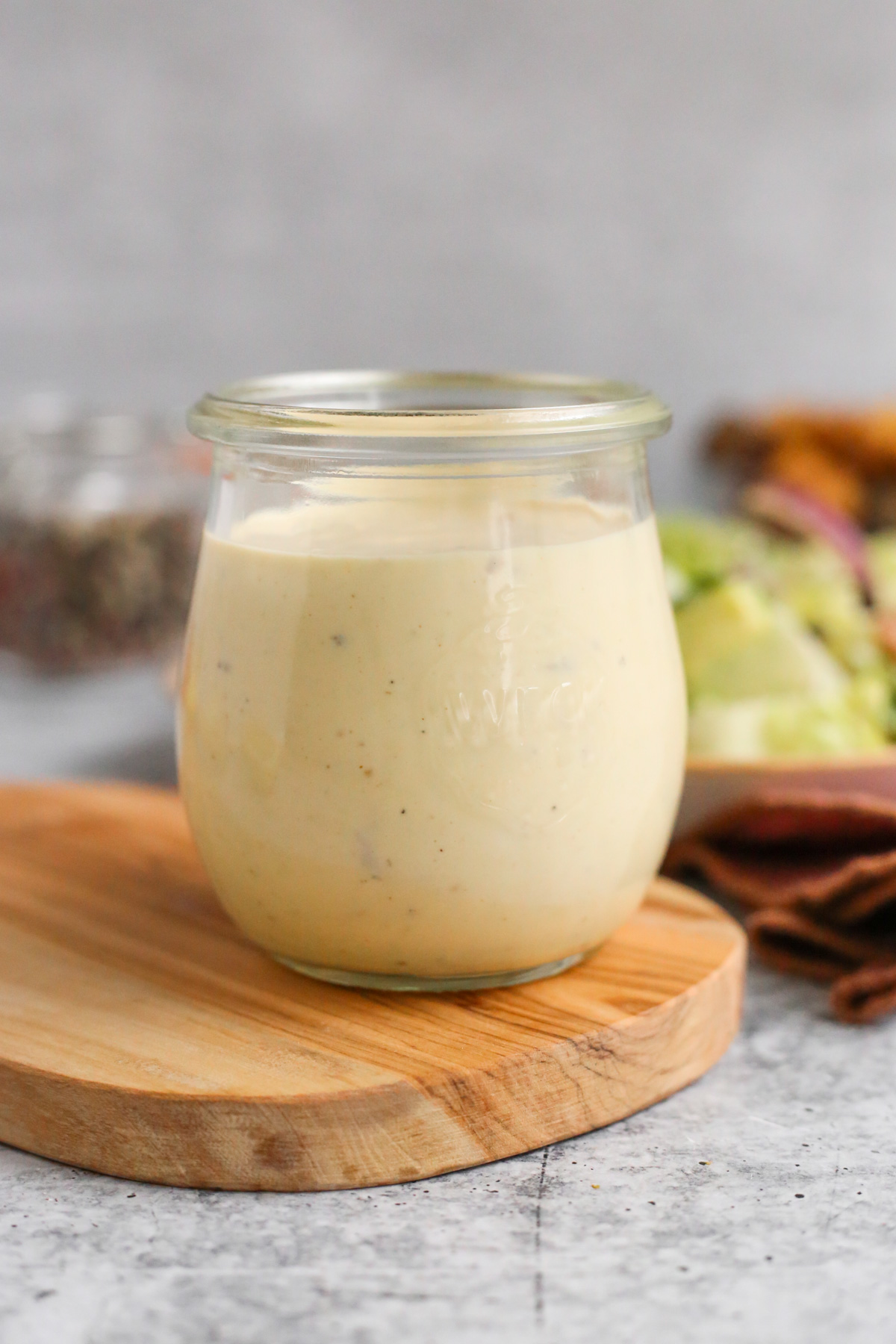 Why You'll Love This Recipe
There are a lot of recipes out there claiming to be the "best Caesar salad dressing". And since I haven't tried them all, I won't argue that some of them are probably very good. But I'm personally convinced that my blend of ingredients has the perfect balance of flavor in a thick, creamy Caesar salad dressing.
The kewpie mayo used for the base of this dressing is a Japanese-style mayonnaise with a unique umami flavor. It's made from egg yolks and uses MSG (monosodium glutamate), so it's extra savory and rich without being overly salty.
It's obviously the perfect dressing for the classic Caesar salad, but you can use it for so many things! Try it with wraps, sandwiches, toast, or even a pasta salad.
While there's nothing wrong with store-bought dressing, you're in control of every aspect when you make it yourself. Adjust the anchovy flavor, saltiness, and thickness with simple adjustments to make this recipe work for you.
If you're into food trivia, you might like this fun fact: Caesar Cardini is the Italian restaurateur credited with inventing the Caesar salad. But it didn't actually start in Italy. The first Caesar salad was served in Tijuana, Mexico in 1924 at the restaurant he co-owned with his brother.
Ingredients You'll Need
The ingredient list for homemade Caesar salad dressing is short & sweet. I hope most of these are already stocked in your fridge or pantry!
Lemon juice
Plenty of garlic
Anchovy paste or whole anchovies
Dijon mustard
Kewpie mayo
Grated parmesan cheese
Black pepper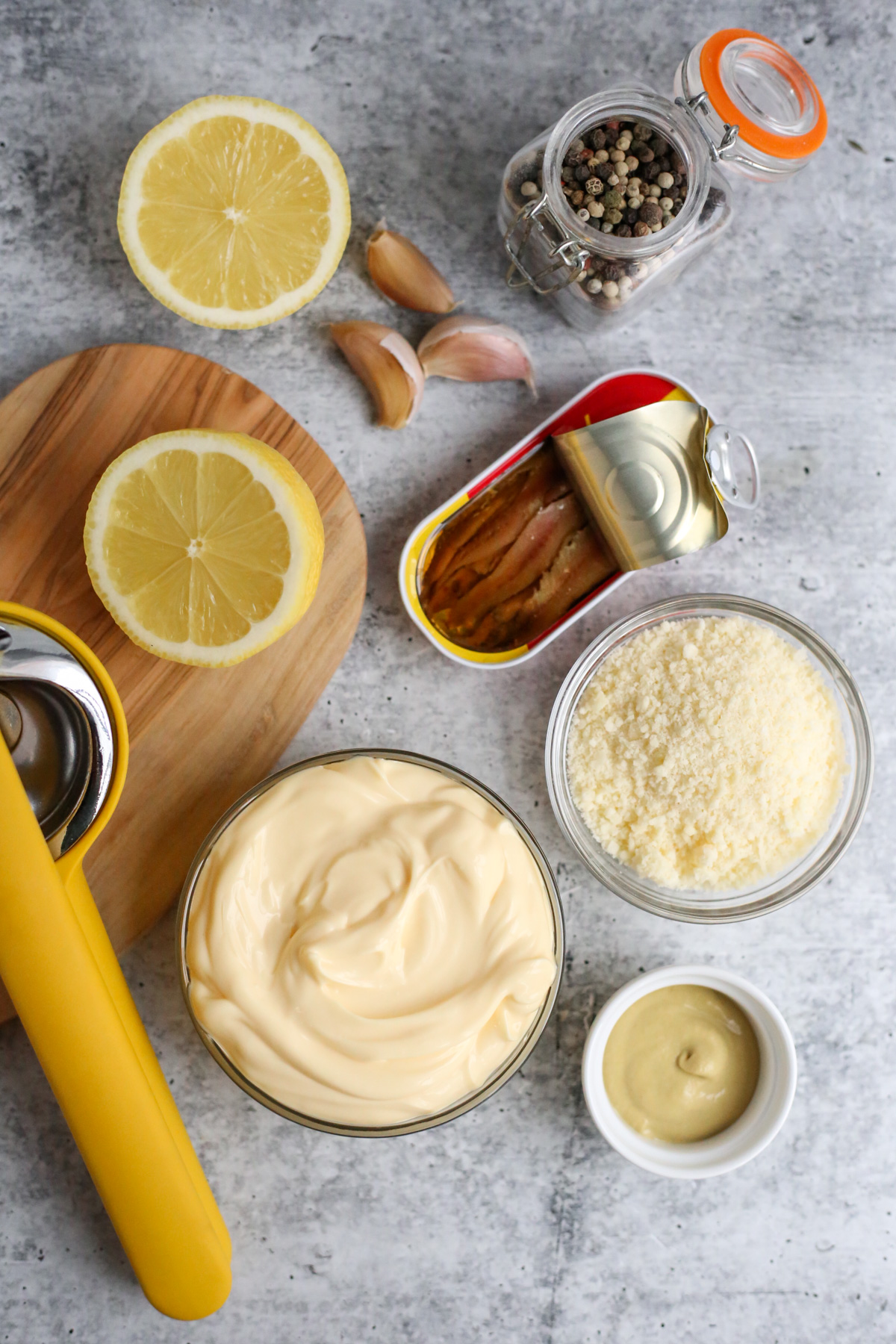 Street Smart Nutrition Tip: Even if you think you're not a fan of anchovies, do not skip this ingredient! It's not overtly "fishy" and has such a distinct flavor, it makes any good Caesar salad dressing recipe even better. A small amount of anchovy paste goes a long way, so if you're not convinced just start with a little bit and see what you think.
If you're going to make homemade dressing on a regular basis, I also recommend stocking your kitchen with some tools to make it easier. These are some of my favorites:
Of course, you can't beat a good old-fashioned mason jar to just dump and shake your homemade dressing ingredients. And you'll do just fine with a whisk for this Caesar dressing recipe, but sometimes it's easier to get a super creamy texture in a homemade dressing by using a food processor or immersion blender.
A Note On Parmesan Cheese
A traditional Caesar salad dressing calls for a few ingredients you won't find in mine. Specifically, Parmigiano Reggiano and egg yolks. Let's talk about why!
First, I'm not Italian and don't want to pretend this is an "authentic" Caesar dressing recipe. "Parmigiano Reggiano"is a protected designation of origin (PDO) and should only be used to refer to cheese from specific regions of Italy. Those areas include Parma (hence, the name) as well as a few others. That's usually not what I'm buying at my local grocery store, which is "parmesan" cheese. That's a more generic term you can use for similar cheeses made outside the Parma region of Italy. Most of the time, what's in my fridge was made in the United States, aged for less time, and has a milder flavor with a grainier texture.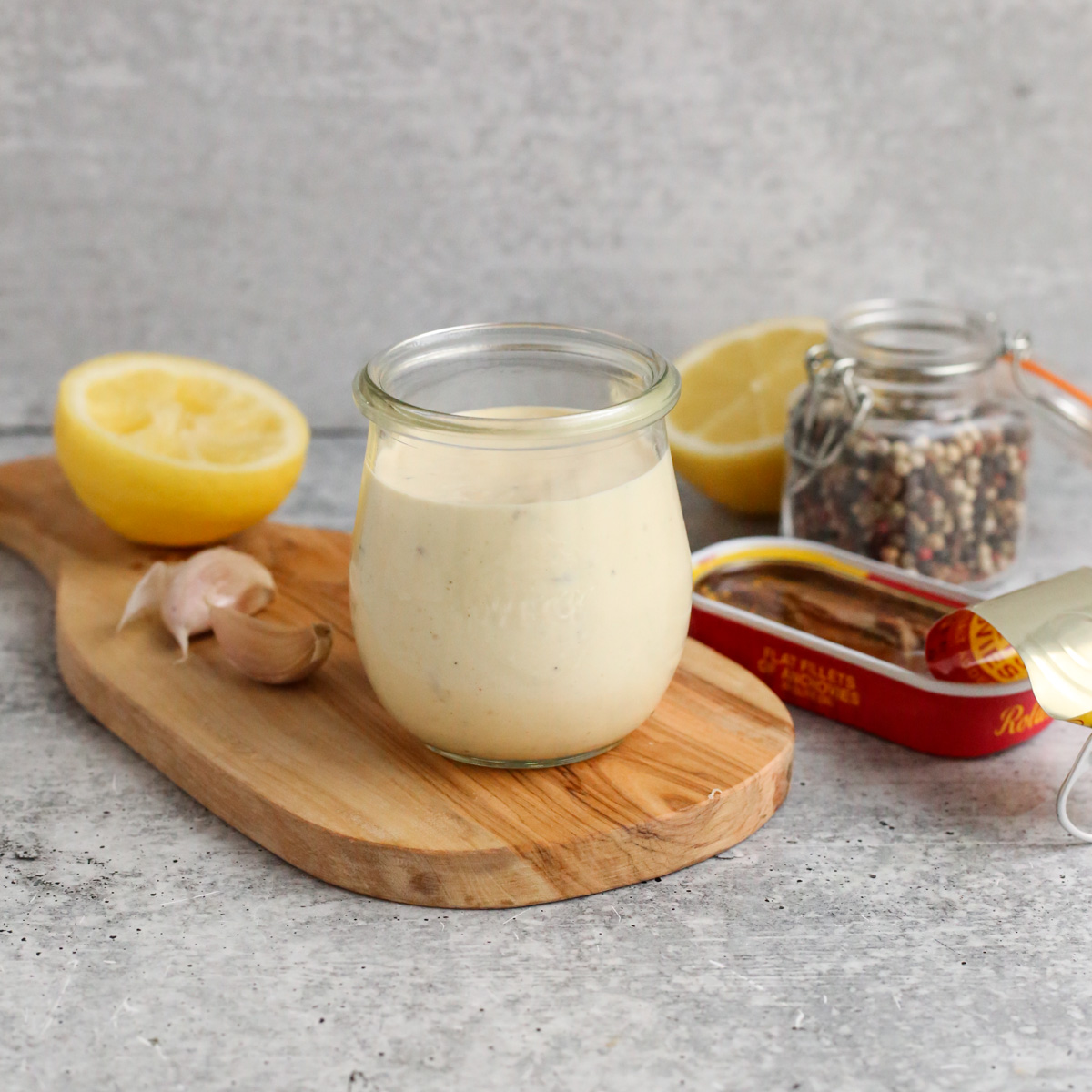 There are pros and cons to using either option. For me, it mostly comes down to cost and availability. I like to shop at my local co-op grocery store, which stocks all the basics but won't have an inventory of premium or imported cheeses. I won't deny that Parmigiano Reggiano has a nuttier, more complex flavor that is downright delicious. My favorite part is the little crystals that develop during the aging process. So good! But it's a more expensive option and I'd rather enjoy it on a cheese board or snack plate vs. mixing it into a creamy Caesar dressing where those qualities will get lost. Grated parmesan cheese is a good-enough-for-me alternative. You can still get the classic Caesar salad dressing flavor with it.
The bottom line is that you can use either option in your homemade Caesar salad dressing. It just depends on your budget and whether or not those differences are worth the extra cost to you.
A Note On Egg Yolks
You also won't find egg yolks in my homemade Caesar salad dressing recipe. Many traditional Caesar salad dressings will emulsify egg yolks from raw eggs with fresh lemon juice and a steady stream of extra-virgin olive oil. But that technique can be challenging and if you're squeamish about raw egg yolks, that might not be the move for you. Also, the Food & Drug Administration (FDA) advises that pregnant folks avoid foods with raw eggs as a food safety precaution.
By using kewpie mayo, which uses only egg yolks, you can achieve a similar flavor and texture for a creamy Caesar salad dressing that doesn't need to be heated in order to be safe to consume for pregnant folks.
How to Make Homemade Caesar Salad Dressing
Measure and mix and that's about it!
Seriously, this creamy dressing is as easy as they come. And with simple ingredients, it's a forgiving recipe that is hard to mess up. I'm all for using whole cloves of garlic and fresh-squeezed lemon juice. But if you need easier options, you can swap for pre-minced garlic, bottled lemon juice, or anchovy paste.
How to Make Your Own Anchovy Paste
Most well-stocked grocery stores carry anchovy paste. Look for it near the tinned and canned fish. If you make this homemade Caesar salad dressing often, it's probably worth adding it to your shopping list!
However, if you're like me and like to use anchovies for other things, I recommend stocking up on whole anchovies instead. It's pretty easy to make your own anchovy paste from anchovy fillets using a fork. Just be sure to use some parchment paper to line your cutting board or protect your countertops.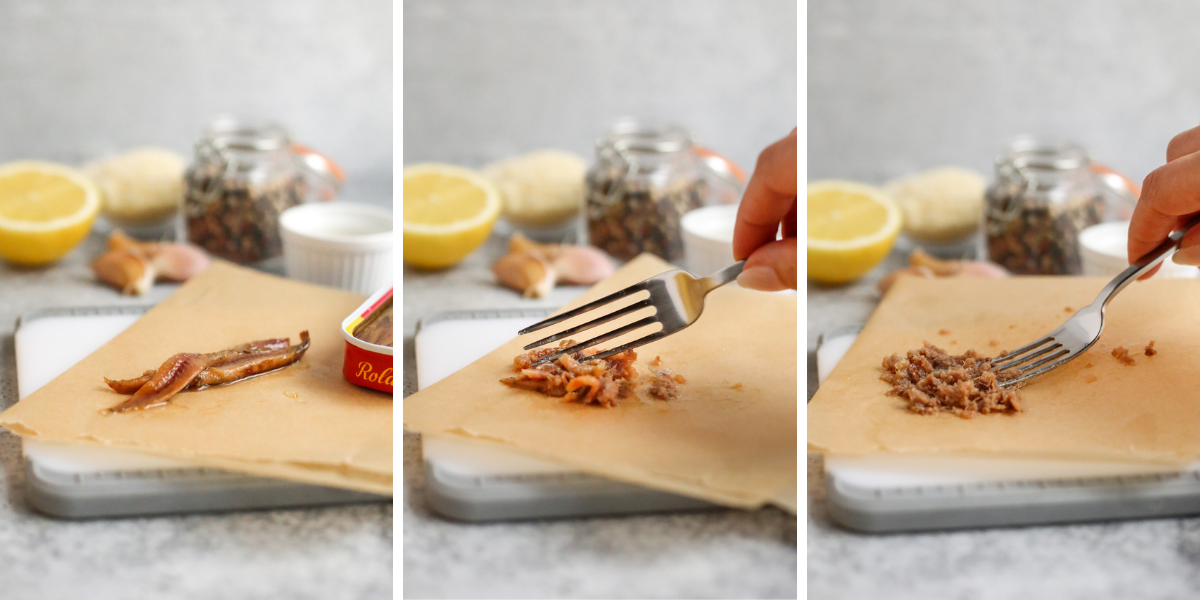 First, grab a tin of anchovies packed in oil. Lift 2-3 fillets from the tin and let the excess oil drain off, then place them onto the parchment paper.
Use a clean fork to mash the fillets into a thick paste. This may take several minutes, but work it around until it's fairly smooth with only small chunks.
Add this to a medium bowl with the lemon juice, dijon mustard, and minced garlic. Whisk everything together, then fold in the rest of the ingredients.
It should be thick, like yogurt, which might look different than what you're used to. But that helps it coat crisp romaine lettuce and crunchy croutons, and in my opinion makes for a much better eating experience. Store any leftovers in an airtight container for up to a week. But good luck getting it to last that long!
Homemade Caesar Salad Dressing
This creamy homemade dressing is just what you need the next time you're craving a classic Caesar Salad. Made fresh garlic and lemon juice, umami-rich kewpie mayo and anchovies, and no raw egg yolks!
Ingredients
1

cup

kewpie mayo

,

or full fat, regular mayonnaise

1/3

cup

grated parmesan cheese

2 1/2

tbsp

lemon juice

,

or the juice of 1/2 lemon

2

tsp

dijon mustard

2

tsp

anchovy paste or 2-3 anchovy fillets, mashed

2-3

cloves

garlic

,

finely minced

1/4

tsp

cracked black pepper
Instructions
If preparing your own anchovy paste, line a cutting board with parchment paper. Remove 2-3 anchovy fillets from the tin. Use the back of a clean fork to mash the fillets into a chunky paste.

Add the anchovy paste to a medium mixing bowl along with the minced garlic, lemon juice, and dijon mustard. Whisk together to combine.

Add the kewpie mayo, grated parmesan cheese, and cracked black pepper. Whisk or fold together to combine until thick and creamy. Transfer to a serving bottle or storage container and serve as the dressing for classic Caesar salad or other recipes.
Notes
Store leftovers in an airtight container and refrigerate. Use within one week for best results. 
The recipe, as written, yields approximately 1 1/4 cups of dressing. Serving size is estimated based on amount recommended for side salads. Adjust accordingly for main entrees or other recipes. 
Nutrition
Serving:
1
serving
,
Calories:
171
kcal
,
Carbohydrates:
1
g
,
Protein:
2
g
,
Fat:
18
g
,
Saturated Fat:
3
g
,
Polyunsaturated Fat:
10
g
,
Monounsaturated Fat:
4
g
,
Trans Fat:
0.04
g
,
Cholesterol:
13
mg
,
Sodium:
256
mg
,
Potassium:
25
mg
,
Fiber:
0.1
g
,
Sugar:
0.2
g
,
Vitamin A:
45
IU
,
Vitamin C:
2
mg
,
Calcium:
36
mg
,
Iron:
0.1
mg
Recipe Inspiration for Caesar Salad Dressing
Now that you're a pro at whipping up a homemade Caesar salad dressing, the only question left is whether to stay traditional or get creative! The classic Caesar side salad never (like seriously, never) goes out of style.
The same is true for a main entree version like a chicken Caesar salad. We love our Blackstone griddle and lately grilled chicken thighs have been making a regular appearance. But in a pinch, I think rotisserie chicken is a great option for adding protein without the hassle of extra cooking. I also have a Chicken Caesar Pasta Salad that's great for cookouts or weeknight all-in-one meals.
And if you're firing up the grill, why not add the romaine lettuce, red onions, and a skewer of bread for homemade croutons? Find that recipe in this post for my Grilled Romaine Caesar Salad with Chicken. I think it's an amazing Caesar salad. But the dressing is slightly different because it uses Greek yogurt and Worcestershire sauce.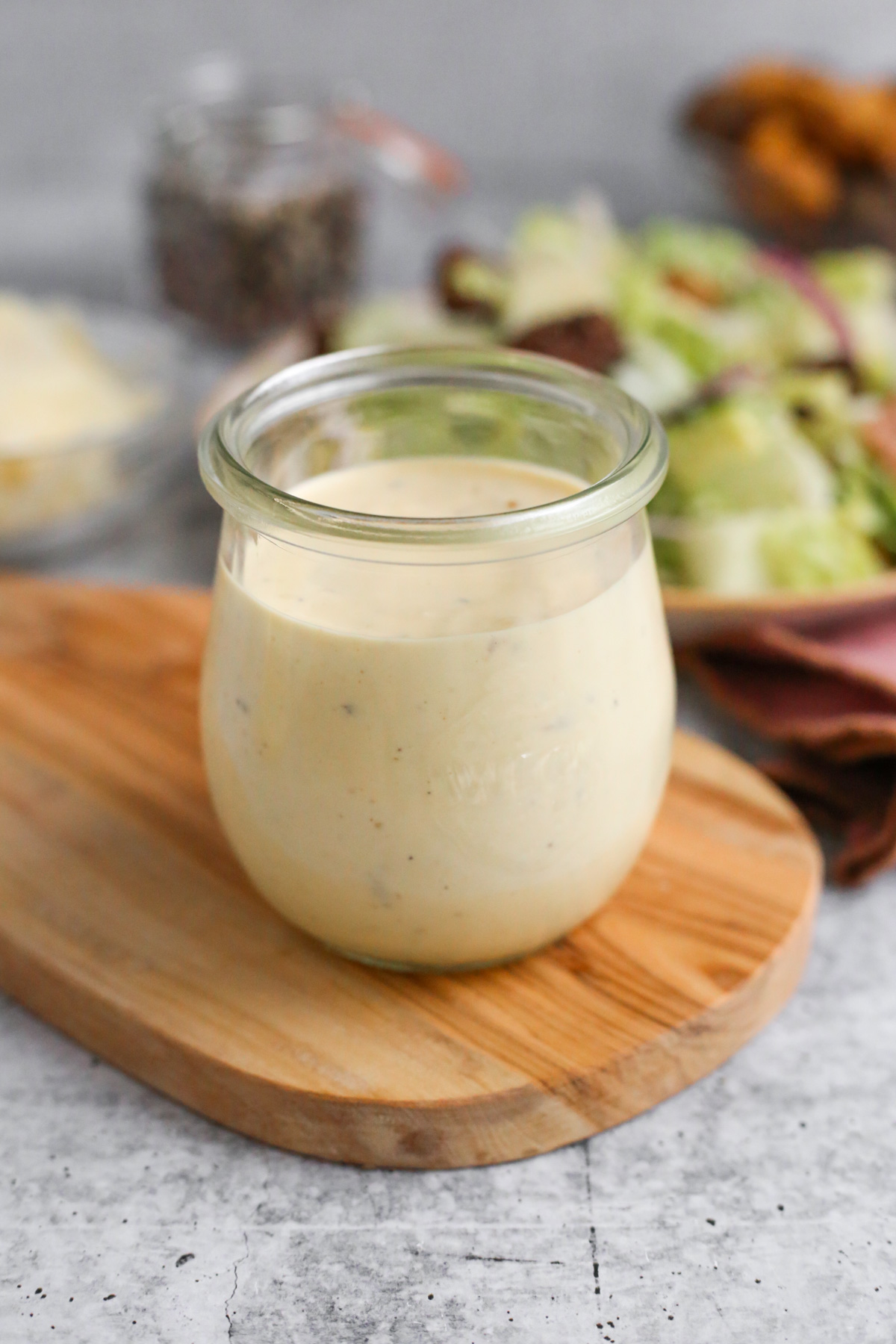 I'm also working on recipes for a Chicken Caesar Pasta Salad and Caesar Beans on Toast. There are so many unique ways to enjoy a homemade Caesar salad dressing besides salad! If you have any creative ideas or suggestions, let me know in a comment.
Leave a rating or review if you enjoyed this easy Homemade Caesar Salad Dressing recipe, and as always, thanks for stopping by the Street Smart Nutrition blog. Cheers to more fearlessly nourishing meals!