This Creamy Corn Chowder recipe is the perfect option to transition from summer to fall! Enjoy the abundance of summer vegetables with the coziness of fall soups. You'll love how much flavor and nutrition you get in every bowl!
Disclosure: This post is sponsored by Hiland Dairy Foods. I was compensated for my time. As always, thank you for supporting the brands who support Street Smart Nutrition!
My favorite season is just around the corner and I'm craving all the soups and stews! But I'm not ready to totally give up on summer flavors yet. There's still plenty of sweet corn and zucchini available, so I'm making the most of it while it lasts!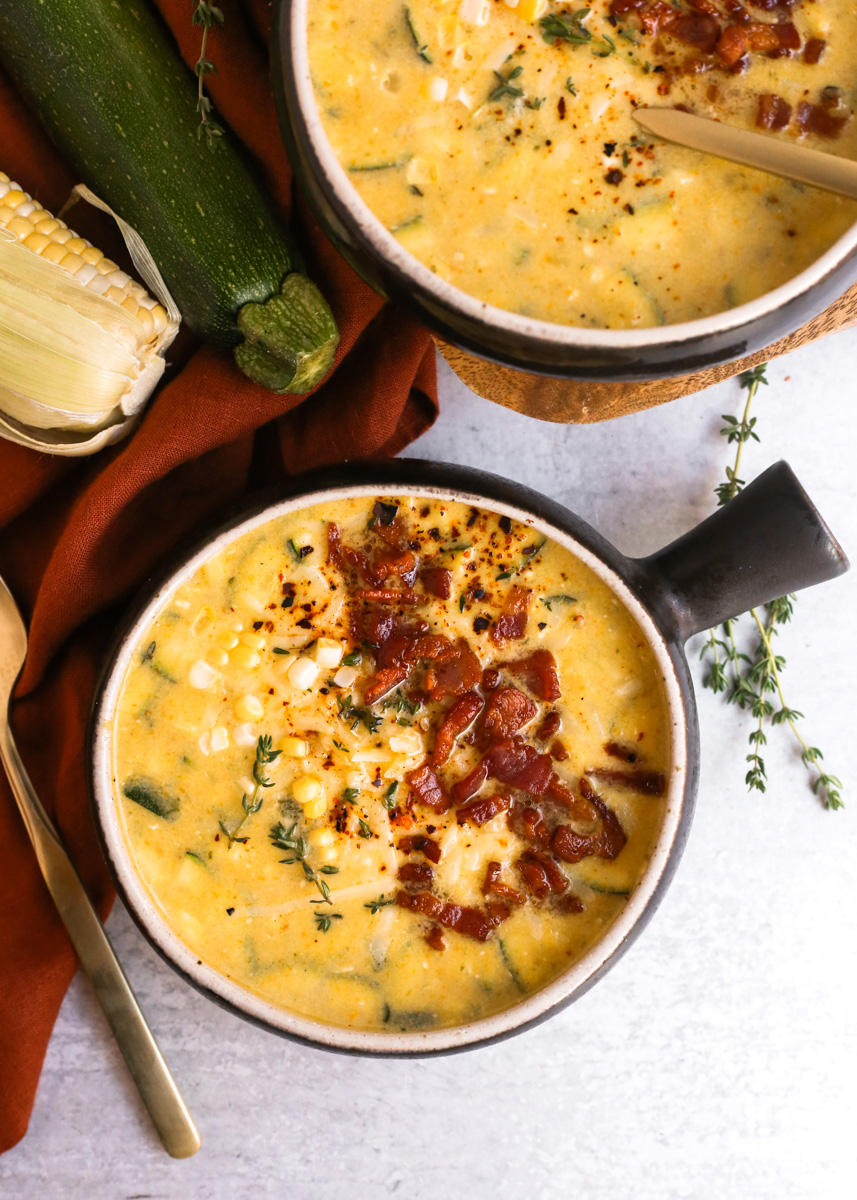 I teamed up with Hiland Dairy for this Creamy Corn Chowder recipe. I'm also sharing more about dairy and inflammation because it's one of the most common nutrition myths I hear. Keep scrolling to read more, plus I share an easy tip to thicken corn chowder!
Here's why you'll love this Creamy Corn Chowder recipe:
It's basically summer in a bowl, but with all the coziness of a fall soup. The perfect recipe to transition between the seasons!
Can you say "veggie packed"? Between sweet corn and carrots, onions, zucchini, potato, and a poblano pepper, you'll easily get an extra serving with this recipe
It's thickened through blending, which keeps the cooking time relatively short. No need to spend hours over the stove or waiting for a slow cooker!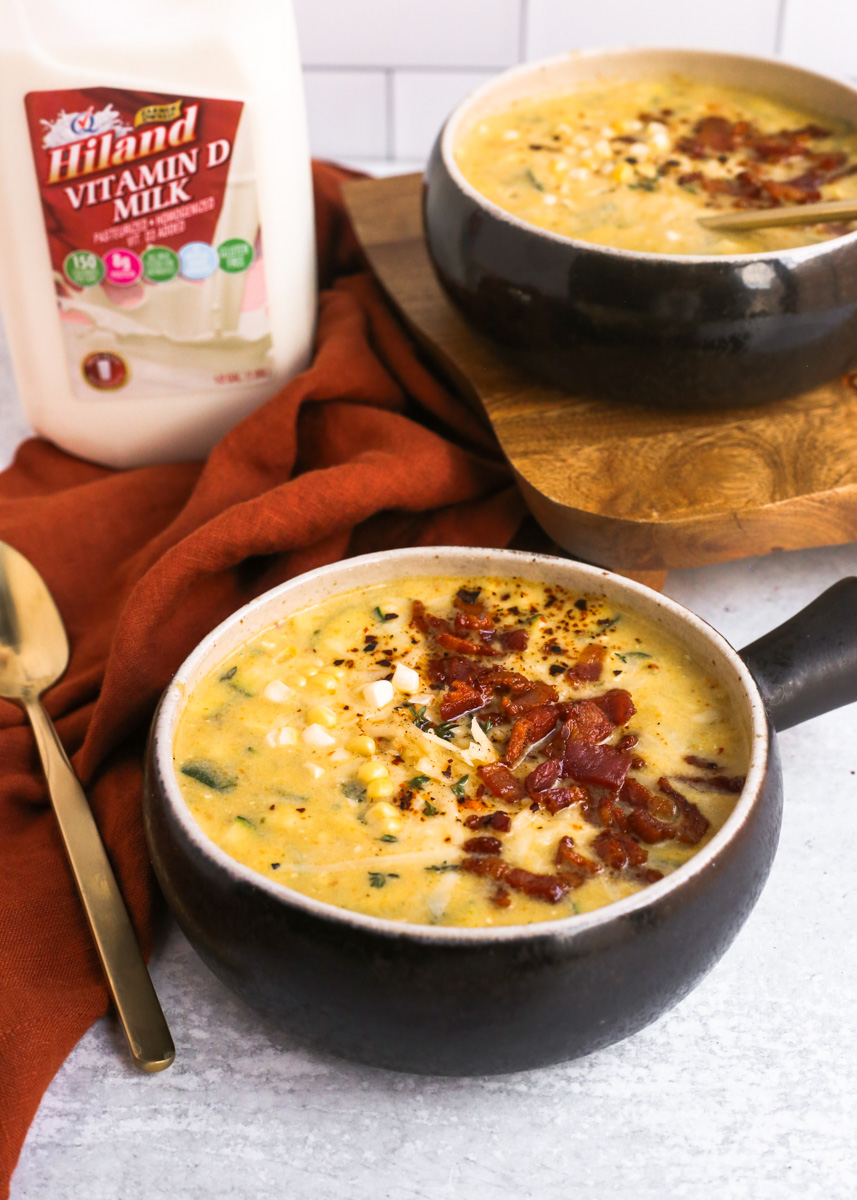 Dairy and Inflammation
If I had a dollar for every time I heard "dairy causes inflammation!"…well, let's just say I've heard it too much. And it's important to be clear: chronic inflammation caused by the environment, lifestyle, or other factors can and does contribute to heart disease and other metabolic disease. But no individual food is solely responsible for promoting (or combatting) inflammation in your body. So we need to be critical of the available data and look at the research as a whole, versus individual studies that may have significant limitations or aren't applicable to you.
And when it comes to a link between dairy and inflammation, we don't have enough evidence to link the two. If anything, the available data suggests that consuming dairy can have anti-inflammatory benefits, especially when you eat a balanced and nutritionally adequate diet. A recent review of the data from 52 human studies concluded that consuming dairy products is associated with anti-inflammatory properties. This held true for both low- and high-fat dairy products. That's good new if you're like me and prefer to cook with full-fat, whole milk for recipes like this Creamy Corn Chowder.
Drinking or cooking with milk that's fortified with vitamin D offers the functional benefit of supporting fat-soluble vitamin absorption. Vitamin D is an important nutrient and it's not always easy to get enough of it. Adding foods with added vitamin D3, like this option from Hiland Dairy, can make it easier to consume more vitamin D in your diet.
Note: This is highly individualized! If you have a milk allergy or can't consume dairy for other medical reasons, it's still recommended to avoid it. There are other options for food-source or supplemental vitamin D.
It's a deeply personal decision to eat or not eat any food, including dairy. But I hope this information puts your mind at ease if you were warned of vague or unproven "harmful" effects of dairy. The truth is, if you can tolerate it (meaning, you don't have a dairy allergy, lactose intolerance, or other sensitivity to dairy products), including dairy in your recipes can absolutely be an option. I think it enhances flavor, texture, and the richness of the Creamy Corn Chowder recipe, so let's get into it!
Ingredients You'll Need
This recipe is a one-pot wonder and it cooks quickly on the stovetop. No waiting all day for a slow-cooker or spending hours over a hot stove! Here's what you'll need:
Ingredients: Start with sweet corn, either fresh, canned, or frozen. Then dice an onion, carrot, and poblano pepper. Roughly chop a russet potato (which is key to help thicken corn chowder) and zucchini. You'll also need bacon, low-sodium chicken stock, whole milk, minced garlic, chili powder, salt and pepper to taste, fresh thyme, and some shredded cheese for a garnish.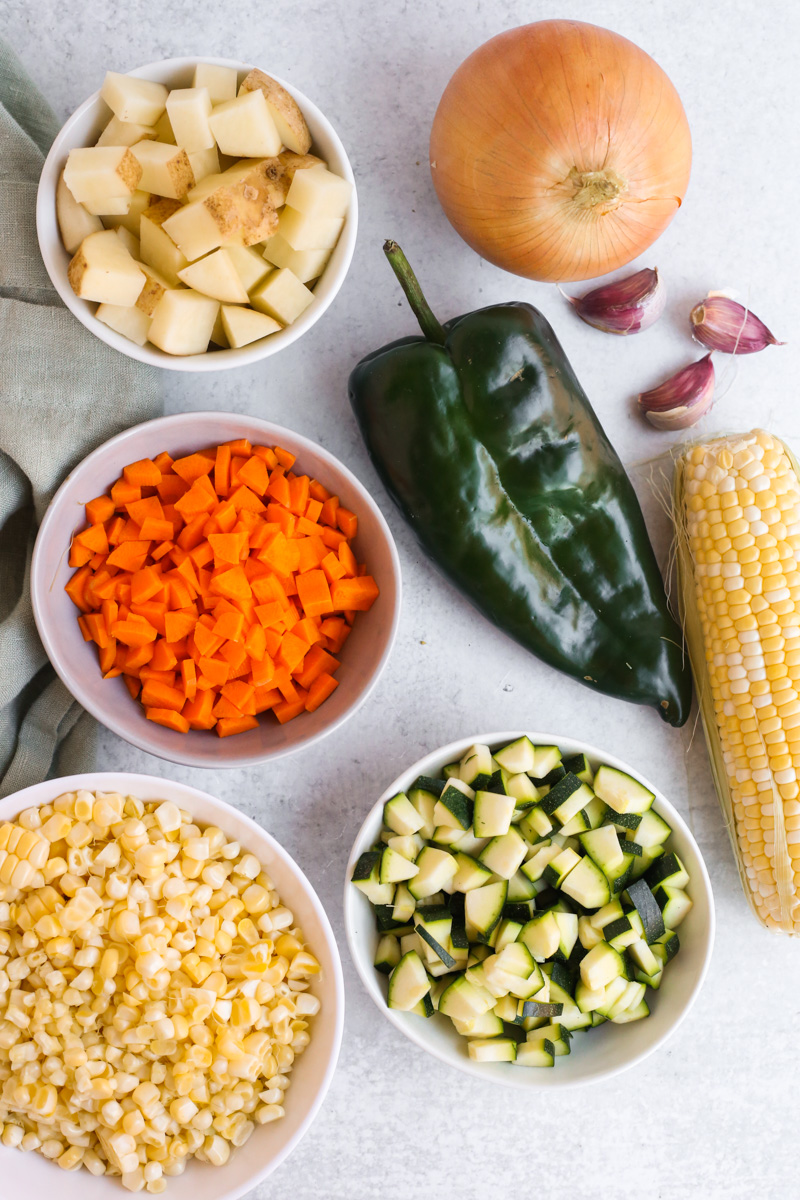 Equipment: I recommend using a heavy-bottomed Dutch over or enameled pot. This lets you cook the bacon and soup in the same pot and preserve all the flavor after draining excess grease. However, you can also use a skillet and regular pot. Grab your sharpened knives and cutting board, measuring spoons, and ladle. Finally, you'll need a blender (or immersion blender) to puree the soup to thicken it.
The order of operations is key here. These are the steps I recommend to get the best results for this Creamy Corn Chowder recipe:
Cook the bacon until crispy. Remove from the pot and drain the excess grease, leaving a small amount in the bottom.
Add the carrots, onions, and poblano pepper. This helps build deep flavor from the start (similar to a mirepoix in classic French cooking). Once they're softened and fragrant, add the garlic.
Deglaze the pot with the stock and milk and simmer. At this point you can add the potatoes, but hold off on the zucchini.
After the potatoes are fork-soft (maybe 10-12 minutes), transfer about half of the soup mix to your blender. It doesn't have to be exact, but you can adjust it based on how thick you prefer your chowder. Give it a good blend then stir it back into the pot.
Now you can add the zucchini, thyme, and other seasonings. Zucchini has a more delicate texture so it won't take long to cook. Finish it on the stovetop and remove it from heat when you're ready to serve.
That's it! Add as many garnishes as you please and enjoy. This Creamy Corn Chowder recipe is very flexible and forgiving, so if you don't make the measurements exact, you'll still end up with a good result.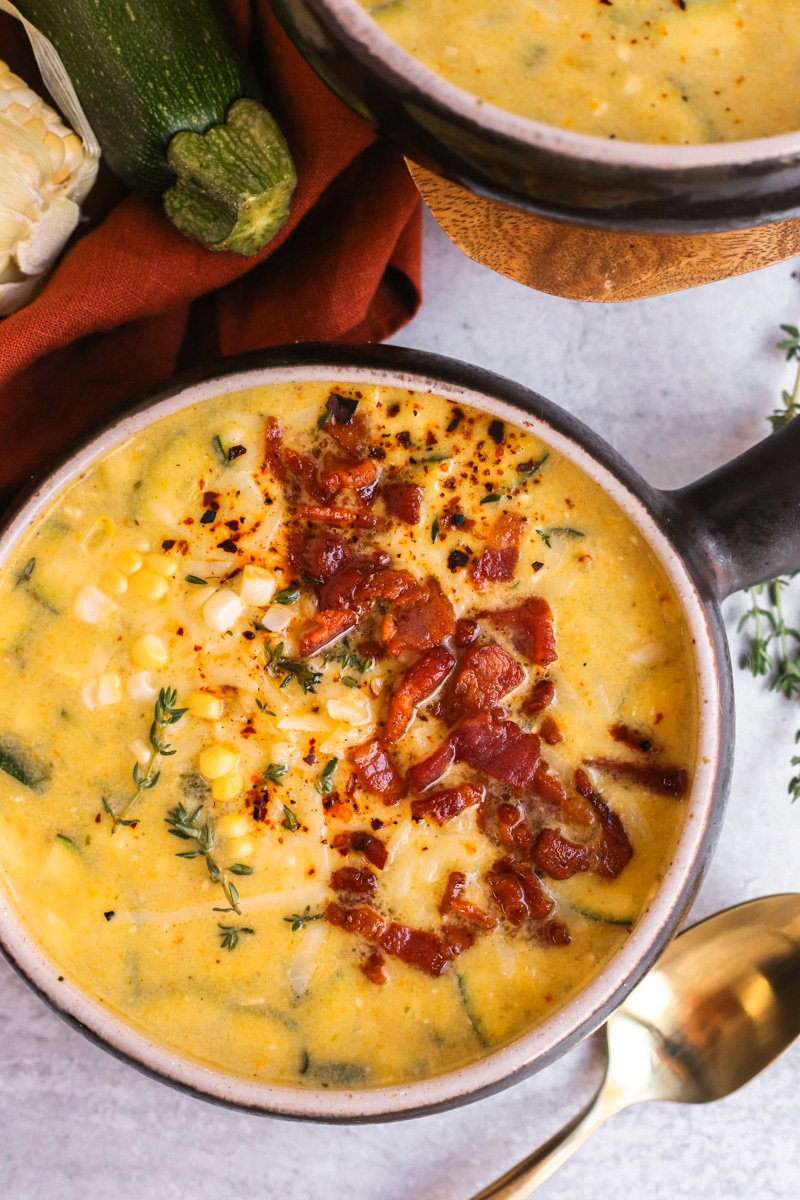 Can I freeze this Creamy Corn Chowder recipe?
Yes! This soup is great as leftovers, but if you're making it ahead for freezing, just cool to room temperature before storing in the freezer. Seal tightly and use within three months for the best results. And for easier thawing, try putting it in the refrigerator 1-2 days before you plan to serve it to allow more gentle thawing. Reheating on the stove or in the microwave, stirring frequently, until it's fully heated throughout.
How do you thicken Corn Chowder?
Some corn chowder recipes use a roux, which is a combination of flour and oil. The cooking technique is similar to making gravy from scratch and can also build really delicious flavor thanks to the browning reaction that happens in the pan. Another option is to use a slurry made with water or stock plus cornstarch. It will thicken your corn chowder as it heats to a boil. It's a fast and simple method but doesn't add much flavor.
My preference is blending. Since there are so many nourishing vegetables in this soup, you don't lose anything by pureeing them. I sometimes use an immersion blender to avoid dirtying another pot. There are pros and cons to each method (for me, the only downside is having another thing to clean) so it's up to you. Just don't forget that one of the other benefits of using full-fat dairy is that it's naturally a thicker and more creamy option!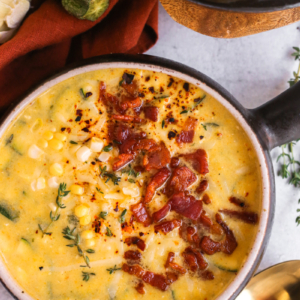 Creamy Corn Chowder
This creamy corn chowder recipes features the best of summer and fall in every spoonful!
Ingredients
4

slices

bacon

1

large

poblano pepper

,

deseeded and diced

1

large

carrot

,

peeled and diced

1/2

large

white onion

,

diced (about 1 cup)

3

cloves

garlic

,

minced

4

ears

sweet corn

,

kernels removed

1

large

russet potato

,

washed, dried, and chopped

1

medium

zucchini

,

diced

2

cups

low sodium chicken stock

2

cups

Hiland Dairy whole milk

1

tbsp

fresh thyme

1

tsp

red pepper flakes

Kosher salt and pepper

,

to taste

1

cup

shredded cheddar cheese

,

for garnish
Instructions
Roughly chop the bacon and prepare the vegetables. To begin cooking, heat a large, heavy-bottomed Dutch oven or stock pot over medium heat. Cook the bacon pieces until crispy, then remove and pat dry. Drain excess grease from the pot, leaving approximately 1 tablespoon.

Bring to medium-high heat, then add the onions, carrots, and diced pepper. Cook 5-6 minutes, or until softened and fragrant. Add the garlic and cook one minute more.

Add the stock to deglaze the pot, then add the milk, potatoes, and sweet corn kernels. Simmer, uncovered, for 10-12 minutes or until the potatoes are soft enough to be easily pierced with a fork.

Transfer half of the soup mixture to a blender and puree until smooth, about 30 seconds. Return to the pot and stir to combine, then add the zucchini, thyme, red pepper flakes, salt, and pepper. Cook another 5-6 minutes or until the zucchini is softened, then remove from heat.

To serve, ladle the creamy corn chowder into soup bowls. Garnish with crispy bacon bits, shredded cheese, and additional thyme or red pepper flakes (if desired). Serve immediately and enjoy.
Notes
To store leftovers, allow to cool to room temperature before placing in the refrigerator. Eating within 3-5 days for best results, or freeze and enjoy within three months.
Nutrition
Serving:
1
serving
,
Calories:
274
kcal
,
Carbohydrates:
22
g
,
Protein:
13
g
,
Fat:
16
g
,
Saturated Fat:
7
g
,
Polyunsaturated Fat:
1
g
,
Monounsaturated Fat:
5
g
,
Trans Fat:
0.02
g
,
Cholesterol:
38
mg
,
Sodium:
296
mg
,
Potassium:
700
mg
,
Fiber:
2
g
,
Sugar:
7
g
,
Vitamin A:
2654
IU
,
Vitamin C:
35
mg
,
Calcium:
268
mg
,
Iron:
1
mg
If you're looking for more delicious recipes using Hiland Dairy whole milk, check out the Recipe Tab on Hiland Dairy's website. You might also enjoy this recipe for Korean-Style Strawberry Milk. It was refreshingly good this summer when it was hot and humid nearly every day!
Plus, I also recommend my Creamy Corn Pasta with Bacon, Basil, and Butter Beans if you have leftover corn. Or just switch right to fall soups with my Great Northern Bean Soup with Barley!