Baked oatmeal cups are a simple solution for busy mornings – and they're delicious! This version uses Quaker oats, bananas, and nuts. You'll love my Banana Nut Baked Oatmeal Cups! 
---
Disclosure: This recipe and blog post were created in partnership with The Quaker Oats Company. I was compensated for my time. As always, all opinions are my own. Thanks for supporting the brands that support Street Smart Nutrition!
Imagine having a ready-made breakfast or snack option to add to your morning routine. Now imagine it takes less than an hour to prep an entire batch of delicious baked oatmeal cups. Finally, imagine that they taste and smell amazing!
Does it sound too good to be true? Think again, as baked oatmeal cups are one of my favorite solutions for busy days. I teamed up with Quaker to share another version of these quick and easy baked oatmeal cups with banana and nuts!
Baked Oatmeal Cups with Banana
Why baked oatmeal?
That's a great question, considering oatmeal is super simple and quick to prepare to begin with. And I still love my bowls of oatmeal, don't get me wrong. Especially with flavor combos like Peach & Pomegranate or Cold Brew Coffee and Yogurt. 
But sometimes you need something you can eat with one hand, sans silverware. That's where baked oatmeal cups come in! You can enjoy them on-the-go or while relaxing at home, but there's no need to prep and clean each time you reach for one. 
Oats are a culinary blank canvas, and this time I was inspired by the classic flavors of bananas and nuts. In previous versions, I made Blueberry Lemon, Lemon & Fig, and Pumpkin Spice baked oatmeal cups. This version can be enjoyed at any time of the year!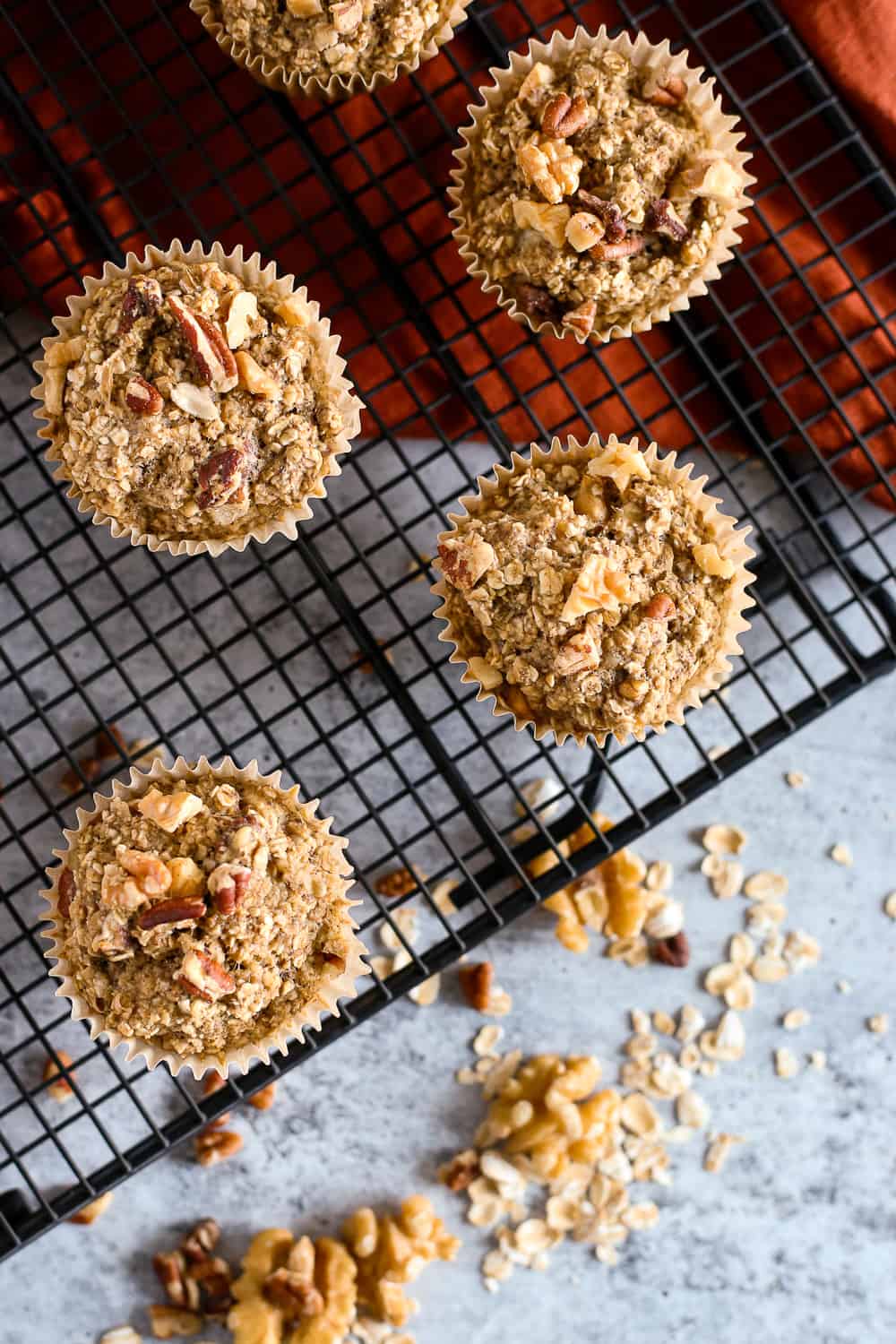 Oats are highly versatile, offering countless possibilities to get more taste and nutrition out of what we eat each day. From savory to sweet, hot to cold, oats can provide whole-grain goodness any time of day. 
A 1/2 cup serving of raw oats is a good source of fiber. That same 1/2 cup serving will also provide a good source of vitamins and minerals like vitamin B1, magnesium, phosphorus, and manganese.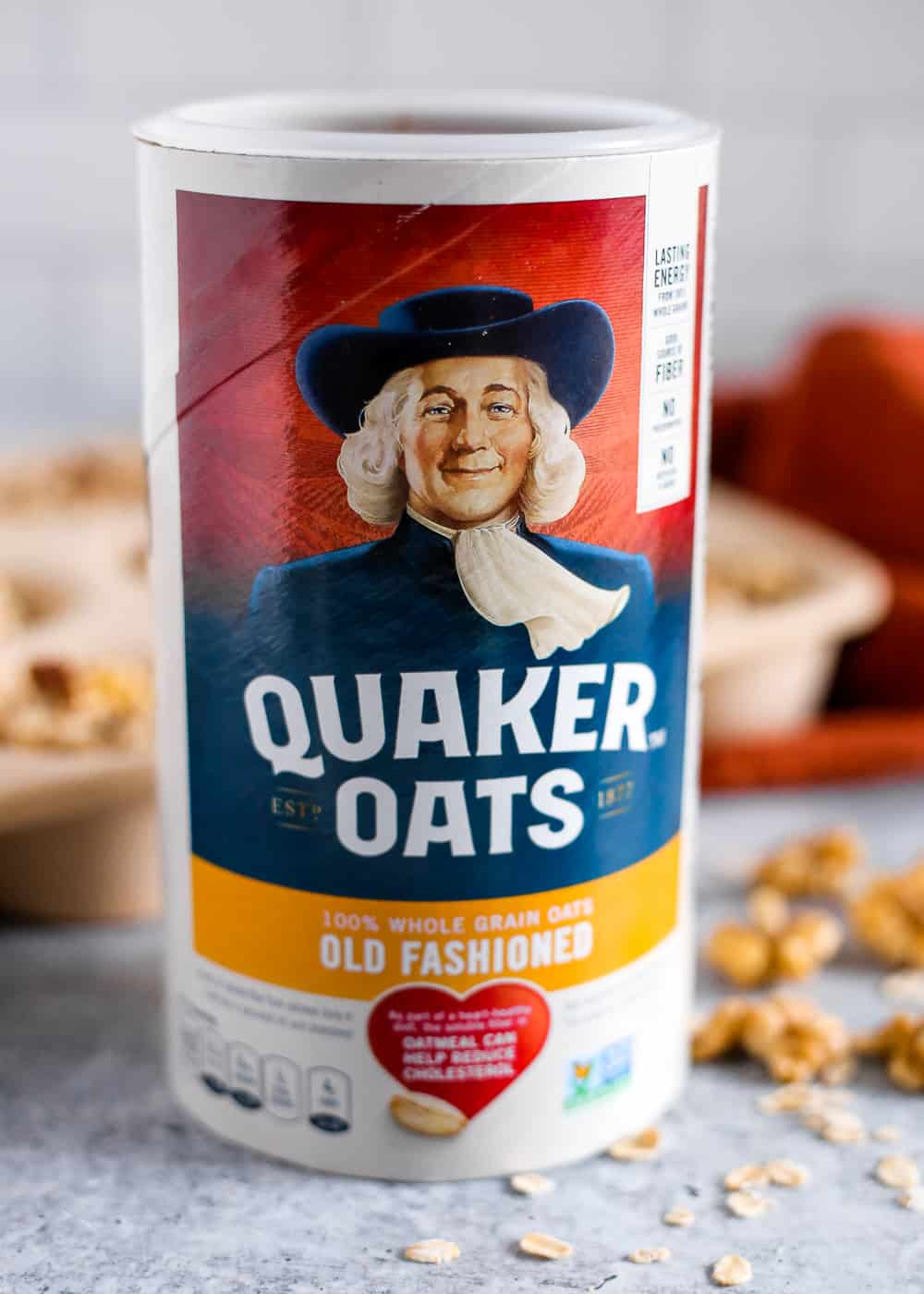 How do you make baked oatmeal cups with banana?
Trust me, it's a simple process! I'm not much of a baker, so I designed this recipe to be quick, simple, and as hassle-free as possible. You'll just need to gather two mixing bowls, measuring cups and measuring spoons, and something to stir and scoop with. I like using the side-sided stirring spatulas and a whisk, but use whatever kitchen utensils you have.
Prep your muffin tin by lining with cupcake liners or spraying with nonstick cooking spray. Preheat your oven to 350 degrees F, then follow this process, step by step:
1. Measure and mix the dry ingredients
These Banana Nut Baked Oatmeal Cups use two forms of Quaker Old-Fashioned Oats. Of course, we want the chewy, hearty texture and delicious flavor of rolled oats. But the oat flour helps bind everything together as it bakes. 
To make oat flour, scoop dry, uncooked oats into the bowl of your food processor or blender. I always have a canister of Quaker Old-Fashioned Oats in my pantry so that's what I use. The oats used in each variety of Quaker Oats – Instant, Quick, Old Fashioned and Steel Cut – are 100% whole grain! Ounce per ounce, they provide similar amounts of fiber, vitamins and minerals.
To learn more about where oats come from, check out this post. No matter which type of oats you use, the nutrition and taste will be similar for your homemade oat flour!
Put the lid on and pulse a few times. Then, keep the blades running on the medium speed setting until you get a fine, flour-like consistency. If you see some intact oats remaining, that's totally fine! They'll blend right in once you combine the rest of the ingredients for these Banana Nut Baked Oatmeal Cups.
Measure out the rest of the dry ingredients. Then stir them all together with a whisk and set aside.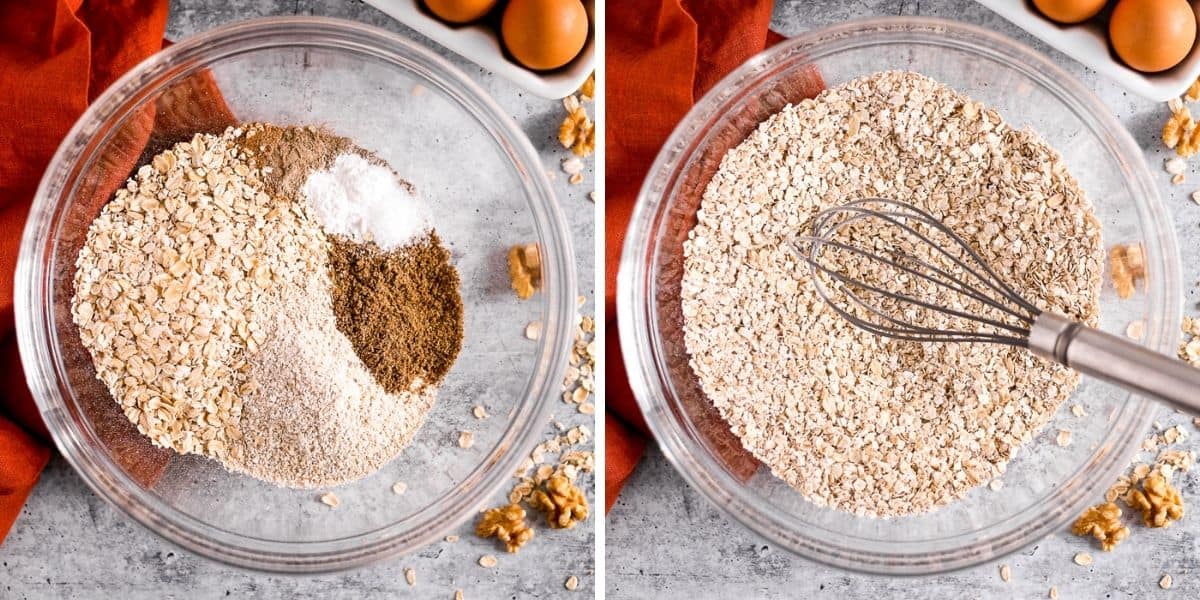 2. Measure and mix the wet ingredients
The most important ingredient here is the mashed banana. It gives this baked oatmeal recipe a subtle sweetness and delicious banana flavor. Since bananas are available year-round, you don't have to wait until a certain time of year to enjoy them!
I found that two medium bananas were enough to make the 3/4 cup of mashed bananas needed for this recipe. I peeled the bananas into a bowl, then used a fork to mash them until they were smooth. If you want to leave some larger chunks, go for it! You'll get a nice surprise of intense banana flavor in these baked oatmeal cups.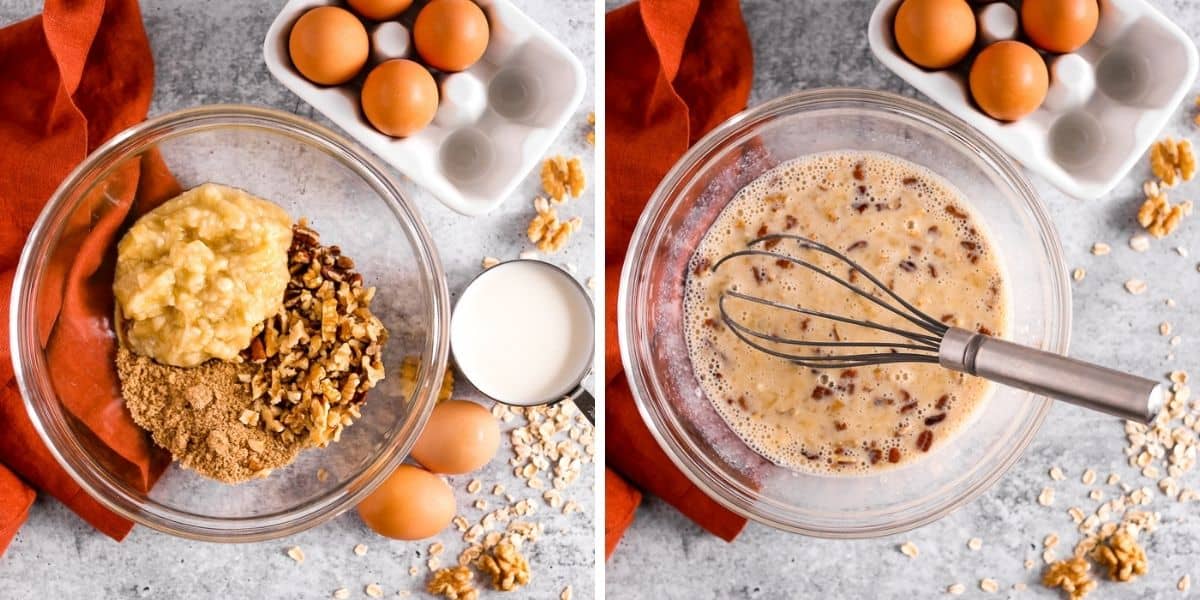 Just like with the dry ingredients, stir everything together. It will appear very wet, but that's the correct amount needed to make the baked oatmeal batter and yield 12 muffins. 
3. Combine, scoop, and bake
Gently pour the wet ingredients into the dry ingredients and give it a good stir. There's no need to overmix, but make sure all the dry ingredients get incorporated into the batter. 
Carefully scoop the batter into the prepped muffin tin. These Banana Nut Baked Oatmeal Cups don't rise as much as other baking recipes, so you can get them quite full.
Top with some additional chopped nuts if you'd like. Then pop them into the oven for 30 minutes. That's it!
4. Enjoy!
Once the tops are browned and the oatmeal cups are fully baked, you get to enjoy your banana nut muffins. They have a delicious sweet and nutty flavor on their own. But you can add a dab of butter, a drizzle of honey, or spread some of your favorite jams or jellies on top.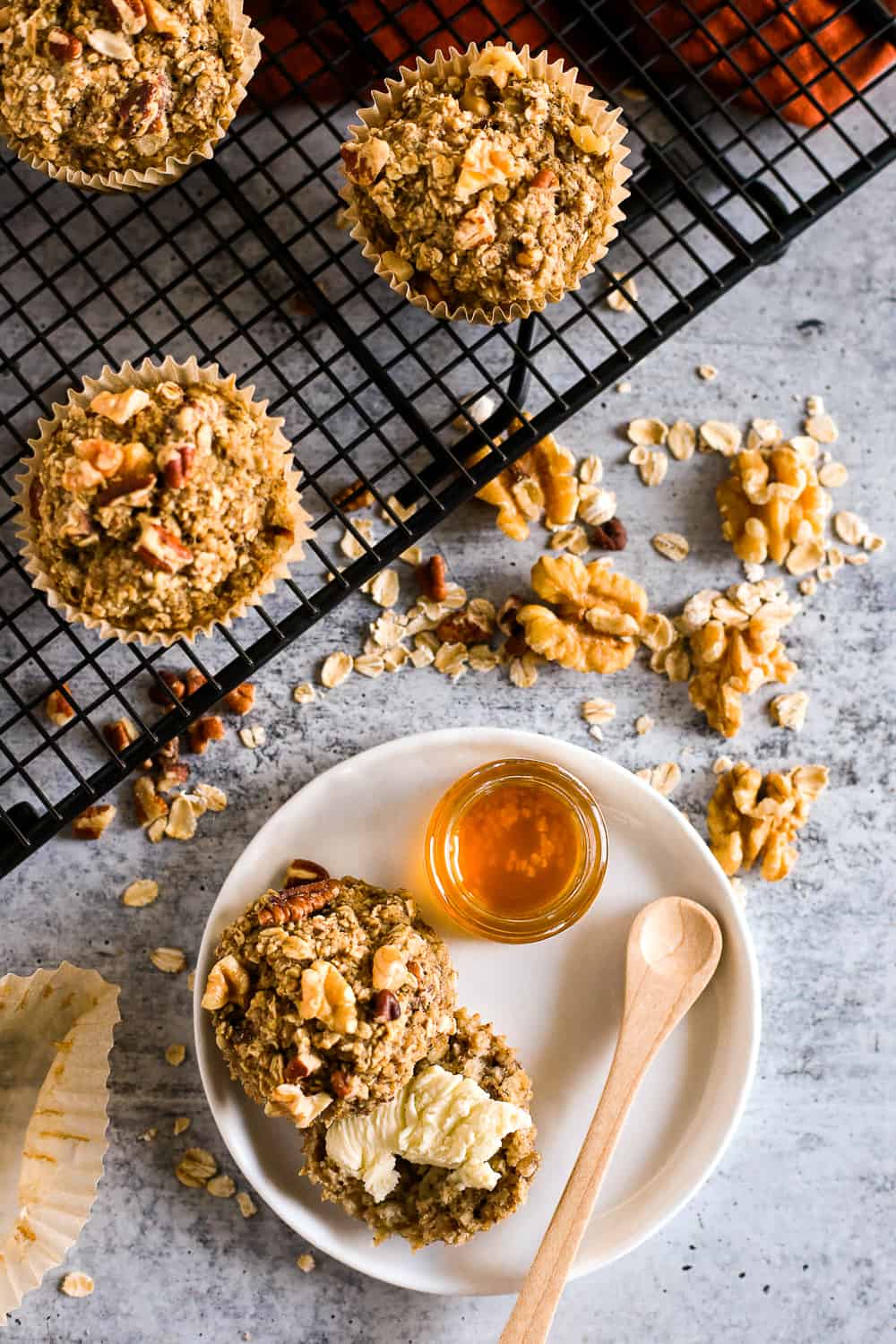 What do I do with the leftovers?
You'll have leftover Banana Nut Baked Oatmeal Cups to enjoy later. I recommend storing them in the refrigerator unless you plan to eat them within the next 24 hours. 
These baked oatmeal cups will last for five days in the refrigerator. You can also freeze them for up to three months. They reheat in just 10-15 seconds in the microwave (after thawing) for that great just-out-of-the-oven warmth. You can double, or even triple, a batch and pull out as many as you need for the week.
Can I make substitutions?
Of course! As always, these recipes are meant to be modified as needed to fit your taste preferences and needs. 
Here are a few ideas if you want to modify this recipe:
Use only walnuts or pecans, or swap for your favorite nuts. Chopped almonds or macadamia nuts would also work well in this recipe.
If you aren't a fan of cardamom, swap for cinnamon. Adjust the level of spice as needed, using more or less depending on your taste preferences.

 

The whole milk can be exchanged for reduced-fat or skim milk, or use a non-dairy milk alternative if needed.
If you wish to add ingredients, you can use dried cranberries or dried cherries, chocolate chips, or sunflower seeds for additional crunch and flavor.
Here's the recipe for Banana Nut Baked Oatmeal Cups!
Banana Nut Baked Oatmeal Cups
These baked oatmeal cups with bananas and nuts are a delicious solution for busy mornings. Prep them ahead of time and enjoy all week!
Equipment
Mixing Bowl, large

Mixing Bowl, medium

Muffin Tin

Cupcake Liners

Measuring Cups

Measuring Spoons
Ingredients
Dry Ingredients
1 2/3

cup

Quaker Old-Fashioned Oats

1/2

cup

oat flour

2

tbsp

ground flax

1 1/2

tsp

baking powder

1

tsp

cardamom

3/4

tsp

kosher salt

1/2

tsp

nutmeg
Wet Ingredients
3/4

cup

mashed bananas

,

about two medium bananas

4

tbsp

brown sugar

3/4

cup

whole milk

2

large

eggs

1

tsp

vanilla

1/4

cup

chopped walnuts

1/4

cup

chopped pecans
Instructions
Preheat the oven to 350 degrees F. Prepare a muffin tin by lining with cupcake liners or spraying with a nonstick cooking spray. 

To make the oat flour, measure Quaker Old-Fashioned oats into a food processor. Pulse until you get a fine, flour-like consistency. Measure the oat flour and remaining dry ingredients into a large mixing bowl. Whisk gently to combine, then. set aside. 

In a second mixing bowl, combine the wet ingredients. Whisk together to combine.

Carefully add the wet ingredients to the dry ingredients. Fold together to combine, being careful not to overmix the batter. It will appear sticky and scoopable. Transfer the batter into the prepared muffin tin. 

Bake at 350 degrees F for 30 minutes or until the tops begin to brown. Insert a toothpick into the center to test doneness. If it comes out clean, the muffins are fully baked. 

Transfer the muffins to a cooling rack. Allow to cool slightly, then serve or transfer to storage containers.
Notes
If storing, place in a sealed storage container or bag. Muffins will last up to 5 days in the refrigerator or three months in the freezer. To thaw, set out for several hours or overnight.

 
Nutrition
Serving:
1
muffin
,
Calories:
155
kcal
,
Carbohydrates:
20
g
,
Protein:
5
g
,
Fat:
7
g
,
Saturated Fat:
1
g
,
Cholesterol:
33
mg
,
Sodium:
228
mg
,
Potassium:
181
mg
,
Fiber:
3
g
,
Sugar:
7
g
,
Vitamin A:
79
IU
,
Vitamin C:
1
mg
,
Calcium:
76
mg
,
Iron:
1
mg
I hope this recipe proves to be as helpful for you as it has been for me. It saves so much time in the morning! If you're a fan, be sure to pick up a canister of Quaker Old-Fashioned Oats and check out the other versions, including these seasonal variations!