These Spiced Carrot Cake Oat Muffins are what springtime breakfast dreams are made of. Packed with flavor, you'll love these carrot cake muffins! 
---
Disclosure: This recipe and blog post were created in partnership with The Quaker Oats Company. I was compensated for my time. As always, all opinions are my own. Thanks for supporting the brands that support Street Smart Nutrition!
Let's hear it for whole grains! These pantry-friendly, shelf-stable ingredients have been absolute rock stars for me so far this year. While I've always been a big proponent of stocking my pantry with versatile, nourishing ingredients like oats, I'm relying on them now more than ever.
Oats are a nutritious blank canvas and they never fail to inspire me to get creative with my cooking! From sweet to savory, hot to cold, oats are a reliable choice for whole grain goodness any time of day. Quaker has spent more than 143 years finding modern ways to help people benefit from the taste, versatility, and nutrition of whole grain oats. That's why I'm excited to team up with them to share these Spiced Carrot Cake Oat Muffins!
But first, let's highlight some of the ways oats shine!
Benefits of Oats
I haven't been shy about sharing my love for oats, but I've got good reasons! As a dietitian, I'm always looking for delicious ways to add more nutrition to my meals and snacks without sacrificing flavor or enjoyment. Oats help me do that in so many ways.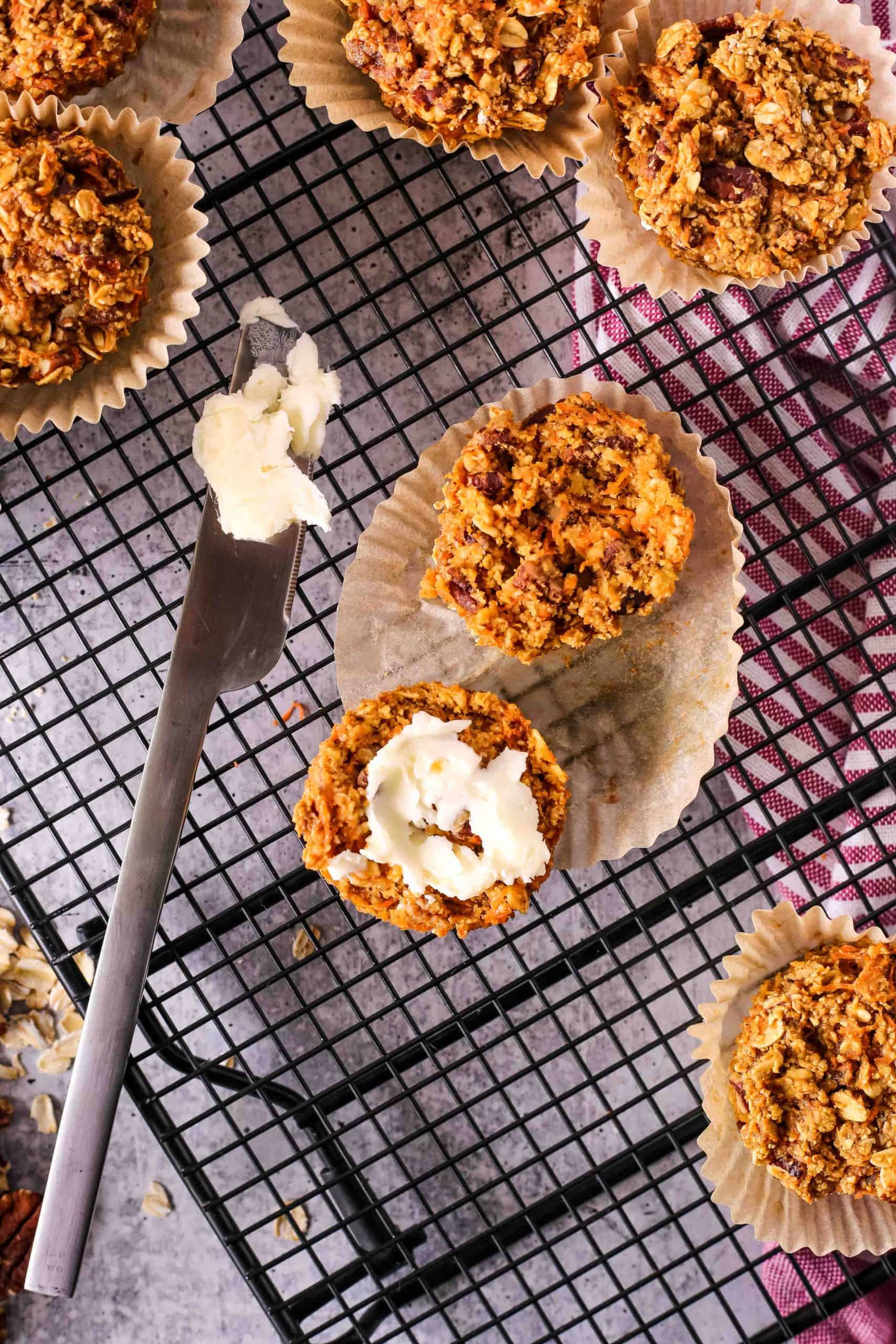 For example, a 1/2 cup serving of oats is a good source of fiber. Dietary fiber is a shortfall nutrient, which means most people aren't getting the recommended amount. Getting adequate fiber is one way to help support a healthy digestive system. Americans also fall short when it comes to whole grains, so adding oats to meals and snacks can be an easy way to make sure you're getting your whole grains! 
That same 1/2 cup serving of oats will also provide a good source of vitamins and minerals like vitamin B1, magnesium, phosphorus, and manganese. And no matter which variety of Quaker Oats – Instant, Quick, Old-Fashioned, and Steel Cut – you'll be getting similar amounts of fiber, vitamins, and minerals. *
The claims above are based on 40 grams of oats per serving and the Spiced Carrot Cake Oat Muffins have 6.8 grams of oats per serving. 
Spiced Carrot Cake Oat Muffins
Since it's springtime right now, I'm feeling inspired by all the fresh produce that's starting to show up. From grocery stores to home gardens to farmers market, everything is vibrant and growing right now!
Carrots are one of my personal favorites to just peel and eat, but I'm also dabbling with some new baking recipes. My mom is especially fond of carrot cake so I decided to create a simple muffin recipe. We both live alone, so a baked recipe like this is great for us because we don't have to enjoy the entire batch at once. I keep a few in the fridge for the next few days. Then the rest go into the freezer so I can pull out a few at a time when I'm ready to enjoy the leftovers.
The flavor combo of carrots and pecans is a classic. But where these carrot cake muffins take a detour is in the spice department! I love cardamom so whenever I bake, I look for any excuse to include it. If you don't have cardamom or prefer a different flavor instead, try adding ginger, cloves, allspice, or a baking spice blend.
Baked oatmeal cups are kind of my jam. I have several other versions you should try: Blueberry Lemon, Lemon & Fig, and Pumpkin Spice Baked Oatmeal Cups. They're all similar to this recipe in prep time and cooking method!
No matter which combination you go with, you'll love how your entire kitchen fills with a wonderfully rich aroma as these oat muffins bake. I mean, just take a look – you can practically smell them through the screen!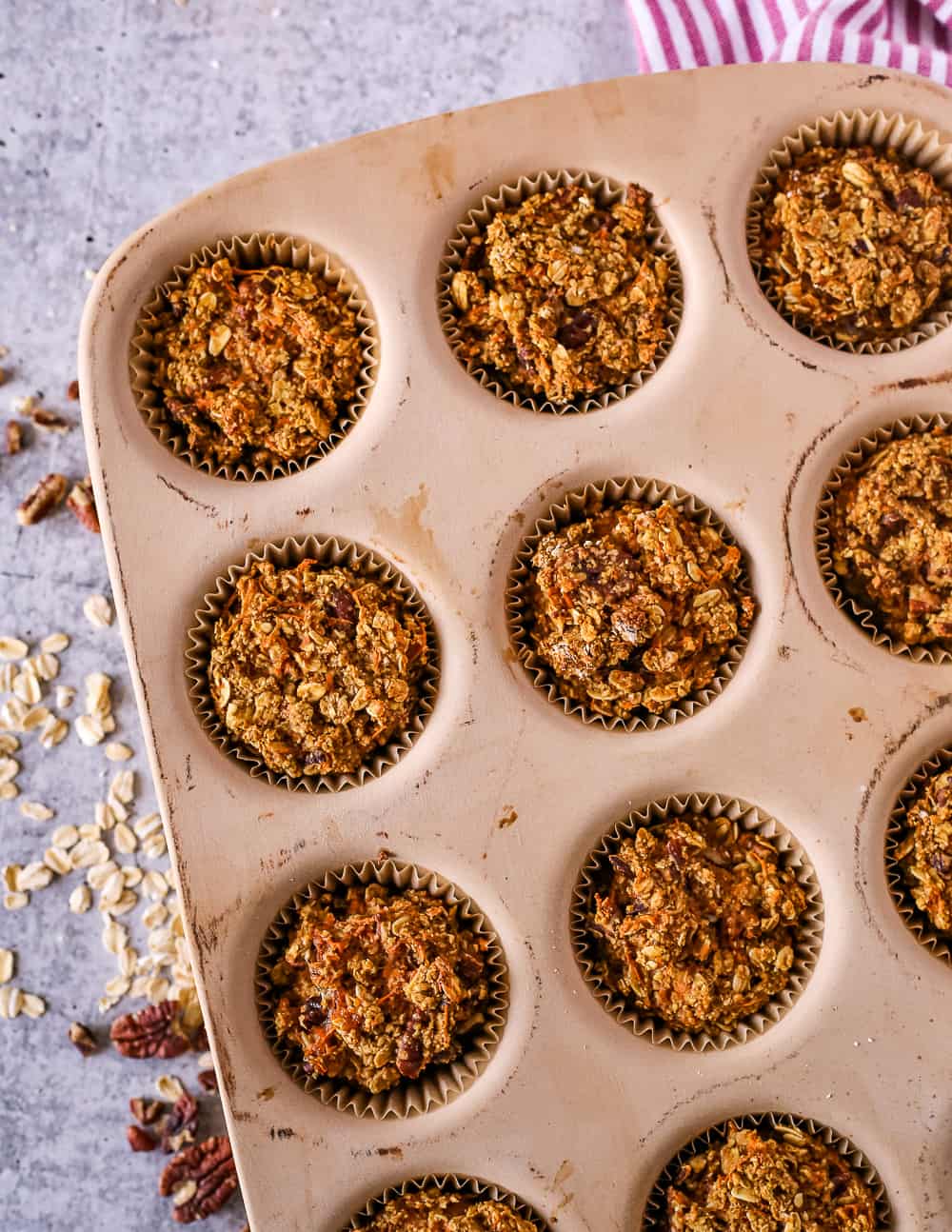 Since these Spiced Carrot Cake Oat Muffins use two versions of oats, let me walk you through the quick steps you'll need to make your own oat flour at home.
Street Smart Nutrition Tip: If you have leftover whole wheat flour you need to use up, you can use that, too. But I really enjoy the dense, hearty texture you get when you use oat flour, which is why I recommend it for these carrot cake muffins!
How to Make Oat Flour
To make your own oat flour, use a measuring cup to place dry, uncooked oats in the bowl of a food processor. While I chose to use Quaker Old-Fashioned Oats this time, you can use whatever type of Quaker Oats you can. Since it all gets pulverized in the food processor, it makes no difference! How's that for a flexible recipe?
To learn more about where oats come from, check out this post. You'll also see the difference between the different varieties of oats and how you can use them in your recipes!
Once you have your oats in the food processor, snap on the lid and pulse to break up the oats. Keep the blades running until you get a fine, flour-like consistency. You might see some larger pieces of oats remaining, but that's alright. Once these muffins emerge from the oven, that's the last thing you'll be worried about when you take your first bite!
If you like to keep extra oat flour on hand for other recipes, I recommend repeating these steps a few more times. After all, you're going to have to wash everything anyway, you might as well make it worth it and be able to skip this step next time!
I like to store oat flour in the refrigerator. I prefer this because it lasts longer. 
Now let's get to the good stuff: it's recipe time!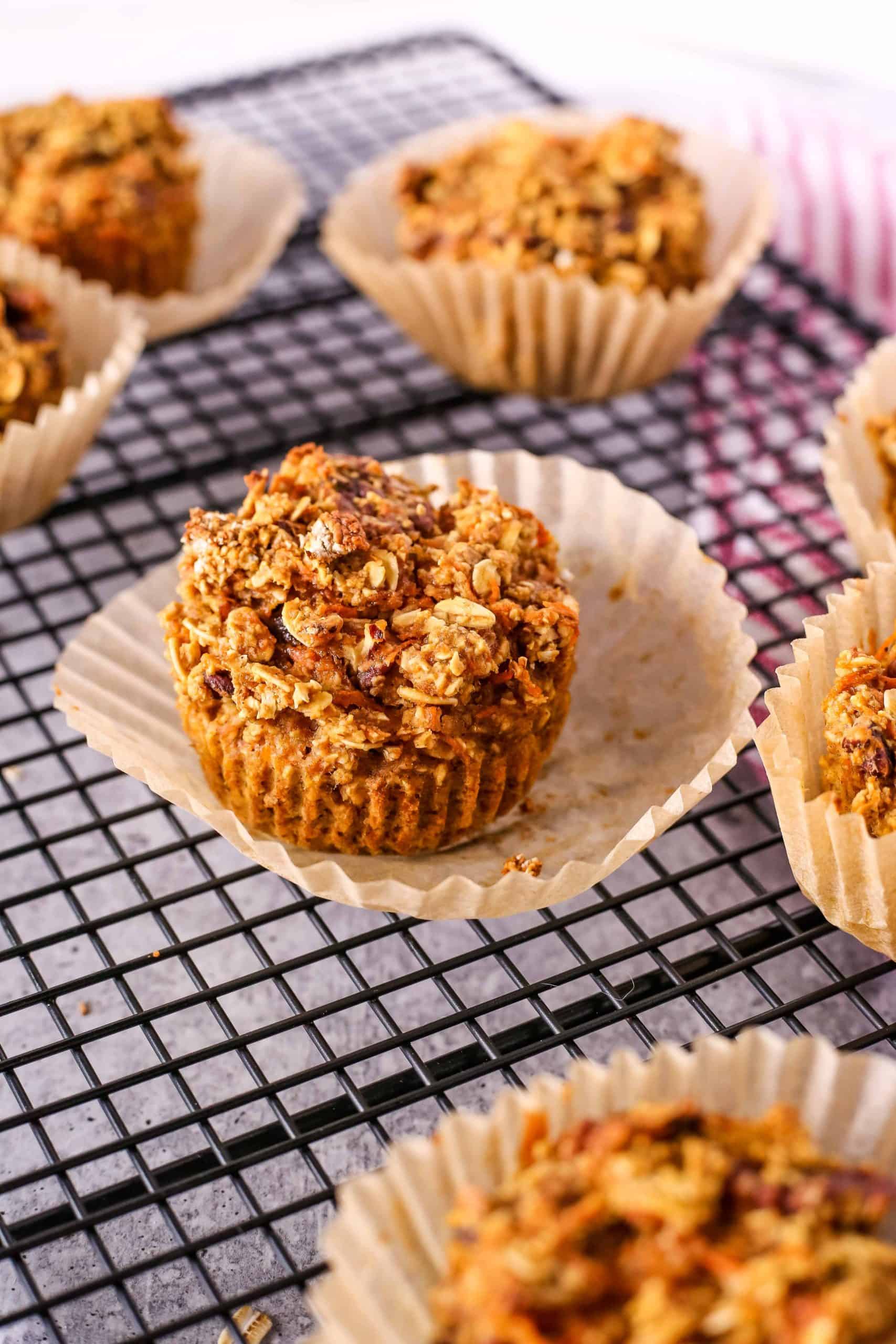 Here's the recipe for Spiced Carrot Cake Oat Muffins
Spiced Carrot Cake Oat Muffins
These simple muffins use Quaker Old-Fashioned Oats to provide fiber and nutrition. They're sweet, moist, and delicious with breakfast or a snack.
Equipment
Muffin Tin

Mixing Bowls

Measuring Cups

Measuring Spoons

Whisk
Ingredients
Dry Ingredients
1 1/4

cups

oat flour

1

cup

Quaker Old-Fashioned Oats

1 1/2

tsp

baking powder

1/2

tsp

baking soda

1/4

tsp

kosher salt

1

tsp

cinnamon

1/2

tsp

cardamom

1/2

tsp

nutmeg
Wet Ingredients
1

cup

carrots

,

finely shredded

3/4

cup

applesauce

,

unsweetened

6

tbsp

brown sugar

,

packed

2

large

eggs

1

tbsp

oil

1

tsp

vanilla extract

1

cup

chopped pecans
Instructions
Preheat the oven to 375 degrees F. Prepare a muffin tin by lining with muffin liners or spraying lightly with non-stick spray.

To make the oat flour, measure Quaker Old-Fashioned oats into a food processor. Pulse until you get a fine, flour-like consistency. Measure the oat flour and remaining dry ingredients into a large mixing bowl. Whisk gently to combine, then. set aside.

In a second mixing bowl, combine the wet ingredients. Whisk together to combine.

Carefully add the wet ingredients to the dry ingredients. Fold together to combine, being careful not to overmix the batter. It will appear sticky and scoopable. Transfer the batter into the prepared muffin tin.

Bake at 375 degrees F for 20-25 minutes or until the tops begin to brown. Insert a toothpick into the center to test doneness. If it comes out clean, the muffins are fully baked. Transfer the muffins to a cooling rack, then serve.
Notes
If storing, place in a sealed storage container or bag. Muffins will last up to 5 days in the refrigerator or three months in the freezer. To thaw, set out overnight. 
Nutrition
Serving:
1
muffin
,
Calories:
195
kcal
,
Fat:
10
g
,
Saturated Fat:
1
g
,
Sodium:
185
mg
,
Fiber:
3
g
,
Sugar:
10
g
And if you're looking for other delicious ways to enjoy the benefits of oats, check out these breakfast options:
Like this recipe? Be sure to leave a rating or comment, then save it and share it!