Veggies in a cocktail? Uh, yep. Cucumber Vodka Sodas are delicious and totally refreshing! Try this simple vodka cocktail with citrus and herbs to add even more flavor, especially in the mocktail version!
---
I'm all about simple and that applies to my drinks, too! Today I'm bringing you one of the most simple vodka cocktails out there – a Cucumber Vodka Soda with Lime and Rosemary!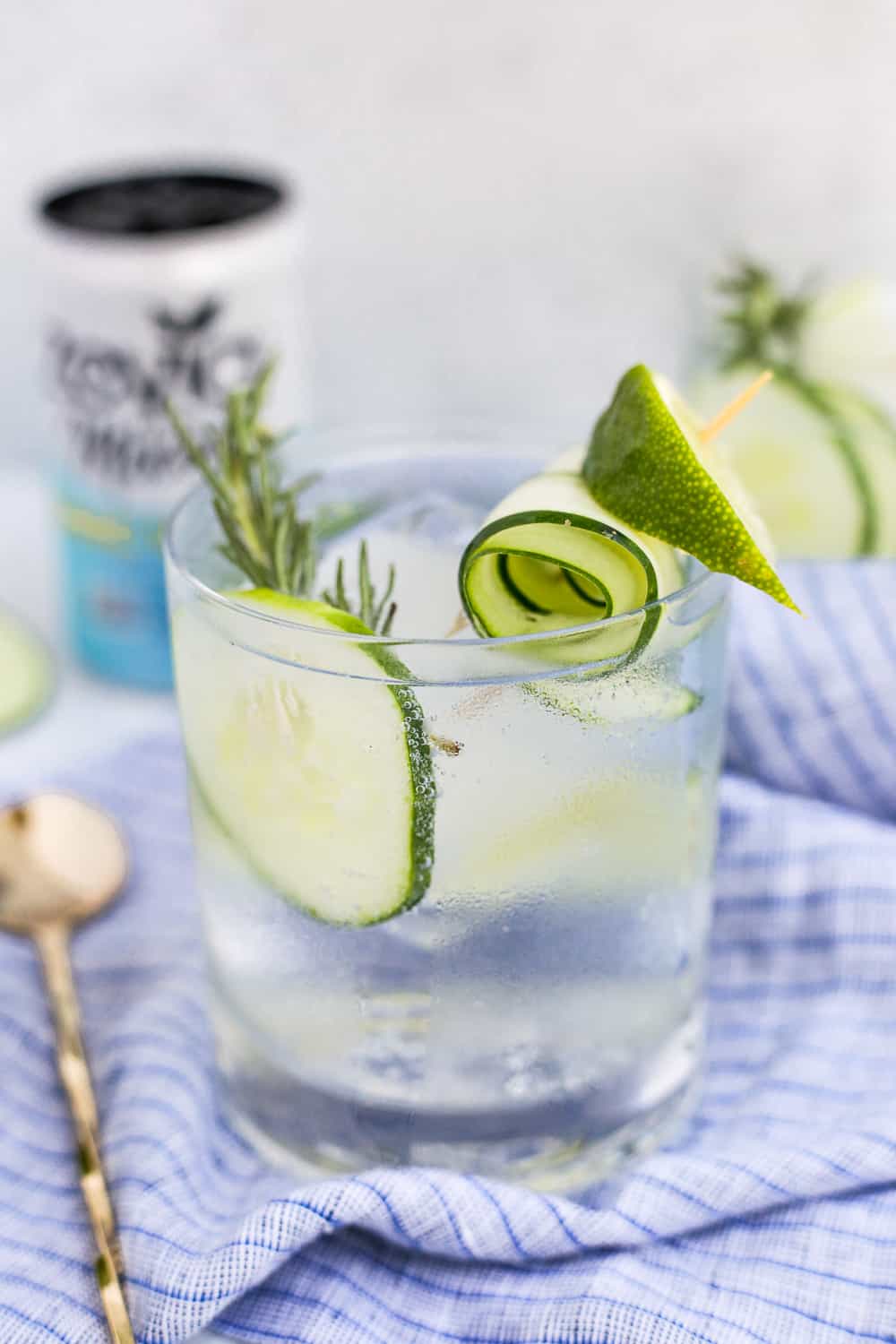 I drew inspiration from the classic Vodka Tonic, served with a wedge of lime. I've never been much of a gin drinker (save for a few yummy exceptions from mixologists more skilled than I am). So for a while, my go-to summer drink was a Vodka Tonic.
No matter what season it is, there are times when I want a little more flavor in my vodka cocktails. Without getting too extravagant…you know…there's only so much effort I want to put into my drinks. But there needs to be some balance there. I mean, after all, if you start chucking too many cucumbers into a vodka cocktail it can start to taste like a salad.
If you're looking for a refreshing, simple vodka cocktail (or mocktail!) to enjoy, keep reading!
Cucumber Vodka Soda with Lime and Rosemary
In January 2020, AKA the "Before Times", I had a really cool opportunity to travel to Budapest, Hungary for a conference. While we were there, a group of fellow dietitians and I got to attend a cocktail-making workshop.
Hungary, and Budapest in particular, has a really interesting history with cocktail-making. If you're curious to learn more, search for "ruin bars". Long story short, locals were keen to make something out of the crumbling buildings left after World War II. Our workshop was hosted in one of the ruin bars and it was quite the experience!
I took away a lot of tips and tricks from their award-winning bartenders and mixologists. I'm going to share one of them with you below, but first things first: start with the right ice!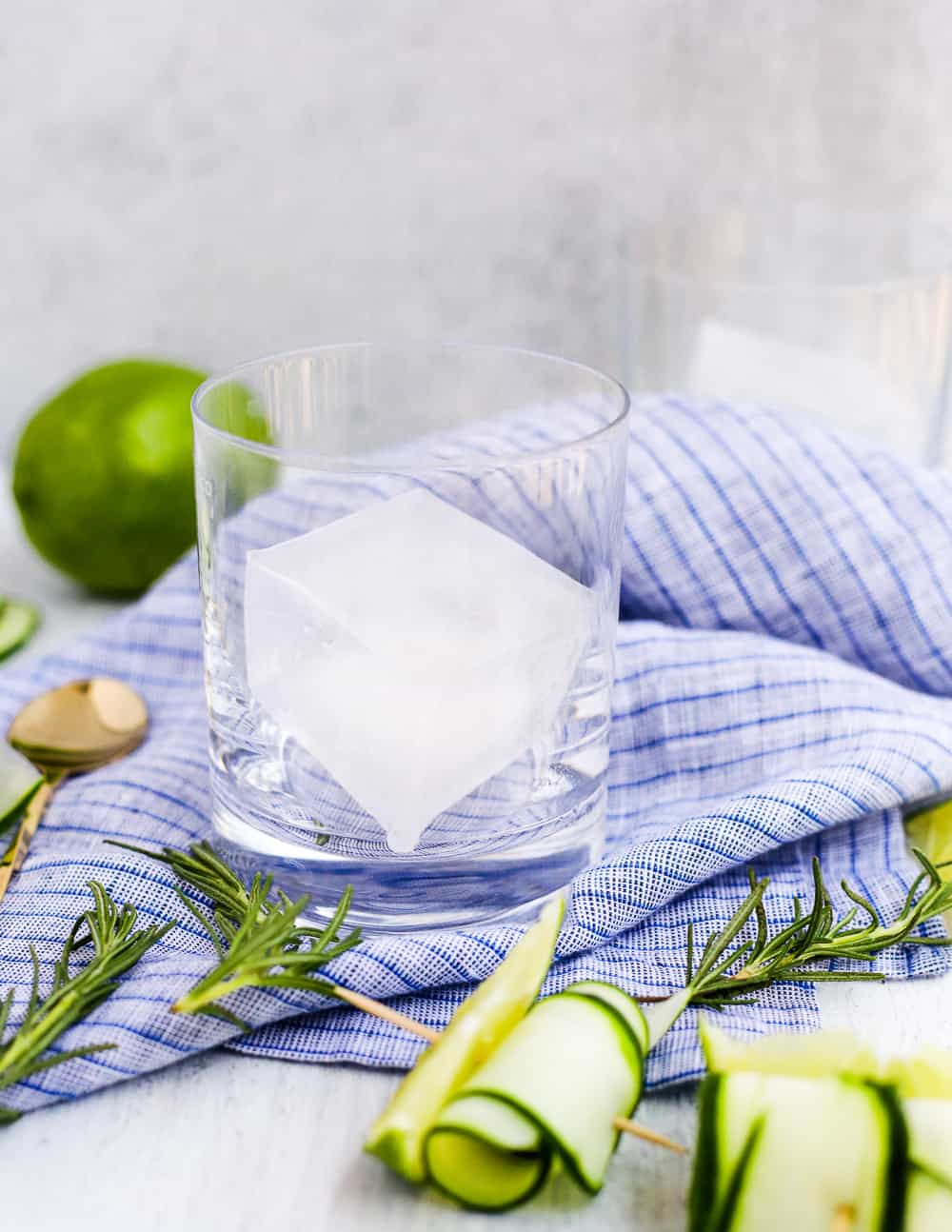 The flavor in cocktails is a blend of the alcohol (of course) combining with the other ingredients. But there's also an element of dilution as the ice melts. For some drinks, you want crushed ice with more surface area. It melts more quickly, thus diluting your drink faster than if you use larger cubes.
For this one, the flavor is relatively mild so too much dilution will water it down. I chose to use one of the large cocktail cubes, like the one you see here.
Street Smart Nutrition Tip: If you're mixing up drinks often, you might want to invest in a large ice cube tray. They make a great gift for the foodie in your life! Check out some of the options out there, including this one that I like to use.
The rest of the flavor in these Cucumber Vodka Soda cocktails comes from, you guessed it, cucumbers!
You can always slice up a few pieces and drop them in your glass and call it good. But sometimes you want to feel a little *fancy* while you sip your simple vodka cocktail. And I promise you, this is not as tough as it looks!
To make these rolled cucumber garnishes, I took a vegetable peeler and ran it down the long side of the cucumber to make a thin strip. Repeat enough times so you have 1-2 strips per glass. Then carefully roll them together and add to a toothpick with a lime wedge.
That's it!
Place it on the edge of your glass and you'll never know you didn't pay $15 for this thing at a crowded bar where you feel way too old and out of place.

Now for the flavor-boosting trick I mentioned earlier.
This goes back to the cocktail-making workshop where a dapper young man demonstrated how he "spanks" the herbs to release the oils and flavors that are naturally in the herbs. He explained this helps "get their attention" and well, yeah. It works because it sure got my attention, too!
Give this a try next time you're making anything with fresh herbs – it doesn't have to be a vodka cocktail!
Just take the sprig or leaf of fresh herbs and place it in one hand. Use your other hand and clap them together once or twice. I think you'll really be able to smell the difference before and after you do this.
You can muddle the herbs and lime together before you add the ice and tonic or soda water, or skip that step for a more mild flavor. Either option is fine, especially since everyone has different taste preferences.
I really like using Zevia mixers when I make drinks at home. The mini cans are perfect for me since I don't want my tonic or soda water to go flat in a larger bottle if I don't use it all. There's this Tonic Water flavor, but also a Ginger Beer and Lemon-Lime. I think that one could also work really well in this Cucumber Vodka Soda!

How do I make a non-alcoholic version?
Just skip the vodka! The tonic or soda water you use will add some bubbly to your glass, making up for anything you might miss without the alcohol. You can also replace it with your favorite sparkling water. The citrus flavors work especially well since you already have some lime juice in the mix.
You'll still be able to enjoy the refreshing flavor of cucumber, lime, and rosemary in your mocktail. Cheers to that!
If you're looking for more non-alcoholic options, you might like this Spicy Pomegranate Mojito Mocktail that uses pomegranate juice and a spicy serrano simple syrup!
Here's the recipe for Cucumber Line Vodka Tonics with Rosemary!
Cucumber Lime Vodka Tonic with Rosemary
This refreshing cocktail is a great way to use up leftover herbs. Enjoy with your favorite tonic water and vodka, or omit the alcohol for an easy mocktail.
Ingredients
7

oz

diet tonic water or soda water

1

small

cucumber

1

small

lime

2

sprigs

fresh rosemary

2

oz

vodka

ice

,

large cube
Instructions
Cut 2-3 thin slices off the end of the cucumber. Use a vegetable peeler to create thin slices from the long end of the cucumber.

Cut the lime wedges, then gently roll the cucumber slices around the lime wedge or into a rolled shape. Thread onto a toothpick to garnish your drink.

Add the cucumber slices and fresh rosemary to your glass. If desired, clap the sprig of rosemary between your hands to release a stronger aroma and flavor. Add the ice, diet tonic or soda water, and vodka, if using. Gently stir, garnish with the lime-cucumber toothpick, then serve immediately.
Nutrition
Serving:
1
drink
,
Calories:
170
kcal
,
Carbohydrates:
11
g
,
Protein:
1
g
,
Fat:
1
g
,
Saturated Fat:
1
g
,
Sodium:
5
mg
,
Potassium:
283
mg
,
Fiber:
3
g
,
Sugar:
3
g
,
Vitamin A:
114
IU
,
Vitamin C:
25
mg
,
Calcium:
44
mg
,
Iron:
1
mg
If you enjoyed this Cucumber Vodka Soda recipe, you might also like these other cocktails and mocktails: