Skeptical about tofu? Let me introduce you to Dubu Jorim! This spicy Korean braised tofu recipe is going to wow you! It's got it all: a delicious sauce, a little heat and spice, and simple cooking method.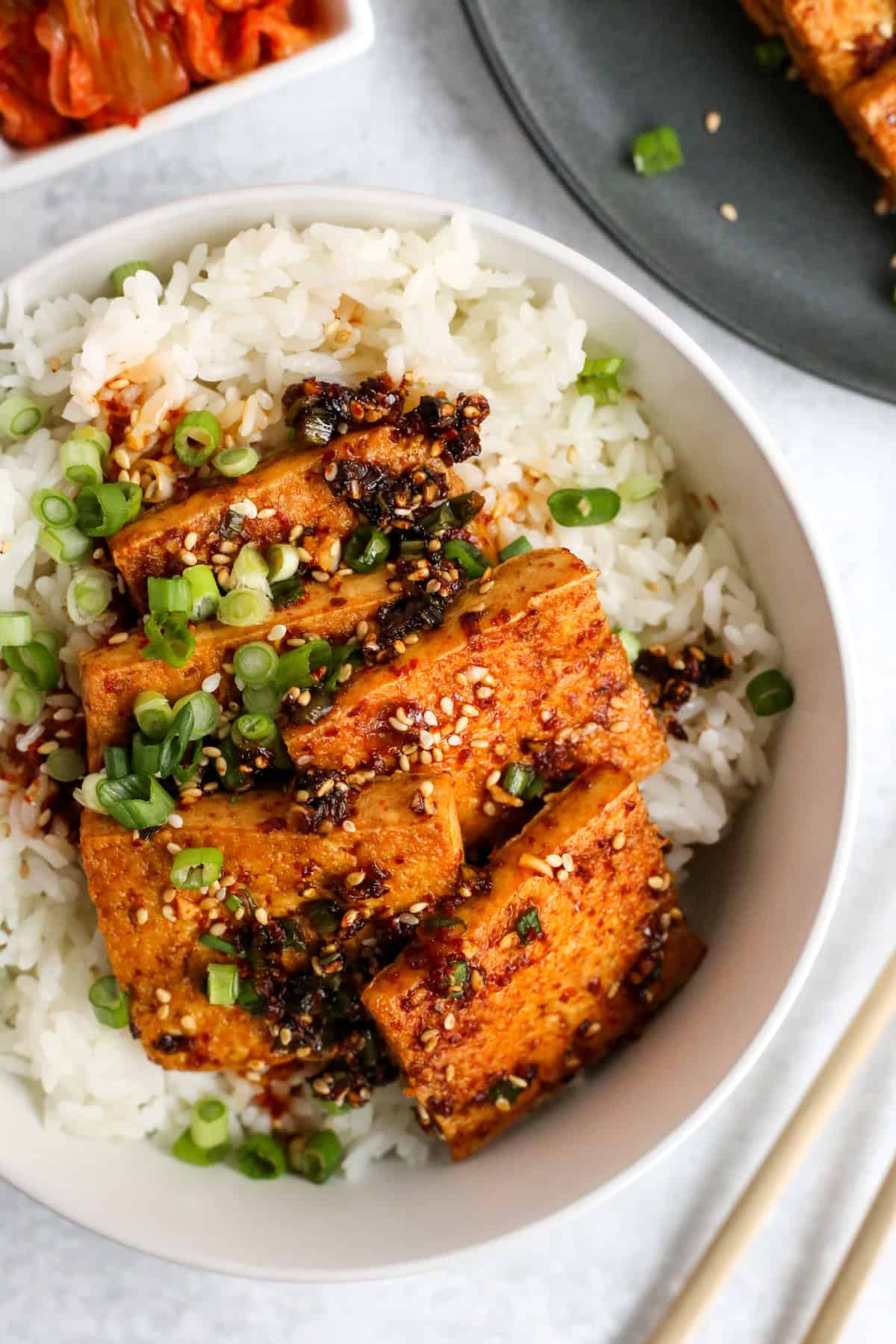 Why You'll Love This Recipe
This is one of my favorite Korean tofu recipes and I make it on the regular, especially for lunch. Here's why I love it, and why I think you will, too!
It's the simple kind of comfort food that's nearly effortless to make. Once you master the simple pan-searing and braising technique, you'll be a pro!
This is a great dish to try if you think you don't like tofu…seriously, it's so good it might change your thinking upon the first bite.
Dubu jorim can be an easy entry into the delicious world of Korean cuisine, with easier-to-find ingredients and plenty of ways to adjust it for your taste preferences. Although I like it spicy, you can easily adjust the heat level.
On top of all of that, May is Asian American and Pacific Islander Heritage Month. I'm proud to be mixed-race Korean American but I didn't have many chances to enjoy recipes like this growing up. I've made an effort to connect or re-connect with my Korean heritage through food. And I'm excited to feature some of my favorites here on the Street Smart Nutrition Blog!
What is Dubu Jorim?
Dubu jorim is a popular side dish from Korea. Tofu is the main ingredient. The sliced tofu is pan-seared until golden brown, then braised with a savory sauce. I like mine on the spicy side, but it's also subtly sweet. This spicy Korean braised tofu recipe is one of the dishes you'll find in a spread of banchan, or small side dishes served family-style with the main dish.
Oi muchim is another must-try! This spicy Korean cucumber salad is simple to make in advance to serve alongside dubu jorim.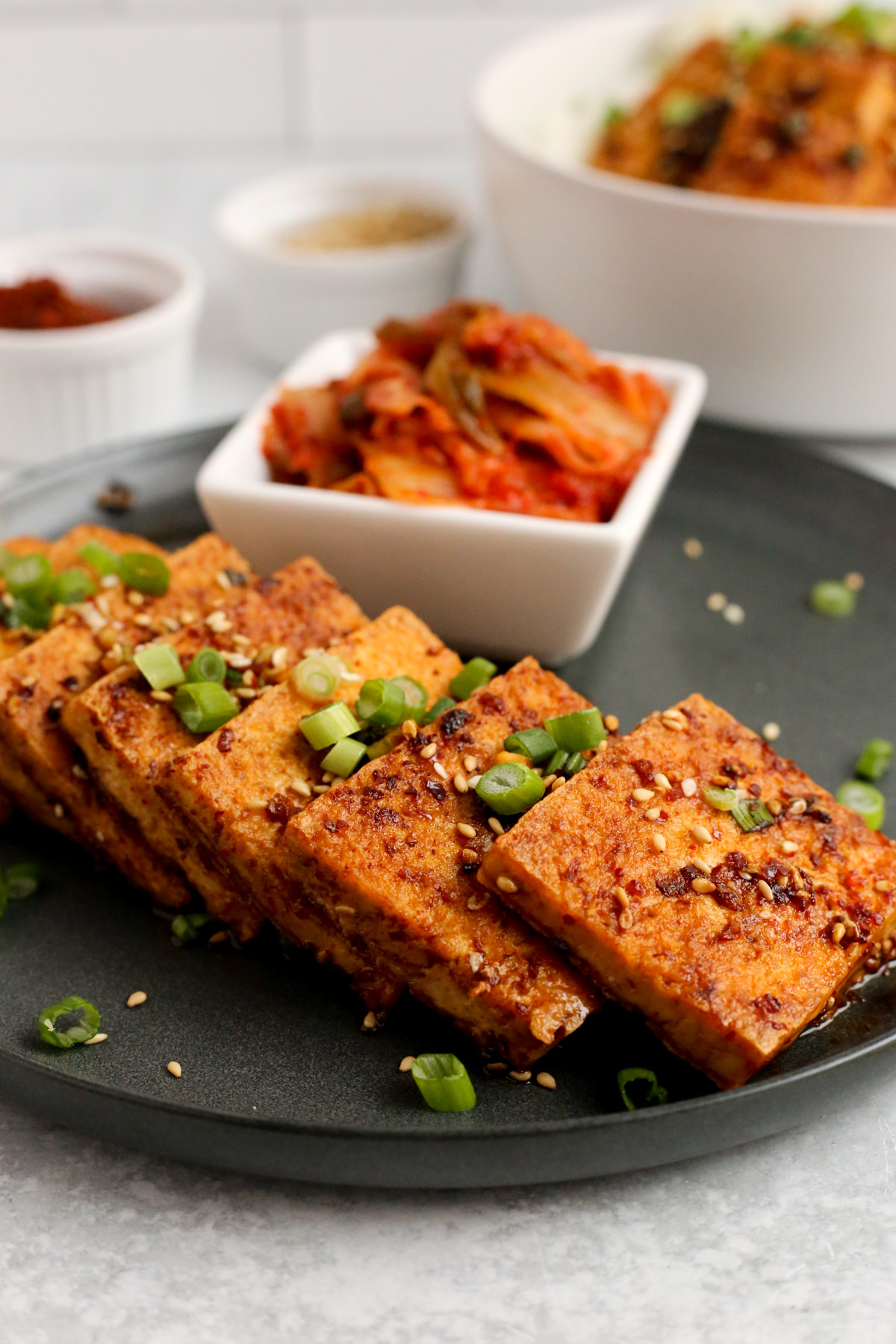 Just like with other popular recipes, it seems each region or family has their own version. Sometimes it's made with additional ingredients such as shiitake mushrooms, onions, carrots, gochujang paste, fish sauce, or mirin. It can be served hot, room temperature, or chilled. And when served with a bowl of hot steamed rice, can easily become a full meal with plenty of plant-based protein.
Tofu Nutrition
Tofu is made from soybeans. The soybeans are ground in water, heated, and coagulated into bean curd which is then pressed into blocks. It's available in a variety of textures, ranging from silken (very soft) to extra firm. The nutrition profile can vary depending on how it's made, but you can think of it as a good source of plant-based protein that's vegan-friendly. Tofu also provides important minerals including:
Calcium (up to an impressive 53% of the recommended daily value in a 3.5 oz/100g serving)
Manganese
Selenium
Phosphorus
Iron
Magnesium
Zinc
Most tofu brands from the United States are pretty bland. And I think a lot of people enjoy that, since it can take on the flavors of whatever you cook it with. But tofu brands from Asian grocery stores may have a slightly stronger flavor or different color. Any can work for this dubu jorim recipe, so it's totally up to you and your personal preference or what you can find.
Overall, soy foods like tofu, tempeh, seitan, edamame, miso, and soybean oil can be nourishing options for any eating pattern, plant-based or otherwise. But I've had to do a little myth-busting on this topic because many people still soy could be unsafe to eat. Spoiler: it's not! In fact, there are links between soy foods and reduced risk of certain cancers, diabetes, and heart disease. But if you have concerns, I really recommend reading this post: Is It Safe to Eat Soy?
Dubu Jorim vs. Dubu Buchim
This delicious side dish can sometimes get confused with other tofu dishes, especially dubu buchim. Dubu buchim is also pan-fried tofu, but isn't braised with the spicy sauce you use for dubu jorim. Instead, it's served with a dipping sauce on the side. The flavors and ingredients can be quite similar, using soy sauce, toasted sesame oil, and gochugaru (Korean chili powder or red pepper flakes).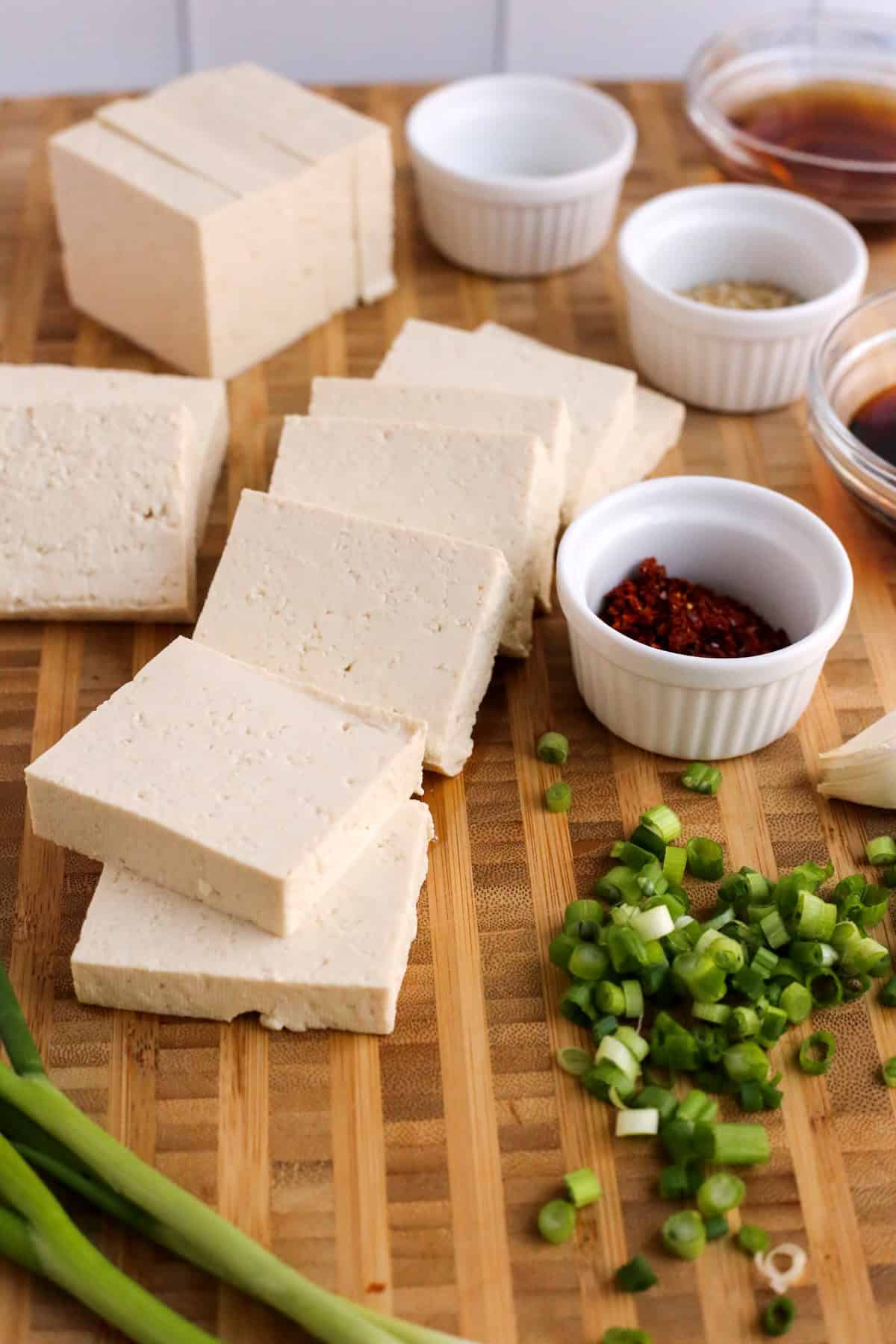 Although my family is Korean, I did not grow up cooking a lot of Korean recipes. So I kept getting these two dishes confused until I cooked them enough to get more familiar with them. Over the last few years, I've been busy exploring Korean recipes and teaching myself through cookbooks, YouTube videos, and learning from Korean chefs and content creators. It's easy to include these recipes more regularly, and I hope you give this one a try!
Ingredients You'll Need
You should be able to find most or all of the the ingredients for this spicy Korean braised tofu recipe with ease. If you can't find them at your regular local grocery store, shop online or at Asian markets for some of the specialty ingredients. Here's what you need to make dubu jorim:
Firm or extra-firm tofu. Avoid soft tofu or silken tofu, as the tofu pieces just won't hold together when you sear it.
Soy sauce. I always use the low-sodium option at home
Toasted sesame oil
Gochugaru (Korean red chili pepper flakes). I really recommend trying to find this if you can, but in a pinch, you could substitute regular red pepper flakes.
Minced garlic
Sugar
Green Onions
Toasted sesame seeds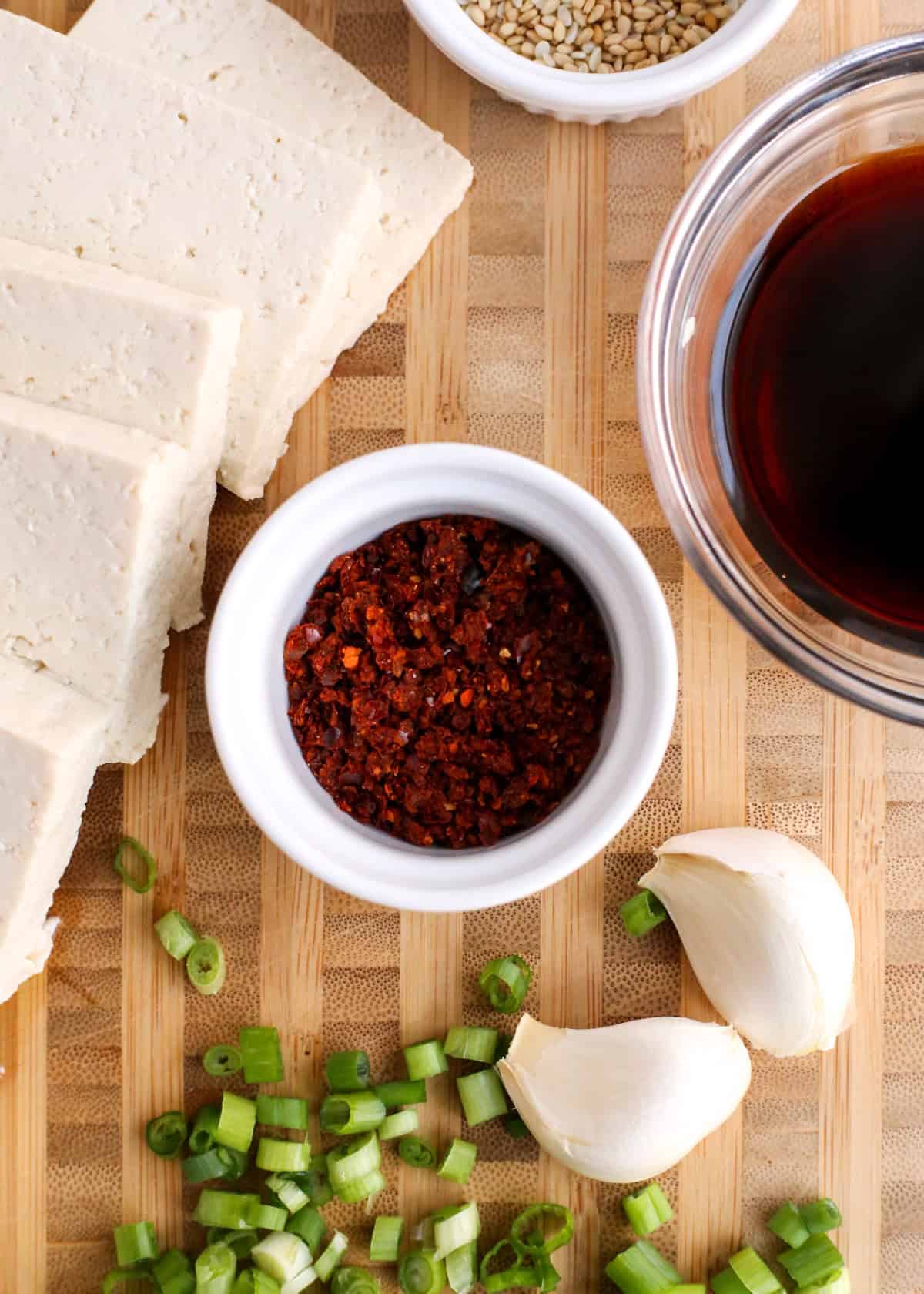 You'll also need a large non-stick skillet and some neutral cooking oil for pan-searing (dealer's choice, but we use peanut, canola, or vegetable oil for this). I also recommend keeping a little bit of water nearby in case you need to thin out the sauce for braising.
How To Make Dubu Jorim
The key to crispy tofu is removing as much water or excess moisture as possible. Most tofu recipes will tell you to press the tofu, but you can actually skip this step for dubu jorim. Especially if you don't have a tofu press. Just take the tofu block out of the packaging and place it on a cutting board. Pat it dry with a paper towel or clean kitchen towel. Slice the block into thick rectangular pieces or squares. And don't forget to pat dry again before searing.
Next, finish the prep steps for mincing garlic, slicing green onions, and measuring the rest of the sauce ingredients. I always mix mine together before I start cooking. Just add everything to a small bowl and whisk together until combined.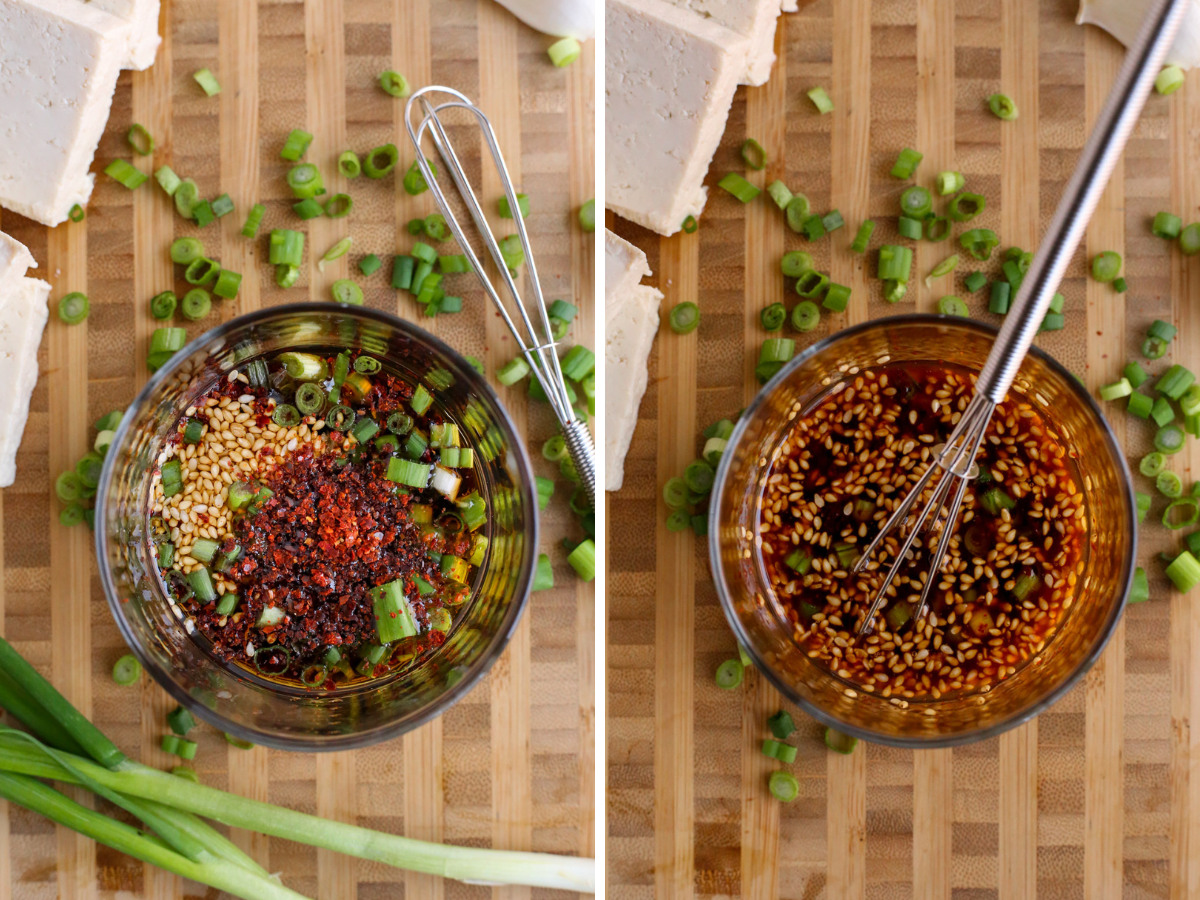 Now you're ready to cook!
Heat a large skillet or non-stick pan over medium to medium-high heat. It's important to let the pan heat up before putting in the first piece of tofu so it can develop a nice sear.
While the pan is heating, grab a small bowl. Mix together the soy sauce, sesame oil, gochugaru (Korean red pepper flakes), garlic, sugar, green onions, and toasted sesame seeds. Set it aside until you're ready to braise.
Add a small amount of oil to the pan, then place the sliced tofu in it. Work in batches if you have to so you don't overcrowd the pan. This will help the texture of the tofu get more crispy vs. steaming it. After about 5 minutes, flip to the other side and sear another 4-5 minutes or until golden brown.
Take the sauce and spoon about half of it over the tofu. Add a splash of water to the pan and cook another couple of minutes. Flip, add the remaining sauce, and braise 1-2 more minutes. Reduce the heat if needed to avoid scorching the sauce.
Remove everything from the pan and garnish with some extra sesame seeds and green onions. Serve on its own or with rice. Enjoy!
How To Serve Dubu Jorim
This Korean side dish can be just that, a flavorful side dish to accompany your main meal. However, that's more traditional to Korean cuisine so if you're based in America like me, you may be looking for more of an all-in-one meal featuring dubu jorim. In that case, here are some suggestions:
Add to a rice bowl along with steamed, braised, or stir-fried vegetables. Some favorites include broccoli, bok choy, onions, carrots, and (of course!) kimchi
Pair with another protein like ground pork or beef. Obviously this means it's no longer a plant-based or vegan dish. But if you double the recipe for the sauce mixture, you can brown pork or beef in the skillet, sear the tofu, then braise it all together.
Make a batch for the week and store leftovers in an airtight container in the fridge. Enjoy as a snack or add to other dishes and save time on cooking.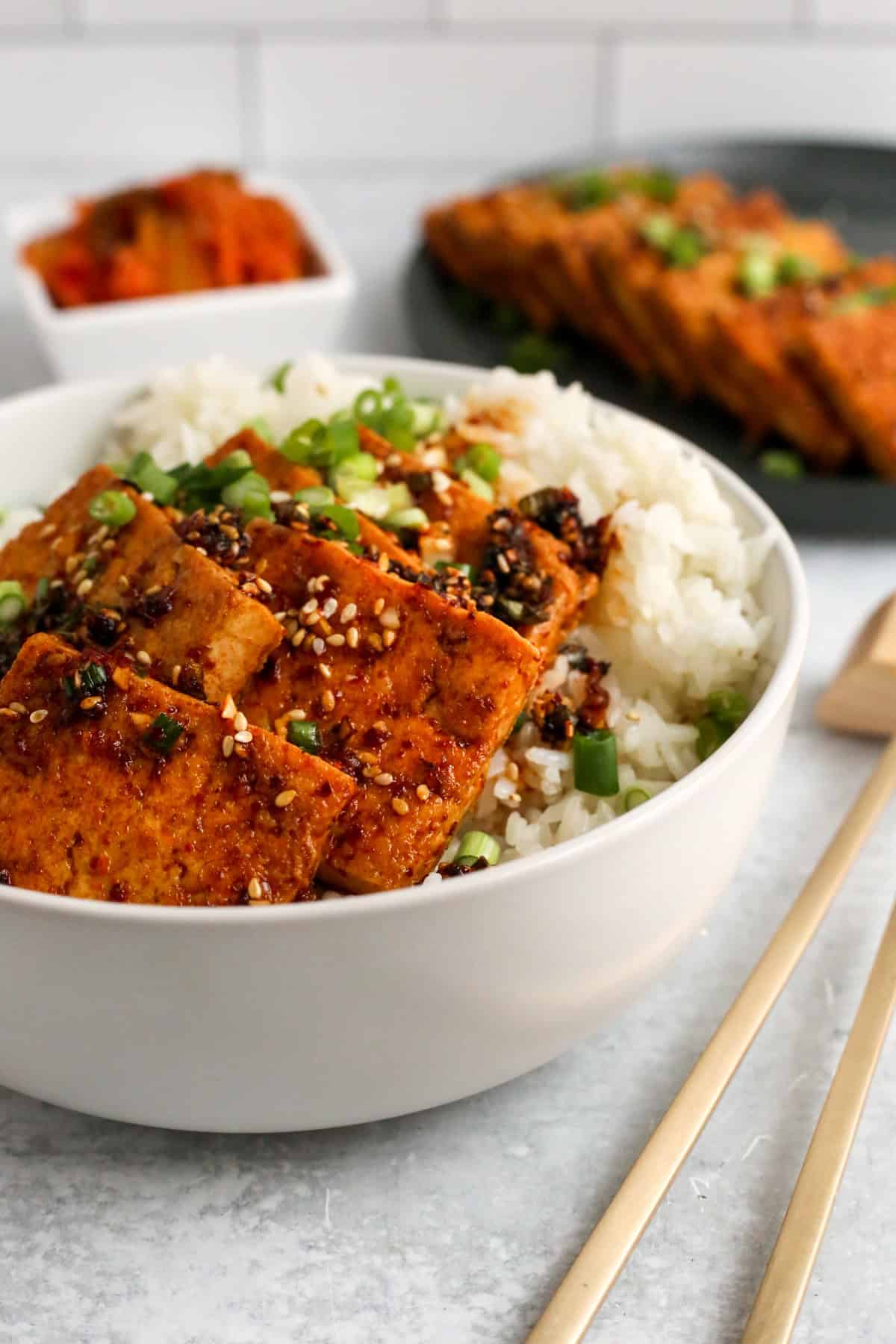 As you can see, dubu jorim is an incredibly versatile spicy tofu recipe. Get creative even if you stray from the truly "authentic" version. If it helps you enjoy and appreciate Korean ingredients and recipes, I think that's a good thing!
Here's the full recipe for Dubu Jorim (Spicy Korean Braised Tofu)!
Dubu Jorim (Korean-Style Braised Tofu)
This spicy tofu dish is a classic side dish in Korean cuisine. It can also become a main meal when served with steamed rice.
Equipment
non-stick skillet

small bowl and whisk

tongs or spatula
Ingredients
14

oz

block of firm tofu

1

tbsp

neutral cooking oil

,

vegetable, canola, or similar

2

tbsp

low sodium soy sauce

2

tbsp

toasted sesame oil

2

tsp

gochugaru

,

Korean red pepper flakes

2

cloves

garlic

,

minced

1

tsp

sugar

1-2

tsp

toasted sesame seeds

2

green onions

,

sliced thin
Instructions
Remove the block of tofu and discard the packaging. Slice into thick rectangular shapes, even width, and pat dry with a paper towel to remove as much moisture as possible.

Heat a large non-stick skillet or pan over medium to medium-high heat. As the pan heats, mix together the soy sauce, sesame oil, gochugaru, sugar, garlic, sesame seeds, and green onion. Set the sauce mixture aside. Optional: reserve some of the sesame seeds and green onion for garnish, or prepare extra.

Once the pan is heated, add the oil and gently place the tofu slices in it. Sear for about 5 minutes on each side, flipping once, or until golden brown.

After both sides of the tofu are seared, spoon half of the sauce mixture over the top, drizzling it onto each piece of tofu. Add a splash of water to the pan if needed to help the braising process. After 1-2 minutes, flip the tofu again and add the remaining sauce. Repeat, braising for 1-2 minutes. Reduce heat as needed to avoid scorching the sauce.

To serve, remove the braised tofu from the skillet and plate or serve over steamed rice. Garnish with additional sesame seeds and green onions, then enjoy!
Notes
Adjust the heat level by using more or less gochugaru.
Nutrition
Serving:
1
serving
,
Calories:
387
kcal
,
Carbohydrates:
11
g
,
Protein:
20
g
,
Fat:
30
g
,
Saturated Fat:
4
g
,
Polyunsaturated Fat:
16
g
,
Monounsaturated Fat:
10
g
,
Trans Fat:
0.04
g
,
Sodium:
619
mg
,
Potassium:
145
mg
,
Fiber:
3
g
,
Sugar:
3
g
,
Vitamin A:
713
IU
,
Vitamin C:
3
mg
,
Calcium:
283
mg
,
Iron:
3
mg
I hope you enjoy this dubu jorim recipe, especially if it's your first introduction to Korean cuisine! I think it's a truly delightful Korean recipe anyone can enjoy.
Thanks for stopping by the Street Smart Nutrition Blog. Cheers to more fearlessly nourishing meals!