Wondering what to make with leftover waffles? These Sausage and Egg Waffle Sandwiches are the perfect breakfast sandwich for lazy weekend mornings.
---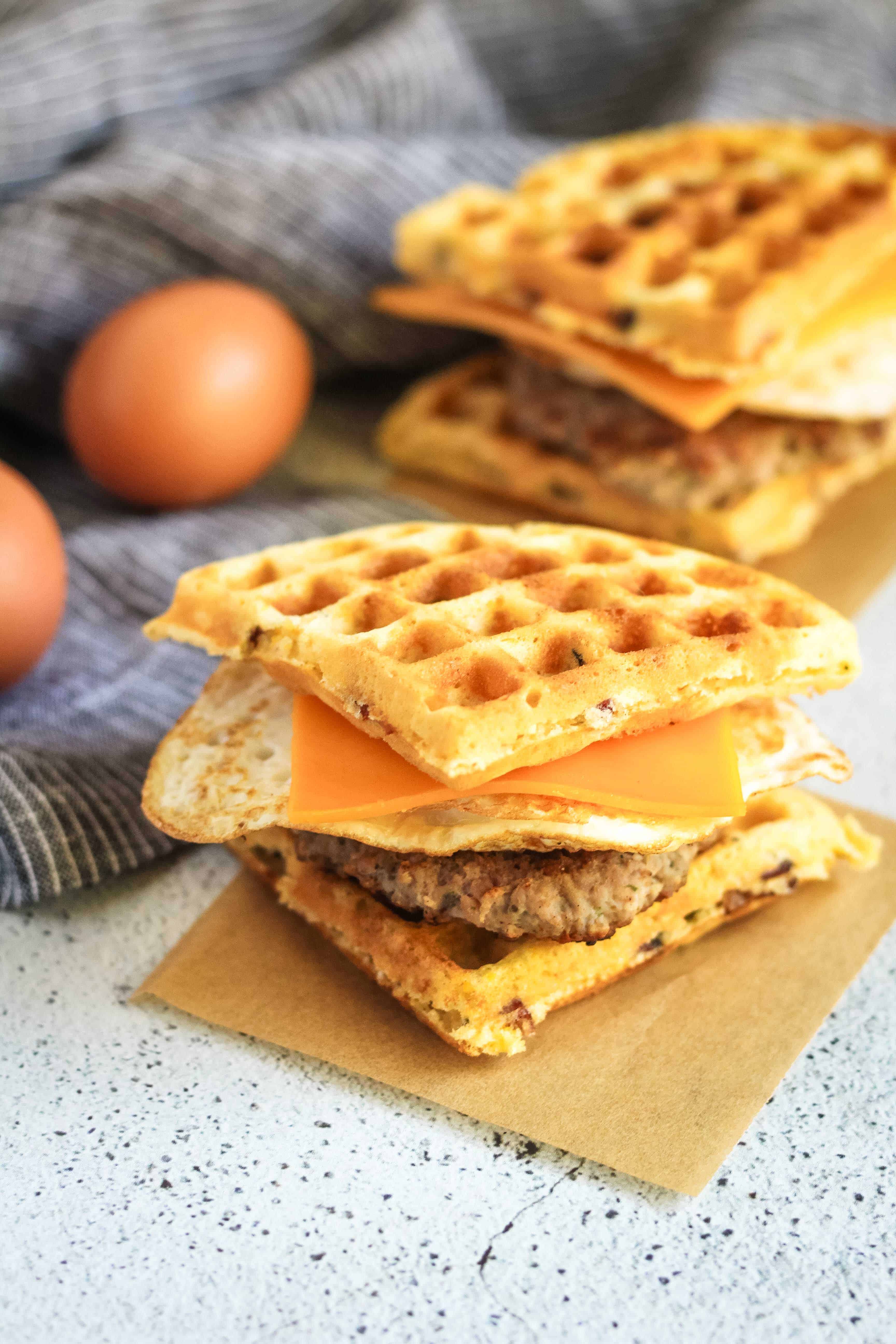 Disclosure: This post contains affiliate links.
I don't want to brag but…I didn't own a waffle maker until like six months ago. And now I pretty much only want to eat foods in waffle form. But as fun as it is to break out my shiny new kitchen toy, it's still a fair amount of work. I end up cooking a really large batch of waffles with the intent to have leftovers.
Here's the waffle maker I picked up – love the stainless steel look for small appliances like this
Don't get me wrong, I love my basic leftover life, but sometimes boredom forces me to come up with other ways to get through them. Enter: Sausage and Egg Waffle Sandwiches. But first, let's talk about these leftovers…
Freezing Leftover Waffles
As far as freezer-friendly items go, bread and bread-based things hold up pretty well. I make it a point to try to use everything within about two or three months. Any longer than that, and I just end up forgetting about them and they get shoved to the back, never to be seen again until they're just a solid block of freezer-burn that sort of resembles food.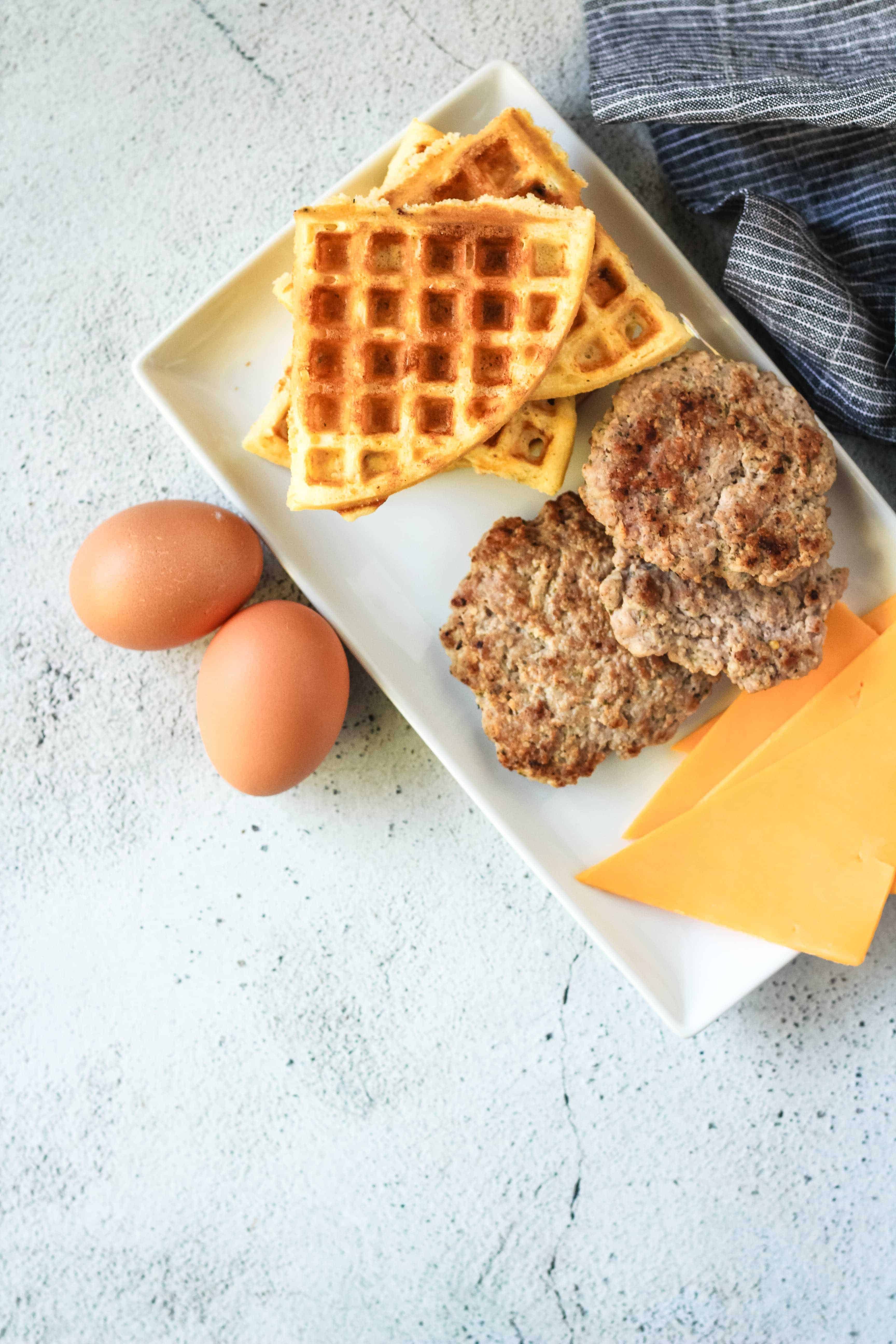 Here are some tips to help preserve the best quality for when you have leftover waffles:
Let them cool to room temperature before packing and freezing. Extra heat will create condensation, which will turn to ice crystals in the freezer and increase the odds of freezer burn or icky texture.
Layer waxed or parchment paper between the waffles if you're going to stack them. This prevents them from sticking to one another and it will be much easier to break them apart when you're ready to reheat and eat.
Press as much air out of the bag as you can. I avoid stacking them in Tupperware or containers because you're always going to have air circulating around (again, this can lead to freezer burn). So I use freezer-safe bags and press all of the air out before putting them in the freezer.
When I plan to reheat them, I pull them out of the freezer and put them in the fridge overnight. If you forget, no big deal, you can still reheat in the toaster or oven, but in my opinion the texture is a little better if they thaw more slowly before reheating (seems to help get that crispy texture back).
Looking for a good waffle recipe? I use this one from Foodtastic Mom.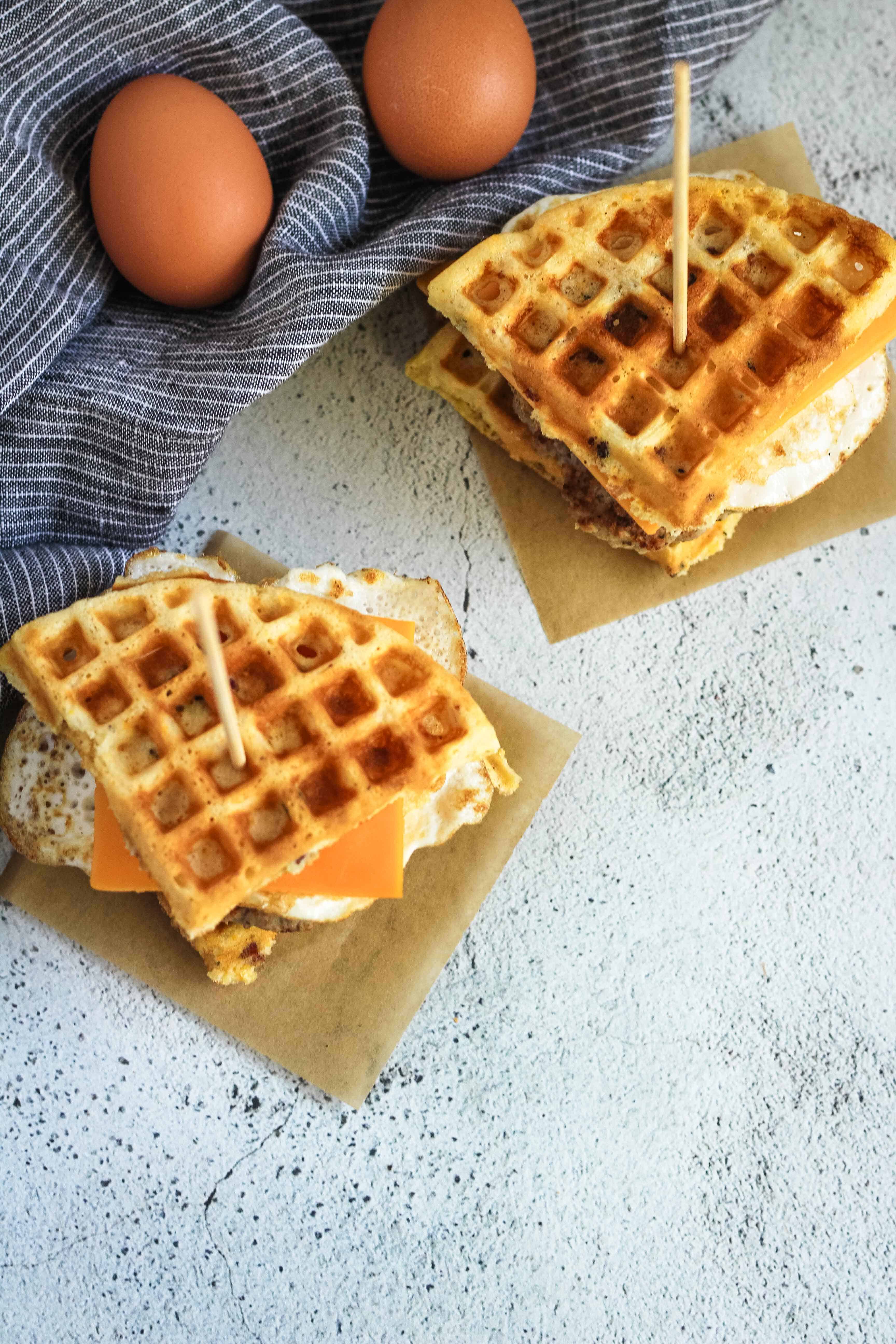 Sausage and Egg Waffle Sandwiches
There's really no wrong way to make these simple breakfast sandwiches. It's so easy, this "recipe" almost shouldn't be a recipe at all. It breaks down to just assembling your layers until you stack it *just* high enough you can still get your mouth around it. And if you can't, there's no shame in admitting defeat and reaching for a fork (which is honestly what I end up doing about 50% of the time).
These sausage and egg waffle sandwiches are a great grab-and-go option since you can eat them with one hand if you have to. But if you're more inclined to have a relaxed breakfast or brunch at home, here are some other ways to enjoy them:
Serve with fresh fruit and yogurt, especially if it's summertime and the fresh fruit is looking ah-mazing
Break out your favorite dipping sauces or slather a layer of your favorite condiments onto your sandwich (the Gochujang BBQ sauce in this recipe is one recommendation)
Replace the leftover waffles with leftover pancakes or toasted bread. This is a great way to use up the last pieces in a loaf so you don't have to waste them!
Swap the cheddar cheese for pepper jack if you like a little kick, or use any version of your favorite cheese or cheese spread
If you prefer a vegetarian or vegan option, replace the sausage patty with your preferred plant-based option. There are really flavorful options out there like these Spicy Veggie Breakfast Sausages from Hilary's. There's an apple maple flavor, too!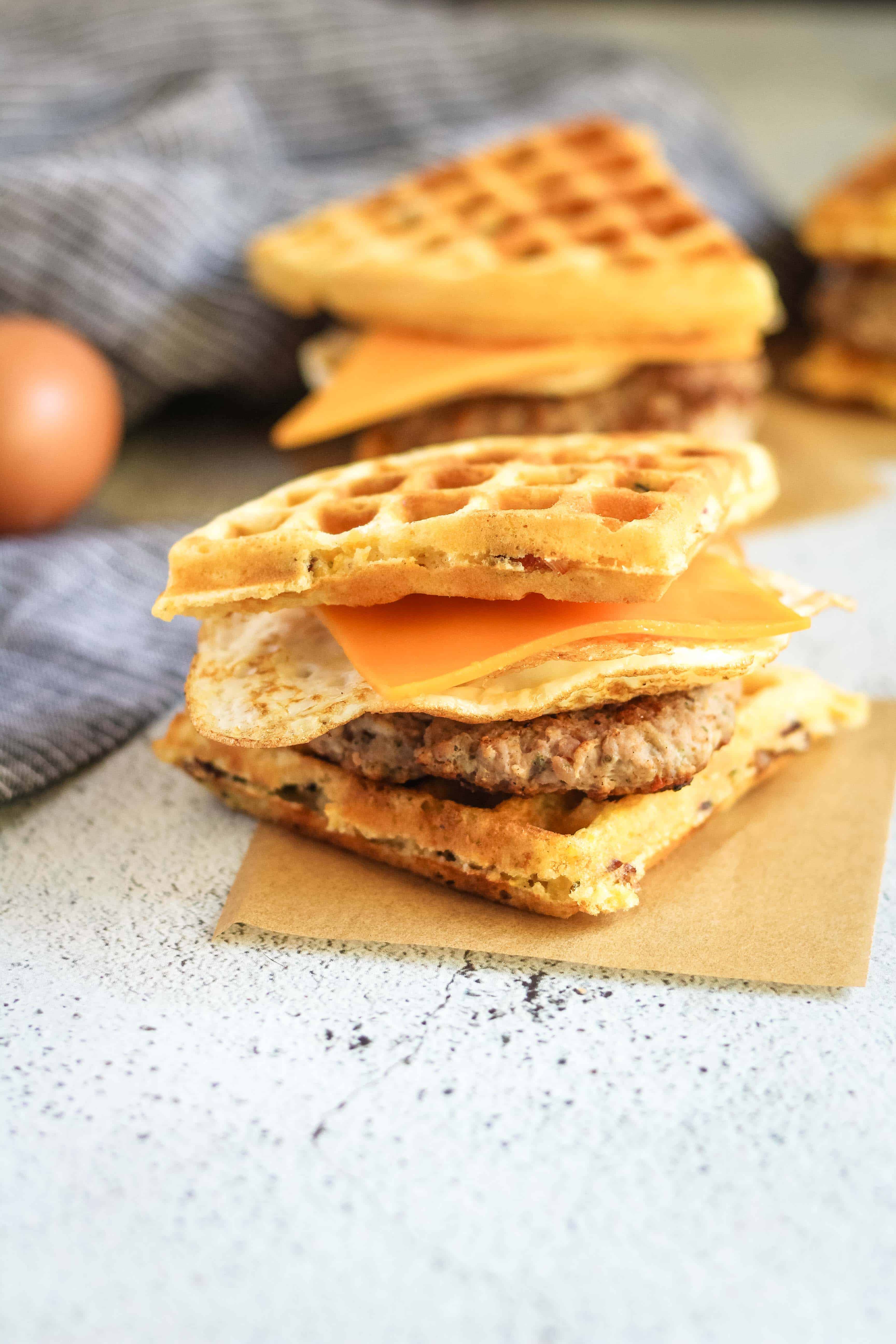 Here's the recipe for Sausage and Egg Waffle Sandwiches
Sausage and Egg Waffle Sandwiches
What's better than straight up waffles? Using the leftovers to make these Sausage and Egg Waffle Sandwiches!
Ingredients
12

oz

pork breakfast sausage

,

mild, hot, or maple

2

large

Belgian waffles

4

large

eggs

1 to 2

tbsp

butter

4

slices

cheddar cheese
Instructions
Heat a cast iron or non-stick skillet over medium-high heat. Remove the sausage from the casing and form into four similar sized patties. Place in the skillet and sear on both sides until fully cooked, about 5 minutes.

As the sausage patties cook, reheat the waffles by toasting on the lightest setting or reheating in a warmed oven. Cut or tear the waffles into fourths to create eight "slices" for the four sandwiches.

Once the sausages are cooked, remove from the skillet and add the butter. Once melted, crack the eggs and fry (over-medium recommended). After flipping the egg, top with the cheddar cheese slice and cook one minute more.

Build the breakfast sandwiches by placing the sausage on top of one of the waffle sections. Place the egg with cheese on top of the sausage patty, then top with the other waffle section. Use a toothpick or sandwich skewer to secure (if needed) and serve immediately.
Notes
If cooking the waffles fresh, adjust cooking time. This recipe can also be made using leftover pancakes. 
Nutrition
Serving:
1
sandwich
,
Calories:
450
kcal
,
Carbohydrates:
8
g
,
Protein:
25
g
,
Fat:
35
g
,
Saturated Fat:
13
g
,
Cholesterol:
270
mg
,
Sodium:
824
mg
,
Potassium:
312
mg
,
Fiber:
1
g
,
Sugar:
1
g
,
Vitamin A:
770
IU
,
Vitamin C:
1
mg
,
Calcium:
203
mg
,
Iron:
3
mg
What's your favorite thing to make when you have leftover waffles? Have you tried a version of Sausage and Egg Waffle Sandwiches before?