Furikake Salmon is an umami-packed salmon dish that's ready in just 20 minutes! You only need four ingredients to make this simple recipe. What are you waiting for?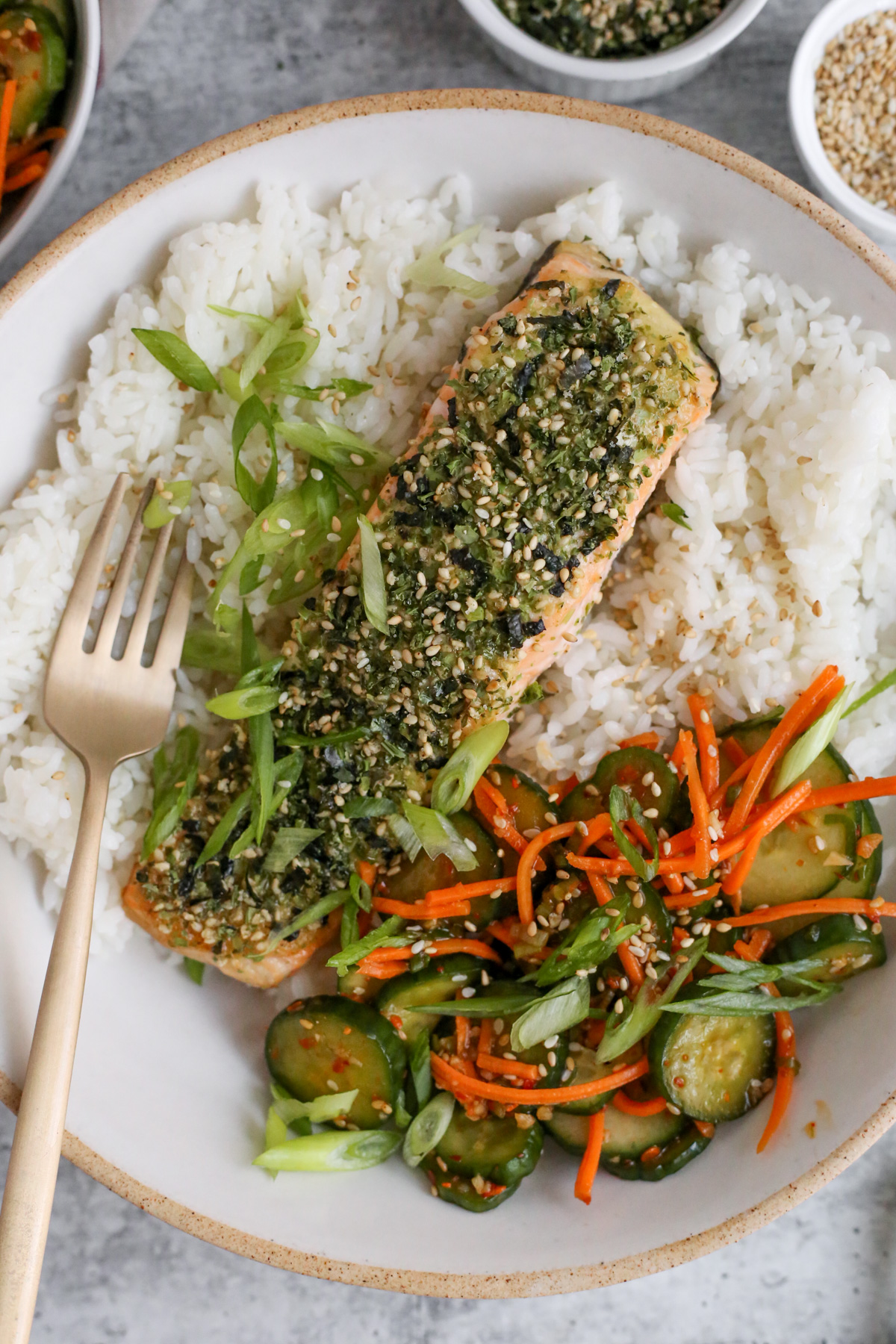 Why You'll Love This Easy Baked Furikake Salmon Recipe
I should have had you hooked when I said 20 minutes and four ingredients! But I'm still going to share why I think furikake salmon is an MVP-level recipe for busy weeknights:
With options for baking in the oven or air fryer, it screams convenient, low-effort cooking (which is just my style when I'm short on time but craving flavor).
And speaking of flavor, adding furikake introduces a whole new dimension to salmon. There's a delicious flavor contrast between the rich, fatty fish and the umami-rich Japanese rice seasoning.
It's a total umami bomb and can be such a tasty way to enjoy the health benefits of salmon more often. The current recommended intake is two servings of seafood per week and if you plan for leftovers, you'll hit that no problem!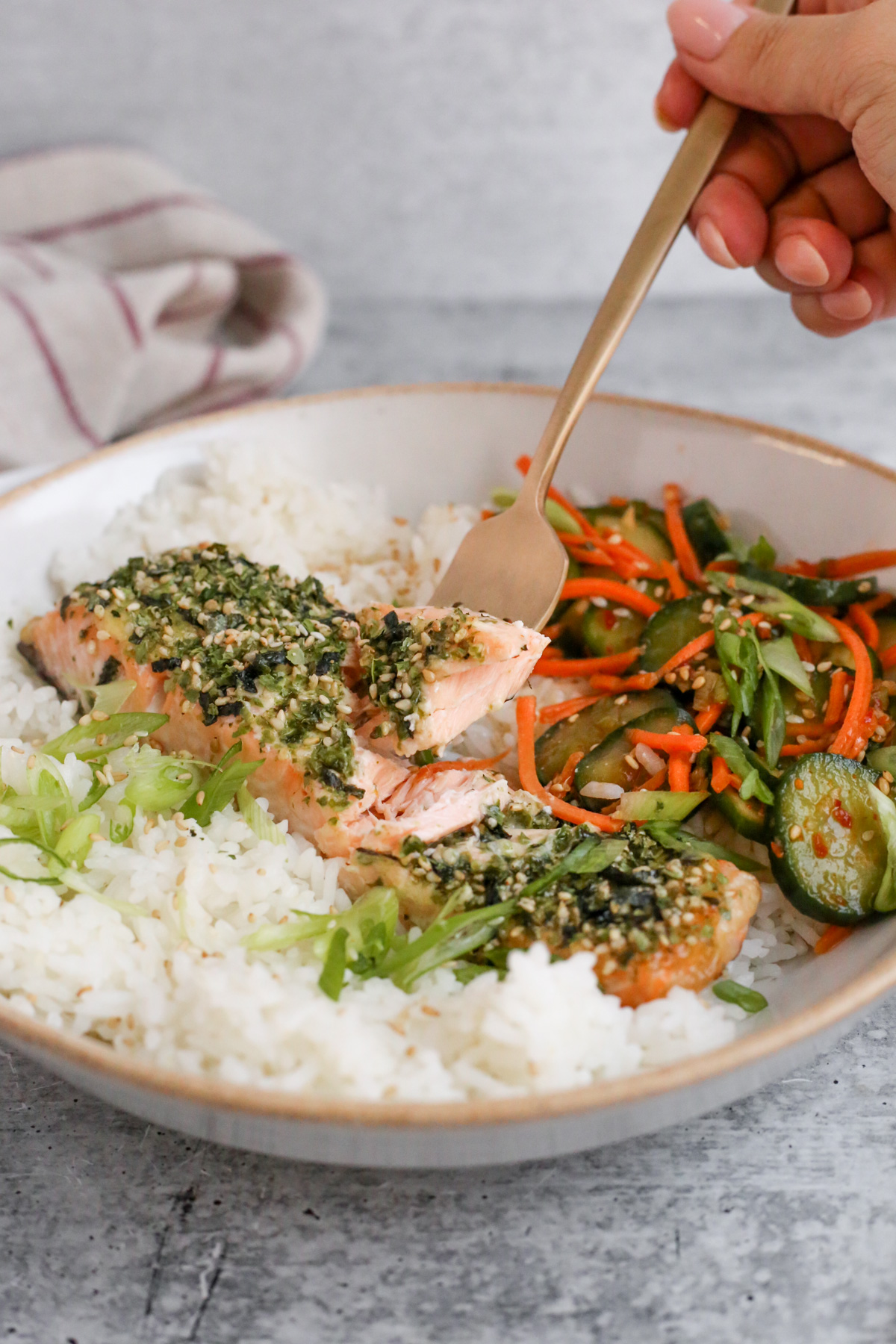 Ingredients You'll Need
It'll be a short list for this one…
Salmon. See my notes below for my best tips for what to buy.
Kewpie mayonnaise. This is a Japanese-style mayonnaise made from egg yolks, which makes it very rich and creamy. It also uses MSG (monosodium glutamate) for extra umami flavor. If you don't have this, though, regular mayonnaise also works well.
Wasabi paste. I don't use wasabi very often, but I love including it for this! It's similar to horseradish and although it has a very strong flavor, once it cooks it's not intense enough to clear your sinuses.
Furikake
Yes, you're ready that correctly. This salmon furikake recipe only needs four simple ingredients, and half of them are right there in the name!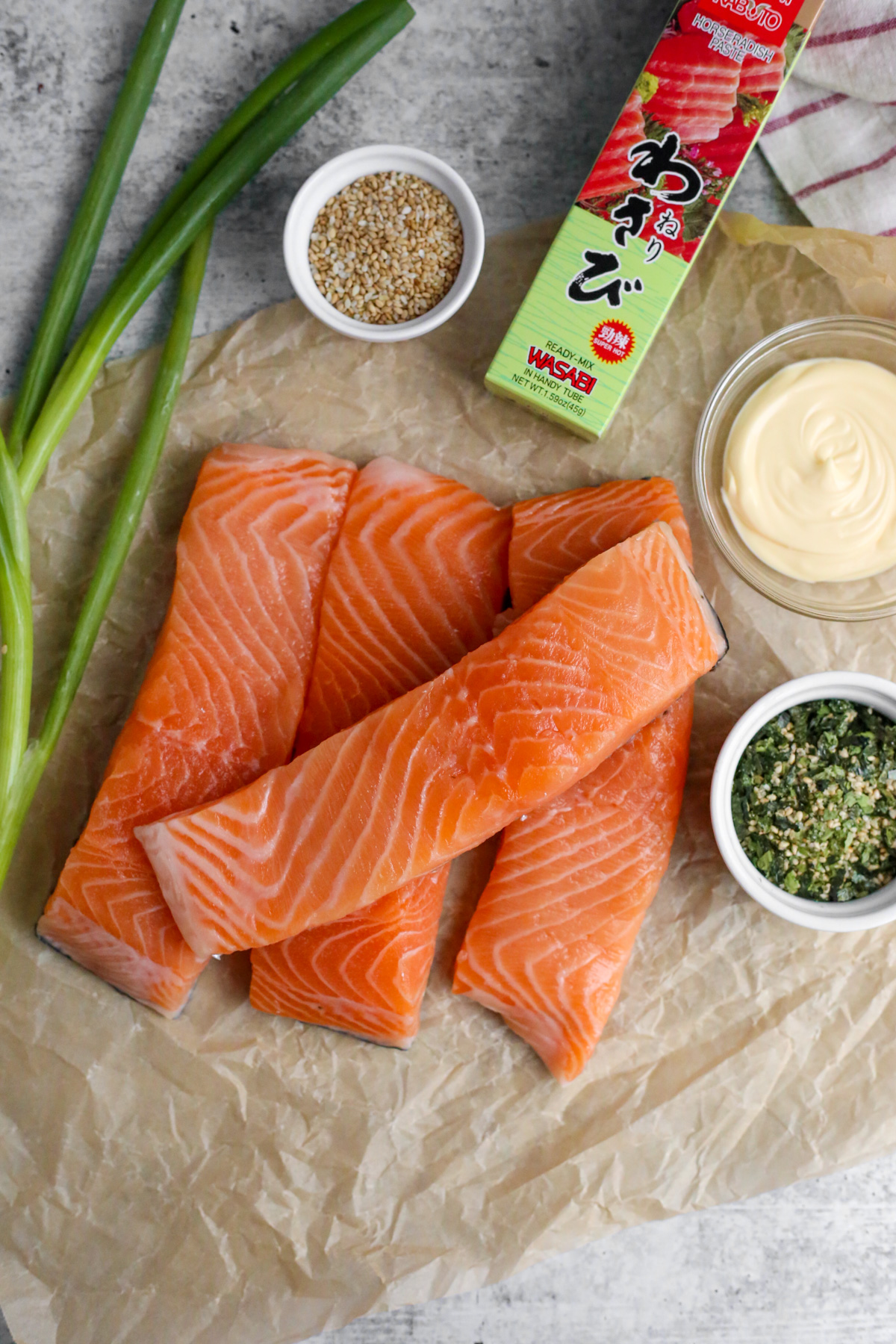 What Is Furikake?
Furikake is pronounced "fur-uh-kah-kay" (not "key"). It's a Japanese seasoning made from a mix of nori (dried seaweed), sesame seeds, salt, and sugar. Furikake means, "sprinkle over" and you'll usually see it sprinkled on top of cooked rice. It adds a delicious ocean umami flavor to your recipes. Plus, the sesame seeds add a subtly crunchy texture I think you'll enjoy.
Furikake is often used as a condiment, sprinkled on top of steamed rice, the outside of sushi rolls, or for garnishing other Japanese-inspired dishes. And of course, a thick layer of furikake seasoning makes a bold appearance in this baked salmon recipe!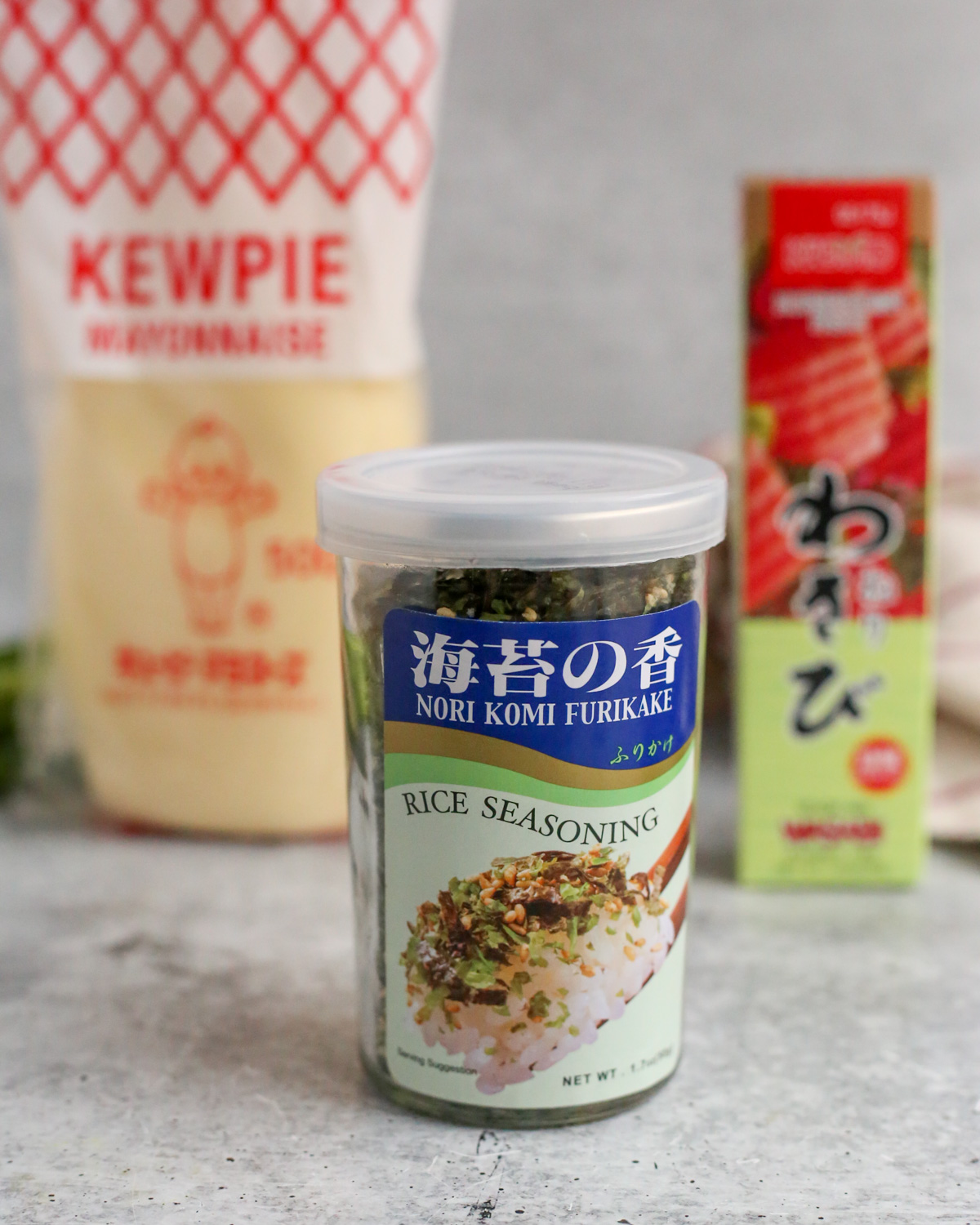 While it might not be a super familiar ingredient in most American households, furikake is very popular in Japanese and Asian-American cuisines. Look for it in Asian grocery stores or shop online. If you're lucky, you'll find a variety of furikake options with subtle flavor differences. I suggest starting with nori komi furikake, which includes nori (seaweed), sesame seeds, sugar, and salt. The little bit of sweetness really pops compared to how savory everything else tastes.
Other brands use different combinations of black sesame seeds, white sesame seeds, MSG (monosodium glutamate), dried wasabi, bonito flakes (dried, fermented fish flakes), dried salmon flakes, dried kimchi, or dried shiso or perilla leaves to create distinct flavors of furikake.
Street Smart Nutrition Tip: Most bottles of furikake have a desiccant packet inside to keep it from clumping or sticking together. Help stretch the shelf life up to one month after opening by storing it in the refrigerator.
And don't stress about whether or not it's worth buying a jar. You can work your way through it in no time by adding it to any dish that needs a savory flavor boost. Try it with my Furikake Tomato Toast to see what I mean!
What Type of Salmon Should You Buy?
When I was testing this furikake salmon recipe, I used individual salmon fillets. Each piece was about 6 oz. with the skin on. You can use either fresh salmon or frozen salmon, just be sure to allow some extra time to let the salmon fully thaw before cooking.
Or, if you prefer to use one large piece of salmon, simply cut into similarly sized pieces to ensure they all cook at the same rate in the oven or air fryer.
Street Smart Nutrition Tip: This recipe, like most salmon recipes, assumes you'll use Atlantic salmon. If using wild-caught salmon, adjust the cooking time as needed because it usually cooks in 2-3 minutes less than Atlantic salmon and may be more likely to have a dry texture if overcooked. Read this post next to learn more: Alaskan vs. Atlantic Salmon: Your Best Guide For What To Buy.
One thing I feel strongly about: do not bother buying sushi grade salmon. Save your money! Since this furikake salmon is baked, either in the oven or air fryer, it's kind of pointless to splurge on such premium salmon that's intended to be eaten raw.
How To Make Furikake Salmon
It's quick and easy to make this Furikake Salmon recipe for the oven or air fryer. The steps are pretty much the same regardless of which cooking method you'll use. If you're baking in the oven, prep a sheet pan first and preheat your oven to 400 degrees F (or about 205 degrees C).
Gather your ingredients and make sure your salmon fillets are fully thawed. Remove the skin if you want to, but I like cooking salmon with the skin on even if I don't always eat that part. It helps with any sticking to the pan, plus can prevent it from drying out.
Use a paper towel to pay the salmon dry and remove any excess moisture.
Mix the kewpie mayo and wasabi paste and stir until it's all mixed. Use a spoon to spread the mayo mixture on the top of each fillet. It should be thick enough to stay in place and not run down the sides.
Generously sprinkle furikake over each piece, making sure the layer of furikake is as even as possible with no bare spots.
From here, choose your own adventure as far as cooking method. I've tried both with great results!
Baking Instructions
Bake the furikake salmon for 12-15 minutes. Total cooking time depends on the thickness of your salmon fillets. You'll know it's done when it flakes easily with a fork, and the furikake layer and salmon skin will be crispy.
It's common and normal for a white substance to leak from salmon as it cooks. This is a protein called albumin, and it's perfectly safe to eat. It shows up when salmon is cooked quickly or at high temperatures, because as the internal temperature of the salmon rises, the albumin is pushed to the surface or sides. Salmon should be cooked to a minimum internal temperature of 145 degrees F at the thickest part.
Air Fryer Instructions
The air fryer can be a wonderful tool for cooking amazing meals. If you went back even just two or three years ago, I wouldn't be saying that but I've really changed my tune! I love using mine, especially when it's hot and we don't want to overheat the kitchen by cranking up the stove. It can also be a convenient way to prepare a smaller portion, like two servings instead of four.
If you're in the market for an air fryer, here's the one I use. We love it for its fast heating and consistent results: COSORI Pro II Air Fryer Oven Combo. This is an affiliate link, so if you purchase this or anything else through the link, I'll get a small commission which helps support me in bringing you great recipes like this for free!
I had great results with a temperature setting of 380 degrees F and a 10 minute cook time. However, each air fryer can be slightly different so adjust the temperature and time settings as needed. I also think it helps to preheat the air fryer basket if your appliance has that option. Check out my recipe for this Simple Salmon Salad once you nail the technique!
What To Serve With Furikake Salmon
You can probably guess what my top recommendation is going to be: fresh steamed white rice! This is such a staple in our house, as any proper Korean kitchen will have a well-used and much-loved electric rice cooker. Regardless of how you like to cook rice, or which variety you use, furikake salmon plus rice is simply a match made is tastebud heaven. I personally don't care much for brown rice or cauliflower rice, but if you feel differently, go for it!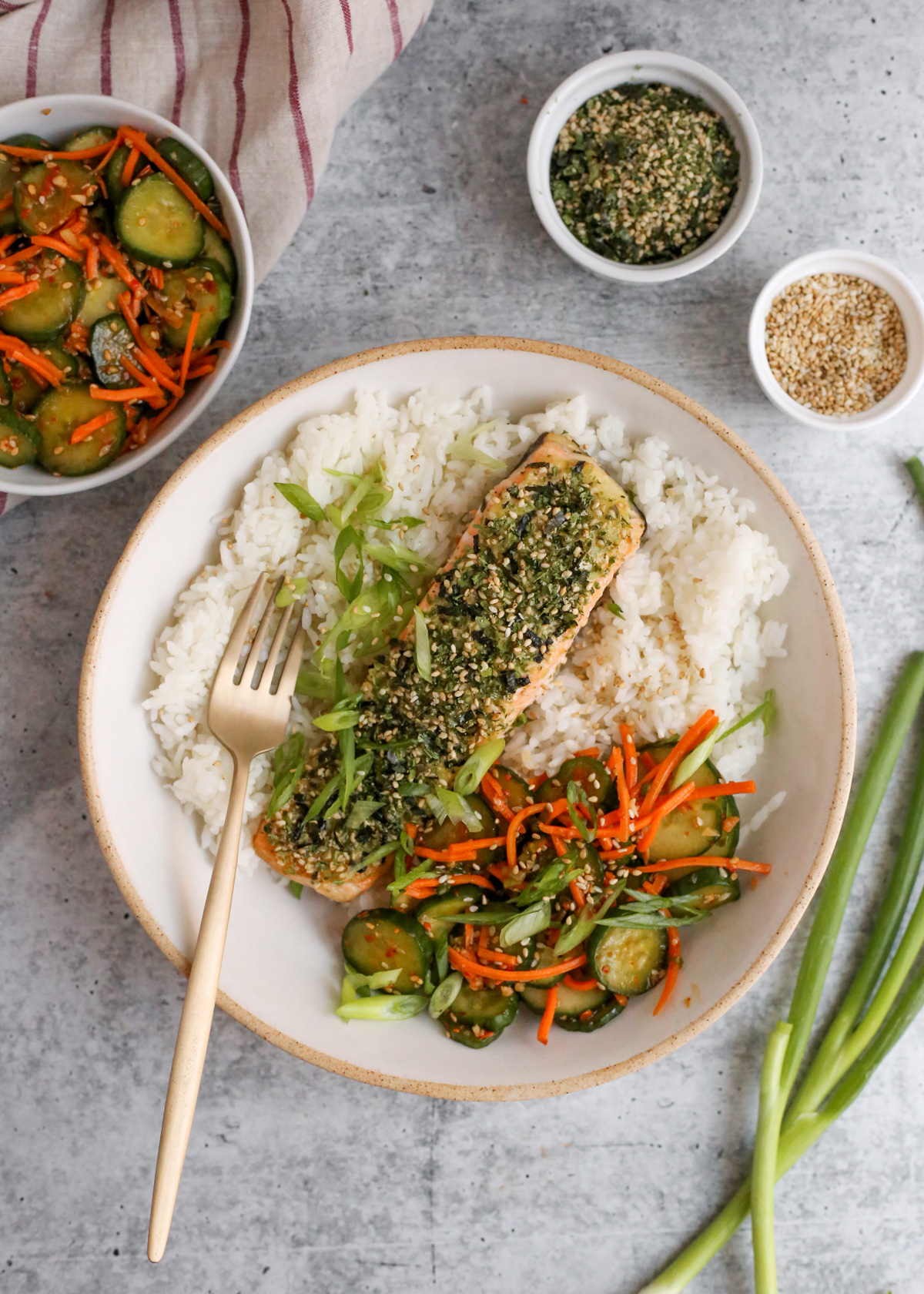 While you're planning out the rest of your meal, consider these side dishes or pairings:
Oi muchim, or spicy Korean cucumber salad, is featured here. It's served chilled and I really love the temperature contrast of the hot baked salmon and crispy, crunchy cucumbers with a simple seasoning sauce.
Dubu jorim, or Korean braised tofu, is another simple side dish you could easily prepare in the time it takes for the salmon to bake.
Premade or store-bought banchan, or small shared side dishes, like kimchi, or any roasted vegetables you enjoy like broccoli, mushrooms, bok choy, or carrots.
A simple side salad like this Massaged Kale Salad with Sesame-Lime Dressing will complement the flavors in the furikake salmon.
Add some nori sheets or extra furikake on top, or any other seasoning or sauce you enjoy like sriracha
The main thing to remember is that it's your meal, make it your way. Especially on busy weeknights when the #1 goal is probably just getting dinner on the table! If you get that accomplished with this 4-ingredient recipe in just 20 minutes, you're winning!
Here's the full recipe for my take on Furikake Salmon:
Furikake Salmon in the Oven or Air Fryer
This umami-packed salmon recipe features furikake, a Japanese rice seasoning that adds incredible flavor. It's ready to eat in just 20 minutes!
Equipment
Sheet Pan

small mixing bowl

Measuring Spoons

fish spatula or tongs
Ingredients
4

fillets

salmon

,

about 6 oz each

2

tbsp

kewpie mayo

1/2

tbsp

wasabi paste

1/3

cup

furikake
Instructions
Furikake Salmon in the Oven
Preheat the oven to 400 degrees F. Prepare a baking sheet and ensure the salmon is fully thawed.

Add the kewpie mayo and wasabi paste to a small bowl, then mix well until combined. Pat the salmon with a paper towel to remove excess moisture, then use a spoon to spread the mayo mixture on top in an even layer.

Sprinkle the furikake over the salmon, ensuring there are no bare spots.

Bake for 12-15 minutes or until the salmon is flaky and fully cooked (145 degrees F internal temperature). Serve hot with your preferred sides or toppings, such as sliced green onions or extra furikake.
Furikake Salmon in the Air Fryer
Adjust your appliance's settings to preheat the basket, then continue with Steps 2 and 3 above.

Place the salmon in the basket, leaving space for air to circulate between each piece. Cook at 375 degrees F for 10-12 minutes, making sure the salmon is fully cooked and flaky before serving.
Notes
Store leftovers in an airtight container for up to four days. To reheat, microwave in short (15-30) second increments until heated through. 
Nutrition
Serving:
1
serving
,
Calories:
291
kcal
,
Carbohydrates:
0.5
g
,
Protein:
34
g
,
Fat:
16
g
,
Saturated Fat:
2
g
,
Polyunsaturated Fat:
7
g
,
Monounsaturated Fat:
5
g
,
Trans Fat:
0.01
g
,
Cholesterol:
96
mg
,
Sodium:
120
mg
,
Potassium:
845
mg
,
Fiber:
0.1
g
,
Sugar:
0.04
g
,
Vitamin A:
73
IU
,
Vitamin C:
1
mg
,
Calcium:
23
mg
,
Iron:
1
mg
I think you'll be so impressed with how much flavor you get for such little effort. This is exactly the kind of simple meal we crave on weeknights when we just want to turn our brains off for a minute!
If you try it and love it, be sure to leave a rating or comment to let me know what you think. It's really helpful for me and other readers looking to make our home-cooked meals even better.
And as always, thanks for stopping by the Street Smart Nutrition blog! You can find more and follow along on Instagram and YouTube, and don't forget to sign up for my newsletter so you never miss a new post. Cheers to more fearlessly nourishing meals!